Updated on November 11, 2020
If you're relatively new to surfing and looking to master your skills in a safe way, a soft top surfboard is going to be your best bet. The quality and construction of these boards have increased tremendously over the past several years and with a wide variety of brands and board types, it can be difficult to pick the right one. Fortunately, we've carefully selected the best soft top surfboards to narrow down your search.
Also known as a "foamie", soft tops offer a host of advantages, especially for beginners. They're much safer than traditional hard tops: if you bail or wipe out, a blow to the head from your board will be less dangerous. Foamies are also extremely durable, meaning you can beat up these boards as you learn the basics without fear of totally trashing an expensive hard top.
Lastly, soft tops tend to be a bit thicker than hard tops, lending themselves to greater buoyancy and making your task of learning the sport that much easier. You also don't need to wax a soft top! Simpler is better, right?
For more of our top surfing gear recommendations, check out the Best Surfboards.
Quick Answer

-

The Best Soft Top Surfboards
Almond Surfboards Secret Menu

Wavestorm Classic Pinline

South Bay Board Co. – Heritage

Wave Bandit Performer Tri
Comparison Table

-

Best Soft Top Surfboard

For the best experience turn your device horizontally
Reviews

-

The Best Soft Top Boards for Surfing
Specs
Length

:

Short (5'4" ft)

Thickness

:

2.75"

Weight Capacity

:

180 lbs

Fins Included?

:

No

Fin Setup

:

4-fin (Not Included)
Features
No-Wax-Necessary Deck Pad
Quad Fin Box For Picking Up Speed
100% Recyclable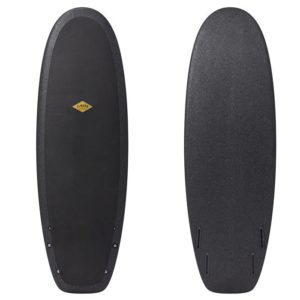 BEST FOR: SURFER LOOKING FOR A HIGH-END FOAM BOARD
At 5'4 long and 36L, the R-Series Secret Menu is designed for the optimal blend of easy paddling and rip-ability. It's a board that is best for 2ft – 4ft waves but can also keep up with a big barrel under the most capable feet. It's wide tail is great for picking up speed even in smaller surf.  Almond Surfboards created the Secret Menu with a deep awareness of the role we play when it comes to protecting the natural world. It's foam injected core is 100% recyclable through Almond's Recycling Loyalty Program.
Wavestorm Classic Pinline
Specs
Length

:

Long

Thickness

:

3.25"

Weight Capacity

:

200 lbs

Fin Setup

:

Thruster (3-fin)
Features
Textured Traction Pad (to help you stand up and stay on)
Includes Removable Ankle Leash
Extra "Grippy" Soft Top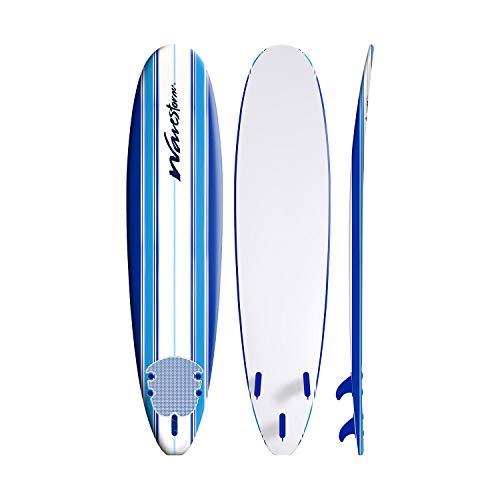 BEST FOR: LONG LASTING QUALITY
If you're the kind of person that scrutinizes quality because you value where your dollar goes, then this is the board for you. Considered one of the most recognized brands in surfing, Wavestorm is known for crafting quality boards at an affordable price.
This may be one of the most durable foamies we've come across. It sports 3 stringers whereas most other boards have only 1 or 2. A stringer is a thin strip of wood that runs the entire length of the board to add stiffness and rigidity while maintaining flexibility. More stringers = more stability and durability. The extra durable construction of this board also lends itself to providing a superior platform for beginner surfers.
South Bay Board Co. – Heritage
Specs
Length

:

Long

Thickness

:

3"

Weight Capacity

:

260 lbs

Fin Setup

:

Thruster (3-fin)
Features
Action Camera Mount
Wax-Free Textured Soft Top
Ankle Leash And Fins Included
Heat Release Valve Prevents Delamination and Bubbling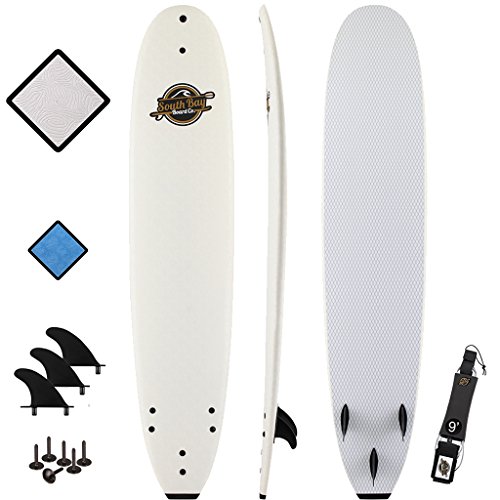 BEST FOR: LARGER FRAMED BEGINNERS
It's no secret that South Bay Board Company is by far one of our favorite manufacturers. That's because they make some of the best surfboards for beginners, crafting premium quality soft boards that are both safer and easier to ride than traditional hard boards.
The Heritage boasts a wide chest area making this board a solid choice for larger framed surfers that require a bit more stability. It's almost 9 foot length and 3 inch thickness also give the extra buoyancy needed to keep you gliding atop waves, even on your first time out.
Rock It SHORTBUS
Specs
Length

:

Medium

Thickness

:

3"

Weight Capacity

:

200 lbs

Fin Setup

:

Thruster (3-fin)
Features
Comes In 8 Different Colors
Flexible Fins Are More Durable
Environmentally Friendly Construction Made From Recycled Materials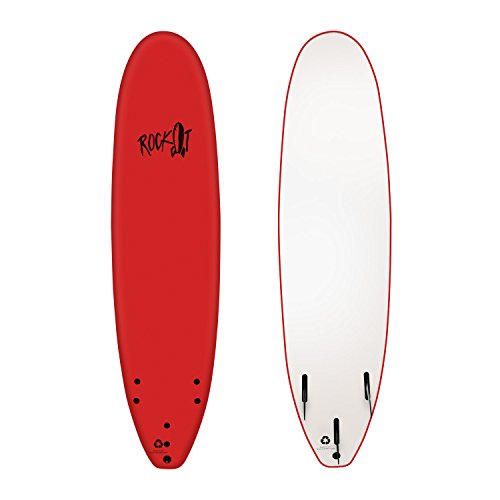 BEST FOR: EASY RIDING
The Rock It SHORTBUS is truly a unique board thanks to some smart styling choices. At 7' in length, this board offers a performance "funboard" shape in a slightly longer version. This will give beginners of all backgrounds the opportunity to experiment with something other than a longboard without sacrificing stability or floatability.
If you're looking for something that's truly easy to ride and able to catch waves without giving you a hard time, then look no further! The SHORTBUS is an appealing board and should be considered by anyone looking to have some fun on the water.
Catch Surf Skipper Quad
Specs
Length

:

Medium

Thickness

:

3.125"

Weight Capacity

:

250 lbs

Fin Setup

:

Quad (4-fin)
Features
Includes Fins
Island Inspired Graphics
3 Maple Stringers For Maximum Durability
BEST FOR: MANEUVERABILITY
Catch Surf teamed up with Pro Surfer Jamie O'Brien to collaborate on a whole collection of products, including this super shredder of a board. This board is the premo soft top, offering a great quality ride for intermediate to advanced beginners with the ability to scale up as you progress your surf game.
The high volume fish shape gives the Skipper Quad the ability to make quick work of smaller surf, while the quad fin setup establishes stability, speed, power, and maximum turnability in medium sized swells. We also really appreciate the quad fin setup on the fish board shape as a one-two punch when making big, sweeping turns and powering through medium sized waves!
Wave Bandit Performer Tri
Specs
Length

:

Medium

Thickness

:

3.125"

Weight Capacity

:

200 lbs

Fin Setup

:

Thruster (3-fin)
Features
Requires Wax
Extra Thick Design Increases Buoyancy
High-Pressure Construction For Maximum Stiffness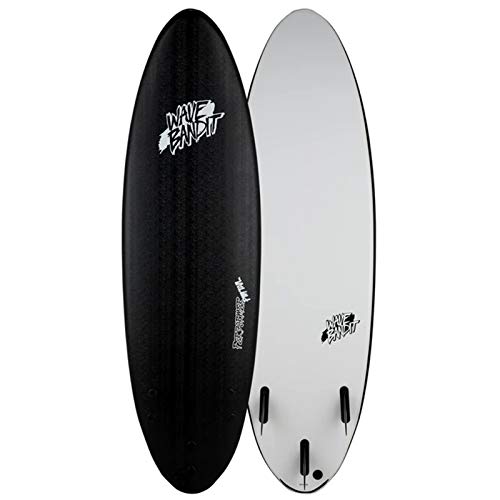 BEST FOR: SMALL WAVES
Sometimes small waves just aren't what you had in mind when hitting the beach on a warm summer day, but fear not! We've found the best soft top to combat the "Oh no's" and keep you having fun no matter the wave size.
The Wave Bandit Performer Tri is a sweet little hybrid board that offers a fish shape for maximum floatability in smaller surf while sporting a 3-fin thruster setup to keep you stable while shredding. Most fish boards have either a twin or quad fin setup, but this distinctive combo will also keep you high flying on medium sized waves as well.
They don't call it the Performer for nothin'! This board is perfect for literally any level of beginner, making it a solid choice whether it's your first board or a back up in your quiver for the smaller days.
Boardworks Froth!
Specs
Length

:

Short

Thickness

:

2.5"

Weight Capacity

:

190 lbs

Fin Setup

:

Thruster (3-fin)
Features
Requires Wax
High-Quality Fin Boxes And Fins
Long-Lasting Construction Overturns Traditional Soft Top "Cons"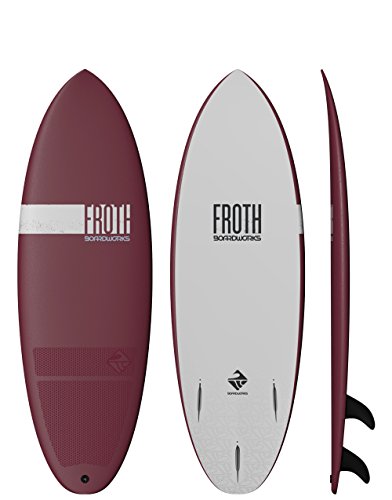 BEST FOR: CHEATING THE SYSTEM
Made with the skeleton of a hard top surfboard and wrapped in soft, foamie goodness, the Boardworks Froth! is the Michelin Man of surfboards. The construction starts as if it were being made into a more traditional epoxy hard top board, but then sneakily adds high-density foam to the top, thus cheating the system.
Throw the Pros and Cons out! Revolution is afoot!
The result is a board that is both light and long-lasting (hard top pros) but also safe for beginners and less expensive (soft top pros). The Froth! also features high-quality fin boxes that allows you to swap out your fins when you need to change up your game. In all, this board aims to please intermediate and advanced beginners due to it's shorter length.
Softech Flash
Specs
Length

:

Medium

Thickness

:

2.66"

Weight Capacity

:

200 lbs

Fins Included?

:

Yes

Fin Setup

:

Thruster (3-fin)
Features
Includes 3 Fins
Ankle Leash Plug Included
Wax-Free Soft Top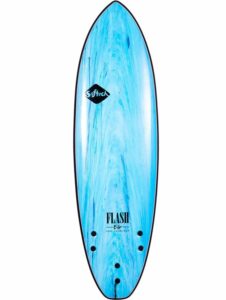 BEST FOR: ALL DAY, EVERY DAY SURFING
The Softech Flash is a great all-rounder offering shortboard performance, and a perfect option for anyone wanting to hone their turning skills. This hybrid shape has a wider nose and plenty of volume for easy paddling. The Flash is built with a slick soft deck and bottom that glides over the water, making it a super quick board that catches everything
With the FCS II system, you don't need any screws or tools to secure the fins. You can easily insert and remove the fins based on the wave conditions or the riders skill level.
Odysea Catch Surf Log
Specs
Length

:

Long

Thickness

:

3.33"

Weight Capacity

:

230 lbs

Fin Setup

:

Thruster (3-fin)
Features
Cool Retro Graphics
Extra Thick Board Floats Better
High-Performance Fins Are Removable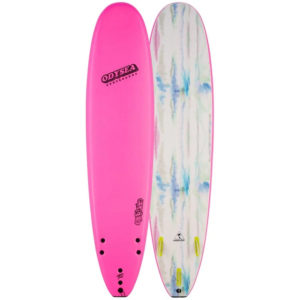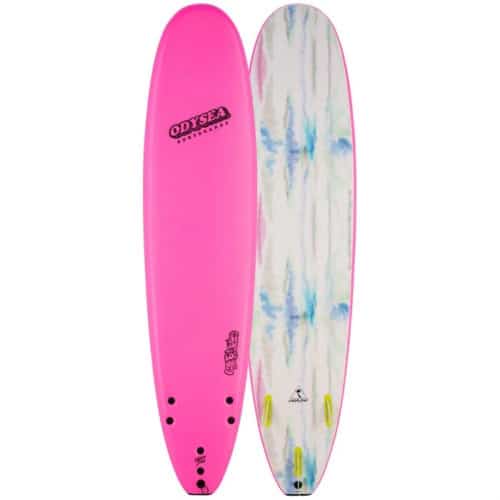 BEST FOR: PROGRESSIVE LONGBOARDING
Odysea's Catch Surf Log is an outstanding "long" board measuring in at 8' feet long. This large board offers a perfect entry into surfing for any beginner. Intermediate to advanced beginners looking to expand their skill set while riding will love the Log for its wide and stable base.
You'll find no better choice when it comes to "logging", a traditional surfing style that focuses on performing maneuvers with one's body to earn style points (think perching noserides or hanging heels before retreating back to the tail of the board).
Catch Surf Original 54
Specs
Length

:

Short

Thickness

:

2.5"

Weight Capacity

:

175 lbs

Fin Setup

:

Twin Fin (2-fin)
Features
Requires Surf Wax
Pop Through Ankle Leash Plug
Highly Durable, Impact-Resistant Deck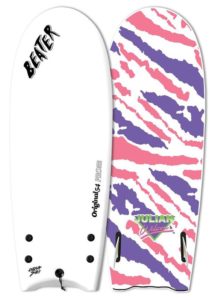 BEST FOR: DURABILITY
This shortie is by far the most durable board on the list, allowing advanced beginners the ability to try new things without fear of breaking their board. Known in the Catch Surf brand as a "beater board", the Original 54 Pro is impact resistant, lightweight, and opposes waterlogging that would otherwise slow it down.
Its short shape paired with a twin fin setup makes the Original 54 Pro a great board for catching all different types of waves, especially those in the small to medium range. If you've nailed down your longboard basics, this makes for a great addition to your quiver to mix things up!
THINGS TO CONSIDER WHEN BUYING SURFBOARDS
COST
One of the huge benefits to buying a soft top surfboard is that they tend to be less expensive than their hard top counterparts. If you're new to surfing, soft tops offer a variety of advantages over hard tops and are a good choice until your skills have progressed.
The other upside to "foamies" being less expensive is that you may be able to buy multiple soft tops for the price of a single hard top, meaning you can outfit the whole family for your next family vacation without breaking the bank!
CONSTRUCTION
Soft top surfboards, also known as "foamies", are a great choice for beginners of all skill levels. Although initially regarded as surfboards for "noobs" or "kooks", the soft top revolution has flipped the script. Nowadays, you can find all levels of surfers, even professional surfers, using them in certain conditions.
SOFT TOP PROS
As a newbie, falling off your board is inevitable, but a visit to the ER doesn't have to be

Foamies are much safer for your noggin and others who may be nearby

Great bang for your buck! Let's you hit the water at a reasonable price

Foamies provide more stability for beginners due to their heavy weight
SOFT TOP CONS
A heavier board means a more difficult walk to the water

Warm water surfing on a foamie can lead to board rash. Check out the best rash guards to prevent this from happening

Shorter lifespan than hard tops
FIN SETUP
Soft top surfboards benefit just as much from specification of fin type as hard tops. Depending on your needs and intended surf style, certain fin setups will lend themselves better than others. Below we explain what type of surfing styles benefit the best from certain fin setups.
LONGBOARDING
Single Fin: Most commonly found on longboards, the Single Fin setup is a great choice for beginners without experience but also scales up as you become a better surfer. Characterized by a single, long fin in the center of the board, this setup provides ample stability and tracking.
Thruster:

Increasingly found on longboards in recent years, the Thruster setup is a nice modern variant for the world's oldest and most traditional surfing style. The Thruster setup is characterized by 3 fins: 1 in the center towards the rear of the board with 2 flanking fins positioned further forward. A longboard with a Thruster setup will be more nimble and better at turning, especially in smaller waves.
FUNBOARDING
Thruster:

Most commonly found on medium length "Funboards", the Thruster's purpose here is to provide speed and maneuverability. The flanking fins provide more agility and lend stability to fast turns. This setup on medium length boards is aimed more at intermediate and advanced beginners.
FISHBOARDING
Twin Fin:

With just 2 fins on either side, the Twin Fin setup is designed to create speed and maximum maneuverability. Typically mated to a "Fishboard", the purpose here is to make turning a breeze. Intended more for intermediate to advanced beginners, this setup sacrifices stability for maneuverability.

Quad:

The Quad setup leverages 4 fins, 2 on either side of the board, to achieve similar results as a Twin Fin but with more power and stability. The extra set of fins provide better tracking without sacrificing speed. Intermediate and advanced beginners will both appreciate how this setup performs on Fishboards.
LENGTH
Skill level is usually the first determining factor when deciding on what length of surfboard to buy. Checkout the breakdown below.
TRUE BEGINNERS
Long

Type Of Surfing

Why It's A Great Choice

Boards above 8 ft are going to provide a larger footprint for beginners without any surfing experience. The longer the board, the wider and thicker it will be, thereby shortening your learning curve.
INTERMEDIATE TO ADVANCED BEGINNERS
Medium

Type Of Surfing

Why It's A Great Choice

This intermediate length is a step down in size from longboards and provides more maneuverability and agility. Intermediate and advanced beginners will appreciate this size as it gives them more control over their board.
ADVANCED BEGINNERS
Short

Anything shorter than 6 ft

Type Of Surfing

Funboarding and Fishboarding

Why It's A Great Choice

Advanced beginners who have mastered all of the basic surfing skills will find shortboards and fishboards opening a whole new world of possibilities. Their short length and sometimes unique shape (in the case of fishboards), provide new ways of seeing the world of surfing.
THICKNESS
Soft top surfboards tend to be more beginner friendly by adding extra thickness to increase buoyancy in the water and increase performance under certain conditions. 3'' in thickness is the sweet spot. Anything thicker lends itself to beginners with no experience while thinner boards will be manageable for intermediate to advanced beginners.
WEIGHT CAPACITY
When choosing the best soft top surfboard, you want a weight capacity that is higher than your bodyweight. The weight capacities listed are for true beginners and intermediate beginners. Advanced beginners will be able to cheat higher than the listed weight capacity as their skill will allow them to handle a smaller sized board.
FEATURES EXPLAINED
DECK
The area of the board where the paddler stands.
FIN MOUNT
A slot in the surfboard where a fin can be inserted.
BUOYANT DESIGN
A surfboard with a buoyant design will float better and with less effort. This is a good feature to keep an eye on if you're a beginner with no experience or when surfing small waves.
ANKLE LEASH PLUG
A small knob with a hook in the rear of a surfboard where an ankle leash can be easily attached.
EPOXY FINISH
A very durable final coating over hard top surfboards. Most hard tops are finished with epoxy as opposed to the older and heavier fiberglass finish.
FISH SHAPE
A style of surfboard that looks like a fish! They are typically short (less than 6 ft), very wide, and really thick (more than 3 inches). They are best suited to small waves when beginning your foray into surfing.
FIN BOX
The area underneath the tail of the board that offers options to add or remove additional fins in order to customize a particular fin setup.
READ MORE
For more of our top surfing gear recommendations, check out these popular buyer's guides: