Updated on December 9, 2021
So you've gotten your feet under you while riding rental snowboards, and now you're finally ready for your own board. But when you go online to search for the perfect one, you're overwhelmed. Buying a board is only the first step. Which stomp pad do you get? What about boots and snow pants? And perhaps most importantly, how do you find the best snowboard bindings for you?
Snowboard bindings can be just as important as the board itself. Size, fit, style, ease of use – bindings vary in so many different ways. And if you're just starting out, the wide variety of choices when it comes to snowboard bindings can seem overwhelming. Fortunately, we've picked out the top 10 best snowboard bindings just for you! Make sure to read through each one carefully to figure out which one best suits your riding style, and you'll be out on the mountain in no time, comfortable and sturdy in your new bindings.
For more of our top snowboarding gear recommendations, check out the Best Snowboard Boots.
Quick Answer

-

The Best Snowboard Bindings
Salomon Snowboards District
Comparison Table

-

Best Snowboard Bindings

For the best experience turn your device horizontally
Reviews

-

The Best Bindings for Snowboarding
Burton Genesis
Specs
Flex

:

Medium

Style

:

Strap

Experience Level

:

All
Features
Two-piece Highback Provides More Flex Behind Your Boot While Riding
Double-take Buckles For Quicker Ratcheting And Adjustment
Nylon Baseplate - A More Durable Plate Beneath Your Boot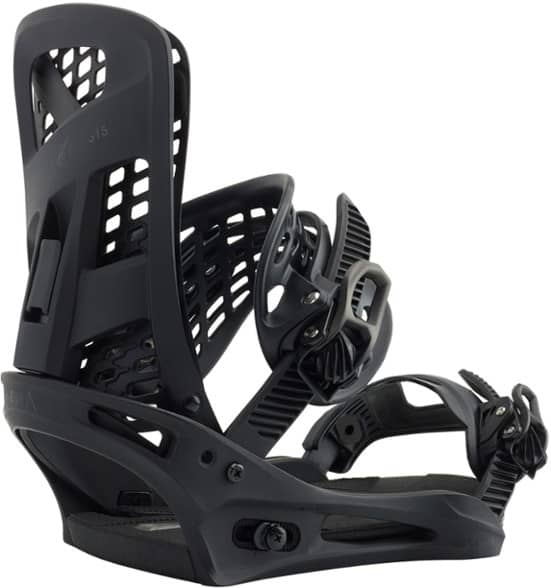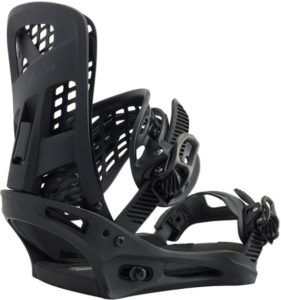 TOP OVERALL BINDING
This is a fantastic all-around binding for all experience levels of riders.
Burton designed the Genesis with a medium flex and Full Bed cushioning system. These boots feature the revolutionary Re:Flex mounting system which serves to improve flex and feel while also keeping things light weight. They're easy to center onto a snowboard and adjust the straps, whether you're in the comfort of your home or doing laps on the mountain.
What I like most about the Genesis is the canted high back design that conforms to the natural curves of your legs.
Union Flite Pro
Specs
Flex

:

Soft

Style

:

Freestyle

Experience Level

:

All
Features
Extruded 3D aluminum heel cups
Stage 8 Duraflex baseplates
Toolless flads (forward lean adjusters)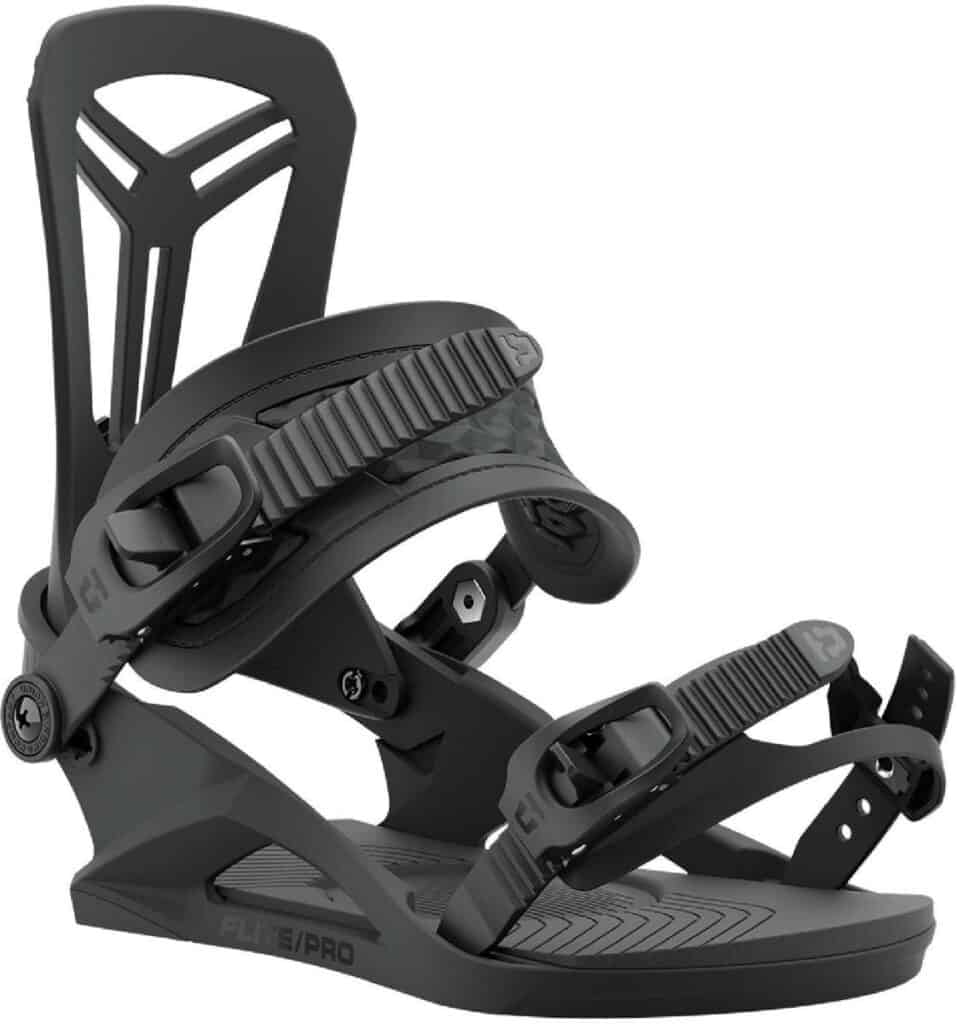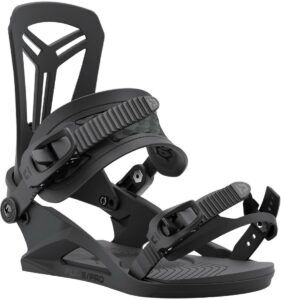 BEST FOR: BOARDERS ON A BUDGET
For under $175, Flite Pro has accomplished rethinking how the industry defines "entry level".
The Flite Pros are the lightest bindings in Union's impressive line-up — thanks in part to the integration of Stage 8 baseplates sandwiched by chatter dampening EVA foam pads. Union succeeded in making these boots 30 grams lighter than the previous iteration. The softer flex is complimented by durability guaranteed by the brand for the binding's lifetime.
What I like most about this snowboard binding is that they're suitable for riders of all levels — from total beginners to experts.
Nitro Zero
Specs
Flex

:

Medium

Style

:

Freestyle

Experience Level

:

Intermediate-Advanced
Features
Asym Zero Highback
Air Dampening
3° Canted Footbed
2x4 Mini Disc With Angle Lock Feature
BEST FOR: FREESTYLE
If you're an intermediate to advanced level rider looking for a super comfortable ride for tackling tricks in the park, look no further!
The Nitro Zeros are a medium-flex binding designed with impressive air dampening technology and an asymmetrical highback. Combine that with memory foam ankle straps and you get one of the most comfortable freestyle bindings out there. The incorporated Mini Disc ensures an authentic underfoot board flex and feel.
What I like most about this binding is its seriously skate-like flex.
K2 Lien
Specs
Flex

:

Stiff

Style

:

Strap

Experience Level

:

Advanced-Expert
Features
100% Tool-less Adjustments - You'll Never Need A Screwdriver To Adjust Your Board!
Nylon Highback - A More Durable Support Behind Your Boot
Padded Ankle Strap - A Comfortable Strap That Holds You To Your Board While Riding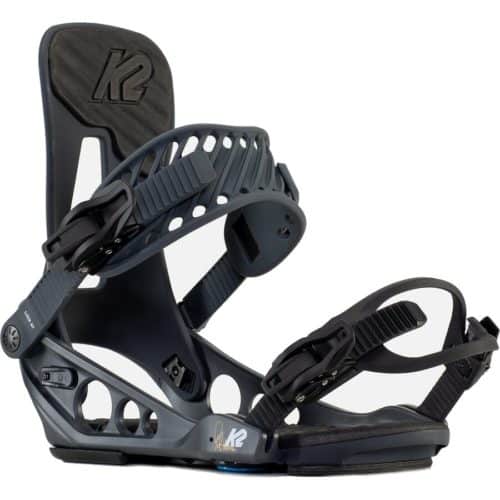 BEST FOR: THE BACKCOUNTRY
When the backcountry calls for comfort, the K2 Liens step up to answer the call.
K2 designed these bindings with a medium flex that's never too stiff. The canted design ensures relief from hip and knee pressure and offers a smooth turn and superior edging performance on most boards. They're super easy to put on and take off and tackle flat landings with ease.
What I like most about these bindings is that they're toolless except for the discs.
Burton Scribe Re:Flex
Specs
Flex

:

Medium

Style

:

Strap

Experience Level

:

All
Features
The Hinge highback technology eliminates hardware and weight
Smooth Glide buckles are easy to secure
Reactstrap ankle straps have a minimized construction that is ultra-responsive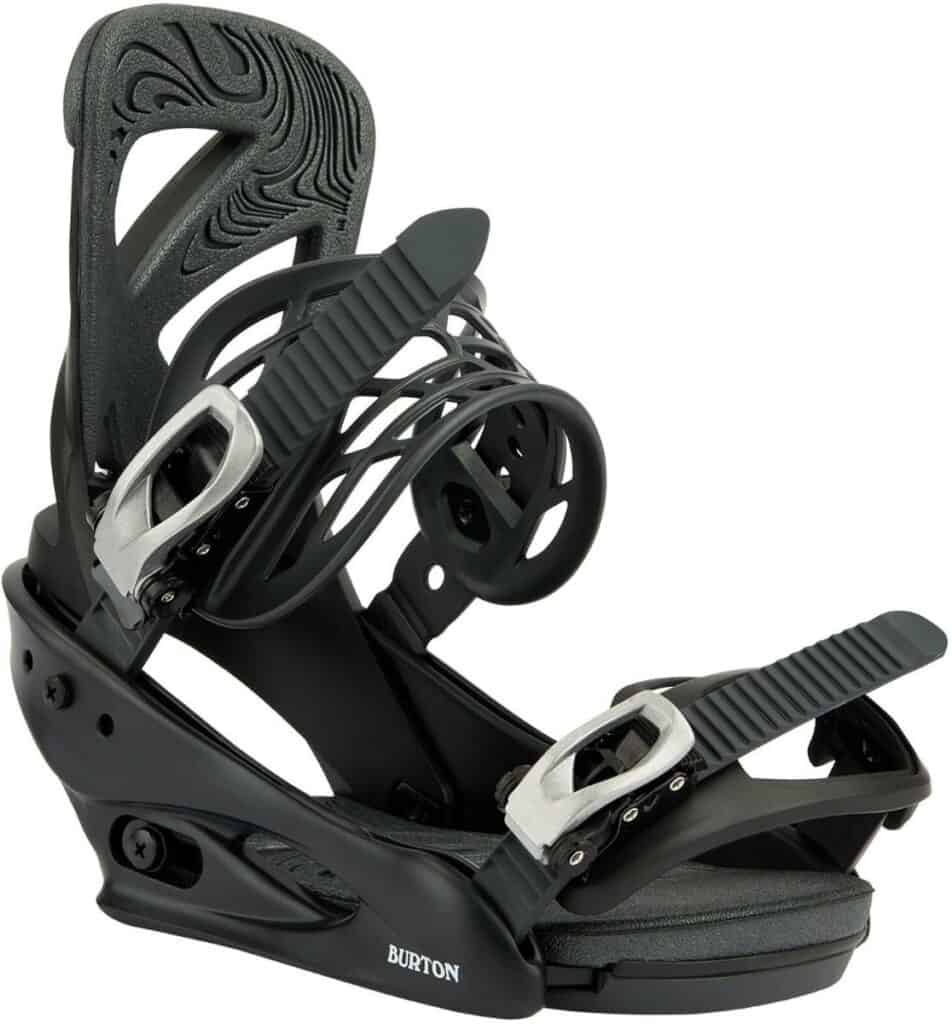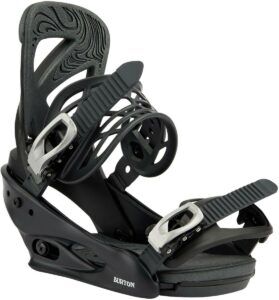 BEST FOR: WOMEN
Whatever your riding style may be, these bindings remain soft, flexible, and responsive — even during your longest day on the mountain.
Burton designed the Re:Flex with full bed cushioning and a lightweight, polycarbonate baseplate – ensuring a smooth ride every time. A dial system allow you to adjust the forward lean angle of the hi-back while toe straps and ankle straps serve to keep your foot in place.
What I like most about these bindings is that Burton guarantees its baseplates with a lifetime warranty.
Union Contact Pro
Specs
Flex

:

Medium

Style

:

Strap

Experience Level

:

Intermediate-Advanced
Features
Aluminum Ratchets On Your Straps Should Last Longer Than Other Materials
Multi-positional Straps Allow You To Adjust How Your Snowboard Holds You In
Highback Gives You More Support Behind Your Boot While Riding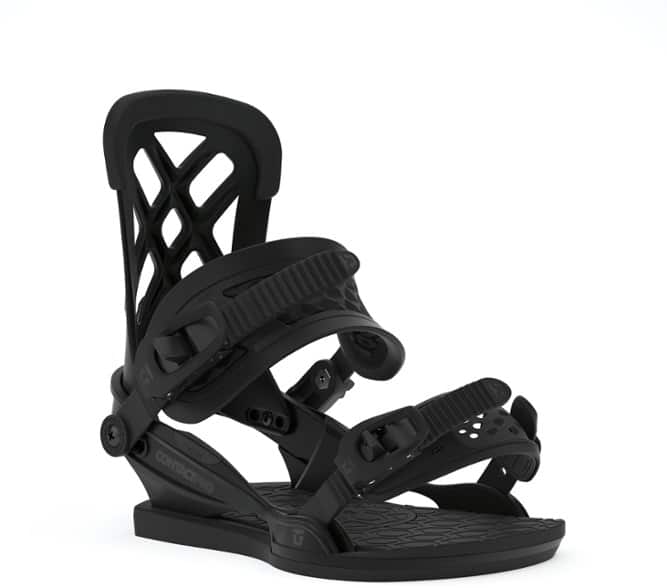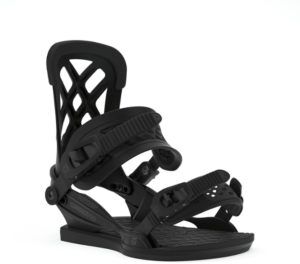 BEST FOR: ALL MOUNTAIN RIDERS
As one of the most affordable models on the market, the Union Contact Pro bindings are both strong and durable enough for any rider of any skill level. The highback support behind your boot gives riders a comfortable support in any environment while the multi-positional straps allow riders to adjust and sculpt their posture to the likes of their style.
These bindings are just stiff enough to handle a serious carve across the trail while the design of the binding is just loose enough to allow for epic creativity on the mountain. If you've been riding for a few years and are looking for an affordable, creative binding that you can take out in powder or into the park, the Union Contact Pro is a great choice for you.
Rome Snowboards D.O.D.
Specs
Flex

:

Medium

Style

:

Strap

Experience Level

:

Intermediate-Advanced
Features
Tool-free Lean Adjustment For On-the-go Adjustments To Your Board
Toe Strap For Tighter Security To Your Board
Padded Straps For A More Comfortable Ride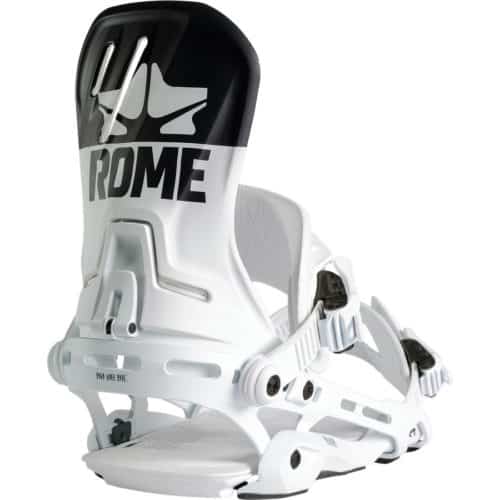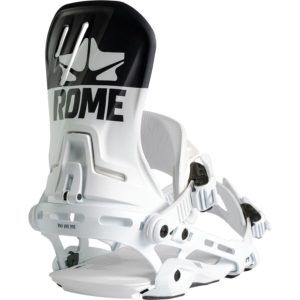 BEST FOR: EXPERIENCED RIDERS
Rome's D.O.D. bindings are specifically designed to withstand years of punishment. Built with strong, durable, ContourLight straps, these bindings will not only feel comfortable as you ride, but will keep you securely locked in with any freestyle move. With all of the necessary features that bindings come with, the D.O.D. bindings are a great, reliable option for an experienced rider looking for a simple binding. With an anti-shock system, these bindings should last as long as your board, and if they don't, Rome provides every rider with a limited lifetime warranty.
Burton Malavita
Specs
Flex

:

Medium

Style

:

Strap

Experience Level

:

Intermediate-Advanced
Features
Double Take Buckles For Quick Ratcheting
Nylon Baseplate - A Durable Plate Beneath Your Boot That Will Withstand All Weather
Compatible With All Major Mounting Systems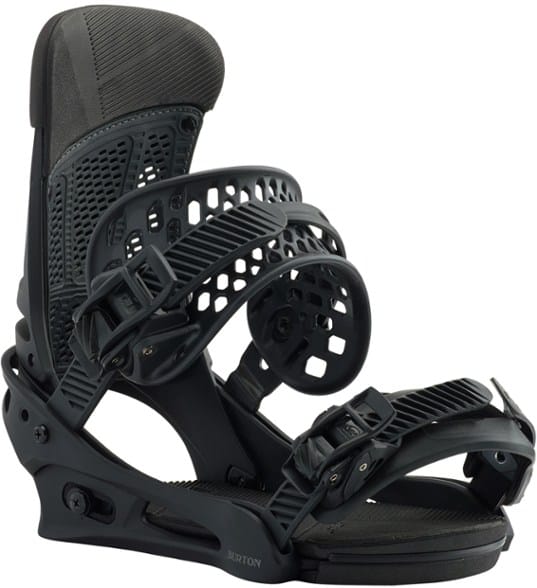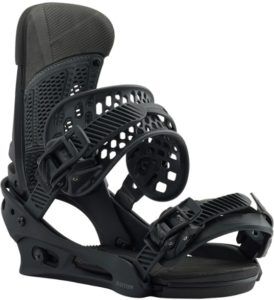 BEST FOR: ALL RIDERS
Coined by many professionals as the best binding out there, Burton's Malavita may have a quirky name, but they are by far one of the most reliable, durable, and adjustable snowboarding bindings out there. Crafted for the All Mountain rider, the binding's medium flex and canted, or rotated, footbed gives riders a comfortable feel in any conditions.
If you're looking for park bindings, backcountry bindings, or trail and carving bindings, these will suit all your needs, especially if you want to diversify. Though they run a bit pricier than most models, Burton's Malavita bindings are highly recommended for any rider looking for their own set of reliable bindings.
Salomon Snowboards District
Specs
Flex

:

Medium

Style

:

Strap

Experience Level

:

Intermediate-Advanced
Features
Canted Footbed Means It's Rotated To Match Your Natural Body Positioning
A Unique Highback Is Specialized By Salomon To Provide You Added Support While Riding
Micro Strap Adjustments Allow For Mini Adjustments To Your Snowboard Straps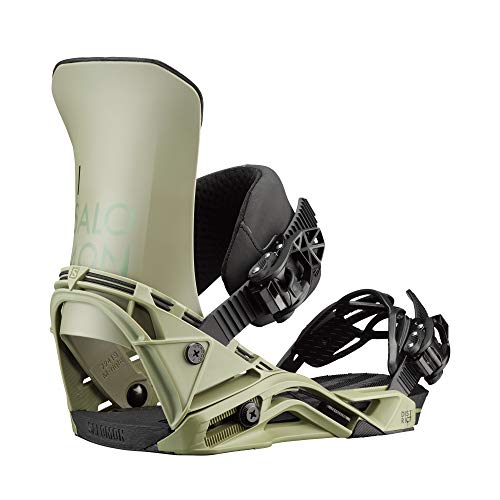 BEST FOR: SMOOTH RIDERS
If you'd describe yourself or hope to describe yourself as smooth, relaxed, and comfortable on the mountain, the Salomon District bindings are perhaps the best option for you. Composite bindings and a medium flex will keep you rooted in place with enough flexibility to torque and twist to your heart's delight. The canted, or rotated, base and uniquely designed highback give you the flexibility and comfortability to test your limits in ways that other bindings simply don't allow for.
These bindings are best for a creative, relaxed rider -someone willing to test their limits in new, exciting ways while remaining smooth and collected at the same time. Other features such as the micro-strap adjustments give riders a precision like no other binding, granting you the freedom to explore the mountain in entirely new ways.
Flow Alpha
Specs
Flex

:

Soft

Style

:

Power Strap

Experience Level

:

Beginner-Intermediate
Features
Highback Support Behind Your Boot Offers More Security While Riding
Rear-entry Allows You To Slip In To Your Binding From The Back Instead Of Clipping In
One Power Strap Makes For Easier Strapping In And A More Secure Ride
BEST FOR: EAGER RIDERS
If you're looking for your first board and want bindings that can handle it in the park and on trails, the Flow Alpha bindings are the perfect introduction for any rider. Built with a molded back plate and comfortable cross-straps, the Flow Alpha binding gives riders a soft flex to handle any terrain.
Noted for Flow's unique quick-entry system, instead of struggling with binding straps next to the chair lift, you can do-down the back of these puppies and slip in standing up if you want. They'll save you time on the mountain and cash in your wallet, as they are affordable and durable, and will stick with you through any terrain.
THINGS TO CONSIDER WHEN BUYING SNOWBOARD BINDINGS
Buying bindings should take just as much consideration as buying a board. There are so many different factors and attributes that can influence your decision. Sites like EVO can give you a good understanding about how to choose the best snowboard bindings for you, but here are a few key considerations.
BOARD COMPATIBILITY
Before you buy bindings, you'll want to make sure you settle on a snowboard first. That requires a whole process in itself, but choosing a board should always come first as not all bindings are compatible with all boards and some bindings may go better with some boards.
RIDING STYLE
Perhaps the most important factor to take into consideration when buying snowboard bindings is your own personal riding style. Some bindings are geared towards aggressive, minimal snow-cover terrain whereas others suit a relaxed park rider better. Make sure before you buy any binding, you gauge your own personal style. And use that to guide you to the best snowboard binding for you.
ENTRY
Is the binding rear-entry or not? Think about what you would prefer standing atop a steep slope at a place like Telluride. Most bindings require a few extra moments to sit down and strap into, but others, such as many models from Flow, give riders the option of rear-entry. Before you buy one like this, talk to someone who has owned them before. If used properly, they can shave a bunch of time off of strapping in, but they do require a bit more attention and sometimes may not last as long due to the wear and tear of rear-entry technology.
RIGIDITY
Some bindings are stiffer than others. And that stiffness can and will affect your ride. A more rigid binding is better for an aggressive, more experienced rider, who would really like to tear into the mountain. A softer, more flexible binding is better for beginners, or more relaxed riders. Although, if you're interested in back-country or park riding, you may want a flexible binding as well.
COST
When you first look into buying bindings, you may be surprised that they can cost just as much as your board. They are important. Very important. And though you can ride with any set of bindings, cheaper ones break more often. That's probably obvious, but when the price point is as high as it is, no one likes a broken binding. We suggest taking the time to choose the right binding for you despite the price, because in the end, it will last you longer.
STRAP DESIGN
Do the bindings have one strap? Two? A toe strap? There are a bunch of different variations of straps when it comes to snowboard bindings, and each type will affect your riding. Two straps is more common as it grants riders a bit more mobility, but if security is your priority, search for a power strap that locks your foot in place for the day.
FEATURES EXPLAINED
CANTED
A canted base plate or highback means that the area is already adjusted to the tilt of your body or legs. It allows for a smoother ride.
HIGHBACK
The backplate is a wide support that stretches up from the baseplate to your calf, and on any board, it is pivotal to providing support while turning and carving down the mountain. Highbacks can vary from snowboard to snowboard, so when choosing yours, make sure you find one that's best suited to your needs. Do you want more flex? Maybe a two-piece highback is best. Or do you want more security? A longer, stiffer highback is a better bet.
BASEPLATE
The padding beneath your feet that locks into the board. Note that not all baseplates are compatible with all boards. Make sure you ask if the binding you want will fit with your board. (This means you should buy your board first).
TOE STRAP
A strap that goes over your toe, pushing your foot back into the boot. A preference for many riders.
POWER-STRAP
This refers to one large, connected strap as opposed to two individual ones.
READ MORE
For more of our top snowboarding gear recommendations, check out these popular buyer's guides: