Updated on July 17, 2021
If you want to be light on your feet and swift on the trail, you can enhance your trail performance with the best trail running shoes. From extreme rugged terrain to easy-breezy well-groomed trails, there's a range of trail running shoes out there to suit your needs.
The question is, what exactly are your trail running shoe needs? Do you prefer more cushion to avoid bruising from rocks? Or is optimal traction your main concern? To help you answer these questions and many more, we'll walk you through the process of choosing the best fitting pair of trail running shoes along with our top recommendations.
For more of our top hiking footwear recommendations, check out the Best Hiking Shoes.
Quick Answer

-

The Best Trail Running Shoes for Hiking
HOKA ONE ONE Challenger ATR 6
Comparison Table

-

Best Trail Running Shoes

For the best experience turn your device horizontally
Reviews

-

The Best Hiking Shoes for Trail Running
La Sportiva Bushido II
View Women's Version
Specs
Closure

:

Lace-up

Weight

:

1 lb. 5 oz.

Cushioning

:

Moderate
Features
Excellent Traction
Solid Stability
Comfortable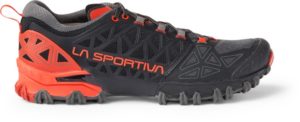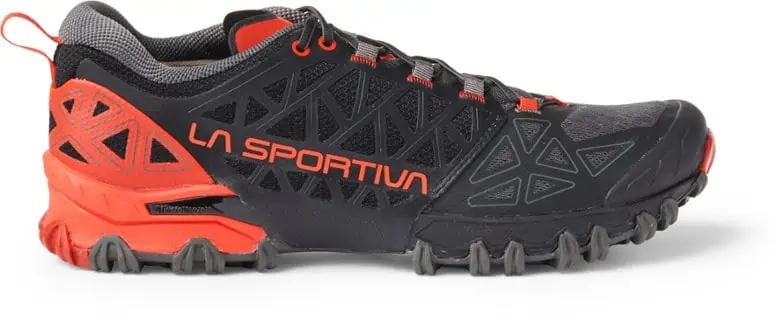 BEST FOR: LONG DISTANCES
La Sportiva Bushido II shines on long distance trails with plenty of steep ups and downs. Putting a spring in your step, the rugged outsoles and cushy foam midsoles work together to energize your feet upon impact.
Giving you confidence with every stride, these running shoes feature a supportive sock-like feel and stable construction. Whether you're on the ascent or descent, the tacky rubber outsoles offer excellent traction and additional stability. As you work up a sweat you'll find the mesh on the upper lets your feet breathe, ramping up your comfort level.
Innov-8 Roclite 290
Specs
Closure

:

Single-pull Lace

Weight

:

10.15 oz.

Cushioning

:

Moderate
Features
Graphene grip (G-Grip) for better traction
4mm drop
METAPLATE underfoot protection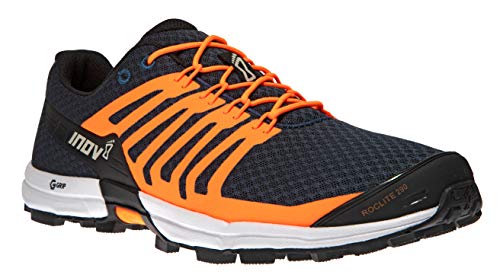 BEST FOR: THOSE ON A BUDGET
If you are looking for the best combination of performance and comfort on the market for under $125, check out the Roclite 290s.
Beefy 6mm lugs on a newly designed G-grip sole makes for an outsole meant to last, meaning you don't have to worry about replacing the Roclite 290s any time soon. A metashank integrated into the midsole gives these shoes a step above the rest, succeeding in achieving the ideal blend of support and sensitivity. An AdapterWeb lacing system functions be connecting the laces to the midsole, comfortably locking the foot into place. For a low-cost trail running option, these shoes are surprisingly lightweight, comfortable, and durable.
What I like about the Roclite 290s is how comfortable they are to run in — right out of the box.
HOKA ONE ONE Challenger ATR 6
View Women's Version
Specs
Closure

:

Lace-up

Weight

:

1 lb. 3.7 oz.

Cushioning

:

Thick
Features
Comfortable Thick Midsole
Stability
Contoured Heels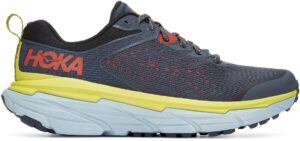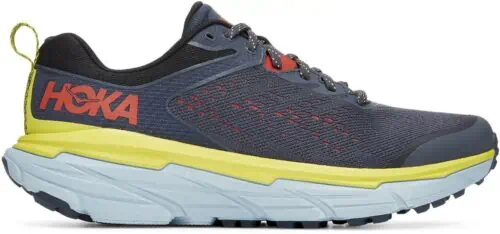 BEST FOR: LONG DISTANCE RUNS
If comfort is your priority, give the Challenger ATR 6s a try — you won't be disappointed.
Built for tackling all terrains, the Challenger 6 performs as well on trails as it does on pavement, making it a great cross training option. HOKA's renowned thick mid sole provides for best-in-class impact protection while dual-layer mesh uppers keep your feet cool when the temperature rises. Despite the increased cushioning, HOKA improved the latest model's stability, as well.
What I like most about these trail runners is the reinforced toe bumper, which keeps you from stubbing your toes on roots and rocks along the trail.
Altra Superior 4.5
Specs
Closure

:

Lace-up

Weight

:

8.8 oz.

Cushioning

:

Moderate
Features
Flexible mesh upper with rugged overlay for durable breathability
Roomy toebox
0mm drop
Grippy sole with multi-directional lugs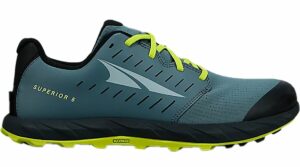 BEST FOR: ULTRALIGHT ADVENTURES
If you're looking for a top-notch zero drop trail runner in an extremely lightweight package, look no further — you've found it.
Weighing in at just a little over a pound, the Altra Superiors feature a Quantum foam midsole that ensure these shoes will stay comfy mile after mile. An improved upper wraps around the foot to provide for a more secure feel and stability. The rock plate is removable — and a nice feature that you can wear when the going gets rough and remove when you're trying to go lighter. A redesigned lug pattern coupled with Altra's MaxTrac rubber outsole equips you with the pair of shoes you need for tackling any terrain you travel.
What I like most about these trail runners is that the wide foot box allows the toes to move naturally and splay out upon impact.
Salomon Speedcross 5
View Women's Version
Specs
Closure

:

Single-pull Lace

Weight

:

1 lb. 7.2 oz.

Cushioning

:

Moderate
Features
Quick Lacing
Superb Traction
Aggressive Soles
Durable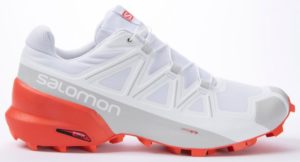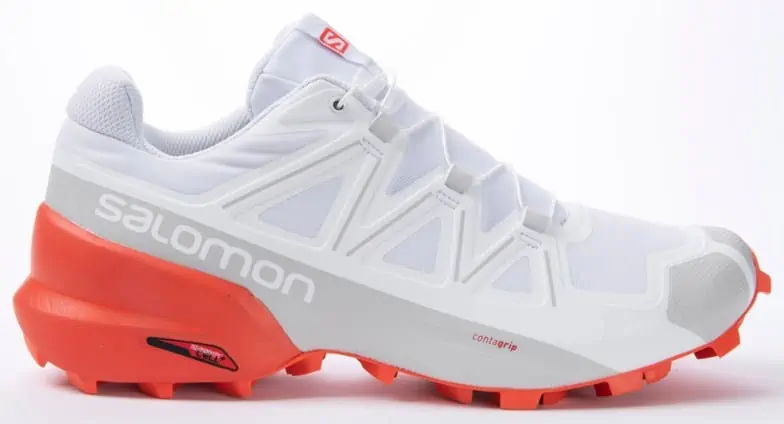 BEST FOR: WET OR DRY UNEVEN TERRAIN
Whether your foot is striking soft ground or sludge, you'll scamper right through with the Salomon Speedcross 5. These trail running shoes have aggressive, deep lugs that give the outsoles (bottom of the shoes) teeth-biting grip on varying terrain.
As your foot strikes the ground, the midsoles power your movement while the cushioned footbed provides additional shock absorption. Fitting safe and snug, these running shoes have ample cushioning for out-of-the-box comfort eliminating break-in time. Slip on a pair and take them for a spin on your favorite rugged trail. You'll find they're begging you to tackle rough terrain.
Altra Lone Peak 4
View Women's Version
Specs
Closure

:

Lace-up

Weight

:

1 lb. 3 oz.

Cushioning

:

Moderate
Features
Wide Toe Box
Ample Cushion
ZeroDrop Eliminating Heel Elevation For More Natural Movement
Gaiter Attachment For Debris Protection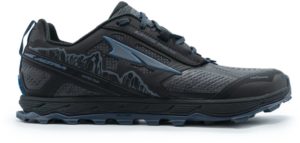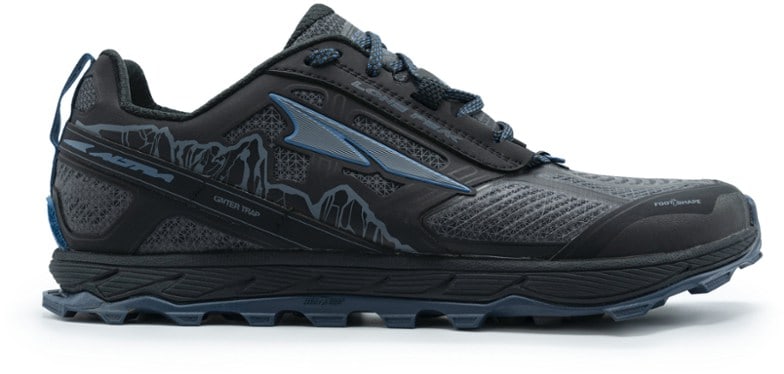 BEST FOR: WIDE FEET
For those looking for a more natural stride with cushy comfort, look no further than the Altra Lone Peak 4. These trail running shoes sport a ZeroDrop from heel to toe to imitate natural movement while offering plenty of underfoot cushion.
The Altra Lone Peaks sport a wide toe box allowing for full foot splay. This not only mimics barefoot running, but it also decreases the chance of irritating blisters. For sweaty feet, there's plenty of breathable mesh for ventilation. Whether you're running on wet or uneven terrain, you'll stomp right through with the grippy soles. Meanwhile, the increased drainage on the uppers minimizes dry time after stream crossings. Slap on some gaiters for added protection against debris and hit the trail with confidence.
Arc'teryx Norvan VT
Specs
Closure

:

Lace-up

Weight

:

2 lb. 11 oz. (Men's Pair)

Cushioning

:

Moderate
Features
One-of-a-kind Lacing System
Tacky Outsoles
Excellent Feet Protection
Solid Traction On Technical Terrain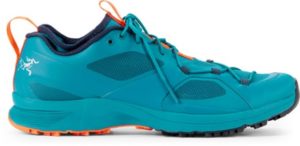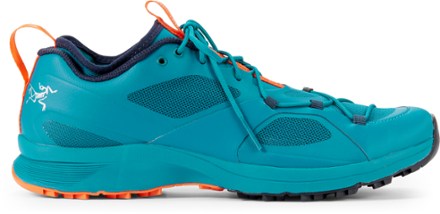 BEST FOR: HIGHLY TECHNICAL TERRAIN
For the experienced runner who gets an adrenaline rush from highly technical terrain, you'll need a serious shoe to match. In this case, we recommend Arc'teryx Norvan VT.
When you're scrambling up a mountain, you'll appreciate the secure fit these shoes offer. With the single pull of a lace, you can switch the laces from run to climb mode in an instant. Kicking into gear, the 9mm heel drop offers precise footing while the sticky outsoles provide stable traction. Plenty of protection on the outside, yet breathable and comfortable on the inside, these shoes are a beast waiting to be unleashed.
Altra King MT
View Women's Version
Specs
Closure

:

Lace-up/Velcro Combo

Weight

:

1lb. 1 oz.

Cushioning

:

Minimal
Features
Terrific Traction
Super Lightweight
Enhanced Water Drainage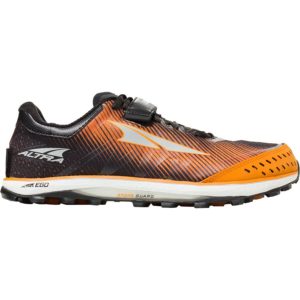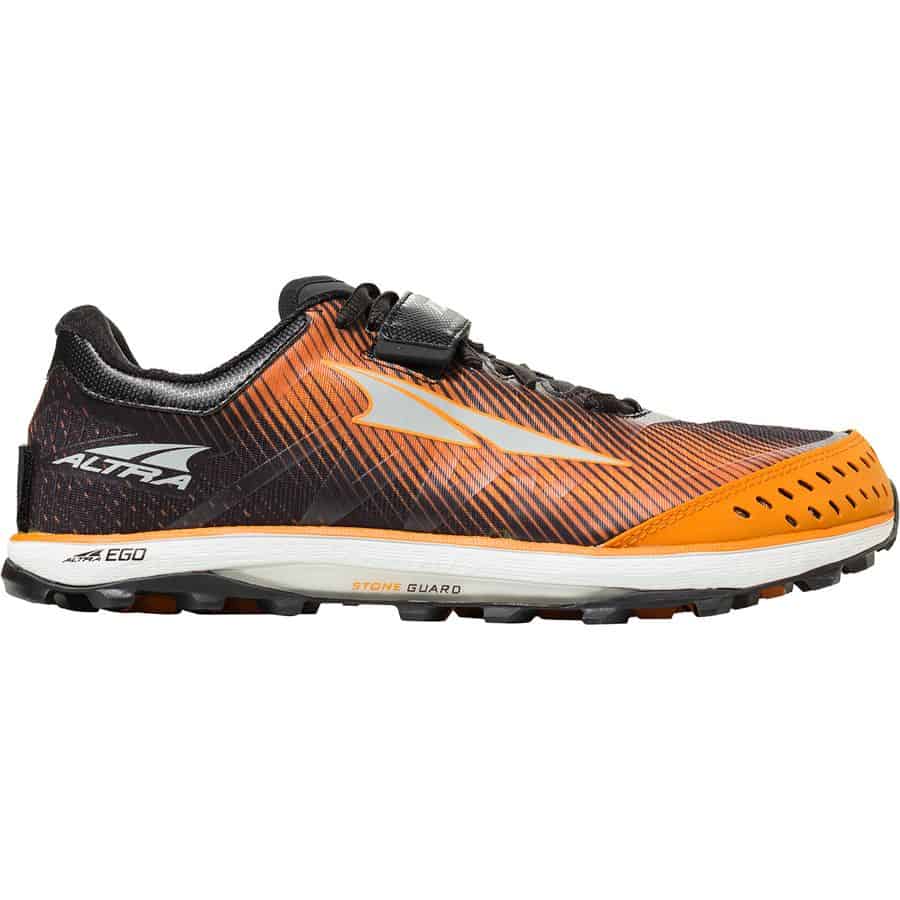 BEST FOR: MUDDY TERRAIN
Muddy trails have met their match with the Altra King MT. The aggressive outsoles on these off-trail running shoes have deep lugs for exceptional grip and embedded rock plates to protect your underfoot from jagged rocks.
Since technical terrain calls for more support, these shoes include velcro straps to lock your foot in place. This way you can ascend and descend with a confident stride. To enhance your overall comfort, these trail runners feature a cushioned zero-drop from heel to toe along with a foot-shaped toe box so you can achieve a more natural range of motion. If you're the type to not let a little, or a lot, of mud stand in your way, then you'll appreciate what the Altra King MT can do for you.
Topo Athletic MT2
View Women's Version
Specs
Closure

:

Lace-up

Weight

:

1 lb. 1 oz.

Cushioning

:

Moderate
Features
Roomy Toe Box
Lightweight
Flexible
Ample Cushion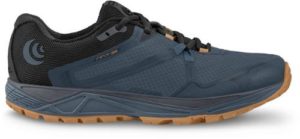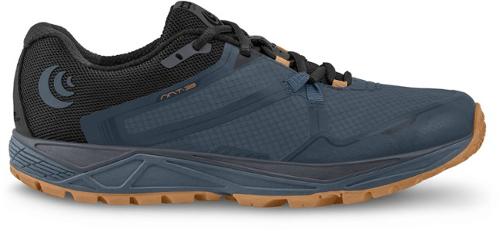 BEST FOR: BUDGET
For those who enjoy trail running, but aren't looking to get technical, take a look at the Topo Athletic MT2. These trail running shoes are an affordable option that're perfect for light trails.
In 2016, Runner's Magazine named Topo Athletic MT 2 their "Best Buy" and it's not hard to see why. These trail running shoes offer plenty of flex with durable and grippy soles. The midsoles feature a decent amount of cushy foam while the breathable mesh helps keep hard-working feet cool. Super lightweight, these shoes sport a roomy anatomical toe box so you can stride happily and enjoy your scenic run.
Saucony Peregrine 10
View Women's Version
Specs
Closure

:

Lace-up

Weight

:

1 lb. 5 oz.

Cushioning

:

Moderate
Features
Comfortable
Flexible
Great Traction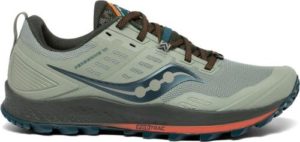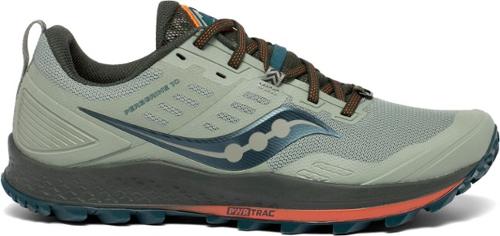 BEST FOR: AGILITY
When you're zooming along the trail the last thing you want are bulky shoes slowing you down. Enter Saucony Peregrine ISO. Built for speed, these are the trail runners you've been dreaming off.
The lightweight Saucony Peregrine ISO has tacky rubber outsoles with flexible rubber lugs that are grooves which bite into the earth to prevent slippage. This amps up traction making these trail running shoes suitable for varying terrain. As debris goes flying, the protective uppers keep your feet scratch-free. Powerful on the ascent and swift on the downhill, the cushioning keeps your feet feeling supported and comfortable every step of the way.
THINGS TO CONSIDER BEFORE BUYING TRAIL RUNNING SHOES
COST
A solid pair of trail running shoes will offer ample protection, comfort, and traction. Depending on how serious of a trail runner you are, your running shoe needs will vary from person to person.
If you're the type to enjoy the scenery on a mile or two run, then an inexpensive option will suit you just fine. However, if you greet technical terrain with a wide-toothed smile, you'll want an aggressive shoe to match. For this, you'll want to invest in a more expensive option.
WIDE VERSUS NARROW FEET
This is a big kicker. Wide, narrow, or average, you'll need a trail running shoe that matches the width of your feet. Choosing a shoe that doesn't fit the width of your foot can mean more blisters and swelling or result in an awkward floppy fit.
For narrow feet, you'll comfortably slip into a slim and snug fit like the Salomon Sense Ride 2. For wide feet, you'll want a more roomy option like the Altra Lone Peak 4.
SHOE TYPE
There are three types of trail running shoes: light-trail, rugged-trail, and off-trail shoes.
Light-trail shoes offer modest protection with traction best suited for well-groomed trails.

Rugged-trail shoes increase foot protection and support, making them well suited for the varying trail conditions you'll find on hiking trails.

Off-trail shoes enhance the features you'll find on rugged-trail shoes – such as more aggressive soles and water protection. This style of shoe is for the bold and daring trailblazers.
TERRAIN AND TRACTION
Rooted, rocky, soft dirt, compact dirt – there are a multitude of varying types of terrain you'll encounter on the trail. While there are some trail running techniques to help you improve performance, without the right trail running shoes for the job you won't stand a chance.
In this case, the main features that you'll want to pay attention to are the outsoles. For technical terrain, you'll want grippy outsoles with deep lugs that provide good traction and stability. On the other hand, for lighter trails you can get away with a less aggressive outsole.
CUSHIONING
If feeling every rock and root makes you cringe, you'll want a decent amount of cushioning. Meanwhile, if you prefer ground feel then minimal cushioning is a better option. What you choose completely depends on your own comfort level.
FEATURES EXPLAINED
LUGS
Deep indentations on the outsoles of shoes that provide traction and stability.
GAITERS
A material that attaches to your shoe to prevent dust and debris from getting inside.
ROCK PLATE
A thin material, usually located between the midsole and outsole, that protects the underfoot from sharp rocks or roots.
ZERO DROP
Zero drop refers to the lack of elevation from heel to toe. This feature mimics barefoot movement allowing for a more natural range of motion and full foot splay.