Updated on July 4, 2021
Whether you're a seasoned hiker or you're new to the trails, you'll want something on your feet to keep you comfortable on both long and short treks! But finding the best hiking shoe for women can be tough – trust us, we feel your struggle. With so many different kinds of hiking shoes out there, it can be difficult to navigate the kind of shoe that is best for you, and best for the kind of hiking you'll be doing. Have no fear! The Adventure Junkies have laid out this guide to help you discover the perfect fit, no matter what kind of adventure you're planning.
From wet, swampy hikes to dry, desert treks, we've covered it all. Check out this complete guide to the best hiking shoes for women to find the perfect fit for all of your hiking needs. You'll be Cinderella (mountain version) with the perfect fit in no time.
For more of our top hiking footwear recommendations, check out the Best Hiking Shoes.
Quick Answer

-

The Best Hiking Shoes for Women
Merrell Moab 2 Waterproof

Oboz Sawtooth II Low BDry

Merrell Chameleon 7 Limit

The North Face Hedgehog Fastpack
Comparison Table

-

Best Hiking Shoes for Women

For the best experience turn your device horizontally
Reviews

-

The Best Women's Hiking Shoes
La Sportiva Spire GTX
Specs
Closure

:

Lace-up

Height

:

Ankle

Weight

:

1 lb. 8.2 oz.

Upper

:

Mesh/polyurethane Techlite toe and heel
Features
Abrasion-resistant mesh uppers
360° breathability along with waterproof protection
Vibram® XS Trek and Impact Brake System™ outsoles supply traction and grip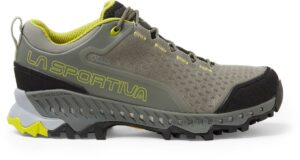 BEST OVERALL WOMEN'S HIKING SHOE
When you need a technical hiking shoe that outperforms in every category, take a look at La Sportiva's Spire GTXs.
The Spires are ankle-high lightweight hiking shoes that are waterproof — thanks to a GORE-TEX later — and yet also highly breathable. This is due to the brand's Nano Cell 2.0 technology. This technology is complimented by a combined ventilation and support system. This STB Control System provides for ventilation outlets through the midsole while also giving torsional stability and snugness. Vibram rubber outsoles ensures these shoes remain grippy when tackling slippery terrain.
What I like most about the La Sportiva Spires is their impressive traction, whether you're fast packing, trail running, or hiking unforgiving mountain trails.
Merrell Moab 2 Waterproof
Specs
Closure

:

Lace-up

Height

:

Ankle

Weight

:

1 lb. 12 oz.

Upper

:

Suede leather/mesh
Features
Performance suede leather and mesh uppers have protective rubber toe caps
Waterproof breathable membranes
Bellowed, closed-cell foam tongues keep moisture and debris out
Merrell M Select Fit.Eco+ blended-EVA, contoured footbeds with zonal arch and heel support
Molded nylon arch shanks add stability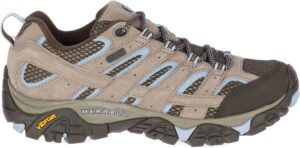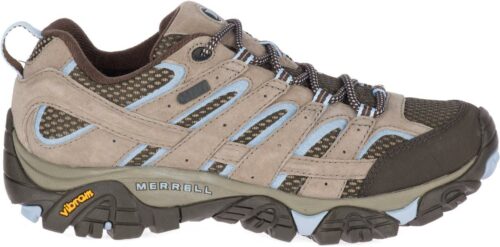 BEST FOR: HIKERS ON A BUDGET
If you're looking for a durable, waterproof hiking shoe that costs under $130, you'll be hard pressed to find a better alternative.
Merrell's Moab 2 waterproof hiking shoes feature suede leather and mesh uppers. The brand's proprietary waterproof membrane is highly breathable and complimented by mesh linings. EVA midsoles and a molded arch make these shoes comfortable and supportive while a heel-positioned air cushion provides for excellent shock absorption. Grippy, 5mm Vibram rubber outsoles ensure you won't miss a step when you're on the go."
What I like most about the Merrell Moab 2s — other than their affordable cost — is the closed-cell foam tongue that does a great job at keeping out moisture and debris.
Altra Lone Peak 5
Specs
Closure

:

Lace-up

Height

:

Ankle

Weight

:

1 lb. 2.4 oz.

Upper

:

Mesh
Features
Laser-cut holes on the uppers allow quick drainage after creek crossings
Midsoles provide a responsive yet soft ride
Toe boxes allow the toes to relax and spread out naturally
MaxTrac™ outsoles feature a multidirectional lug pattern for grippy traction on a variety of terrain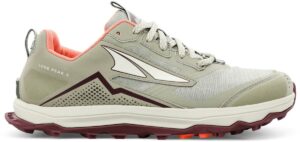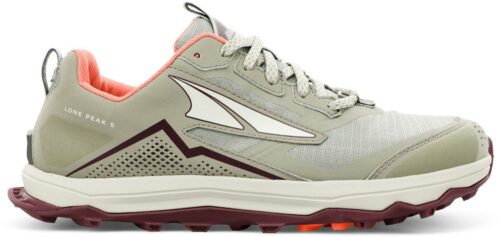 BEST FOR: LIGHT & FAST ADVENTURES
Whether you're in need of a supportive shoe for trail running or a lightweight hiker for long-distance trips, the Lone Peak 5s are sure to meet your needs.
Altra is a running-centric company that has become increasingly popular among thru-hikers and the latest iteration of the Lone Peak is a great example of why. The Lone Peak 5s weigh in at just 1lb 2.4 ounces for the pair, making for the lightest pair of hikers on our list. The toe box is designed to allow the toes to relax and spread out as they would naturally and GaiterTrap hook-and-loop tabs allow you to secure your gaiters to your shoes to keep out dirt and debris.
What I like most about the Altra Lone Peak 5s is how well the thick heel cushioning reduces impact on your joints when landing.
HOKA ONE ONE Speedgoat 4
Specs
Closure

:

Lace-up

Height

:

Ankle

Weight

:

1.15 lbs.

Upper

:

Mesh
Features
Vibram Megagrip outsole rubber won't slip out in wet conditions
Lightweight foam midsole ensures a soft yet responsive ride
Updated mesh upper delivers breathability while staying durable
Wider forefoot adds stability and greater comfort for long miles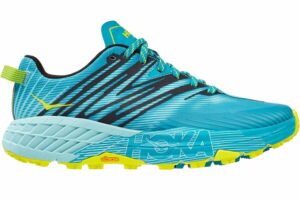 BEST FOR: LONG DISTANCE HIKES
When you need extra thick cushioning in a lightweight build, look no further than the Speedgoat 4s — they may be exactly what you're looking for.
Once a niche brand for runners, the HOKA's Speedgoat line-up in particular has become increasingly popular among hikers. The Speedgoat 4s feature exceptional comfort and support created by a combination of lightweight foam midsoles and durable mesh uppers. 3D-printed overlays over the upper's mid foot serves ensure a secure fit, mile after mile.
What I like most about the HOKA ONE ONE Speedgoat 4s is how lightweight they are, second only to our top ultralight choice. These weigh in at just 1 lb 5.6 ounces for the pair.
Oboz Sawtooth II Low BDry
Specs
Closure

:

Lace-up

Height

:

Ankle

Weight

:

1 lb. 12.4 oz.

Upper

:

Nubuck leather
Features
3D Molded Heel Counter Provides Superior Comfort While Keeping The Heel In Place
Soles Built For Maximum Grip And Low Weight
Bonus: Oboz Plants A Tree For Every Pair Of Shoes Sold, In Partnership With Trees For The Future!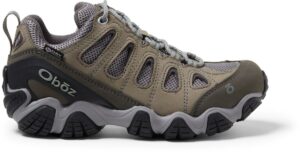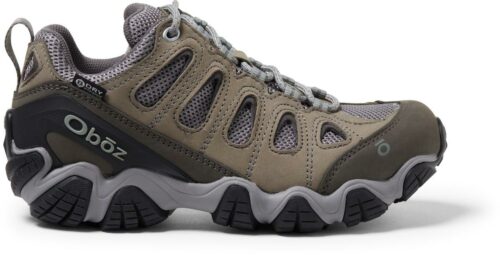 BEST FOR: TOUGH TERRAIN
If stability and foot protection are your two main considerations when picking out a pair of hiking shoes, take a look at the Sawtooth II Low BDry — they're sure to fit the bill.
The Sawtooth II Low BDry are the brand's waterproof version of one of the beefiest pairs of women's hiking shoes available. Waterproof Nubuck leather uppers meet moisture-wicking mesh liners in a killer combination of weather resistance and breathability. The integration of nylon shanks contributes to this shoe's incredible degree of underfoot protection. In tandem with the high-friction rubber outsoles and toothy side lugs makes for one of the most sure-footed hiking shoe choices out there.
What I like most about the Oboz Sawtooth II Low BDrys is that Oboz plants a tree for every pair of shoes it sells in partnership with the organization Trees for the Future.
Merrell Chameleon 7 Limit
Specs
Closure

:

Lace-up

Height

:

Ankle

Weight

:

1 lb. 11 oz.

Upper

:

Leather & Mesh
Features
Rubber Toe-Caps Protect Your Toes From Getting Stubbed On Roots And Rocks
Molded Arch Support Gives Your Feet Superior Stability, Even On Slick Terrain
Merrell Air Cushion Insole Provides Maximum Comfort For All Day Wear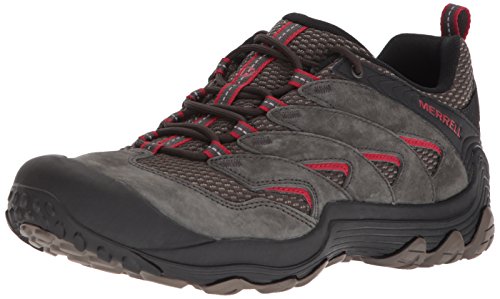 BEST FOR: LAST MINUTE PURCHASE
If you need a pair of hiking shoes with no time to break them in, these are the shoes for you! People who purchase these shoes rave about how comfortable they are-right out of the box. You may even find yourself (like many others) wanting to wear these shoes around the house and out for errands, just because of how comfortable they are.
It's important to put extra emphasis on the comfort factor if you have no time to break in your hiking shoes. While hard sole hiking shoes can be great, they can take some time to get used to. If you jump right into hiking without breaking them in first, they could cause painful blisters. 
The Merrell Chameleon Limit 7's, though, will have you walking on a cloud the very first time you put them on, thanks to their built-in air cushion and molded arch support. These features work together to provide a soft and supportive walking surface so you can hike inside and out without ever wanting to take these shoes off your feet!
Danner Trail
Specs
Closure

:

Lace-up

Height

:

Ankle

Weight

:

1 lb. 2 oz.

Upper

:

Leather & Textile
Features
Mesh Lining Allows Your Feet To Breath On Hot Days
Ortholite Footbed Helps To Keep Your Feet Cool And Cushioned
Lightweight Midsole Adds Additional Cushioning And Extended Wearability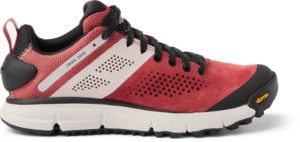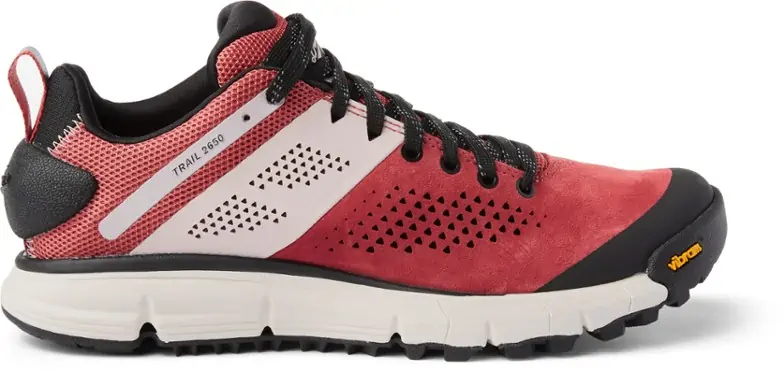 BEST FOR: ALL DAY WEAR
You'll want to sport these functional yet stylish hiking shoes on and off the trail! The Danner Trail 2650 3" hiking shoes look and feel like a pair of sneakers, but they are built to trek. One of the best things about these shoes is their lightweight midsole. A lightweight midsole means these shoes won't weigh you down and are wearable even on longer, tougher treks. 
In addition, they have an Ortholite Footbed, which is found in the sole of the shoe. The Ortholite footbed is made from recycled rubber to give you cushioning and keep a spring in your step all day long! Lastly, the Danner Trails are complete with a mesh lining to allow your sweaty feet to breathe. These shoes are great because you can wear them from morning until night, and your feet will still be comfortable, even if you  never take them off.
Merrell Siren Edge
Specs
Closure

:

Lace-up

Height

:

Ankle

Weight

:

1 lb. 4 oz.

Upper

:

Mesh
Features
Antimicrobial Technology Helps Control Odor
Cushioned Heel Helps To Absorb Shock
Breathable Mesh Lining Keeps Your Feet Feeling Cool And Fresh All Day Long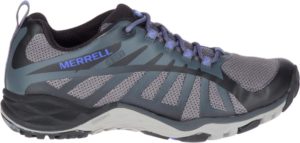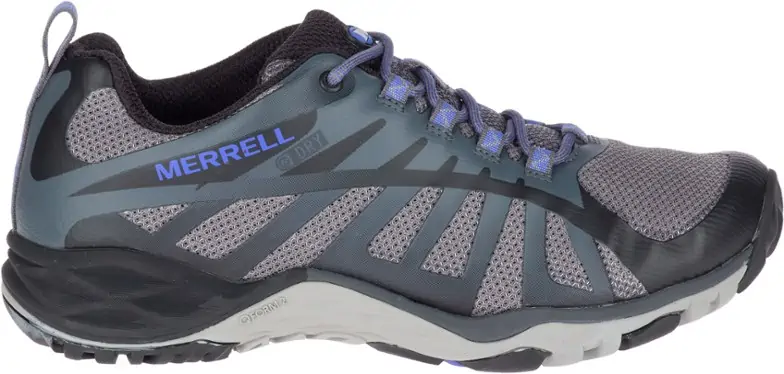 BEST FOR: ODOR CONTROL
Do your feet stink after a long walk or hike? Then you need the Merrell Siren Edge Hikers! These sweet kicks feature antimicrobial technology to help keep your shoes feeling fresh. They also have a breathable mesh lining to help whisk away sweat and keep your feet feeling good.
Plus, these shoes are super cozy! Merrell takes your comfort very seriously, which is why they produce some of the most pleasant-feeling hiking shoes around. And their cool 3D  print design adds a fresh flare to help you stand out on the trails.
The North Face Hedgehog Fastpack
Specs
Closure

:

Lace-up

Height

:

Ankle

Weight

:

1 lb. 3 oz.

Upper

:

Leather
Features
Polyurethane-Coated (PC) Leather Uppers Protect Your Feet Against Moisture While Allowing Them To Breathe
Strong Outer Structure Increases The Durability Of These Shoes
Three-Part Stability System Offers All-over Support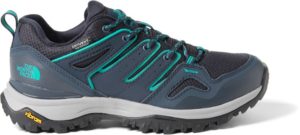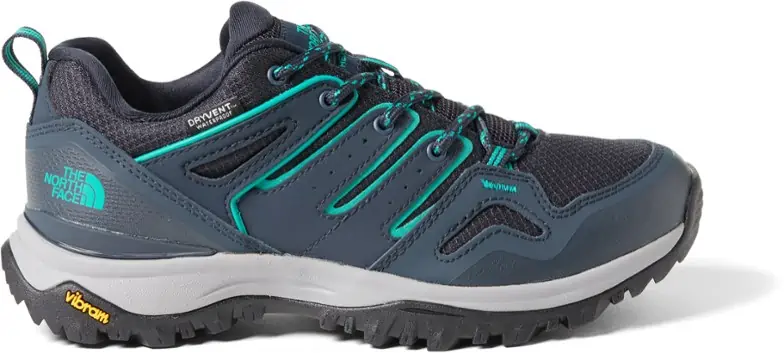 BEST FOR: OVERALL USE
The Hedgehog Fastpack GTX Hiking shoes have a higher price than many other hiking shoes on the market, but if you plan to do a lot of different kinds of hikes, they are a really great pick. Versatile and durable, these shoes will hold up in all kinds of weather and can take a lot of wear and tear from more difficult terrain. They're the Adventure Junkie pick for an all-around hiking shoe, and we think you'll find value in this investment if you plan to do a significant amount of hiking.
Salomon X-Mission 3
Specs
Closure

:

Elastic Pull Cord

Height

:

Ankle

Weight

:

1 lb. 2 oz.

Upper

:

Mesh
Features
Extremely Breathable
Moisture-Wicking Liner
2 Year Limited Warranty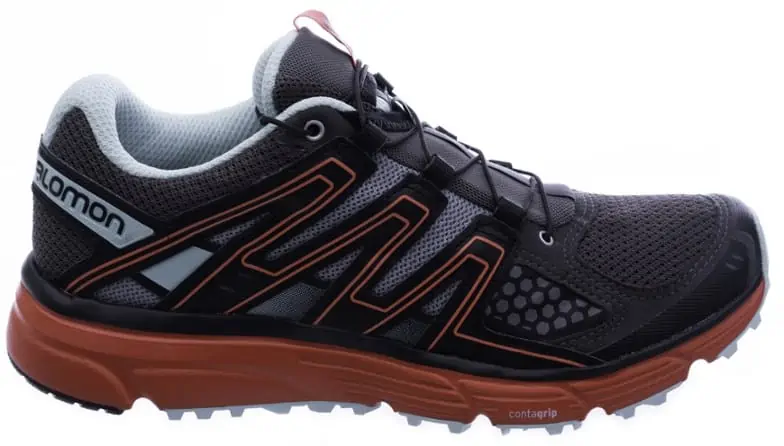 BEST FOR: VERSATILE TERRAIN
Salomon is one of the most trusted names in hiking shoes. The X-Mission 3 Trail runners are one of Salomon's very best models, and if you plan to do a lot of hiking on versatile terrain, they are well worth the price. Featuring maximum stability and powerful grip technology to protect you in tough terrain and slippery conditions, these shoes are great both for walking and running on the trail.
In addition to their premium support, grip, and versatility, the X-Mission 3's come with a limited two year warranty when you order from Amazon, so you know they are built to last. Wide foot? No problem. These shoes also come in women's wide.
THINGS TO CONSIDER WHEN BUYING WOMEN'S HIKING SHOES
GRIP
Grip is a key factor to consider when purchasing any outdoor adventure shoe since it is actually a matter of safety. If you plan to hike something steep, having a good grippy sole means traversing steeper terrain will be a lot easier, and a lot less dangerous, as well. When looking for a shoe with good grip, check out the material it is made with. Vibram rubber is a great choice for good grip. You should also consider the tread, which is the design on the bottom of the shoe. Deeper tread design generally provides better grip than shallow or even flat treads.
VERSATILITY AND TERRAIN
Hiking shoes are generally quite versatile because they are more appropriate for the trails than sneakers are, but they are not quite as evolved as a hiking boot. However, each pair of hiking shoes is designed for a slightly different purpose.
Be sure to consider what kind of hiking you will be doing (think: steep terrain versus flat nature trails, walking versus running, dry versus wet, etc.). Use this info to select a shoe that is specifically designed for the types of terrain you will be traveling the most. If you're not sure if you should purchase a hiking shoe or hiking boot, you can check out this handy guide from REI: Hiking Boots Vs. Trail Runners: The Great Debate.
SUPPORT
Many of the shoes we recommend in this article feature special support technology. If you are someone who has had an ankle or foot injury, place extra emphasis on the importance of this feature. Conversely, if you plan to use your hiking shoes mostly for flat nature walks, ankle support may not be as vital.
BREATHABILITY
Many hiking shoes are designed to be super breathable and keep your feet cool on long treks. Be aware if this is best for you, though. Breathability sometimes means that the shoe is not waterproof, as it may utilize light, meshy material to let your feet breathe. If you will be hiking in drier, hotter climates, breathability is key. However, if you live in a cooler, wetter area, you may want to go with something that is a little heavier but will keep you dry.
FEATURES EXPLAINED
CLOSURE
The mechanism(s) that the shoe has to allow you to close it around your foot.
OUTSOLE
The material on the very bottom part of the shoe, important for determining grip.
UPPER
The part of the shoe that surrounds and covers the sides and top part of your feet.
3D MOLDED HEEL COUNTER
A special design at the back of the shoe used to hold your heel comfortably in place.
TOE CAP
A protective piece of material (often rubber or steel) on the front edge of your shoe.
FOOTBED
The part of your shoe where your foot sits. A good footbed provides support and comfort.
LINING
The lining of the shoe touches your foot or sock, and is often designed with a specific feature in mind, such as allowing your feet to breathe or locking out moisture.