Updated on March 19, 2021
One of life's greatest enjoyments is to kick back after a hard day on the trail and fire up some delicious food. Considered to be one of the most essential pieces of gear to own, your investment in having one of the best backpacking cookware sets will go a long way in providing creature comforts on the rugged trail.
There aren't too many details that you'll have to sweat over, making this purchase a relatively straightforward one. But with literally hundreds of options to choose from, we've narrowed it down to the top 10 best backpacking cookware sets to make your choice as simple as possible.
For more of our top backpacking gear recommendations, check out the Best Backpacking Stoves.
Quick Answer

-

The Best Backpacking Cookware
GSI Outdoors Pinnacle Camper

Primus PrimeTech 2.3 L Pot System

Stanley Adventure Base Camp Set

Snow Peak Titanium Multi Compact

Snow Peak Titanium Mini Solo

GSI Outdoors Halulite Microdualist II

Toaks Titanium 1600ml Pot With Pan
Comparison Table

-

Best Backpacking Cookware

For the best experience turn your device horizontally
Reviews

-

The Best Cookware for Backpacking
GSI Outdoors Pinnacle Camper
Specs
Best Use

:

Family/Group Backpacking

Weight

:

3 lbs. 10 oz.

Cookware Material

:

Aluminum

Nonstick Surface

:

Yes
Features
Pot Gripper Attaches Externally To Avoid Internal Scratches
Nonstick Surface Is Scratch Resistant And Heats Food Evenly
Color Coded Dinnerware Helps Each Person Keep Track Of What's Theirs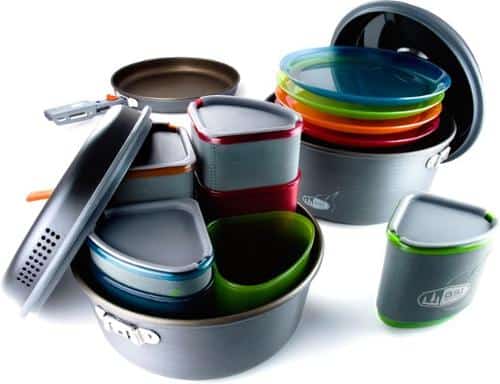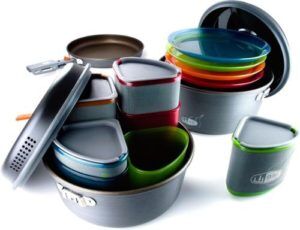 BEST COOKSET OVERALL
Looking for a fully loaded cookset that has pots, pans, plates, and cups galore? Then the GSI Pinnacle Camper Cookset is your perfect match for a truly cushy camping experience.
This cookset features 2 pots (3 Liters & 2 Liters) each with their own lid that has a built-in strainer for pasta, a frying pan, 4 plates, 4 bowls, 4 insulated mugs with sippable lids, and an external pot gripper that won't scratch the interior of your pots. The dinnerware is color coded so that no one mixes up whose is whose. The set also features a welded sink basin that doubles as a carry bag.
MSR Ceramic 2-Pot Set
Specs
Best Use

:

Budget Backpacking

Weight

:

1 lb

Cookware Material

:

Aluminum

Nonstick Surface

:

Yes
Features
Two lightweight pots for easy cooking while backpacking
Lightweight aluminum construction
Strainer lid and handle accommodate differently sized pots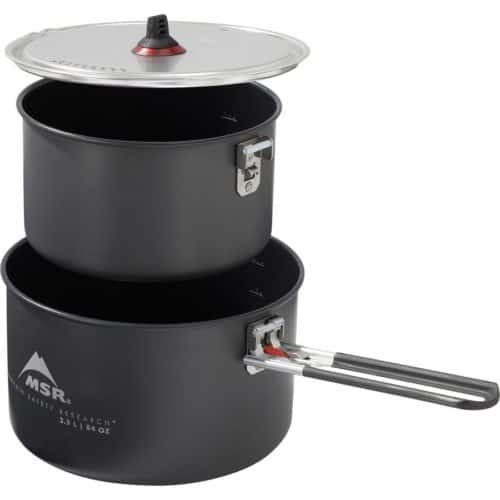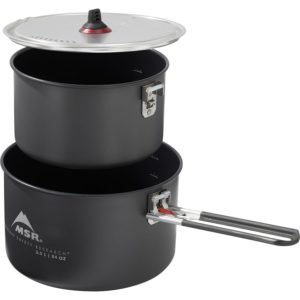 BEST FOR: BACKPACKERS ON A BUDGET
MSR designed this 2-pot system from environmentally AND health-friendly ceramic materials. The system includes two pots and a pair of plier-like potholders designed to nest together and take up the least amount of space possible. The non-stick ceramic coating is also scratch resistant, which is a nice feature if you enjoy using metal utensils.
What we like most about this cookware system is that it can be used for simply boiling water and also serves to cook meals more evenly than most other options on the market. You'd be hard pressed to burn even the stickiest of foods.
TOAKS Titanium 750ml
Specs
Best Use

:

Ultralight Backpacking

Weight

:

3.9 oz

Cookware Material

:

Titanium

Nonstick Surface

:

No
Features
Corrosion resistant, pure titanium construction
Ounce and millimeter marks enable precise measurements
Lid with lockable grip & vent holes
Includes mesh storage sack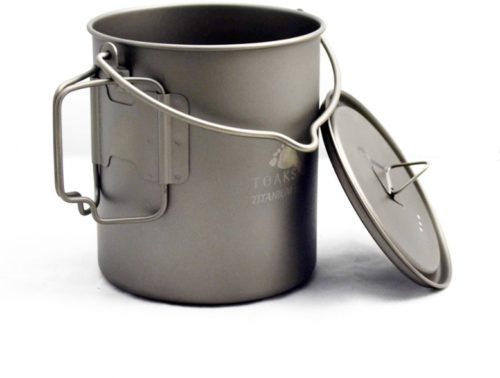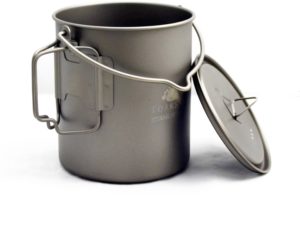 BEST FOR: ULTRALIGHT BACKPACKING
From solo overnight missions to extended multi-day adventures, this pot does it all. At 750mL, there's plenty of space for boiling water — no matter what you plan on rehydrating. This extremely durable pot is a great choice for an ultralight pot that still gets the job done. It features folding handles and a lid with a wire tab that makes it easy to check on your food or water. The seal formed by the tight-fitting lid also creates for unmatched heat retention.
What we love most about this pot — besides its feather light weight — is that it's compact enough for stashing into your backpack's side pocket AND big enough that you can stash a 4oz fuel canister inside.
Primus PrimeTech 2.3 L Pot System
Specs
Best Use

:

Backcountry chefs

Weight

:

1.6 lbs

Cookware Material

:

Aluminum, ceramic

Nonstick Surface

:

Yes
Features
Quick cooking and low fuel demand
Self-locking ceramic tongs
Top lid turns into strainer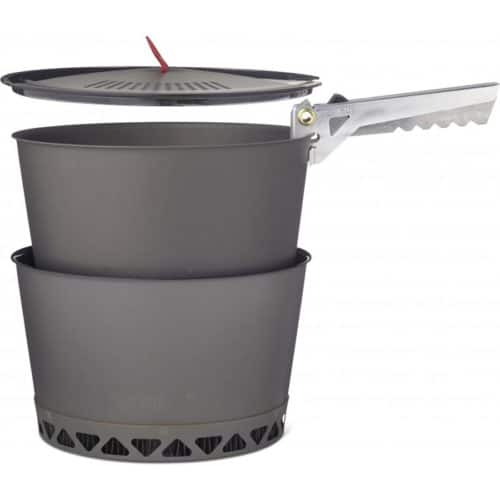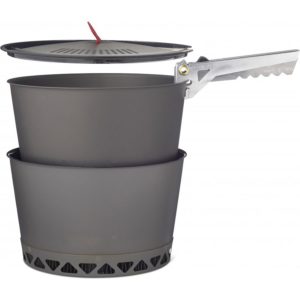 BEST FOR: BACKCOUNTRY CHEFS
If you're looking for something simple, hearty, and built to last, this 2.3L Pot System is sure to fit the bill. This all in one system not only allows you to whip a delicious meal, but also save loads of fuel thanks to its highly efficient design. The set includes two pots, a lid, a handle, non-stick coating, and heat exchanger rings. The accessory pot nestles perfectly inside the main pot — and everything fits nicely in the included insulated carry bag.
What I covet most about this cookware set is just how efficient it really is — in part due to the inclusion of heat exchanger rings. The main pot's thick aluminum bottom and Teflon coating makes cooking scrambled eggs — which notoriously tend to overcook on most cookware sets I've tested — a delicious-tasting backcountry possibility.
Stanley Adventure Base Camp Set
Specs
Best Use

:

Basecamp Cooking

Weight

:

5 lbs. 9.6 oz.

Cookware Material

:

Stainless Steel

Nonstick Surface

:

Yes
Features
Stainless steel pot and frying pan
Four 6-inch plates & four bowls
Four sporks, Spatula, Serving spoon
Cutting board
Drying rack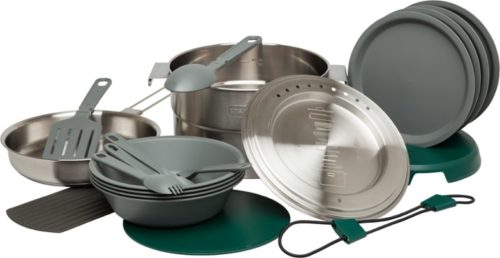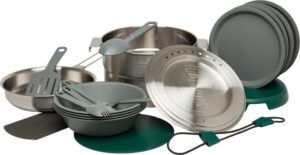 BEST FOR: BASECAMP COOKING
If you're looking for a full-kitchen experience in a camp-friendly package, look no further. The Stanley Adventure Base Camp cookware set includes a stainless steel pot and frying pan, four 6-inch plates, four bowls, four sporks, a cutting board, spatula, serving spoon, and drying rack. It's essentially designed to match the performance and design of your kitchen at home.
What we like most about this cookware set is the intuitive vented lid design and how affordable it is for such a comprehensive kit.
MSR Quick 2 System
Specs
Best Use

:

Backpacking

Weight

:

1 lbs. 12 oz.

Cookware Material

:

Hard-Anodized Aluminum

Nonstick Surface

:

Yes
Features
Color Coded Plates/Mugs Prevent Mixups
Entire Set Nests Within 2.5L Pot For Efficient Packing
Pieces Can Be Left At Home To Create An Even Lighter Set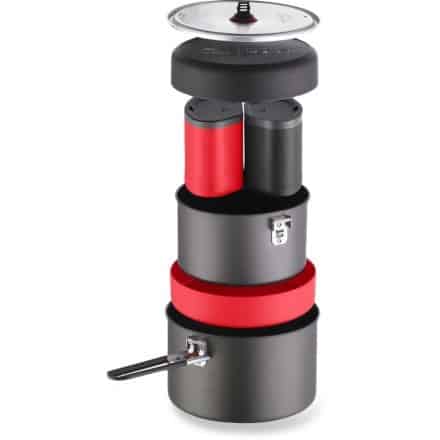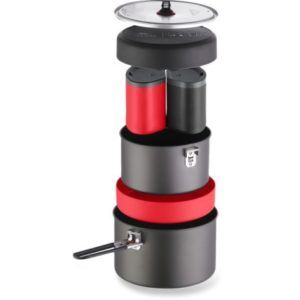 BEST FOR: COMPACT COOKING FOR 2
Perfect for any backpacking duo, the MSR Quick 2 System is a light and versatile cookset that covers all your bases and can be stripped down to the essentials for an even lighter load.
Boasting two of (almost) everything for a complete meal set for each backpacker, this cookset features 2 insulated mugs with lids, 2 "DeepDish" plates (for either soup or solid food – it's essentially a bowl-plate), and 2 pots (1.5 Liter & 2.5 Liter). It also sports a lid with a built-in strainer and a detachable pot lifter that won't scratch the interior.
This set can also be stripped down for a single backpacker or if both you and your partner already have water bottles, you can remove the cups to create room inside the pot to store your stove!
Snow Peak Titanium Multi Compact
Specs
Best Use

:

Ultralight Backpacking

Weight

:

11.6 oz.

Cookware Material

:

Titanium

Nonstick Surface

:

No
Features
Extremely Lightweight And Durable
Handles Pack Flat For Easy Storage
Includes A Lightweight Nylon Mesh Storage Bag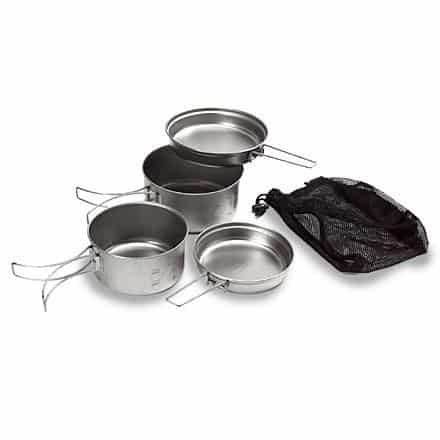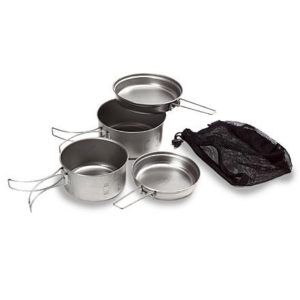 BEST FOR: HIGH-QUALITY, MINIMAL DESIGN FOR SMALL GROUPS
Small backpacking groups of 2-3 people looking to invest in the most durable and longest lasting cookware set ought to consider the Snow Peak Titanium Multi Compact cookset. Sporting the lightest, most durable, and longest lasting material (Titanium), you'll get the absolute best bang for your buck.
The set features 2 pots (34 oz. & 26 oz.), a 17 oz. frying pan, and a 12 oz. saucepan, the latter two which can double as lids for the pots. The handles on each pot and pan fold down for easy storage and all four pieces nest within each other for the most efficient use of space and can also store a 100/110g fuel canister inside (sold seperately).
Snow Peak Titanium Mini Solo
Specs
Best Use

:

Ultralight Backpacking

Weight

:

6.38 oz.

Cookware Material

:

Titanium

Nonstick Surface

:

No
Features
100g Fuel Canisters Can Fit Inside The 30 oz. Pot
Pot Nests Snuggly Inside The Cup For Compact Storage
Rounded Bottom Edges Are Easy To Clean And Improve Heating Efficiency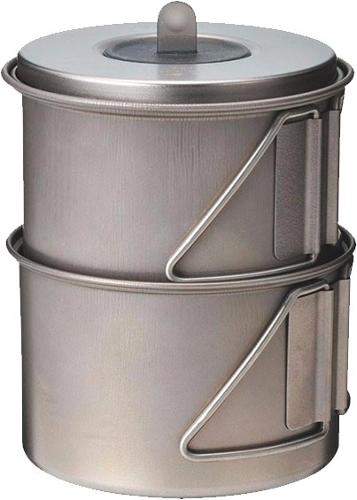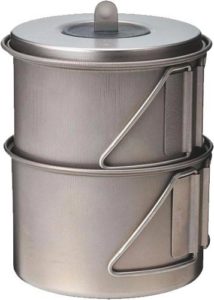 BEST FOR: ULTRALIGHT SOLO BACKPACKERS
The lightest of the lightest available cooksets, the Snow Peak Titanium Mini Solo cookset is streamlined and efficient for your most rugged outdoor adventures.
Made from Titanium, the lightest and most durable material for a cookset, the Mini Solo resists corrosion and heats food evenly. It's also extremely efficient meaning you'll use less fuel for each cook. The taller 30 oz pot fits snugly inside the shorter 18.3 oz. cup thanks to a slight difference in circumference size, allowing you to nest the two pieces for the ultimate packdown.
The lid for the pot also has a silicone tab for burn-free removal! No need to cover your hand first.
GSI Outdoors Halulite Microdualist II
Specs
Best Use

:

Backpacking

Weight

:

1 lbs. 7 oz.

Cookware Material

:

Hard-Anodized Aluminum

Nonstick Surface

:

No
Features
Hard-Anodized Aluminum Heats Food Evenly
Welded Stuff Sack Protects Cookware And Doubles As Wash Basin
Pot Lid Is Crushproof And Heat Resistant, Also Includes Built-In Strainer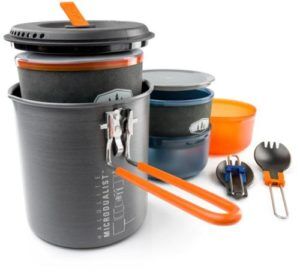 BEST FOR: TWO-PERSON OUTINGS
Having a complete cookset for two doesn't have to be bulky, heavy and expensive. The GSI Outdoors Halulite Microdualist II shatters all of those conventions in favor of a streamlined, lightweight, affordable cookset that sports all the features of a fully-loaded set.
Nesting all of its pieces within a 1.4L pot, this cookset features two 14 oz. bowls, two 14 oz. mugs with sippable lids, two folding foons (fork-spoons), and a lid for your pot with a built-in strainer.
The folding foons collapse to just 3.7" inches from it's fully extended 6.1" inch length, making it small enough to fit inside the nesting system.
Toaks Titanium 1600ml Pot With Pan
Specs
Best Use

:

Ultralight Backpacking

Weight

:

8.2 oz.

Cookware Material

:

Titanium

Nonstick Surface

:

No
Features
Includes A Mesh Storage Sack
No Metallic Aftertaste With Titanium
Ounce And Liter Marks Allow For Precise Measurement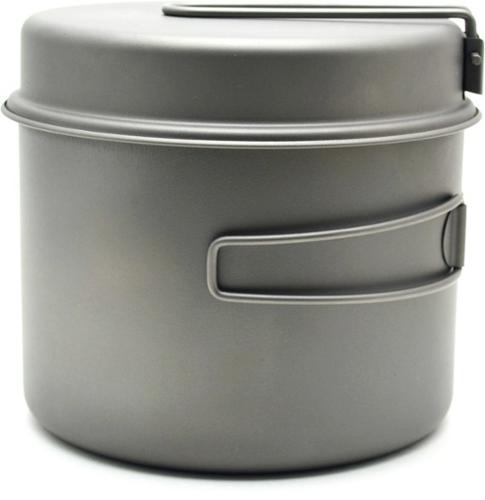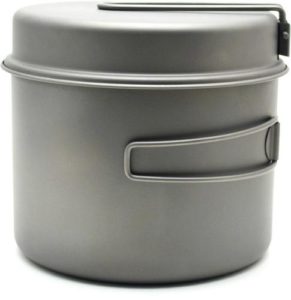 BEST FOR: EXPANDING YOUR EXISTING MINIMAL SET
If you have a minimalist solo set or an ultralight cookware set for two, then the TOAKS Titanium 1600ml Pot with Pan is a perfect addition to expand your set. Able to hold 1.6 Liters (1600ml), this sizeable pot is still super lightweight and has a lid that doubles as a fry pan (or vise versa).
The entire set weighs just 8.2 oz., making this expansion set the best ultralight add-on. It's also large enough to store a 220g fuel canister and small stove inside itself. The handles even feature a nifty fold-down mechanism for compact storage.
THINGS TO CONSIDER WHEN BUYING BACKPACKING COOKSETS
MATERIALS
There are a wide variety of materials that cooksets are offered in. Below, we detail the pros and cons of each and rate them for backpacking and car camping.
Aluminum
Lightweight and affordable, aluminum is a fantastic material for a cookset. Food is cooked evenly and efficiently on aluminum cookware since it's such a great conductor of heat. While it's pretty durable, over time it will eventually break down and need replacing, especially if you cook highly acidic foods such as tomato sauce. Aluminum is also softer than other metals, meaning it will get banged up, taking both scratches and dents with heavy use.
Hard-Anodized Aluminum
A more durable, albeit pricer, option to aluminum is hard-anodized aluminum. It provides all the benefits of standard aluminum without any of the downsides – just cook away!
Stainless Steel
While it is an option, stainless steel offers little benefit to backpackers and campers. Although it's way more durable than aluminum, it's also much more expensive yet doesn't heat food as evenly. It's also really heavy which can be quite the drawback when you're trying to save weight. For the high price tag, you're better off investing in titanium or hard-anodized aluminum.
Titanium
If you're not constrained by a budget, this is your absolute best option! Titanium is the lightest material possible which makes it ideal for backpackers looking to shave weight. While it is more expensive than some other options, it's extremely efficient which translates into fuel cost savings. Last but not least, titanium is highly corrosion-resistant meaning it will outlast and outperform any other cookset material.
Non-Stick Coating
Non-stick coatings are really easy to clean, making your post-meal chores a breeze. However, the coating is much less durable than aluminum or titanium. It's important to use only plastic utensils while cooking with non-stick or you will likely scratch and degrade the non-stick surface.
Cast Iron
Best for car camping, cast iron skillets hold seasoning really well and make some amazingly delicious campfire dinners. They're crazy durable but also extremely heavy, which makes them a no-go for backpacking.
ADDITIONAL CONSIDERATIONS
Number of Pots/Pans
When choosing a cookware set, it's best to consider how many people you usually backpack or camp with. A rough estimate is 1 pot for every 1 to 2 people in your group, but that largely depends on what you're cooking.
For dehydrated meals that simply need boiled water to be added, or can-ready meals that need warming like chili, then 1 pot per 2 backpackers will be enough. But if you're cooking a more standard meal from scratch with multiple ingredients, then each backpacker will likely need a dedicated pot/pan.
Pot Size
The size of your chosen pots and pans also plays a critical role in determining the best cookware set. Larger pots are more efficient for space and resources since you won't need as many burners as you would with multiple smaller pots. Ideally, the largest pot in your set should hold 1 pint per person in your group. So if you're a hiking group of 4 people, then you'll need a pot than can hold at least 4 pints, if not a little more.
Lids and Handles
While completely optional, and usually ditched by ultralight enthusiasts, lids can help food cook faster and achieve results such as melting cheese atop a burger pattie. Some cookware sets are super efficient, and double their pans as lids.
Handles are also really important to consider. Many sets offer collapsible handles to help save space in your pack while other sets completely ditch them in favor of a single pot lifter/gripper than can be used for multiple pots/pans. This can help save weight for ounce-conscious hikers.
OPTIONAL GADGETS
Those who can't bear to go a morning without coffee may want to invest in a french press. You can find compact and durable ones made specifically for backpacking! Coffee while camping may seem like a luxury to some, but it's a necessity for many! Car campers may enjoy a dutch oven as it increases your dinner options and makes large meals easy to cook.
FEATURES EXPLAINED
BPA
Bisphenol A – a chemical used to make polycarbonate plastics that is not food safe. When choosing plastic containers for food and water, make sure they're BPA-free.
Liter
Many of the pots and pans on the list above are measured in liters, which is roughly 4 cups of water.
Ultralight
A style of backpacking that focuses on reducing unnecessary weight to make travel lighter. Many ultralight backpackers obsess over ounces and have been known to snap toothbrushes in half and shave them down to create the most minimalist design possible. Their theory is that each ounce saved ends up equalling pounds, and each pound saved over a mile is less energy spent.