Updated on October 13, 2020
You want to share your love of hiking with the newest member of your family. The easiest way to make hiking a natural part of your family time is to get your baby used to your favorite activity from the very beginning. To do that, you need a reliable baby carrier, so that's why we've put together this list of the best baby carriers for hiking.
These hiking baby carriers allow you to bring your baby to the trails from the first day you decide to bring them along until they can hike on their own two legs. Your little one can take in the smells, sights, and sounds of nature and maybe even get in a good nap from their safe perch, close to you. Find the baby carrier that suits your lifestyle!
For more of our top hiking gear recommendations, check out the Best Hiking Backpacks for Kids. 
[thrive_leads id='68005′]
Quick Answer

-

The Best Baby Carriers for Hiking
Kelty Journey PerfectFit Elite

Kelty Journey PerfectFIT Signature

LÍLLÉbaby Complete All Seasons

Chicco Smartsupport Backpack
Comparison Table

-

Best Baby Carrier for Hiking

For the best experience turn your device horizontally
Reviews

-

The Best Hiking Baby Carriers
Kelty Journey PerfectFit Elite
Specs
Material

:

Polyester

Weight

:

7 lb 4 oz

Style

:

Backpack

Weight Limit

:

50 lb

Sunshade

:

Yes

Waist Size

:

33-51.5"
Features
Adjustable Suspension System, Load Lifter Straps, And Sternum Straps Distribute The Load
Five-point Safety Harness And Roll Cage Protect Your Precious Cargo
Built-in Sunshade Alleviates Heat And Harmful UV Rays
Incredible Storage Capacity Within The 9 Compartments, Including A Wipeable "Dirty" Pocket
Wide Child Seat Base, Washable Drool Pad, And Adjustable Stirrups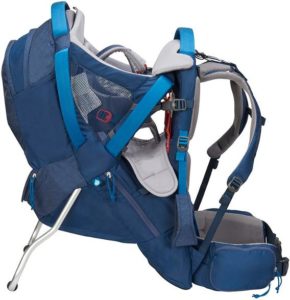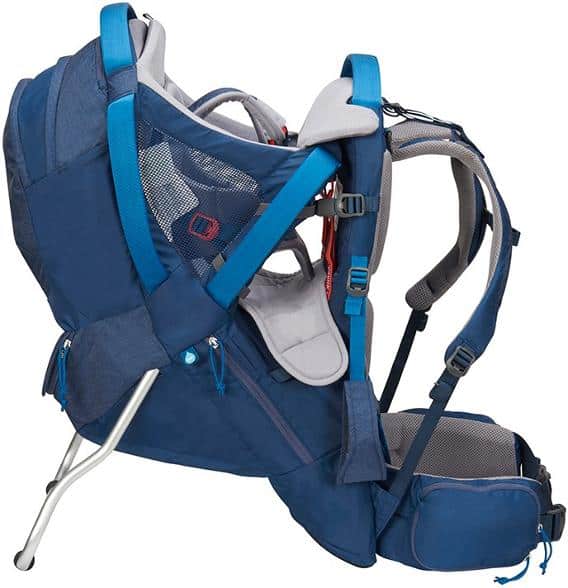 BEST FOR: TOUGH TERRAIN
Your child's safety is one of your main priorities in life right now, and compromising it isn't an option. That's why the Journey PerfectFIT Elite is one of your top choices, especially on unpredictable terrain. Similar to a car seat, the five-point safety harness keeps your baby from slipping one way or another. 
The carrier also incorporates a roll cage into its aluminum frame. This helps keep your baby unscathed if you happen to lose your footing. The reliable kickstand allows you to load and unload your baby by yourself without the struggle. Just note your child may not fit as well in the carrier with a winter coat as it's designed more for mild to warm weather.
Osprey Poco AG Plus
Specs
Material

:

Ripstop nylon

Weight

:

7 lb 11 oz

Style

:

Baby back carrier

Weight Limit

:

48.5 lb

Sunshade

:

Yes

Waist Size

:

24-50"
Features
Pressure-Relieving Suspension System
Padded Cockpit With Adjustable Seat Height And Stirrups
Removable Drool Pad Catches Spit-Up
Fleece-Lined Child Safety Harness
Seven Storage Compartments Throughout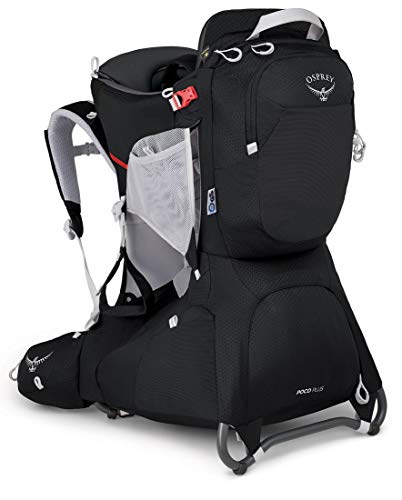 BEST FOR: LONG-TERM USE
This baby carrier grows with your child, accommodating little babies up to 40+ lb toddlers. You can adjust the seat height, harness, and stirrups each hiking season until your child is able to walk on his or her own. You can both collect memories from now until then.
You'll notice you can handle the accumulating miles through the years too. Just think: as your child gets bigger, your hiking muscles gradually get stronger. You can think of your kid as your training partner. At the same time, the top-notch suspension system, padded straps, and padded hip belt take it easy on your back so those miles are more pleasure than pressure.
Deuter Kid Comfort Pro
Specs
Material

:

Polyamide Polyester

Weight

:

8 lb 5 oz

Style

:

Backpack

Weight Limit

:

48 lb 8 oz

Sunshade

:

Yes

Waist Size

:

24-54"
Features
Back-saving Suspension System, Arched Frame, And Padded Load Adjustment Straps
Easy Adjustable Torso Length (15-20")
Removable Day Pack And Numerous Pockets Throughout
Height- And Width-Adjustable Baby Seat
Removable Side Cushions And Pillow Promote Trail Naps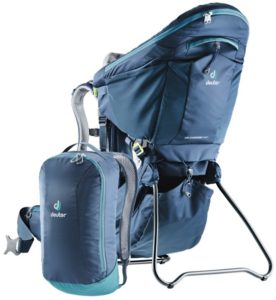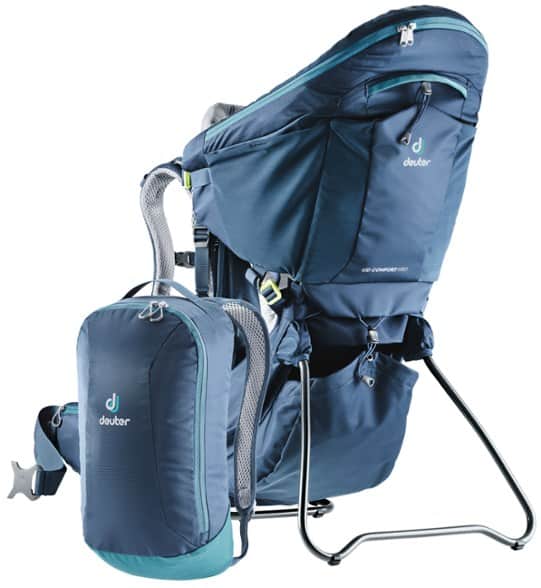 BEST FOR: HOT-WEATHER HIKING
Carrying a child on a summer day sounds stifling, but the right child carrier can make that trip totally doable. The sunshade, ventilated cabin, and breathable back and straps keep airflow moving so neither you nor your passenger overheats in hot weather. The long side compartment holds your water bladder too, so you both stay hydrated. 
Feel free to plan an all-day excursion while you're at it. The removable day pack and collection of pockets hold everything you could possibly need, from diapers to lunches. Your baby can even take a nap behind you inside the cushy cockpit. See that? No more cutting your plans short to get home for naptime!
Deuter Kid Comfort 1
Specs
Material

:

Polyester

Weight

:

5 lb 7 oz

Style

:

Backpack

Weight Limit

:

48.5 lb

Sunshade

:

No

Waist Size

:

22-56"
Features
Specialty Ventilated Back System Promotes Airflow
Adjustable Back And Seat Height For Baby And Me
Five-Point Safety Harness Grows With Your Child
Storage Includes A Large Main Compartment, Front Pocket, And Mesh Pocket
Self-Supported Aluminum Kickstand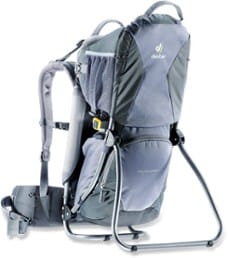 BEST FOR: RURAL TO URBAN ADVENTURES
Pushing a stroller through crowded parks and pavement can be a hassle. And the Kid Comfort 1 is your ticket out of strollering. Carrying your kid on your back is way more convenient–and cooler–than the constant stroller hustle. Plus your kid will get a kick out of riding on mommy or daddy's back.
When you run away to the trails on the weekend, you can grab your trusty Kid Comfort 1 for that too. You should have enough oomph and storage for at least a half-day in the woods. The only drawback is this version doesn't come with a sunshade but it has a spot for one, which you can purchase separately.
Thule Sapling
Specs
Material

:

Nylon

Weight

:

7 lb 8 oz

Style

:

Back Child Carrier

Weight Limit

:

48 lb

Sunshade

:

Yes

Waist Size

:

27-49"
Features
Adjustable Torso Length, Load Stabilizer Straps, And Hip Belt For Shared Carrying
Ergonomic Child Seat With Adjustable Stirrups Provides Thigh Support
Top- And Side-Loading Capabilities
Pull-Out Sunroof Shades Them From The Peak Sun
Comes With A Large Front Pocket, Hip Belt Pockets, And A Water Reservoir Sleeve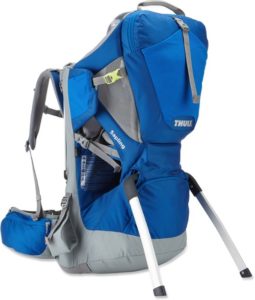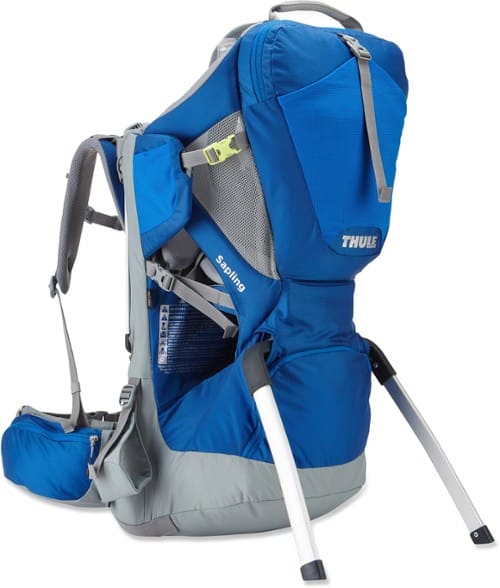 BEST FOR: ONE-PERSON LOADING
One of the drawbacks of many child carriers is that you often need help to load your child in and out of the carrier. Not so with the Sapling. You can load your child from either the side or the top by yourself. The aluminum kickstand helps with the process too. You can set the pack firmly on the ground to get your baby in and out.
Most of the main pockets are within reach for you too, so you don't have to stop or ask someone else every time you need something. If you plan to do a lot of hiking or sightseeing by yourself, this would be an ideal choice. However, if someone else does come along and share the carrying duties with you, then everything can be adjusted to their size too.
Kelty Journey PerfectFIT Signature
Specs
Material

:

Polyester

Weight

:

6 lb 6 oz

Style

:

Backpack

Weight Limit

:

50 lb

Sunshade

:

Yes

Waist Size

:

34-51.5"
Features
Five-Point Harness And Padded, Aluminum-Framed Roll Cage
Plush Cabin With Wide Child Seat Base And Adjustable Stirrups
Integrated Sunshade Provides Sun Protection
Suspension System, Load-Lifter Straps, And Sternum Straps Distribute The Weight
Comes With A Zippered Main Compartment And 3 Additional Pockets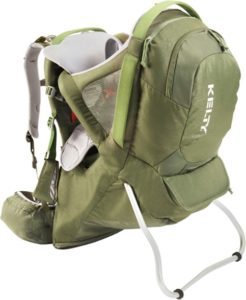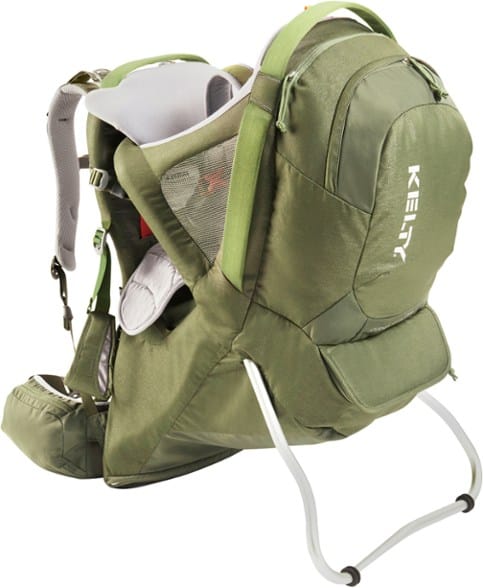 BEST FOR: LONG-DISTANCE HIKES
If you think you can't manage a long-distance hike with a child on your back, you haven't tried the Journey PerfectFIT Signature carrier yet. The carrier does everything it can to relieve pressure on your back. It has a suspension system and load-lifter straps absorb impact from every step while the sternum straps and waist belt take some of the weight off your shoulders.
If you happen to lose your footing, the built-in roll cage helps keep your kid from jostling around. Even on solid ground, the cocoon-like effect of the roll cage and sun flap help your baby feel secure enough to fall asleep. No more missed nap times!
LÍLLÉbaby Complete All Seasons
Specs
Material

:

Cotton

Weight

:

1.6 lb

Style

:

Front and Back Carrier

Weight Limit

:

45 lb

Sunshade

:

No

Waist Size

:

up to 52"
Features
Six Ergonomic Carrying Positions: Fetal, Infant Inward, Toddler Inward, Outward, Hip, Back
Adjustable Side Panels For Healthy Hip Positioning
Large Storage Pocket For Baby Essentials
Headrest And Removable Sleeping Hood
Padded Adjustable Straps And Lumbar Support For Parents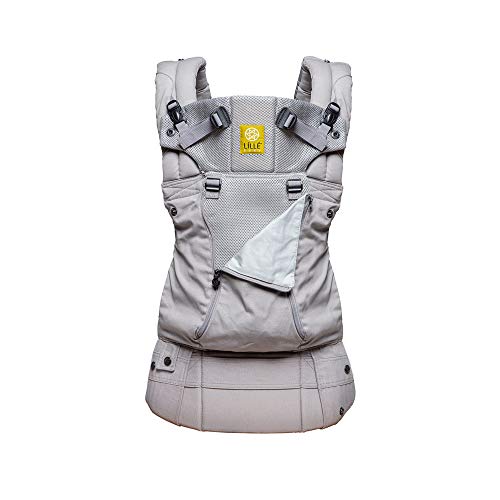 BEST FOR: SHORT VENTURES WITH AN INFANT
As a new parent, just taking a walk around the block is a "hike" for you. You still want to get outside with your baby, but you're not quite ready to venture into the wilderness yet. That's the LÍLLÉbaby sweet spot. You can take a quiet stroll on paved park pathways to get out of the house while you nuzzle your baby close. Though this isn't your traditional hiking carrier, many parents prefer a carrier like this on the trails to hold their babies close and keep their heads protected.
You can certainly keep carrying your child as they grow too. The 45 lb capacity lets you give your toddler a piggyback ride through your local trails when they get too tired to walk. You may not bring this carrier on long trips, but short casual strolls are just as sweet.
Chicco Smartsupport Backpack
Specs
Material

:

unknown

Weight

:

6 lb 6 oz

Style

:

Backpack

Weight Limit

:

40 lb

Sunshade

:

Yes

Waist Size

:

unknown
Features
Adjustable Seat Positions And Five-Point Harness
Technical Lumbar Padding For Back Support
Adjustable, Padded Shoulder And Hip Straps
Lightweight Aluminum Frame Folds Flat For Storage
Pull-Out Sunroof Provides Shade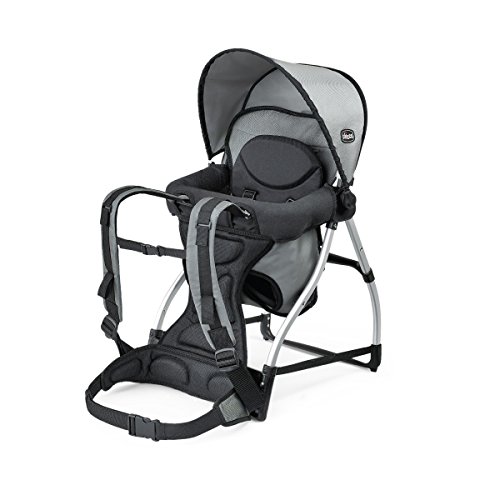 BEST FOR: CURIOUS, ALERT KIDS
This baby carrier gives your child a little extra wiggle room and holds them up higher, which is perfect for kids who love to look around. This pack is just like a stroller you wear on your back, minus the wheels. Just think about how much easier it is to navigate through trails or crowds without a set of wheels.
You do have to sacrifice some storage though, unless your partner carries a bag separately. This baby carrier doesn't have any pockets, but you could strap a small pack to the aluminum frame if you wanted. Otherwise, maybe you're the type who prefers not to bring so much stuff. In that case, this child carrier is your minimalistic ally.
Clevrplus Cross Country
Specs
Material

:

Oxford Cloth

Weight

:

5 lb 6 oz

Style

:

Baby Back Carrier

Weight Limit

:

40 lb

Sunshade

:

Yes

Waist Size

:

up to 50"
Features
Adjustable Seat Height, Safety Belt, And Foot Straps
Removable Sunshade With Rain Flaps For Erratic Weather
Thick Padding On The Shoulder Straps, Lumbar Pad, And Hip Belt
Comes With Mesh Bottle Pockets, Hip Belt Pockets, And Below-Deck Storage
Washable Drool Pad/Chin Rest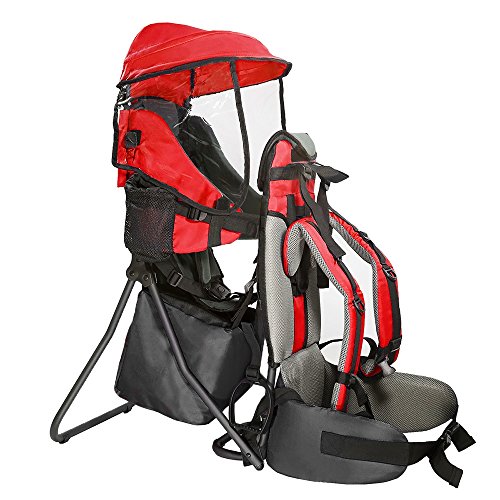 BEST FOR: WET CONDITIONS
This cross-country backpack grows with your child from the time they're 9 months to 4 years old or 33 lbs. The foot and seat straps extend to accommodate a growing child. Hopefully by the time they're 5, your child has earned their own trail legs so you no longer have to carry them.
The cool thing about this pack is that it provides shade from the sun and complete coverage from the rain, without sacrificing the view. The clear storm flaps keep your baby dry and entertained so you don't have to hightail it back to the car every time the skies open.
Specs
Material

:

Ripstop Polyester

Weight

:

6 lb 6 oz

Style

:

Backpack

Weight Limit

:

40 lb

Sunshade

:

Yes

Waist Size

:

unknown
Features
Waterproof Fabric And A Rain Hood Block The Elements
Adjustable Safety Straps And Stirrups Grow With Your Child
Ergonomic Suspension System, Padded Straps, And Load-Bearing Belt Support Your Back
Comes With A Diaper Changing Pad And A Thermal Bottle Pocket
Self-Supported Kickstand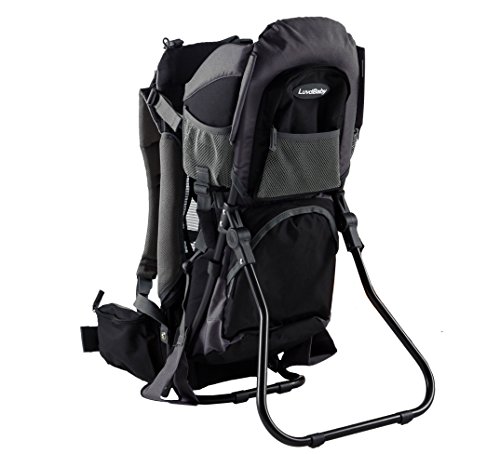 BEST FOR: WETLANDS HIKING
If you're headed to rainy climates in places like Ireland or Oregon, then you need to be prepared for rain with a baby carrier like this. The carrier keeps your baby safely behind you when you're traipsing through slippery crags. The roof and storm flaps keep them isolated from the storms too.
Neither rain (and a crabby baby) nor a sore back can slow you down. The ergonomic, adjustable torso length helps you get the exact fit. Then, the suspension system distributes the load so you don't tire from carrying your child. To boot, you get lots of padding and ventilation to prevent sweat and sore spots.
THINGS TO CONSIDER WHEN BUYING BABY CARRIERS FOR HIKING
SAFETY
Safety harnesses are just as important for baby carriers as they are for strollers and car seats. With a five-point system, your child can't slip out any which way they lean, so that's why most child carriers have them. Roll cages are another feature that might be important to you. They prevent your child from getting hurt if you take an accidental spill on the trail.
Finally, your baby's head control is one of the most important safety considerations to make in terms of a child carrier. Most of the carriers on this list are appropriate for babies over 9 months with good head control. The LÍLLÉbaby is the only carrier for infants without head control. Here's a comprehensive guide to baby carrier safety, all of which apply to hiking carriers.
WEIGHT
If you've been hiking for any length of time, you know that every ounce you carry affects your stamina. That goes for your baby and child carrier too. The less accumulated weight the better, so make sure to take the weight of your pack, your child, and all the gear you need into consideration. 
WEIGHT LIMIT
The weight limit on your child carrier indicates the max weight the pack can hold, including your gear and your child. Make sure you have enough wiggle room to accommodate everything you need.
STORAGE
Babies require lots of stuff, but you don't want to haul a cooler and a diaper bag on your hike. That's why built-in storage on your child carrier is so important. Think about what you absolutely need to have (diapers, bottles, food, etc) and make sure your chosen carrier can accommodate it all.
WEATHER
Some of the carriers here are more appropriate for hot weather with sun shades and breathable material. Others are made for wet conditions with waterproof fabric and rain shields. You can make your decision based on what type of weather you like to hike in or expect to encounter.
ADJUSTABILITY
Most child carriers adjust for both you and your baby. The straps, seat positions, and stirrups expand as your child gets older. The height and width of the carrier and waist belt should adjust to accommodate yours and your partner's sizes.
FEATURES EXPLAINED
KICKSTAND
A kickstand is an aluminum bar you can pull out to prop your child carrier on the ground, just like a kickstand on a bike. The kickstand keeps the pack from toppling over and makes it easier to put your child in and take them out.
COCKPIT/CABIN
The inside of the baby carrier, where your baby sits, is often called the cockpit or cabin. Many parents desire a breathable, padded cabin that keeps their child in a natural position.
POLYAMIDE POLYESTER
Polyamide polyester is a durable type of polyester often used for parachutes due to its tear-resistant, reliable qualities.
OXFORD CLOTH 
Oxford cloth is another strong, thick type of woven material often used to make tents and flags. 
The outdoor-proof, weather-resistant material is perfect for child carriers.
SUNSHADE
A sunshade provides your baby with shade and some protection from the midday sun. The sunshades on baby carriers typically pull out just like an umbrella shade on a stroller.  
ROLL CAGE
A roll cage usually consists of an aluminum frame surrounded by fabric that provides a barrier around your child in case you trip and fall.