Updated on June 10, 2022
So, what are ski poles for, anyways? Generally speaking, poles are used to help skiers with their balance, rhythm, and timing during turns, and support as they move around the mountain. Choosing a good ski pole comes down to the balance between weight and material strength. Materials most often range from aluminum, carbon fiber, fiberglass, and some combination of the three to bamboo and other novelty materials, and you're sure to see all manner of designs and constructions out on the hill. From traditional racing poles that are bent at angles optimized for hard-carving, tight turns to more traditional straight designs, the most important thing to know about choosing the best ski poles is that a well-fitting pole can make your day that much better and can help you progress towards more challenging terrain. We've put together this guide to the best ski poles to help you find poles for this upcoming season. Take a look, and see you out on the mountain!
For more of our top ski gear recommendations, check out the Best Backcountry Ski Poles.
Quick Answer

-

The Best Ski Poles
Black Diamond Carbon Compactor
Comparison Table

-

Best Ski Poles

For the best experience turn your device horizontally
Reviews

-

The Best Poles for Skiing
Volkl Phantastick
Specs
Adjustable

:

No

Best Use

:

Downhill Skiing

Weight

:

Unavailable

Shaft Material

:

Aluminum

Basket Type

:

Race

Safety Release

:

No
Features
Steel tip
2K Grip (rubber+PA), laser textured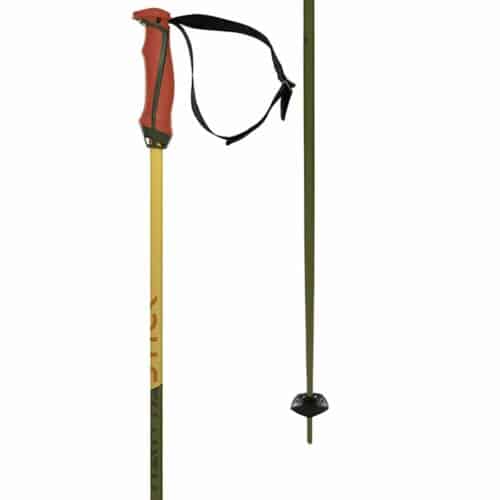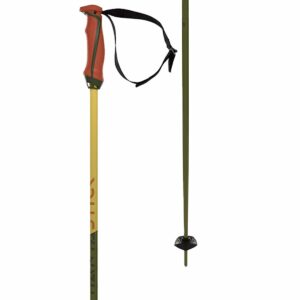 BEST DOWNHILL SKIERS ON A BUDGET
If you're primarily a weekend skier looking for a solid downhill ski pole on a budget, take a look at the $60 Phantasticks.
Volkl designed this quality budget pole with an 18mm diameter shaft. These poles are cut to order, available in sizes as short as 90 centimeters. One of this pole's standout features is its availability in a wide variety of flashy colors, including bright red, aqua, and blue — and matching grips to go with each color.
What I like most about the Phantasticks is how tough and durable they are thanks to a solid alloy construction.
Black Diamond Carbon Compactor
Specs
Adjustable

:

Packable

Best Use

:

Backcountry / Splitboarding

Weight

:

1lb 2oz

Shaft Material

:

Carbon fiber

Basket Type

:

Powder

Safety Release

:

No
Features
Carbon fiber provides high strength without the weight
Speed cone deploys quickly to full length by releasing pole capture
Integrated rubber grip extension comes in handy for sidehilling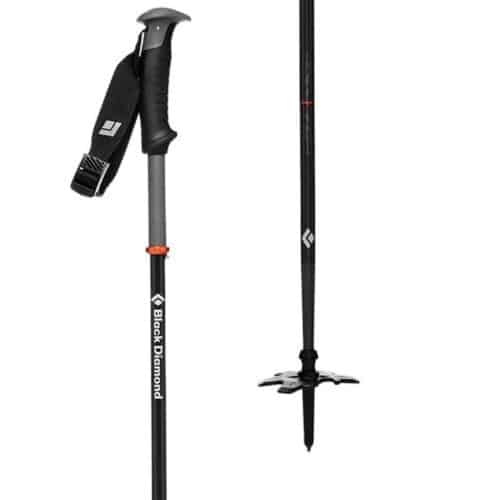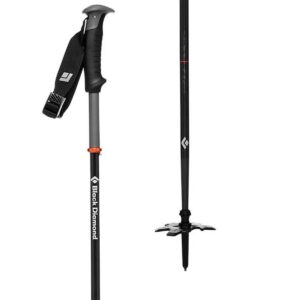 BEST FOR: SPLIT BOARDERS
The nature of splitboarding demands a sport-specific pole — and the Carbon Compactor is one of the leading products on the market.
The Carbon Compactor features a collapsible z-pole design, which makes these easy to stash away when not in use. When you do pack them away, they break down smaller and slimmer than any other pole on this list. It comes with a solid powder basket and is designed to break down fast during transitions, which saves precious time. Because this pole is designed specifically for skinning uphill, it doesn't offer the same performance on the downhill, which is something to keep in mind.
What I like most about the Black Diamond Carbon Compactors is how lightweight they are, weighing in at just eighteen ounces.
Grass Sticks Original
Specs
Adjustable

:

No

Best Use

:

Downhill Skiing

Weight

:

1 lb. 2 oz. (Pair)

Shaft Material

:

Bamboo

Basket Type

:

Standard

Safety Release

:

No
Features
Built By Hand In The United States In Steamboat Springs, Colorado
Bamboo Shafts Have The Strength Of Steel And Compressive Strength That Is Greater Than Concrete
Grips Are Made With A Soft Rubber That Stays Put In Your Hands While You're Skiing

BEST FOR: ENVIRONMENTALLY CONSCIOUS SKIERS
Though they may seem like a novelty, these bamboo Grass Sticks poles are here to stay. Instead of using materials like aluminum and carbon that are mined from the Earth to construct their poles, Grass Sticks has chosen bamboo, a regenerative material that absorbs more CO2 and produces more oxygen than any other plant. The straps are also made of 100% recycled polyester, making these poles one of the most environmentally conscious products on the market. In addition to the environmental benefits of purchasing these poles, they also feature an incredible weight to strength ratio, making them the perfect accompaniment to any terrain that you decide to ski.
Rossignol Tactic
Specs
Adjustable

:

No

Best Use

:

Downhill Skiing

Weight

:

N/A

Shaft Material

:

Composite/carbon fiber

Basket Type

:

Standard

Safety Release

:

No
Features
Durable Aluminum Shafts Allow For Lightweight Comfort And Ease Of Use
Ergonomic Grips Provide A Secure Feeling Even In Gloves And Mittens
Shaft Construction Is Designed To Absorb And Dampen Vibrations Transmitted Up Through The Poles


BEST FOR: NO FUSS PERFORMANCE
The Rossignol Tactic All Mountain ski poles are all about no fuss performance. Without the bells and whistles of some of the poles in the same category, these poles may seem overly simplistic, but that judgment would miss the benefits of this kind of simplicity. A carbon fiber construction allows for lightweight performance without compromising on durability, and a specially designed ergonomic grip promises all day comfort on any terrain at the resort. Finally, it's hard to beat the value that comes with these poles for the price. A low price tag gets you all the performance that you need to enjoy and maximize a ski day at your favorite resort.
K2 Power Composite
Specs
Adjustable

:

No

Best Use

:

Downhill Skiing

Weight

:

N/A

Shaft Material

:

Composite

Basket Type

:

Powder and Standard

Safety Release

:

No
Features
Composite Shaft Construction Provides Lightweight Strength
Straps Are Adjustable For Added Comfort
Baskets Are Designed For All Types Of Snow Conditions And Terrain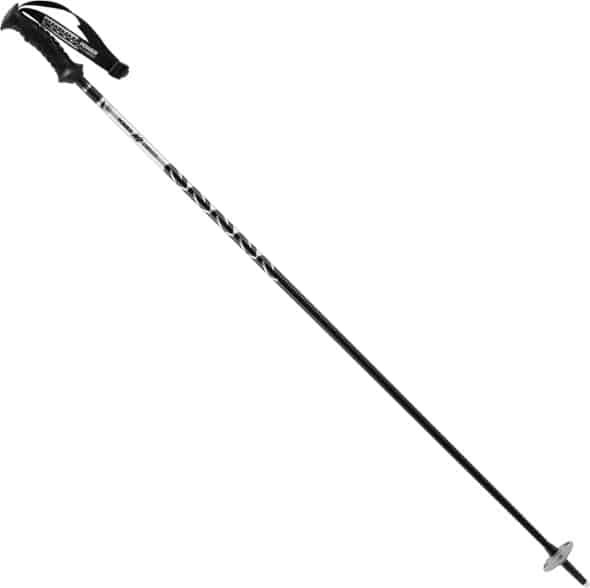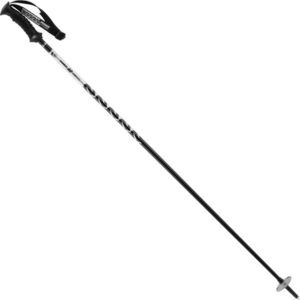 BEST FOR: EXPLORING THE MOUNTAIN
K2's Power Composite ski poles offer the best in ski pole construction design and materials without over-complicating the features of the pole. The 100% composite shaft offers the perfect balance of weight, durability, and strength, so these poles are designed to last and live up to whatever you send their way. From trees to groomed trails and beyond, these poles will get you there. The 60 millimeter baskets will keep your poles floating through powder and will also power through the icy crud in the springtime. Finally, the performance rubber grips and adjustable straps help you to customize your fit for long-lasting, all-day comfort at your favorite ski resort.
K2 Freeride 16
Specs
Adjustable

:

No

Best Use

:

Downhill Skiing

Weight

:

N/A

Shaft Material

:

6061 Aluminum

Basket Type

:

Standard

Safety Release

:

No
Features
Reduced Diameter Around The Grip Of The Poles Makes Them Comfortable For Those With Smaller Hands
Standard Sized Baskets Are Perfect For Groomed Terrain Or Enjoying the Terrain Park
Lightweight Aluminum Shaft Is Both Strong And Durable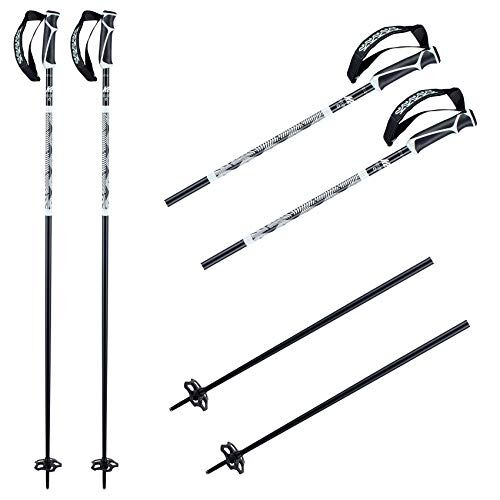 BEST FOR: BOLD AND BRIGHT STYLE
The most standout feature of the K2 Freeride 16 poles is their bright color choices. Your friends are sure to not lose you on the slopes with your choice of either hot pink or highlighter orange ski poles. In addition to their flashy style, these poles also feature lightweight, strong aluminum shaft construction that will hold up to any terrain on the resort, including the terrain park. Finally, these poles also include reduced grip circumference, making them perfect for young teenagers or those with smaller hands so that they can better hold on to the poles without worrying about dropping them or their hands getting too tired.
THINGS TO CONSIDER WHEN BUYING SKI POLES
COST
Ski poles are typically reasonably priced; they are definitely not the priciest piece of equipment in your ski gear arsenal. The difference in cost typically comes in when you start looking at telescoping designs and specialized grips. You should always choose the best option for you when it comes to that balance between economy and functionality, but it's also best to choose something that will last. Go for a pole that you will be using for years to come.
FIT
Choosing a pole that is commensurate with your height and size is critical to having an effective piece of equipment. As a general rule, poles should sit slightly below your armpit height. To measure, turn your poles upside down so that the grip is sitting on the ground and the point and basket (plastic disc on the bottom of your pole) are facing skyward. Grip the pole right under the basket, and look to see if your arm is bent at a 90 degree angle. If your arm and elbow are extended beyond 90 degrees, then the pole is likely too short. If your elbow is more bent and your fist rests above your elbow, the pole is likely too long.
MATERIALS
Poles can be made of many different materials including bamboo, which you'll find in some boutique designers. Typically, poles are made of aluminum, a higher grade aluminum, carbon, or a composite of aluminum and carbon. Aluminum shafts have the most basic type of construction; this is the type of pole that you'll typically find in rental shops. Higher grade aluminum, composite, and carbon-based poles are higher end and usually come with a slightly higher price tag. But with the higher price tag comes better durability, so you'll have to decide what the best balance is for you when it comes to economy and durability.
STYLE
Ski poles come in all sorts of colors and designs. Though the designs have little to no bearing on the performance of the ski pole, the choice of poles presents an opportunity to express yourself and your personal style. Take this opportunity to go bold or to match your pants, jacket, and skis for an awesome look out on the ski hill.
BEST USE/POLE TYPES
Though any pole can really be used for downhill skiing, there are certain categories of poles made specifically for different downhill skiing disciplines. All-mountain poles are made from anything from aluminum to high tech carbon fiber. They typically have a straight shaft and are made for skiers of all ages and abilities. Freestyle poles are made for those that enjoy the terrain park and are typically much shorter for increased maneuverability.
You can recognize racing or racing style poles for their distinctive shaped structures. The different angles are optimized for power at the start of a run and aerodynamics. Backcountry poles are telescoping so that the lengths can be adjusted based on the type of terrain that the skier is on. For more information about choosing the best ski poles for you, check out REI's Expert Advice column on how to choose the right ski pole.
FEATURES EXPLAINED
STRAP
This term refers to the flexible nylon loop attached to the pole at the top of the grip. When you loop your wrists through the straps, it prevents poles from sliding down the hill if you fall or drop the pole. Note that you'll want to remove the straps and hold your poles in one hand when you're getting on and off the chair lift.
BASKET
The basket is the plastic disk at the bottom of your pole that sits just above the point. The purpose of the basket is to keep your pole from sinking too far into the snow. Typically, powder conditions call for a wider basket, while groomed terrain calls for a smaller one.
TELESCOPING POLES
Telescoping poles are typically used by ski mountaineers or those that ski in the backcountry. They can be extended for uphill climbs and retracted for steep descents. While these might be nice to have if you're contemplating heading into the backcountry, this type of design is typically unnecessary for those who spend the most time in the resort.
GRIP
This term refers to the grooved handle that sits at the top of the pole and to which you hold on. You want to make sure that the grip fits your hand comfortably enough to hold onto it all day.
COMPOSITE
Ski poles come in all sorts of materials and designs, but a pole made with a composite of materials is typically the best and most versatile for resort skiing. The mixture of materials provides the best balance between weight and strength.
READ MORE
For more of our top skiing gear recommendations, check out these popular buyer's guides: