Updated on June 1, 2022
While boots may be the foundation for any great hike, socks are an equally important, but often overlooked gear item. Selecting the best hiking socks will provide an essential element of protection for your feet against excess moisture, preventing blisters, and a layer of cushioning for getting you from the trailhead to the summit (and back).
Here at The Adventure Junkies, we always prefer to knock your socks off with our extensive knowledge of all things gear related. However, in this case, we would prefer to simply help you choose the best hiking socks for your feet to comfortably take you on your next adventure.
For more of our top hiking apparel recommendations, check out these popular articles:
Hiking Socks for Women | Summer Hiking Socks
Quick Answer

-

The Best Hiking Socks
Darn Tough Crew Full Cushions

Darn Tough Mountaineering

Wigwam Hiking Outdoor Pros

Smartwool PhD Pro Approach
Comparison Table

-

Best Hiking Socks

For the best experience turn your device horizontally
Reviews

-

The Best Socks for Hiking
Darn Tough Crew Full Cushions
Specs
Material

:

Merino wool/ Nylon/ Lycra spandex

Height

:

Crew

Cushioning

:

Medium
Features
Merino wool wicks away moisture and breathes
Mid-level cushion density under foot
Reinforcement at the heels and toes and elastic support around the arch
Ring-toe construction hides seams and enhances comfort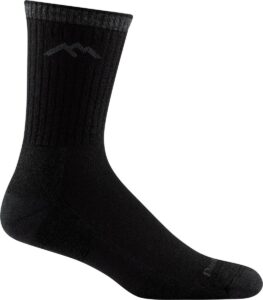 BEST OVERALL HIKING SOCKS
If you're looking for a high quality sock that checks all the boxes, look no further.
Darn Tough's Full Cushion socks feature wide temperature regulation, making them ideal for donning in all but the hottest of weather conditions. These merino wool socks include just the right amount of nylon to boast a little bit of the best of both wool and synthetic worlds. Thanks to a thicker padding, the full cushions are among the more durable socks on this and they also sport excellent wicking capabilities.
What I like most about the Darn Tough Crew Full Cushions is how well they fit, making for a comfortable, sleek sock that serves to help prevent hot spot and blister development.
REI CoolMax EcoMades
Specs
Material

:

COOLMAX EcoMade polyester/ Nylon/ Spandex

Height

:

Ankle

Cushioning

:

Light
Features
The polyester yarn in COOLMAX® EcoMade fabric comes from recycled water bottles
Reinforced heels and toes
Seamless toe construction helps prevent chafing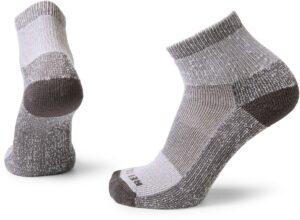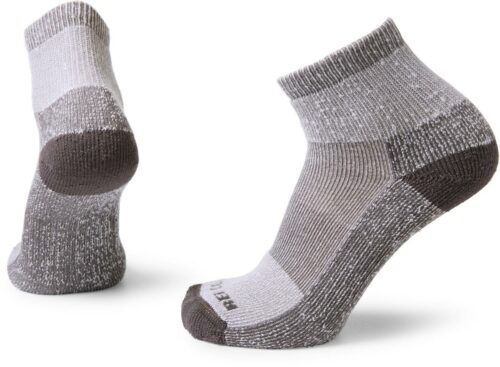 BEST FOR: BUDGET
For under $15, you'd be hard pressed to find a higher quality pair of of hiking socks.
REI designed these lightweight quarter socks from the brand's proprietary COOLMAX EcoMade fabric, which comes from recycled water bottles and stretch nylon. They're reinforced through the heels and the toes to make for an added degree of ruggedness, while seamless toe construction serves to effectively stave off chafing.
What I like most about these socks — other than the affordable price tag — is how well they wick away moisture, making them suitable for wearing all summer long.
Darn Tough Mountaineering
Specs
Material

:

Merino wool/ Nylon/ Spandex

Height

:

Knee

Cushioning

:

Heavy
Features
Over-the-calf height and extra cushioning make them ideal for long-distance hiking and climbing through subzero temperatures
Fine-gauge knitting ups the durability
Performance fit means no slipping, no bunching and no blisters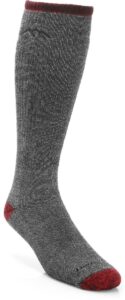 BEST FOR: WINTER HIKING
If you're looking for a sock as heavy-duty as your next adventure, consider Darn Tough's mountaineering model — it's sure to fit the bill.
Darn Tough's over-the-calf mountaineering socks feature extra cushioning in all the right places and a streamlined fit. Although primarily made from merino wool, the brand blended in a bit of nylon and spandex for extra moisturizing wicking and an added degree of durability. The merino wool ensures your feet don't start to stink after a long day out on the trail.
What I like most about the Darn Tough Mountaineering socks is how well they cushion and form fit to your feet and calves.
Wigwam Hiking Outdoor Pros
Specs
Material

:

Polypropylene/ Acrylic/ Nylon/ Polyester/ Spandex

Height

:

Crew

Cushioning

:

Medium
Features
Reinforced heel
Lightweight instep for enhanced breathability
Ultimax moisture management: Gets the moisture up and out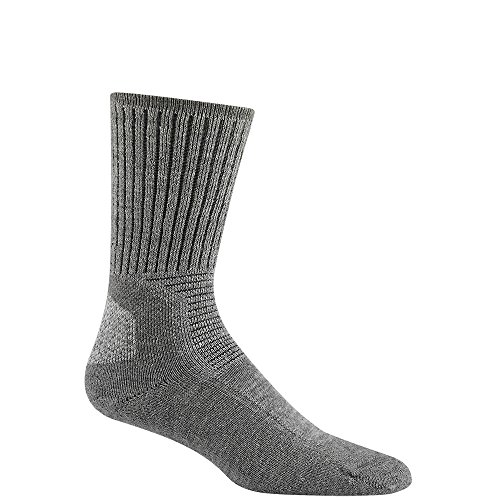 BEST SYNTHETIC OPTION
When you need a full-length sock that performs exceptionally well in wet weather, the Wigwam Pros are a great choice.
These midweight hiking socks feature an impressive degree of durability and are among the quickest-drying models on the market to date. Wigwam has been producing these socks for seven years strong and they remain a top-notch favorite among wet-weather hikers.
What I like most about the Wigwam Hiking Outdoor Pro socks is how affordable they are compared to merino wool alternatives, costing just a dollar more than our budget pick.
Darn Tough Hiker
Specs
Material

:

Merino Wool/ Nylon/ Lycra Spandex

Height

:

Crew

Cushioning

:

Medium
Features
Moisture Wicking
Lifetime Guarantee
Quick Drying
Naturally Antimicrobial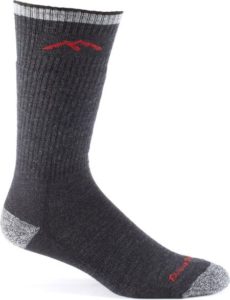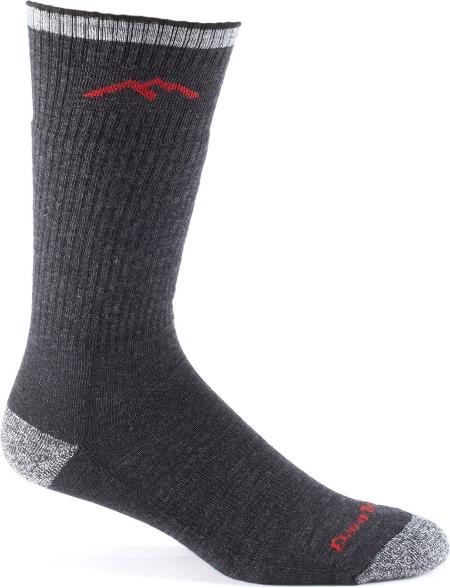 BEST FOR: ALL-WEATHER ACTIVITIES
The name says it all. Not only are these award winning socks, they are also guaranteed for life by Darn Tough. One of the many brands utilizing the amazing properties of Merino wool, the Vermont based company uses only sustainably sourced materials for its American based operation. The family owned company has been making socks in its Green Mountain mill for over 40 years. In addition to fine-gauge knitting, the socks feature undetectable seams which reduce chafing and hotspots. The performance fit also ensures that the socks will stay put on your foot, thus reducing bunching and blisters.
Smartwool PhD Pro Approach
Specs
Material

:

Merino Wool/ Nylon/ Elastane

Height

:

Crew

Cushioning

:

Light
Features
Performance-Oriented Fit
Mesh Zones For Breathability
Seamless Toes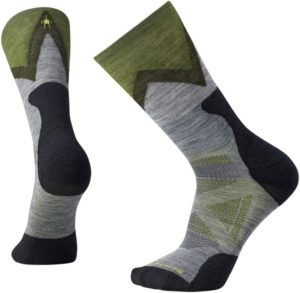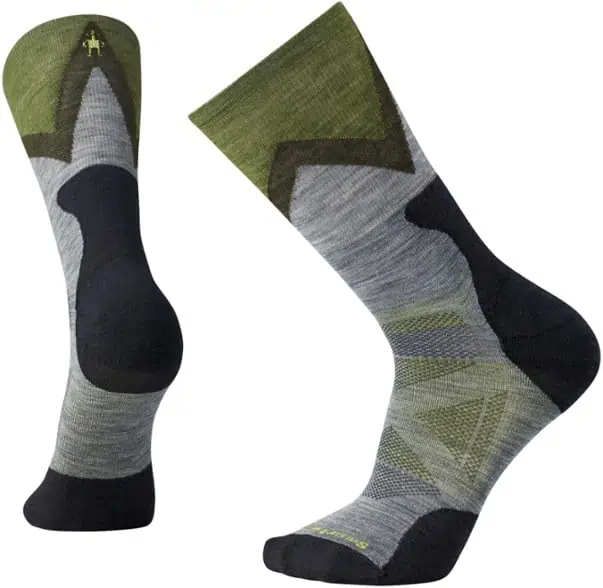 BEST FOR: MULTISPORT
Smartwool literally burst onto the scene 25 years ago when they first began making socks. Since then, the brand, unlike many of the others in this group, have expanded their offerings to include apparel and accessories that also utilizes the same Merino wool used in their socks.
The brand uses a proprietary technology that they've aptly named "Indestructawool" for enhanced durability along with its 4 Degree elite fit system for performance-oriented fit including flex zones in the ankle region. Other features include body-mapped mesh zones to increase breathability, enhanced comfort via virtually seamless toes, and extra protection in the Achilles region.
Farm to Feet Damascus
Specs
Material

:

Merino Wool / Nylon / Lycra Spandex

Height

:

Crew

Cushioning

:

Light
Features
100% U.S. Materials and Construction
Seamless Toe Closure
Moisture Wicking
Lifetime Guarantee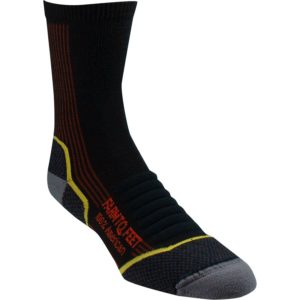 BEST FOR: THRU HIKERS
Farm to Feet may very well be the only brand in the list that is made from 100% U.S. materials. Founded in 2013 as a division of Nester Hosiery, a leading manufacturer of quality Merino wool socks, this company makes all their products right at home in their North Carolina factory. Farm to Feet represents the trend in creating unique products made entirely within the United States.
The socks are created using Merino wool derived from American based farms. Drawing on its history of creating quality socks long before 2013, the socks utilize advanced construction that sandwiches stretchy nylon yarns between two layers of body yarn (from a sheep) creating a smooth exterior and low profile fit which is ideal for technical and sport socks.
REI Co-op Lightweight
Specs
Material

:

Merino Wool / Nylon / Lycra Spandex

Height

:

Crew

Cushioning

:

Medium
Features
Reinforced Padding In The Heel And Toe
Seamless Toe Prevents Chafing
Moisture Wicking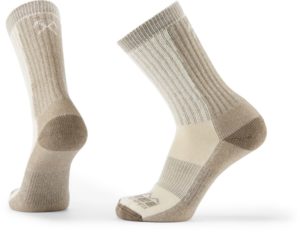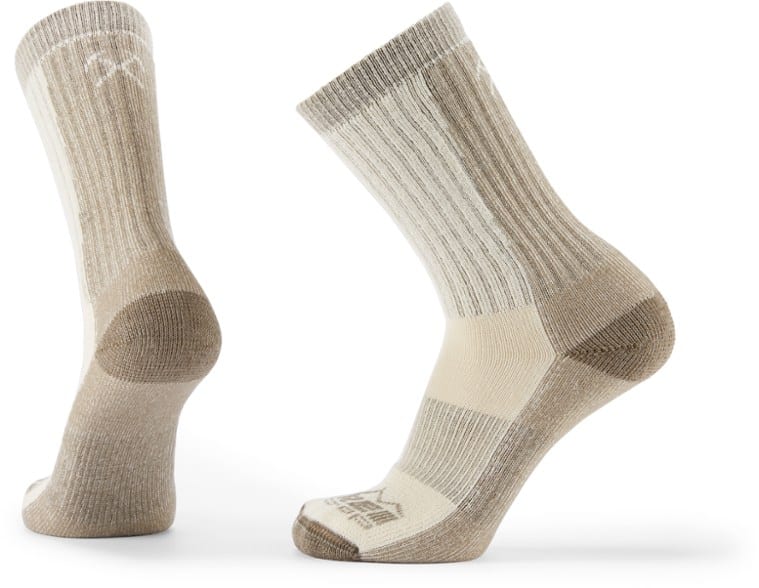 BEST FOR: BUDGET CONSCIOUS HIKER
REI has a history of providing quality gear from numerous manufacturers at their retail locations and online. In addition to providing this resource, the Co-op also produces its own line of gear and apparel. While REI specific items are generally lower in cost than similar items from other manufacturers, extensive research and design goes into every product that bears the REI name.
Notable features in this sock include a seamless toe, a stretch arch band for support, and a reinforced ankle which aids in reducing shoe friction. Additional reinforced padding in the heel and toes increase comfort and durability.
Injinji Liner + Hiker
Specs
Material

:

Wool / Acrylic / Nylon / Lycra

Height

:

Crew

Cushioning

:

Medium
Features
2-for-1 Package (Liner + Sock)
Increased Blister Protection
Moisture Wicking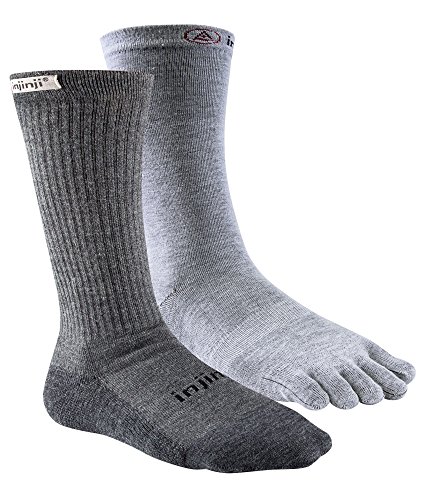 BEST FOR: BLISTER-FREE HIKING
While this sock is one of the pricier options on the list, it can easily be justified by the fact that you are literally getting two pairs of socks for the price of one. The package comes with both the socks themselves, as well as a separate inner liner for maximum comfort. The socks are like gloves for your feet. Each toe is encased in its own cocoon of protection. The benefit of this feature is that skin-on-skin friction is completely eliminated, thereby protecting your feet from spots where blisters are prone to appear first.
THINGS TO CONSIDER BEFORE BUYING HIKING SOCKS
SOCK HEIGHT
The height of your sock should generally reflect the height of the hiking shoe. The rule of thumb when selecting sock height is that the sock should at least be visible above the cuff of the shoe. For example, if wearing boots, a crew sock is the better option over a low-cut or quarter cut sock as the sock will not be able to protect the leg if the shoe is coming into direct contact with the shoe or boot.
CUSHIONING
The amount of cushioning is based on the thickness of the sock. When selecting the right cushioning for socks, consider your destination and the weather expected. Lighter cushioning is typically ideal for warmer climates while heavy cushioning will provide maximum warmth.
PRICE
Money is typically a factor when selecting gear. It's important to know that even if you buy premium boots or shoes for hitting the trail, it's still advisable to not shortchange yourself in the sock department. All of the socks in this list are from respected manufacturers and it comes down to personal preference and what you can afford.
MATERIAL COMPOSITION
Avoid cotton at all cost. Almost all socks in the outdoor marketplace now have some wool in their DNA. The natural properties of the fiber make wool ideal for moisture wicking, warmth, breathability, and antimicrobial benefits. Most hiking socks contain some percentage of synthetic fiber which helps to increase the durability of the socks. A smaller percentage of Lycra or similar material provides the stretch factor needed for maintaining the sock's shape.
FEATURES EXPLAINED
MERINO WOOL
Wool has long been used for it natural properties that have made it ideal for outdoor and lifestyle endeavors. In recent years, Merino wool has emerged as the defacto material due to its softer feel, moisture wicking and thermal regulating properties, and its natural antimicrobial benefits.
ANTIMICROBIAL
Whether natural or synthetically enhanced, the antimicrobial properties of a fiber help resist odor causing bacteria. The benefit will come from the ability to wear fabrics longer without washing. This is advantageous when spending days and weeks on the trail.
SOCK HEIGHTS
There are numerous options when it some to sock height:
Ankle socks typically cover the ankle bone and are ideal for lower cut shoes and boots.

Quarter socks are a height between ankle and crew, so they sit just above your ankle and are usually a good option to pair with low-cut boots on warm summer hikes.

Crew socks are the standard for hiking as they work with lower cut shoes as well as for higher boots. They generally hit around the mid-calf region of the leg.