Updated on August 27, 2020
When you're out and about exploring trails and summiting mountains, your body is moving. When your body in motion, you're burning calories, releasing endorphins, and getting sweaty. Without the best pair of women's underwear for hiking, you might be in for a very uncomfortable hike indeed.
Moisture can cause friction in places of the body that can be very painful. And if you know what it's like to suffer from chaffing, you know it can be excruciating. What's the first line of command for preventing abrasion? Your base layers.
Your favorite pair of hiking underwear may be very different than your favorite pair of everyday underwear. The differences can vary in style, fabric, design, and many other factors. Here at The Adventure Junkies, we understand that there are a wide variety of different body types, and individuals have different preferences and needs when it comes to what they wear underneath it all. That's why we compiled a list of the best hiking underwear for women and broke down all the various features and specifications for each pair. Browse below to see what style will work best for you, so you can hit the trail worry-free.
For more of our top hiking apparel recommendations, check out the Best Hiking Underwear for men.
[thrive_leads id='68005′]
Quick Answer

-

The Best Hiking Underwear for Women
ExOfficio Give-N-Go Full-Cut Briefs

Icebreaker Sprite Hot Pants

ExOfficio Give-N-Go Sport Mesh
Comparison Table

-

Best Hiking Underwear for Women

For the best experience turn your device horizontally
[thrive_leads id='56126′]
Reviews

-

The Best Women's Hiking Underwear
ExOfficio Give-N-Go
Specs
Fabric

:

Majority Nylon

Style

:

Bikini

Moisture Wicking

:

Yes

Quick Drying

:

Yes
Features
Antimicrobial Treatment Helps Prevent Odor
Moisture Wicking and Quick Drying
Elastic Waistband is Comfortable and Soft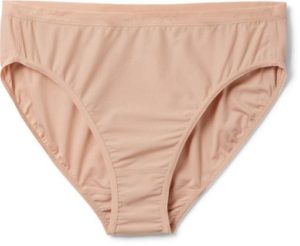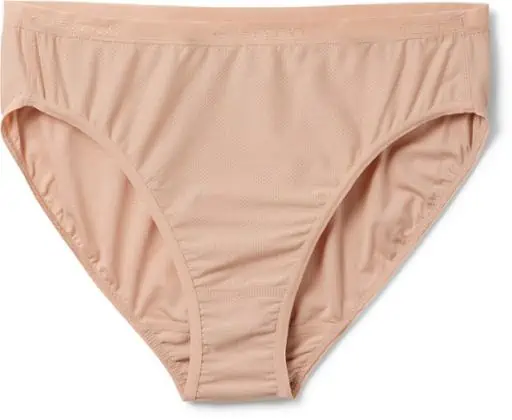 BEST FOR: EVERY KIND OF HIKER
ExOfficio is a well known brand for having the most comfortable hiking underwear out there. And they have this reputation for a reason – their underwear is extremely soft and breathable and it's made of quick-drying fabric. 
ExOfficio also treats it's clothing with an antimicrobial treatment to help control odors throughout the day. It is impossible to guarantee you won't smell after a day in the mountains, but ExOfficio helps control that odor in case you need to wear the underwear for multiple outings on a long-term backpacking trip. 
The thin nylon these panties are made of provides breathability and won't leave you drenched in sweat at the end of your hike. These underwear fit true to size.
Icebreaker Siren
Specs
Fabric

:

Merino Wool

Style

:

Bikini

Moisture Wicking

:

Yes

Quick Drying

:

Yes
Features
Side Seams Lean Forward to Prevent Chafe
Lightweight, Breathable Fabric
Quick Drying/Moisture Wicking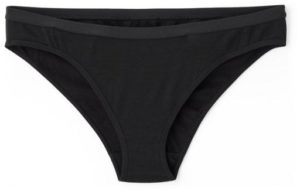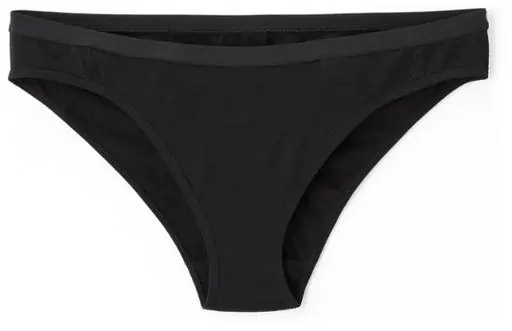 BEST FOR:  THE INTERMEDIATE BACKPACKER.
Merino wool is a common fabric for many Icebreaker products, because of the soft-as-skin feel it provides that is as comfortable as can be. These undies are no exception. 
Merino wool is derived from merino sheep, and is finer and softer than many other fabrics, as well as itch-free. A good option for those with sensitive skin, merino wool doesn't seem to irritate skin as much as other fabrics tend to. 
In addition, these undies are quick-drying, breathable, and naturally odor eliminating. They won't ride up and will stay in place for your entire hike, leaving you wedgie-free throughout your adventure.
ExOfficio Give-N-Go Full-Cut Briefs
Specs
Fabric

:

Majority Nylon

Style

:

High Rise Brief

Moisture Wicking

:

Yes

Quick Drying

:

Yes
Features
Antimicrobial Treatment Prevents Odor
Quick Drying/Moisture Wicking
Elastic Waistband Is Soft And Comfortable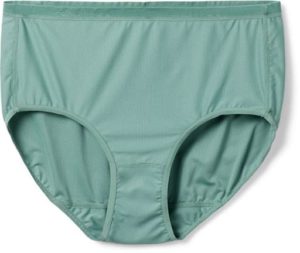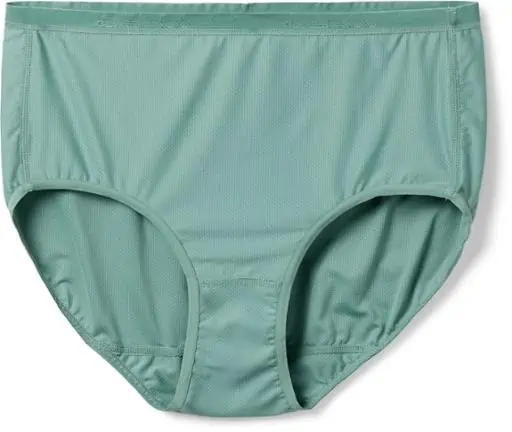 BEST FOR: THE BEGINNING BACKPACKER 
A more full coverage fit, ExOfficio's Give-N-Go Full Cut Briefs are for the adventurous female who is looking for security with her underwear. 
You can hand wash or machine wash these underwear, making them versatile for long backpacking trips where you tend to wash clothes on the go. Similar to other ExOfficio products, these underwear are treated with an antimicrobial treatment that provides odor elimination.
Similar to the Give-N-Go Sport Mesh Bikini, these are made of the same mesh material that is breathable, comfortable, and quick-drying. These undies are a higher rise, meaning they sit a bit above your hips.
Icebreaker Sprite Hot Pants
Specs
Fabric

:

Merino Wool

Style

:

Boxer Brief

Moisture Wicking

:

Yes

Quick Drying

:

Yes
Features
Side Seams Lean Forward to Prevent Chafe
Low Rise
Lightweight, Breathable Fabric is Odor Eliminating
Elastic Band Provides Security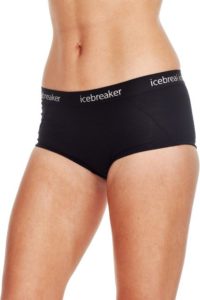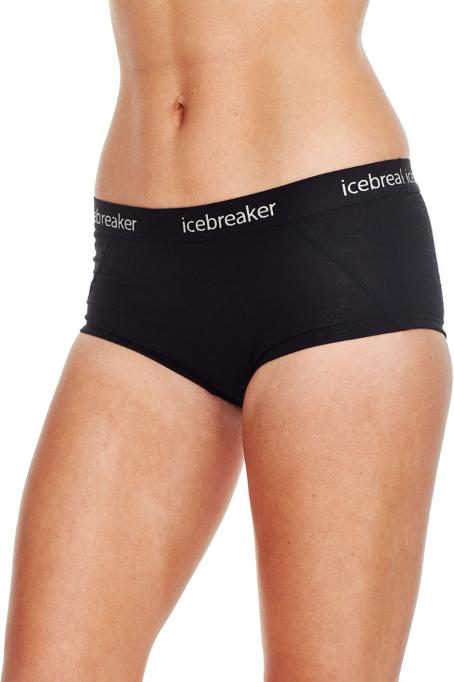 BEST FOR:  THE AEROBIC HIKER
Icebreakers Sprite Hot Pants are essentially a boy short for the outdoor female, but a little shorter than a boy short you may be used to seeing. 
The inseam on these shorts is 1.5 inches, which provides a bit more coverage on the legs for a hiker who maybe enjoys some trail running from time to time. The thin merino wool these underwear are made of is stretchy, but they hold true to size, so they won't bunch up on you throughout the day. 
These would also be a great option to throw on at the end of your hiking day, when you reach camp or for just lounging around at home. These panties are so comfortable you'll will want to live in them.
ExOfficio Give-N-Go Sport Mesh
Specs
Fabric

:

Majority Nylon

Style

:

Bikini

Moisture Wicking

:

Yes

Quick Drying

:

Yes
Features
Sport Mesh Material is Breathable
Ultralight Fabric Allows Airflow
Antimicrobial Fabric is Odor Eliminating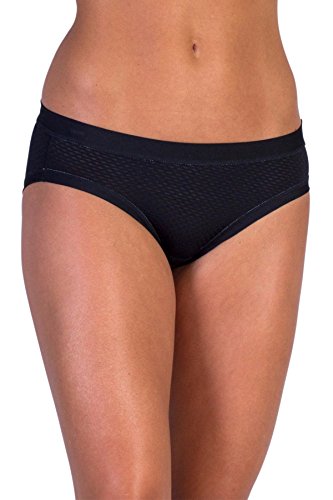 BEST FOR: THE LONG DISTANCE HIKER
The Adventure Junkies can attest to the stellar performance of ExOfficio's Give-N-Go Sport Mesh Bikini Underwear. These underwear will keep you cool, dry, and comfortable no matter how many miles you go. The thin breathable mesh fabric is both quick-drying and moisture-wicking and so comfortable that you may even forget you're wearing them!
Icebreakers Give-N-Go Sports Mesh Bikini panties will also stay put throughout the day, and they offer a bit more coverage than the Icebreaker Give-N-Go Briefs. These undies come in several different fun color combos too, from pink and purple, to blue and teal, you are sure to find something to your liking. Take note that customers think that these hiking underwear tend to run a bit large.
[thrive_leads id='59716′]
THINGS TO CONSIDER WHEN BUYING WOMEN'S HIKING UNDERWEAR
FABRIC
What kind of fabric you choose for your hiking underwear is a make or break factor in how you will feel throughout your hike. Cotton isn't the best choice, because it doesn't breathe well. Also, cotton isn't a quick-drying or moisture-wicking material.
The fabrics we chose in this article are mainly nylon, polyester, and merino wool. These are fabrics that will keep you comfortable throughout the day, but also keep you as dry as possible. These fabrics are also naturally odor-eliminating, and will help make sure you don't chafe during your hike.
UNDERWEAR STYLE
There are several different underwear styles, and the ones outlined in this article are bikini style, thong, and boy short. Ranging in various styles of coverage, the boy short offers the most coverage, while a thong offers the least.
It is common that you will experience chafe in places you never thought possible while on an extended backpacking trip, and underwear with more coverage can help aid in that. But everyone's a little different; some people don't chafe at all and prefer less coverage with their underwear. Try out a couple of styles and see what works best for you.
And don't worry about having panty lines because of your underwear, most of the underwear in this article are popular because they don't leave you with panty lines showing.
QUICK DRYING / MOISTURE WICKING
When you're hiking in the mountains, especially on hot summer days, you will get sweaty. Wearing a fabric that isn't moisture-wicking will soil your underwear, leaving wet drawers against your skin, which can cause painful abrasion and chafing.
Having underwear that are moisture-wicking will leave you as dry as possible and you will be oh so thankful, we promise. Quick-drying underwear is another plus, because when you are washing your underwear on the go, they will dry faster than underwear that aren't quick-drying.
Quick-drying underwear can also double as a swimsuit bottom on a long backpacking trip. With quick-drying underwear, you can jump in the lake worry free knowing that your underwear will dry in no time!
FIT
Look for a pair of underwear that fit snug, but not too tight. You don't want to have loose fitting underwear that can bunch up on you due to the extra fabric, and you don't want to have something that is too tight and constrictive while you hike.
Added features to a comfortable fit are tagless and seamless designs. Removing a tag can rid you of an itchy annoyance throughout your day, and what a relief that can be! A seamless design gets rid of the excess material that can cause chafe or irritation throughout your hike.
Learn more about how women's hiking underwear should fit here.
FEATURES EXPLAINED
MERINO WOOL
Merino wool is the softest type of wool, and is derived from the merino sheep. Properties of this wool are softness, shine and breathability. Merino wool is known to be extremely comfortable in clothing, is naturally odor eliminating, breathable, and durable. It is a great option for fabric in women's hiking underwear.
ANTIMICROBIAL FABRIC
Antimicrobial fabric is treated with antimicrobial technology to help eliminate odors while you are on your adventure. This can be especially important for long backpacking trips, where you might be wearing the same pair of undies for several days and want to stay smelling fresh.
FAIR TRADE CERTIFIED
Patagonia is a leader in the outdoor industry for using recycled material and for their clothing being Fair Trade Certified in Sewing. This means that the company certifies a living wage for the manufacturers of the clothing and ensures safe working conditions for farmers.
Learn more about what it means to be Fair Trade Certified here.