Updated on July 11, 2021
Flip flops may sound like a great alternative to sweaty hiking boots. That is, until you stub your toe on a root and wind up with a broken sandal or a bleeding appendage. Ladies, do yourself a favor this summer and trade in those cumbersome hiking boots and those flimsy flip flops for the best hiking sandals for women that money can buy.
Lightweight and breathable, hiking sandals offer terrific ventilation while keeping you light on your feet. But how do you know which pair is right for you? That's where we come in. We'll tell you everything you need to consider when choosing the best hiking sandals for women along with our top recommendations.
For more of our top hiking footwear recommendations, check out the Best Hiking Sandals. 
Quick Answer

-

The Best Hiking Sandals for Women
Comparison Table

-

Best Hiking Sandals for Women

For the best experience turn your device horizontally
Reviews

-

The Best Women's Hiking Sandals
Bedrock Cairn Adventure
Specs
Weight

:

1 lb (Pair)

Toe Style

:

Open Toe

Upper

:

Polyester/nylon webbing

Adjustment Mechanism

:

Pull Strap

Outsole

:

XS Trek Vibram rubber
Features
3 adjustment zones and sole-hugger wings for stability
Exclusive Vibram® soles provide lightweight, rugged, long-lasting grip—especially in dry conditions
Plugless toe posts and aluminum hardware provide excellent durability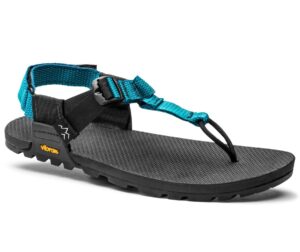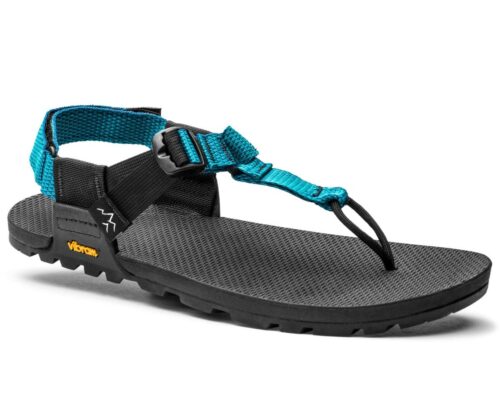 BEST OVERALL HIKING SANDALS
If you need a serious adventure sandal versatile enough for bagging peaks and paddling white water, consider the Bedrock Cairns — they were made to go the distance — and then some.
This sandal features a thong construction paired with a patent-pending ankle strap with 3 adjustment zones, creating for a shoe you'll barely even notice you're wearing. This design reduces pressure points along the side of the foot, eliminating hot spots and preventing chafing. The Vibram rubber soles provide for lightweight, long-lasting grip on any terrain — especially in dry conditions. This sandal can really do-it-all and won't buckle beneath heavy loads, but be prepared to really "feel the ground beneath you" on account of the thin, flexible sole.
What I like most about these sandals is that they're designed to be a versatile fit for many different foot types, making them a great universal choice.
Teva Original Universal
Specs
Weight

:

N/A

Toe Style

:

Open Toe

Upper

:

Polyester Webbing

Adjustment Mechanism

:

Pull Strap

Outsole

:

Rubber
Features
Quick Drying
Durable Straps
Cushion Footbed For Added Comfort
Budget-Friendly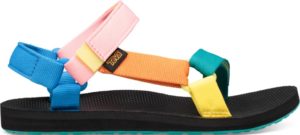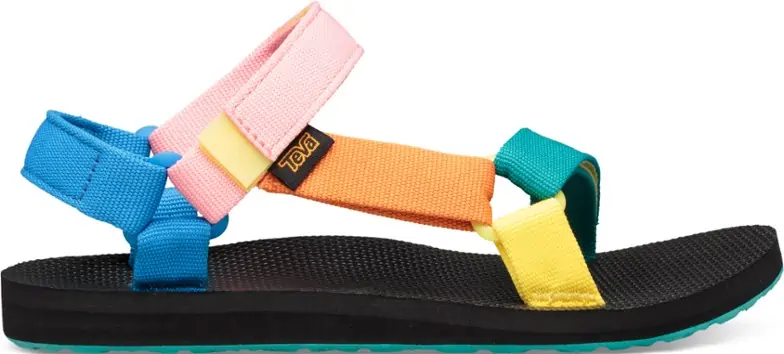 BEST FOR: AFFORDABILITY
The Teva Original Sandals let your feet breathe happily while staying within your budget. Time and time again, hikers have turned to these affordable sandals for their warm weather outdoor adventures.
Sliding these puppies on and off is a breeze with the hook-and-loop closure. Adjust the customizable straps to your feet and take them out for a spin on the trail. The footbed has just the right amount of cushion to keep your feet cozy so you can spend more time focusing on the experience and less on your footwear. If breathable yet affordable hiking sandals are what you seek, then these are an excellent option.
Xero Shoes Z-Trail EV
Specs
Weight

:

8.6 oz (Pair)

Toe Style

:

Open Toe

Upper

:

Polyester

Adjustment Mechanism

:

Pull Strap

Outsole

:

FeelLite rubber
Features
3-layer 10 mm FeelLite™ soles give these their surprising combination of light weight, comfort, flexibility and protection
Flat, zero-drop soles
Multi-point adjustment
Subtle heel cups help keep your heels in place and debris out
Vegan-friendly; contains no latex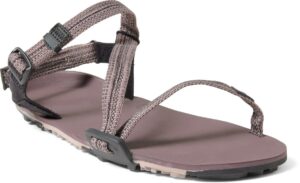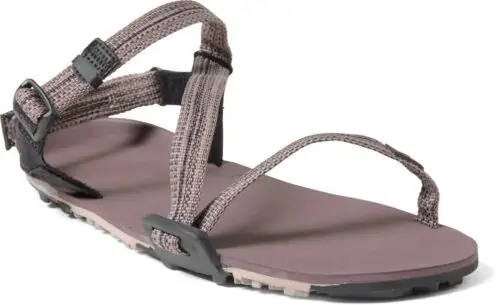 BEST FOR: ULTRALIGHT HIKING
If you're looking for the lightest sandals you can find that still protect your feet, these are sure to meet your needs.
The Xero Z-Trails weigh in at 9.1 ounces per pair, making for one of the lightest hiking sandals available. The updated model feature soft, tubular webbing made from recycled water bottles and redesigned dual-chevron tread. Flat, zero-drop soles don't elevate your heels, instead keeping them in their natural, proper position. They Xero Z-Trails sandals are also flexible enough for you roll them up and slip away into a pack or pocket.
What I like most about the Z-Trails is how sturdy the soles are, despite being so flexible.
KEEN Newport H2
Specs
Weight

:

1 lb 6 oz (Pair)

Toe Style

:

Closed Toe

Upper

:

Polyester webbing/hydrophobic mesh

Adjustment Mechanism

:

Bungee Lace

Outsole

:

Carbon rubber
Features
Polyester webbing uppers and quick-dry linings are happy on land and in water
10-point fit with quick-cinch bungee lacing
Pesticide-free Eco Anti-Odor natural odor control keeps the sandals fresh
Machine washable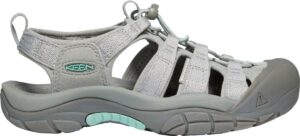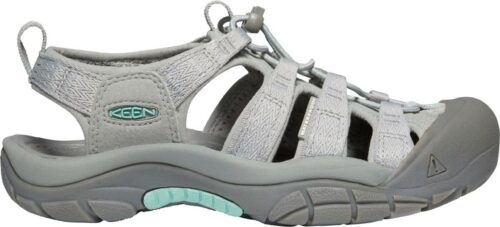 BEST CLOSED-TOE OPTION
When you need the ideal combination of a sandal's breathability and a lightweight hiking shoe's support, reach for the Newport H2s — they provide for the best of both worlds.
KEEN designed these sandals with a 10-point fit system, featuring quick-cinch bungee lacing and EVA insoles designed to provide for ample arch support. A burly rubber toe cap and polyester upper give you the added support and protection not found in most open-toe sandal designs. Because they're a bit heavier and bulkier than other models on this list, they aren't the best for wearing through water, but they do dry quickly when wet.
What I like most about these sandals is the application of the Eco Anti-Odor natural odor control, which helps keep your sandals — and your feet — smelling fresh.
Chaco Z/Cloud
Specs
Weight

:

1 lb 5 oz (Pair)

Toe Style

:

Open Toe

Upper

:

Polyester Jacquard Webbing

Adjustment Mechanism

:

Pull Strap

Outsole

:

ChacoGrip Rubber
Features
Good Traction Wet Or Dry
Comfortable Footbed
Odor Control


BEST FOR: ALL DAY COMFORT
The Chaco Z/Cloud Sandals provide exceptional comfort when tackling high mileage on the trail. Their podiatrist-certified footbed balances cushion with support to keep your feet happy every step of the way.
The outsoles of these sandals feature Chaco's proprietary ChacoGrip rubber which is designed to maximize your grip on both dry dirt and wet rocks alike. These women's hiking sandals also sport an antimicrobial treatment so they won't build up funky odor no matter how murky your water crossing.
Teva Tirra
Specs
Weight

:

1 lb 2 oz (Pair)

Toe Style

:

Open Toe

Upper

:

Polyester Webbing/Synthetic Leather

Adjustment Mechanism

:

Velcro Strap

Outsole

:

Rubber
Features
Supportive
Moisture-wicking Lining
Shock Absorption For Joint Protection
Antimicrobial Protection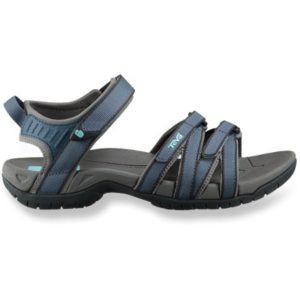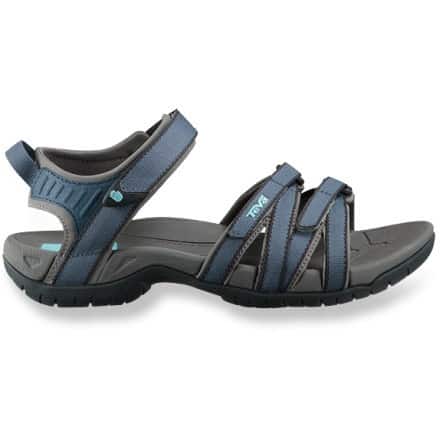 BEST FOR: VERSATILITY
From the high desert to the humid forest, trail explorers encounter a wide range of conditions and the Teva Tirra Sandals are up to the task. Should you find yourself trekking over dry unstable terrain, the supportive design will increase your performance while the drainage ports on the outsoles free up trapped debris. In wet conditions, the moisture-wicking straps and neoprene foam aid in keeping your feet dry. Wet or dry, the impact dispersing shock absorption and secure fit make this sandal great for hiking along with a variety of other outdoor activities.
KEEN Whisper
Specs
Weight

:

1 lb 1 oz (Pair)

Toe Style

:

Closed Toe

Upper

:

Polyester Webbing

Adjustment Mechanism

:

Single-pull Lace

Outsole

:

Carbon Rubber
Features
Secure Construction
Waterproof
Excellent Toe Protection
Odor Resistant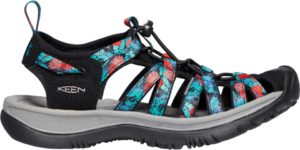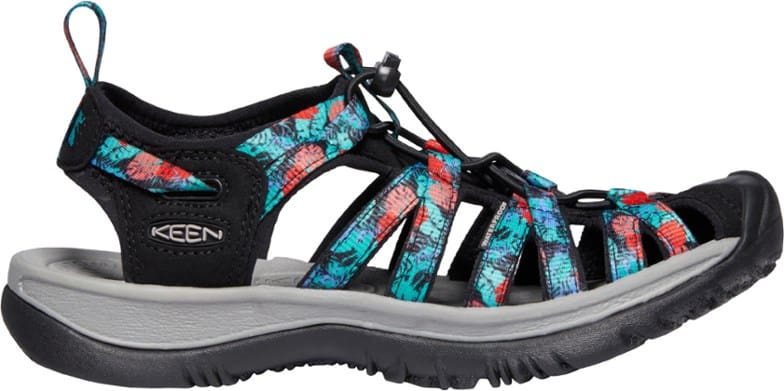 BEST FOR: HIKING IN AND AROUND WATER
The Keen Whisper Sandals let you approach river crossings with confidence thanks to their snug and secure fit. Slip your foot in, pull down on the cordlocked single lace, and get moving.
With the closed toe design, water can flow through the sandals without forcing your foot out of the toe bed. Meanwhile, the patented toe guard gives you some peace of mind while crossing over slick rocks or slippery roots – no more stubbed toes here! Paired with excellent traction and durability, the Keen Whisper Sandals are made to handle the tricky obstacles in your path.
Teva Hurricane XLT2
Specs
Weight

:

15.6 oz (Pair)

Toe Style

:

Open Toe

Upper

:

Textile

Adjustment Mechanism

:

Pull Strap

Outsole

:

Rubber
Features
Excellent Traction
Comfortable Fit
Stable Construction
Quick Drying Strap Webbing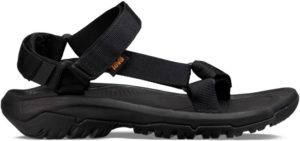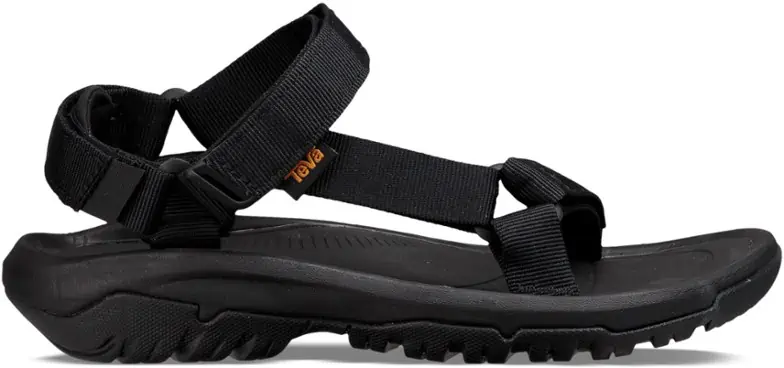 BEST FOR: VARYING TERRAIN
From the straps to the sole, the Teva Hurricane XLT2 Sandal provides comfort in all the right places. An upgraded classic, these sandals feature padded heel straps to prevent nasty blisters along with improved grippy outsoles to increase traction.
Start your ascent up some rough terrain and the sturdy soles have you covered. As the bottom of these sandals come into contact with the ground, grippy rubber soles provide stability and support. Built to take a beating, these sandals will take the brunt of the impact while you happily glide along the trail.
KEEN Clearwater CNX
Specs
Weight

:

15.2 oz (Pair)

Toe Style

:

Closed Toe

Upper

:

Polyester Webbing

Adjustment Mechanism

:

Single-pull Lace

Outsole

:

Rubber
Features
Lightweight
Toe Protection
Traction In Wet Or Dry Conditions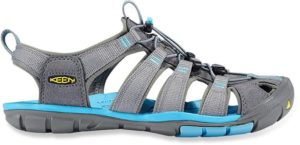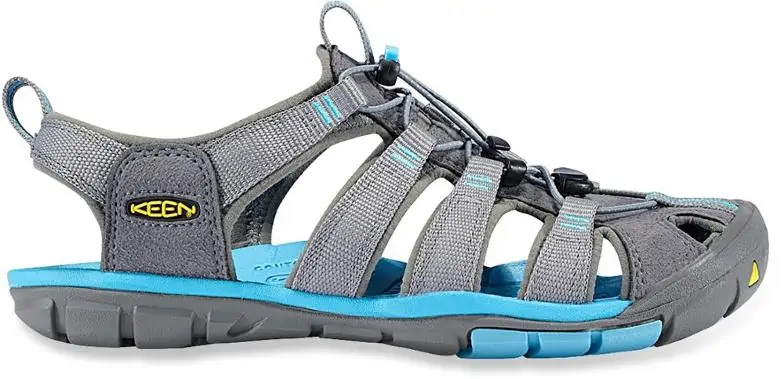 BEST FOR: TOE PROTECTION
If you're digging minimalist sandals but want a bit more toe protection, take a look at the Keen Clearwater CNX Sandals. Featuring Keen's patented toe guard and with the pair weighing in at less than a single pound, you can have the best of both worlds with this hybrid sandal.
The Clearwater CNX sandals feature a 4mm heel-to-toe drop with light cushioning. This lets you experience a more natural movement while adding a touch more comfort when stepping over roots and rocks. Combining enhanced traction with stability, you'll be able to move fast and stay upright in both dry and wet trail conditions.
Chaco ZX/2 Classic
Specs
Weight

:

1 lb 5 oz (Pair)

Toe Style

:

Open Toe

Upper

:

Polyester Jacquard Webbing

Adjustment Mechanism

:

Pull Strap

Outsole

:

Rubber Compound
Features
Comfortable Footbed
Toe-Loop For Better Foot Control
Antimicrobial Protection (to keep your feet smelling fresh)
3mm Sole For Increased Stability


BEST FOR: COMFORTABLE FOOT CONTROL
Comprised of eight simple features, the CHACO ZX/2 Classic Sandals have a timeless design you can always rely on. These sandals streamline comfort and performance which is precisely what you need on the trail.
Slip on a pair and adjust the double straps to your liking. With an additional toe-loop and textured footbed, you don't have to worry about your foot slipping and sliding when it starts to get a little sweaty or wet from the inevitable stream crossing. Plus, the footbed is podiatrist-certified so you know you're in for some yummy comfort all day long.
THINGS TO CONSIDER WHEN BUYING HIKING SANDALS
COST
While there are many things to consider when choosing a pair of hiking sandals, cost tends to be one of the biggest determining factors. If the concept of hiking sandals is a new one, we recommend starting off with an affordable pair. As you gain experience, you'll learn what kind of straps, footbed, coverage, and soles feel right to you. This may mean you stick with a budget pair or invest in something more pricey.
WEIGHT
The lighter the sandal, the lighter you'll be on your feet. Lightweight sandals will keep you agile, allowing you to move faster on the trail. The tradeoff here is a thinner sole, which means more ground feel. If you prefer the sturdy comfort of a thick sole, a heavier pair is a better option.
COMFORT AND FIT
The footbed, straps, soles, and coverage of your hiking sandals will all determine how comfortable they feel on your feet. This can vary from person to person, so it's important to find what works best for you.
The footbed should have just the right amount of cushion while the straps should have a secure fit without causing irritation from rubbing. The outsoles should provide ample traction while giving you the desired amount of ground feel.
Along with this, you'll want to consider overall sandal coverage. For the most freedom, thin straps and an open toe style will probably feel just right. On the other hand, if you're scrambling up rocky terrain and worried about stubbing your toe, you'll want to consider a pair of hiking sandals with more foot coverage and a closed toe.
HIKING TERRAIN
Will you always be hiking on a smooth dry trail? Or will there be water crossings? How about jagged, rocky terrain? The type of terrain you plan on hiking will influence what type of hiking sandals you require.
For instance, if you're hiking on rough surfaces, you'll want a pair of durable hiking sandals with good traction, rugged soles, and a secure fit. You may even want to take it a step further and choose a closed toe pair with a toe guard for extra protection.
In the event of water crossings, look for a pair with grippy soles along with the added features of quick-drying webbing and a textured footbed to prevent slippage. Antimicrobial treatment is also a good option to look out for when buying hiking sandals if you're worried about your feet getting stinky after being wet on the trail all day.
FEATURES EXPLAINED
SHOCK ABSORPTION
Shock absorption reduces the impact of your heel striking the ground to relieve stress on your joints.
ZERO DROP
Zero drop means your foot, from heel to toe, is at the same height. Rather than striking heel to toe as you do with an elevated heel, zero drop forces your foot to strike from the midfoot or forefoot. This allows for full foot splay and a more natural range of motion that is comparable to being barefoot.
EVA
EVA is short for ethylene-vinyl acetate. Commonly used on the middle sole, this material is a type of foam that provides cushion and excellent shock absorption.
CORDLOCK LACE
Rather than tying shoelaces, cordlock laces thread an elastic single-pull lace through an adjustable applicator to lock it in place.
NYLON SHANKS
Located between the insole and outsole, nylon shanks are the light and flexible supportive structure of your footwear.