Updated on June 28, 2021
You love spending all your free time racking up the miles on those trails, no matter the weather or season, right? If so, you'll need a pair of hiking pants that are up to the same challenges you are. However, you know that taking pant recommendations from your guy friends doesn't always help you find what you're looking for. That's why our team of lady hiking experts here at The Adventure Junkies have taken the guesswork out of the equation to help you find the best hiking pants for women to become your new best friend on (and off!) the trail.
If you're a lady hiker, then you'll want a pant designed specifically for women to keep you comfortable and happy while you're moving through the forest or over the mountain. Fortunately, you can pick out a pair of pants from our list below to prepare yourself for all the elements you may encounter out on the trails. And because of that, whether you are hiking in the wind, rain, snow, or sun, nothing is going to keep you indoors and out of the woods!
For more of our top hiking gear recommendations, check out the Best Hiking Pants for Men.
Quick Answer

-

The Best Hiking Pants for Women
REI Co-op Sahara Convertible

Mountain Hardwear Dynama 2

Fjallraven Abisko Trekking Tights

Mountain Hardwear Chockstone Hike

The North Face Wandur Hike
Comparison Table

-

Best Hiking Pants for Women

For the best experience turn your device horizontally
Reviews

-

The Best Women's Hiking Pants
Outdoor Research Ferrosi
Specs
Closure

:

Double Snap and Built-in Drawstring

Fabric

:

Nylon/Spandex

UPF

:

50+

Waterproof Type

:

Water Resistant
Features
Rip-stop Nylon Fabric Makes These Pants Super Durable
Adjustable Pant Drawstring Cuff To Keep Your Pant Bottoms From Snagging Or Getting Dirty
Articulated Knees For Ease of Movement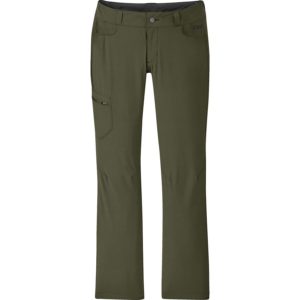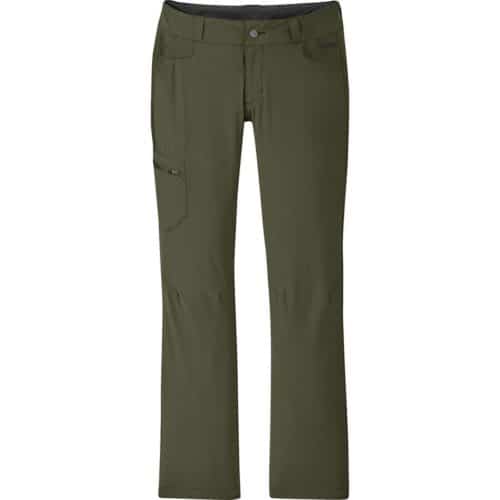 BEST FOR: ALL AROUND USE
This is a great pair of hiking pants designed specifically for a woman's curves from Outdoor Research. The Ferrosi will take you through all your hiking adventures, even if you encounter the unexpected. Both wind and water resistant, these pants will keep you warm on those windy summits and dry on wet days, especially with the added drawstring cuff on the leg to roll the pant legs up – no more soaking your pant bottoms while hiking through wet terrain! Even in heavy penetrating rains, the nylon/spandex fabric blend makes this pant super quick-drying.
With the articulated knees, there will be no uncomfortable bunching in these pants, but rather they will fit nicely around any knee for ultimate comfort. These pants have a low profile waist thanks to a double snap and built-in drawstring closure. They will fit closely to your waist, so even if you want to rock climb on your adventure, this pant will give you ultimate comfort.
REI Co-op Sahara Convertible
Specs
Closure

:

Button & Built-In Belt

Fabric

:

Nylon, Spandex

UPF

:

50

Waterproof Type

:

Water repellent
Features
Color-coded thigh zippers help you easily tell the right leg from the left leg when converting back to pants
Durable water repellent finish
UPF 50+ rating
Multiple pockets, many with zip closures
Reinforced cuff backs stand up to abrasion from boots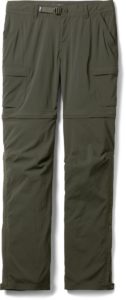 BEST FOR: BUDGET CONSCIOUS HIKERS
You won't find a higher quality performance pair of hiking pants for under $75. The Saharas are designed to be practical, comfortable, and breathable. They're constructed from a nylon spandex blend that won't restrict your range of motion. REI updated the latest iteration to feature a slimmer profile and more flattering shape. These pants feature a built-in belt and zippered pockets and can quickly be converted to shorts, which you can do without even taking your boots off. 
What I like most about these is how well they shed water, making them an ideal choice on hikes in potentially inclement weather.
Mountain Hardwear Dynama 2
Specs
Closure

:

Elastic Waistband

Fabric

:

Nylon/Elastane

UPF

:

None

Waterproof Type

:

Water Repellent
Features
Cinch At Ankle For Rolling Up
Can Be Purchased With Elastic Ankles For A Trimmer Look and Slimmer Fit
Lightweight And Super Comfortable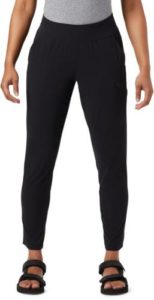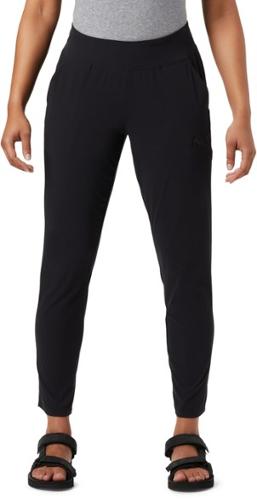 BEST FOR: TRAVEL
This pant is an excellent choice to take with you on your travels. It is lightweight and packs up small, so it'll fit in your suitcase nicely, but is also well equipped to go on hikes. With the low profile and stretch waistband, you will get a flattering fit without the stretch. And because they are so light and trim, you can wear them while traveling to your destination. 
This pant can also be purchased in two styles. The first has a cinch built into the ankle, enabling you to roll them up in hot or wet conditions. The other style has a fitted, elastic ankle for a trimmer and fitter look. And unlike many stretch pants, it even has two pockets!
Fjallraven Abisko Trekking Tights
Specs
Closure

:

Drawcord

Fabric

:

Polyamide, elastane, polyester

UPF

:

N/A

Waterproof Type

:

Water Resistant
Features
Movement-mirroring stretch, fabric has the toughness of trekking trousers
Water-resistant face fabric inhibits moisture from penetrating if you sit or kneel on damp ground
Large map pocket; small zippered compass pocket; zippered hand pockets
Wide waist adjusts with a drawcord and is comfortable next to skin
Waist loop for attaching gear or keeping a layer close at hand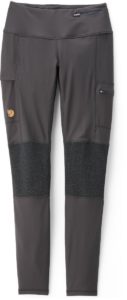 BEST LEGGING-STYLE HIKING PANTS
If you prefer to hike in form-fitting tights but still desire the technical performance of hiking pants, give the Abiskos a try.
Fjallraven designed these tights to be sturdy but breathable. While most leggings aren't tough enough to withstand the rigors of the backcountry, the Abiskos buck the trend thanks in part to reinforced panels on the knees and butt. These tights are quick to dry and feature useful pockets, as well as a comfy high waist.
What I like most about these hiking tights is how well they hold up to excessive use and abuse.
Patagonia Quandary
Specs
Closure

:

Snap Button

Fabric

:

Nylon, Spandex

UPF

:

40

Waterproof Type

:

Water Repellent
Features
Gusseted, with articulated knees for mobility
Built for versatility, you can roll them up and secure them with tabs and snaps at the knees
Zippered fly with metal snap closure; hidden drawcord; belt loops
Drop-in pockets on front and back, side cargo pocket
Fabric is bluesign® approved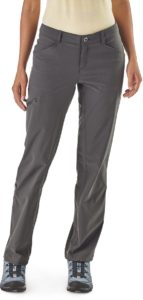 BEST FOR: VERSATILITY
If you're looking for the optimal blend of performance and style, look no further. Patagonia designed the Quandarys from high-quality nylon and spandex. These pants are tough but lightweight and featured articulated knees and a gusseted crotch. Their classy, clean look makes them the best option for wearing as often in town as you would want to out on the trail. Features include drop-in front pockets and one zippered side pocket.
What I like most about the Patagonia Quandary hiking pants is the tilt-in tab and snap feature that allows you to quickly roll up and keep the cuffs in place.
Prana Halle
Specs
Closure

:

Double Button, Zipper, and Built-in Drawstring

Fabric

:

Nylon/Spandex

UPF

:

50+

Waterproof Type

:

Water Repellent
Features
Articulated Knees and Slight Boot Cut For A Comfortable And Durable Fit
A Relaxed Fit and Mid-Rise Waistline
Integrated Tabs and Snaps On Legs For Easy Roll-up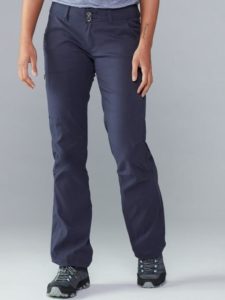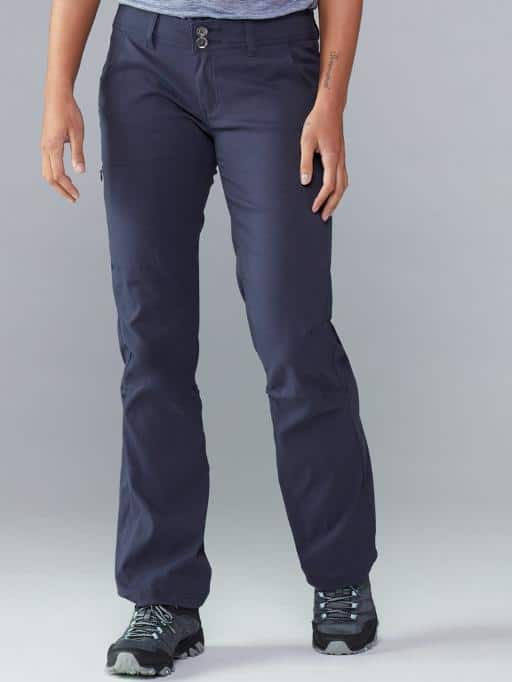 BEST FOR: GENERAL USE ON- AND OFF-TRAIL
Weather you are on the trail, climbing, or sitting at your desk, this pant has something to offer you. With both a relaxed fit in the legs and a mid-rise waistline, you won't ever feel restricted moving or sitting in this pant. And with the articulated cut knees, moving and sitting alike will be comfortable in the Halle.
Equipped with integrated tabs and buttons on the legs, you can easily roll the pant up in warm or wet weather and not have to worry about the mess. And in addition to being water repellent, the blend of this fabric also makes it abrasion-resistant to keep up with whatever mischief you come across. With a slight boot cut leg, you can wear these pants with even your heavy duty hiking boots and still look cute!
Columbia Saturday Trail
Specs
Closure

:

Double Snap Button

Fabric

:

Nylon/Elastane

UPF

:

50+

Waterproof Type

:

Water Repellent
Features
Articulated Knees For Maximum Comfort And Durability
Mid-Rise Waistline Is Comfortable And Stylish
Body-skimming Fit Designed For A Woman's Figure


BEST FOR: THE WEEKEND WARRIOR
Columbia offers the Saturday Trail pant to you for Sun and Splash protection. With fabric made to repel water and UPF 50+ sun protection, there is nothing you can't do in this pant. And with a body-skimming fit that comes up to mid-waist, this pant will flatter your curves, but also keep you comfortable all day long.
In addition to being water repellent, this pant offers a roll-up feature to turn the long pant legs into capris to keep you cool and stylish in warm weather, while the bottoms stay dry in soggy conditions. And with the added benefit of articulated knees, you can run, jump, sit, or climb on any adventure!
Arc'teryx Gamma Lt
Specs
Closure

:

Snap Button and Built-in Belt

Fabric

:

Nylon/Elastane

UPF

:

None

Waterproof Type

:

Water Resistant
Features
Built-in Belt For A Secure Fit
Reflective Logo for Low Light Visibility
Adjustable Pant Drawstring Cuff To Keep Pant Bottoms Dry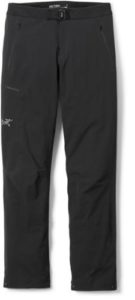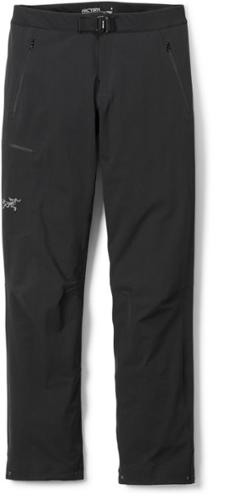 BEST FOR: COOL WEATHER HIKES
This pant is well worth the investment. With fabric made to repel water to keep you dry in the rain and highly breathable material to keep you dry from sweat, this pant is ideal even in colder weather. An adjustable pant drawstring cuff also allows for this pant to roll-up in warm and wet weather to keep your bottoms cool and dry.
A built-in belt will give the lady a flattering fit with no gaping behind. And if you find yourself in early morning fog or dusky conditions, the Arc'teryx logo of this pant is reflective to let your fellow trailmates always know where you are.
Mountain Hardwear Chockstone Hike
Specs
Closure

:

Snap Button and Belt

Fabric

:

Nylon/Elastane

UPF

:

50+

Waterproof Type

:

None
Features
Removable Belt For A Secure Fit When Needed
Ankle Hem Cinch Cord To Prevent Snagging By Keeping The Pants Close To Your Ankles
Thigh Slash Pockets For Secure Storage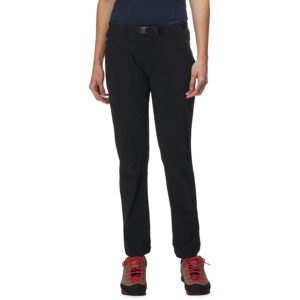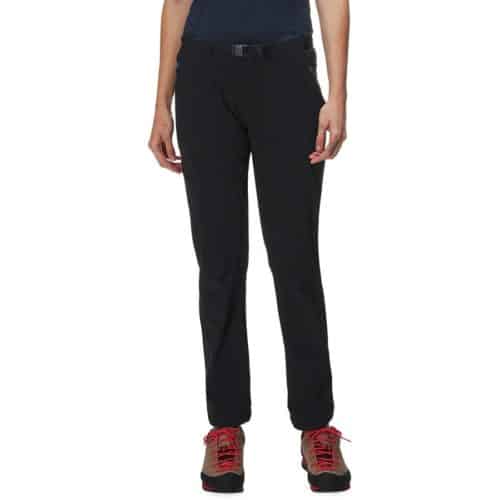 BEST FOR: THE HIKER-CLIMB GIRL
The Chockstone pant is made with a four-way stretch material, allowing for the best fit and comfort. The extra stretch will even provide the comfort and freedom of movement should you decide to rock climb along your hike. With all the stretchiness, those thigh slash pockets can even hold a cellphone.
The added feature of a removable belt prevents any sagging around the waist and gives you the option to take it off when you don't need it (so it doesn't get damaged in the wash, for example). And for warm and wet days, the ankle hem cinch cord allows you to roll these babies up to prevent them from getting wet and dirty.
The North Face Wandur Hike
Specs
Closure

:

Zip Fly with Snap

Fabric

:

Nylon/Elastane

UPF

:

None

Waterproof Type

:

Quick Drying
Features
Button Tab Provides for Roll-up Height Adjustability
Velcro Flap Closure on Left Thigh Pocket for Added Security
Belt Loops for Size Adjustability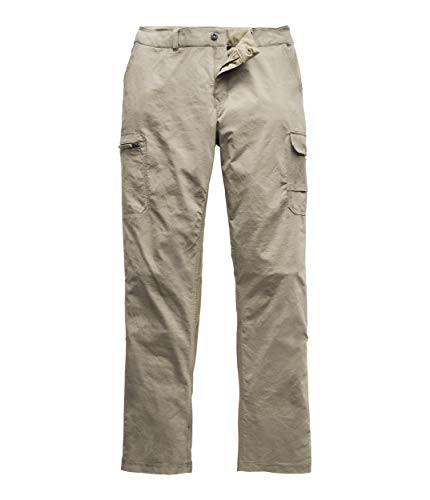 BEST: ENVIRONMENTALLY FRIENDLY PANT 
As the name says, the North Face Wandur Hike pant is designed for hiking. Designed with FlashDry fabric, moisture will be pushed to the surface, allowing for rapid evaporation, so you'll never end up wet or cold. With ample pockets – two angled hand pockets and one on the back pocket, the thigh pocket on the left thigh has a velcro closure, so it is easy to drop things in from the top. The right thigh pocket has a reverse-coil zip, for added security for those things you just cannot have falling out out. 
THINGS TO CONSIDER WHEN BUYING HIKING PANTS
COST
Investing in a new pair of hiking pants does not have to break the bank, but do not try to cut corners to save a few bucks! In the long run, having the appropriate pair of pants for your hiking adventure will make all the difference in whether or not you have a positive experience, especially if you encounter foul weather.
MATERIAL
Remember the cardinal rule for all hiking clothing – cotton is rotten. Just like shirts, it is important to consider the materials and fabric types when selecting hiking pants. Choosing a fabric that is durable, but provides some stretch is just as important as choosing a breathable, but warm fabric.
WEATHER RESISTANCE
A pair of pants that is waterproof is impenetrable to water, but most lightweight, hiking softshells will absorb some water in order to provide breathability. In this case, the pants will be categorized as water resistant, meaning they can withstand a certain amount of moisture and not act like a sponge.
Some pants are listed as water repellent, meaning they have coatings that will bead water up, but with heavy rains, the pants will begin to absorb some water. In case of severe wet weather, pants made with a quick-drying material will dry faster than those that are not.
On day trips in more mild conditions, a water resistant pant will be all you need, but on longer days in colder and constantly wet conditions, a water resistant pant may stay damp. In these situations, having a softshell pant that breathes better than a hardshell will work, but you will also want a thin pair of hardshell pants to throw over top to prevent from getting damp and cold. You might want to consider including a pair of the best women's rain pants if you plan on hiking through the rain or in wet conditions regularly.
BREATHABILITY
Breathability is what sets apart hardshell and softshell pants. Because the material of hard shell pants is not penetrable, it will keep moisture in and can cause you to feel clammy and cold when your heart rate lowers, which can be extremely dangerous in the mountains. Softshells allow some air flow while still providing water and wind resistance, so even if you work up a sweat, the moisture can evaporate and you will not catch that chill when you slow your pace.
FEATURES EXPLAINED
CUFF
The bottom part of the pants that covers the top of the hiking boot. Can be rolled up in some pants to prevent snagging your pant bottoms on roots or soaking them when walking through puddles or wet grass.
SUN PROTECTION
Ultraviolet protection factor (UPF) is how well the material protects against the sun. The higher the rating, the less UV will be absorbed, protecting you against the sun more.
WAIST PROFILE
The cut of the pants and how they fit around the waist. Low profile waists leave less bulk around the waist for use with harnesses and backpacks.
WATERPROOF
Material that does not allow for any water to penetrate the material.
WATER RESISTANT
Material that is able to repel water, but not completely impenetrable to water.