Updated on June 1, 2022
The best fishing kayak gives you access to those otherwise hard-to-reach areas where fish know they can usually hide. While they might think they're safe from your land-bound fishing brethren, you'll be slowly gliding into position to drop a line into their "safe zone."
Ideally your fishing kayak should be able to hold everything you need for multiple hours out on your favorite lake, river, or protected ocean bay. You'll also be able to clean and store fish from the comfort of your kayak so that you can take your catch home and enjoy it later. In this article, we're going to highlight ten of our favorite fishing kayaks so you can take your pick and get out to fish in no time!
For more of our top kayak fishing gear recommendations, check out the Best Kayak Paddles for Fishing.
Quick Answer

-

The Best Fishing Kayaks
Advanced Elements StraitEdge Angler PRO

Perception Pescador Pro 10.0

Aquaglide Blackfoot Angler 110 HB
Comparison Table

-

Best Fishing Kayaks

For the best experience turn your device horizontally
Reviews

-

The Best Kayaks for Fishing
Jackson Bite Angler
Specs
Length

:

11'6"

Weight

:

74 pounds

Style

:

Solid
Features
Tackle storage along gunnels keeps your tackle boxes accessible
Bite seat is padded and ergonomic for long days on the water
Bow and Stern storage areas keep important items securely nearby
Dual flush mounted rod holders keep your rods within reach
Large forward standing area offers stability for easy casting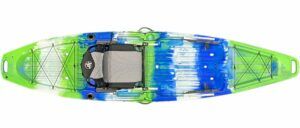 TOP OVERALL FISHING KAYAK
This is an open-concept low-profile vessel designed to keep you fishing comfortably out on the water from sun-up to sun-down.
The Jackson Bite Angler features a large, stable forward standing space that makes casting a breeze. There are dual, flush-mounted rod holders to keep your rods within reach and storage areas in the bow and stern, as well as tackle storage located along gunnels. The seat is padded and comfortable enough for the longest days out on the water.
What I like most about the Bite Angler is the open deck design that lacks consoles and hatches, keeping your area clear while your rod is in the water.
Advanced Elements StraitEdge Angler PRO
Specs
Length

:

10'6"

Weight

:

45 pounds

Style

:

Inflatable
Features
Drop-stitch floor
2 accessory frames
Airframe Pro seat
Duffel bag with shoulder straps
Repair kit included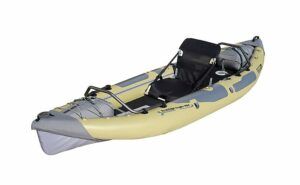 BEST INFLATABLE STYLE FISHING KAYAK
When you need a fishing-specific kayak that's easy to transport and is easily customizable with a variety of accessories, look no further than the inflatable StraitEdge Angler PRO.
This kayak features a multi-layer drop-stitch floor that creates a hull with chine, making for improved tracking and adding superior rigidity to its space. Built-in aluminum ribs give definition to the bow and stern while the accessory frame system allows you to mount rods and other equipment as needed. The AirFrame PRO Seat is aluminum framed, high-backed, and features mesh paneling. A repair kit and duffel bag with shoulder straps are also included.
What I like most about this kayak is the removable deep fin that provides for great tracking, especially for an inflatable boat.
Old Town Topwater 106
Specs
Length

:

10'6"

Weight

:

73 pounds

Style

:

Solid
Features
DoubleU Hull Design for maximum stability
ElementAir seat has high and low position options
EVA deck pad for standing comfort
Universal transducer makes mounting fish finder easy
Three rod holders secure rods for paddling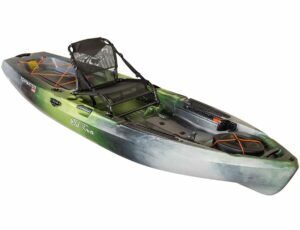 BEST FOR: OCEAN PADDLING
If you're a serious angler who enjoys the benefits of paddling a small boat AND the features and stability of a larger boat, you may have met your perfect match.
The Topwater 106 is a sit-on-top fishing-specific kayak designed for recreational days out on the water. The DoubleU hull design provides for superior stability while EVA foam deck pads make for a comfortable standing space. You can adjust the seat into high or low positions as needed to stay comfortably whether you're padding or casting and three rod holders allow for plenty of versatility options. An added customization bonus is that the universal transducer mounting system makes it easy to mount fish finders of many varieties.
What I like most about this kayak is how well it handles out on the water.
Perception Pescador Pro 10.0
Specs
Length

:

10'6"

Weight

:

57 pounds

Style

:

Solid
Features
Removable, Stadium-Style Seat Is Adjustable for Comfort
Adjustable Footbrace System To Help Maintain Proper Paddling Position
Ample Storage Options For Fishing Tackle And Gear
Two Molded-In Rod Holders

BEST FOR: REAL FISHING ENTHUSIASTS
Comfort is king when you're riding in the Perception Pescador Pro 10.0. This ten-foot, six-inch kayak is easy to maneuver in smaller waterways and the adjustable seating and footbrace systems give you plenty of leniency to get comfortable and stay comfortable on the water. This kayak provides multiple storage compartments and bungee rigging so that you can store fishing tackle and gear safely. Dual molded-in rod holders give you a place to keep multiple fishing setups and utilize them hands-free while you steer your kayak.
Aquaglide Blackfoot Angler 110 HB
Specs
Length

:

10'6"

Weight

:

32 pounds

Style

:

Inflatable
Features
Hard-Bottom Floor Creates Extra Structure For Improved Performance
Open Cockpit Design For Easy Entry And Exit
Built-in Scupper Holes For Draining Water
Full-Length Hook-And-Loop Strips On Floor For Seat Adjustments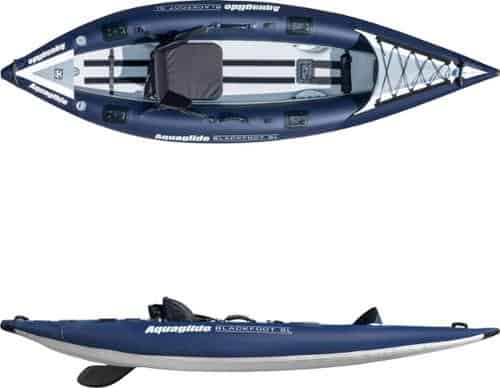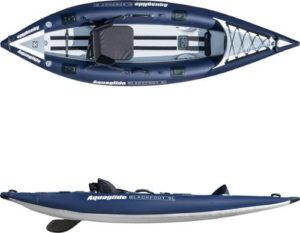 BEST FOR: COMPACT STORAGE
Inflatable kayaks, in general, are much easier to store when you're not using them. The Aquaglide Blackfoot Angler is a very light kayak that comes with features that help it to perform well in a variety of conditions. The hard-bottom floor creates a firm, sturdy platform that gives you a steady place to fish from, whether sitting or standing. The open cockpit makes it easy to get in and out of this kayak and the adjustable seating system makes it simple to find a comfortable position while also leaving space for your tackle, gear, cooler, and anything else that you want to bring along.
Star Rival
Specs
Length

:

12'6"

Weight

:

31 pounds

Style

:

Inflatable
Features
Thick Deck For Stable Standing Or Sitting
Advanced Construction For Superior Abrasion Resistance
Removable Mesh Seat For A Comfortable Ride
Multiple attachment points for rods, fish finders, and other accessories
BEST FOR: STABILITY AND CONVENIENCE
The Star Rival boasts a six-inch thick deck that inflates to a maximum of 10 PSI. This provides a very stable platform for sitting or standing, depending on your preferred fishing position. It utilizes an advanced PVC material that's more resistant to punctures and holes, even if handled roughly. The removable mesh seat has a hard aluminum frame and can be adjusted to a variety of positions for comfort. This kayak also offers five different attachment points for securing your preferred gear.
Hobie Mirage Passport
Specs
Length

:

10'6"

Weight

:

65 pounds

Style

:

Solid
Features
Pedal System For Hands-Free Propulsion
Roomy Cockpit To Accommodate Paddlers Of All Sizes
Breathable Seat Frame For Comfort
Front And Rear Storage Areas With Bungee Rigging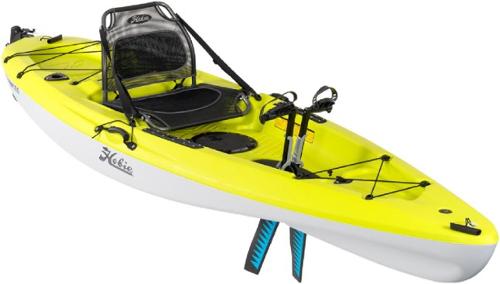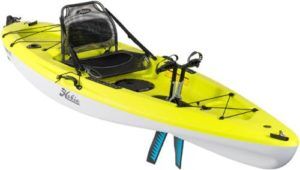 BEST FOR: HANDS-FREE FISHING
The Hobie Mirage Passport is the ideal kayak for hands-free fishing. The pedal system allows you to keep your kayak in motion while your hands are occupied with casting. It's designed with a wide cockpit that provides extra stability and also allows this kayak to accommodate paddlers of all sizes. The aluminum seat frame includes a breathable mesh back that keeps you cool and comfortable on hot days. The sizeable storage areas in the front and rear of this kayak gives you accessible spaces to store gear, tackle, or a cooler full of your favorite beverages and snacks.
Riot Escape 12
Specs
Length

:

12'

Weight

:

66 pounds

Style

:

Solid
Features
Two Flushmount Rod Holders
Rudder System Helps With Tracking And Navigation
Sealed Bow Compartment In Front Of Boat For Gear Storage
Molded-in Bottle And Cup Holders

BEST FOR: HAVING FUN ON THE WATER
The Riot Escape 12 is a great starter kayak for fishing, diving, or just having a little fun out on the closest body of water. It has dual rod holders that give you a place to secure two unique fishing setups if you like to fish certain setups in different conditions. The built-in rudder system allows you to use your feet to steer your kayak as you paddle comfortably. The sealed bow compartment allows you to store dry gear or a small cooler for storing your catch. It also features molded-in bottle and cup holders so you can keep your preferred beverage handy while on the water.
THINGS TO CONSIDER WHEN BUYING A FISHING KAYAK
WHERE DO YOU PLAN TO FISH?
There's a common saying about location, location, location. That saying is applicable to your choice of fishing kayaks because you'll need different features if you plan on fishing saltwater bays versus freshwater lakes versus streams or rivers with moving water. For the latter, for example, navigability is a huge factor so that you can stay safe while fishing.
Location will also help you determine how large of kayak you want to handle when moving it around. If you want to fish hard-to-reach lakes or ponds, you might want a smaller, lighter kayak that's easier to carry over some distance before you put it in the water. These are just a few examples of how location will dictate a number of important features you'll consider when buying a fishing kayak.
PROPULSION
When considering propulsion, we can largely break fishing kayaks down into two categories: pedal-driven and paddle-driven. Pedal-driven kayaks allow you to keep your hands free to handle a fishing pole and often require occasional use of your hands to adjust the rudder for steering purposes. The major advantage to pedal-driven kayaks is that you'll be able to constantly fish and adjust your casting technique as you also continue to maneuver your kayak from fishing hole to fishing hole.
Paddle-driven kayaks require the use of a kayak paddle to get from place to place. Some, but not all, include a rudder system that is controlled with your feet to help you steer your kayak where you want to go. While you won't be able to operate your fishing rod while paddling, many of these kayaks offer mounted rod holders so that you can troll as you paddle. The major advantage to a paddle-driven kayak is that you, or your family, can utilize it for recreational purposes if fishing isn't always your top priority.
LENGTH AND WIDTH
The length and width of a fishing kayak are important in determining the performance of the kayak. In general, kayaks that are longer and skinnier are able to go faster and cover greater distance in shorter periods of time. As you might imagine, shorter and wider kayaks provide more stability. When it comes to a fishing kayak, stability is usually prioritized over speed, and for good reason. For this one, we can break it down to a pretty simple rationale: a kayak that's more stable will give you more ability to pull in larger fish without the risk of going swimming!
WEIGHT
Fishing kayaks, in general, tend to be a bit heavier than many of their touring or sea kayaking counterparts. This isn't always the case (see the inflatable kayaks above), but fishing kayaks tend to lean towards the heavier side because they include additional features that other kayaks don't. In addition, fishing kayaks are wider than many other kayaks out there, so the added materials tend to increase their overall weight. But keep in mind that the extra weight can also make the kayak much more stable.
STORAGE
Storage space will play a large role in how much extra tackle, gear, and accessories you'll be able to securely attach to the deck of your new fishing kayak. Many avid fishermen also like to secure a cooler to their kayak so that they can bring cold beverages along or have a place to keep fish on ice so that they stay fresh until they get home.
The amount of storage space that you'll need will depend on whether you're simply fishing for sport or you intend on bringing fish home with you. It will also depend on the technology and equipment you like to bring along when fishing. In general, bringing more equipment and accessories along will require more storage space.
STANDING COMPATIBILITY
Many folks like to have the option to stand and fish from their kayak in lieu of just sitting all the time. This can't be done from every type of fishing kayak (unless you have excellent balance!). If you want to get a higher vantage point and have the ability to really drop your casts in with pinpoint accuracy, you'll want to select a fishing kayak that's wider and built for standing with ease and comfort.
FEATURES EXPLAINED
HULL
The hull of a kayak is its bottom. The design of the hull impacts the ability of the kayak to track straight and gain and maintain speed. It also directly impacts how easy (or difficult) it is to maneuver the kayak.
COCKPIT
The term 'cockpit' refers to the area where you sit. In a sit-on-top kayak, the cockpit is generally larger. With fishing kayaks, a larger cockpit makes it easier to get in and out. It also gives you additional storage room for fishing gear and accessories.
PEDAL PROPULSION SYSTEM
A pedal propulsion system gives you the ability to power your kayak with your feet. There are many varieties of this system, but the main idea is to help you keep your hands free while still giving you the ability to move your kayak around seamlessly.
FOOT BRACES
Foot braces allow you to secure your feet while paddling. Having a place to secure your feet helps you bend your knees, straighten your back, and maintain a more ergonomic paddling position.
SIDE RAILS
The side rails of a fishing kayak are the most common space for attachment points to be added. These attachment points can be used to secure extra rods, fish finding technology, tackle, and any other gear that you like to bring on your fishing trips.
READ MORE
For more of our top kayak fishing gear recommendations, check out these popular buyer's guides: