Updated on February 15, 2022
Rock climbing season has ended, and while you could be spending countless hours in the gym training for the following season, you really would rather be outside. Skiing is great, but does not compare to climbing, so you decide to give it a go at ice climbing. Vastly different than rock climbing, ice climbing requires an entirely different set of gear to keep you warm, and most importantly, safe. Next to ice tools, crampons are the most important piece of gear you are going to need for ice climbing. But not to panic. We hear at The Adventure Junkies have broken the ice for you and laid out the ten best ice climbing crampons to get you started.
Whether you are new to the vertical ice scene or a seasoned veteran, we have a crampon option for you that will have you scaling the water ice (WI) grades efficiently and safely. Because after all, climbing should be fun. And that way, you also have more time to focus on which awesome belay parka to purchase!
For more of our top ice climbing gear recommendations, check out the Best Ice Climbing Backpacks.
Quick Answer

-

The Best Ice Climbing Crampons
Black Diamond Sabretooth Pro
Comparison Table

-

Best Ice Climbing Crampons

For the best experience turn your device horizontally
Reviews

-

The Best Crampons for Ice Climbing
Petzl Lynx
Specs
Material

:

Tempered Steel

Weight

:

2lbs 4 oz

Bindings

:

Step-in; Hybrid (step-in/strap on)

Points

:

14

Frontpoint Type

:

Dual (Can be made Mono-point)
Features
Interchangeable Front Bindings For Step-in Or Hybrid
Length And Orientation Of Front Points Can Be Changed With A Simple Screw
Comes With Carrying Case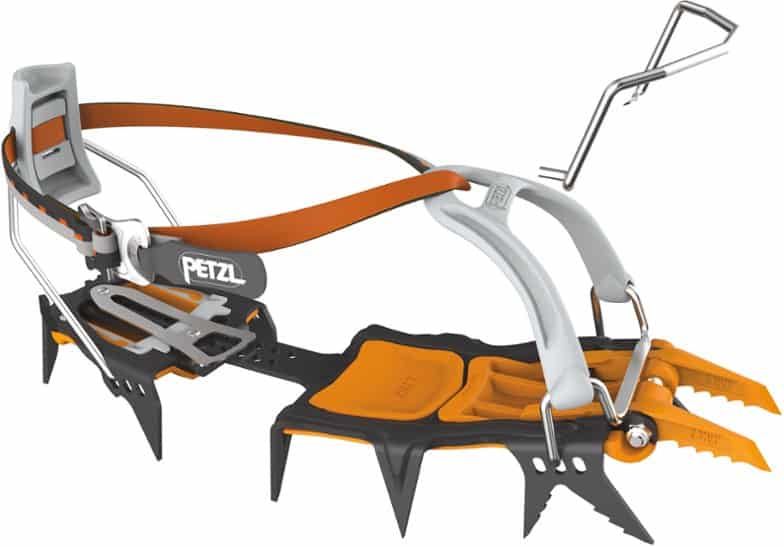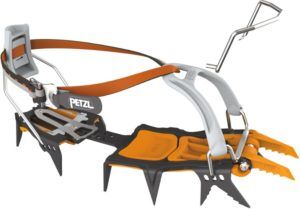 BEST FOR: VERTICAL ICE
Petzl has one of the most popular ice climbing crampons out there with the Lynx. With interchangeable front bindings, they can be used as either a step-in or a hybrid with both the toe clip and strap, making it compatible with both mountaineering and regular hiking boots.
To give it a more aggressive and better penetration of the ice, the length and the orientation of the frontpoints can be adjusted by a single screw. And to be more adaptable to boots as well, the front binding toe clip in the step-in mode can be adjusted to fit the welt of any boot.
Equipped with the all so important anti-balling plates on the bottom, snow will not ball up and interfere with your footing. And as an added bonus, these crampons come with the Petzl carrying case for easy packing so you don't have to worry about them getting snagged in your pack.
Black Diamond Sabretooth Pro
Specs
Material

:

Stainless Steel

Weight

:

2 lb (strap on); 1 lb 15 oz (step-in)

Bindings

:

Step-in; Strap on

Points

:

12

Frontpoint Type

:

Dual Point
Features
Increased Front Rocker To Accommodate Use With Hiking Boots
Anti-balling Plates In Front And Back For Preventing Snow Build-up
Aggressive Secondary Points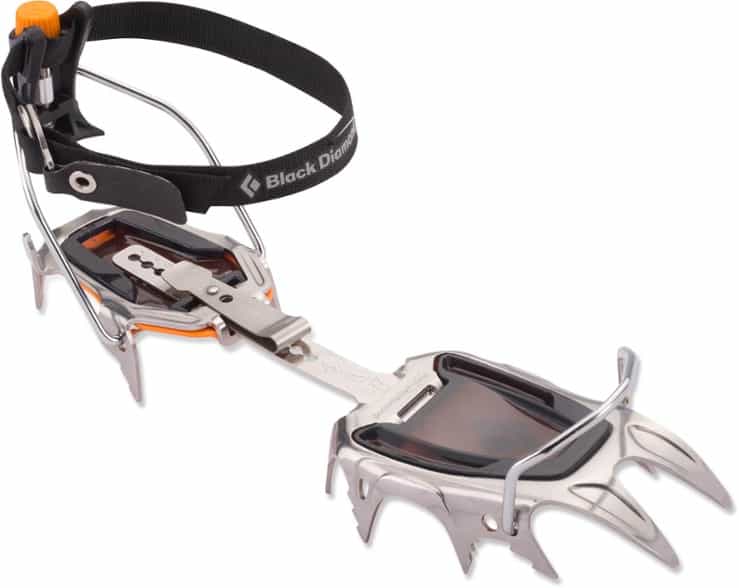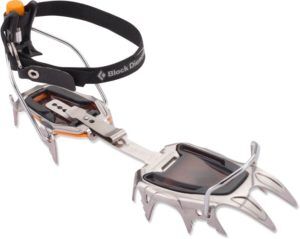 BEST FOR: MODERATE ICE CLIMBS
If you are a weekend warrior or still relatively new to ice climbing, and you are looking for a more moderate crampon to help you send moderate vertical ice, the Black Diamond Sabretooth is your crampon. Designed with dual points that will give you a solid stick on the ice, they are made with a step-in or strap-on version so you can use them with a variety of boots. Also, the increased front toe rocker on the crampon makes it easier to use with more mountain/hiking boots.
In addition to the dual front points, the Sabretooth also has some pretty aggressive secondary points, making sure when you kick, you stick. And with anti-balling plates on both the front and back of the crampon, having snow build-up is not a concern.
Grivel G-12 New-Matic
Specs
Material

:

Chromoly Steel

Weight

:

2 lbs 2 oz

Bindings

:

Hybrid

Points

:

12

Frontpoint Type

:

Dual Point
Features
Anti-balling Plates Coated With Plastic For No Snow Build-up
Designed With Lighter Chromoly Steel
Semi-rigid Design For Use With A Variety Of Boots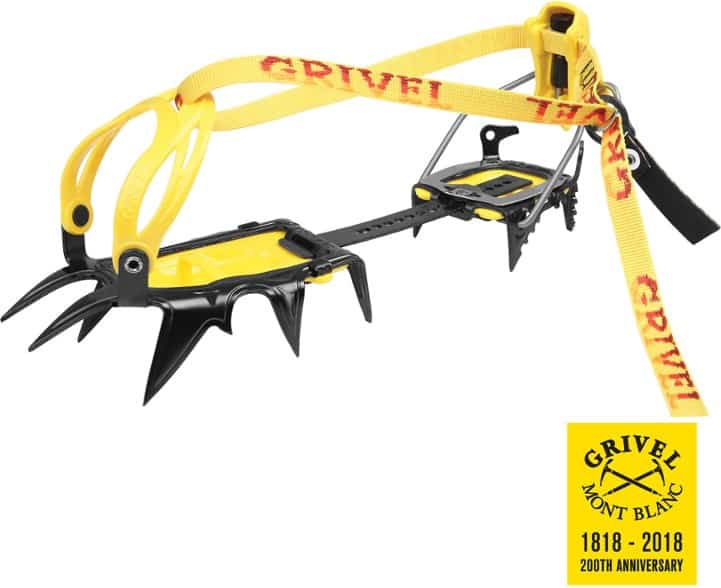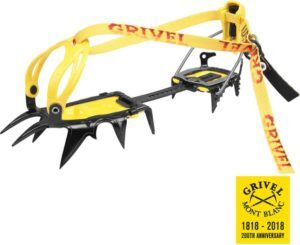 BEST FOR: GENERAL MOUNTAINEERING
If you are looking for a solid crampon to wear in the mountains where you are more than likely to encounter ice, the Grivel G12 is a good choice. This crampon has been around a long time, so it is well proven to perform. As an important feature of a good all-around crampon, the G12 not only has anti-balling plates, but they are coated with plastic which helps the snow melt away fast, so not even the tiniest snowball will form under your feet.
The semi-rigid design allows it to be compatible with a variety of boots, not just rigid ice climbing boots. And made with a lighter weight chromoly steel, these crampons will not slow you down in the least!
Petzl Sarken
Specs
Material

:

Steel

Weight

:

1 lb 14.7 oz (Step-in); 1 lb 15.8 oz (Hybrid)

Bindings

:

Step-in; Hybrid

Points

:

12

Frontpoint Type

:

Dual Point
Features
Interchangeable Front Bindings To Go From Step-in To Strap On
T-shaped Front Points For Maximum Penetration Of Ice
Made From Slim, Robust Steel For Lightweight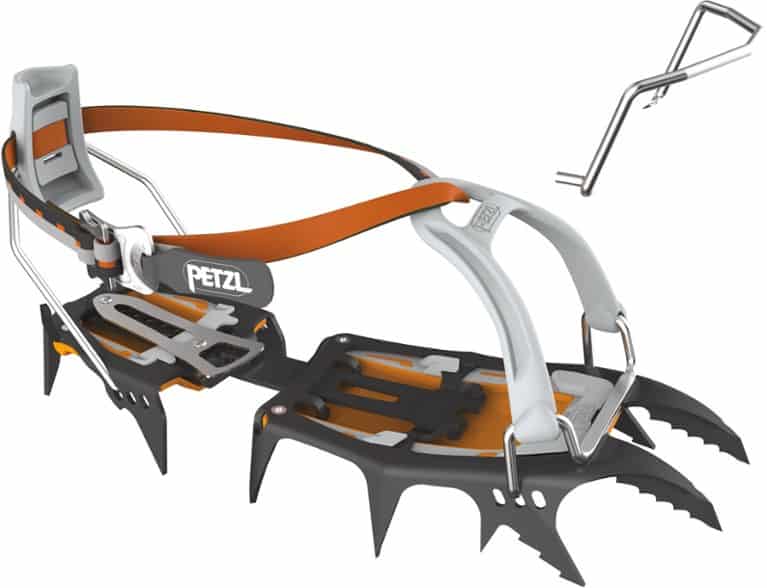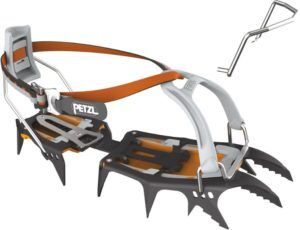 BEST FOR: SLIPPERY SURFACES
The Petzl Sarken have been praised on numerous types of climbs including alpine, mixed, ice, and snow, so for any slippery surface, this crampon has you prepared. The front points are designed in a T-shape, meaning they are combination of flat and vertical serrated points that form a T that allow for maximum penetration on the ice. And because of this feature, they are excellent for kicking and helping you find a solid stance on ice.
Made from a robust but slim steel, these crampons are lightweight but still durable. With interchangeable front point bindings, these crampons can be worn as either a strap on or step-in, so they are compatible with a slew of mountaineering and hiking boots.
Black Diamond Stinger
Specs
Material

:

Stainless Steel

Weight

:

2 lbs 1 oz

Bindings

:

Step-in

Points

:

11

Frontpoint Type

:

Mono Point
Features
Replaceable Front Points
Front And Rear Anti-balling Plates To Prevent Snow Build-up
Stainless Steel Material Prevents Rusting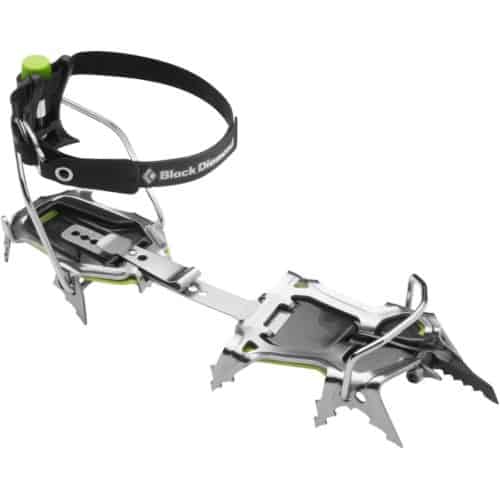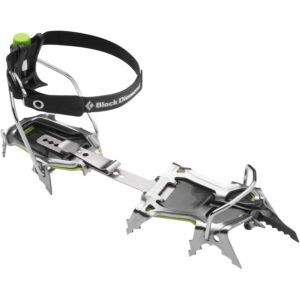 BEST FOR: MIXED CLIMBING
The Black Diamond Stinger is up the challenge of some very steep ice and mixed climbs. Great for your alpine adventures, the front and the back of the crampons are equipped with an anti-balling plate to keep the snow from building up on your approach and on the climb. And because they're made with a stainless steel material, you won't ever have to worry about these crampons rusting.
Specifically designed as a mono point front point, these crampons perform well on some technical climbs in the vertical world with precision. So whether you are looking for an alpine adventure, steep vertical ice, or some serious mixed climbing, the Stinger is up for the challenge!
Grivel G20 Plus
Specs
Material

:

Chromoly Steel

Weight

:

1 lb 15.4 oz

Bindings

:

Step-in

Points

:

11

Frontpoint Type

:

Mono Point
Features
Two Center Points For Increased Stability
Stainless Steel Safety Strap Permanently Mounted To Front Bales
Semi-rigid Design For Some Flexing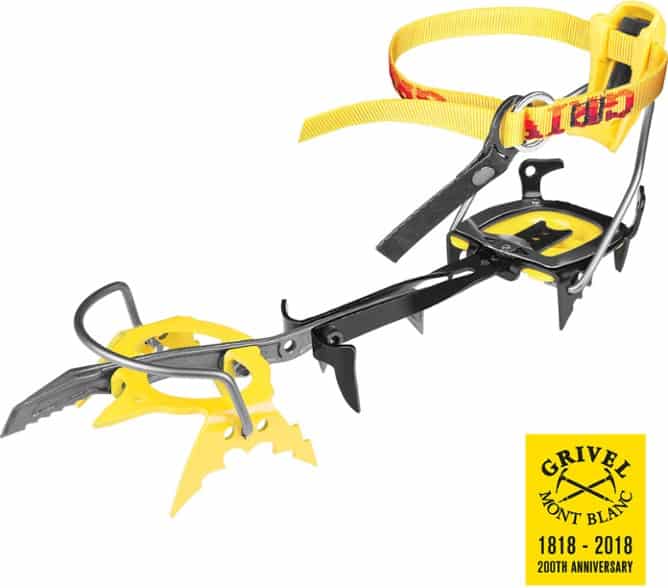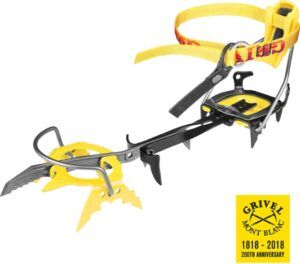 BEST FOR: DRY-TOOLING
Grivel makes a second appearance on this list with the G20. Improved since the original design, the new G20 can tackle any vertical ice, mixed, or dry rock you want to conquer. Designed to be a mono point, the front point is able to get into smaller cracks on dry or mixed climbs, while the additional 10 points stabilize on other features. The crampon has two center points in the middle of the crampon to increase stability on any steep or cauliflowering ice features.
While the crampon is mostly rigid for stability, the overall design is semi-rigid to allow for some flexing to get purchase on ice and rock features. And an added safety feature is the stainless steel safety strap that is permanently mounted to the front toe bail bindings, ensuring if the front of the crampon falls off the boot, you will not lose your crampon.
Grivel G22
Specs
Material

:

Steel

Weight

:

2 lbs 2.1 oz

Bindings

:

Step-in; Strap on

Points

:

12

Frontpoint Type

:

Dual Point
Features
Flexible Anti-balling Plates Give The Crampon A Semi-rigid Design
Rear Anti-balling Plate Prevents Snow Build-up
Can Be Step-in Or Strap On For Use On Various Boots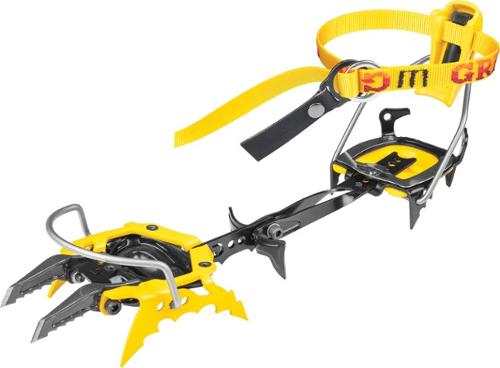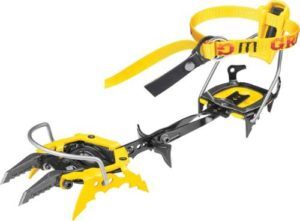 BEST FOR: PLASTIC MOUNTAINEERING BOOTS
A third appearance by Grivel is the G22. A similar design to the G20, but the G22 is a dual front point crampon. Best used with a plastic mountaineering boot, the rigid design works well on these boots that have a rigid sole and substantial heel and toe weld for the bindings. And with a rear anti-balling plate, snow will not build-up so you don't have to worry about getting unbalanced due to snowballs on your feet.
The G22 is offered as a step-in crampon or strap on, so it can be used on all sorts of mountaineering boots. The strap on version binding is made and reinforced with heavy duty plastic, with a black, rigid portion that grips the front of the boot and a flexible yellow portion that molds to the top of the boot, always giving you a secure fit.
THINGS TO CONSIDER WHEN BUYING ICE CLIMBING CRAMPONS
COST
Next to ice tools, crampons are the most important piece of equipment to keep you safe ice climbing, so do not cut corners. Most crampons are in a similar price range, however, it is more important to choose crampons based on the type of climbing you will be doing, what will fit you boot, and what will keep you safe.
BINDINGS
The bindings of a crampon are how the crampon attaches to the boot. There are usually three types: strap on, step-in, and hybrids. Strap on crampons have a plastic basket that fits over the toe of the boot with a strap that attaches the front of the crampon to the boot. This style is more often used with boots that do not have a toe bail groove in the front. If the boot has a groove, they will work with step-in crampons that have a toe bail (bar) that fits into the groove and when the heel binding is closed, will lock the toe bail in place. A hybrid has both a toe bail and a basket.
FRONT POINTS
The front points of the crampon are the forward facing points on a crampon. A dual point means there are two points whereas a monopoint has just one. Dual points can be either horizontal or vertical in placement. The more horizontal a point is, the better they are on snow.
A more vertical front point will be good on steep ice or in crevices of rock that you may encounter on mixed climbs. Front points can also be modular, meaning they can be reconfigured from mono to dual points or swapped out for other points, like those needed for mixed climbing. Rock and Ice offers a lot of sound advice on how to choose crampons.
WEIGHT
While aluminum is the lightest material for crampons, a lighter weight is not going to be as durable as a heavier crampon, so it is important to consider the material of a crampon alongside weight when purchasing.
FEATURES EXPLAINED
ANTI-BALLING PLATES
Plastic plates that are on the bottom of most crampons are called anti-balling plates that keep the snow from balling up under the crampon, causing unstable footing conditions.
TOE BAIL
A toe bail is the front binding on a step-in or hybrid crampon. It is a piece of metal that is designed to fit into the groove on the toe of toe bail compatible boots, and when the heel binding is locked, will secure the crampon in place.
READ MORE
For more of our top climbing gear recommendations, check out these popular buyer's guides: