Updated on March 29, 2022
Gliding through the water as you hunt your prey is an exhilarating experience unlike any other. However, you'll never spot that prey if your mask doesn't provide a crystal clear view of your surroundings. Let's discuss the most important points of the best spearfishing mask from clarity to clearing, along with your top ten options on the market. Read on, become a spearfishing mask expert, and get the perfect mask for your next dive.
For more of our top spearfishing gear recommendations, check out the Best Spearfishing Wetsuits.
Quick Answer

-

The Best Spearfishing Masks
Comparison Table

-

Best Spearfishing Masks

For the best experience turn your device horizontally
Reviews

-

The Best Masks for Spearfishing
Cressi Nano
Specs
Colors

:

Plain Black Or Black With Brown Accents

Lens Material

:

Tempered Glass

Lens Type

:

Double

Mask Volume

:

Low

Strap Style

:

Split
Features
Very Low Volume Design For Crisp Vision
Durable Materials And Construction
Downward Lens Tilt For Improved Sightlines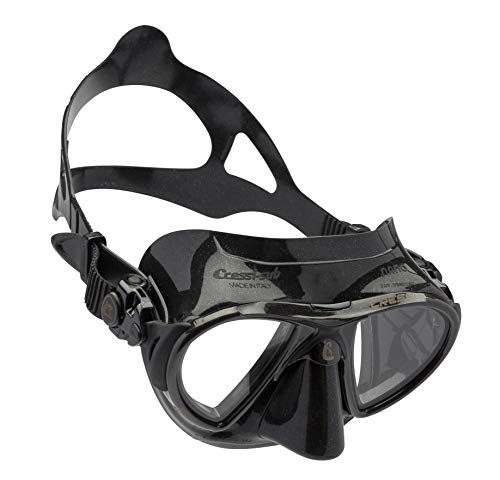 BEST FOR: QUALITY
We start our search for the best spearfishing mask with the Cressi Nano. Robust, crisp, and small are the primary descriptors for this mask, and they all work together for an excellent spearfishing expedition.
As the name implies, the Nano has a very low profile and internal volume. This makes your vision much more sharp while allowing for very easy clearing. Speaking of vision, the Cressi Nano's lenses are also tilted slightly to give you improved downward vision as you drift towards your prey.
The very petite design of the Nano naturally favors smaller-faced divers. If you have a larger face, we'd highly recommend trying on the Nano before buying or moving on to a different option. However, this small design is the Nano's greatest strength and we rank this option as the best spearfishing mask for overall quality in all departments.
Seac One
Specs
Colors

:

Green, Brown, And Grey Camouflage Or Plain Black

Lens Material

:

Tempered Glass

Lens Type

:

Double

Mask Volume

:

Low

Strap Style

:

Extra Wide
Features
Camouflage Coloring Scheme So You're Less Visible To Prey
Good Sealing Prevents Water From Getting Into The Mask
Accessible Price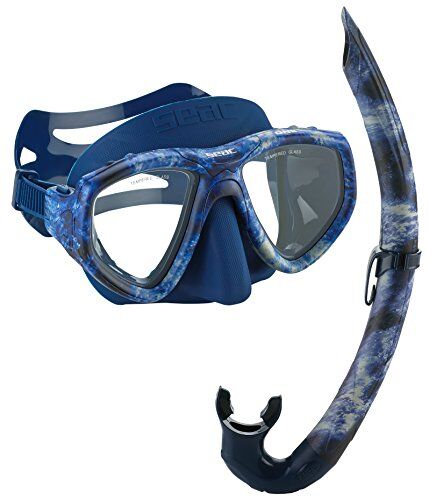 BEST FOR: BUDGET FRIENDLY SPEARFISHING
Seac has produced a solid yet affordable spearfishing mask in the One. The standard dual-lens mask offers good clarity underwater while the sealing skirt provides an effective barrier against water intrusion. What's more, the One has a very low-profile design for improved vision and clearing.
For such a low-profile design, we're pleased that Seac has included a large nose pocket for comfort and easy clearing. The large and wide head strap also avoids pinching as you tighten down the mask to find that perfect seal.
As far as color goes, Seac offers plain black along with a range of different camouflage options. All these benefits make the Seac One the best freediving mask for value, but remember you won't get the premium feel and fit of pricier options.
Omer Alien
Specs
Colors

:

Plain Black And Brown Or Black Camouflage Pattern

Lens Material

:

Tempered Glass - Tinted Options Available

Lens Type

:

Double

Mask Volume

:

Mid

Strap Style

:

Split
Features
Good Fit For Many Different Facial Shapes
Distributes Pressure To Eliminate Painful Pressure Points
Silicone Sealing Skirt Effectively Shuts Out Water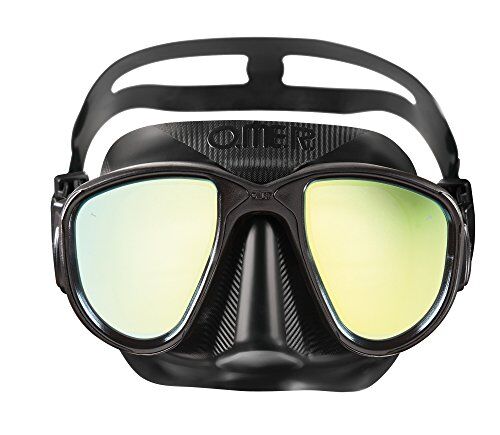 BEST FOR: ENTRY LEVEL SPEARFISHING
The Omer Alien includes all the usual refinements that we look for in a dedicated spearfishing mask, and they're all done very well. We have a very comfortable fit for several different facial shapes, along with an effective double feathered edge sealing skirt.
Omer also connects the split head strap directly to the silicone skirt with low profile buckles to provide a very aerodynamic shape that distributes pressure evenly over your face. The internal volume of the Alien is slightly higher than other ultra-low volume options out there, but you still have excellent clarity and fields of view nonetheless.
The Alien doesn't add incredible new features or technologies to the field of spearfishing masks. However, it takes the established standard and polishes it to a fantastic example of crisp vision and comfort to create the best spearfishing mask for beginners.
Cressi Metis
Specs
Colors

:

Brown, Green, Black

Lens Material

:

Tempered Glass - Tinted Options Available

Lens Type

:

Double

Mask Volume

:

Low

Strap Style

:

Extra Wide
Features
Several Options For Color And Lens Tint
Inverted Tear-Drop Lens Shape For Improved Downward Vision
Smaller Fit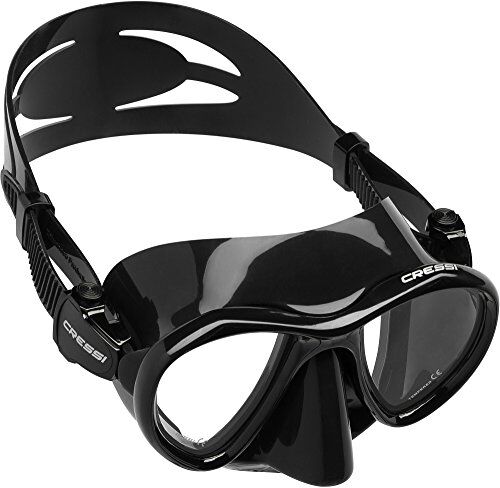 BEST FOR: FEMALE SPEARFISHERS
The naturally small fit of the Metis combined with an exceptional sealing skirt work together to make the Cressi Metis our top recommendation for you female spearfishers out there. What's more, there are several different color options plus tinted or non-tinted lenses.
We're also very taken with the ultra-soft and comfortable nose pocket on the Metis. This pocket is nice and comfy when you cinch down the head strap without excess pressure on your nose and allows for easy equalizing with just one hand.
Naturally, the smaller shape can work for men with smaller faces, but we recommend looking elsewhere if you have a larger face. But for the women divers out there, look no further than the Cressi Metis!
Omer UP-M1
Specs
Colors

:

White Or Black

Lens Material

:

Tempered Glass - No Tint

Lens Type

:

Double

Mask Volume

:

Low

Strap Style

:

Extra Wide
Features
Excellent Field Of Vision
Very Comfortable
Tilted Lenses For Improved Downward Sight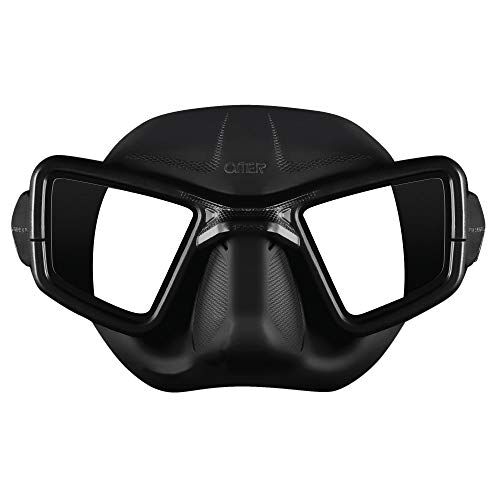 BEST FOR: WIDEST FIELD OF VISION
The distinctive appearance of the Up-M1 isn't for style points alone. The wide lenses allow for an incredibly broad field of view in the water so you never miss your prey. A very plush silicone skirt also makes it easy to achieve an effective seal.
The UP-M1 also has a very low inner volume, which again works with the wider lenses for crisp and clear vision. Additionally, the mask does an excellent job of distributing pressure for a very comfortable overall fit.
A few users report that the straps for the UP-M1 are a little fragile, and recommend caution when tightening or putting the mask on. Treat this mask carefully, and you'll be rewarded with the best spearfishing mask for unparalleled vision beneath the ocean waves.
Oceanways Superview HD
Specs
Colors

:

Black

Lens Material

:

Tempered Glass - Tinted

Lens Type

:

Single

Mask Volume

:

Medium

Strap Style

:

Extra Wide
Features
Very Spacious And Comfortable
Tinted Lens Makes Colors Much More Defined
Good Visibility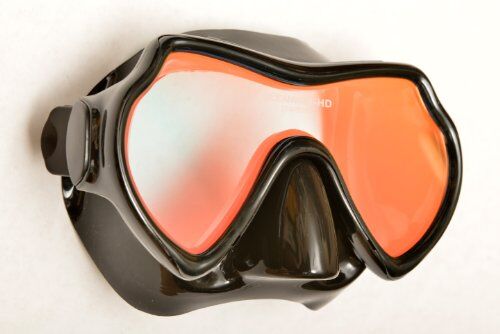 BEST FOR: SINGLE LENS SPEARFISHING MASK
The Superview HD is one of the few effective single-lens spearfishing masks out there. While it does make the mask higher volume than other options, you'll reap the benefits of an incredibly comfortable and spacious fit that won't press on your forehead and nose.
The SuperView HD also distinguishes itself in the field of optics with a very effective lens tint. You're sure to notice incredible color definition, especially on cloudy days, which is perfect for helping you track your prey underwater.
The higher volume, however, can be a high price to pay for such a great mask. You'll use much more air for clearing and the mask isn't as low-profile as the competition. But for incredibly sharp vision, it may well be worth it!
Atomic Aquatics Subframe
Specs
Colors

:

Several Frame Colors Available

Lens Material

:

Tempered Glass - No Tint

Lens Type

:

Double

Mask Volume

:

Low

Strap Style

:

Split
Features
Durable Design
Very Clear High-Quality Lenses
Rigid Frame Design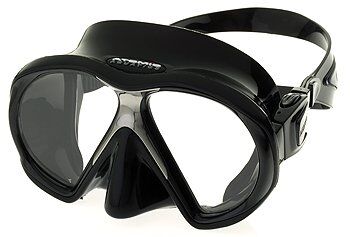 BEST FOR: RUGGED DURABILITY
Atomic Aquatics has produced one of the most durable freediving masks on the market. The Subframe name refers to a secondary frame fashioned from stainless steel that protects the nose bridge area.
This second frame adds exceptional rigidity and durability to the entire mask. However, the extra rigid design also means that the Subframe mask can become uncomfortable after long stints in the water.
In terms of clarity, Atomic Aquatics has implemented its Ultra-Clear high-quality glass lenses to provide good vision in most lighting conditions. But these lenses and durable construction come at a price, and the Subframe is one of the most expensive freediving masks on our list.
Riffe Naida
Specs
Colors

:

Black

Lens Material

:

Tempered Glass - Tinted Option Available

Lens Type

:

Double

Mask Volume

:

Low

Strap Style

:

Split
Features
Comfortable Fit On Larger Facial Shapes
Tinted And Clear Lens Options
Larger Nose Pocket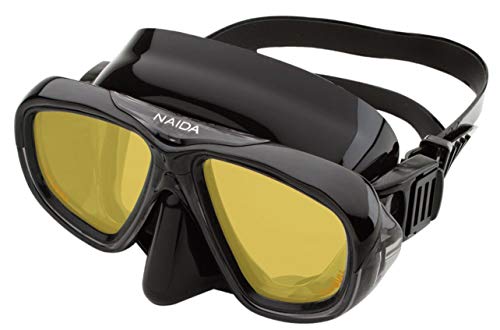 BEST FOR: WIDER FACES
So many freediving masks favor smaller faces, but here's one that finally fits wide facial shapes. The Naida from Riffe features a very comfortable silicone sealing skirt that couples with a slightly wider nylon frame design to become the best spearfishing mask for large faces.
Along with excellent comfort and sealing, we also have good visual clarity through the tinted or clear lens options. We've also found the nylon frame to be plenty durable for any spearfishing adventure, and this mask is sure to last in the long run.
It's just as well that the Naida lasts as it has a hefty initial investment to acquire. This steep price may drive some divers away, but rest assured that you are paying for a very high-quality mask that may be the perfect Cinderella fit if you happen to have larger facial features.
XS Scuba Apnos
Specs
Colors

:

Green Or Black

Lens Material

:

Tempered Glass - No Tint

Lens Type

:

Double

Mask Volume

:

Ultra Low

Strap Style

:

Split
Features
Extremely Low Volume For Improved Air Efficiency
Lenses Sit Very Near To The Eyes For Clear Vision
Easy Clearing And Equalizing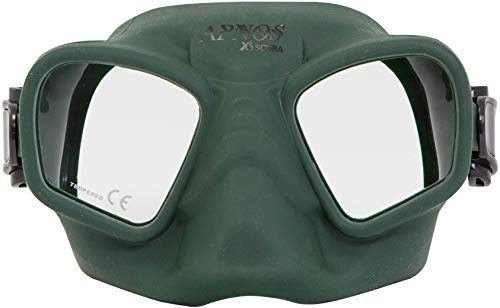 BEST FOR: LOW VOLUME
Want a minimalist spearfishing mask that sits so close to the eyes that they are practically swimming pool goggles? Meet the Apnos from XS Scuba. This mask has the lowest internal volume on our list and easily earns its place among the best spearfishing masks.
The Apnos's incredibly low volume yields very easy clearing and equalizing during your hunt. Remember, lower volume means less air in your mask to equalize as the pressure increases at deeper depths, and less space to clear of any accidental water intrusion. What's more, it places the tempered glass lenses very close to your eyes for excellent peripheral vision.
Be aware that such a low volume mask often means less wiggle room in terms of fit. If you have a larger face or constantly struggle with sealing a mask properly, then we recommend turning your attention to slightly larger and more adjustable options.
THINGS TO CONSIDER BEFORE BUYING SPEARFISHING MASKS
FIT AND COMFORT
A proper fit is the thin line that makes the best spearfishing mask tower above the rest. Without it, you may experience painful pinching or irritating water leakage. Your best defense against this is research. Look at reviews and the manufacturer's sizing guide, if they have one, and determine if the mask you're considering is the right fit for your facial shape.
COLOR
In the subsea world of spearfishing, mask color isn't just a personal aesthetic concern. It plays a crucial role in your overall spearfishing success and requires your attention when picking out your new mask.
As a general rule, avoid flashy colors. Neon yellows, greens, oranges, and the like will stand out like a shark at a minnow conference and cause your prey to bolt prematurely. Most spearfishers opt for black masks – preferably matte to cut down on shine – which will allow them to creep up as close as possible to their prey without being noticed.
Subtle camouflage coloring is also an option for several masks and most hunters agree that they are just as effective a black masks, if not more so.
Remember that this camouflage or dark-colored advice extends to your entire spearfishing gear list.
LENS TINT
What's all the hype with lens tint? Well, let's find out.
The standard mask has clear lenses. These lenses let in whatever available light there is, and transmits it directly to your eye. However, water naturally filters out red light as you dive deeper, leaving everything with a greenish-blue tint. Color-filtering lens tints will help correct this problem and allow colors to 'pop' as you search for your prey.
For spearfishing, many lens tints also boast that hiding your eyes from the fish will help you sneak up even closer. Some divers swear this is the case, while others are perfectly happy with standard clear lenses. Lens tint, therefore, comes down to personal preference, and we recommend renting both types and taking them for a spin to determine which you prefer. LeisurePro has an excellent resource to learn more about mask lens tinting if you need more information.
FEATURES EXPLAINED
MASK VOLUME
Unlike scuba diving and snorkeling, your mask's volume is no longer a simple question of personal preference for spearfishing. The best spearfishing masks will place a premium on being as low volume as possible, for several reasons.
First off, low volume means less air in the mask. This consequently makes it much easier to clear the mask of any accidental water intrusion and equalize the pressure as you dive deeper. The lower volume also means that the mask lenses are as close to your eyes as possible, allowing a larger field of vision.
SINGLE OR DOUBLE LENSES
Diving masks will feature either two lenses – one for each eye – or a single lens that stretches across the entire mask. Both variations have their individual pros and cons, so let's examine them.
Double lenses allow the mask to be slightly lower volume – which we discussed above – making for easier clearing and equalizing. The lenses will also be slightly closer to the eyes which improves your field of view. However, the low volume of double lensed masks can also be their drawback, potentially opening the door to undue tightness and pinching.
If finding a comfortable fit is your primary concern, a single lens mask may be the best avenue. While they don't have quite the same large field of view of their double cousins, they do offer a slightly roomier fit that can relieve pressure on the bridge of your nose.
STRAP TYPE
Most of the best spearfishing masks will feature a silicone-based strap material. This material makes for a soft yet firm fit that will keep your mask in place and not irritate your head at the same time. However, manufacturers have their own method for adjusting the strap, along with different strap shapes.
Therefore, be sure to check the adjustability of your potential mask's strap. First, ensure that it's easy to tweak to get that perfect fit. Second, try tightening down the strap to create a proper seal and make sure that the strap and mask are not pinching or digging into your skin.
READ MORE
For more, check out these popular buyer's guides: