Updated on November 30, 2021
Skimboarding is one of those sports that falls somewhere between riding a push scooter and being a pro champion surfer. Combining the styles and skills of skateboarding, snowboarding, and surfing, skimboarding can be as fun or as challenging as you like. Skimboarding can be practiced on the shoreline, where you glide to meet an incoming breaking wave and ride it back to shore. Or it can be done on "flatland", meaning you skim the wash of the waves or river inlets without catching the shorebreaks.
Maybe you're a seasoned skimmer who likes to ride breaking waves back to shore, or perhaps you're just a water lover and you think the idea of riding a skateboard with no wheels on water sounds like a fun time. Either way, with such a diversity of riding and board styles comes a very diverse market for skimboards, which is why we at The Adventure Junkies are here to make your job easier to help you find the best skimboard for your riding needs.
For more of our top surfing gear recommendations, check out the Best Surfboards.
Quick Answer

-

The Best Skimboards
Victoria Skimboards Woody
Comparison Table

-

Best Skimboards

For the best experience turn your device horizontally
Reviews

-

Skimboards
Slapfish
Specs
Length

:

48"

Experience Level

:

Intermediate/Experienced

Purpose

:

Shoreline

Bungee Cord Included?

:

No
Features
Rear Traction Pad for Enhanced Grip
Streamlined Shape For Increased Speed
Fiberglass and Carbon Reinforced Construction Makes For Durable Board
This is not a cheap board, but with its hefty price tag comes some seriously cool features. If you're an experienced rider looking for a great new board to hit the shore with, this could be the one for you. Handcrafted fiberglass meets a carbon-reinforced nose and tail for the smoothest glide possible and unrivaled durability. The foam core, while lightweight, is structurally dense and incredibly buoyant. There's even a rear traction pad for extra grip during tricks!
BPS Skimboard
Specs
Length

:

30"/40"

Experience Level

:

Beginner

Purpose

:

Flatland

Bungee Cord Included?

:

No
Features
Contoured Rear For Ease Through Turns
Lots of Colors To Choose From
High Gloss Coating Allows for Customization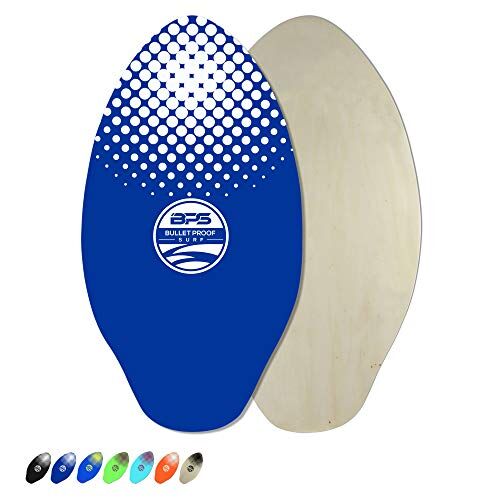 Budget-friendly and available in a wide range of colors and sizes, this is a great first-time skimboard for those wanting to try riding flatland waters. With a contoured rear and slight curvature, this board will be easy to turn and glide effortlessly on the sand without accidentally face planting time and again. What's more, it's got a high gloss finish so you can customize your board and really make it yours!
Zap Wedge
Specs
Length

:

40"/45"/49"

Experience Level

:

Beginner/Intermediate

Purpose

:

Flatland and Shoreline

Bungee Cord Included?

:

No
Features
Available in Different Sizes to Accommodate Different Riders
Built With Zap Composolite Construction for Lightweight Durability
Different Colors Available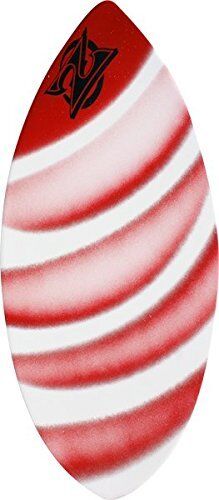 For kids and adults, or for beginners and maturing skimmers alike, this board is a great purchase for those looking to start out in skimboarding and progress to riding small shorebreak waves. Though a little more expensive than others, it is built with Zap's own Composilite construction which is enormously durable. This is a great board for those really looking to get into skimboarding as a regular hobby.
Driftsun Wood
Specs
Length

:

30"/40"

Experience Level

:

Beginner/Intermediate

Purpose

:

Flatland and Shoreline

Bungee Cord Included?

:

No
Features
Made With Durable Poplar Wood
Traction Pad Top For Enhanced Grip
Curved Design to Reduce Nose Dives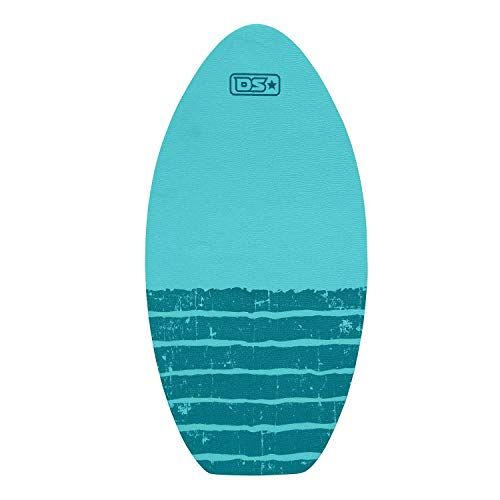 Made from highly durable poplar wood, this solid board will slide effortlessly across the sand. While the underside will present a smooth and frictionless ride, the upper deck is a textured traction pad that will not only increase your grip, but will be there to help you if you want to start whipping out the ollies and kick outs.
Beachmall Wood
Specs
Length

:

30"

Experience Level

:

Beginner

Purpose

:

Flatland

Bungee Cord Included?

:

No
Features
Budget and Beginner Friendly
Lightweight and Easy To Carry
Made From Solid Wood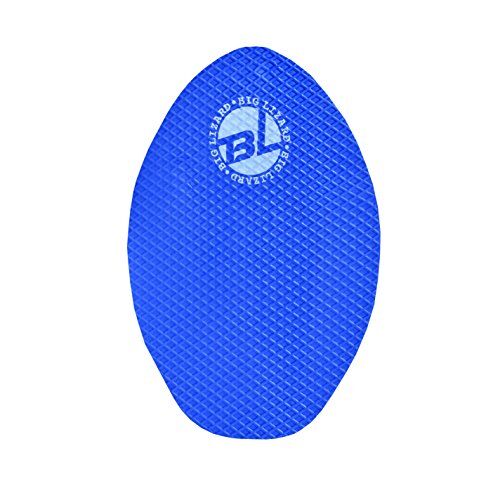 Lightweight, super easy to carry, and budget-friendly, this is your perfect family beach companion, and one that'll keep the kids (and you!) entertained for hours. Made from solid wood with a classic curved design and textured upper deck, this board will have you practicing your skimming skills for hours.
Victoria Skimboards Woody
Specs
Length

:

35"-43"

Experience Level

:

Beginner

Purpose

:

Flatland and Shoreline

Bungee Cord Included?

:

No
Features
Fiberglass Bottom Will Hold Shape For Years
Flat Design For Longer Glide
Hand Painted Design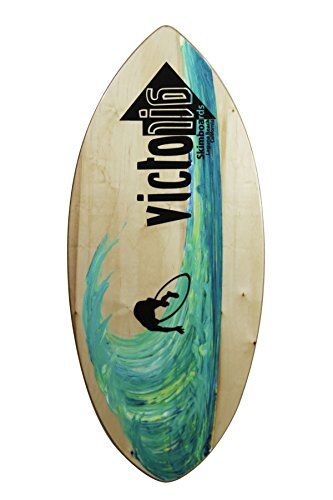 This figurehead of skimboarding has really stood the test of time. These boards have been handbuilt for the past 30 years and they're a classic, excellent quality option that won't let you down. Made of solid Russian birch and finished off with a hand painted design, this is a unique board that will be the trustiest of steeds on all your skimboarding adventures.
THINGS TO CONSIDER BEFORE BUYING A SKIMBOARD
USE
As touched upon in the introduction to this article, skimboarding can be as fun casual or as serious and professional as you want to make it. It's worth considering how and when you're going to be using your skimboard as these factors will answer other questions about cost, size, and materials to look for.
Skimboards have two main uses: for gliding towards shorebreak waves and riding them back to shore; or for riding flat, sandy waters such as the wash of beach waves or inland water areas such as river banks and creeks.
Naturally, one (the latter) is a little easier than the other, so if you're just thinking about sticking to flatland skimming for now, look for boards intended for this use. They're usually cheaper and made from wood. If you'd like to progress into catching waves, look for boards with a greater volume that are made from foam or fiberglass. Keep reading for more detail on materials.
MATERIAL
Generally, skimboards are made up of one of two materials: foam or wood. Foam boards are more buoyant, flexible, lighter and have lots of give. As such, they're better for the more seasoned skimmer looking to catch shorebreak waves.
Wood boards are great for beginners and flatland skimming. They're heavier, stiffer, provide a smooth flow along flat waves, and are generally cheaper. Check out Skate Pro's handy guide for more information about skimboard material.
SIZE
Weight and height are important factors when it comes to choosing the right board, as well as the type of skimboarding you're going to be doing. It's important you get this right as it will affect balance, speed, ease of movement, and general stability.
A skimboard that's too small has a similar effect to using a surfboard that's too small for you; you'll have little balance and buoyancy and you'll struggle to learn easily. A board that's too big, on the other hand, will lack speed and ease, so it's essential to find just the right fit for you. Have a good look at this sizing chart to figure out which size board you need.
FEATURES EXPLAINED
CORE
The inside of the board.
DECK
The top side of the board.
TAIL
The rear end of the board.
NOSE
The front end of the board.
EPOXY
A plastic adhesive usually found on the deck of the board to enhance traction and grip.
READ MORE
For more of our top surfing gear recommendations, check out these popular buyer's guides: