Updated on April 12, 2022
It's crazy to think that surfers ever hit the waves without a connection between themselves and their boards. Nowadays, a leash is essential. Primarily, it will keep your surfboard near you during a wipeout. Without a leash, you'll be swimming back to the beach to collect your board after every wave. They can also save your life when you need your surfboard for just simply floating after getting crushed by a big wave. Choosing the best surfboard leash for you is important, as they can vary in lengths, thickness, comfort, and more. This article was written to help you get the right leash for you.
For more of our top surfing gear recommendations, check out the Best Surf Wax.
Quick Answer

-

The Best Surfboard Leashes
Dakine John John Florence Comp

Ocean Earth Premium One-XT

Creatures of Leisure Reliance
Comparison Table

-

Best Surfboard Leash

For the best experience turn your device horizontally
Reviews

-

The Best Leash for Surfboards
Dakine John John Florence Comp
Specs
Colors

:

5

Length

:

6 ft

Thickness

:

4.7 mm
Features
Longer Rail Saver Protects Board In Serious Waves
Cushioned Neoprene Ankle Cuff With Heavy Duty Velcro
Swivels Feature Highly Durable Material, Making The Leash Long Lasting
BEST FOR SHORTBOARD SURFERS
Dakine makes a wide variety of surfboard leashes, but this one was built to withstand all sorts of conditions. It's extremely lightweight and thin, and you'll hardly even notice it around your ankle. Don't let that trick you into thinking that it can't take a beating though. It will stay connected in the toughest of surf conditions. To top things off, the ankle cuff is cushioned and extremely comfortable. If your board is shorter than 6 ft, this might just be the leash for you.
Specs
Colors

:

9

Length

:

9 ft

Thickness

:

7 mm
Features
Padded Ankle Cuff For Comfortable Surfing
Lifetime Warranty -- If Leash Snaps, Manufacturer Will Replace It At No Charge
Hidden Key Pocket In Cuff
Comes With A Free Waterproof Phone And Wallet Case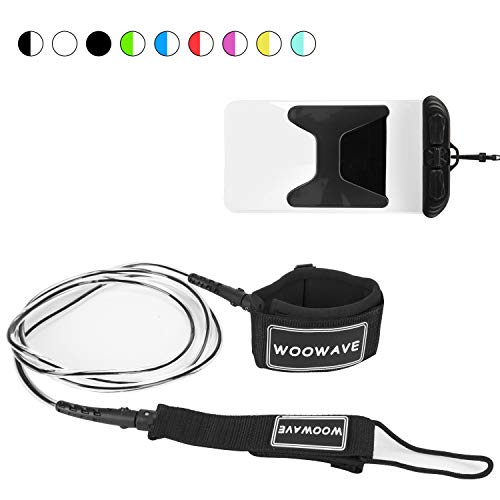 BEST FOR BUDGET SURFERS
The Woowave Premium leash is significantly cheaper than any other leash on this list. It's 7 mm thick, which creates a bit more drag but ensures that it won't snap. In the event that it does snap though, Woowave will replace it for free. To top things off, your purchase includes a waterproof wallet and phone case. If you aren't sure what you want out of your surf leash, this is a great first leash.
Specs
Colors

:

4

Length

:

7 ft

Thickness

:

7 mm
Features
Easy Pull Tab For Quick Release If Leash Becomes Stuck
High-Density Nylon Rail Saver Makes Leash Long Lasting
Cuff Colors Match Leash Cord Color For Great Swag
Padded Neoprene Ankle Cuff
BEST FOR QUICK RELEASE
The Alpenflow Premium is truly that — a premium leash. It's short and thick, which more extreme surfers will find necessary. It also has a quick-release system. Although rare, your board can get caught on a reef and keep you trapped underwater. A quick-release system will let you remove your leash quickly and swim to safety. If you are planning to surf reef breaks more than beach breaks, this might be the leash for you.
Wave Tribe ECO
Specs
Colors

:

1

Length

:

7 ft

Thickness

:

N/A
Features
Key Stash In The Cuff Allows You To Keep Your Keys On Yourself While Surfing
One Year Replacement Guarantee -- Your Break It, They Replace It
Made With Recycled Materials
Swivels At Both Ends Of Leash Ensures Leash Doesn't Get Tangled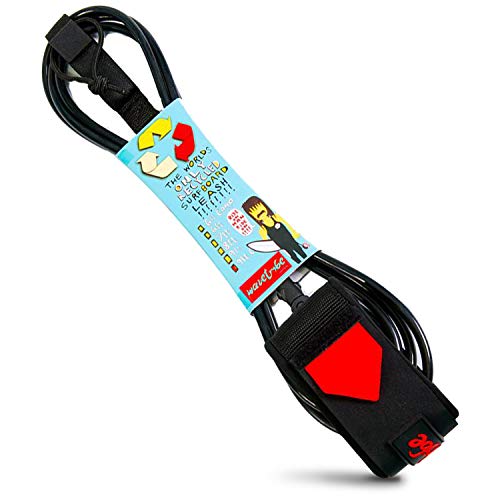 BEST FOR ECO-CONSCIOUS SURFERS
Unfortunately, plastic's impact on the environment doesn't hide in the ocean. This leash helps combat that by being one of the only leashes made with recycled materials. It also features a double swivel, which means the leash will rotate at your ankle and near the board. This allows you to surf without worry about the leash wrapping around your leg. To top things off, the cuff features some pretty awesome graphics so you can look cool while you surf too!
DAKINE Longboard
Specs
Colors

:

1

Length

:

9 ft

Thickness

:

6.5 mm
Features
Marine Grade Stainless Steel Swivels For Durability
High-Grade Velcro Keeps Cuff In Place
Maximum Strength Leash Stretches Long When Falls Occur
Detachable Rail Saver For Customizable Performance

BEST FOR BEGINNER SURFERS
If you aren't certain about what you want your leash to do, this is a great option for you. The rail saver on this leash is removable. Removing the rail saver will reduce drag in the water, but make the edges of your board more prone to damage. Most importantly, this leash will progress with you as you get better at surfing. It can handle all types of waves and all types of surfboards.
FCS Freedom
Specs
Colors

:

6

Length

:

6 ft

Thickness

:

N/A
Features
Nylon Used In Leash Makes Leash Extremely Thin
Silicone Grip Print At Cuff Keeps Cuff Attached To Ankle
Neoprene Padding In The Cuff Protects Your Ankle
Specifically Designed For Waves Under 5 Feet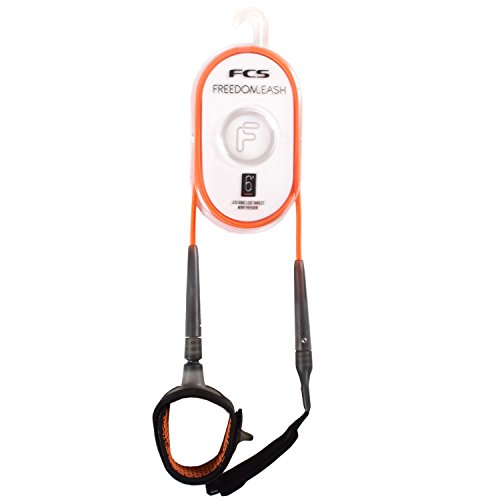 BEST FOR SMALL WAVE SURFERS
FCS brings new innovation to the table with this surf leash. Instead of being made solely with urethane like other surf leashes, it is constructed with nylon yarn wrapped around a durable cord. It's the only leash on the list that is made this way, allowing it to be extremely thin. 
It may stay out of your way and have very little drag, but surfers have been a bit disappointed with this leash for other reasons. In larger waves, the leash stretches out without recoiling or may straight-up rip. For this reason, this leash is recommended for use in small waves. One positive feature of the leash, though, is the silicone on the inside of the cuff. The leash will stay in place on your ankle better than other leashes.
Specs
Colors

:

1

Length

:

9 ft

Thickness

:

8 mm
Features
Extremely Durable Cuff For Long Lasting Performance
Leash Is Made With Extremely Tough Materials
End Of The Leash Is Made To Be Easily Attached To Surfboard
Anti-Corrosive Steel Is Used In Swivel Joint For Extreme Durability
BEST FOR DURABILITY
This leash from Ocean and Earth can withstand a beating. The cord itself is made with extremely tough material, but it's also thicker than other leashes. The swivel joints are also made with anti-corrosive steel that will withstand years of use. And the cuff is made thicker than most. All of these things combined create a leash that won't need to be replaced.
Creatures of Leisure Reliance
Specs
Colors

:

8

Length

:

8 ft

Thickness

:

7mm
Features
Stretches Up To 5x Original Length
Covered By A Two Year Warranty
Hook And Weave Velcro Design Is Lighter And Stronger Than Traditional Velcro
Unbreakable Swivel Keeps Leash From Tangling Around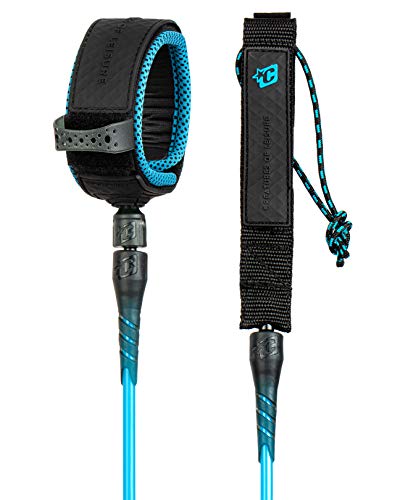 BEST FOR ABSORBING WAVE CONTACT
Creatures of Leisure is respected by surfers and surf product companies alike. In fact, they were the very first company to introduce the swivel to surfboard leashes. They innovate the traditional leash with this one as well. What makes it stand apart is a patented DNA Flex Mold, created to absorb wave impact. This makes the leash strong, flexible, and durable. Creatures of Leisure makes very quality products, and this one does not disappoint.
THINGS TO CONSIDER WHEN BUYING A SURFBOARD LEASH
CORD LENGTH
The cord is the long part of the leash that connects your ankle to your surfboard. The correct length of leash for you will depend on the height of your surfboard. A good rule of thumb is to purchase a leash that is equal in length to or slightly longer than your surfboard.
Unless you are an expert surfer, don't get a leash that is shorter than your board. If your leash is shorter than your board, you risk falling on top of your surfboard or allowing for your surfboard to crash into you after a fall. However, you also shouldn't try and purchase the longest leash possible. A leash that's too long will drag in the water, get tangled around your ankle, or allow your board to hit other surfers in the water.
CUFF
The cuff of a surfboard leash is the part that connects to your ankle. They are always made with velcro, which allows them to stay tight on your ankle. A cuff that shifts while surfing can cause irritation on your ankle. If you've experienced this in the past, a cuff with silicone may be for you. Some cuffs on this list are padded, making them extremely comfortable. Others have a quick release feature, which can save you in the event of your leash getting wrapped around a reef.
RAIL SAVER
This is the part of the leash that directly attaches to the surfboard. The larger the rail saver is, the more protected your board will be during a fall. If the rail saver is small, there is the risk that the leash puts a lot of pressure on the edges of the board and potentially damages it. A rail saver extends the leash and in turn, eliminates pressure on the edges of the surfboard. The downside of a longer rail saver is more drag in the water.
SWIVEL
Leashes are much more than cords that connect your ankle to your board. Most leashes have small swivels joints at both sides of the leash, near your ankle and near the surfboard. This allows for the cord to whip around in the water without getting tangled around your foot. Swivels that are made with anti-corrosive steel will last longer than those without.
THICKNESS
A thin surfboard leash is better for more experienced surfers. The leash will not drag as much and is also much less likely to get wrapped around your leg. The one downside though, is that this leash is much more susceptible to breaking. If you want a thin leash, consider buying one with a good warranty. Thicker leashes are better for beginners because they can withstand the wave impact that comes with falling. If you want a leash that is going to last a long time, go thicker. If you want a leash that will perform at a higher experience level, go with a thinner leash.
FEATURES EXPLAINED
DETACHABLE RAIL SAVER
A detachable rail saver allows you to choose between two different priorities — protecting the edges of your board or having the leash drag less in the water.
KEY STASH
If you're going out to surf alone, you know it can be a hassle trying to decide where to leave your car keys. Some leashes have key stashes in the cuff, which allow you to keep your keys on your body while you surf.
WARRANTY
Due to the nature of their job, surfboard leashes snap. That's why leashes with a warranty are great! They allow your leash to be replaced for free.
READ MORE
For more of our top surfing gear recommendations, check out these popular buyer's guides: