Updated on April 8, 2022
It's a beautiful morning in the mountains. You throw on your pack and start off without a care in the world, until the mountain weather does what it's famous for doing. It changes. It changes fast, and suddenly your beautiful day is an incoming mass of wind and wet. If you've packed a rain jacket you're half protected, but you'll find out very quickly that half isn't enough. All the water landing on that waterproof jacket is running down to your legs and down into your boots, leaving the lower half of your body soaked and frigid. To avoid that outcome you need a pair of rain pants, and to help you choose a pair we've brought you this guide to the best rain pants for hiking. Whatever your specific needs are in lower-half raingear, you'll find something here to meet them!
For more of our top hiking gear recommendations, check out the Best Women's Rain Pants.
Quick Answer

-

The Best Rain Pants for Hiking
Mountain Hardwear Stretch Ozonic

North Face Venture 2 Half Zip
Comparison Table

-

Best Rain Pants for Hiking

For the best experience turn your device horizontally
Reviews

-

The Best Hiking Rain Pants
REI Co-op Essential
Specs
Weight

:

11 oz.

Waistband

:

Elastic + Drawstring

Side Zipper

:

Ankle Height
Features
Articulated Knees For Superior Mobility
Zippered Bottom Vents Let You Pull Pants On Over Boots
Packs Down Into Zippered Pocket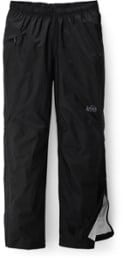 BEST AFFORDABLE BREATHABLE RAIN PANT 
If you want a pair of efficient, highly packable rain pants to keep in your pack for emergencies, this offering from REI is a great choice. They're light, compact, and fully waterproof. They're also comfortable and have a wide zippered bottom that you can pull on right over your boots when the rain comes on fast. Zip them up and they're snug and set to go! The Essential pant doesn't have a lot of fancy features, as its name suggests, but it does what you want it to do, stays in a light, compact package when you don't need it, and will not demolish your budget!
Mountain Hardwear Stretch Ozonic
Specs
Weight

:

9.5 oz.

Waistband

:

Elastic + Integrated Belt

Side Zipper

:

Full Length
Features
Full-Length Side Zippers
High-Stretch Material For Full Mobility
Integrated Web Belt Keeps Waist Secure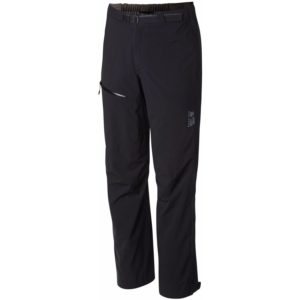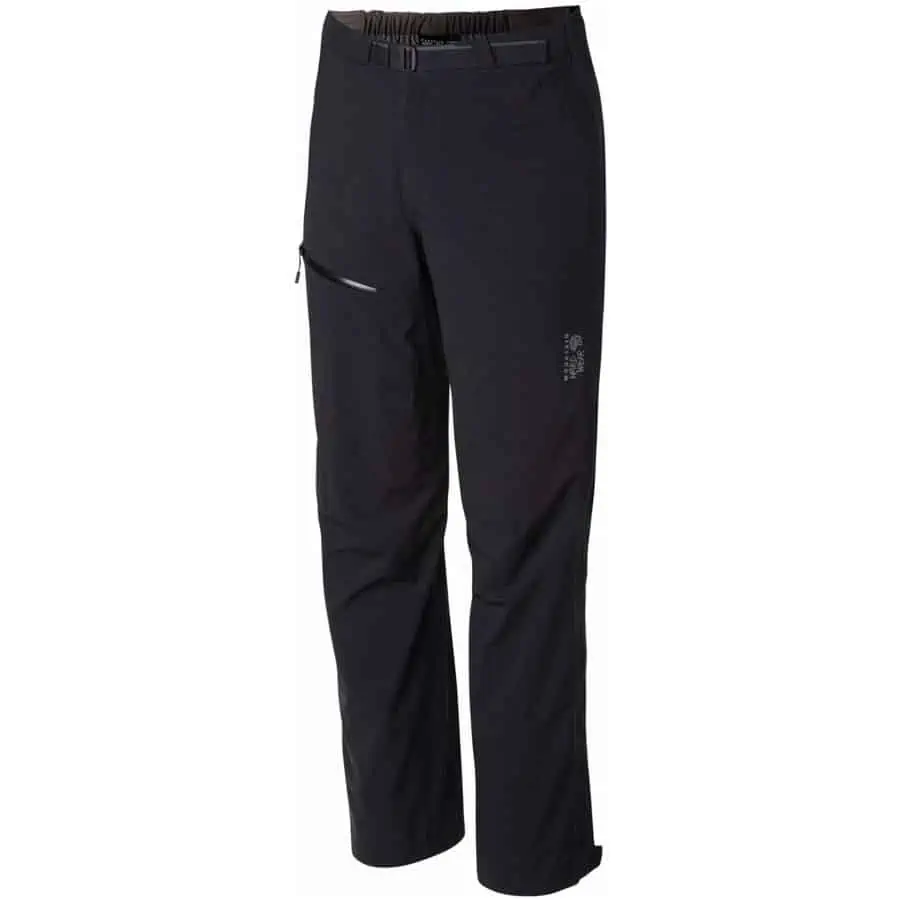 BEST FOR FREEDOM OF MOVEMENT
What sets these pants apart from the competition is summed up in one word of their name: stretch. That word is there for a reason. These pants really do stretch, to an extent that makes them one of the most comfortable and mobile rain pants on the market. If you're looking for pants that are suited to active sports that require freedom of movement, you'll want to consider these. They are also rated as one of the most breathable pants on the market, they pack down to a very compact size, and the full-length zipper provides great ventilation options and makes them easy to get on or off quickly!
Outdoor Research Foray
Specs
Weight

:

11.5 oz.

Waistband

:

Elastic + Drawstring

Side Zipper

:

¾ Length Water-Resistant
Features
Water-Resistant Double-Separating ¾ Length Side Zippers
Gusseted Crotch And Articulated Knees For Easy Movement
Snap Closures On Cuffs
Rear Pocket Doubles As Stuff Sack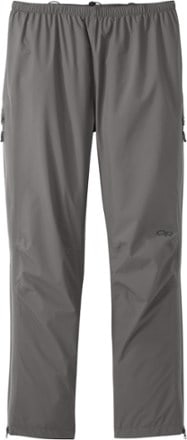 BEST ALL-AROUND VALUE
These pants do everything a rainpant is supposed to do, and they do it all well. The GoreTex PackLite fabric is highly breathable, light, compact, and comfortable. The fabric and construction are thoroughly waterproof even in full storm conditions. The articulated knees and gusseted crotch won't impede movement even on the highest steps or the longest reaches. They are small and light enough to take that "just in case" place in your pack and durable enough for everyday wear. They aren't the cheapest pants on the market, but if you can afford them and you're looking for a high quality pair of all-around rain pants, they're well worth the price.
Outdoor Research Helium
Specs
Weight

:

5.5 oz.

Waistband

:

Elastic + Drawstring

Side Zipper

:

Ankle
Features
Ultralight And Very Compact
Waterproof, Breathable, Fully Seam Taped To Keep Water Out And Warmth In
Ankle Zippers For Easy On/Off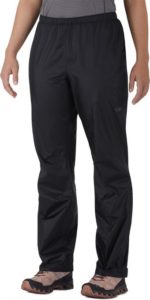 BEST ULTRALIGHT RAIN PANTS
If you're looking for a pair of rain pants that can lie unnoticed in your pack for days and emerge to keep you dry in unexpected rain, these are the pants you want. They are among the lightest and most compact rain pants on the market, and the Pertex Shield fabric scores high marks for being both waterproof and very breathable. These pants aren't loaded with features: everything has been pared back to reach that insanely low weight. They've also been criticized for not being the most durable pants on the market, but that's also a tradeoff for weight. They aren't designed for daily use under rugged conditions; they're designed to be very light and very packable, and they fill that role well.
Marmot PreCip Full Zip
Specs
Weight

:

12 oz.

Waistband

:

Elastic + Velcro Adjustment Tabs

Side Zipper

:

Full With Storm Flap
Features
Full-Length Zippers With Bonded Storm Flaps
NanoPro Fabric Moves Moisture Away From Skin
Three Zippered Pockets
100% Taped Seams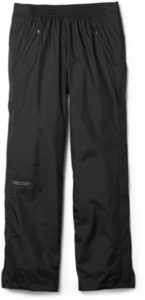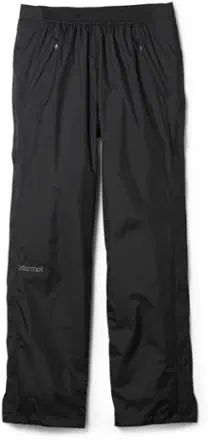 BEST FOR ALTERNATING RAIN AND SUN
The main distinguishing feature of the PreCip Full Zip is, naturally, the full-length zippers on the outside of each leg. The zippers make it dead easy to put the pants on over boots and pants if rain comes without warning, and you can open the sides for ventilation if you want to keep the pants on when the rain slows down. The zipper is protected by a well-designed storm flap that keeps water from passing through the zipper even on windy days. These packable, well-designed, and efficient rain pants are reasonably priced and their popularity was earned with performance!
North Face Venture 2 Half Zip
Specs
Weight

:

8.11 oz.

Waistband

:

Elastic + Drawstring

Side Zipper

:

Knee Length With Storm Flap
Features
Pants Stow In Their Own Pocket
Knee-Length Side Zips
Velcro-Adjustable Ankle Cuffs
MOST VERSATILE BUDGET-PRICED RAIN PANTS
North Face's DryVent system that makes up these rain pants is a multi-layer polyurethane coating designed to keep outside water out while moving inside dampness away from your body. The half-length zippers make them easy to put on over boots and clothes, and they are durable enough for active sports. These pants are cut quite loose, which provides unrestricted movement and room for layering, but if you don't like baggy pants, you might prefer another model. These pants are lightweight, they're compact, they're tough, and they're a great value in a very affordable package!
Marmot Minimalist
Specs
Weight

:

11 oz.

Waistband

:

Elastic + Snap

Side Zipper

:

1/4 Length
Features
Articulated Knees For Full Mobility
100% Seam Taped
¼ Length Boot Cuff Zippers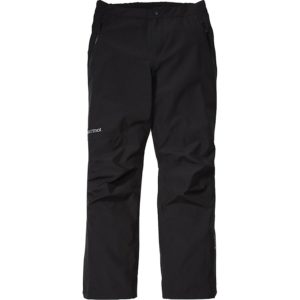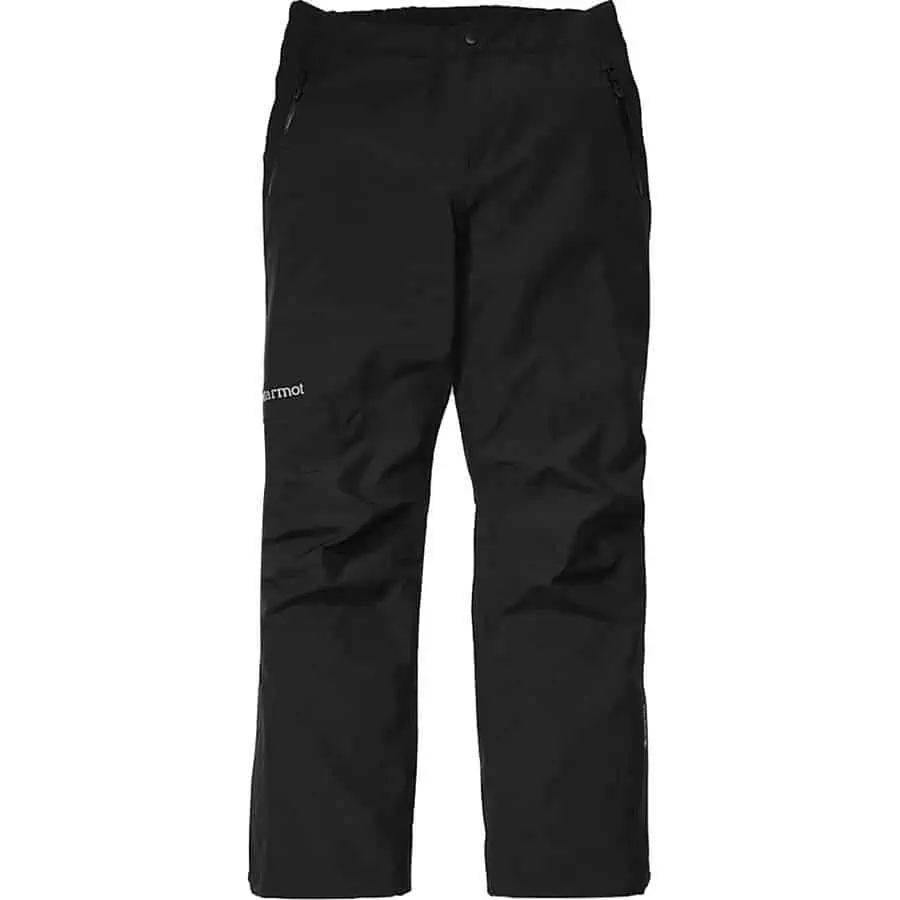 BEST IF YOU WANT SIMPLICITY
The Marmot Minimalist lives up to its name. There are no bells and whistles here, no full zippers or fancy features, just a well-cut, well-designed pair of very waterproof hiking pants. The GoreTex PackLite fabric does exactly what it's supposed to do, delivering a very high degree of waterproof protection and breathability in a light, compact package. There's not a lot of ventilation here, so these might not be the ideal pants for warm-weather use, but if you're looking for an all-around cool weather rain pant and you're focused on getting the basics right, the Marmot Minimalist fits the bill.
Helly Hansen Moss
Specs
Weight

:

14.5 oz.

Waistband

:

Elastic + Drawstring

Side Zipper

:

None
Features
Welded Seams For Complete Waterproofing
Polyurethane Repair Kit Included
Adjustable Waist For Easy Fit

BEST BUDGET RAIN PANT 
These rain pants are designed and built along the lines of traditional rain gear, with a solid waterproof polyurethane-coated fabric and welded seams. They aren't breathable and they can accumulate perspiration inside, and they aren't as light or as compact as most of the other pants on this list. They are at the low end of the price range, though, and they will keep you dry! If you're looking for a basic pair of rain pants and you're willing to sacrifice the high-end features to get a product that meets a limited price range, take a close look at these.
THINGS TO CONSIDER BEFORE BUYING A PAIR OF RAIN PANTS FOR HIKING
As with most outdoor gear, there are a lot of options when it comes to rain pants, and choosing the item you need isn't always easy. You'll need to assess your needs, understand the technologies involved, and decide how much you want to spend. Pants designed to occupy the smallest possible space in your pack and emerge only for emergency use will be designed and built very differently from pants designed to be used for daily work in rough conditions! The range of options might be confusing at first, but once you know what you need and what you want to spend, you can narrow that down to a few options that will keep you dry in your kind of wet weather.
KNOW YOUR NEEDS
There are two basic types of hiking rain gear. One is "just in case" protection that you carry in your pack to deal with unexpected bad weather. The other is daily wear that's designed for regular use, even outdoor work, in places where rain is expected and rain gear is part of the daily wardrobe.
"Just in case" rain gear is made to be as light and compact as possible and often sacrifices some durability to achieve that goal. Daily use gear tends to be more durable and gives up some weight and packability to achieve that goal. Because not everyone fits into a neat niche, manufacturers also make crossover rain gear that fits both functions.
As with most outdoor gear, if you want something that's light, compact, and strong, expect to pay a premium for it!
KNOW THE BASICS
There are a few basic qualities we use to assess rain pants.
Waterproofing is essential: the whole point of rain pants is to keep us dry. That means the fabric has to keep water out, the seams have to be taped or welded, and zippers have to be waterproof or protected.
Breathability is also a critical part of staying dry. Breathable fabrics keep outside water out but let inside water pass through, sometimes even wicking moisture away from the skin. Because we often sweat inside our raingear, breathability is a key factor in comfort and keeping dry.
Ventilation allows you to open the pants to let air in, which can be useful if rain is on and off and you don't want to be constantly taking pants off and putting them on again.
Mobility is important in any hiking-specific garments. You want protection, but you don't want pants that don't let you move. Manufacturers use crotch gussets, articulated knees, stretch fabrics and other features to keep you mobile and dry at the same time!
Ease of use is something we don't consider at first, but it's important. Rain can come on quickly and you want to be able to get your pants on and off easily, without removing boots or other clothes. Side zippers are very helpful when it comes to pulling rain pants on over boots and an adjustable waist is important for ensuring the pants will fit easily over your other layers.
Know which features matter most to you and you'll be able to balance them and make the best choice!
LEARN MORE
There are several good guides to choosing rainwear online; most deal with pants and jackets. For more information, EMS offers some great advice on how to choose rain pants and jackets. Also check out this review of issues specific to rain pants to learn even more before you buy.
SPECS AND FEATURES EXPLAINED
MATERIALS
Every pair of rain pants starts with waterproof material. Understanding the materials helps us understand how rain pants are made and why the prices vary so much. You might find it helpful to learn more about the waterproof fabrics used in hiking gear and garments so you know exactly what you need before you choose a pair of rain pants from the list above.
Coated fabrics place a layer of rubber or plastic over a base fabric, usually nylon. The familiar inexpensive raincoats use coated fabrics. They are inexpensive but generally not breathable or have limited breathability, and they are often stiff and relatively uncomfortable.
Laminate/Membrane waterproofing technologies use a waterproof/breathable membrane laminated between fabrics designed to protect from abrasion on the outside and provide comfort on the inside. This type of fabric allows breathability, flexibility, and comfort.
There are many types of laminate/membrane fabric on the market. Some are advertised as "3-layer" fabrics with a full fabric layer outside and inside the membrane, others as "2.5" layer fabrics, usually with a lighter inside layer.
Gore-tex was one of the first laminate/membrane technologies to hit the market. It's been updated regularly and is still among the best, most sought after, and most expensive waterproof/breathable fabrics.
Pertex is another proprietary high performance waterproof/breathable fabric used by several manufacturers.
Many manufacturers have their own technologies, each with its own name: NanoPro, H2No, Dry.Q, DryVent, and many more. Most of these are variations on either a coated or laminate/membrane fabric.
SEAMS
Fabric has to be held together to make a pair of pants. Every pair of rain pants has seams, and they have to be protected to keep the garment waterproof. Coated fabrics may be welded, but in most cases seams are sewn and covered by a waterproof tape on the inside. Lower-quality taping technology may deteriorate over time.
SIDE ZIPPERS
Rain pants have side zippers for two reasons. Side zippers let you put the pants on quickly and easily even if you are wearing boots. They can also be opened as much or as little as you like, and wherever you like, to provide ventilation.
Side zippers have to be kept waterproof or you won't stay dry on windy days. Manufacturers use stormflaps of waterproof fabric to cover the zipper or use waterproof zippers, or both!
WAISTBANDS
Waistbands keep pants from falling down, which most of us prefer to avoid. Many rain pants have elastic waistbands, often combined with drawstrings, snaps, or other closures. Elastic alone will lose its stretch over time, so it's good to have a secondary closure system.
CUFF CLOSURES
Cuff closures keep pants tight around your boots, preventing water or snow from getting up under your pants from the bottom. Pants use a variety of cuff closures, including snaps, velcro, and elastic closure. Some pants don't close the cuff at all.
ARTICULATION AND GUSSETS
Knee articulation and crotch gussets are types of cutting and stitching designed to increase mobility, especially in situations when you have to step high, step across a gap, or jump, all of which happen when you're hiking!
STUFF SACKS
Most rain pants are designed to stuff into a compact package, so they're easy to stow when you don't need them. Many pants stuff into a pocket, usually with a 2-way zipper that you can use to close the package. Others use a small stuff sack.