Updated on February 7, 2020
What are the best Fuji lenses for travel? With a great selection of products on offer from the Japanese brand, choosing which lens to bring on your next trip can be tricky. Whether you are looking for a versatile all-around lens or you want to specialize in landscapes, portraits, street photography, or wildlife there is something available for you.
Fujifilm produces both prime and zoom lenses for beginners who want to upgrade their standard kit lens or professionals willing to invest in top-of-the-line gear. Many of Fuji's lenses are weather sealed and freezeproof, allowing you to produce incredibly sharp images even in the most hostile environments.
In this guide we review the ten best Fuji lenses for travel photographers, listing glass built for any kind of activity, from macro shooting to photojournalism.
For more of our top travel photography gear recommendations, check out the Best Travel Lenses.
Quick Answer

-

The Best Fuji Lenses for Travel Photography
Fujinon XF18-135mmF3.5-5.6 R LM

Fujinon XF10-24mmF4 R OIS

Fujinon XF80mmF2.8 R LM OIS WR

Fujinon XF16-55mmF2.8 R LM WR

Fujinon XF8-16mmF2.8R LM WR

Fujinon XF55-200mmF3.5-4.8 R LM OIS

Fujinon XF100-400mmF4.5-5.6 R LM OIS
Comparison Table

-

Best Fuji Lens for Travel

For the best experience turn your device horizontally
Reviews

-

The Best Fuji Travel Lenses
Fujinon XF35mmF1.4 R
Specs
Type

:

Wide Angle

Aperture

:

f/1.4

Dimensions

:

2.55 x 1.96 inches

Focal Length

:

35mm

Weight

:

0.41 lbs
Features
Super Sharp Image Quality
Realistic Colors With Low Distortion
Smooth Bokeh In Out-Of-Focus Areas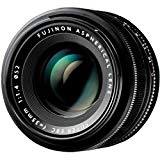 BEST FOR: THE URBAN EXPLORER
Starting off with a prime lens, meet the Fujinon XF35mmF1.4 R. It is a wide-angle lens with a viewing angle close to a human eye, making it great for landscapes and architectural snapshots. Its fixed focal length allows the lens to have a faster aperture speed, reaching up to f/1.4. What this means is that you can take amazing photos in the dark, be that indoors or outside. Plus, you will have more control over the depth of the scene with selective focus techniques and a wide aperture.
Thanks to its Super EBC lens coating, the XF 35mm takes care of ghosting and flare, as well as different color distortions. It works especially well at larger apertures, such as those you might use for urban photography. Besides optical qualities, this lens impresses with its physical build. Weighing only 6.6 ounces, this small lens is very light and packable – perfect for travel.
Fujinon XF18-135mmF3.5-5.6 R LM
Specs
Type

:

Multipurpose Zoom

Aperture

:

f/3.5-5.6

Dimensions

:

2.98 x 3.85 inches

Focal Length

:

18-135mm

Weight

:

1.1 lbs
Features
Smooth, Near-silent Autofocus
Weather Sealed To Protect Against Dust And Moisture
Adjustable Focal Length To Shoot Everything From Landscapes To Portraits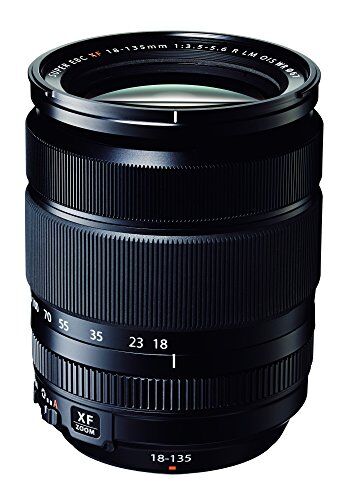 BEST FOR: VERSATILITY
Moving on to zoom lenses, the Fujinon XF18-135mmF3.5-5.6 R LM OIS WR presents a versatile range of focal lengths. This includes ultra-wide-angle and some telephoto capabilities, giving you much room to experiment as you travel around. To add to this versatility, there is a linear motor and image stabilization. The motor delivers fast and fairly quiet autofocus, while the stabilization reduces camera shake up to 5 shutter speed stops.
As for color fringing and other types of distortions, the lens includes an intricate optical design with extra-low dispersion elements and aspherical elements. Additional color correction comes from an HT-EBC coating that boosts contrast and sharpness. If you want to explore various depth of field techniques, you can do that with the lens' 7-blade aperture diaphragm, producing a beautiful bokeh effect. And, of course, the lens is protected with 20 different weather seals, so you can record your travels at any time.
Fujinon XF10-24mmF4 R OIS
Specs
Type

:

Wide Angle

Aperture

:

f/4

Dimensions

:

3.07 x 3.43 inches

Focal Length

:

10-24mm

Weight

:

0.9 lbs
Features
Powerful Image Stabilization System
High-speed Autofocus
Lightweight And Portable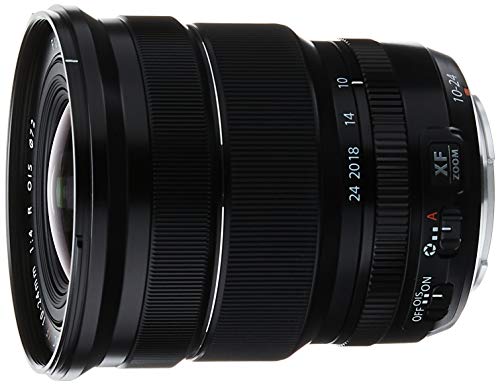 BEST FOR: THE LOVER OF PANORAMAS
If you like taking landscape and architectural photos as you travel, then an ultra-wide-angle lens like the Fujinon XF10-24mmF4 R OIS may be of use. It specializes in very wide angles of view up to 110 degrees – nearly panoramic! Aside from this, the lens has a stepping motor, which is not as fast as a linear one, but it is nearly silent and works well.
Just like the other lenses so far, the XF 10-24mm has image stabilization, a Super EBC coating, and various optical elements that combat distortions. Designed for Fujifilm's X series, the lens is compatible with mirrorless cameras, as well as a lens modulation optimizer. This function accounts for diffraction, or loss of focus, near the edges of an image that is created when a RAW file is converted into JPEG. So, if you are someone who finds this useful, this lens has you covered.
Fujinon XF80mmF2.8 R LM OIS WR
Specs
Type

:

Macro

Aperture

:

f/2.8

Dimensions

:

3.15 x 5.12 inches

Focal Length

:

80mm

Weight

:

1.6 lbs
Features
Macro Function To Shoot Small Subjects From Close-up
Film Simulation Modes For Stunning Image Effects
Weather And Dust Resistant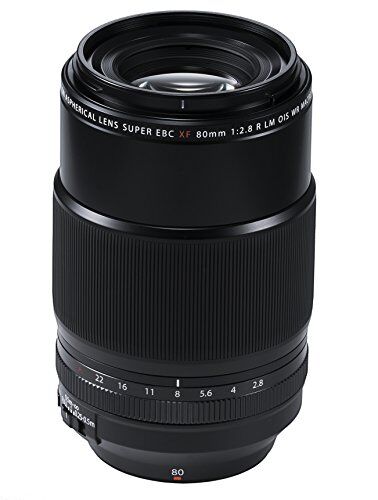 BEST FOR: MACRO AROUND THE WORLD
Going back to another prime lens, we have the Fujinon XF80mmF2.8 R LM OIS WR lens. It is made specifically for X-mount mirrorless cameras. This lens works well for macro photography due to its long focal length and high aperture capabilities. They combine to isolate your subject for sharp results. Plus, the lens allows for a 9.8-inch minimum focusing distance, so you can get up close and personal to your subject. Not to mention the magnification of 1:1, which is ideal for macro shots.
In terms of autofocus, this lens has a linear motor and a floating focus system, which uses 2 focus areas to maintain image quality. This gives you lots of flexibility for any type of photography. Finally, any travel photographer would like a weatherproof lens. The XF 80mm has a sealed body that is protected against cold as well as other weather conditions, and a fluorine coating on the front that shields against smudges and moisture.
Fujinon XF16-55mmF2.8 R LM WR
Specs
Type

:

Multipurpose Zoom

Aperture

:

f/2.8

Dimensions

:

3.28 x 4.17 inches

Focal Length

:

16-55mm

Weight

:

1.4 lbs
Features
High-speed, Quiet Auto Focus
Elegant, Circular Background Blur
Excellent Low Light Performance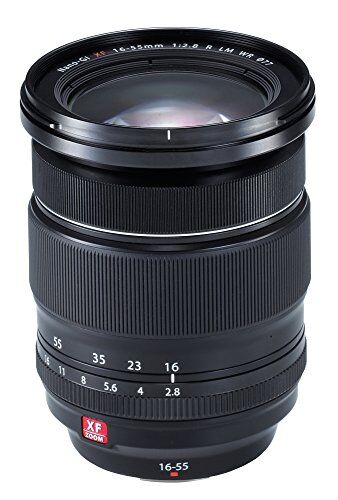 BEST FOR: THE PHOTOJOURNALIST
If you want something more or less standard, the Fujinon XF16-55mmF2.8 R LM WR meets this need. Spanning 16 to 55mm, this lens provides you with ultra-wide-angle shots as well as portraits. This is perfect for photojournalism as you travel. Moreover, this lens has an aperture of f/2.8, which means it is able to take on difficult lighting and hand-held shots. As for optics, there are extra-low dispersion elements, as well as aspherical ones, so color and other distortions are minimized.
Besides these attributes, there is a twin linear motor, meaning that you are getting a fast and nearly silent autofocus. The aperture has a 9-blade diaphragm, which is a plus if you like portrait photography, as this feature makes a beautiful bokeh background a possibility. Naturally, the lens is fully weather-sealed, so you can photograph in temperatures as low as 14°F, and conditions such as rain.
Fujinon XF 23mm F1.4 R
Specs
Type

:

Wide Angle

Aperture

:

f/1.4

Dimensions

:

2.83 x 2.48 inches

Focal Length

:

23mm

Weight

:

0.66 lbs
Features
Ultra-Fast Autofocus Performance
Beautiful Bokeh For Artistic Images
Wide Aperture Allows To Shoot Hand-Held Even In Low Light Conditions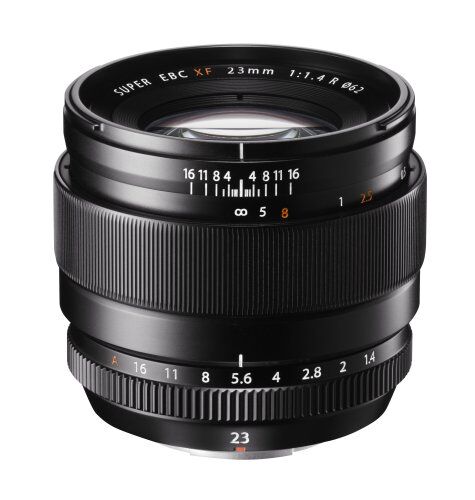 BEST FOR: PORTABILITY
Weighing 10.6 ounces and measuring just 2.8 inches in length, the Fujinon XF 23mm F1.4 R is one of the most compact lenses in its series. This makes it highly portable and packable, making your travels a little easier. The focal length of 23mm allows for wide-angle photography, like landscape, urban, and portrait. Plus, the maximum aperture of f/1.4 performs well in poorly-lit conditions and hand-held shots. As for focusing, this lens uses a special internal motor that has an exceptionally fast autofocus even in demanding conditions.
XF 23mm also uses an aspherical element that guards against various distortions. This optical rather than digital image correction results in high-quality shots that you can count on. And several layers of an HT-EBC coating take care of chromatic aberrations, as well as increase the durability of the lens. It has comfortable ergonomics, as the manual focus ring is easy to control, which is definitely a plus if you are a manual shooter on the go.
Fujinon XF8-16mmF2.8R LM WR
Specs
Type

:

Fisheye

Aperture

:

f/2.8

Dimensions

:

3.46 x 4.78 inches

Focal Length

:

8-16mm

Weight

:

1.8 lbs
Features
Solid Construction And Durable Design
Bright And Wide Angle, Ideal For Interiors And Vast Landscapes
Weather Sealed And Freezeproof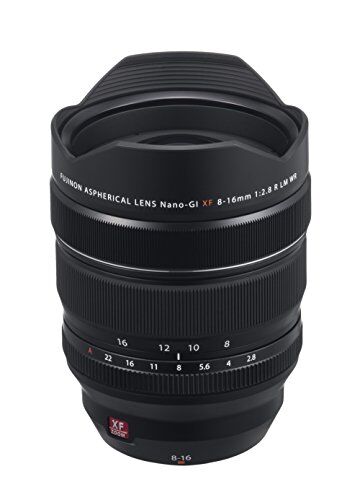 BEST FOR: THE FISHEYE SURREALIST
The Fujinon XF8-16mmF2.8R LM WR is the lens with the widest viewing angle on this list. It provides fisheye results, so if this is something that interests you, this lens has you covered. It gives you the possibility of shooting panoramic landscapes and surreal scenes. The lens has 6 extra-low dispersion elements that ensure no chromatic aberrations and 4 aspherical elements that reduce distortion and heighten the sharpness of your image.
The lens also includes a Nano-GI coating that protects against flare and ghosting, helping you out in difficult lighting conditions, such as those in urban photography. Besides this, there is a linear motor that drives fast and quiet autofocus. As for portability, this lens measures about 5 inches in length and weighs 1.8 pounds – not the most packable, but still easy to travel with. And finally, the XF 8-16mm is sealed in 11 different places, permitting work in inclement conditions and cold.
Fujinon XF56mmF1.2 R
Specs
Type

:

Portrait

Aperture

:

f/1.2

Dimensions

:

2.88 x 2.74 inches

Focal Length

:

56mm

Weight

:

0.893 lbs
Features
Incredible Sharpness And Background Blur Thanks To Wide Aperture
Built-in Neutral Density Filter For Better Control Over Exposure
Exceptional Low Light Performance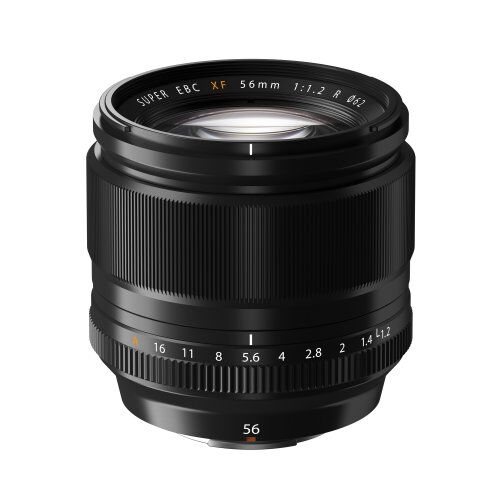 BEST FOR: QUICK PORTRAITURE
As you travel, you may be inclined to take photos – portraits – of people. And this is when the Fujinon XF56mmF1.2 R will come to the rescue. Its prime focal length of 56mm is ideal for portraiture. Plus, it is coupled with an aperture of f/1.2 that allows for work in low-light conditions and is great at making the subject stand out. A 7-blade diaphragm helps with that, as it produces a nice bokeh effect and gives control over the depth of field.
The optical design of this lens makes it very versatile since the inclusion of extra-low dispersion and aspherical elements suppress all sorts of aberrations and distortions. A Super EBC coating further works to enrich the images you take. If you decide to experiment with video, an internal focusing mechanism promises fast and quiet performance. As a final note, this lens measures 2.7 inches in length, taking up the least amount of space compared to other lenses here.
Fujinon XF55-200mmF3.5-4.8 R LM OIS
Specs
Type

:

Telephoto

Aperture

:

f/3.5-4.8

Dimensions

:

2.95 x 4.65 inches

Focal Length

:

55-200mm

Weight

:

1.28 lbs
Features
Image Stabilization System
High-speed Autofocus With Quiet Operation
Minimum Focal Distance Of 1.1m Across The Entire Zoom Range For Close-ups Shots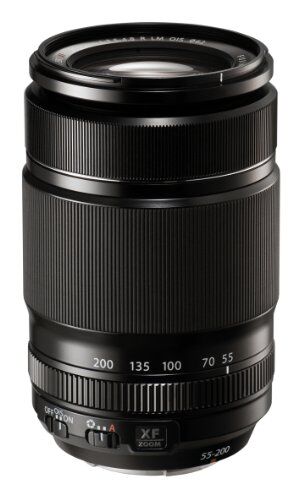 BEST FOR: COMFORT OF A SEMI-PROFESSIONAL
The Fujinon XF 55-200mm f/3.5-4.8 R LM OIS is a great basic lens that you can use in a variety of ways. Its linear autofocus motor is made for capturing fast-moving subjects and not making a noise. This is a plus for both landscape and urban photography since your shooting won't disturb animals or people. Complementing the autofocus, this XF 55-200mm lens has a 4.5 stop image stabilization that reduces camera shake on hand-held shots.
The optical design diminishes chromatic aberrations – distortions – that pile around areas of contrast. This also results in handy control over the depth of field of any travel scene. A special Super EBC coating filters out lens flare, blurring, or ghosting that often plague urban shots. As for the focal length range, it provides all that a traveling enthusiast needs: touristy wide-angle and occasional telephoto. Finally, the lens' weight of just 20.5 ounces is a definite plus for on-the-go shots.
Fujinon XF100-400mmF4.5-5.6 R LM OIS
Specs
Type

:

Telephoto

Aperture

:

f/4.5-5.6

Dimensions

:

3.73 x 8.29 inches

Focal Length

:

100-400mm

Weight

:

3 lbs
Features
Water And Dust Resistant
Powerful Image Stabilizations System
Silent Autofocus
BEST FOR: WALKS IN THE RAIN
The Fujinon XF 100-400mm f/4.5-5.6 R LM OIS WR is an upgrade to the previous lens. And the most obvious update is its focal range. Here, it is oriented more towards telephoto and macro photographers, rather than landscape. Additionally, there is a zoom lock and a focus limiter switch. The zoom lock keeps the zoom that you choose so it doesn't change, while the focus limiter lets you pick whether you want the focus to operate in the background, foreground, or anywhere else.
This lens further offers twin linear motors, which drive an advanced autofocus that's perfect for fast subjects. It also has a 5-axis image stabilization that offers up to 5 shutter speed stops which will benefit any type of photography. Lastly, the XF 100-400mm harbors 13 different weather seals, so you can explore any scene, be it rain, hail, or snow, and make the most of it.
THINGS TO CONSIDER WHEN BUYING A FUJI LENS FOR TRAVEL
FOCAL LENGTH
When we speak of focal length, we refer to the framing angle and the distance from which a lens can capture a subject. Focal length is measured in millimeters. Wide-angle lenses go from 8 to 35 millimeters and are designed to shoot landscapes, architecture, or interiors. Standard lenses have a mid-range focal length of around 50 millimeters, and can be used for portraits or street photography, among other things. With higher focal lengths we enter the telephoto category, traditionally used to shoot wildlife or small subjects.
Focal length can be fixed or adjustable. Fixed lenses are known as "prime," and while less versatile, they perform very well in low light conditions. Adjustable lenses are known as "zoom," and allow you to shoot different types of subjects without having to switch lenses.
WEATHER SEALING
If you travel often to different destinations, it's not possible to predict what weather you will find. A good way to leave home prepared for any climate is to invest in a weather sealed lens. Weather sealed lenses are resistant to dust, moisture, and light rainfall. They are not fully waterproof, but they won't stop working if you find yourself stuck in bad weather. Many Fuji lenses are also freezeproof – a feature worth looking into if you plan to shoot in cold environments.
APERTURE
The aperture of a lens determines how wide the diaphragm can open to let the light reach the sensor. There are two benefits of working with a lens with a wider aperture, namely better low light performance and shallower depth of field. Because of these properties, lenses with a wide aperture tend to be much more expensive than those with a narrow aperture.
WEIGHT AND SIZE
Mirrorless cameras are great for travel photographers, as they offer exceptional image quality while being much smaller and lighter than traditional DSLRs. However, if portability is a priority, you should keep in mind that lenses can be heavier than the camera body.
Prime lenses are usually the lightest as they are built with the least amount of components. Telephoto lenses designed for wildlife photography can be bulky and require a tripod for support.
FEATURES EXPLAINED
FOCAL LENGTH
The distance separating the sensor from the lens, measured in millimeters, indicating the framing angle.
PRIME LENS
A lens with a fixed focal length.
ZOOM
A lens with an adjustable focal length.
BOKEH
The "background blur" that occurs when shooting with a wide aperture.
TELEPHOTO LENS
A lens designed to capture distant subjects, commonly used for wildlife photography.