Updated on June 1, 2022
When you're out in the wilderness, comfort tends to be one of the most important aspects of your day. The clothes you wear while hiking have the ability to determine your level of comfort significantly. Are they heavy? Can you move quickly in them? Are they water resistant and lightweight? These are only some of the questions you should ask when buying clothes for hiking. And if the weather's hot and muggy, like it is in the Adirondacks in the summertime, then shorts matter most. But we know that the best hiking shorts can be hard to find.
Hiking shorts can vary in so many different ways — fabric, style, length and weight, just to name a few. So before you buy your next pair, read through our list of the ten best hiking shorts to find a pair that best suits your needs.
For more of our top hiking gear recommendations, check out the Best Hiking Shorts for Women.
Quick Answer

-

The Best Hiking Shorts
Comparison Table

-

The Best Shorts for Hiking

For the best experience turn your device horizontally
Reviews

-

Best Hiking Shorts
Patagonia Quandary
Specs
Fabric

:

Nylon, Spandex

Pockets

:

5

Style

:

Cargo
Features
Stretch-woven fabric is tough-wearing and stretchy
DWR finish repels light showers
Gusseted crotch maximizes range of motion
UPF 50+
Zippered thigh pocket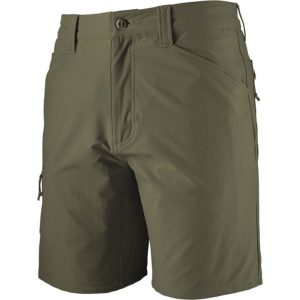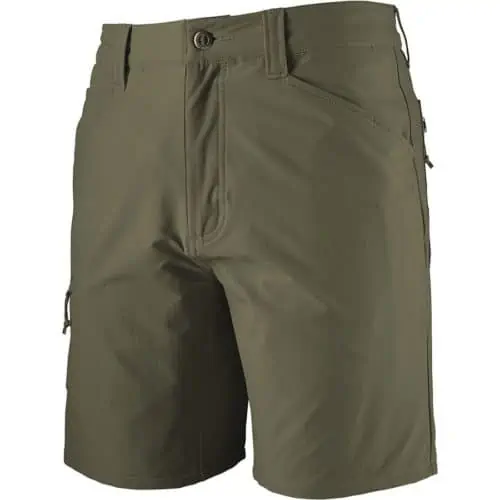 TOP OVERALL HIKING SHORTS
These traditional style hiking shorts offer thoughtful design additions that assist in making for the best pair of all-around shorts currently on the market.
With a strong dedication to performance and sustainability, Patagonia tops the list again with their Quandary series shorts. Made with durable recycled nylon and integrated spandex that provides for just the right mount of stretch, these shorts are equally suitable to wear on day hikes as they are on long backpacking trips. Patagonia beefed up these shorts with a quality DWR treatment and a 50+ UPF rating, ensuring you stay comfortable all day long.
What I like most about these shorts are the integrated elastic drawstrings that allow for a comfortably snug fit — no belt required.
REI Sahara Cargos
Specs
Fabric

:

Bluesign® Nylon

Pockets

:

6

Style

:

Cargo
Features
Durable water repellent (DWR) finish
UPF 50+
Loaded with pockets for essentials, including secure zip closures on the back
Elastic across the back waistband improves comfort and fit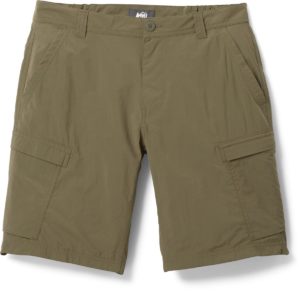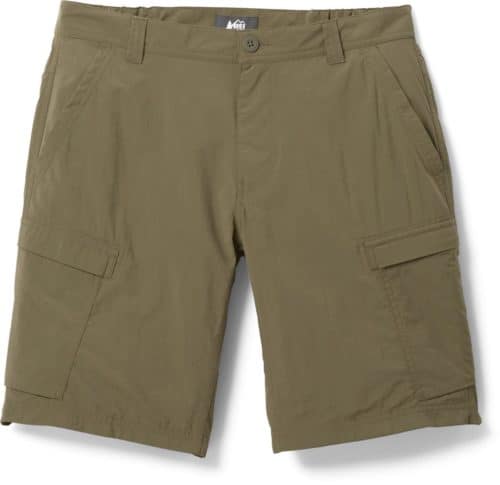 BEST FOR: HIKERS ON A BUDGET
Ready for your next hot weather hiking adventure, the Sahara Cargo are surprisingly versatile for their affordable price.
Weighing in at less than 6 ounces, these shorts sport highly breathable materials. Despite the lightweight material, REI's DWR application ensures these compare in longterm quality to the more expensive options out there. A multitude of large pockets helps boost these shorts above other low cost models, specifically six spacious pockets in total.
What I like most about these shorts is the semi elastic waist band that helps accommodate varying waist sizes.
Patagonia Nine Trails
Specs
Fabric

:

Recycled polyester, Spandex

Pockets

:

3

Style

:

Athletic
Features
Synthetic fabric wicks moisture to keep you cool
Stretchy material moves with you
Lining fights odor and reduces chafing
Fabric is bluesign approved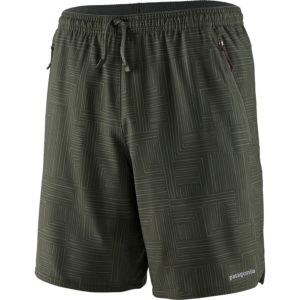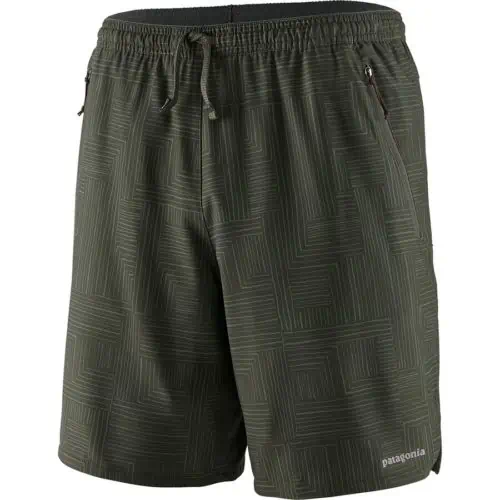 BEST FOR: TRAIL RUNNING
If you like to move fast and you're looking for a pair of shorts that serve to pretty much emulate your body in motion, look no further.
These lightweight polyester shorts excel at removing moisture and ventilating heat while remaining comfortable in all temperatures. Three zippered mesh pockets are a welcome addition for stashing snacks and a phone while running or a fast-paced day of hiking. A snug fit is essential for any pair of running shorts and the comfortable elastic waist band with integrated draw strings ensures these shorts won't fall down mid run.
What I like most about these shorts is the integrated liner that makes for an added degree of comfort and stability.
Outdoor Research Ferrosi
Specs
Fabric

:

Nylon, Spandex

Pockets

:

5

Style

:

Cargo
Features
Durable, lightweight, and stretchy short for days on trail
Tough nylon fabric has plenty of stretch and resists abuse
Multiple pockets stash daily essentials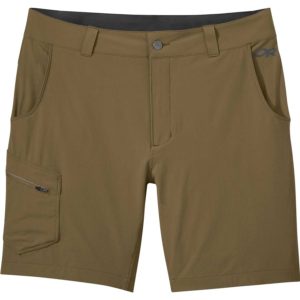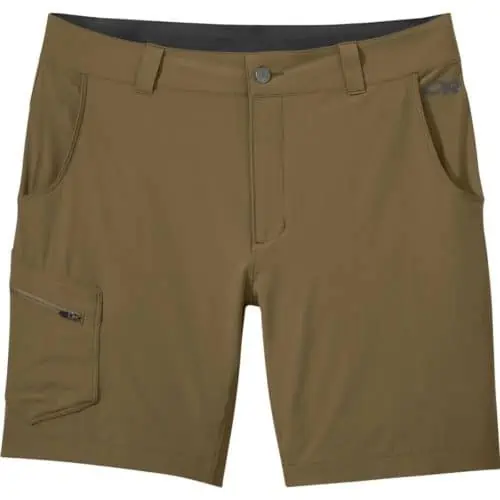 BEST FOR: ULTRALIGHT HIKING
Designed to serve as an all-around performance pair of shorts, the Ferrosi series combines style and functionality.
Although these are not the lightest shorts on our list, they beat out there competitors by being more versatile — off and on trail. The thin, highly breathable material is perfect for hot weather hiking and wicking moisture, but does tend to soak through when wet. Thoughtful additions of a soft waist liner, drawstring, and gusseted crotch helps keep these shorts comfortable all day long, with the bonus of an improved range of motion.
What I like most about these shorts is the small zippered pocket feature, ideal for keeping keys secure when you're out on the trail.
Columbia Silver Ridge
Specs
Fabric

:

Nylon

Pockets

:

6

Style

:

Cargo
Features
Integrated Belt
Side Cargo Pockets
UPF 50+ Rating (sun protection factor)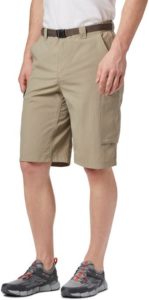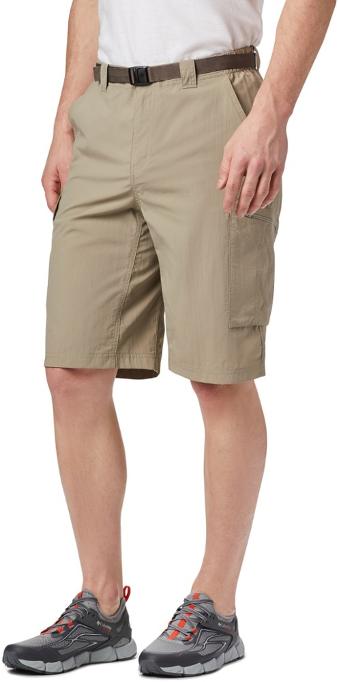 BEST FOR: CASUAL HIKING
Columbia's Silver Ridge Cargo Shorts are great multi-purpose hiking shorts. Built with an integrated belt to hold your shorts tight to your body, these lightweight shorts are equipped with 6 pockets that you can pack full with your essentials. Furthermore, with a strong UPF, or ultraviolet protection factor, rating, you can wear these shorts out on the mountain or on the beach without worrying about burning your pasty white thighs. The specialized design and gusseted, or enlarged, crotch area will you give you the comfort you need no matter where you go.
Patagonia Baggies
Specs
Fabric

:

Nylon

Pockets

:

3

Style

:

Athletic
Features
Quick-Drying Fabric
Self Draining Mesh Pockets
Rear Snap Pockets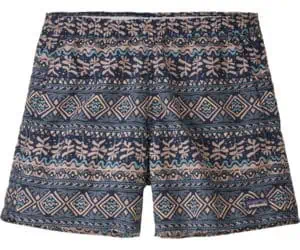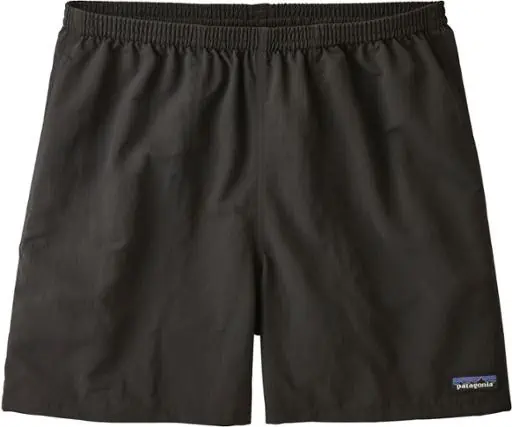 BEST FOR: WATERSPORTS
Patagonia baggie shorts are best for either watersports or trail runners. Built with extremely light recycled nylon, these shorts will let you fly around without any drag. Rear snap pockets can hold a wallet or phone while you're on the trail. Self draining mesh material in these shorts means you can wear them in the water and emerge without extra water weight. If you plan on having a lightweight pair of shorts for running or swimming, Patagonia baggie shorts are a great pair to pack along for the trip.
Arc'teryx Stowe
Specs
Fabric

:

Cotton, Nylon, Elastane

Pockets

:

5

Style

:

Athletic
Features
Front Button Fly & Button Closure
Belt Loops
Hand, Thigh and Rear Pockets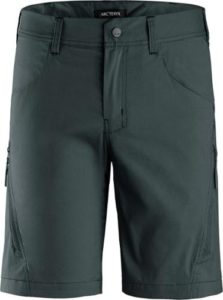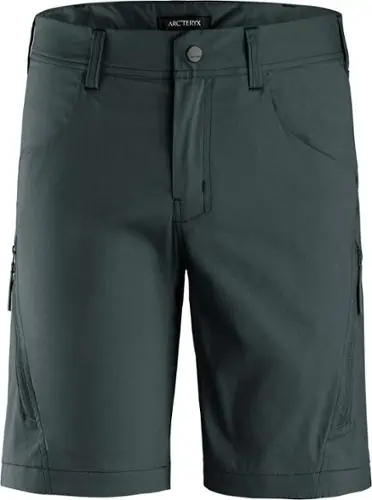 BEST FOR: TRAVEL HIKING
With a sleek, long-legged design, the Arc'teryx Stowe short is best for travel hiking and urban wear. The combination of cotton, nylon and elastane blend together for a breathable, quick-drying, and durable combination that allows for easy movement no matter where you are. Perhaps most appealing are the large thigh pockets with zipper closures. Store anything you need without worrying about it falling out in these secure pockets. We recommend these shorts for occasional day hikers and extended travellers.
ExOfficio Camino
Specs
Fabric

:

Nylon

Pockets

:

6

Style

:

Cargo
Features
Abrasion Resistant Nylon
Odor Resistant Coating
Zip-Close Cargo Pockets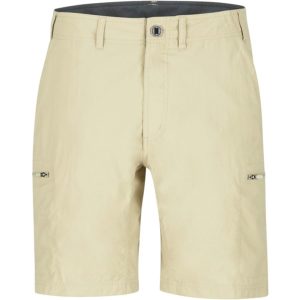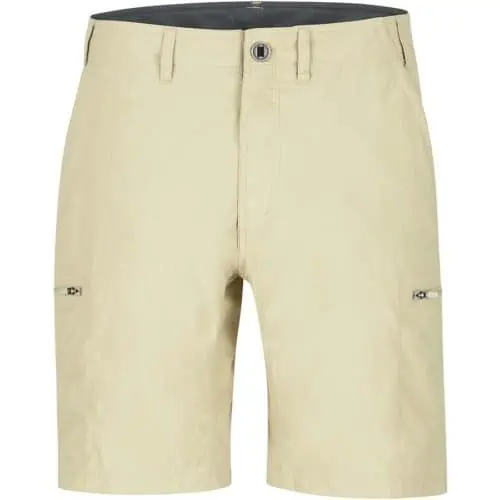 BEST FOR: LIGHT HIKERS
The ExOfficio Men's Camino Shorts come with everything you want and more in a pair of shorts. With a specialized odor resistant coating and unique technology to promote cooling, these shorts will keep you feeling fast, light and fresh no matter where you are. Zip-close pockets make it easy to store away your phone and other essentials, but try not to pack away too much with the ExOfficio shorts. The less you're carrying, the faster and more relaxed you'll feel while moving through the mountains.
Marmot Arch Rock
Specs
Fabric

:

Nylon, Elastane

Pockets

:

5

Style

:

Flat Front
Features
Durable Water Resistant (DWR) Finish
Zipper Secure Side Pocket
Interior Waistband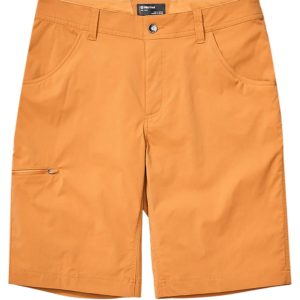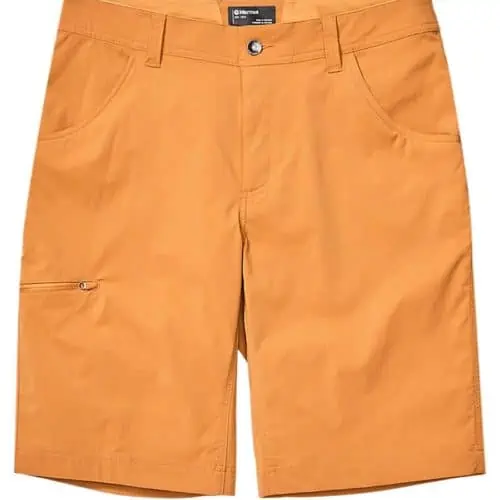 BEST FOR: LIGHT HIKING
Stretchy yet breathable, the Marmot Men's Arch Rock Short is perfect for light hiking anywhere. A water resistant finish means you can hike through a bit of rain without getting totally drenched and the zipper secure side pocket will keep your valuables dry, too. Most notably, the interior waistband design protects your belt from catching on any limbs or trees and adds to the streamlined design. Undoubtedly, the Arch Rock Short is a great short to own for any backpacking or hiking trip you've got planned.
THINGS TO CONSIDER WHEN BUYING HIKING SHORTS
Picking out the right clothes is always a strenuous task and when you add in a wilderness element, you need to make sure you know what you're doing. Take a look through these top considerations while buying hiking shorts, and if you want more information read through these handy tips about what to wear while hiking.
USE
You should first clarify your wilderness goals. Do you hope to run, hike, or simply relax around a watering hole? Do you carry extra accessories or are you a minimalist? Questions like these will help you hone in which short is best for you and more importantly, which material. Each short has its use: an athletic style is more aerated so it's good for warm weather, whereas a cargo style may be better for carrying more supplies in slightly cooler environments. Whatever it may be, match up your intended use with the shorts' material and design.
DESIGN
Ask yourself what feels more comfortable: an internal webbing belt, or an external removable belt? Long shorts or short shorts? Cargo style with a lot of pockets or athletic style with a lot of flow? Comfort will go a long way in the mountains and the design of your short will affect that greatly. If there's mesh, make sure you're okay with that, and if not, find a short that better suits your needs. The best hiking shorts are not the best overall, but rather the best for you.
FABRIC
While which short design you choose is closely linked to your adventurous intentions, the short fabric is even more important to consider before heading out. If you expect a lot of rain, you'll want a water-wicking cargo short, whereas if you intend to hike in warmer, drier climates, you may want an elastane or polyester based short. We suggest trying out different fabrics at home or with friends before deciding which is best for your next hiking adventure. The right fabric will make all the difference.
FEATURES EXPLAINED
ELASTANE / SPANDEX
Elastane is a synthetic fiber known for its incredible elasticity. Spandex is a type of elastane fiber and both are often found in athletic clothing.
NYLON
Nylon is a plastic material characterized by it's versatile nature. Resistant to heat and cold, nylon is a lightweight, strong material often used in swimsuits, ropes, and clothing.
ULTRAVIOLET PROTECTION FACTOR (UPF)
This acronym stands for ultraviolet protection factor. It won't affect your experience too much, but a strong protection (50+) may be a good idea if you're trekking into sunny environments. Learn more about UPF ratings for hiking clothing.
INSEAM
This is the seam from the crotch to the bottom of the leg. If it's ventilated, tiny holes will allow air to better pass through the short and keep you cool.
WEBBING
Webbing is a strong material woven together in a flat strip or tube. Often found as part of a slackline or tire, webbing is often used as a stretchy belt in shorts and other outdoor apparel.