Updated on March 16, 2022
Photography enthusiasts know that without a good tripod, their equipment would not be complete. Like professionals, amateurs traveling with quality DSLR cameras and a set of lenses in their backpack will increase their shooting opportunities by adding a tripod to their gear list. A good travel tripod is essential to get sharp photos, especially to capture landscapes, nature, and small subjects. The best travel tripods are lightweight, easy to set-up and occupy minimal space when packed down. We have collected the ten best travel tripods available out there, to help you expand your creative output on your next adventure.
For more of our top travel photography gear recommendations, check out these popular articles:
Budget Travel Tripods | Travel Tripods for DSLR | Travel Tripods for Mirrorless Cameras
Quick Answer

-

The Best Tripods for Travel
Gitzo GK1545T Series 1 Traveler

3 Legged Thing Equinox Leo

Manfrotto MKBFRA4-BH BeFree

Benro Travel Angel 2 Series
Comparison Table

-

Best Tripod for Travel

For the best experience turn your device horizontally
Reviews

-

The Best Travel Tripods
Gitzo GK1545T Series 1 Traveler
Specs
Material

:

Carbon Fiber

Weight

:

2.8 lbs

Maximum Height

:

45.9 in

Folded Height

:

16.73 in

Bubble Level

:

Yes
Features
Built In Carbon Fiber For Improving Performance Without Sacrificing Weight
Ball Head Is Smooth, Precise, And Perfectly Fits Between The Folded Legs
Compact Leg Lock System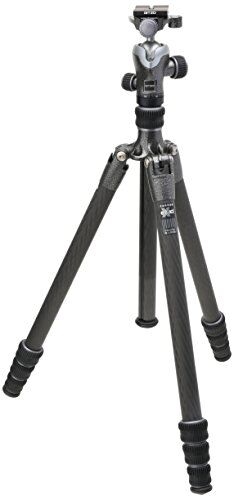 BEST FOR: EFFICIENCY ANYWHERE
The Gitzo GK1545T Series 1 Traveler is a compact tripod, well-suited for traveling photography. It is able to support 22 pounds of weight, or a 200mm telephoto lens attached to the camera. Plus, the tripod can be lowered down to 8 inches off the ground for low-angle and macro shots. The Traveler is very sturdy, thanks to the carbon fiber material that gives it stiffness and light weight.
This tripod is packed with an array of traveling-oriented features. One of them is its G-lock, which is a leg lock system that folds its 5-section legs. How is it travel-oriented? It is designed to fold taller tripods into more compact sizes, as well as allow less dust and dirt to enter the locks. Another useful feature is the Traveler's shoulder strap that makes it easy to carry around. One more advantage of the tripod is its interchangeable feet that can be suited to any terrain you choose.
3 Legged Thing Equinox Leo
Specs
Material

:

Carbon Fiber And Magnesium Alloy

Weight

:

3.9 lbs

Maximum Height

:

55 in

Folded Height

:

13.67 in

Bubble Level

:

Yes
Features
Extremely Compact Folded Size
Parallel Locking System Provides Better Leverage And Greater Rigidity
Sturdy Design, Able To Support 21 Times Its Weight
BEST FOR: THE NICHE PHOTOGRAPHER
The 3 Legged Thing Leo is a uniquely sturdy and transforming tripod that will suit any situation, even the most niche one. This tripod is able to support up to 21 times its weight, which makes it one of the sturdiest on the market. Besides this, it is also fairly compact, collapsing to just 13.67 inches. Thus, you can easily carry it around and mount your professional camera on it during your travels.
Plus, the Leo can be used in a variety of ways since its legs all work independently of each other and can transform into arms for holding other gear, such as lights and microphones. Naturally, one leg can be detached and used as a monopod, and other legs have mounting points. You can easily work with all your photographing necessities out in the field, using just one device – the Leo. Finally, there are plenty of options for the tripod's footwear – rubber spikes, rubber balls – so you can choose what suits the terrain best.
Manfrotto MKBFRA4-BH BeFree
Specs
Material

:

Aluminum Alloy

Weight

:

3 lbs

Maximum Height

:

56.7 in

Folded Height

:

15.75 in

Bubble Level

:

No
Features
New Aluminum Ball Head Is Solid, Quick And Simple To Operate
Easy And Fast To Set Up
The Quick Release Adapter Design Enables The Legs To Fold Tightly Together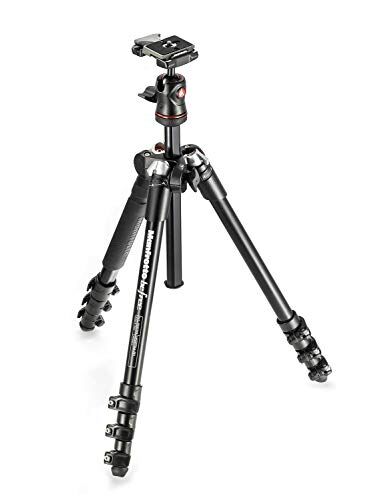 BEST FOR: HEAVY GEAR
If you are looking for a tripod that tackles inefficient folding, then the Manfrotto BeFree is worthwhile to look at. Its legs fold up and around the top parts of the tripod. This design makes it possible to extend the tripod from 15 inches to 56. The legs can also be set up independently from each other. And with two angle stops, there are a lot of set-up possibilities, letting you experiment with the angles and views, allowing you to adapt to your terrain as needed.
BeFree can support up to 8.8 pounds, which is enough to support even the heaviest of cameras. Although, beware that the angle won't be held up with DSLR cameras in portrait orientation due to weight distribution. However, this tripod has fixed feet, so you can't switch them out for spikes. This limits the terrain you can take the tripod to, but if you're more of an urban traveler, this tripod should be just right.
Benro Travel Angel 2 Series
Specs
Material

:

Carbon Fiber

Weight

:

4 lbs

Maximum Height

:

66.9 in

Folded Height

:

24.6 in

Bubble Level

:

Yes
Features
The 4-section Legs Are Held In Place By Twist Locks And Can Be Adjusted Independently
Equipped With Interchangeable Screw-in Rubber Feet And Stainless Steel Spiked Feet For Increased Stability
Built With 9 Layers Of Carbon Fiber To Maximize The Strength To Weight Ratio Of The Legs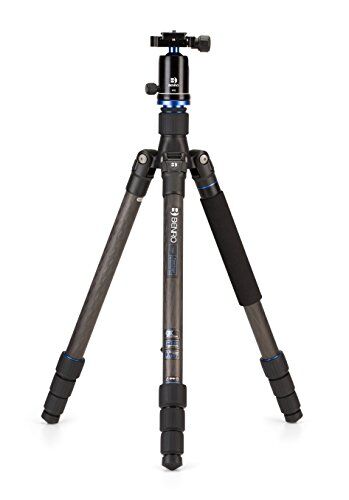 BEST FOR: STANDARD USE
Many tripods on the market can be expensive, but the Benro FTA28CV1 Travel Angel Series 2 provides all the features at a good value. It extends from its folded size of 18.7 inches to the maximum height of 66.9 inches. It also weighs 4 pounds, while being able to support 22 pounds. Again, carbon fiber material offers strength and sturdiness. The 4-section legs add to that as well.
As for other features, the Travel Angel can be turned into a monopod, so you can use it for telephoto wildlife, sports, and landscape photography or videography. Besides that, it has a ballast hook that you can hang weights on to further stabilize your tripod. You can also change the feet from rubber ones to stainless steel spikes for better positioning on any terrain, be that ice, rocks, grass, or asphalt. Finally, there is a bubble level to help you see whether your tripod and camera are angled correctly.
Oben CT-3535
Specs
Material

:

Carbon Fiber

Weight

:

2.5 lbs

Maximum Height

:

51.6 in

Folded Height

:

12 in

Bubble Level

:

Yes
Features
Dual-lock Design That Allows Independent Adjustment Of The Ball
The Integrated Bubble Level Ensures Accurate Camera Alignment With The Horizon
Each Leg Can Be Positioned Independently At Three Locking Angles (22.5°, -24°, 50°, Or 80°)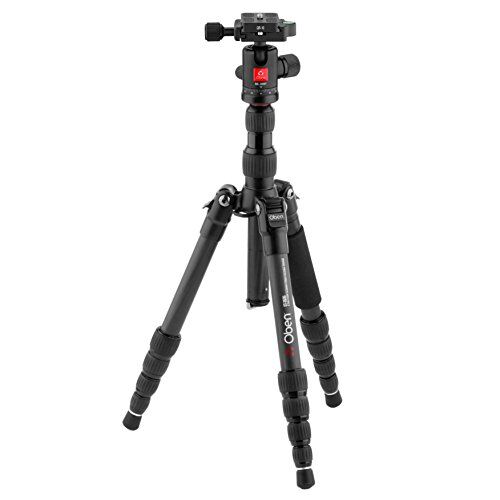 BEST FOR: AFFORDABILITY
The Oben CT-3535 folding carbon fiber travel tripod is one that will offer you great versatility at a price that is the lowest on this list. It reaches a maximum height of 51.6 inches and can be folded down to 12 inches. However, it can be set up as low to the ground as 8.6 inches, enabling macro and low-angle photography. But the versatility does not end there. The tripod's legs can be positioned independently of each other at 3 different angles, creating countless camera angle opportunities. This also helps with uneven terrain.
The rubber feet have integrated spikes in them which also helps with stability. One leg can be taken off to turn the tripod into a monopod – helpful with telephoto shooting and heavy gear. And of course, there is a bubble level and a panoramic base that helps you keep the camera perfectly horizontal while taking a panorama. Overall, this is a portable and easy to use tripod with many features and an affordable price.
SIRUI MT5-C MyTrip
Specs
Material

:

Carbon Fiber

Weight

:

2.2 lbs

Maximum Height

:

53.8 in

Folded Height

:

12.2 in

Bubble Level

:

Yes
Features
Capable Of Supporting A Camera And Lens That Weigh Up To 13.2 Lbs
5-section Support With Carbon Fiber Legs That Extend
Cold-weather Grips & Removable Center Column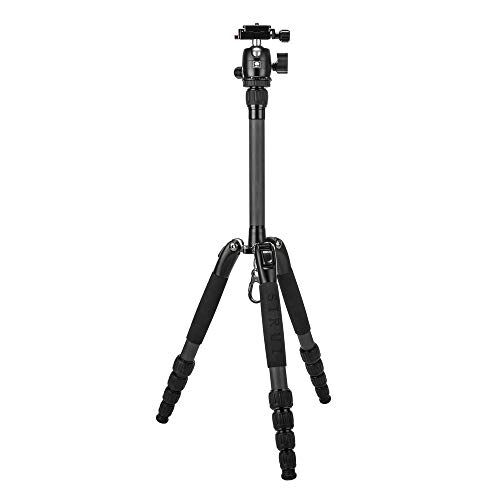 BEST FOR: ANY-ANGLE PHOTOGRAPHY
The Sirui T-025SK T-0S is a sturdy carbon fiber tripod with lots of leg control and angle possibilities. The leg control is a result of the 5-section design and each leg's independence. These 5 sections can be unlocked and extended so the tripod reaches 53.8 inches. Plus, the legs can be set up independently from each other. There are 3 main angles that you can set up on any leg, giving you plenty of possibilities, as well as stability.
Besides this, the center column is removable, and the legs can be spread out to a minimum height of 3.1 inches. This sets you up for great macro and low-angle shots. Finally, a bubble level will tell you whether the angle is correct or not, so you can experiment on any terrain. Regarding the center column, there is a ballast hook that you can use to weigh the tripod down for increased stability in windy weather.
MeFOTO RoadTrip
Specs
Material

:

Aluminum Alloy

Weight

:

3.6 lbs

Maximum Height

:

61.6 in

Folded Height

:

15.4 in

Bubble Level

:

Yes
Features
360-degree Panning and Two Leg Angle Positions
Twist Lock Legs with Anti-Rotation System
Recessed Center-Column Hook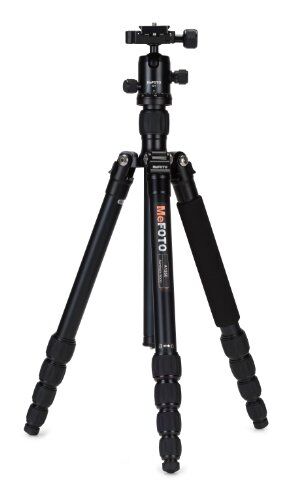 BEST FOR: 2-IN-1 FUNCTIONALITY
The MeFOTO RoadTrip aluminum travel tripod has multiple 2-in-1 features great for travel. But before that, let's discuss the main parameters. This tripod can extend from 15 inches to the maximum height of 61.6 inches, which can be comfortable for tall photographers. The legs can be positioned independently from each other, and locked at 2 angle stops. Also, it is stable enough to support about 17 pounds of weight, and a heavy object can be hung from a ballast hook to stabilize the tripod further.
The RoadTrip can serve as a tripod, but also as a monopod. All you need to do is attach a removable leg to the center column and you're good to go. This leg is covered in foam, so you can carry it around without freezing your hand in the cold. Another 2-in-1 function of the tripod is its dual-action ball head that allows omnidirectional movement and 360-degree panning for flawless landscape videos.
K&F Concept 62" DSLR
Specs
Material

:

Aluminum Alloy

Weight

:

2.43 lbs

Maximum Height

:

62 in

Folded Height

:

18.1 in

Bubble Level

:

Yes
Features
17.6 Lbs Weight Capacity Optimized For A Full-frame DSLR + Telephoto Lens
Designed For Quick And Easy Setup/Takedown
Fast-locking, Low Profile Leg Cams
BEST FOR: THE EXPERIMENTER
If you need a multi-purpose, affordable tripod, you've come to the right place. The K&F Concept travel tripod is one that integrates many features to provide you with ease of use at any time. Its 4-section legs have twist locks that makes set-up quick and easy. The maximum height is 62 inches, but the tripod can be lowered down to 16.1 inches for macro shots.
This tripod is equipped with a ball head, providing smooth omnidirectional movement for the camera. This also lets you explore different angle possibilities. This design's other advantage is that it is compact – no twists and knobs are sticking out. As for the camera, this tripod will support any gear up to 17.6 lbs pounds, so you can mount your DSLR, your telephoto lens, or anything else. As a bonus, the tripod is compatible with mobile mounts, so you can attach your smartphone to it as well.
JOBY GorillaPod
Specs
Material

:

ABS Plastic, Stainless Steel, TPE, Zinc-Aluminum

Weight

:

1.10 lbs

Maximum Height

:

12.3 in

Folded Height

:

14.7 in

Bubble Level

:

No
Features
Rubberized Foot Grips For Increased Steadiness
Precise Positioning With A 360° Panning Head And 90° Tilt For Portrait Or Landscape Shots
Can Fiercely Secure Equipment Up To 11 Pounds To Virtually Any Surface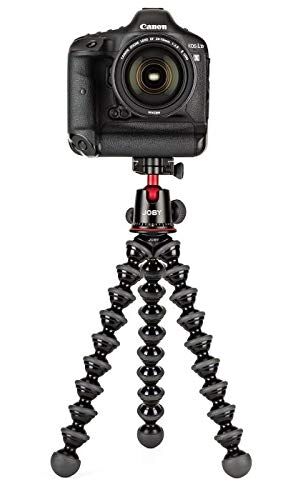 BEST FOR: THE YOUTUBE STAR
All the tripods on the list above are conventional photography tripods, but the Joby GorillaPod is a unique and adventurous solution to vlogging and travel photos. It has very flexible multi-segmented legs that can be folded and rotated 360 degrees into loops, hooks, and grips around branches, rocks, doorknobs, or even your shoulders. You can make this tripod very compact to fit into your bag, and position it in any shape to take photos or videos in any environment.
The GorillaPod is made for heavy DSLR cameras and camcorders weighing up to 11 pounds. Meanwhile, its own weight is about 9.3 ounces – the lightest tripod on this list. Its legs are made from aluminum, making them sturdy and light at the same time. You can use this tripod in a traditional way as well. Its feet are rubberized for stability, and you can point your camera in any direction 360 degrees around.
THINGS TO CONSIDER WHEN BUYING A TRAVEL TRIPOD
The best travel tripods increase the stability of the camera, allowing you to experiment with nighttime shooting and long exposures. Thanks to the improved stabilization technologies employed in modern cameras, taking handheld pictures is easier today than it ever was before. However, to completely avoid the blur resulting from micro-vibrations of the hand, a tripod is still very useful.
SECTIONS
Sections are the number of separate parts that compose the legs of the tripod. Travel tripods normally come with 3- or 4-section structures. Occasionally, you can find 5-section tripods as well.
Usually, a higher number of sections means a lower folded height, as the sections compress into each other. A 4- or 5- section tripod, therefore, should be less bulky than a 3-section tripod. The price you pay for compactness, however, is stability, as tripods with a higher number of sections are more fragmented and less sturdy. This may not be a problem if you shoot with light equipment (such as a mirrorless or compact camera), but with DSLRs or large telephoto lenses, you should consider how sturdy the tripod is before buying.
MATERIALS
Travel tripods are usually built with either aluminum alloy or carbon fiber. Both are durable materials, but there are some considerations to take into account when shopping.
Carbon fiber tripods weigh much less than aluminum tripods, however, they are also stiffer and have a significantly higher price. Aluminum is more flexible and affordable.
If you plan to walk a lot with the tripod on your shoulders, carbon fiber is the ideal solution, while if you are tight on budget and only plan on using the tripod occasionally, aluminum models will do just fine.
LOAD CAPACITY
Load capacity refers to the maximum weight a tripod can carry. Make sure the equipment you mount is below the load capacity if you want to be sure that your gear is safe and steady. Allow yourself some leeway for additional tools you might add to the camera, such as flashes, microphones, or longer lenses. Take into account possible future upgrades as well, so you won't have to change the tripod when you switch to heavier equipment.
HEIGHT
Try to find a tripod that can hold the camera at eye level, so you won't have to bend when shooting. Taller tripods are obviously fine, as they can be adjusted, but tripods that are much lower than your height can be uncomfortable to use. Ideally the maximum height of a tripod should reach your nose, so that when the camera is attached you can look directly into the viewfinder.
The folded weight is also important: consider how much space it will occupy in your backpack and make sure it is suitable for carry-on luggage if you are traveling often by plane.
FEATURES EXPLAINED
BALL HEAD
A component of some tripods found on the top, which allows for a 360-degree rotation of the camera.
FOLDED HEIGHT
The height of the tripod when compressed.
CENTER COLUMN
The leg that is placed in the middle of the tripod that allows you to adjust its height.
BUBBLE LEVEL
The tool often found in tripods to measure whether the camera is positioned parallel to the horizon so you can shoot level photos.