Updated on February 7, 2020
Since the arrival of the X-Series from Fujifilm, the market for camera lenses has widened to allow yet another star-studded line of high-performance lenses. It is a series that has a different choice for seemingly every different type of photography, but this comes at a frustrating toll: narrowing your options. The best Fuji lenses for landscape photography are out there, but navigating the seemingly-oversaturated marketplace can be overwhelming.
You've owned that Nikon DSLR for a few years with relatively few complaints until now. But, recently you've noticed that your photos aren't as crisp as they used to be. Despite nearly blowing out your shoulder from cleaning the sensor so much, the issue still remains. Maybe it's time to start thinking about buying a new lens. But before you go running off to buy the same exact brand of lens as your camera, perhaps consider breaking the chains of brand loyalty. Come and see which lenses from Fujifilm that we here at The Adventure Junkies believe will get you back into the groove of breathtaking landscape photography.
For more of our top landscape photography gear recommendations, check out the Best Landscape Lenses.
Quick Answer

-

The Best Fuji Lenses for Landscape Photography
Fuji XF 18-135mm f/3.5-5.6
Comparison Table

-

Best Fuji Lens for Landscape Photography

For the best experience turn your device horizontally
Reviews

-

The Best Landscape Photography Fuji Lens
Fuji XF 35mm f/1.4
Specs
Aperture

:

f/1.4 - f/16

Focal Length

:

35mm

Weight

:

6.6 oz.

Focus Control

:

Manual & Auto
Features
Wide Aperture Range Allows For A Greater Depth Of Field
Sharp Bokeh For Aesthetic Lighting Effects
Lightweight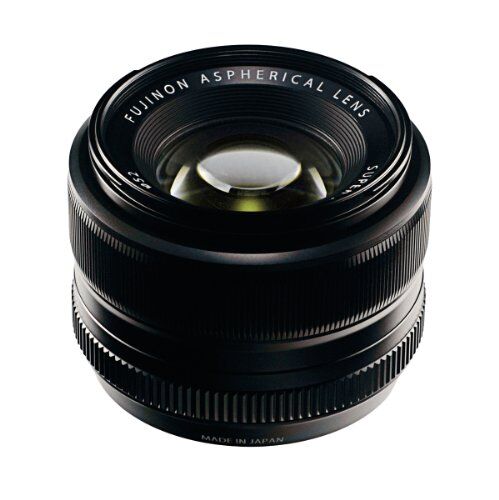 BEST FOR: OVERALL IMAGE QUALITY
Fujifilm's X-Series line of lenses has a wide array of different options for different shooting purposes, but the XF 35mm f/1.4 is easily one of the most versatile and overall best-performing lenses in the series. While it is a prime lens, meaning it has no variable focal length and therefore no zoom, it is possibly the best bang for your buck for the point and shoot fanatic. If you are someone who loves taking incredibly crisp images that have aesthetic qualities, this lens should definitely be kept on your radar.
The lightweight design makes it a great option for taking out on adventures where the less-cumbersome your load, the better. The wide aperture range allows for stark depth of field. This allows for some impressive bokeh, an effect wherein out-of-focus light sources take on the appearance of sparkles or diamonds. Overall, this is a lens that is more suited for someone looking to get into prime lenses and more portable outdoor photography for a decent value. It is certainly not the fanciest of Fuji's lineup, but the XF 35mm f/1.4 is by no means a lens that underperforms and underwhelms.
Fuji XF 16mm f/1.4
Specs
Aperture

:

f/1.4 - f/16

Focal Length

:

16mm

Weight

:

13.3 oz.

Focus Control

:

Manual & Auto
Features
Manual Aperture Control Provides Easier Real-time Lighting Control
Weather Proofing Protects Camera From Adverse Weather
Auto Focus Control For Faster & Easier Focus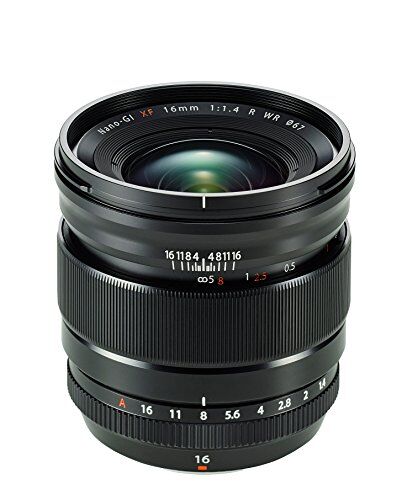 BEST FOR: "SPLIT-SECOND" PICTURE TAKING
Sometimes the perfect shot is something that only occurs in the heat of the moment, and that perfect moment can disappear in the blink of an eye. A great lens for landscape photography is one that can be set to the perfect lighting and focus settings at the flick of a wrist.
This is a feat the XF 16mm f/1.4 conquers wholly, provided you can get over the above-average price tag. The incredibly wide maximum aperture diameter of f/1.4 allows for some noticeable depth of field, giving you more versatility for the focus and composition of your pictures.
The manual aperture is a major antagonist to the issue of slow camera settings. It allows you to change the aperture without ever having to look away from the viewfinder of your camera.
Many users of this lens also report that the auto focus is fast and effective, making it monumentally easier to get your subject in focus when you may have a limited time to do so. The weatherproofing wraps this lens up in a tight bow to make it a great option for taking out into the elements. If you want to be able to point and shoot while out on the trail or in your kayak with both confidence and speed, the XF 16mm f/1.4 is built specifically for you.
Fuji XF 16-55mm f/2.8
Specs
Aperture

:

f/2.8 - f/22

Focal Length

:

16-55mm

Weight

:

1.44 lbs

Focus Control

:

Manual & Auto
Features
Fixed Aperture For A Constant Depth Of Field At Any Zoom Amount
Silent Auto-Focus Means Wildlife Won't Be Scared Away
Weather Resistant For Protection Against Rain, Dust, And Low-temperatures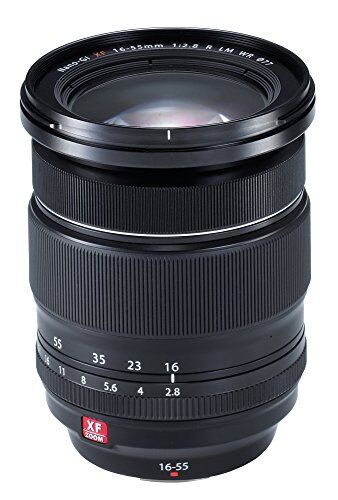 BEST FOR: HIGH-END NATURE PHOTOGRAPHY
Whether you are someone who is already well-versed in photography, or a bold novice looking to jump right into the deep end, Fuji's XF 16-55mm f/2.8 is a lens fit for a set of diligent hands. The fixed aperture allows you to keep a consistent depth of field at any focal length, giving you stunningly depthful blurs at both the short and long end of the focal length.
The 16-55mm focal length allows for some noticeable zoom so you have more control over the framing of your lens than the prime lenses on this list. However, these two features sadly make this lens heavier than average, which may be something to consider if you will be taking this lens out on your long adventures in the great outdoors.
Fortunately, the XF 16-55mm f/2.8 is also weather resistant and features an incredibly silent auto-focus mechanism, making this lens perfect for discreet picture taking in adverse weather conditions. While the price tag is not exactly a bargain, the cost fits the quality. This is a lens more directed for a seasoned photographer, particularly one looking to photograph wildlife. Yet, the Fuji XF 16-55mm f/2.8 is a strong contender for one of the best lenses available in Fujifilm's knockout lineup.
Fuji XF 18-135mm f/3.5-5.6
Specs
Aperture

:

f/3.5 - f/22 (at 18mm) f/5.6 - f/22 (at 135mm)

Focal Length

:

18-135mm

Weight

:

1.1 lbs

Focus Control

:

Auto
Features
Variable Aperture For Easier Depth Of Field Control
Long Focal Length Provides Deeper Zoom
Optical Stabilization Reduces Motion Blur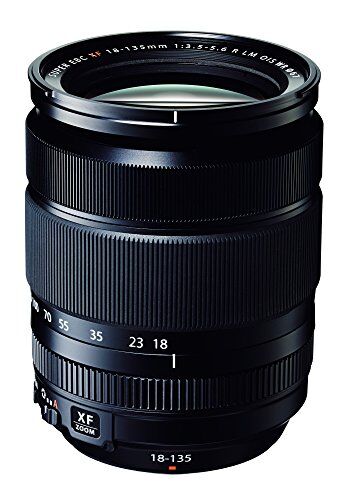 BEST FOR: BEGINNERS TELEPHOTO
Because landscape photography is a game of angles and focal lengths, the wrong framing of a shot can drastically change how pleasing it is to the eye. This is why many experts agree that zoom lenses are more optimal for landscape photography, which makes the XF 18-135mm a lens to keep in mind.
Typically, a focal length that exceeds a 135mm maximum constitutes as a telephoto lens. However, lenses that are capable of deep zoom are a little difficult to master. This makes the XF 18-135mm a great beginner telephoto lens, perfect for first timers who are looking to take pictures with both a wide angle or a hefty zoom.
Part of what makes this lens so easy to learn with is the variable aperture, which helps maintain a more effective depth of field at both the high and low ends of the focal length. The optical stabilization also helps to reduce motion blur, which occurs more frequently at higher focal lengths. If you want to take quality photos of far-away subjects, but are somewhat wary of investing in an intimidating telephoto lens, think about giving the XF 18-135mm a look.
Fuji XF10-24mm f/4
Specs
Aperture

:

f/4 - f/22

Focal Length

:

10-24mm

Weight

:

14.5 oz

Focus Control

:

Auto & Manual
Features
Extremely Wide Angle For Wider Shots
High-Speed Autofocus
Internal Focusing and Zoom System For Constant Lens Size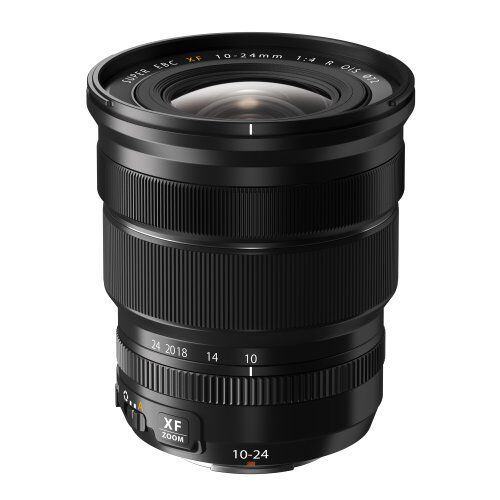 BEST FOR: SUPERWIDE ANGLE
Landscape photography is a great way to capture and share the magnificent beauty of the natural world, but it can be heartbreaking when the entire mountain vista can't fit within the frame of your shot. This is why a wide angle lens is also a popular choice for landscape photography, and the XF 10-24mm f/4 from Fuji is a lens that has all the stops you need for great picture taking.
With a focal length of 10-24mm, this lens can capture even the widest of views that your eyes may see but most lenses cannot. And with a constant aperture, you'll be getting spectacular depth of field on shots at both ends of the focal length.
This lens also features what is known as an "internal" design for its focusing and zooming systems. How it works is complicated and frankly unimportant, but what it does is prevent the whole lens from expanding and contracting when zooming or focusing. This can be extremely useful to those who are looking for compact storage space as well as faster zooming and focusing when taking a shot.
Wide angle lenses tend to run more expensively because the technology to manufacture them is much more complex, and the XF 10-24mm f/4 is no exception. However, it is by no means a lens that does not deliver, as it is capable of stellar picture taking and monstrously-wide angles.
THINGS TO CONSIDER WHEN BUYING FUJI LENSES FOR LANDSCAPE PHOTOGRAPHY
PRIME VS. ZOOM
There are many facets that distinguish one lens from another, but one of the key distinguishing factors is whether a lens is what is referred to as "prime" or "zoom." A zoom lens is pretty self-explanatory — it's a lens that can zoom. Inversely, a prime lens is one that has a fixed focal length, and is consequently unable to perform any zoom functions.
Typically, zoom lenses are preferred for landscape photography, as they allow the photographer to manipulate the framing of a shot when that may not be possible — like when there is a 200 ft. cliff directly in front of you.
However, prime lenses almost always have a noticeably-wider aperture range, are lighter weight, and usually capture images in higher resolutions. There's a lot to consider here, but what it really comes down to is what terrains and landscapes do you see yourself using your new lens in and for what purpose?
CONSTANT VS. VARIABLE APERTURE
Another key distinguishing factor of lenses is whether they feature a constant or variable aperture. This distinction can be crucial when considering your skill-level and budget in photography, but not necessarily the quality of the pictures you want from your new lens. It's important to know that you only need to worry about this distinction when looking at zoom lenses, NOT prime lenses.
A constant aperture means that the maximum aperture is the same at both the highest and lowest end of the lens' focal length. For instance, if your lens' focal length is 18-55mm with a maximum aperture of f/2.8, then the aperture will be able to remain at f/2.8 when the focal length is at either 18mm or 55mm. Constant apertures are almost always more expensive and heavier, but many professionals agree that their picture quality is superior.
Opposite to constant apertures, variable apertures are less-expensive and less heavy, but they will not be able to hold the same maximum aperture at both ends of the focal length. Keep in mind that the minimum aperture diameter is not affected by this, ONLY the maximum aperture diameter. Variable apertures can be identified if the lens you are looking at has two small-digit aperture diameters listed after the focal length rather than only one. It will look something like this: 18-55mm f/2.8 (constant aperture) or 18-55mm f/2.8 – f/5.6 (variable aperture).
COST
Fujifilm tends to market their products more towards the seasoned photographer, so naturally the prices are almost all upwards of $500. This is especially true for their renowned X-Series of lenses, which is far and away Fuji's best lineup to date.
Make sure you remain diligent in spending what you think you truly should. If a lens has fancy bells and whistles that you don't need, then axe it from your list. If you want to frame your shots more easily, you might have to bite the bullet and spend the extra cash on a zoom lens over a prime lens.
Essentially, it's a game that requires close attention to exactly what you want out of a lens. Fortunately, Fuji's X-Series lineup is much more vast than what our list is limited to, so you shouldn't have a limited range of options. In addition to that, Fuji also manufactures cheaper lenses that have far less features, which act as inexpensive alternatives to many of their higher priced ones. However, keep in mind that these are lower-quality lenses and may not last as long or work as well.
WEIGHT
If you are looking to do landscape photography, chances are that you aren't only planning on taking pictures of your backyard. You want to do some picture taking out in the wild, and we couldn't understand that more. This is why weight is a crucial thing to consider when shopping around for a lens.
While certain cameras — especially higher-end models — certainly bear more weight than others, the lens is what ultimately carries the most weight in the majority of cameras. You wouldn't want an extra pound in your backpack brought on by just a lens while hiking the Appalachians or braving Death Valley, but you definitely need to savor those views! All in all, just consider the distance you are willing to go in relation to the weight of your new lens, and you'll be A-okay.
FEATURES EXPLAINED
BOKEH
Bokeh is an aesthetic effect that occurs from light sources that are out of focus; looks like gems/sparkles.
FOCAL LENGTH
The range of capable distance between the lens and the camera sensor. This affects the zoom of a shot and is measured in millimeters.
APERTURE
Several panels that overlap, forming a ring that allows more or less light to enter the camera (imagine the Google Chrome logo). The aperture remains constantly open, unlike the camera's shutter, but similarly allows more or less light to saturate the sensor. Wider apertures will also create a higher depth of field, whereas narrower apertures achieve this less.
FOCUS
Essentially, "focus" is a fancy word for blur. Wider aperture diameters will add more blur to a shot and vice versa for narrower diameters. Subjects that are clear but contrasted against a blurry background are known as "in-focus". Anything that is meant to be seen clearly but is actually blurry is known as "out-of-focus."
F-NUMBER
The numbers that represent aperture widths (EX: f/4). The closer the number is to zero, the wider the aperture width.