Updated on March 29, 2022
There was a day when inflatable standup paddle boards (and kayaks for that matter) were not to be trusted as reliable paddle craft. Many seemed to deflate into an inefficient "taco shape" due to poor seals or unreliable closures. Thankfully, those days are behind us and the best inflatable SUP on today's market performs very similarly (and in some cases better!) to their hard-top counterparts.
Many travelers actually prefer an inflatable SUP because of the ease of transporting them. They also deflate to very compact dimensions if you need to store it underneath an RV, camper van, or if you simply have limited space in your home or garage. In this article, we're going to detail several choices for the best inflatable SUP from a few great SUP providers.
For more of our top paddle boarding gear recommendations, check out the Best SUP Boards.
Quick Answer

-

The Best Inflatable SUP Boards
Pau Hana Solo Backcountry

Advanced Elements Lotus YSUP
Comparison Table

-

Best Inflatable SUP Boards

For the best experience turn your device horizontally
Reviews

-

The Best Inflatable SUP Boards
Red Paddle Co. Sport
Specs
Capacity

:

242 pounds

Length

:

11' 3"

Weight

:

42 pounds, 6 ounces

Thickness

:

4.7"

Width

:

32"
Features
All-Terrain backpack makes it easy to transport and store
Included Titan II pump inflates boards in half the time and with less effort compared to other hand pumps
Upgraded flat bungee cargo system
Single US fin box with 9 in. FCS fin (included) for better tracking

BEST ALL-AROUND INFLATABLE SUP
When you need a stable, capable SUP beginner-friendly SUP that will appease expert paddlers too, take a look at the Sport.
Red Paddle Co designed the Sport 11'3" as a hybrid touring/recreational option. It's super lightweight, weighing in at just 22 pounds, but also very stable and boasts a 240 pound weight capacity. The brand's proprietary 'RED' hybrid deck pad is equally grippy and cushy. The SUP comes with an all-terrain backpack with wheels that makes it easy to transport and store.
What I like most about this inflatable SUP is that it also comes with the new Titan II pump — one of the best manual pumps on the market, touted to inflate your board in half the time as competitors.
Gili All-Around
Specs
Capacity

:

275 pounds

Length

:

10' 6"

Weight

:

19 pounds

Thickness

:

6"

Width

:

31"
Features
Front Bungee system for all of your gear
3 Piece Aluminum Travel Paddle
9" Snap In Fin
Includes Repair Kit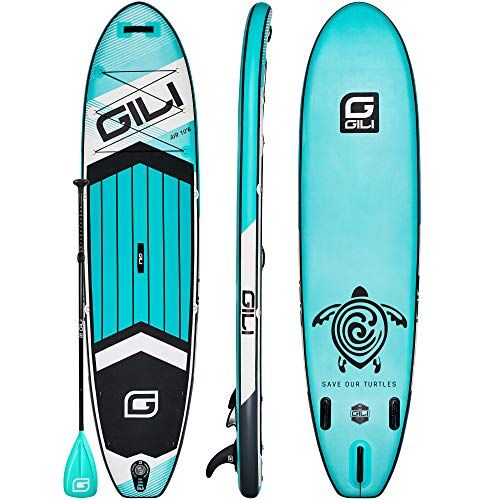 BEST FOR: PADDLERS ON A BUDGET
If you're in need of the optimal blend of balance, weight, and size, the GILI is sure to fit the bill.
This inflatable SUP weighs in at only 19 pounds, making for a convenient boat for transport and storage. It's constructed from 6" thick cross-stitched PVC and is made to withstand normal wear and tear out on the water — and then some.
What I like most about the GILI is that the package includes a snap-in center fin which you can attach and detach as needed, adding a nice element of versatility.
Pau Hana Solo Backcountry
Specs
Capacity

:

240 pounds

Length

:

10' 10"

Weight

:

14 pounds, 12.8 ounces

Thickness

:

6"

Width

:

30"
Features
Light enough to take off the beaten path
Large textured PVC traction pad
Quick-snap fin box easily secures included fins with a single click
Dry-bag backpack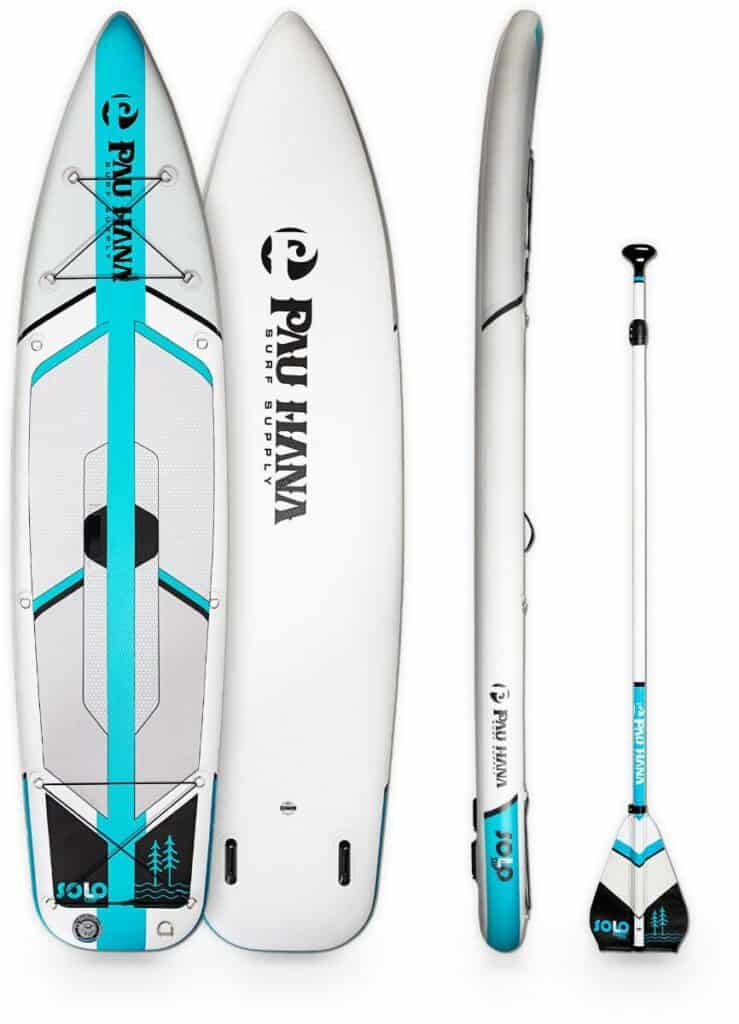 BEST LIGHTWEIGHT & COMPACT OPTION
If you're looking for an addition to your next hiking, bike packing, or extended road trip, consider the Backcountry — it stows away into its own waterproof pack.
This inflatable SUP alone weighs in at under 15 pounds and tips the scales just above 20 pounds as a total package, making for one of the most lightweight options in its class. The backpack is waterproof and features adjustable, comfortable shoulder straps with exterior gear loops, bungee tie downs, and side mesh pockets.
What I like most about the Pau Hana Solo Backcountry is that when you're out on the water, you can turn the backpack into a dry bag that's easy to attach to your board.
Sea Eagle FishSUP 126
Specs
Capacity

:

500 pounds

Length

:

12' 6"

Weight

:

45 to 48 pounds

Thickness

:

6"

Width

:

40"
Features
Rolls up and fits into a backpack
Multi-purpose storage box included
Swivel Seat Fish Rig included
Can accommodate 2 people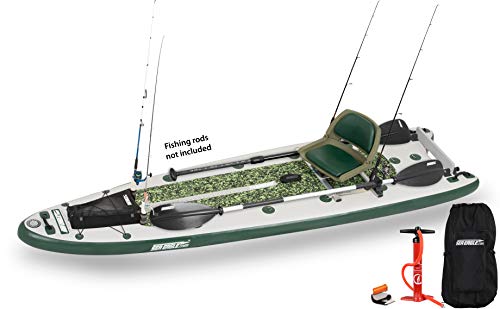 BEST FOR: FISHING
When you want to paddle something that deflates and stows away into the trunk of your car but you need fishing-specific accommodations, take a look at the FishSUP — it might be exactly what you've been looking for.
Sea Eagle designed the FishSUP as a fishing-specific SUPing package with a swivel seat. It's constructed from 1000 denier reinforced drop stitch PVC and features a quadruple overlap, so you don't have to stress about punctures or abrasion. Measuring 12feet 6inches long and 40inches wide, the FishSUP is extremely stable and buoyant.
What I like most about the FishSUP is its 500 pound weight capacity, which ensures you never have to leave any of your fishing gear behind.
Boardworks SHUBU Solr
Specs
Capacity

:

250 pounds

Length

:

10' 6"

Weight

:

17 pounds, 8 ounces

Thickness

:

6"

Width

:

32"
Features
This Dual Fusion laminate construction makes the layers more durable, saves weight and reduces the use of toxic adhesives
Includes roller travel bag, Bravo 4 pump and patch kit
4 tie-downs and a bungee system let you carry gear on board
Comfortable "Honey Fomb" deck pad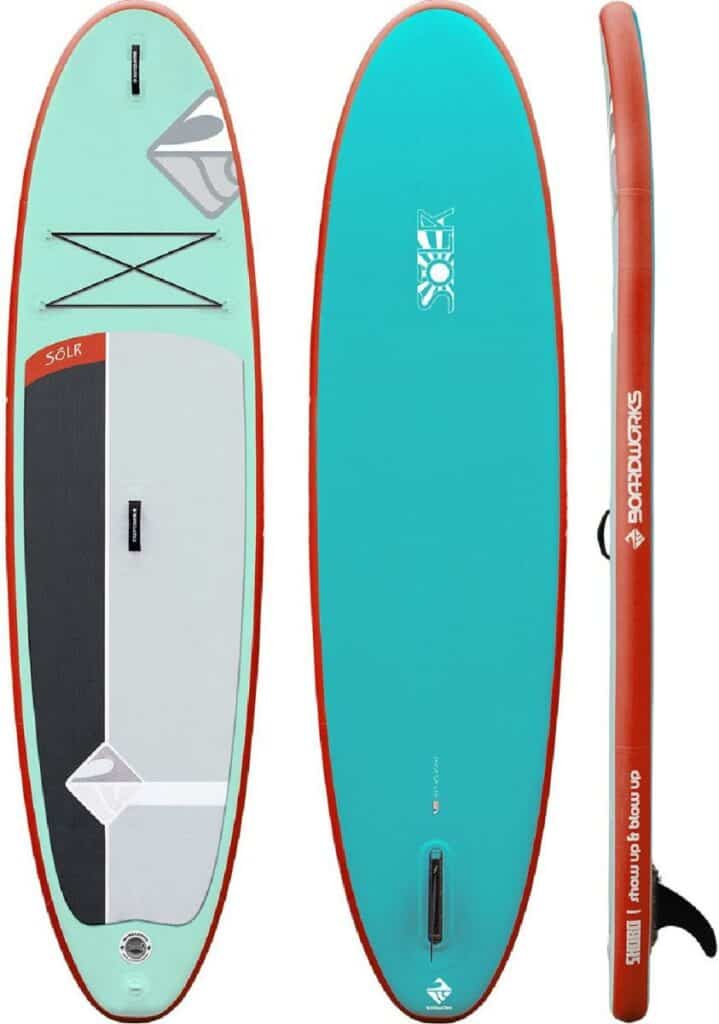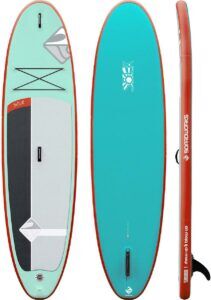 BEST FOR: SUP YOGA
If you want a stable paddle board for practicing yoga but you don't have a fortune to spend, consider the SHUBU Solr.
This SUP features a high density drop stitch core and specialized sidewall material using Dual Fashion laminate construction, making the layered material more durable and resilient while saving on weight. The Solr includes a comfy "Honey "Fomb" deck pad ideal for holding your yoga poses. The SUP comes with neoprene carry handles, a roller travel bag, four tie-does, and an on-deck bungee system.
What I like most about the SHUBU Solr is the included 3-piece adjustable carbon shaft paddle.
Advanced Elements Lotus YSUP
Specs
Capacity

:

200 pounds

Length

:

10'

Weight

:

28 pounds

Thickness

:

6"

Width

:

32"
Features
Extra Wide Design For Added Stability
Large, Soft Traction Pad On Deck For Better Grip When Wet
Three Tracking Fins For Easier Maneuverability
Double-Layer Construction For Improved Durability
BEST FOR: SUP YOGA
This extra-wide SUP is primarily designed to provide an extra stable platform for practicing SUP yoga. But it also offers great performance for casual paddle excursions and can also be a great SUP for larger paddlers to learn on. It features a large traction pad on the deck that is soft underfoot and improves grip when the board gets wet. On the bottom, you'll find three tracking fins that make this board easy to turn on a dime. The exterior of this SUP is finished with a double-layer outer skin that improves durability and resistance to the effects of rocks, barnacles, and other paddle hazards.
Boardworks Shubu Kraken
Specs
Capacity

:

250 pounds

Length

:

11'

Weight

:

18 pounds

Thickness

:

6"

Width

:

33"
Features
Laminate Construction For Improved Durability And Resilience
Comfortable Carrying Handles
Multiple Tie-Downs And Bungee Storage System
Comfortable Foam Deck Pad For Foot Comfort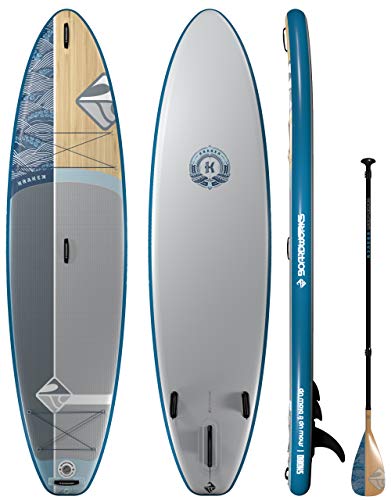 BEST FOR: ALL-AROUND WATER ACTIVITIES
The Boardworks Shubu Kraken is an 11-foot SUP designed to tackle a wide variety of water activities. It can handle a day-long paddle on flatwater or become a floating island for the kids at your next beach day. The board's laminate construction makes it extra durable and resilient to scrapes or punctures. It offers multiple comfortable handles for transporting it easily and features multiple tie-downs and bungee rigging for on-deck gear storage. The deck (or top) of this SUP is finished with a foam pad that helps to keep your feet comfortable on longer paddle adventures.
Pau Hana Endurance Air
Specs
Capacity

:

200 pounds

Length

:

12'

Weight

:

24 pounds

Thickness

:

6"

Width

:

30"
Features
19 Anchor Points For Attaching Gear
Extra-Soft Foam Deck Pad Can Double As A Sleeping Platform
Extra Handles For Easier "Team-Carrying"
Comes With Travel Bag That Doubles As A Gear Hauler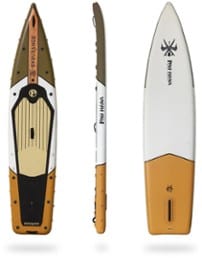 BEST FOR: OFF-THE-GRID ADVENTURES
The Pau Hana Endurance Air will go as far as you're willing to take it. It deflates into a compact travel bag that features full-suspension shoulder straps, high-end wheels, and multiple exterior storage pockets. When you're out on the water, the travel bag can double as a gear hauler to help you bring along the equipment you'd need for an overnight camping adventure. The board itself boasts 19 separate anchor points for attaching all the gear you'd need for a multi-day adventure. It also includes extra carry handles to make carrying it with another person (or two!) a breeze. Finally, this board's extra-soft foam deck pad can double as a comfortable sleeping platform for a quick snooze on the beach after your paddle!
Red Paddle Co. Ride
Specs
Capacity

:

220 pounds

Length

:

10'6"

Weight

:

21 pounds, 12 ounces

Thickness

:

4.7"

Width

:

32"
Features
Diamond-Cut Deck Pad (Rear Section Only) Improves Traction
Lightweight Construction That Improves Board Stiffness At Lower Pressures
Multiple Cargo Tie-Downs For Gear Storage
Comes With Pump, Repair Kit, Storage Backpack, And Phone Case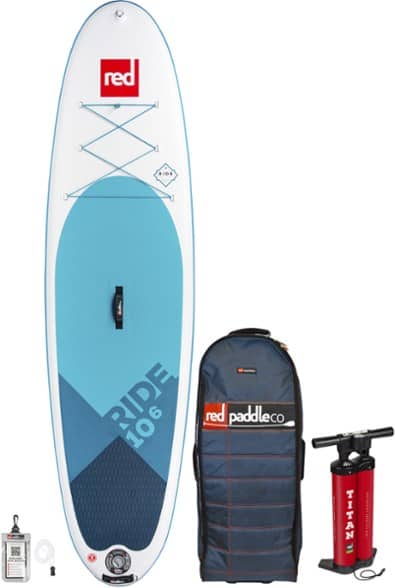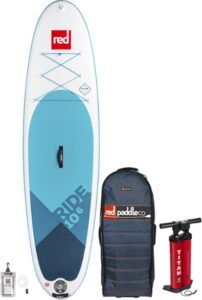 BEST FOR: HARD-TOP PERFORMANCE IN DEFLATABLE PACKAGE
This SUP from Red Paddle Company is thin and rigid so that it performs like a comparable hard-top model. The rear section of the board is outfitted with a diamond-cut pad that helps to improve traction and make it easier for you to stay balanced. The board's lightweight construction makes it easy to transport and also improves its stiffness (and, therefore, performance) when inflated to lower pressures. Multiple tie-downs give you plenty of options for storing gear on the deck and this board comes with a high-flow hand pump, patch kit, all-terrain backpack, and water-resistant phone case so you can capture epic selfies from your new SUP.
THINGS TO CONSIDER WHEN BUYING AN INFLATABLE SUP
LENGTH AND WIDTH
Length and width are going to be the largest factors in determining the stability of a SUP. In general, larger paddlers should seek a SUP that is both longer and wider. In some cases, however, you should be careful to pay attention to width over length. Many SUPs that are designed for racing are much longer, but are also much skinnier. So if you look at length only, you might be sorely surprised.
Length and width combine to tell you the total surface area of the SUP. But that total surface area can also be determined by the exact design of the specific board in question. A board with a narrower tail, for example, might have a smaller total surface area than a board that is actually narrower at the mid-section. When you're paying attention to the width of a SUP, make sure you look at the width at the middle of the board as well as at the tail (back) and nose (front) of the board.
VOLUME
The volume of a SUP is determined by multiplying the board's length by its width by its thickness. This will give you a total volume inside the board when it is fully inflated. In general, a board with a higher volume will displace more water and, in some cases, can be easier to balance on. However, this is not always the case depending on the board's hull design. The best volume for YOU will depend on a number of factors, but this SUP Volume Calculator is a great place to get started!
PACKED DIMENSIONS
Located in the specs of most SUPs, you'll find a category called 'Packed Dimensions.' This is the total length, width, and height of the SUP when it is deflated and (ideally) stored in its travel bag. Looking at the packed dimensions of a SUP will give you a good idea of how easy (or difficult) it will be to store it in your car, underneath your RV, on top of your camper van, or on a convenient shelf in your garage.
WEIGHT
Fortunately, almost all inflatable SUPs are lighter than hard-top SUPs. However, there can be some large differences in weight between competing inflatable SUP models. The biggest example of weight being a factor will be in transit. You should consider whether you'll be comfortable carrying the weight of your inflatable SUP without hurting yourself (and never making it on the water, which would be very sad!).
Weight is also a factor when you get on the SUP and out on the water. In general, heavier boards are more difficult to maneuver, especially for novice or smaller paddlers. For larger, more experienced paddlers, a lighter board can mean improved performance, but can also mean that you have to compromise on stability.
ACCESSORIES
Many of the inflatable SUP options that we've listed above also come with added accessories designed to improve your overall experience. These accessories need to be factored in before you make a final purchase decision. A board that comes with a high-flow hand pump, repair kit, travel bag, and collapsible paddle, for example, might be a better deal than a lower priced SUP that doesn't come with any accessories. Make sure to factor in the added price of a paddle, pump, repair kit, and storage bag (at the very least) when comparing and contrasting which will be the best inflatable SUP for you!
FEATURES EXPLAINED
FINS
Fins are located on the bottom of a SUP. They help you maneuver the board. In general, longer fins will give you more ability to make quick maneuvers on the board. In addition, multiple fins will help your board track better and can also improve overall maneuverability.
FIN BOX
The fin box is the area on the bottom (and toward the back) of the SUP where the fin (or fins) attaches. Fin boxes come in different shapes and styles, so it's important to choose a fin that is compatible with the fin box of your SUP, especially if your desired SUP doesn't come with an included set of fins.
HULL
The hull is the bottom of the SUP board. There are two main types of hulls in SUP boards. They are the planing hull and the displacement hull. More can be read on the differences of these two hull types here.
RAILS
Rails are the sides of the SUP board. Harder rails make it easier to turn on your SUP because they'll dig into the water without bending or being pushed in. With an inflatable SUP, rails are generally higher than on hard-top SUPS because of the added thickness of the board.