Updated on November 21, 2021
If you're heading to the crag, you'll need a climbing rope just to get off the ground. This is the most significant part of your safety system, unless you're bouldering (or you're Alex Honnold). The climbing rope is your lifeline, so you want to make sure you invest in the right one. Here at The Adventure Junkies, we will help you choose the best climbing rope for you.
For more of our top climbing gear recommendations, check out these popular articles:
Climbing Ropes for Beginners | Sport Climbing Ropes
Quick Answer

-

The Best Climbing Ropes
BlueWater Eliminator 10.2

Blue Water Icon Double Dry
Comparison Table

-

Best Climbing Rope

For the best experience turn your device horizontally
Reviews

-

The Best Ropes for Rock Climbing
Mammut 9.5 Crag Dry
Specs
Diameter

:

9.5mm

Length

:

70m

Weight

:

59g/m

Dry Treatment

:

Dry Core and Sheath
Features
Dry treatment meets the UIAA standard for water repellency
9.5mm diameter is ideal for both trad and sport climbing
bluesign® approved


TOP OVERALL ROCK CLIMBING ROPE
Mammut has long been regarded as one of the highest quality rope manufacturers on the market – and like their beloved Infinity line, their new Crag rope line-up is top notch.
The Crag Dry is constructed with a durable sheath but still provides for a soft, supple feel when you play it through your fingers and belay device. It provides for a soft catch and weighs in much lighter than thick workhorse alternatives. The dry treatments on this one meets UIAA standards for water repellency, which is an added plus. It's 9.5 diameter really hits that sweet spot between ropes that are too thick or thin to handle with ease. We reviewed the 70m rope but it's also offered in 60m and 80m versions.
What I like most about the Mammut 9.5 Crag Dry is that it's available in a bi-pattern design, which eliminates the need to keep up your middle mark.
Edelrid Boa Eco
Specs
Diameter

:

9.8mm

Length

:

60m

Weight

:

62g/m

Dry Treatment

:

No
Features
Thermo Shield treatment to stabilize individual yarns
Kernmantle design features a stretchy core protected by a durable outer sheath
bluesign® approved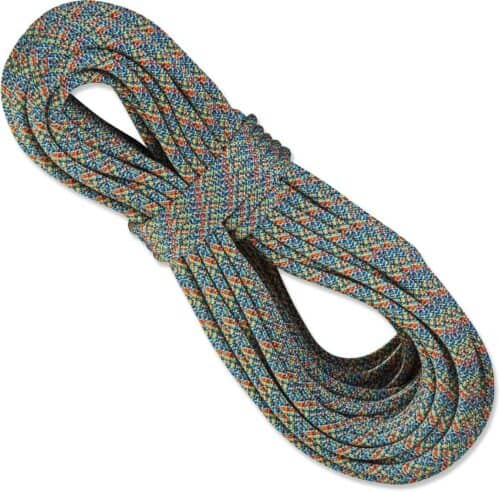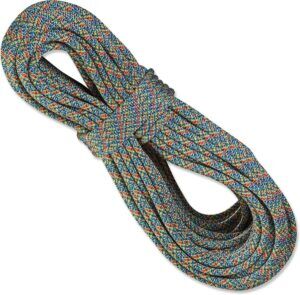 BEST FOR: CLIMBERS ON A BUDGET
This climbing rope is an incredibly affordable option for its quality construction and durability — definitely falling into the 'best bang for your buck' type category.
The Edelrid Boa Eco is designed to maintain its suppleness throughout its working lifetime, thanks to the brand's yarn stabilization heat treatment and the rope's kernmantle design, which features a stretchy core protected by a durable outer sheath. It's available in 40m, 60m, and 70m lengths. Put bluntly, this rope is an ideal choice for those of you pressed for cash, especially if you're a newer or indoor-only climber.
What I like most about the Boa Eco is that made from the highest quality yarns left over from last year's production.
Petzl Volta
Specs
Diameter

:

9.2mm

Length

:

50m - 100m

Weight

:

55g/m

Dry Treatment

:

Duratec
Features
UltraSonic finish ensures smooth and supple handling
Middle marker quickens rappels
ClimbReady Coil is ready to uncoil simply out of the bag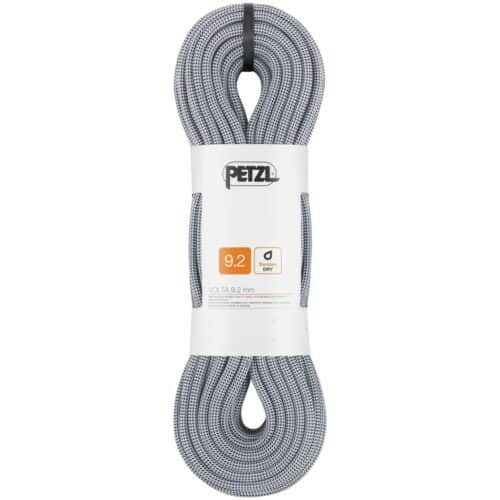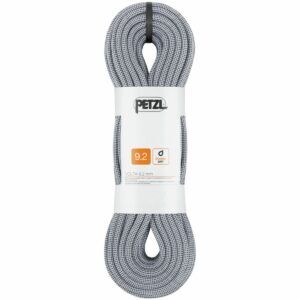 BEST FOR: ULTRALIGHT ALPINE EXPEDITIONS
If you're looking for something light and skinny that can still catch a fall for using on those technical ultralight alpine missions, you won't find anything higher quality than the Volta.
This climbing rope is designed to be lightweight and super supple to handle. It's not equipped for heavy sport climbing use, as there is a lot of stretch when you're seconding, but it's an absolute joy to use in the backcountry, for glacier crossings, and those sketchy sections on ridge traverses when roping up is a good idea.
What I like most about the Petzl Volta is that despite its light weight, its fall rating is similar to our overall pick on this list, making it a very safe option.
Sterling Velocity
Specs
Diameter

:

9.8mm

Length

:

35m - 80m

Weight

:

62g/m

Dry Treatment

:

Yes
Features
Silky smooth sheath withstands abrasion
Less than 5% water absorption
Bi-pattern option available for ease in finding the middle point
BEST FOR: CRAG CLIMBING
When you want a rope that's as supple as lighter weight options and yet more durable than many higher diameter alternatives, look to the Velocity.
Sterling designed the Velocity with a 9.8 diameter but smoother handling and a lighter feel than equally sized comparable choices. It's dry treated, so serves as a versatile option for use on both rock and ice. I've noticed that it offers just the right amount of stiffness for when you're on lead and making a crucial clip at the crux. The Velocity meets UIAA standards for falls, impact force and rope elongation.
What I like most about the Sterling Velocity is that it's tried and true in terms of durability and even after heavy use doesn't take on the fuzziness of cheaper alternatives.
BlueWater Eliminator 10.2
Specs
Diameter

:

10.2mm

Length

:

60m, 70m

Weight

:

65g/m

Dry Treatment

:

No
Features
Long-lasting durability
Beginner-friendly handling and strength
Low impact force and static elongation give a comfy catch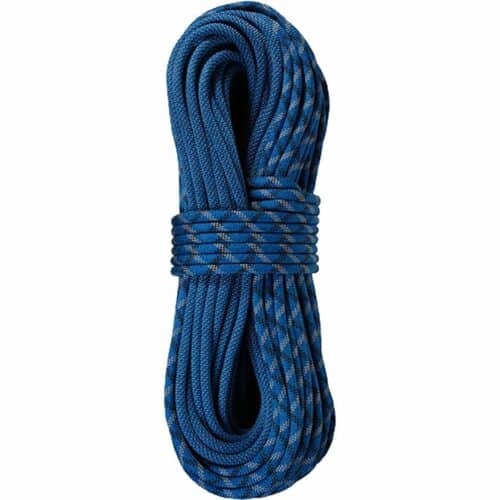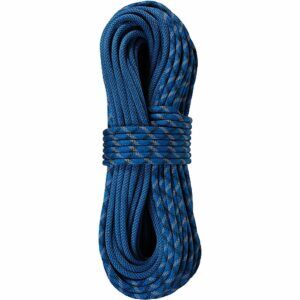 BEST FOR: BEGINNERS
When you're just starting out and you want safety and durability above all else, the Eliminator has got your back.
This rope's beefy 10.2 diameter is ideal for beginners who are just starting to figure things out on the wall, and can well withstand typical wear and tear. It's a great rope for using on your first routes outdoors and touts a low impact force, providing for a super comfy catch any time you fall.
What I like most about the Eliminator is that it's only available in a bi-pattern design.
Beal Karma
Specs
Diameter

:

9.8mm

Length

:

60m, 70m

Weight

:

61g/m

Dry Treatment

:

No
Features
Low Impact Force (for softer catches)
Made of Sustainable Materials
Supple Handling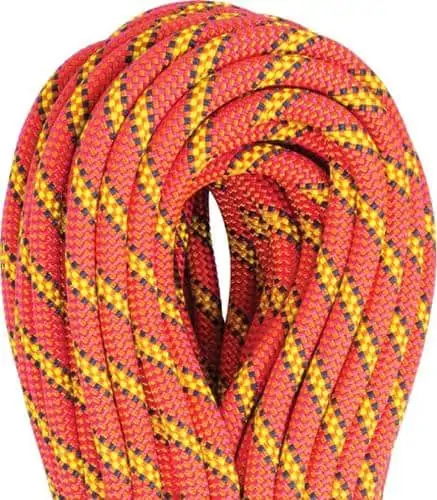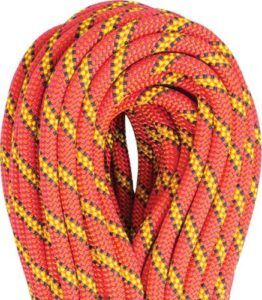 BEST FOR: VALUE
The Beal Karma is an extremely supple rope that offers great handling, despite its relatively large diameter. It is designed to be a great choice for outdoor climbing, both sport and trad (though it is not dry treated). It offers a low impact force, which leads to softer catches, so you'll feel comfortable taking whips on the sharp end.
The Beal Karma is also an environmentally-friendly rope made without chemicals or dyes. It is constructed of a trademarked material called bluesign nylon. This means that the company made a certified effort to "reduce negative impacts on the health of the environment, workers and wearer."
Sterling Evolution Helix
Specs
Diameter

:

9.5mm

Length

:

70m

Weight

:

59g/m

Dry Treatment

:

Yes
Features
Lightweight
Durable Sheath For Longevity
Core Treatment For Durability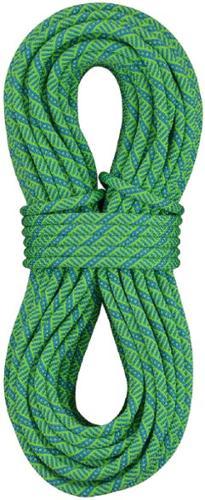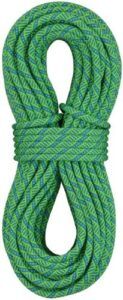 BEST FOR: SPORT CLIMBING
The Sterling Evolution Helix is a sport climber's dream rope. This rope is perfect for projecting your hard sport climbs, as it is lightweight and won't hold you back on the wall. It has a high fall rating, as well as low impact force, so you can go for the next move with confidence that you'll get a soft catch if you fall.
Despite its relatively skinny 9.5mm diameter, the Evolution Helix is designed to be extremely durable, thanks to the DryXP treatment, which not only almost completely stops water absorption, but also greatly increases abrasion resistance.
Black Diamond Non-Dry
Specs
Diameter

:

9.9mm

Length

:

35m, 60m, 70m

Weight

:

64g/m

Dry Treatment

:

No
Features
Thick Diameter For Durability
Durable Sheath For Longevity
Middle Mark

BEST FOR: BEGINNERS
The Black Diamond 9.9m makes an ideal choice for a beginner rope. The thickest rope Black Diamond offers, this burly rope is designed to be durable and stand up to abrasion from rock outdoors, while also being a gym workhorse. The thicker diameter offers extra friction in a belay device, making it easier to handle for beginner belayers.
You can choose from a variety of lengths of the Black Diamond 9.9mm, including a 35m for the gym. The rope is also clearly marked with dark dye, so finding the middle is simple when you're ready to rappel or lower.
Petzl Arial
Specs
Diameter

:

9.5mm

Length

:

60m, 70m, 80m

Weight

:

58g/m

Dry Treatment

:

Yes
Features
Lightweight
Ultrasonic Finish (bonds core to sheath for superior strength)
ClimbReady Coil (ready to use immediately without kinks)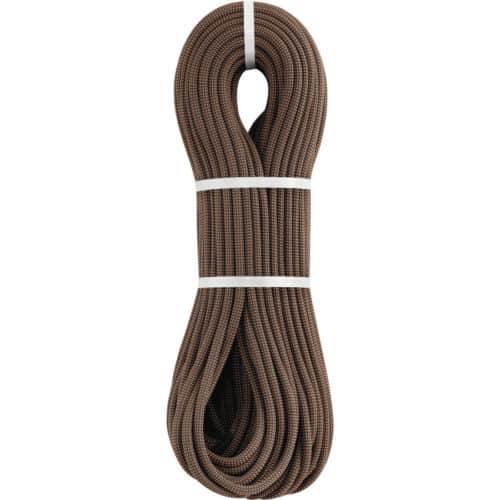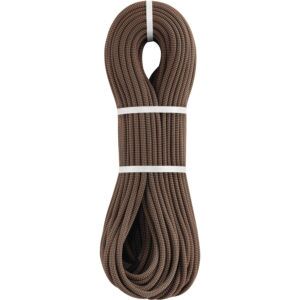 BEST FOR: ICE CLIMBING
If you're an ice climbing aficionado, the Petzl Arial is a perfect choice for when you're climbing (or shivering) in cold and wet conditions. The DuraTec Dry treatment helps the Arial resist water as well as abrasion, so it can stand up to all the terrain on mixed routes, from rock to snow to ice.
The Arial is extra durable due to the Ultrasonic finish which bonds the core to the sheath, reducing slippage and fraying ends. The rope handles very smoothly, thanks to the EverFlex treatment to stabilize the strands of the core, and the ClimbReady coiling process which means you can use it straight out of the package without dealing with kinks.
Blue Water Icon Double Dry
Specs
Diameter

:

9.1mm

Length

:

60m, 70m, 80m

Weight

:

55g/m

Dry Treatment

:

Yes
Features
Thick Sheath (for durability)
Double Dry Treatment (core & sheath)
Extremely Lightweight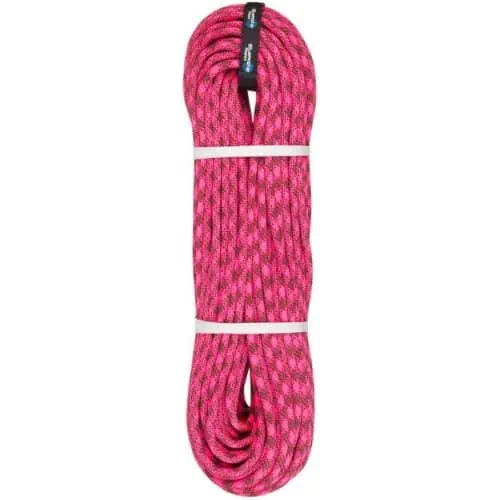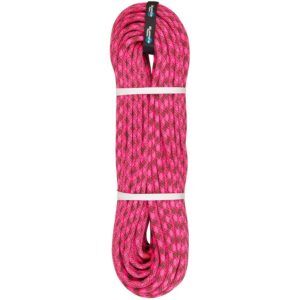 BEST FOR: REDPOINTING
The Bluewater Icon Double Dry is an ideal rope for advanced climbers working on redpointing difficult projects. It is super skinny at only 9.1mm, so you can't blame the rope for holding you back (but you should also have a skilled belayer because the rope will slide easily through a belay device). The dynamic elongation of nearly 33% will provide you with a soft catch no matter how many times you whip on your way to the send.
The thick sheath and double dry treatment (both the core and sheath are water repellent) of the Bluewater Icon provide durability and fight abrasion in any conditions. If you're likely to climb hard sport routes in a notoriously rainy or wet area, put this Bluewater rope at the top of your list.
THINGS TO CONSIDER WHEN BUYING CLIMBING ROPES
First and foremost, you need to choose a dynamic rope for climbing. Dynamic ropes are designed and tested to stretch during a fall, which absorbs the impact from the climber's body. A static rope should never be used for top-rope or lead climbing, as it does not stretch and falling on it would be extremely dangerous.
Climbing ropes come in single, half, and twin types, and for most types of climbing, you will want a single rope, which means you can use it on its own without a second rope. Twin and half ropes can be useful in certain traditional climbing, ice climbing, and mountaineering situations, as explained in this article from REI about choosing a rope. All the ropes in this guide are single ropes.
Since a climbing rope is an investment, you want it to be durable, but even the most durable ropes require proper care to maintain their lifespan. REI offers some great advice for cleaning, storing, and inspecting your rope.
LENGTH
Climbing ropes come in various lengths, and it is crucial that you have a rope long enough for what you plan to climb. If you're climbing in the gym, you'll want a shorter rope, usually 30m or 35m. Check with your gym to see if they have a required rope length.
For climbing outdoors, 60m or 70m is the current standard. A 70m rope is heavier than a 60m, but some areas have lots of routes that require a 70m rope. You can refer to Mountain Project or a guidebook to see what you generally need where you climb.
DIAMETER
Ropes come in different diameters, in a range from about 9-10mm for single ropes. Most ropes for sport and trad climbing outside are in the 9.5-9.9mm range, which offers a good balance between durability and weight. Skinny ropes under 9.4mm are not rated to catch as many falls and are less durable, though they can be excellent for multi-pitch climbing. Ropes 10mm and over are great for gym climbing, but generally heavier than you want to carry to the crag.
It is crucial to check what diameter ropes work with your belay device, because each one is designed to work with a certain range of diameters.
WEIGHT
In general, the thicker the rope, the heavier it is, though construction of the rope can play a factor in this. Especially in areas with long approaches and on multi-pitch climbs, you will want a lighter rope.
DRY TREATMENT
Some ropes are treated with a water repellent that prevents the rope from absorbing water, which can make it heavier and weaker. This treatment can also make the rope more durable. However, it usually makes the rope more expensive. If you're ice climbing, mountaineering, or doing lots of multi-pitch trad where you could encounter wet weather, dry treatment is important, but if you only sport climb, it is usually not necessary.
FEATURES EXPLAINED
SHEATH
The outer pater part of the rope that protects the core.
CORE
The inner part of the rope. Stronger than the sheath.
DYNAMIC/STATIC
A dynamic rope is designed to stretch during a fall, absorbing the impact. A static rope does not stretch.
MIDDLE MARK
A black dyed mark to identify the middle of the rope.
BI-PATTERN
A rope that changes color or pattern at the middle of the rope. More permanent and easy to see than a middle mark, but generally more expensive.
READ MORE
For more of our top climbing gear recommendations, check out these popular buyer's guides: