Updated on June 10, 2022
Purchasing the best bindings for your skis can seem daunting – they're complex systems that can have a wide range of features. Even more, knowing the right type of binding for your intended activity, specific type of ski, and your skier profile all play critical factors and can further complicate the process.
Fear not! We've scoured the latest selection of bindings and simplified the information needed to make the right choice. Whether you're an absolute novice searching for a simple pair of bindings for traditional downhill skiing or an advanced beginner looking to break into backcountry skiing, we've curated the best ski bindings below. Check 'em out!
For more of our top ski gear recommendations, check out the Best Downhill Skis.
Quick Answer

-

The Best Ski Bindings
Marker Kingpin M-Werks 12
Comparison Table

-

Best Ski Bindings

For the best experience turn your device horizontally
Reviews

-

The Best Bindings for Skis
Marker Griffon 13 ID
Specs
Type

:

Downhill Skiing

Weight

:

2 lbs. 4.3 oz.

Experience Level

:

Intermediate

Brake Width

:

90 / 100 / 110 mm

Boot Sole Compatibility

:

Alpine (ISO 5355), GripWalk, and Touring (ISO 9523)
Features
Stainless-steel AFD (anti-friction device) gliding plate supports a precise release almost entirely unhindered by dirt, snow and ice
No-pull-out screws and a centralized swing weight
Anti-ice rail—use the metal rail to scratch off ice and snow below your boot soles
Pozi screw at the front of the gliding plate makes it easy to adjust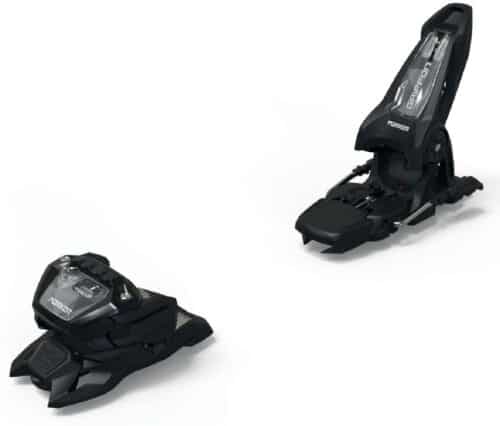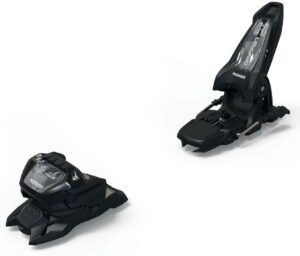 TOP OVERALL SKI BINDING
This binding is as loved for its performance as the brand's reliable track record, making for a great choice for skiers of all levels.
Marker constructed the Griffon 13 from premium materials, including a toe designed to reduce the risk of early release and provide for superior power transmission. The bindings are made with an Anti-Friction device that makes it easy to snap in and release out of — whether there's dirt, ice, or snow build-up — and can be matched to particular skier types, ranging from racing to alpine touring.
What I like most about the Marker Griffon 13 ID bindings is how affordable they are for such a high performance binding.
Tyrolia Attack 11 GW
Specs
Type

:

Downhill Skiing

Weight

:

4 lbs. 3.4 oz.

Experience Level

:

Intermediate

Brake Width

:

95 / 110 mm

Boot Sole Compatibility

:

Alpine (ISO 5355) and GripWalk
Features
Improved AFD reduces friction and provides consistent release
FR PRO3 toes and SX FR heels
DIN release settings adjustable from 3 to 11
Stand height: 17 mm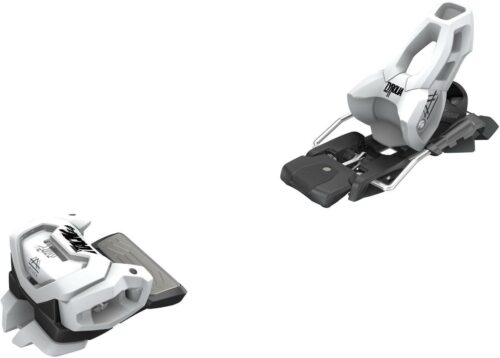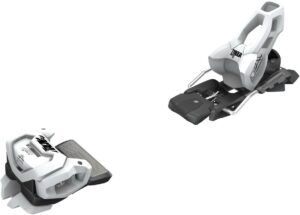 BEST FOR: SKIERS ON A BUDGET
For under $200, you'd be hard pressed to find a more powerful binding that both all-mountain and free skiers will enjoy.
The redesigned Tyolias now feature Alpine and GripWalk sole compatibility. The AFD is now stronger and the DIN located at the heel is easier to adjust than ever before. The toe has been adapted in a way to support improved power transfer, as well. Tyrolia recommends pairing these with skis that have a brake width equal to or at most 15mm wider than the ski waist width.
What I like most about the Tyrolia Attack 11 GWs is the wide range of DIN adjustability, from 3-11.
Look Pivot 15 GW
Specs
Type

:

Downhill Skiing

Weight

:

5 lbs. 7.8 oz.

Experience Level

:

Intermediate & Advanced

Brake Width

:

95 / 115 mm

Boot Sole Compatibility

:

Alpine (ISO 5355) and GripWalk
Features
Bindings combine powerful shock absorption with confident retention and release that's ideal for aggressive skiing
Toepieces feature 180° multidirectional release and an upward release independent of the heels for the most effective protection in the event of a fall
Turntable pivot heelpieces rotate directly under the tibia for elite-level shock absorption and retention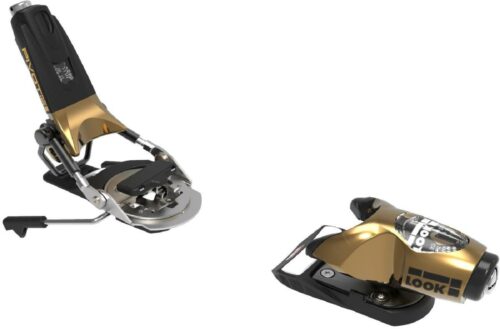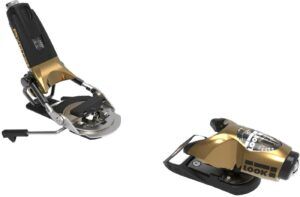 BEST FOR: INTERMEDIATE & ADVANCED SKIERS
If you're a free skier who wants superior performance and durability at a reasonable price, consider the $400 Look Pivot 15 GWs.
These bindings include an aluminum race toe piece that offers 45mm of travel and multidirectional release that operates separately from the heel. As is becoming almost standard in the ski binding industry, these bindings are compatible with both Alpine and GripWalk soles. Seven points of contact with the boot ensure lateral energy transmission and increase power and control.
What I like most about the Look Pivot 15 GW binding is how high quality the metal construction seems to be.
Salomon S/Lab Shift MNC
Specs
Type

:

Backcountry Skiing

Weight

:

3 lbs. 13 oz.

Experience Level

:

Advanced Beginners - Expert Skiers

Brake Width

:

90 / 100 / 110 / 120 mm
Features
2018 "Gear Of The Year" Award Winner
Easy Flick Lever In Toe Changes Between Ski Mode & Tour Mode
Carbon Blended Materials Make These Bindings Lightweight For Their Class
Tech Fit & Alpine toes, Alpine (ISO 5355) & Alpine Touring (ISO 9523) - Both GripWalk & WTR heels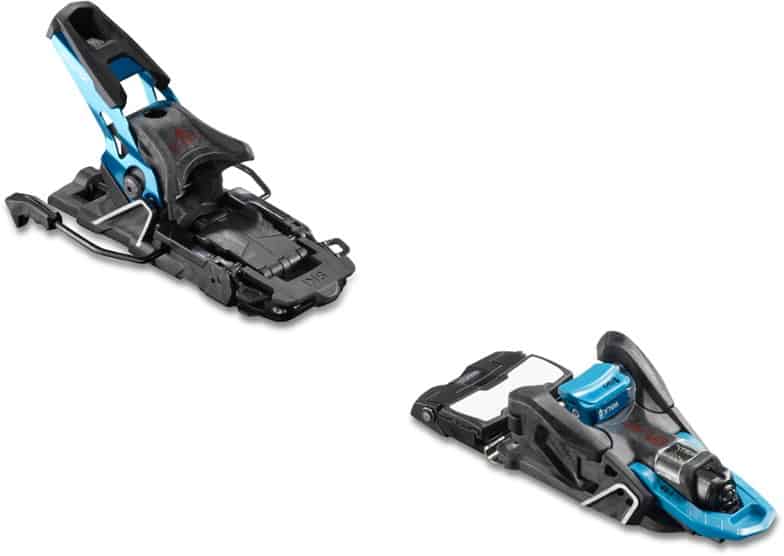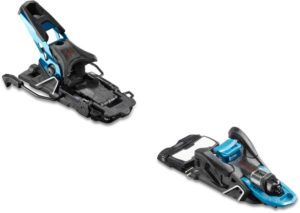 BEST FOR: DOWNHILL BACKCOUNTRY SKIING
Looking to up your ski game and hit the trails less traveled? The Salomon S/Lab Shift MNC's are the premier binding for backcountry pursuits.
What makes backcountry bindings different from their traditional downhill counterparts is the ability to lock in the toe while leaving the heel free to move up and down. This allows you to use your skis as snowshoes as you trek up the mountain before locking in the heels and skiing back down.
The S/Lab Shift MNC's offer climbing bars that can be adjusted beneath your heels, giving your heels between 2° – 10° degrees of "lift" when climbing. That means that your heel doesn't have to go all the way back down to the ski/binding when you're climbing uphill, making it feel a little more like walking up stairs.
Lastly, these bindings are in an elite and rare category when it comes to compatibility with boot soles. The MNC in the title stands for Multi-Norm Compatibility meaning it will play nicely with almost any boot you buy. This translates to being an excellent investment for long-term use as when it comes time to buy new ski boots you won't be sweating over if they'll be compatible or not.
Salomon Warden 11 MNC
Specs
Type

:

Downhill Skiing

Weight

:

4 lbs. 6 oz.

Experience Level

:

All Skiers - Beginner to Expert

Brake Width

:

100 mm
Features
Available In 5 Different Colors
Easy Step-In Makes Binding Into Your Skis Quick & Smooth
Automatic & Manual Adjustments Help You Dial In Just The Right Fit
Tech Fit & Alpine toes, Alpine (ISO 5355) & Alpine Touring (ISO 9523) - Both GripWalk & WTR heels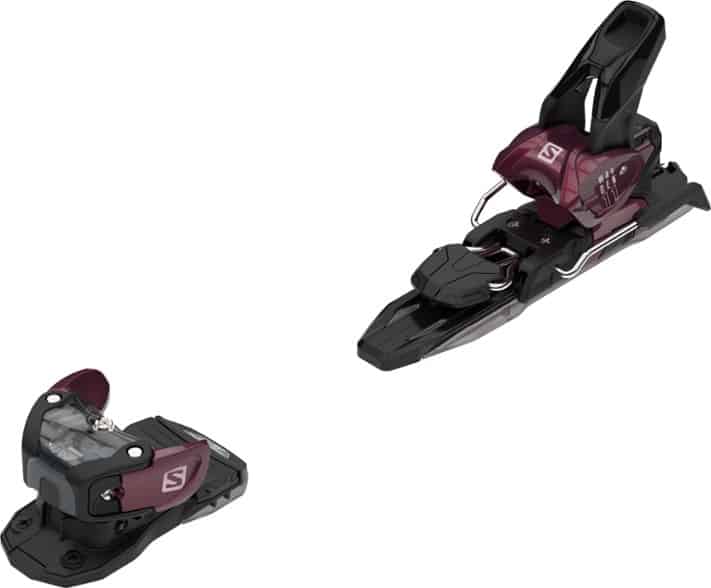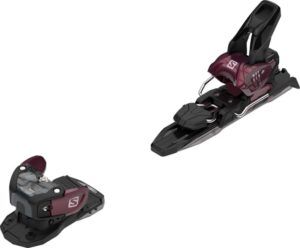 BEST FOR: ALL-MOUNTAIN WIDE SKIS
If you're riding All-Mountain Wide skis, a great option for those wanting to ski a variety of terrain, then these bindings will match perfectly.
Since All-Mountain Wide skis are wider than most other types of skis, they require wide bindings to match. If you mismatch, you could end up with bindings that are too narrow, which could result in the ski brakes not deploying properly during a wipeout. The ensuing result? A runaway ski!
These bindings are also a perfect pairing when you're skiing fresh powder. Wide skis "float" easier in soft snow but require the right binding. If you use traditional bindings, you may not get the responsiveness and control out of your skis that you need to ski smoothly. The Salomon Warden 11 MNC's will make sure you shred any terrain with ease.
Look SPX 12 GW
Specs
Type

:

Downhill Skiing

Weight

:

4 lbs. 14 oz.

Experience Level

:

Advanced Beginner - Experienced Skier

Brake Width

:

100 mm OR 120 mm
Features
Manufactured According To International Safety Standards
Sleek Black Finish Will Pair Aesthetically To Any Set Of Skis
Multidirectional Toe Piece Releases Boot During Falls For Maximum Safety
Alpine toes, Alpine (ISO 5355) & GripWalk (ISO 9523) heels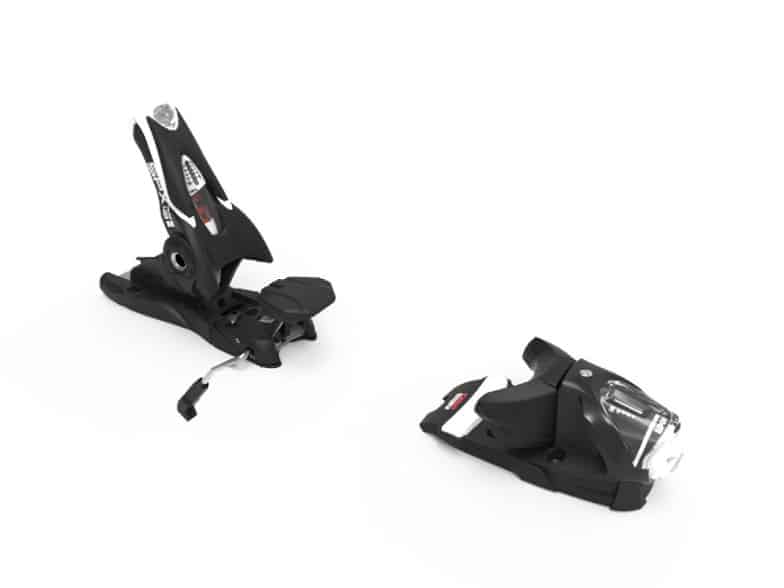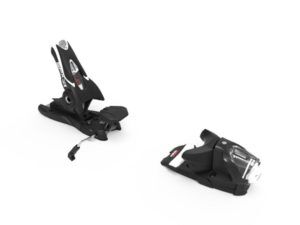 BEST FOR: DOWNHILL POWDER SKIS
For all you dreamers and adventurers in search of fresh powder, the Look SPX 12 GW's are your match made in heaven. Since skiing powder requires wider and specially made skis to perform well, it comes as no surprise that those skis will also need some special bindings.
Since powder skis are wider than All-Mountain skis (read: traditional skis), they also require wider bindings. The Look SPX 12 GW's are offered in both 100 mm and a whopping 120 mm ski brake width. This means you can mount them to powder skis up to 120 mm wide!
These binding also come with built-in shock absorbers, perfect for those hitting small (or big!) jumps and landing in deep snow.
You may say that I'm a dreamer, but I'm not the only one.
Look Pivot 12 GW
Specs
Type

:

Downhill Skiing

Weight

:

5 lbs. 8 oz.

Experience Level

:

Advanced Beginners - Expert Skiers

Brake Width

:

75 / 95 / 115 mm
Features
Shock Absorption For Intense Landings
180° Degree Release Feature For Maximum Safety In The Event Of A Fall
Can Be Mounted To A Wide Variety Of Skis Depending On Chosen Ski Brake Width
Alpine toes, Alpine (ISO 5355) & GripWalk (ISO 9523) heels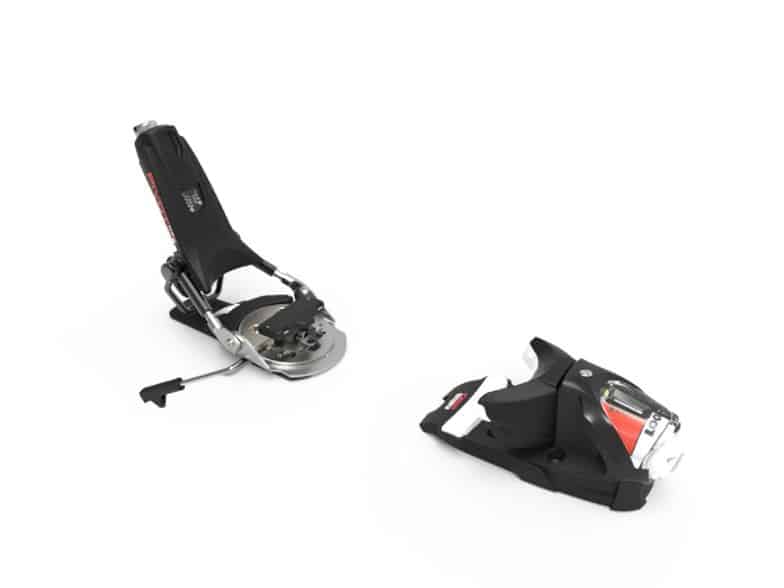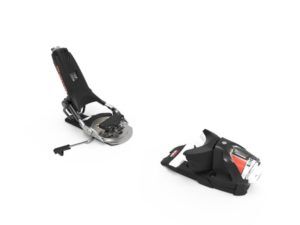 BEST FOR: BUDGET-MINDED SKIERS
Whether you're renting or buying, snowsports can be a pricey hobby. By buying, you can help save money down the road on the price of rentals but that typically means dropping some hefty coin up front. If you're trying to save money both now and later, then the Look Pivot 12 GW's are a great choice.
These downhill bindings are a great standard won't-break-the-bank piece of gear that will age well. They feature multidirectional toe releases to spring your boots free in case of a fall and sport shock absorbers to make landings easier on your feet.
While these bindings are definitely on the heavier end of the range, they are compatible with most ski boots, including GripWalk soles and Alpine boots (ISO 5355). They can also be purchased in varying ski brake widths including 75mm, 95mm, and 115mm for mounting on the widest variety of skis.
Marker Kingpin M-Werks 12
Specs
Type

:

Backcountry Skiing

Weight

:

1 lb 5.7 oz.

Experience Level

:

Advanced Beginners - Expert Skiers

Brake Width

:

100 mm OR 125 mm
Features
Can Attach Crampons For Climbing Assistance
Extremely Strong And Lightweight Carbon-Infused Steel Design
"Kingpin" Mechanism Uses A Single Mechanism For Different Travel Modes
Tech Fit toes, Alpine (ISO 5355) & WTR (ISO 9523) heels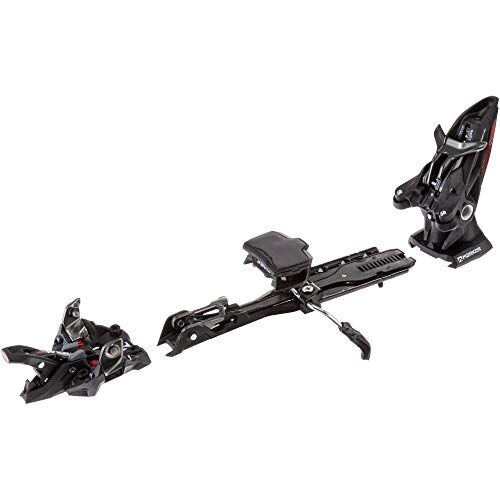 BEST FOR: INCREASED BACKCOUNTRY PERFORMANCE
The Marker Kingpin M-Werks 12 are some of the most advanced backcountry bindings on the market. Blending lightweight design with an intuitive multifunctional system puts these bindings into a category of their own.
What makes this binding system so impressive is its ease of use. The "Kingpin" is a single mechanism that can be used in so many different ways to achieve the results you want, including free-heel for uphill travel, heel lifts for assistance when ascending, fixed-heel for downhill shredding, and easy unlocking for stepping out of the skis.
The bindings also support crampon attachments for increased assistance and grip when ascending icy and treacherous paths. Lastly, the Kingpin M-Werks 12's come in two brake widths, 100mm and 125mm (super wide) for those who require wide skis or have powder skis for ultimate float.
THINGS TO CONSIDER WHEN BUYING SKI BINDINGS
SKI BINDING BASICS
Bindings consist of two pieces: a heel and toe piece that not only lock you into your ski but will also spring your foot free in the event that too much pressure is exerted, such as during a wipeout.
When choosing bindings, they must be compatible with your ski boots or they will not work properly which will greatly increase your risk of injury. Once purchased, you must take your skis to a shop where they can be properly mounted and adjusted. This should only be done by a professional. Here's more information on how to mount and adjust ski bindings.
TYPES OF BINDINGS
Downhill
Best For All Skiers – Beginner to Expert
Downhill ski bindings are designed for those who are only interested in skiing at resorts, where a ski lift will transport them to the top of their intended runs. The binding locks down both the toe and heel when clicked in.
Backcountry
Best for Intermediate to Advanced Beginners and Up
Backcountry bindings are designed for skiers who want to hike up the mountain before skiing down it. The bindings are unique in that the toe locks in while the heel remains free to move up and down. This allows mobility for uphill hiking on your skis and can be locked into place when you're ready to ski down.
Telemarking
Best for Experienced and Expert Skiers
Having died off and experienced revivals several times, telemarking bindings feature a permanent free heel. While the toes lock into place, the heel is free to move. It's an old-school style of skiing with a certain flare to it. However, we have kept Telemarking bindings off our list as its becoming increasingly difficult to match boots with them.
HOW WE QUALIFY SKILL LEVEL

True Beginner
A novice with no experience skiing whatsoever.
Intermediate Beginner
Someone who's skied a few times, is able to manage moderately okay down Green runs, but still needs to work on their skills.
Advanced Beginner
A skier whose skills are solid. They are able to ski down most Blue runs with confidence and effectively execute basic maneuvers like carving, safely stopping, and evasive maneuvers. Executing stunts and advanced maneuvers may still be out of reach but are being practiced.
Experienced Skier
A veteran skier who knows how to hit Blue runs of any and all type with confidence and style. They may be able to land stunts in the terrain park and have a great awareness of the mountain and others around them.
Expert Skier
Someone who has skied for several years and can easily handle Black Diamond runs and may even be competent in tackling Double Black Diamond runs.
SKI BRAKES
Ski brakes are a nifty little feature that keep your skis from running away should you wipeout and your bindings spring your foot loose. When your boot is locked into your binding, they stay up and out of the way. Upon springing loose, they flip down to stop the ski.
Pay attention to the width of the ski brakes (measured in millimeters) on the pair of bindings you purchase. If the width is too narrow for your particular set of skis, then the brakes won't engage. If the width is too wide, then they may cause drag when edging or turning.
To determine the proper width, compare the brake width of your chosen binding to the waist width* of your skis. The brake width on your bindings should either match or exceed your ski's waist width (though not exceed more than 15mm).
Example: If your skis have a waist width of 85 millimeters, then the brake width for your bindings should be between 85mm – 100mm.
*Skis typically have 3 measured widths: Tips, Waist, and Tails. Waist width is the measure of the narrowest part of the ski, where the bindings are mounted, and is the measurement to keep an eye on.
COMPATIBLE SKI BOOT SOLES
Matching boots and bindings can be a tricky task. Some bindings are made to play nicely only with boots made by the same manufacturer while other manufacturers are only in the binding business, thus they are able to work with a variety of boots.
We've tried to simplify this as much as possible by breaking down compatibility with the four most common boot soles.
Boot Soles
Alpine (ISO 5355)
Alpine soles are the most common and traditional type available. They are characterized by hard plastic toes and heels that make it easy for the boot to "slip" and release in the event of a fall when the binding releases due to extreme pressure.

Alpine soles will fit the widest variety of bindings, making it easier to shop. ISO refers to a standard measurement used by Germany.
Alpine Touring (ISO 9523)
Also known as Rocker-Soled AT soles, these are the second most common boot soles made. They are characterized by having a rocker, or curve, to the sole with grippy rubber bottoms. They are designed to be used with backcountry bindings that allow free-heel movement. Alpine Touring soles are offer in 2 subcategories:

GripWalk

GripWalk boots have increased traction when walking around on snow/ice (like a winter hiking boot) but have all the performance capabilities and ergonomic comfort of Alpine Touring ski boots. They also feature replaceable toe and heel pads after wearing down. These are the most popular Alpine Touring boots by far.

Walk To Ride (WTR)

Much less popular than GripWalk, these are designed to perform similarly as a crossover boot that works well both on and off the skis.
Tech Fit
If you've chosen backcountry bindings, chances are the toe pieces rely on Tech fit. Rather than having plastic to edge that clamps beneath a lever, Tech fit reduces a lot of weight and complexity in the bindings and matching boots. It does this by relying on two opposing pins that latch onto pin sockets in the toe of the boot (kind of like a crab claw pinching something).
Many, if not most, GripWalk and WTR (both Alpine Touring) boots include Tech fit pin sockets in their toes, but not all. If you buy a backcountry binding, make sure that your boots feature Tech fit.
Multi-Norm Compatibility (MNC)

Additionally, some backcountry bindings (like the Salomon S/Lab Shift MNC) feature Multi-Norm Compatibility which allows any boot to bind to it. Regardless of whether the toes of your boots are Tech fit or standard Alpine, your boots will fit. Any binding with MNC is gold since you won't have to worry about being limited in your boot options.
FEATURES EXPLAINED
OFF-PISTE
Skiing in any area that isn't groomed. This could be at a resort, but outside the traditional runs in approved areas, or it could be deep in the backcountry wilderness.
SKIER PROFILE
A rough guide that helps determine your equipment needs and includes metrics such as your height, weight, skill level, and intended type of skiing.
READ MORE
For more of our top skiing gear recommendations, check out these popular buyer's guides: