Updated on November 16, 2021
As you set out for a new adventure, it may be tempting only to bring your smartphone along and pack as light as you possibly can. But if you consider your memories as valuable as your experiences, you'll regret not having a decent camera in your bag. The best DSLR cameras for travel may be bulky. But once you learn how to use them, you'll forget about Instagram filters and bask in the glory of perfect portraits without a filter!
With hundreds of models available and prices ranging from a few hundred to thousands of dollars, choosing which DSLR (Digital Single Lens Reflex) camera to buy can be complicated. In this article, we have selected the ten best DSLR cameras for travel so you can spend less time looking at specs and more in planning your next trip. All the cameras on this list are WiFi compatible, so you can upload your photos instantly and share on the 'Gram without wasting a moment.
For more of our top travel photography gear recommendations, check out the Best Cameras for Travel.
Quick Answer

-

The Best DSLR Camera for Travel
Comparison Table

-

Best DSLR Cameras for Travel

For the best experience turn your device horizontally
Reviews

-

The Best DSLR Travel Cameras
Nikon D3500
Specs
Type

:

Entry-Level

Dimensions

:

2.99 x 4.88 x 3.86 in

Weight

:

0.98 lbs

Resolution

:

24.3 Megapixels

Shooting Speed

:

5 Frames Per Second

ISO Range

:

100 - 25600
Features
Affordable
Includes Guides To All Advanced Functions
Long Battery Life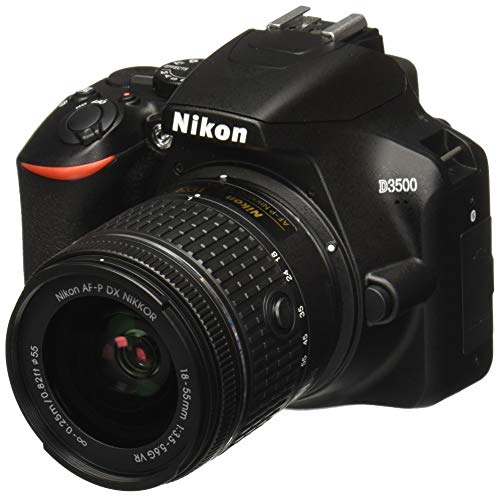 BEST FOR: BEGINNER (TRAVEL) PHOTOGRAPHERS
The Nikon D3500 is proof that it's not essential to splurge on a full frame DSLR to bring home great shots of your travels. This entry-level camera is perfect to learn the craft of travel photography thanks to the built-in guides that help you navigate the many features available. At the same time, it also provides superb image quality thanks to the sizeable 24.3-megapixel sensor.
For under $600, you will own a camera that can capture great photographs in almost any situation. And with the wide range of cameras available from Nikon and third-party manufacturers, the creative possibilities are pretty much endless.
The Nikon D3500 can shoot over 1,000 pictures with a fully charged battery, and it's relatively compact compared to other DSLRs, so it won't be a pain to carry around. If you're looking for a camera to grow as a travel photographer, this DSLR is a great option!
Nikon D5600
Specs
Type

:

Entry-Level

Dimensions

:

12.9 x 6 x 8.9 in

Weight

:

14.7 ounces

Resolution

:

24.2 Megapixels

Shooting Speed

:

5 Frames Per Second

ISO Range

:

100 - 25600
Features
Fast Performance
Built-in Bluetooth For Easy Photo Transfers
External Microphone Jack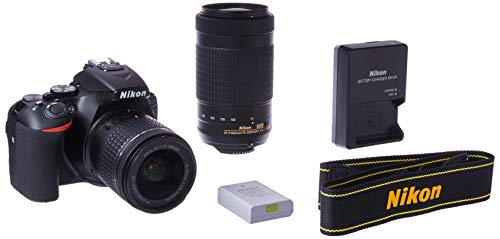 BEST FOR: VALUE FOR MONEY
With its 24 megapixel resolution, excellent low light performance, and high-definition video features, the Nikon D5600 is one of the best DSLR cameras you can find for under $800. The tilting touch screen is a new addition from previous models and allows you to focus and shoot with a single tap.
With the integrated Bluetooth technology, it is now possible to transfer your images to your smartphone moments after you've shot them. And with a battery life of over 900 consecutive captures, you won't be stuck without charge, no matter how long you plan on shooting.
The Nikon D5600 also offers excellent video features, recording high-definition 1080p clips. It even includes the option of connecting an external microphone, in case you want to take your photojournalistic skills to the pro level.
Pentax K-70
Specs
Type

:

Entry-Level

Dimensions

:

2.9 x 4.9 x 3.7 in

Weight

:

2 lbs

Resolution

:

24.2 Megapixels

Shooting Speed

:

6 Frames Per Second

ISO Range

:

100 - 102400
Features
Dustproof And Weather-Resistant
LCD Monitor With Night Vision
Shake Reduction Mechanism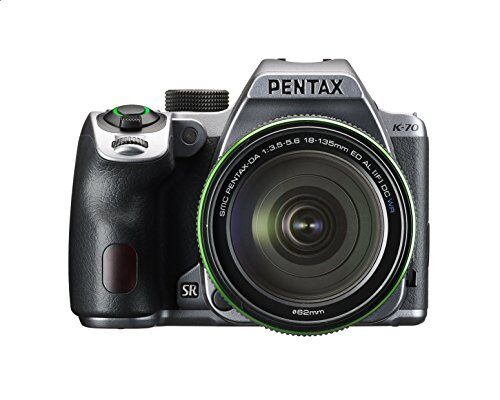 BEST FOR: THE WATERFALL CHASER
While Nikon and Canon tend to take over "best DSLRs" lists, they are not the only brands that produce great cameras for travel photographers. The Pentax K-70 is a great example: dustproof and weather resistant, this compact DSLR will help you bring home incredible images from the most unfavorable environments.
With a stellar 24.2 megapixel resolution and a shake reduction system that helps to avoid blur, this DSLR will capture sharp and realistic images anywhere you go. With excellent low light performance, you'll be able to keep shooting long after the golden hour. When the light is gone completely, just switch on the night vision mode in the LCD screen to find your subject in the dark.
Canon EOS 80D
Specs
Type

:

Advanced

Dimensions

:

3.09 x 5.47 x 4.14 in

Weight

:

1.4 lbs

Resolution

:

24.2 Megapixels

Shooting Speed

:

7 Frames Per Second

ISO Range

:

100 - 12800
Features
45-Point Autofocus (for extra precise action shots)
Fast Image Processing Speed
Great Low Light Performance
BEST FOR: ALL-AROUND PERFORMANCE
Whether you're an architecture buff trying to frame an odd-looking building in a new city or a backcountry explorer attempting to freeze a mountainscape at sunrise, the Canon EOS 80D gets the job done. With a high image resolution, superb low light performance, and a precise autofocus system that detects your subject automatically, all you need to add to capture a great photograph is your creativity.
The Canon EOS 80D is fast and reliable, ideal for the travel photographer looking for a versatile camera that can adapt to any situation. The sturdy build ensures durability, while the built-in WiFi lets you share your best captures almost instantly. Combine this camera with your favorite Canon lens, and you are guaranteed pictures worth framing.
Nikon D7500
Specs
Type

:

Advanced

Dimensions

:

5.3 x 2.9 x 4.1 in

Weight

:

1.7 lbs

Resolution

:

20.9 Megapixels

Shooting Speed

:

8 Frames Per Second

ISO Range

:

100 - 51200
Features
Built-in WiFi
Fast And Precise Autofocus
Impressive Low Light Performance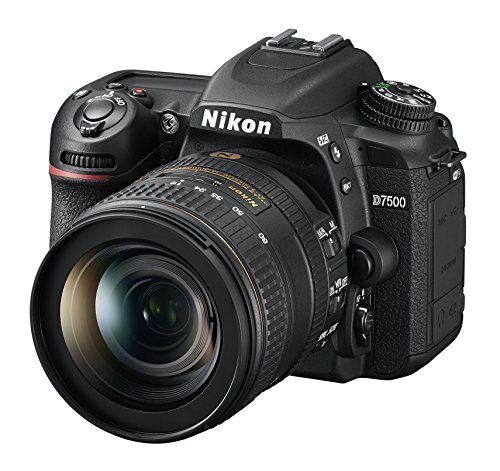 BEST FOR: MULTI-PURPOSE USE
An advanced DSLR, the D7500 is produced for those who want to shoot with a high-performing camera but are not willing to take the leap to a professional full-frame. With an excellent resolution of 20.9 megapixels and an autofocus system that automatically detects the subject, the Nikon D7500 is a fast and innovative camera that will impress you with its superb image quality.
The Nikon D7500 is a significant improvement compared to its predecessors because of its increased shooting and processing speeds. It shoots at 8 frames per second (two frames faster than the previous D7200) and can process over 100 consecutive JPEG images without stopping. This is an ideal all-around camera, catering to serious photography enthusiasts looking for a powerful and versatile machine that will suit any situation.
Canon EOS 7D Mark II
Specs
Type

:

Advanced

Dimensions

:

5.87 x 3.07 x 4.41 in

Weight

:

2.01 lbs

Resolution

:

20.2 Megapixels

Shooting Speed

:

10 Frames Per Second

ISO Range

:

100 - 16000 (Expandable To 51200)
Features
Super Fast Shooting To Capture Moving Objects
Built-in GPS
Quick Autofocus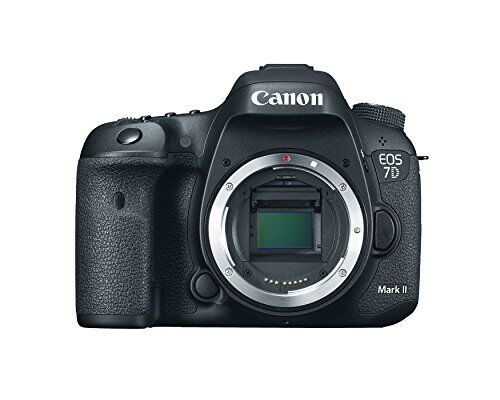 BEST FOR: CAPTURING THE MOMENT, LITERALLY
Boasting an impressive 10 frames per second of continuous shooting, the Canon EOS 7D Mark II can capture fast-moving subjects without missing an instant. Great for wildlife, sports and event photography, this camera will freeze the moment, no matter how fleeting it is. This characteristic, combined with a rapid autofocus system, ensures that you never miss a shot.
Speed, however, is not the only great feature of this camera. With an integrated GPS system, it can record where your best photographs have been taken. And thanks to the built-in WiFi technology, transferring images to a smartphone or a laptop can happen in a matter of seconds. Your followers won't have to wait to see you in action!
Nikon D750
Specs
Type

:

Professional

Dimensions

:

5.55 x 3.07 x 4.45 in

Weight

:

1.65 lbs

Resolution

:

24.3 Megapixels

Shooting Speed

:

6.5 Frames Per Second

ISO Range

:

100 - 12800 (Expandable To 50 - 51200)
Features
Full-Frame Sensor (for superior image quality)
Full HD Video
Built-In WiFi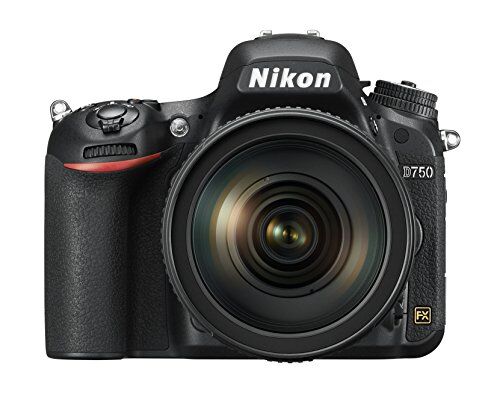 BEST FOR: SERIOUS TRAVEL PHOTOGRAPHERS
Nikon's entry-level full-frame DSLR is an investment worth considering if you want to take your travel photography to the next level. The larger sensor allows you to capture exceptionally sharp images, while the 51-point autofocus system is built to make sure you never lose track of your subject.
This professional-grade DSLR camera is rugged but at the same time lightweight and compact. The D750 is less bulky than most full-frame cameras. Better yet, it includes a tilting screen to let you frame your compositions from uncomfortable angles or record videos through the live view mode.
The video feature of the Nikon D750 is impressive. Not only can it capture high-definition clips at up to 60p recording format, but it also allows you full manual control of all the settings (contrary to what most DSLRs are capable of in video mode).
Sony a99II
Specs
Type

:

Professional

Dimensions

:

5.63 x 4.13 x 3 in

Weight

:

1.7 lbs

Resolution

:

42.4 Megapixels

Shooting Speed

:

12 Frames Per Second

ISO Range

:

100 - 51200
Features
Massive Resolution
Rugged Camera Body
Fast Shooting Speed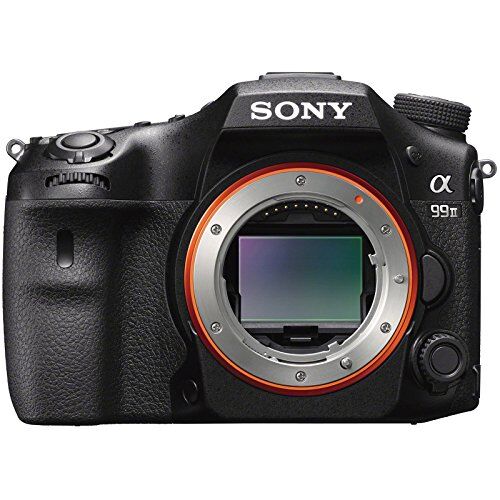 BEST FOR: ACTION AND WILDLIFE PHOTOGRAPHY
While Sony is better known for its mirrorless cameras, they also produce a superb DSLR that is a valid alternative to the best Nikon and Canon cameras. With a 42.4 megapixel sensor, the A99 II can produce huge, detailed images that will impress you with their quality. Whether you want to create large prints to hang at home or crop out unwanted elements, you'll be thankful for the high resolution.
The Sony A99 II is also super fast, with a continuous shooting speed of up to 12 frames per second. If your focus is capturing sports events, wildlife, or any fast moving object, you can rely on this DSLR to freeze the action. With the A99 II, you'll also be able to shoot high-quality 4K video. And thanks to the adjustable LCD screen and rugged body, no shooting angle is too uncomfortable.
Canon EOS 5D Mark IV
Specs
Type

:

Professional

Dimensions

:

3 x 5.9 x 4.6 in

Weight

:

1.76 lbs

Resolution

:

30.4 Megapixels

Shooting Speed

:

7 Frames Per Second

ISO Range

:

100 - 32000
Features
61-Point Autofocus (for optimal accuracy and consistently clear images)
Ultra-High-Definition 4K Video
Touch Screen LCD Monitor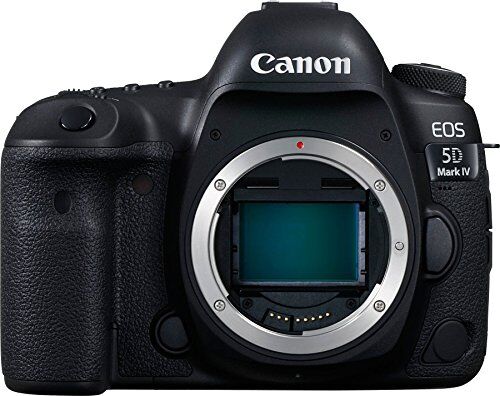 BEST FOR: CREATIVE VIDEO MAKERS AND PRO PHOTOGRAPHERS
A longtime favorite of professional photographers and independent videomakers, the Canon 5D has been updated with new features to make this versatile camera even more powerful. With a new touch screen LCD monitor and improved video capabilities, this full-frame DSLR will prove itself useful in every situation you find yourself in.
When set in continuous shooting mode, the 5D will track your subject and correct exposure while you frame the perfect composition. The 4K video resolution also guarantees realistic colors and sharp moving images.
The 61-point autofocus is speedy and accurate, but if you still notice an imperfection in your images, the "Dual Pixel RAW" function allows you to adjust the focus after you've taken the photo. With the Canon 5D Mark IV, you can be sure never to miss a shot.
Nikon D850
Specs
Type

:

Professional

Dimensions

:

5.8 x 3.1 x 4.9 in

Weight

:

2.02 lbs

Resolution

:

47 Megapixels

Shooting Speed

:

9 Frames Per Second

ISO Range

:

64 - 25,600
Features
Extreme Resolution
Silent Capture Mode
Great Battery Performance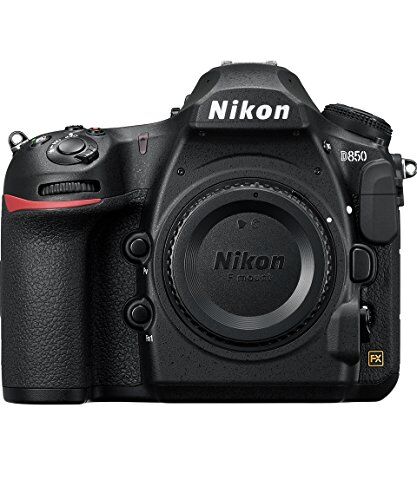 BEST FOR: TOP OF THE RANGE DSLR
You just need to take a look at the technical specifications to know that the Nikon D850 is an unbeatable camera. This professional grade DSLR is a compact powerhouse engineered to provide top quality images every day and everywhere. With nearly 50 megapixels in resolution, it can capture extraordinarily sharp and detailed images, but that's just one of the many features worth mentioning.
The Nikon D850 has a weather sealed body. It guarantees optimal results in low light conditions. And it has a fast autofocus system that tracks your subject even when it's moving. Can your point and shoot camera do all that? Didn't think so.
Plus, when you activate the Silent Mode, you reduce mechanical sounds to a minimum, ideal for when you find yourself in situations where you don't want to be intrusive.
The D850 also records 4K ultra-high-definition videos and incredible 8K time-lapses, which can be transferred to external devices rapidly, thanks to the built-in WiFi.
THINGS TO CONSIDER WHEN BUYING DSLR CAMERAS FOR TRAVEL
The best DSLR cameras are fast and versatile, allowing you to capture the moment wherever you are. Whether your focus is on landscapes, people, or wildlife, entry-level and semi-professional DSLR cameras will produce sharp and balanced images worth sharing. Keep the following considerations in mind when selecting the best DSLR camera for your upcoming trip. That way, you can capture the moment and remember your experience long after the memory is gone.
CROP SENSOR VS. FULL-FRAME
There are two types of DSLR camera sensors: crop and full-frame. Professional full-frame DSLR cameras have a sensor that is 35mm in size, while crop-sensor DSLR cameras have a sensor about 1.5 times smaller, as the name suggests. Full-frame cameras are usually much more expensive than entry-level DSLRs, mainly because the larger sensor offers superior image quality.
While the image resolution of full-frame and crop-sensor cameras are often similar, the former produce images with better detail and sharpness. However, thanks to technological advancement, today's crop-sensor cameras are capable of photographs so good that most people prefer investing in quality lenses rather than on a professional camera body.
Professional travel photographers may set out with a backpack full of top-shelf gear. But for the budget conscious enthusiast, it makes more sense to buy a decent crop-sensor camera and spend the money saved on the trip itself.
BRAND
While many brands produce great DSLR cameras, two names occupy the majority of the DSLR market: Nikon and Canon. When shopping for cameras, it is important to choose a DSLR that produces great pictures, but you also have to consider its durability and range of accessories.
The advantage of selecting a big brand name is the availability of extra equipment that you may want to invest in in the future to improve your photography, like lenses and flashes. You don't need a big brand name to get a decent camera, though. We've tried to diversify our selection to include the best DSLR cameras for travel, regardless of the brand popularity.
RESOLUTION
The resolution of a photograph is measured in megapixels (MP), and it's one of the factors that determine the quality of an image. In short, the resolution indicates the amount of detail in a photograph. Compared to just a few years ago, modern DSLR cameras all offer a high resolution, so it's hard to go wrong in this respect.
You may want to invest in some extra megapixels if you are planning to print your images in a large format. Otherwise, the 20MP that most DSLRs offer today will be more than enough, even if you tend to be heavy handed on the cropping.
SHOOTING SPEED
Shooting speed is measured in frames per second (FPS). As the name suggests, FPS indicates how many pictures the camera can capture in one second in optimal conditions. The higher the number of frames per second, the faster the camera. A fast camera is useful when you are shooting moving subjects such as wild animals or athletes in a sports field.
ERGONOMICS
DSLR cameras are definitely bulkier than mirrorless or point-and-shoot cameras, but this is not necessarily a disadvantage. Photographers with large hands tend to prefer traditional DSLR bodies, as manual controls are more comfortable to reach, and the weight helps increase stability.
When buying a DSLR camera, consider the space it will occupy in your luggage, keeping in mind the accessories that you will need to add to your equipment. Travel photographers tend to prefer cameras (and lenses) that offer the best compromise between weight and performance.
LENSES
All DSLR cameras allow you to swap lenses. When buying a DSLR kit, you are usually provided with at least one multi-purpose lens that will be sufficient to shoot in most situations. However, consider that you may want to upgrade your lenses in the future depending on your focus. Landscape photographers will want to invest in a wide-angle lens, while portrait photographers may prefer a telephoto lens. Make sure the camera you choose has a decent range of lenses that fit available for purchase.
VIDEO
Most DSLR cameras have a video function; however, this is usually limited. While high-definition video capturing is common, it is important to remember that DSLRs are built primarily for taking pictures and often limit video recording to 10 or 20 minutes.
Higher-end cameras offer full control of the video functions, while entry-level DSLRs often allow shooting with mostly automatic settings. Some models will let you record in slow motion, and others will have a built-in time-lapse function.
FEATURES EXPLAINED
DSLR
Digital single lens reflex camera. A camera that combines a digital sensor (rather than film) with a mechanical reflex mirror that captures the light through a single lens.
ISO
International Organization of Standardization. ISO refers to the sensitivity to the light of the image sensor. A higher ISO will produce bright pictures even in low light conditions; however, these will also be more grainy than with a low ISO. It is recommended to always shoot with the lowest possible ISO to avoid grainy pictures.
AUTOFOCUS
This is the camera mechanism that allows for automatic focusing on a subject. Many modern digital cameras include a detection system that instantly focuses on the framed subject.
FPS (FRAMES PER SECOND)
FPS refers to the highest number of photographs a camera can capture in one second in optimal conditions. The higher the number of frames per second, the faster the shooting speed.