Updated on February 7, 2020
Whether your goal is to shoot star trails, mountainscapes, or the sun setting over a vast expanse of water, adding a fast, wide-angle lens to your gear kit will greatly improve your photography. The best Nikon lenses for landscape photography are designed specifically to enhance your images and make the environment you find yourself in look just as incredible as you see it with the naked eye.
Capturing the perfect landscape photo is easier said than done. It takes much more than the click of a button – reaching your destination, waiting for the right light to hit your surroundings, and adjusting the composition are just some of the steps you need to take to get that perfect shot. With a good landscape lens attached to your Nikon DSLR, you can be sure to achieve the best results in any situation. Check out our list of the five best Nikon lenses for landscape photography and start shooting like a pro in no time!
For more of our top landscape photography gear recommendations, check out the Best Landscape Lenses.
Quick Answer

-

The Best Nikon Lens for Landscape Photography
Nikon 10-24mm f/3.5-4.5G ED

Sigma 18-35mm F/1.8 DG HSM Art

Tamron 15-30mm f/2.8 Di VC USD
Comparison Table

-

Best Nikon Lens for Landscape Photography

For the best experience turn your device horizontally
Reviews

-

The Best Landscape Nikon Lenses
Nikon 10-24mm f/3.5-4.5G ED
Specs
Aperture

:

f/3.5-4.5G

Focal Length

:

10-24mm

Length

:

3.43 inches

Weight

:

1.01 lbs
Features
Silent Wave Motor For Quiet Shooting
Fast And Reliable Autofocus
More Affordable Than Similar Lenses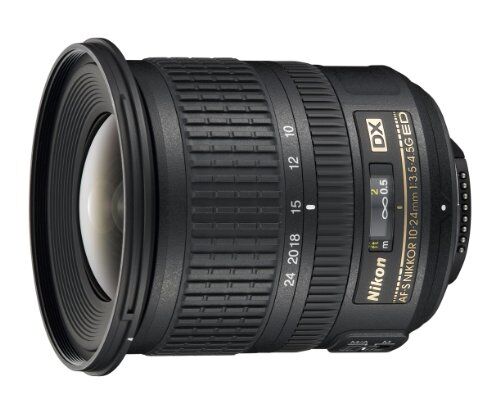 BEST FOR: THE 'ON A BUDGET' BEGINNER
The Nikon 10-24mm f/3.5-4.5G ED provides professional looking photos on a beginner's budget. If you're just starting out with landscape photography, the quality and smoothness of the images captured by this lens is well worth the investment. This is a great travel-friendly lens because it's lightweight enough that you can carry it with you wherever you go, ensuring that you never miss out on a spectacular shot.
The ability to let the auto-focus do the work for you without having to worry about warping or distortion makes this lens incredibly easy to use. When used at its widest focal length (10mm), this beginner-friendly piece of glass can frame a huge amount of scenery. While some distortion is to be expected, the images it produces are still impressively realistic.
Sigma 18-35mm F/1.8 DG HSM Art
Specs
Aperture

:

f/1.8

Focal Length

:

18-35mm

Length

:

4.8 inches

Weight

:

1.79 lbs
Features
Smooth and Accurate Zoom
Fast Aperture For Excellent Low Light Performance
Great For Video Makers As Well As Photographers
BEST FOR: LOW LIGHT PROS
The Sigma 18-35mm f/1.8 DG HSM Art is a technological masterpiece, being one of the first lenses to provide both zooming capabilities and an extremely fast aperture. This affordable lens comes in at just under $700, with a number of features, such as the hypersonic motor, that are normally found only on professional-grade full-frame lenses.
The wide aperture of the lens ensures great performance in low light conditions. The Sigma 18-35mm can be considered an excellent substitute for your standard kit lens thanks to its multi-purpose zoom range. Featuring a sturdy build and an accurate autofocus system, it will support your creativity as you set out to explore the unpredictable outdoors.
Nikon 16-35mm f/4G ED VR
Specs
Aperture

:

f/4

Focal Length

:

16-35mm

Length

:

4.92 inches

Weight

:

1.5 lbs
Features
Ultra-wide Zoom Is Great For Vast Landscapes and Interiors
Manual And Automatic Focus Mode Switch Makes It Easy To Shoot On-the-go
Exclusive Nikon Silent Wave Motor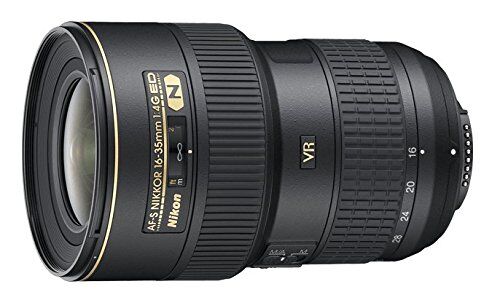 BEST FOR: THE LIGHT PACKER
The Nikon 16-35mm F/4G ED VR provides great performance in a small, lightweight package. The lens only weighs 1.5lbs and can easily be carried around in a backpack or daypack, depending on where your preferred shooting location is.
The sharpness of the lens is highly praised by reviewers and provides the user with crisp and clear image quality, whether it is being used for photography or videography. The autofocus on this lens works fast and is extremely accurate, even in lower light conditions.
It is also relatively quiet, ideal for those situations where you'd rather be discreet. When this lens is used on its widest focal length (16mm), some distortion will appear which can easily be fixed in post-production.
Tamron 15-30mm f/2.8 Di VC USD
Specs
Aperture

:

f2.8

Focal Length

:

15-30mm

Length

:

5.61 inches

Weight

:

2.42 lbs
Features
Moisture-resistant Construction
Optimal Low Light Performance
Image Stabilization System To Reduce Blur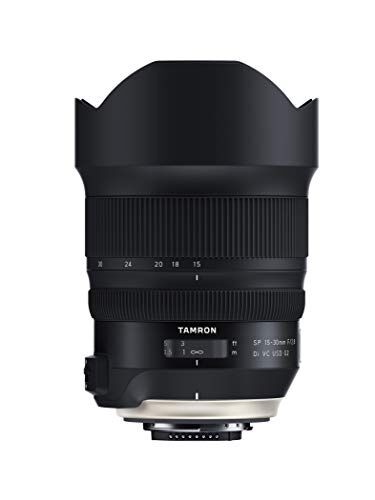 BEST FOR: THE RUGGED EXPLORER
The Tamron 15-30mm f/2.8 DI VC USD is an ultra-wide angle lens that allows you to frame vast landscapes without skimping on quality. This lens is perfect for the explorer who isn't afraid of getting a little dirty, as it's made to be tough and moisture resistant.
The lens also has an anti-reflective coating, meaning that even on sunny days, you'll be able to capture the perfect shot without glare or ghosting. For an ultra-wide angle that is decently priced at just under $1,300, this Tamron lens provides little to no distortion to your photos, regardless of the scene you're shooting.
Nikon 14-24mm f/2.8G ED
Specs
Aperture

:

f/2.8

Focal Length

:

14-24mm

Length

:

5.2 inches

Weight

:

2.14 lbs
Features
Extra Sharp Imaging
Fast Aperture Great For Shooting In Low Light
Nano Crystal Coat To Avoid Glare and Ghosting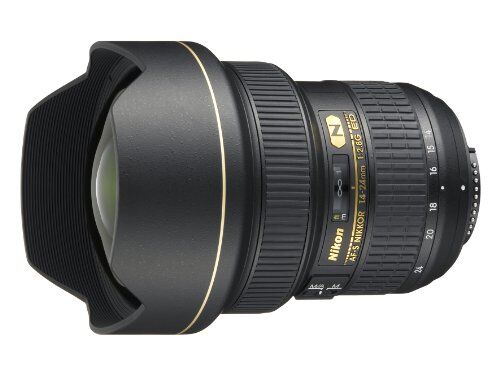 BEST FOR: THE BUDDING ASTROPHOTOGRAPHER
If your passion for photography lies among the stars, the Nikon 14-24mm f/2.8G ED is the perfect lens for you. This lens is smooth and sharp, even when its aperture is wide open at f/2.8. This lens is not the most budget friendly pick on the list, but you get what you pay for — an incredibly well-constructed lens that exceeds expectations.
The Nikon 14-24mm lens can be quite heavy even when used without a tripod, but it performs exceptionally in low-light conditions, meaning that you will be able to capture the milky way without grain or blur. One minor downside is that this lens is unable to have a filter attached to it, unless you purchase a filter kit, which can be quite expensive.
THINGS TO CONSIDER WHEN BUYING NIKON LENSES FOR LANDSCAPE PHOTOGRAPHY
SIZE AND WEIGHT
Since you will be spending many hours carrying your camera around your neck or on your shoulders as you seek out the perfect shot, consider the size of the lens before buying. Professional landscape lenses can be heavier than the camera body at times, and while this usually extra weight equates to a sturdy build and quality components, entry-level photographers often prefer lightweightness and ease of use.
If you plan to shoot in the evening or during the night, keep in mind that you will probably need to add a tripod to your equipment as well, which will increase the weight you carry even more.
LOW LIGHT PERFORMANCE
The aperture of a lens, measured in f-stops, is one of the factors determining how much light will reach the sensor. A lens with a wide aperture of f2.8 or lower is preferable as it will perform much better in low light conditions. But a wide aperture comes at a price, as it significantly affects the value of a landscape zoom lens.
A bright lens is well worth the investment if you intend to focus on astrophotography or on capturing scenes after dusk. On the other hand, if you plan to shoot mainly in daylight, a higher number of f-stops will not sacrifice image quality and can save you a few hundred bucks.
FOCAL RANGE
Landscapes are traditionally shot with wide-angle lenses that allow you to frame a vast, panoramic scene in a single photograph. Wide-angle lenses can differ greatly, with focal lengths starting at just 10mm and going up to 35mm. The lesser the focal length, the wider the framing perspective.
An ultra-wide-angle lens can be useful to capture deserts, mountain ranges, or sweeping valleys, while wide-angle lenses of 24mm or more enclose the image into a narrower frame. The advantage of zoom lenses is that you can adjust the focal length by twisting a ring on the lens, increasing multi-functionality. In this sense, choosing a lens with a large focal range will make it easier to adapt to the various situations you may find yourself in while exploring the outdoors.
FEATURES EXPLAINED
WIDE-ANGLE
A lens with a short focal length, often used for landscape photography because of its ability to include vast scenes in the frame.
APERTURE
The opening that lets light reach the sensor.
FOCAL LENGTH
The distance between the lens and the sensor, usually stated in millimeters, affecting the framing perspective.
DISTORTION
The warping that often occurs in an image shot with an ultra-wide-angle lens.
ZOOM
The possibility to adjust the focal length, usually by twisting a ring on the lens.
AUTOFOCUS
The capacity of the lens to automatically detect and focus on the subject.