Updated on April 20, 2021
One of the best ways to cut weight when overnight hiking or mountaineering is eliminating a tent. A bivy sack is an excellent alternative to a tent. And, the best bivy sack can easily compete with the most lightweight tent on the market.
Bivy sacks have the extra value of being much smaller than tents as well. They're well worth considering if you're heading out for an overnight hiking trip. They can also be set up much faster than tents. This is a feature that is most useful in adverse weather conditions.
However, it must be said that on long-distance hikes, you might want for a backpacking tent. The disadvantage of even the best bivy sack is that it's so small you'll have to leave your backpack outside. In general, bivy sacks are ideal for (short) overnight hikes in colder and more humid climates.
For more of our top backpacking gear recommendations, check out the Best Backpacking Tents.
Quick Answer

-

The Best Bivy Sacks
Sierra Designs Backcountry Bivy

Black Diamond Hooped Bivy Sack

Snugpak 92860 Stratosphere
Comparison Table

-

Best Bivy Sack

For the best experience turn your device horizontally
Reviews

-

The Best Backpacking Bivy Sack
Outdoor Research Helium
Specs
Dimensions

:

26" x 84" (x 19.5")

Weight

:

18 oz
Features
Fully seam taped
Anti-fungal floor coating
Five-stake loop
Pertex Shield material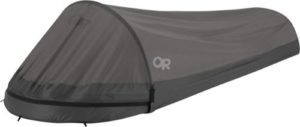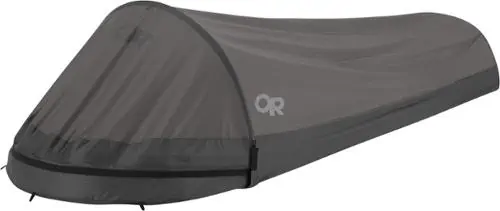 BEST FOR: ALL-AROUND BACKPACKING
PROS: Lightweight, water and weather resistant, suspended head area, mosquito net
CONS: Low condensation resistance and breathability
Sierra Designs Backcountry Bivy
Specs
Dimensions

:

80" x 36"

Weight

:

14.46 oz
Features
Backcountry Bed compatible
Large u-shaped opening
Mesh window panel
Waterproof/breathable top fabric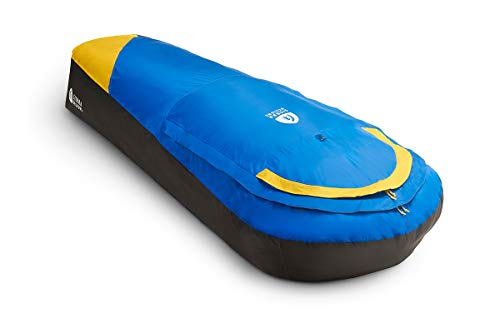 BEST FOR: BACKPACKERS ON A BUDGET
PROS: Affordable price, clever stuff sack design, the ability to prop up the face without a trekking pole
CONS: Zippers are not completely waterproof
MSR Pro
Specs
Dimensions

:

88" x 36"

Weight

:

8.9 oz
Features
Weatherproof, breathable fabric
Includes stuff sack
Durable waterproof coating lasts up to 3 times longer than standard coatings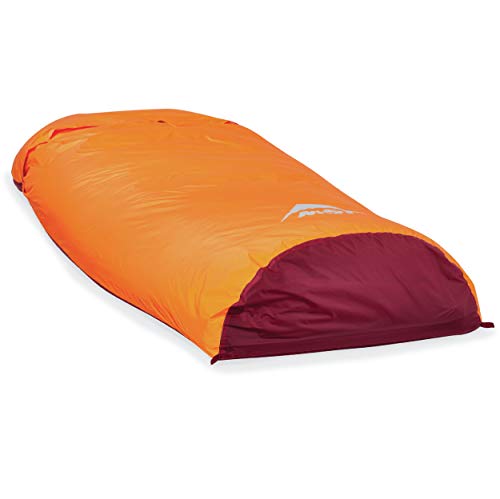 BEST FOR: ULTRALIGHT BACKPACKERS
PROS: Surprisingly packable size for something so spacious
CONS: Isn't a suitable all-around bivy sack and doesn't include any kind of closure system, such as zipper
Outdoor Research Alpine
Specs
Dimensions

:

26" x 84" (x 20")

Weight

:

30 oz
Features
3-layer Gore-Tex respiration positive fabric
Hydroseal coated waterproof floor
Fully taped seams
Overhead shock corded delrin pole
Mosquito net
Storm flap
Sleeping pad straps
Internal mesh pocket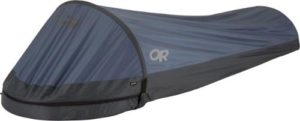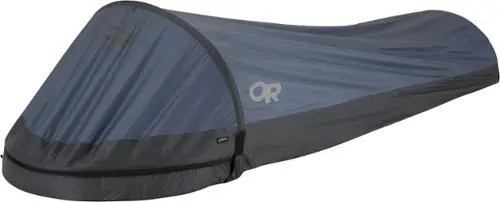 BEST FOR: EXTREME WEATHER CONDITIONS
PROS: Durability, weather Resistance, condensation resistance and breathability, space, comfort
CONS: Expensive, heavier
Outdoor Research Bug
Specs
Dimensions

:

25" x 89" (x 18")

Weight

:

16 oz
Features
Bug netting
Hydroseal coated waterproof nylon floor
Overhead corded delrin pole
Sleeping pad straps

BEST FOR: CAMPING IN DRY WEATHER
PROS: Easy to use, durable materials, extremely light
CONS: Narrow, only for use in dry and warm weather
Rab Alpine Bivy
Specs
Dimensions

:

31.5" x 92.5" (x 11.8")

Weight

:

18 oz
Features
Lightweight 3-layer eVent fabric
Durable floor
Mummy shape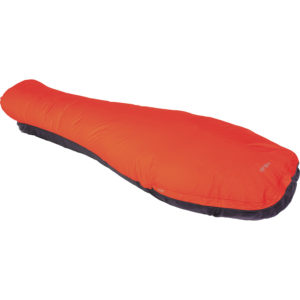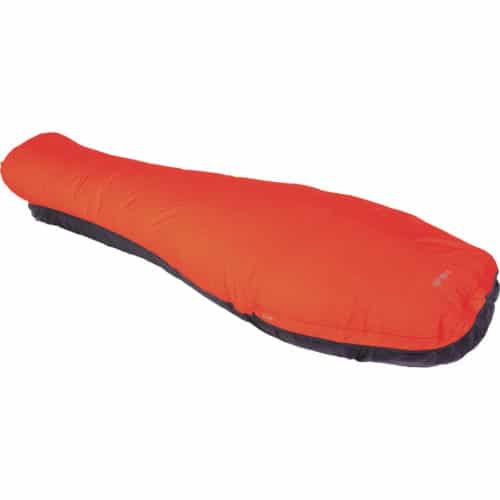 BEST FOR: MINIMALIST MOUNTAINEERS
PROS: Lightweight, weather protection, breathability
CONS: Expensive, minimal inner space, primarily for use in winter
Black Diamond Hooped Bivy Sack
Specs
Dimensions

:

35" x 90-99"

Weight

:

30 oz
Features
Sewn-in support wire
Todd-Ex 3-layer waterproof material
Bug netting
Dual zipper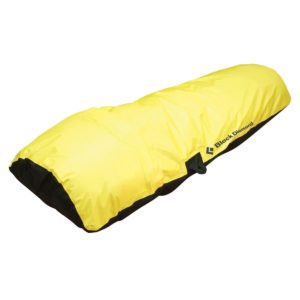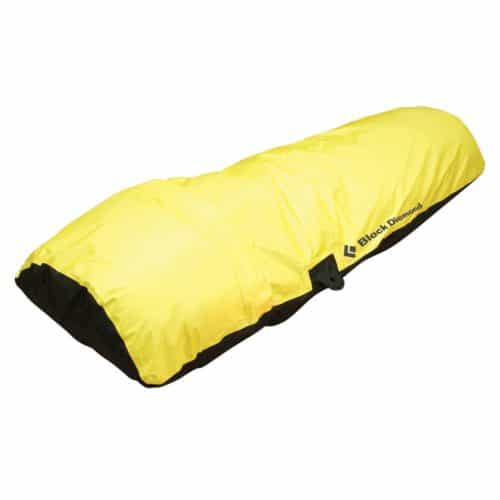 BEST FOR: ADVENTURERS WANTING A MINIMALISTIC RELIABLE SHELTER
PROS: Waterproof and condensation resistant, great weather protection, bug protection, durable
CONS: Small sleeping space, low head height, bulky, large packing size
Snugpak 92860 Stratosphere
Specs
Dimensions

:

42" x 90" (x 37")

Weight

:

39 oz
Features
7 L-shaped steel anchor pegs
Roll-away mosquito net
Aluminum poles
Compression sack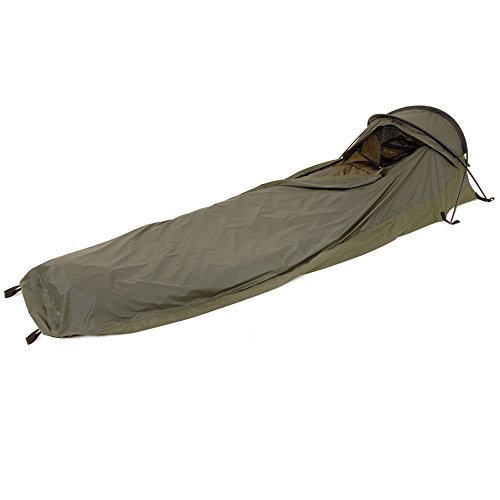 BEST FOR: ALL-SEASON LIGHTWEIGHT BACKPACKING
PROS: Spacious, bug protection, ventilation, small pack size, water resistance
CONS: Heavy, low breathability
Woodland Camouflage
BEST FOR: COLD WEATHER CAMPING
PROS: Waterproof, affordable, spacious
CONS: Very heavy compared with other bivy sacks
WHAT EXACTLY IS A BIVY SACK?
Bivy sack stands for "bivouac" sack, from the French/German word for "standing guard." This former military term has now become a word related to outdoor camping. A temporary camp with basic shelter is referred to as a bivouac. This is exactly what a bivy sack is.
A bivy sack is a small and lightweight shelter, not much larger than a human. Originally, they were nothing more than a waterproof sleeping bag cover. Modern bivy sacks have evolved into closeable, breathable sacks that can fit a whole human body. Sometimes they also feature a hoop, allowing for more space and better ventilation.
HOW TO CHOOSE THE BEST BIVY SACKS
OUTING DURATION
Arguably the most important thing to consider when looking for the best bivy sack is how you will use it. Will you use it on mountaineering excursions or on overnight hikes? On long-distance hikes or just for camping?
There's general consensus among ultralight hikers that bivy sacks are ideal for short overnight trips. This is because they're lightweight, small and easy to set up. They're also usable in all four seasons and are typically warmer than tents.
On the downside, due to their small size, bivy sacks limit the space you have to move around. Only fitting one person in a sleeping bag, they require that you leave your backpack or other gear outside. This is, of course, inconvenient when you're camping every night for weeks on end—on a long-distance hike or bicycle tour.
WEIGHT
Weight is a significant feature in all outdoor gear, not in the least concerning bivy sacks. Their light weight is often the main reason that people buy them in the first place. If you want to limit the weight on your back, it's recommended to compare different bivy sacks as well.
Even though they're all lightweight, some are even lighter than others. This is usually due to whether they have a hoop (and therefore a pole).
SPACE
Space is just as important as weight. Space can mean two things, though. First, it applies to the room inside the bivy sack. This is often the main concern when considering whether to buy a bivy sack or a tent.
Bivy sacks can only fit one person and might feel claustrophobic. This inconvenience is, however, countered by their light weight and easiness to use. It's up to you to decide if this trade-off is worth it. On short adventures, such as weekend hikes in dry weather, it often is.
Second, space also refers to the room the bivy sack takes up in your backpack. This is one of the main benefits of getting a bivy sack. Their pack size is exceptionally small, especially with those without poles. This makes it much easier to pack your backpack.
WATERPROOFING/CONDENSATION
Bivy sacks, because of their snugness, are warmer than tents. This is a feature might cause problems with condensation. Manufacturers of the best bivy sacks are always trying to improve the ratio between breathability and water resistance. This is also a tricky feature of raincoats and other waterproof gear.
Because you're essentially sleeping in a bag, your breath condensates on the bivy sack's inner walls. Higher breathability solves that problem, but not without making the bivy sack less waterproof. This is a balance that's hard to find. So, bivy sacks are not recommended for use in areas known for heavy rain.
When buying a bivy sack, it's important to consider the place where you'll be using it. Is it known for its humid and wet weather? Or is it a dry or cold place?