Updated on November 16, 2021
There are now more women's specific mountain bikes than ever, and we know that trying to make a decision on which one to buy can be mind-boggling. That's why our female mountain biking expert here at The Adventure Junkies created a list of the best mountain bikes for women, to take the guesswork out of the equation. This list covers a range of abilities and styles of riding, no matter whether this will be your first bike or you're upgrading to your dream bike.
When considering the best mountain bikes for women, we looked for bikes that don't compromise on quality and price. We included selections that come with women-specific features to make your ride even more fun and enjoyable. We found mountain bikes that have women-specific geometry to make your ride more ergonomically comfortable and inspire confidence and improve handling. And we paired all those features with women-specific saddles and handlebars to ensure the bike fits your female body. We're sure you'll find your next mountain bike right here!
For more of our top mountain biking gear recommendations, check out the Best Mountain Bikes.
Quick Answer

-

The Best Women's Mountain Bikes
Comparison Table

-

Best Women's Mountain Bike

For the best experience turn your device horizontally
Reviews

-

The Best Mountain Bikes for Women
GHOST Lanao 5.7
Specs
Frame Material

:

Aluminum

Size

:

S - M

Style

:

Hardtail

Wheel Size

:

27.5"

Number of Gears

:

11
Features
High End Componentry
Low Standover Height (Easy to touch the ground)
Disc Brakes (Better stopping power)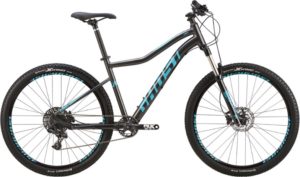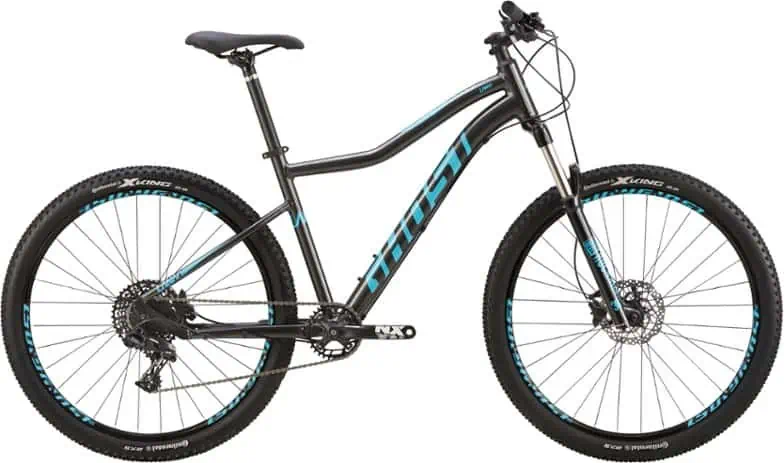 BEST FOR: FUN FLOW TRAILS
This bike comes with a lightweight aluminum frame that features geometry specially designed for women, including a low standover height for ease of touching the ground. The reliable and uncomplicated gearing means it's well suited for beginners through to more experienced riders.
The 27.5" wheel size offers an optimal mix of control, speed, and maneuverability. The wheels are fit for tires that are perfect for a variety of terrain including muddy, rocky, or hard-packed surfaces. Everything about this bike ensures that you're ready to hit the trails from the minute you roll out the door.
Co-op Cycles DRT 3.2
Specs
Frame Material

:

Aluminum

Size

:

XS - XL

Style

:

Hardtail

Wheel Size

:

26"

Number of Gears

:

12
Features
Compatible With Fenders/Mud Guards (To stop mud flicking up while riding)
Strengthened Frame (For long-term durability)
Disc Brakes (Better stopping power)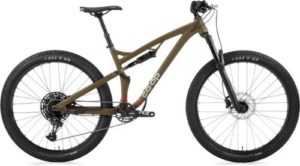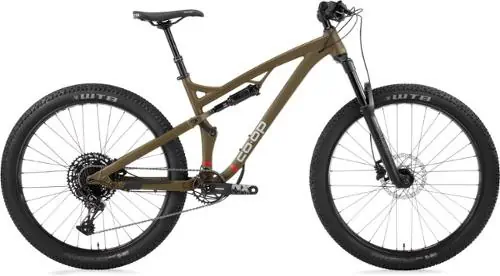 BEST FOR: TIGHT FLOW TRAILS
Value for money is almost unbeatable on the Co-Op Cycles DRT 3.2. A bike built for tight and technical terrain with its strengthened frame and high-quality components, yet light enough that climbing hills won't be a chore. The front suspension paired with mid-size 26" wheels will make trails feel smoother and keep you riding fast. Whether you're looking for your first bike or you're ready for an upgrade, this bike will deliver fun in spades.
Salsa Horsethief SLX 29
Specs
Frame Material

:

Aluminum / Carbon

Size

:

S - XL

Style

:

Full Suspension

Wheel Size

:

29"

Number of Gears

:

12
Features
Versatile Geometry (Will suit a variety of riding styles, from easy trails to rough rides)
120mm Front Suspension (To smooth rough terrain)
Lightweight And Rugged Design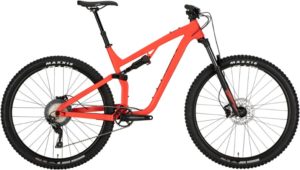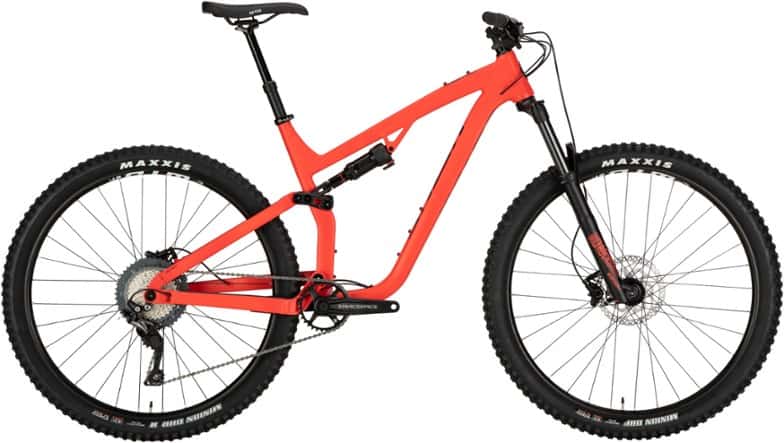 BEST FOR: VERSATILE RIDING
The Salsa Horsethief is no one-trick-pony! No matter what kind of riding you're into – traditional fast and flowy mountain biking, steep climbs, technical terrain, or gnarly descents – this is the bike to do it all. The Horsethief is designed with versatile geometry to make it super comfortable for women of all shapes and sizes. With a lightweight and durable frame and longer travel suspension for extra comfort on rough terrain, this bike will inspire confidence and have you feeling in complete control. This bike comes with all the bells and whistles that will make your friends jealous of your new steed!
Marin Rift Zone 1
Specs
Frame Material

:

Aluminum

Size

:

S - XL

Style

:

Full Suspension

Wheel Size

:

27.5"

Number of Gears

:

10
Features
Strong And Lightweight Frame
High End Components
Disc Brakes (Better stopping power)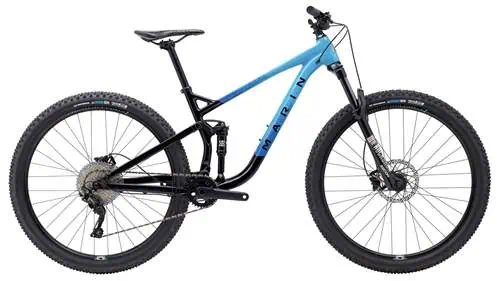 BEST FOR: ALL DAY ADVENTURES
For those wanting a full suspension bike who can't stomach the high price tag, the Marin Rift Zone 1 could be for you. The Rift Zone is a full suspension bike that won't break the bank, but it's certainly not lacking in terms of performance. Agile, fast, and fun, this bike can tackle versatile terrain, no matter how technical. It achieves this with the use of 29″ wheels that help you roll over extremely technical terrain while maintaining a fast and smooth ride. Designed with high quality and reliable componentry, this bike is trail ready from the moment you walk out your door.
Diamondback Lux 2
Specs
Frame Material

:

Aluminum

Size

:

S - L

Style

:

Hardtail

Wheel Size

:

26"

Number of Gears

:

18
Features
Low Standover Height (Easily touch the ground)
Disc Brakes (Better stopping power)
Limited Lifetime Frame Warranty
Women's Specific Design
BEST FOR: FAMILY FUN AND FITNESS
This bike is for you if your main biking goal is to head out on some easy trails with friends or family. It's perfect for light trails, parks, and even flat and open dirt roads. With a women's specific frame design, it's easy to touch the ground and get on and off the bike. The Diamondback Lux 2 has high handlebars, so you're in an upright position while riding. This more natural riding posture will keep you feeling in control and comfortable for hours of fun on the trail.
THINGS TO CONSIDER WHEN BUYING A WOMEN'S MOUNTAIN BIKE
Women's mountain bikes are often equipped with features that are more ergonomically suited to women. These features include narrower handlebars, women's-specific saddle, and even different frame geometry. These features all ensure that women have ultimate confidence and control when shredding on their mountain bikes.
Along with the women's-specific geometry and features, mountain bikes are also designed for different styles of riding. So take into account what and where you plan on riding to ensure you select a bike that is fit for your intended purpose. This will not only be safer, but will also ensure that you have a lot more fun on the trails.
RIDING STYLE
FAMILY FUN:
This style of riding is about heading outdoors with the family to spend time together and perhaps even get fit while doing it. It's not about tackling technical or challenging terrain but is more for riding casually through wide open spaces and enjoying the great outdoors. A low-cost hardtail mountain bike suits this style of riding.
TRAIL RIDING:
This style of riding is less technical, and it includes gravel roads and wide open trails. The climbs and descents are typically easier and not so steep for casual trail riding. A hardtail – front suspension only – mountain bike is appropriate for this style of riding.
CROSS COUNTRY MOUNTAIN BIKING:
X-Country biking includes more technical and challenging riding. Riding cross country usually entails steeper climbs and descents, narrower trails (also known as singletrack) and more technical trails. There will be more rocks, tree roots, and tricky terrain to navigate. This style of riding focuses as much on the climbing as the descending, so a hardtail or a light full suspension bike will be a good choice.
ALL MOUNTAIN OR ENDURO:
Although sometimes all mountain and Enduro trails are wider, they also tend to be rougher and are no less technical than cross country trails. The focus is on steep and gnarly descents with only moderate to slightly steep climbing. This style is about riding downhill at speed. Full suspension mountain bikes are best suited for the Enduro style of riding and are often a touch heavier than a cross country full suspension bike.
DOWNHILL:
This style of riding is all about super technical and rough trails. It often includes large rock sections, tight downhill corners, human-made jumps, and loose surfaces. There is only one focus in downhill riding – to go downhill as fast as possible. Uphills are typically ascended by car or ski lift to the top of the mountain. Downhill mountain biking requires a heavy duty full suspension bike. When searching for a downhill bike, the emphasis should be on strength rather than weight. You'll want a durable and robust bike for downhill riding, even if it is slightly heavier than other models on the market. A stronger bike will be better equipped to handle the beating it gets while railing downhill.
HARDTAIL VS FULL SUSPENSION
As explained above, the type of suspension you choose will depend on the style of riding you plan on doing. Knowing your local trail networks and where you plan to ride will also help you to select a bike that will be appropriate for you.
Less technical terrain with lots of climbing will require a lighter bike, like a hardtail mountain bike (which only includes front suspension). Rough and gnarly terrain, on the other hand, should be conquered with a full suspension mountain bike which includes both front and rear suspension.
Read more about hardtails vs full suspension here.
COST
The materials, components, and style of bike will all play a role in the price point of a mountain bike. Prices can vary wildly. However, you want to make sure you are purchasing a safe and reliable bike, so look for a mountain bike from a reputable brand. All the women-specific bikes listed in this article are from industry leaders and respected mountain bike brands so you can feel good about your decision if you buy a bike from the list above.
FEATURES EXPLAINED
HARDTAIL
Hardtail bikes have suspension at the front of the bike only. They are most suited to trail riding and cross country mountain biking. A hardtail bike will help you roll over small bumps and uneven terrain, but won't smooth out very rugged trails.
TRAVEL
"Travel" refers to how far the suspension will travel while you ride; if a mountain bike has 130mm of travel, then the suspension will compress 130mm. The more travel suspension, the plusher the ride will feel and the more suited the bike is for rough terrain. Read more about how much travel you need for your style of riding here.
FULL SUSPENSION
A full suspension mountain bike has suspension at the front and rear of the bike. The amount of travel (see above) the bike has will determine the style of riding it is suitable for. A full suspension bike is best suited to All Mountain, Enduro and Downhill riding styles.
WHEEL SIZE
26", 27.5"and 29" refers to the diameter of the wheels. These are the three most common sizes for mountain bikes. Modern mountain bikes will often match the size of the bike to the size of the wheel. For example, an XS or small bike may be equipped with a 26" or 27.5" wheel, which suits a smaller rider, whereas larger sized bikes will have a 29" wheel. The difference in wheel size gives the rider the best experience for their particular body size and riding style.
FRAME
The frame comprises the main part of the bike, and is usually made from either aluminum or carbon. Frames are designed for specific riding styles and will vary in terms of geometry and ergonomics. Find out more about the differences between aluminum and carbon mountain bike frames here.
DISC BRAKES
These are a style of brake. Most modern mountain bikes are equipped with disc brakes as they offer quick and even stopping power. The caliper – which works like a clamp – grips the metal rotor on the wheel to bring the bike to a quick stop.
RIM BRAKES
These are a style of brake. Similarly to a disc brake, a rim brake is also like a clamp, but instead of clamping to a metal rotor, it clamps to the wheel. The stopping force is not as great on rim brakes as disc, but they are suitable for mountain bikes that are used on relatively flat trails that don't require significant stopping power.
READ MORE
For more of our top mountain biking gear recommendations, check out these popular buyer's guides: