Updated on May 19, 2022
Like many outdoor activities, surfing can be incredibly addictive and therapeutic. But for those that don't make the proper board selection, it can quickly become frustrating. There are a lot of variables, such as swell height, swell direction, wind speed, and wind direction, that affect the quality of the surf. Knowing the best surfboards for a variety of conditions will help you prepare for a great session every time out.
Experienced surfers know that they need to make a different board selection depending on the conditions. Having a variety of boards to choose from will maximize your chances of actually enjoying your time in the ocean. It will also give you the ability to enjoy more days out as conditions change. In this article, we'll review ten of the best surfboards and explain some of the important features of these boards.
For more of our top surfing gear recommendations, check out these popular articles:
Surfboards for Beginners | Surfboards for Small Waves
Soft Top Surfboards | Surfboards for Kids | Foam Surfboards
Quick Answer

-

The Best Surfboards
Lib Tech X Lost Freak Flag Bean Bag

Almond Surfboards Secret Menu
Comparison Table

-

The Best Boards for Surfing

For the best experience turn your device horizontally
Reviews

-

Best Surfboards
Catch Surf Beater
Specs
Type

:

Shortboard (Soft Top)

Length

:

4'6"

Fins Included?

:

Yes

Experience Level

:

Beginner to Expert

Nose Shape

:

Rounded

Tail Shape

:

Crescent
Features
Durable Design
Soft-Top Finish
Removable Fins
Easy Storage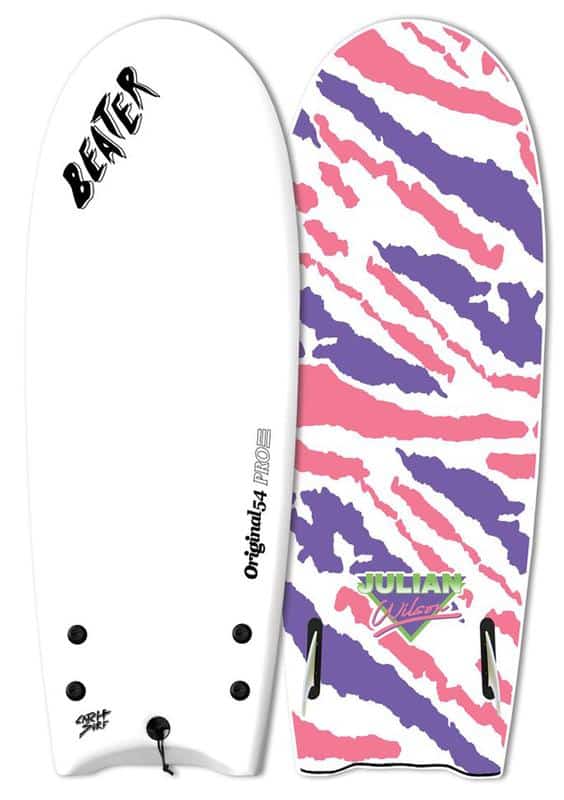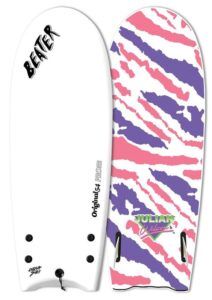 BEST FOR: BEGINNERS, SKIMBOARDERS, BODYBOARDERS
The 54-inch Beater from Catch Surf is a great starter board for anyone learning how to ride a shorter setup. It's a soft-top board that can take a beating and can also perform while skimboarding or bodyboarding if you don't feel like paddling out on any particular day. Its size makes it easy to store out of the way when not in use and also makes it a great board for kids learning how to ride a smaller board. This board does require additional surf wax for better grip, but it's a fun board for riders of all skill levels!
Modern Surfboards Falcon
Specs
Type

:

Shortboard

Length

:

7'6"

Fins Included?

:

Yes

Experience Level

:

Beginner to Expert

Nose Shape

:

Round Pointed

Tail Shape

:

Tapered
Features
Includes 3 Fins
Super floaty
Durable Construction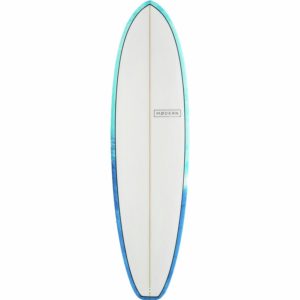 BEST FOR: JACK-OF-ALL-TRADES BOARD
The Falcon is a stable and buoyant board that helps beginners progress quickly. Pop up with confidence and turn with ease in smaller waves.
The rocker helps the board paddle quickly into waves and maintain speed once you're up. This is the perfect board for beginners wanting a board that gets better as your skills improve. Also great for experienced surfers who want a board that is fun to play around with even on weak waves.
Lib Tech X Lost Freak Flag Bean Bag
Specs
Type

:

Shortboard

Length

:

5'10"

Fins Included?

:

No

Experience Level

:

Intermediate to Expert

Nose Shape

:

Rounded

Tail Shape

:

Rounded
Features
Quad Fin Design For Speed
Built For Speed
Eco-Friendly Construction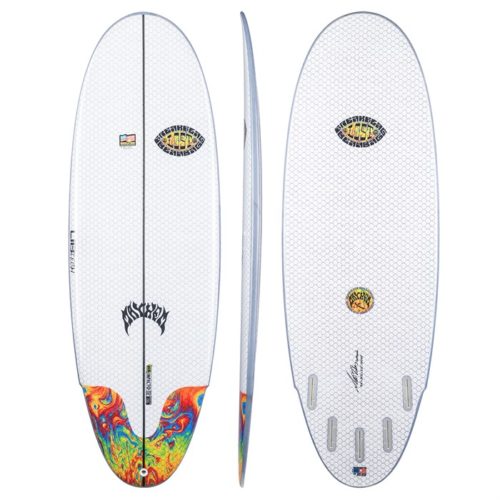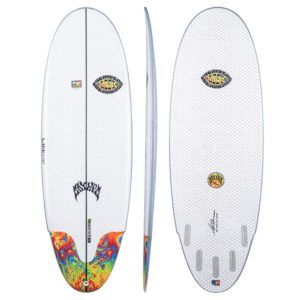 BEST FOR: FUN IN WEAK CONDITIONS
The Lib Tech x Lost Freak Flag Bean Bag is a radical small wave board created with maximum surface area for lift, stability and unbridled speed in tiny surf. A winged outline allows surfers to make tight turns. The Vee Shape bottom makes for easy paddling and catching waves. Lib Tech raises the bar when it comes to building with the toughest and most eco-friendly materials. Quad fin box design helps to generate more speed making this the perfect board for surfers who want to have fun even in weak conditions.
Salt Gypsy Mid Tide
Specs
Type

:

Shortboard

Length

:

6'4"

Fins Included?

:

Yes

Experience Level

:

Beginners to Expert

Nose Shape

:

Pointed

Tail Shape

:

Round
Features
Dimensions Are Chosen With Female Surfers In Mind For Ideal Feel
Single Fin Design Offers Exceptional Pivoting Control
Hybrid Design Gives Stability & Responsiveness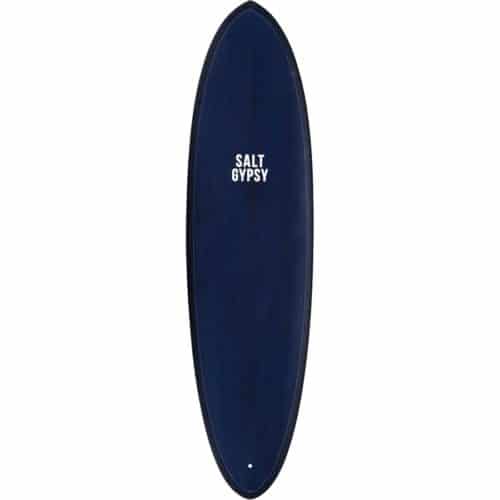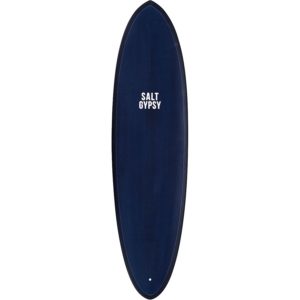 BEST FOR: LADY SURFERS
The Salty Gypsy Mid Tide was carefully crafted with just the right dimensions and volume allocations to help female surfers make the most out of each wave. It's a general all arounder that can take on a wide variety of wave sizes and conditions. The Mid Tide is a hybrid board in that it doesn't have the cumbersomeness of a longboard and it still has enough responsiveness like a short board.
Creative Army Huevo
Specs
Type

:

Longboard

Length

:

8'1"

Fins Included?

:

Yes

Experience Level

:

Advanced Beginners to Expert

Nose Shape

:

Semi-Pointed

Tail Shape

:

Round
Features
Hybrid Surfboard That Finds Balance Between A Short And A Long
Low-to-mid Rocker Paddles Out Easily And Drives Hard Through Turns
2+1 Fin Setup Helps You Turn Sharply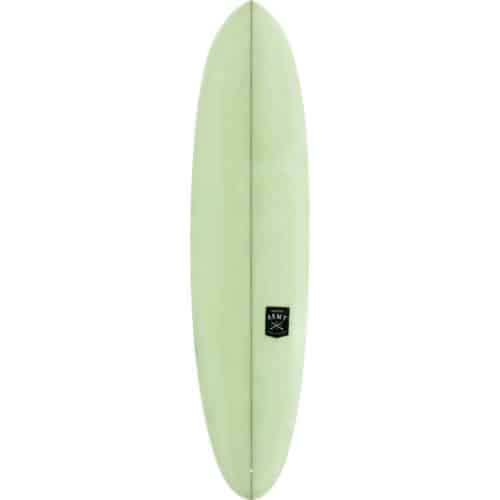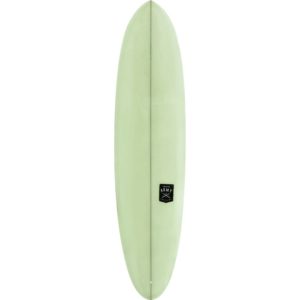 BEST FOR: LONGBOARD SURFERS LOOKING TO LEVEL UP
The Creative Army Huevo is a high performance longboard that can handle anything from waist high to double overhead waves. A round nose and a fuller tail gives this board more float which makes for easier paddling. The hybrid design means it's on the shorter end of longboards but it has more paddle power. The fin box allows for one big fin for flow and glide, and two smaller ones for stability and extra power. The Huevo is the perfect board for surfers looking to transition from a foam board who are looking for a faster and more exciting ride.
Specs
Type

:

Short

Length

:

5'4"

Fins Included?

:

No

Experience Level

:

Advanced Beginners to Expert

Nose Shape

:

Rounded

Tail Shape

:

Squash
Features
No-Wax-Necessary Deck Pad
Quad Fin Box For Picking Up Speed
100% Recyclable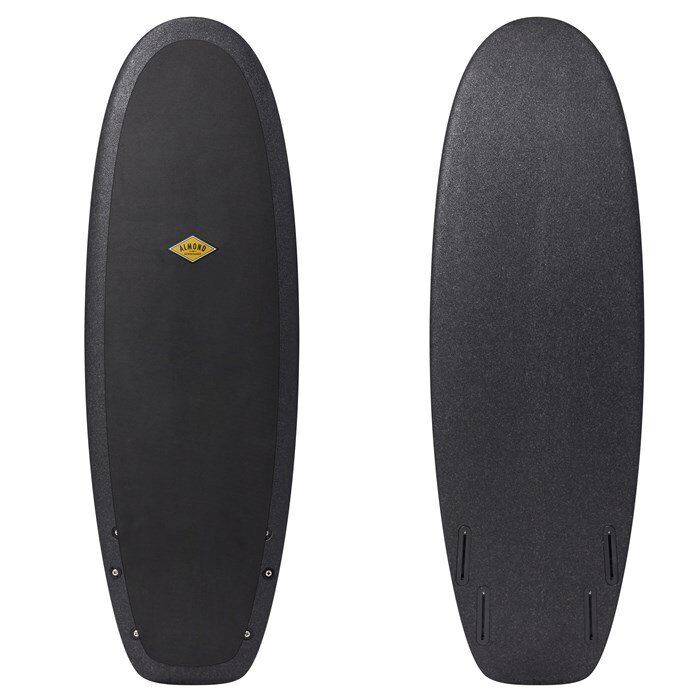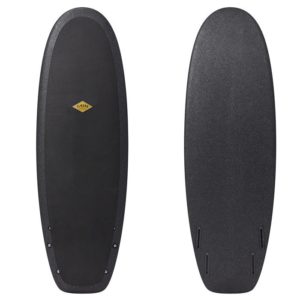 BEST FOR: SURFER LOOKING FOR A HIGH-END FOAM BOARD
At 5'4 long and 36L, the R-Series Secret Menu is designed for the optimal blend of easy paddling and rip-ability. It's a board that is best for 2ft – 4ft waves but can also keep up with a big barrel under the most capable feet. It's wide tail is great for picking up speed even in smaller surf. Almond Surfboards created the Secret Menu with a deep awareness of the role we play when it comes to protecting the natural world. It's foam injected core is 100% recyclable through Almond's Recycling Loyalty Program.
Solid Surf Co Throwback
Specs
Type

:

Shortboard

Length

:

6'2"

Fins Included?

:

No

Experience Level

:

Advanced Beginners to Expert

Nose Shape

:

Pointed

Tail Shape

:

Fish/ Swallow
Features
Versatility (For Everyone)
Hard Rails (Turbo Boosts Speed & Power)
Eco-Friendly Organic Hemp Construction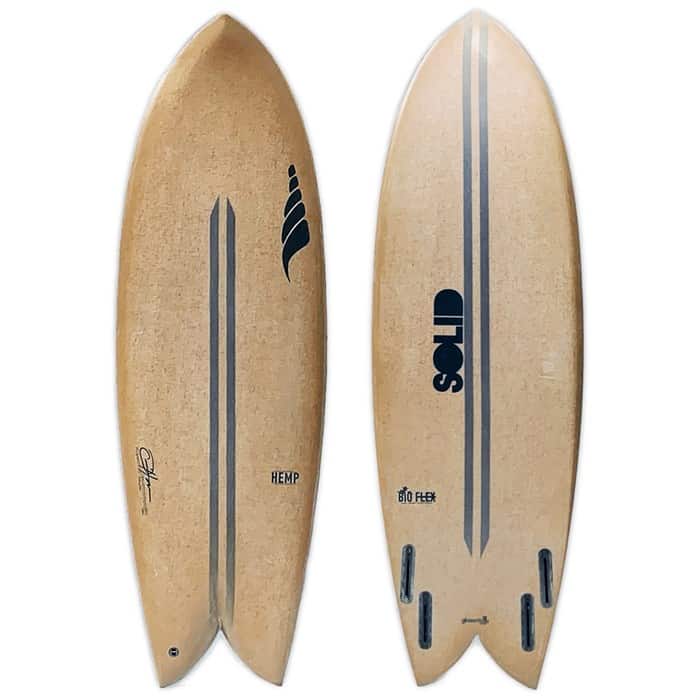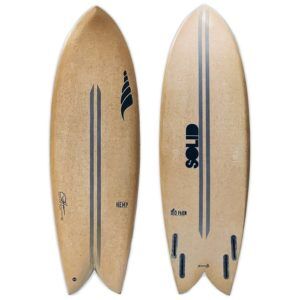 BEST FOR: SURFERS STEPPING DOWN FROM LONG BOARDS
This retro designed board offers killer performance, making it one of Solid Surf Co's most popular creations. It was built for small to medium surf in the 2ft – 6ft range with the possibility of tackling bigger waves if the conditions are just right. It's overall width and volume makes for a stable ride which means it's perfect for surfers who are stepping down from a mid length or long board. Avid surfers love the Throwback because it flies down the line, generates speed easily and is great for more fluid and creative surfing.
Softech Flash
Specs
Type

:

Shortboard

Length

:

6'6"

Fins Included?

:

Yes

Experience Level

:

Beginner to Expert

Nose Shape

:

Rounded

Tail Shape

:

Squash
Features
Includes 3 Fins
Ankle Leash Plug Included
Wax-Free Soft Top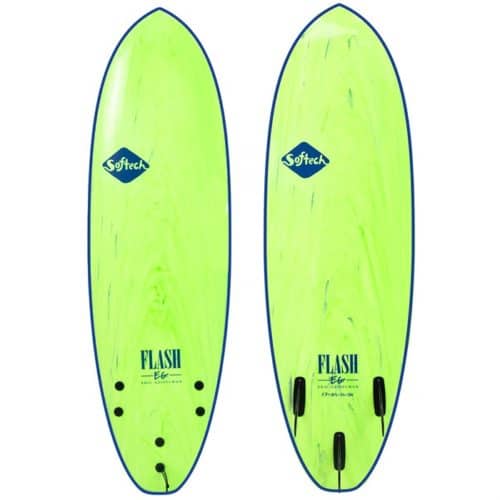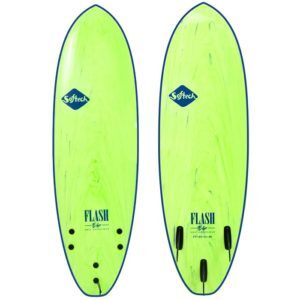 BEST FOR: ALL DAY, EVERY DAY SURFING
The Softech Flash is a great all-rounder offering shortboard performance, and a perfect option for anyone wanting to hone their turning skills. This hybrid shape has a wider nose and plenty of volume for easy paddling. The Flash is built with a slick soft deck and bottom that glides over the water, making it a super quick board that catches everything
With the FCS II system, you don't need any screws or tools to secure the fins. You can easily insert and remove the fins based on the wave conditions or the riders skill level.
THINGS TO CONSIDER WHEN BUYING A SURFBOARD
BOARD TYPES
Choosing the right board type is critical to your surfing success. There are a wide variety of board types out there, but in this article we'll briefly explain five types: shortboards, fishes, fun boards, longboards and soft tops. Each type has a more specific purpose and are easier or more difficult to handle depending on your experience. Here's a quick description of each:
Shortboards – This type of board is generally used by the most experienced surfers on the largest waves. They are the most easily maneuverable of the board types mentioned here. They're capable of quick turns and are generally considered a "high performance" board.
Fish Boards – These boards are generally thicker and wider than shortboards. They are best used on days when the waves require extra paddle strength because they float better and are easier to match wave speed with. In general, their design helps you generate more speed, but this can also mean sacrificing maneuverability.
Funshape Boards – Also known as "fun boards," this type of board helps to ease the transition for those trying to convert from riding longboards to feeling more comfortable with a shorter setup. Fun boards are typically anywhere from 7'2" to 8′ 6" in length and offer the best of both worlds in terms of paddling ability and maneuverability.
Longboards – Longboards are generally used for smaller waves, but can also be excellent all-around boards. It's generally easier for beginners to paddle and stand up on a longboard, but many experts also love them because of their versatility and the possibility to "hang 10!"
Soft Top Surfboards – Soft tops are generally used by any guide company teaching first-time surfers. The top of these boards are covered with soft foam, which makes it easier for folks to stay on the board as they learn proper paddling and standing technique. The foam design makes these boards more forgiving if beginners are hit accidentally as they learn. Soft top boards are also typically more resistant to dents and dings.
BOARD CONSTRUCTION
ROCKER
A surfboard can have more or less rocker in both the nose and the tail. Rocker plays a big role in the speed and maneuverability of a surfboard. Less nose rocker gives the rider greater ability to gain a faster take off speed and maintain speed through sections, but comes with a limited pocket turning radius. A board with more nose rocker will be more maneuverable and more versatile for a variety of wave conditions. The trade-off on boards with more nose rocker is less ability to generate a higher top speed.
Boards with more tail rocker are generally able to maneuver more easily, but (just like with nose rocker) they aren't able to generate speed through turns as well. Boards with more tail rocker turn more easily and are great for average or fast-breaking waves. On the other hand, boards with less tail rocker are better for generating a higher top speed, but don't turn or maneuver as well.
RAIL DESIGN
Rail design is typically broken down into three categories. There are boards with full rails, hard rails, or soft rails. Boards with full rails have a flatter deck and, therefore, tend to float better. However, the extra foam that these boards have on the most sensitive parts of the rails limits their turning ability. Boards with full rails are a great choice for larger riders.
Boards with hard rails offer greater drive for riders that rely heavily on their back foot. These boards generally offer less mobility because of the hard edge that runs the entire length of the board. And finally, boards with soft rails don't offer nearly the drive that hard rails offer, but they're generally more responsive when it comes to turning. This is why boards with soft rails are considered to be more user-friendly.
TAIL DESIGN
Board shapers have gotten more and more creative with tail design over the years, but there are six main types of surfboard tails we're going to mention in this article. They are squashtail, roundtail, thumbtail, swallowtail, diamondtail, and pintail.
SQUASHTAIL
This design is best for all-around boards that you'll use on a daily basis, regardless of wave conditions. It has a wide exit area that gives it the most release in the pocket of the wave. It offers the most ease in both turning on the face of the wave and driving off the bottom.
ROUNDTAIL
This design is best for riders that want the smoothest turning ability. The riders out there that are executing those smooth, flowy turns you've been fantasizing about are most likely riding a board with this type of tail. Although roundtail boards won't release in the pocket like a squashtail board, they're still rideable on an everyday basis.
THUMBTAIL
The thumbtail is essentially just a wider version of the roundtail. The wider tail design makes these boards release better in the pocket than a standard roundtail, but they don't offer as much drive at the bottom of the wave.
SWALLOWTAIL
Boards with a swallowtail will generally offer the tightest turning arc of all the tail design types. These boards will pivot easily and change directions quickly. They are best used on clean waves and with either a quad fin or twin fin setup.
DIAMONDTAIL
The diamondtail design allows boards to turn like they are an inch or so shorter than their actual length. However, these boards still retain the drive of a taller board. Boards with a diamondtail offer lots of release in the pocket, but stay tight on a rail.
PINTAIL
Pintail boards are all about maximizing drive. They don't offer nearly as much mobility as any of the other designs, but it's a great design for boards that are designed for straight-line surfing on exceptionally large waves.
FIN DESIGN
The most important thing to know about fins is that the right size for you will depend on your size. In general, larger riders want larger fins and smaller riders will prefer smaller fins. However, fins can also offer more or less rake and can be narrower or wider at the tip. Both of these factors impact the overall performance of the board.
MORE OR LESS RAKE
The term "rake" refers to the arc of the fin, or how much it tilts or sweeps backwards. As the rake of a fin increases, the turns you'll be making on the board will be more drawn out. Fins with more rake allow the board to turn more easily. Fins with less rake and a wider base tend to make boards offer more drive.
NARROW VS. WIDE TIP
Fins with a narrower tip offer more release. Fins with a wider tip tend to hold better during turns.
FEATURES EXPLAINED
ROCKER
Rocker is arguably the most important feature of a board's design. Rocker is the curve of the surfboard from its tail to its nose. It's most visible when viewing the board from its side. In general, more rocker means a slower board. Plain and flat rocker designs tend to offer faster wave performance. And flat rocker works best on boards most often used on smaller waves.
NOSE
The nose is basically the first third of the board. Boards with a wider nose are easier to paddle and gain speed on, because the nose will float better. On the other end of the spectrum, boards with a skinnier nose tend to perform better on larger waves and reduce the likelihood of nose diving when coming out of a bottom turn.
TAIL
The tail of a surfboard plays a big part in how fast and how easily maneuverable the board will be in a variety of wave conditions. There are specific tail designs that work better in bigger waves, mushier waves, smaller waves, and steeper sets. Your choice will largely depend on the conditions you're most comfortable riding in.
FINS
The fins of a surfboard play a large role in determining the board's maneuverability. Common fin setups include single fins, twin fins, and quad fins. In general, more fins make your board more responsive to the rider. As we mentioned earlier, larger riders will want larger fins, and vice versa for smaller riders, in general.
DECK
The deck is the top of the surfboard. They will vary in width and can also vary in finish, with the most obvious difference being between boards with a soft (foam) or hard (epoxy) deck.
READ MORE
For more of our top surfing gear recommendations, check out these popular buyer's guides: