Updated on July 4, 2021
When you're hiking or backpacking, you can't always predict what the conditions will be, especially in the mountains where an afternoon thunderstorm can pop up unexpectedly. That's why a hat should always be on your packing list to protect your head from the sun or rain beating down. This list of the best hiking hats for women provides great options that will keep sunburn or wetness from ruining your hiking trip. From baseball caps to wide-brim toppers, you're sure to find one you like.
For more of our top hiking gear recommendations, check out the Best Hiking Hats for Men.
Quick Answer

-

The Best Hiking Hats for Women
Outdoor Research Solar Roller

Sunday Afternoons Adventure

Sunday Afternoons Charter

Outdoor Research Oasis Sombrero
Comparison Table

-

Best Hiking Hats for Women

For the best experience turn your device horizontally
Reviews

-

The Best Women's Hiking Hats
Arc'teryx Sinsola
Specs
Material

:

Polyester

Style

:

Bucket Hat

UPF

:

50+

Waterproof?

:

No
Features
Polyester fabric dries quickly for hot days or river floats
Fully compressible design stows away in a pocket or pack
UPF50+ protection defends against harmful UV rays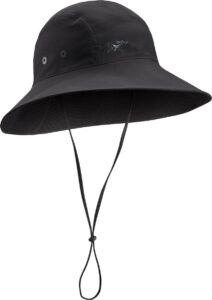 BEST OVERALL CHOICE
If you find that stylish outdoor hats are hard to come by, try out the Sinsola — it may convince you otherwise.
This bucket style hat offers excellent sun protection in an attractive package. Weighing in at less than 2 ounces, this hat is nearly unnoticeable on your head, making it one of the more comfortable hats we tested. Despite being a large brim cap, this hat packs down small and comes out with no creases or damage, ideal for packing away in to a small bag or pocket. 
What I like most about this hat is how well it looks around town as well as out on the trail.
Outdoor Research Solar Roller
Specs
Material

:

Nylon

Style

:

Safari Hat

UPF

:

50

Waterproof?

:

No
Features
Drawcord Adjustment
Removable Chin Cord
Floatable Brim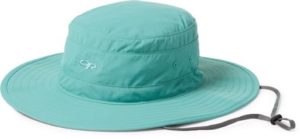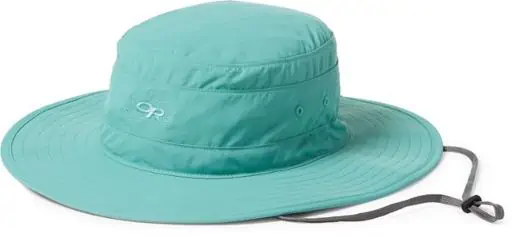 BEST FOR: WINDY WEATHER
Nobody wants the wind to blow their hat away, and the folks at Outdoor Research know that. That's why the Solar Roller Hat is designed with a drawcord adjustment you can cinch down with one hand to tighten it to your head for an ideal fit. When it gets gusty out there, secure the Solar Roller with the cordlock on the chin cord, which is removable on days you don't need it. A brim just shy of 3 inches will keep the sun off your face, coupled with Ultraviolet Protection Factor (UPF) 50 protection to protect your skin from harmful rays. Internally, a comfortable nylon headband wicks moisture from your head as you hike, and the foam-stiffened brim will keep this hat afloat should it find its way into water. Take this packable option along wherever the trail takes you.
Sunday Afternoons Adventure
Specs
Material

:

Nylon, polyester

Style

:

Sun Hat

UPF

:

50

Waterproof?

:

Water Resistant
Features
Oversized crown with large mesh side panels
Wide 4 in. brim in front shades the entire face; even wider 7.5 in. Supplex cape in back protects your neck and ears
Chin strap with cordlock
Decorative webbing band across the brow provides a splash of color
Weighs only 3 oz.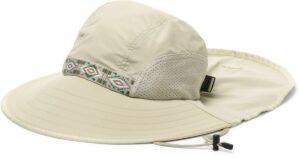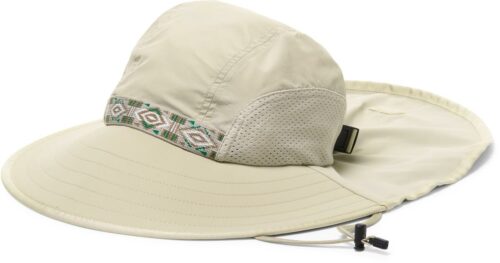 BEST FOR LONG DAYS IN THE SUN
If you don't mind sacrificing a bit of style for the best sun coverage out there, the Adventure Hat is your best choice.
Spending all day in the sun can be dangerous for your skin but the Adventure Hat will soothe your worries. Providing the most coverage of any hat we tested, this hat boasts a nearly 4 inch brim and over 7 inch cape, keeping you covered from sun up to sun down. Lightweight materials and mesh paneling improves breathability of this cape, keeping you warm during the hottest of days. The stiff brim is ideal for keeping the sun off your face, but does require extra care when packing since it is not foldable. 
What I like most about the Adventure Hat is how comfortable this hat is for wearing during low output activities. If the sweatband went all the way around the hat, it would be more ideal for more technical activities.
REI Sahara Cape Cap
Specs
Material

:

Nylon, Polyester

Style

:

Sun Hat

UPF

:

50

Waterproof?

:

No
Features
When not needed, the cape can stow inside the crown of the hat
Polyester headband wicks sweat away from skin
Vents on side of crown allow cooling airflow
Contains bluesign® materials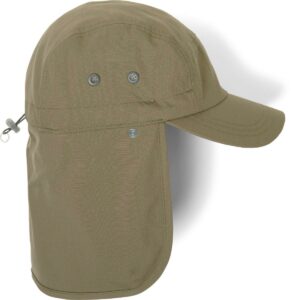 BEST FOR ULTRALIGHT HIKERS
This simple cap that turns into a sun protection hero with the drop of a cape.
When you need quality protection that you will actually wear, this lightweight cap has you covered. The small cape stows in the crown of the cap but easily unfurls, providing for UPF 50 + coverage — not only for your neck, but your ears and shoulders as well. The durable nylon materials coupled with polyester paneling hold up well in the backcountry and offer excellent breathability. A simple bungee mechanism allows for easy adjustment and the moisture wicking sweatband offers optimal comfort for all day wear.
What I like about this hat is the classic cap design that looks good for wearing around town and not just out on the trail.
Patagonia Duckbill
Specs
Material

:

Recycled nylon, polyester

Style

:

Ball Cap

UPF

:

N/A

Waterproof?

:

No
Features
Full-size brim
CoolMax® fabric headband wicks moisture
Adjustable rear buckle
Dark underbill reduces glare
Foam brim can fold into a pocket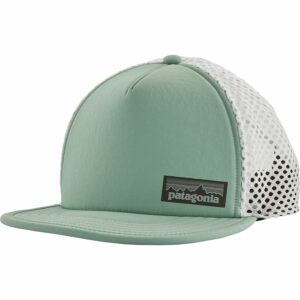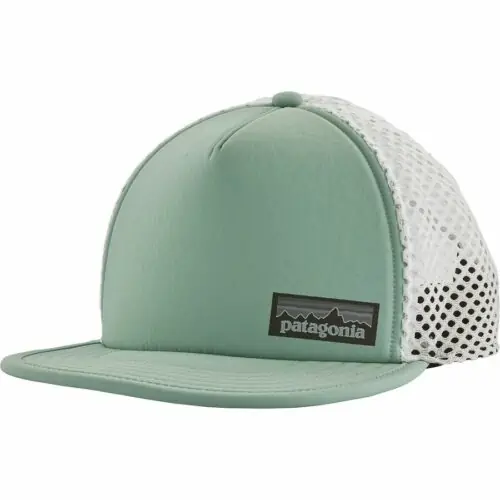 BEST FOR: TRAIL RUNNING
When you want to keep you hair from flying around without overheating, pick up the Duckbill before setting out on your next run.
A foam-style brim with a full mesh back allows you to pack this hat up small, but it bounces back to shape in no time. The large hole mesh is ideal at dissipating heat and the smaller than normal bills, allowing you to stay aware of your surroundings. Using CoolMax technology, the nylon sweatband effectively wicks away moisture, keeping it from dripping down into your eyes. Patagonia uses recycled nylon and polyester for these caps, adding a degree of eco-friendliness many will appreciate.
What I like most about this hat is the darker brim color, which is effective at reducing glare.
Tilley Wanderer
Specs
Material

:

Original Cotton Duck

Style

:

Safari Hat

UPF

:

50

Waterproof?

:

Water Repellent
Features
Secret Secure Pocket
Front and Back Wind Cords (to keep the hat on your head in windy conditions)
Grommets (for extra ventilation)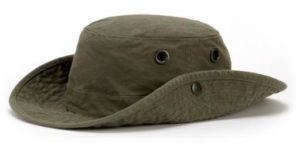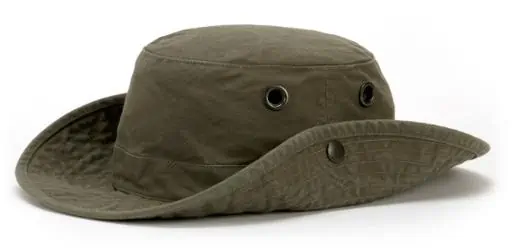 BEST FOR: VERSATILITY
Snap to it: depending on the conditions or just your mood, the Tilley Wanderer Hat can snap upwards on one side, both sides, or not at all. Ultraviolet Protection Factor (UPF) 50+ certified fabric offers maximum sun protection, while the durable water repellent (DWR) treatment sheds moisture on rainy days.  When the wind picks up, secure the Wanderer on your head using the front and back wind cords. If it's particularly warm outside, ventilating grommets will help keep your head cool while the sweatband wicks away moisture. If you're traveling or on the trail, secure small valuables in the secret stowaway pocket, and don't worry about losing your hat over a stream crossing — it floats in water. Come wind or rain, this hat is a great, long-lasting companion.
Sunday Afternoons Charter
Specs
Material

:

Nylon

Style

:

Safari Hat

UPF

:

50

Waterproof?

:

No
Features
Internal Security Pocket
Moisture-Wicking Headband
Mesh Ventilation
Floatable Foam Core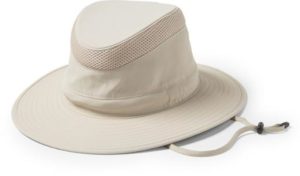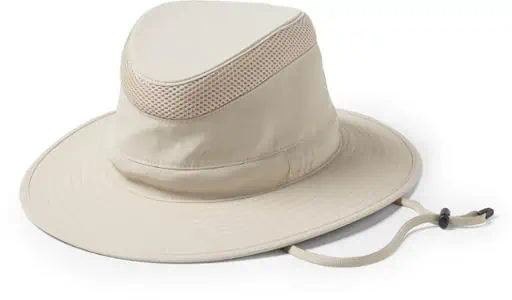 BEST FOR: HOT AND SUNNY DAYS
Keep cool and protected with the coverage of the full-brim Sunday Afternoons Charter Hat. The front and back brims on this topper both exceed 3 inches, providing ample shade along with Ultraviolet Protection Factor (UPF) 50+ sun protection. As you work up a sweat, the internal headband will wick away moisture to keep sweat out of your eyes, while the nylon mesh at the crown of your head optimizes breathability.
For an easy place to stash small items, look to the internal security pocket, and use the Sunglass Lock feature to keep your sunglasses in place. Adjust the hat to suit your head perfectly using the internal straps, and tighten or loosen the chin strap for an even better fit. Water repellent fabric that resists stains and packs flat when you're on the go makes the Charter Hat a fantastic hiking hat option.
KUHL Renegade
Specs
Material

:

95% Nylon, 5% Spandex

Style

:

Ball Cap

UPF

:

50

Waterproof?

:

Yes
Features
Quick-Adjust Strap System
2-Way Stretch Fabric
Anti-Abrasion Properties
Durable Waterproof Repellent (DWR)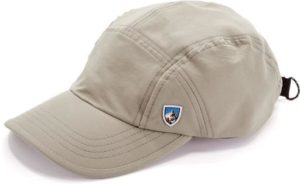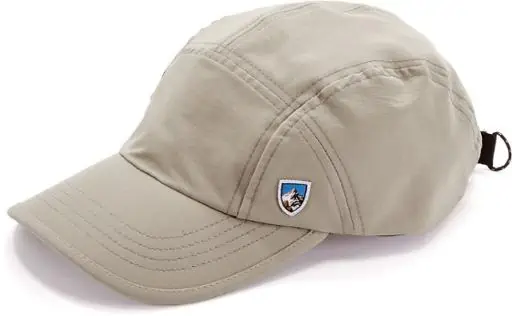 BEST FOR: A GREAT FIT
Need a hat that will stay on your head? You can rely on the Kuhl Renegade Cap. This hat was designed to conform to your head from front to back and in between, and the quick-adjust strap system allows for easy fine-tuning with just one hand. The stretchy fabric is durable thanks to anti-abrasion properties that will make it last forever, and it also resists water due to the durable water repellent (DWR) finish. Comfortable and quick-drying, the Renegade can handle rain or shine without a problem. Add in Ultraviolet Protection Factor (UPF) 50+ sun protection, the highest level of protection out there, and you have a great trail companion for any conditions.
Outdoor Research Oasis Sombrero
Specs
Material

:

Nylon/Polyester

Style

:

Sun Hat

UPF

:

50

Waterproof?

:

No
Features
Foam-Stiffened Brim (to keep hat afloat in water)
Drawcord Crown Adjustment
Removable Chin Strap
Moisture-Wicking Sweatband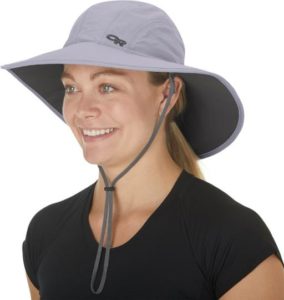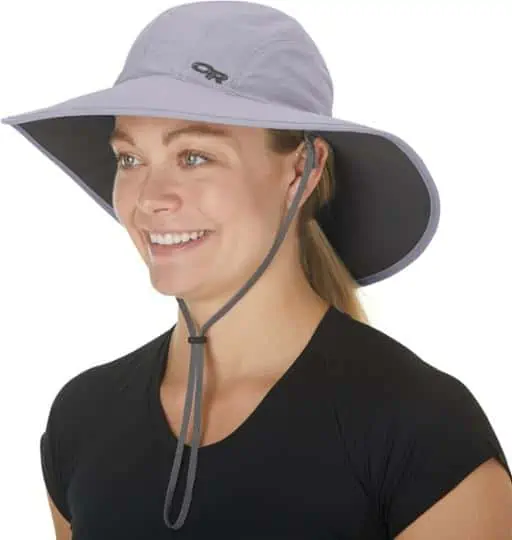 BEST FOR: FULL COVERAGE
With a full brim that provides coverage from front to back, the Oasis Sombrero hat will have your neck and face wholly protected from the elements. The brim is stiffened with foam to help the hat stay above water should it fall into a stream on the trail. Those cases should be few and far between, though, thanks to the two adjustment cords that let you fine-tune the fit: one external drawcord at the crown to fit the cap tightly to your head, and the other at the chin, which has a cordlock to pull tight to your face to keep your hat on when your outing gets windy.
The Oasis's fabric is water-resistant to withstand light rain, while the synthetic sweatband fabric wicks away moisture when you're working up a sweat. Take this hat out for a hike no matter the weather, and your head will be covered from top to bottom.
Tilley LTM6 Airflo
Specs
Material

:

Nylon

Style

:

Safari Hat

UPF

:

50

Waterproof?

:

No
Features
Hidden Valuables Pocket
Foam Top (to keep hat afloat in water)
Moisture-Wicking Sweatband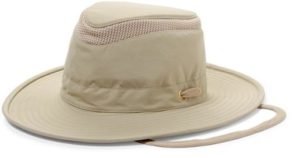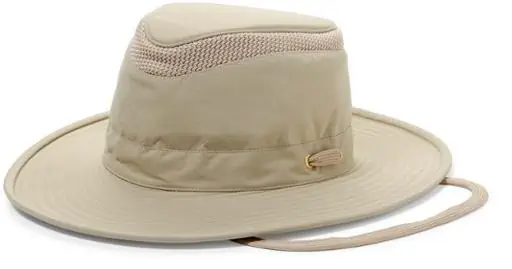 BEST FOR: ADAPTING FROM TRAVEL TO TRAIL
After a rainy or sweaty hiking trip, what's better than a hat you can throw in the washer to clean? The Tilley LTM6 Airflo Hat was designed with that sort of easy use in mind, with excellent sun protection and rain- and mildew-repelling properties. This hat's Ultraviolet Protection Factor of 50+ is the highest sun protection fabric can provide, while the wide and stiff brim will keep rays off of your face and neck. The foam structure in the top of the hat also makes it floatable should it end up in the water wherever your travels or trails take you.
Internally, a soft, comfortable sweatband wicks moisture from your face, while a cord connecting the chin and the back of the head keeps the hat in place all around your head when the wind picks up. A hidden pocket in the hat's crown will hold small items like your I.D. or keys, proving that this hat offers great protection for everything from your skin to your personal items.
THINGS TO CONSIDER WHEN BUYING A HIKING HAT
BRIM LOCATION & LENGTH
Different hat styles offer a variety of brims to choose from – baseball caps will keep the sun and rain off your face, for example, but won't do much to protect your neck from ultraviolet rays. If you need more coverage, opt for a hat with a brim that goes all the way around, offering protection to the top of your ears and back of your neck.
SUN PROTECTION
If your hiking plans include a lot of time in the sun, looks for hats that offer Ultraviolet Protection Factor (UPF) ratings. A UPF of 50 or 50+ will offer the best protection from sun rays that could be damaging to your skin. For more on what to look for in your hiking wear, check out this article.
WATERPROOFNESS
Some hiking hats are waterproof or water-resistant, so if you live in a rainy climate, look for features like waterproof fabric or a Durable Water Repellent (DWR) treatment.
MATERIAL
Many hiking hats are made from polyester or nylon, as these synthetic materials are quick-drying and manage moisture well as a layer next to your skin. You may also come across duck cotton, which is a durable woven canvas fabric that won't be as lightweight as those synthetic materials but will last forever. If you need a hat that breathes well – for hot climates or trail running, for example – look for ventilated mesh panels that enhance breathability.
WEIGHT
As a piece of hiking gear, hats will likely never be the heaviest item you bring. Still, you may want to be conscious of weight if you're looking to move quickly and not be held back by a heavy, floppy hat blowing around in the wind. For lightweight options, look for ball caps with shorter, sturdy brims.
FEATURES EXPLAINED
ULTRAVIOLET PROTECTION FACTOR (UPF) RATING
The Ultraviolet Protection Factor (UPF) is a rating for sun-protective clothing. It measures the UVA and UVB radiation that is able to penetrate the fabric to reach the skin, with a 50+ rating offering the most protection.
BRIM
The part of a hat that sticks out from the base of the crown. Brims can be in the front of a hat (like a ball cap) or all around (like a safari hat), offering various coverage for the face, ears, and neck of the wearer.
CROWN
The upper part of a hat, which makes contact with the top of your head and surrounds it all the way down to the brim.