Updated on October 2, 2020
The best ski jacket is an essential piece of gear when heading into the mountains for a day (or weekend) filled with skiing. Aside from keeping you warm, most jackets offer windproof and waterproof protection to keep you drier and warmer. Not to mention, there are a lot of style choices to choose from!
That's why we've chosen the best ski jackets that money can buy, so you can stop surfing the web and start shredding the slopes! Rather than just a basic jacket to get you on the slopes for a single day, these are best thought of as long term investments as they include many features. One such feature that you'll find on all of the jackets we've listed is a powder skirt, which can be tucked into your ski pants to create a layering effect to keep snow out in the event of a fall.
Check out the list below!
For more of our top ski gear recommendations, check out the Best Women's Ski Jackets.
Quick Answer

-

The Best Ski Jackets
Columbia Wild Card Interchange

Marmot Schussing Featherless
Comparison Table

-

Best Ski Jacket
Reviews

-

The Best Jacket for Skiing
Patagonia Snowshot
Specs
Type

:

3-in-1

Weight

:

2 lbs. 15 oz.

Hood

:

Yes, Detachable

Recco Rescue Detector

:

Yes
Features
Offered In 7 Different Color Schemes
Features Armpit Zips To Vent Off Excess Heat
Includes Several Interior Pockets For Holding Phones, Wallets, And Other Items
BEST FOR: VERSATILITY 
Patagonia has a storied tradition of crafting quality products that are meant to stand the test of time. All of their apparel can be repaired by you or them should it break down with use. They also ensure that everything they sell is made in an environmentally sustainable way and is a product of fair labor practices. 
The Snowshot 3-in-1 Jacket is an extremely versatile piece of gear that can cover a broad range of conditions. On extremely cold days, it has the insulation to keep you extra warm and able to shred down slopes with less breaks to warm up by the fire. On warmer days, the interior insulated jacket can be removed and you can just wear the shell as a waterproof layer. 
If the skies are sunny and there isn't a need for the waterproof layer, you can shed the waterproof shell in favor of the interior jacket. This is a great option when it is moderately cold. 
The 3-in-1 also comes with a built-in Recco Detector, giving you peace of mind that you'll be rescued in the unlikely event of an avalanche.
Arc'teryx Macai
Specs
Type

:

Insulated

Weight

:

2 lbs. 4.5 oz.

Hood

:

Yes, Detachable

Recco Rescue Detector

:

No
Features
Offered In 6 Different Colors
5 External Pockets For Stashing Personal Items
Microfiber Cloth On A Leash Keeps Your Goggles Snow And Fog-Free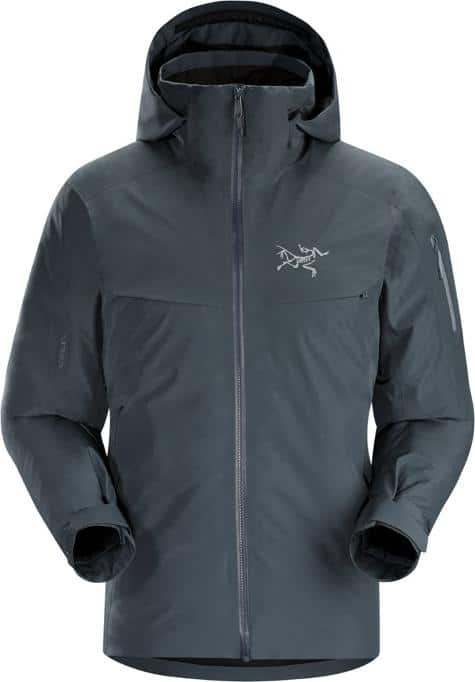 BEST FOR: REMOTE BACKCOUNTRY SKIING
Looking to break free from resort skiing in search of fresh powder and the path less traveled? You'll find no better accoutrement than the Arc'teryx Macai Down Jacket. 
Stuffed with a blend of synthetic and down insulation, this jacket offers the best of both worlds. The down insulation is extremely light, which reduces the overall weight, while the synthetic insulation keeps the warmth factor working even if you get completely soaking wet. 
The Macai Down Jacket also sports several smart features, such as a detachable hood for good weather days (which is also helmet compatible), a microfiber cloth on a leash for wiping down your goggles (and stows inside your pocket), as well as 5 external pockets for keeping your hands warm and storing items such as chapstick or snacks. 
Packed to the brim with features and built with quality from the very first stitch, this jacket will keep you warm, safe, and comfortable for years and years to come.
Columbia Cushman Crest
Specs
Type

:

Insulated

Weight

:

3 lbs.

Hood

:

Yes, Detachable

Recco Rescue Detector

:

No
Features
Offered In 5 Different Colors
Sleek Design Is Stylish And Timeless
Zippered Pockets Keep Gear Secure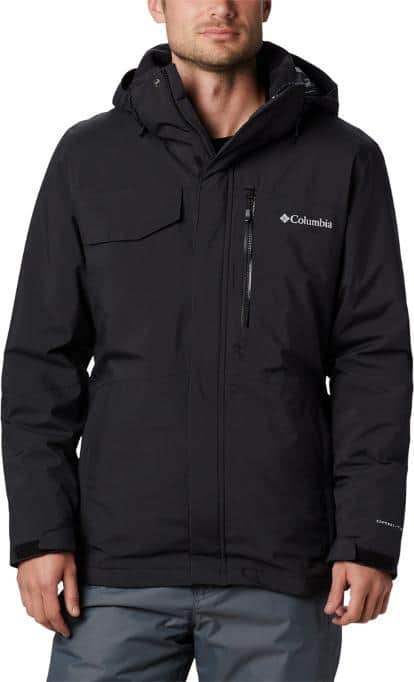 BEST FOR: BUDGET-CONSCIOUS SKIERS
If you've already dropped a significant amount of coin on your boots, bindings, skis, and poles, but still desire a high quality jacket, then the Columbia Cushman Crest Insulated Jacket may just be a match made in heaven. 
This synthetic insulated jacket will not only keep you warm, but is backed by the quality craftsmanship that Columbia is known for. The inside features a heat-reflecting thermal lining that uses your own body heat to not only get warm but to stay warm. Many jackets will warm up as you get moving but also cool down as you take breaks. This jacket will get warm and stay warm until you decide to take it off or vent some of the excess heat through the pit zips. 
The Cushman Crest Jacket also has adjustable wrist cuffs to dial in the proper fit and a drawcord in the hem to keep warmth trapped.
Patagonia PowSlayer
Specs
Type

:

Shell

Weight

:

1 lbs. 3 oz.

Hood

:

Yes

Recco Rescue Detector

:

Yes
Features
Offered In 2 Different Colors
Built-In Hand Warmers In The Exterior Pockets
Adjustable Powder Skirt Keeps Snow And Slush Out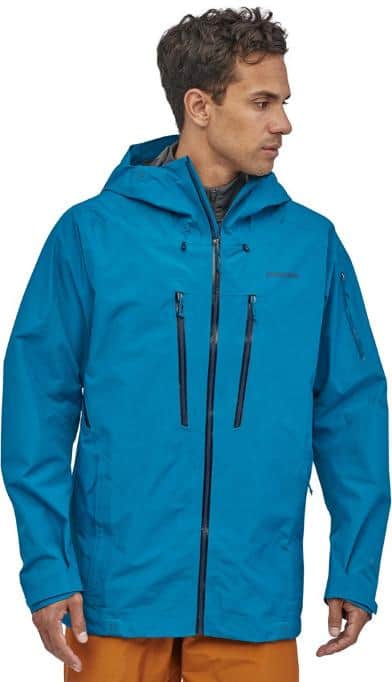 BEST FOR: LIGHTWEIGHT & WATERPROOF SKIING
If you're a Pacific Northwest skier where it tends to be wetter and warmer, then you don't need a heavy and bulky insulated jacket. The Patagonia PowSlayer Jacket is a perfect way to keep you dry, light, and moving unencumbered. 
Featuring Gore-Tex windproof, waterproof, and breathable fabric, this jacket will give you peace of mind if the weather turns bad. On extra cold days, use the built-in hand warmers in the pockets for added comfort. The built-in hood is also helmet compatible and synches down for a custom fit. 
For skiers in the rockies needing some windproofing, the PowSlayer can be used as a shell and thrown over a traditional down jacket.
Arc'teryx Rush
Specs
Type

:

Shell

Weight

:

1 lbs. 5.5 oz.

Hood

:

Yes

Recco Rescue Detector

:

Yes
Features
Offered In 2 Different Color Schemes
Full Range Of Motion Offers Superior Performance
Passive Recco Detector Makes You Easier To Find In An Avalanche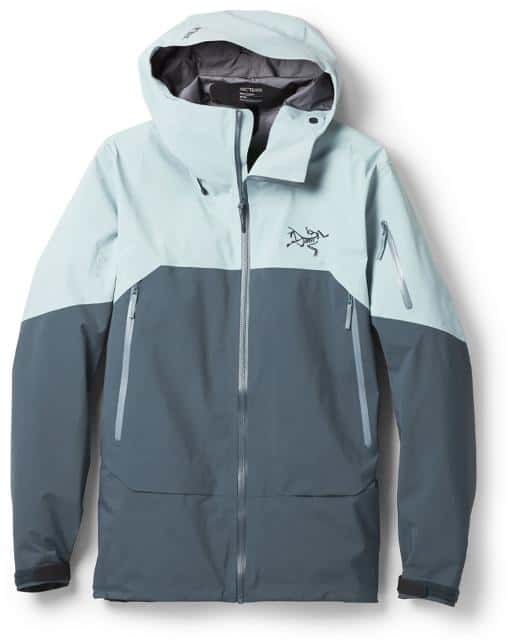 BEST FOR: ALL DAY COMFORT 
Say goodbye to bulky and uncomfortable ski jackets. The Arc'teryx Rush Jacket takes design to the next level to maximize your comfort both on and off the mountain. 
Waterproof, windproof, and breathable, the Rush Jacket focuses on high quality materials to keep you warm and dry. It relies on a triple layer of Gore-Tex fabric for maximum waterproofing that won't break down and let leaks in like other imitation fabrics. 
The underarms feature a "no-lift" design that allows you free range of motion while hitting your best runs and the chin guard has brushed fabric to keep your face warm and soft when fully zipped. 
This jacket is also incredibly stylish and can be worn at the lodge or when hitting the town. No need to bring a second jacket for swapping out!
The North Face Chakal
Specs
Type

:

Insulated

Weight

:

2 lbs. 4 oz.

Hood

:

Yes, Detachable

Recco Rescue Detector

:

No
Features
Double Layered Waterproof Material
Internal Media Pocket Will Keep Phone Safe
Insulated In The Sleeves And Hood, Not Just The Body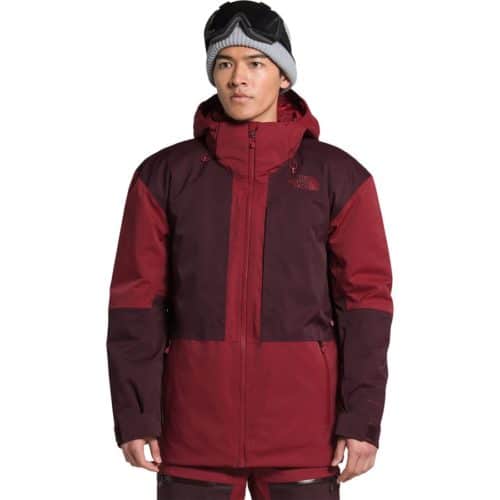 BEST FOR: EXTRA WARMTH ON CHILLY DAYS
No one likes being cold. Even people who like cold weather (like me) know when too cold is too cold. Your best bet for keeping the cold at bay is an insulated jacket like The North Face Chakal. 
Fully waterproof, the Chakal Jacket features a double layer of waterproofing material while also sporting synthetic insulation. Should water or snow or sweat find its way to the insulation, the performance will not be adversely affected. 
The hood on this jacket is detachable but is also able to accomodate a helmet (protect your noggin!). The external zips are also water resistant, lending itself to ingenious design. 
The North Face has been producing Alpine specific gear for decades now and is a trusted brand in skiing. You can't possibly go wrong with this jacket.
Columbia Wild Card Interchange
Specs
Type

:

3-in-1

Weight

:

2 lbs. 8 oz.

Hood

:

Yes, Detachable

Recco Rescue Detector

:

No
Features
Offered In 3 Different Colors
Inner Jacket Is Stylish And Can Be Worn When Not Skiing
Down Insulation Is As Warm As A 20° Degree Sleeping Bag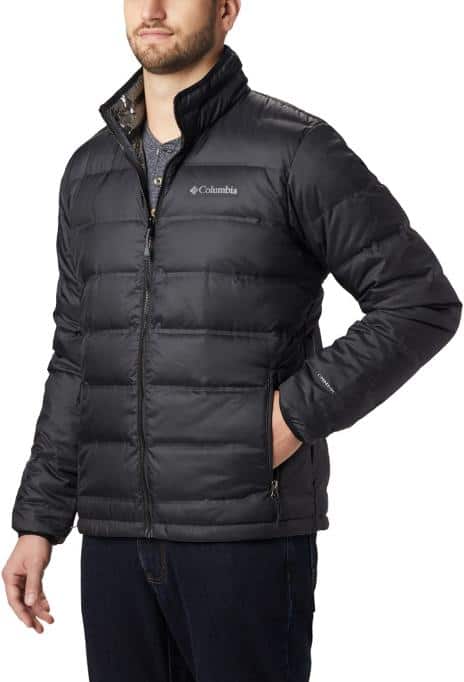 BEST FOR: BEST BANG-FOR-YOUR-BUCK
A 3-in-1 jacket with down insulation for under $300? Yes please! The Columbia Wild Card Interchange 3-in-1 Jacket is a true rarity and the best possible bang for your buck. 
Now you don't have to sacrifice quality or versatility when choosing a lesser expensive jacket. Columbia's 3-in-1 is a game changer that provides all the upside of more expensive jackets without the high price tag. 
Featuring a fully waterproof and windproof shell, you can strip down the inside and wear just the exterior for warmer days or stay dry and keep it all together on cold, wet days. The insulated inner jacket is not only great on it's own when hitting the mountain, but also stylish enough to wear around town. Perhaps they mislabeled it, because in my book this jacket is actually a 4-in-1!
Marmot Schussing Featherless
Specs
Type

:

Insulated

Weight

:

3 lbs. 2.6 oz.

Hood

:

Yes

Recco Rescue Detector

:

Yes
Features
Lightweight And Slim Synthetic Insulation
Sleek Black Design Matches With Any Ski Outfit
Passive Recco Detector Makes You Easier To Find In An Avalanche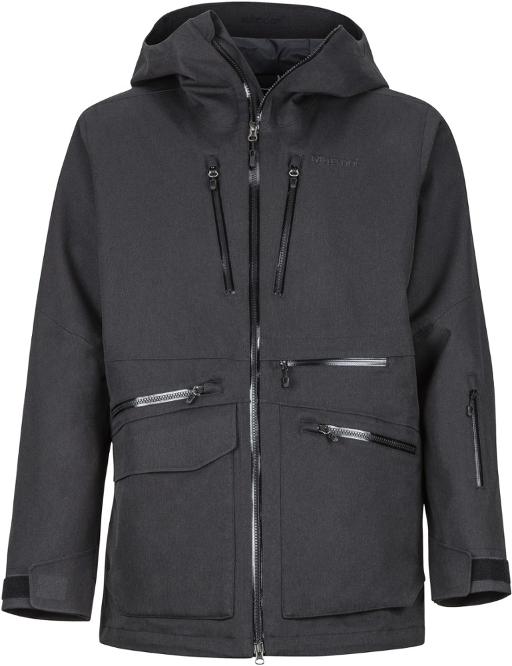 BEST FOR: HYPO-ALLERGENIC SKIERS
One of the chief complaints about synthetic insulation is that it's bulkier and heavier than down insulation. No one wants to look like Ralphie from A Christmas Story! But now you don't have to!
Marmot has created their own synthetic insulation that is lighter and slimmer, yet still waterproof. It's as warm as a traditional 700-fill-power duck down jacket which will typically keep you warm down to 15° – 20°F degrees. This means that skiers who have sensitive allergies are free to have all the options of traditional down without the feathers!
The Shussing Jacket also features 6 external zippered pockets with water resistance as well as a helmet compatible hood.
Arc'teryx Sidewinder
Specs
Type

:

Shell

Weight

:

1 lbs. 4.1 oz.

Hood

:

Yes

Recco Rescue Detector

:

No
Features
Offered In 3 Different Colors
Extremely Lightweight And Waterproof Shell
Helmet Compatible Hood Synches Down To Keep Weather Out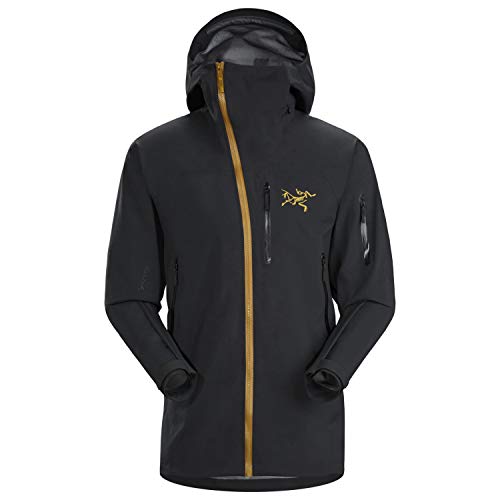 BEST FOR: ULTRALIGHT BACKCOUNTRY EXPEDITIONS
Ounce-counting ultralight enthusiasts will absolutely fall in love with the Sidewinder SV Shell Jacket by Arc'teryx. At just 20.1 ounces overall, you'll feel light and nimble as you navigate backcountry trails in style and comfort. 
Starting with a triple layer of Gore-Tex water- and windproofing, the Sidewinder SV features 4 external zippered pockets and a powder skirt inside to keep snow from riding up in places it shouldn't be. 
Perhaps the most unique part of this jacket is the off-center zipper when fully closed. This keeps the zipper out of the way of your mouth/face area while providing full face protection during harsh backcountry expeditions.
Elevenate Bec de Rosses
Specs
Type

:

Shell

Weight

:

1 lbs. 7.6 oz.

Hood

:

Yes

Recco Rescue Detector

:

No
Features
Offered In 4 Different Colors
Wind & Waterproof Design Keeps You Warm & Dry
3 External & 1 Internal Zippered Pockets For Safe & Dry Storage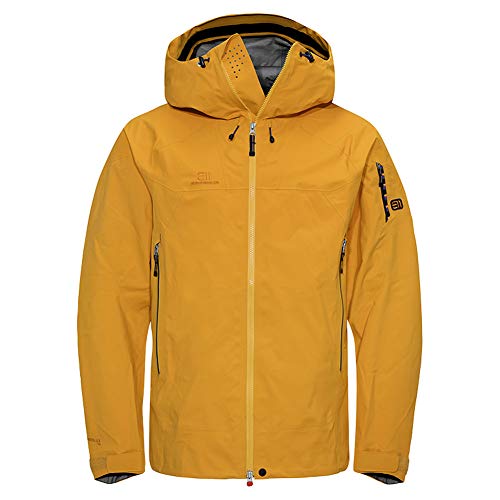 BEST FOR: EXTREMELY HARSH CONDITIONS
If you're an adventurous skier that enjoys pushing boundaries and often find yourself in unpredictable and harsh conditions, then the Bec de Rosses Jacket from Elevenate is your best choice. This cutting edge company hails from Sweden and offers only premium quality and very stylish ski wear. 
Equipped with 3 layers of GORE-TEX waterproof fabric, the Bec de Rosses Jacket will keep you dry even if it decides to rain, sleet, or snow on your backcountry adventure. While the hood on this jacket is not detachable, it is big enough to accommodate a helmet which is essential for more wild expeditions. 
Features-wise, this jacket has 3 external zippered pockets, 2 on the body and 1 on the sleeve, for full waterproof protection of your most valuable gear. There are also zippers beneath each arm to ventilate/regulate body heat and another zippered pocket inside with a spot for headphones to wire through. Perhaps the most useful feature is the zippered (read: removable) powder skirt that helps keep snow out and mates perfectly with the matching Bec de Rosses Pants via a snapping-button system. 
It's also worth noting that the Bec de Rosses Jacket is designed to fit comfortably, allowing you to layer the warmth you need beneath. The arms are also fitted in such a way that you have maximum mobility and won't find your jacket riding up if you raise your arms above your head (to shout in joy!).
THINGS TO CONSIDER WHEN BUYING SKI JACKETS
JACKET TYPE
Ski jackets generally fall into 3 major categories that can help you narrow down your search.
Insulated
Insulated jackets are a great way to stay warm on exceptionally chilly days. They can feature either synthetic or duck down insulation. Synthetic insulation is typically much heavier but is also waterproof. Down is much lighter, but performance is greatly affected when wet.
Shell
A shell jacket is a great lightweight option for warmer days, or as an added waterproof layer over a warm jacket.
3-in-1
Relatively new to snowsports, 3-in-1 jackets offer a great amount of versatility. The inner layer is insulated and can be completely removed on warm days, offering the best of both worlds from shell and insulated jackets. The outer layer is usually waterproof with a wind breaking midlayer built into either the shell or inner jacket.
AVALANCHE SAFETY
Recco Reflectors are an option found on many pieces of winter gear including snow pants, jackets, and helmets that can help ski patrol and emergency rescuers find you in the event of an avalanche. It is a passive system that works automatically, but is not to be confused with an avalanche transceiver that backcountry skiers need to carry for safety.
FEATURES EXPLAINED
GORE-TEX
A proprietary waterproof fabric that was the first of its kind. Many companies have attempted to replicate Gore-Tex in their own way.
READ MORE
For more of our top skiing gear recommendations, check out these popular articles: