Updated on March 4, 2021
Backpacking is self-sustained camping in which you carry all of the resources on your back that you will need for your predetermined time on the trail. This includes your shelter, sleep system (sleeping bag and pad), apparel, food, cooking method, and all other essentials. Backpacking is a great activity for people of all ages and for those with a little more of an adventurous spirit, and it can be done all four months of the year.
The benefit of a hiking backpack is that it gives you the freedom to go further into the backcountry for longer periods of time. But we know that with so many options on the market, choosing the best hiking backpack can feel like more of a challenge than planning your actual trip! Fortunately, we here at The Adventure Junkies pride ourselves in helping you pick the best gear for your next adventure. In this guide, we've harnessed the resources to help you pick the best hiking backpack for your next adventure.
For more of our top hiking backpack recommendations, check out:
Hiking Backpacks for Women | Lightweight Hiking Backpacks
Day Hiking Backpacks | Women's Day Hiking Backpacks 
Backpack Rain Covers | Solar Hiking Backpacks 
Quick Answer

-

The Best Hiking Backpacks
Deuter Aircontact Lite 65 + 10

Hyperlite Mountain Gear 3400 Southwest

Hyperlite Mtn Gear 4400 Southwest

Deuter Futura Vario 50 + 10
Comparison Table

-

The Best Backpacks for Hiking
Reviews

-

Best Hiking Backpacks
Osprey Atmos AG 65
Specs
Weight

:

4 lbs 9 oz

Volume

:

65 L

Raincover

:

Yes

Hydration Compatibility

:

Yes
Features
Mesh back panel
Built-in rain cover
Multiple sets of compression straps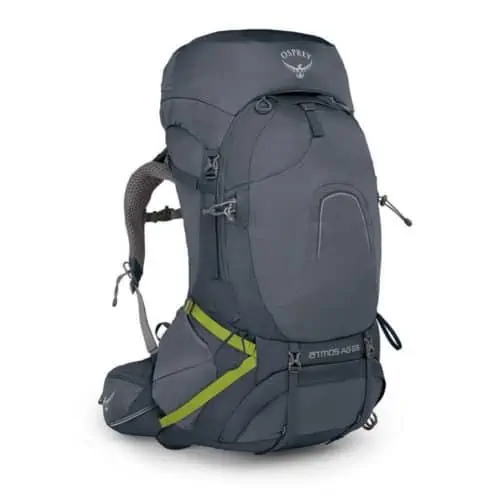 BEST BACKPACK OVERALL
The Atmos AG features a fancy mesh back panel and multiple sets of compression straps to make it easy to adjust your load. There are plenty of pockets for organizing all your gear, too.
What we like most about this pack is how well it contours to fit your back and the excellent ventilation the "Anti-Gravity" backpanel provides. In addition, the Atmos AG includes a convienent built-in rain cover for hiking in foul weather, which is awesome especially if you're prone to leaving gear behind.
Deuter Aircontact Lite 65 + 10
Specs
Weight

:

4 lbs 6 oz

Volume

:

75 L

Raincover

:

No

Hydration Compatibility

:

Yes
Features
10-liter pack collar
Wide range of fit options
Ergonomic Comfort Lock hip fins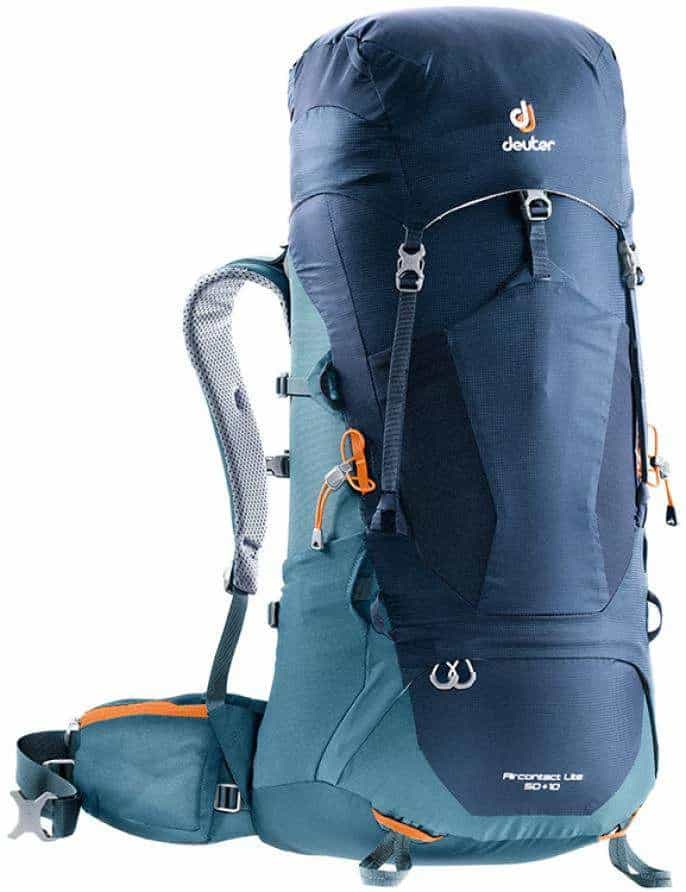 BEST FOR: ADJUSTABLE FIT
The Deuter Aircontact Lite sports a torso with a wide range of fit options and ergonomic foam hip fins that can be custom fit to individual wearers. What we like most about this pack is its versatility and how it doubles as a daypack.
The extendable 10-liter pack collar can be used either to expand your gear capacity to 75 liters or entirely removed for short excursions.
REI Co-op Trailbreak 60
Specs
Weight

:

3 lbs 13 oz

Volume

:

60 L

Raincover

:

No

Hydration Compatibility

:

Yes
Features
Padded back & shoulder straps
Steel internal frame
Zippered sleeping bag compartment
Bluesign-approved materials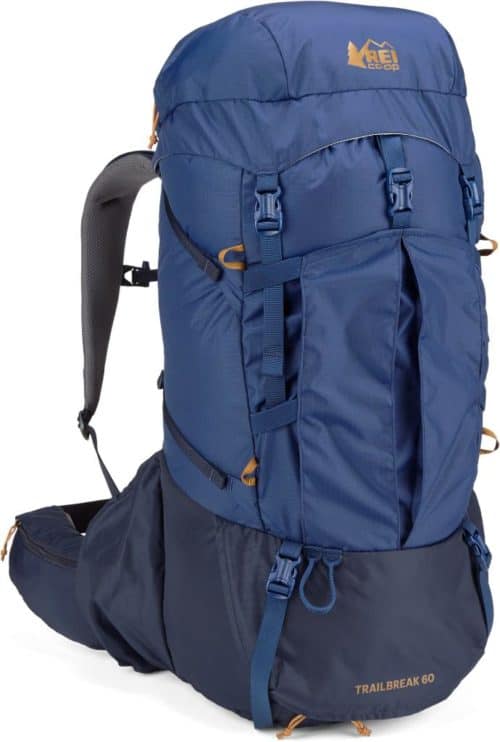 BEST FOR: BUDGET BACKPACKING
REI crafted the Trailbreak 60 with the essentials in mind – no fancy extras here. This pack features padded back and shoulder straps and a steel internal support frame designed for comfortably supporting loads up to 35 pounds.
What we like most about the Trailbreak other than its price point is the zippered sleeping bag compartment access and roomy top lid. In addition, the bluesign-approved materials provide for environmentally-conscious peace of mind. This pack is only offered in one size. Although there is a women's version and the torso is adjustable, it doesn't offer the same fit quality as others in its class.
Hyperlite Mountain Gear 3400 Southwest
Specs
Weight

:

2 lbs 2.9 oz

Volume

:

55 L

Raincover

:

No

Hydration Compatibility

:

Yes
Features
Ultralight
Removable, contoured aluminum stays
Internal mesh hydro sleeve
Ice axe loop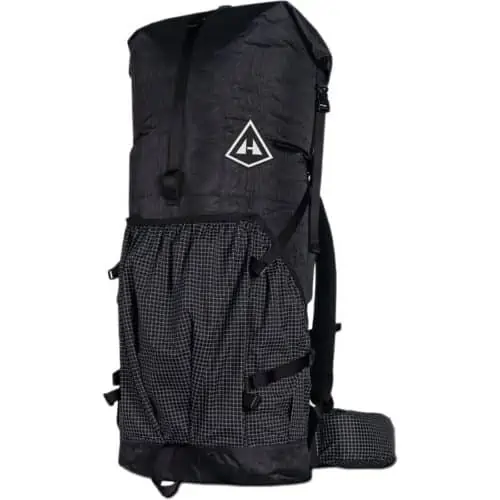 BEST FOR: ULTRALIGHT BACKPACKING
This minimalist-style pack is ideal for ultralight hikers hauling medium sized loads. The Maine-based cottage company created the Hyperlite 3400 Southwest from its signature Dyneema material – a naturally waterproof and extremely tough, lightweight fabric.
The 3400 Southwest has a V-shaped compression strap that fastens down onto the roll-top lid, effectively keeping your gear in place even across the most rugged terrain. It's remarkably lightweight for its 55 liter gear carrying capacity, tipping the scales at just over two pounds, depending on the size you choose.
Gregory Baltoro 75
Specs
Weight

:

5lbs 3.5oz

Volume

:

78L (Large)

Raincover

:

Yes

Hydration Compatibility

:

Yes
Features
Tuck-Away Bottle Holster
Quick-Stow System On Shoulder Harness For Sunglass Storage
Proprietary Suspension System (for all day comfort)
Removable Hydration Sleeve Converts Into Daypack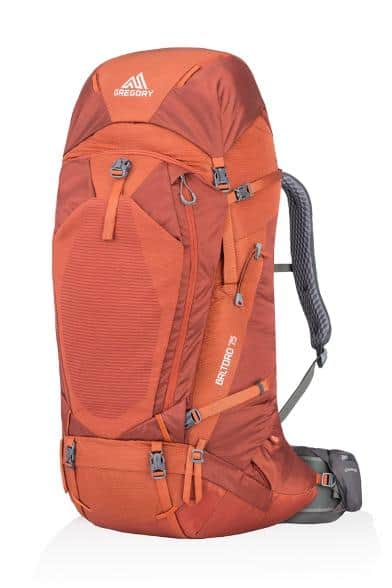 BEST FOR: EXTENDED BACKCOUNTRY TRIPS
Located at the base of the Wasatch Mountains in Utah, Gregory has been making high quality packs for over forty years. The Baltoro is a beast with refined comfort. With capacities ranging from 72-78 liters (depending on pack size), this pack is ideal for winter outings and extended backcountry trips.
Unlike other packs in this guide that potentially have removable lids that convert to daypacks, the Baltoro has a removable hydration sleeve that quickly deploys into a daypack complete with an accessory pocket. The suspension system allows the harness and hip belt to rotate independently, and allows the pack to adjust to your movement on the trail. A full-body U-shaped zippered opening on the front of the bag allows for easy packing and unpacking. A water-resistant hip belt pocket provides quick access for your phone or camera and a quick-access pocket located on the shoulder harness easily stores your sunglasses.
Hyperlite Mtn Gear 4400 Southwest
Specs
Weight

:

2.45 lbs

Volume

:

70L (Large)

Raincover

:

No

Hydration Compatibility

:

Yes
Features
Made From Waterproof Fabric
Roll-Top Closure
Adjustable Sternum Strap
Proprietary Seam Sealing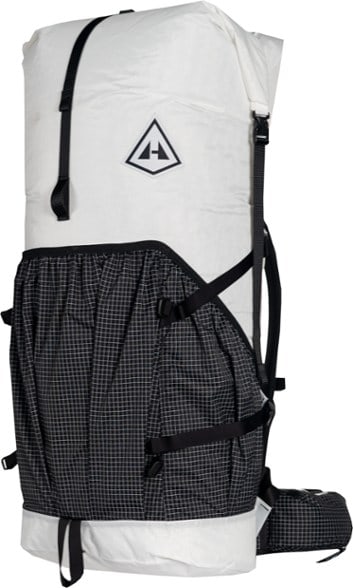 BEST FOR: LIGHTWEIGHT EXPEDITIONS
Made in Maine, Hyperlite Mountain Gear continues to push the envelope in ultralight gear. The 4400 Southwest is no exception. It's made from waterproof fabric, thus negating the need for a rain cover. At under 2.5 pounds, this pack is the complete package. 
Everything about this pack is designed to get you to camp everyday high and dry. The roll-top closure is complete with compression straps to cinch the pack down vertically to complement the side compression straps. The adjustable sternum strap is made with self-tensioning elastic to move with you. Three external pockets are also created using the waterproof fabric. Used in conjunction with the brand's waterproof stuff sacks, you will remain organized and your gear will stay dry for the entire trip.
Osprey Xenith 88
Specs
Weight

:

5lbs 10oz

Volume

:

92L (Large)

Raincover

:

No

Hydration Compatibility

:

Yes
Features
Sternum Strap Contains Safety Whistle
Trekking Pole Attachment
Hipbelt Pockets
Dual Stretch Mesh Pockets For Water Bottle Storage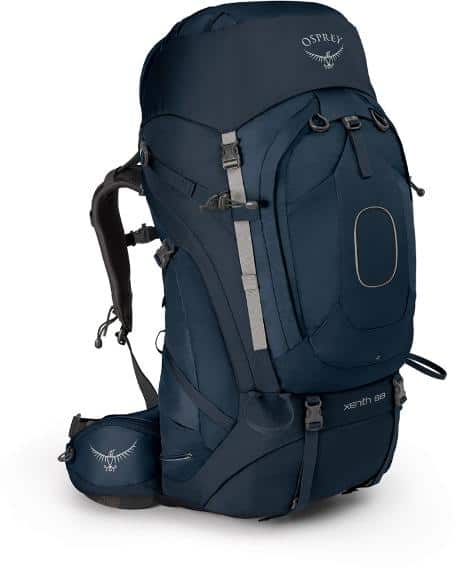 BEST FOR: LONG DISTANCE HAULING
This behemoth will carry everything but the kitchen sink. This is the largest pack in this guide and is ideal for extended backcountry trips and expeditions. The Xenith 88 is chocked full of features.
The external hydration sleeve is easy to access even when the pack is fully loaded, so filling up water won't be a burden (as long as you can find a running stream!). The removable lid, complete with zippered pockets, easily converts to a daypack for side trips from basecamp. The Stow-on-the-Go trekking pole attachment allows for easy and quick storage and retrieval of hiking poles. The highly customizable fit will ensure extreme comfort even when carrying heavy loads. A plethora of pockets will ensure organization and quick access to needed items.
Deuter Futura Vario 50 + 10
Specs
Weight

:

4lbs 9oz

Volume

:

60L (Medium)

Raincover

:

Yes

Hydration Compatibility

:

Yes
Features
Zippered Stretch-Mesh Hipbelt Pockets
Large U-Shaped 2-Way Zip Opening
Front Stash Pocket
Valuables Pocket Located Inside Lid Interior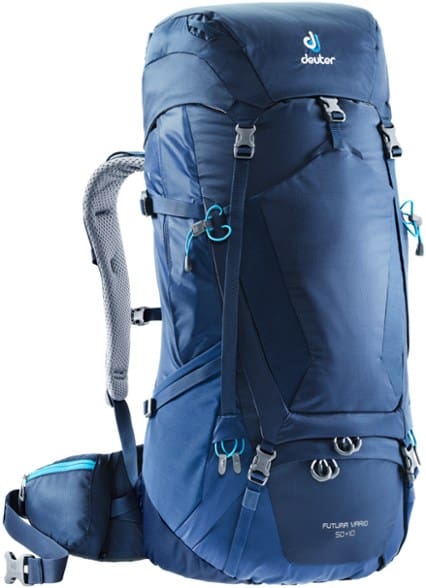 BEST FOR: VERSATILITY
Founded in 1898, Deuter began making mail bags and later military gear. In 1928, the brand outfitted its first expedition and up until the 1970s, it provided the gear for nearly all German expeditions. 
An expandable collar on the main compartment of this pack provides ten extra liters of storage, taking the expanded capacity to 60 liters. When not needed, the collar tucks away but can be quickly deployed for use. A tensioned mesh back panel allows for maximum airflow. Unlike other sized packs in this guide, the Futura Vario has an adjustable torso range of 15-22 inches. A multitude of pockets ensure quick access to needed items while the reservoir sleeve accommodates a three-liter bladder, ensuring you'll have enough water for every long-distance hike.
REI Co-op Flash 55
Specs
Weight

:

2lbs 11oz

Volume

:

57L (Medium)

Raincover

:

No

Hydration Compatibility

:

Yes
Features
Roll-Top Closure
Breathable Mesh Front Pocket
Exterior Side Pockets
Water Bottle Pockets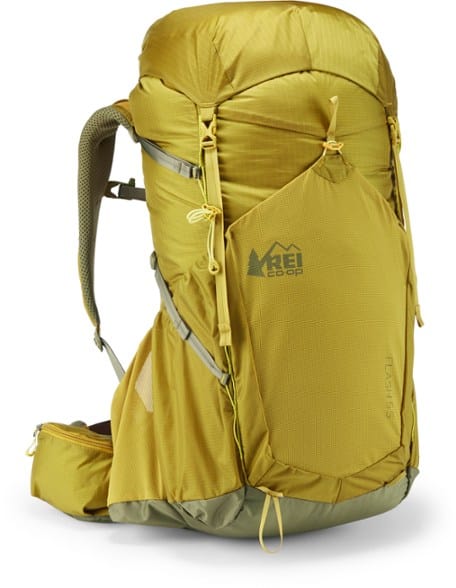 BEST FOR: BUDGET BACKPACKING
What began as a co-op to provide quality gear has grown into one of the biggest retailers for outdoor gear in the United States. In addition to selling outdoor gear, REI designs and creates its own products. The result is high quality gear for anyone looking to get outside on a budget. 
The Flash 55 is capable of a week-long trip or can be stripped down to the bare necessities for a quick overnight trip. The pack is designed to allow the user to modify it as needed. Pockets on the shoulder straps and hip belt provide additional storage or can be removed entirely to reduce weight. The adaptable compression straps along the outside of the pack can be moved, allowing the load to be shaped accordingly. Multiple pockets allow for exterior storage while the removable top lid can further customize the pack's volume.
Osprey Stratos 50
Specs
Weight

:

3lbs 10.9oz

Volume

:

50L (Medium)

Raincover

:

Yes

Hydration Compatibility

:

Yes
Features
Trekking Pole Attachment
Zippered Mesh Pocket Under Top Lid
Zippered Hipbelt Pockets
Top And Side Panel Zip Access To Main Compartment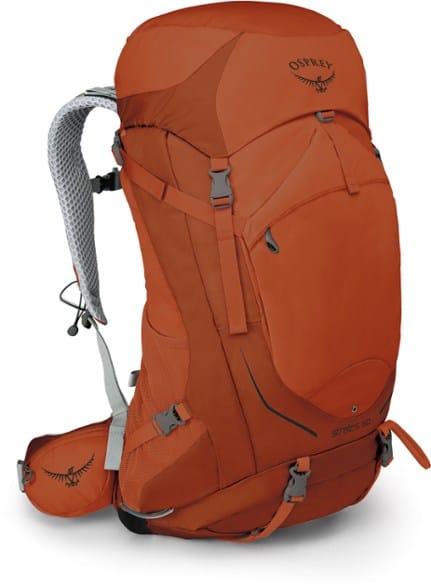 BEST FOR: COMFORT AND ORGANIZATION
Known for making high quality backpacks, Osprey continues to revolutionize the market over forty years later. Unlike the larger Osprey pack featured earlier in this guide, the Stratos is designed for weekend trips and ultralight excursions. The main compartment is easily accessible via the top and side panel zippered access.
The capacity can be adjusted by removing the top lid, which contains a zippered mesh pocket for stashing valuable items. The pack also features an internal hydration sleeve, an array of mesh pockets, zippered hip belt pockets, and a Stow-on-the-Go trekking pole attachment. Rounding out the list of awesome features is the integrated rain cover that deploys quickly in case of a sudden thunderstorm.
THINGS TO CONSIDER BEFORE BUYING A HIKING BACKPACK
VOLUME
The size of the pack you'll need for your trip is typically in direct proportion to the number of days you intend to spend on the trail. The volume refers to the capacity of the backpack. As a general rule:
Weekend trips: Less than 50L (Small)

Multi-day Trips: Greater than 50L (Medium)

Extended backcountry trips: Greater than 70L (Large)
Also, consider that summer trips will often require less gear than winter excursions, as you will need extra apparel and a warmer sleep system in the colder months.
SIZE (TORSO LENGTH)
Knowing how to properly fit a pack may be the most crucial consideration when choosing a backpack. Determining your torso length will assist you in choosing the right size pack for your body. The torso length can be determined by measuring the distance between the C7 vertebra and the top of your hip bones.
Here's how to determine the measurement so you can figure out what size pack you will need.
First, grab a flexible measuring tape and a friend.

Begin by leaning your neck forward. Reach back and feel for the bony bump that extends above the plane of your neck. This is your C7 vertebra and will be the top point from which to measure.

Next, find the top of your hip bones and place your hands on your hips with your index finger pointing forward and your thumbs pointing towards your back. Draw an imaginary line between your thumbs. This is the bottom of your torso length.

Finally, stand up straight and have your friend measure the distance between the two points. This is your torso length.
Having this measurement will help you to determine what size pack is right for you (small, medium, or large). Pack size varies between manufacturers, so make sure to refer to your torso length measurement to pick the pack size that is right for you.
WEIGHT
The weight of the pack can drastically add to the weight you are carrying. Large expedition packs can weigh substantially more than weekend packs. Expedition packs are designed to carry heavy loads and that often translates to needing a beefier suspension system so they're usually constructed using more rugged (re: heavier) materials. Consider this: if you are looking to keep the weight that you are carrying for a trip to 40 pounds and the pack weighs five pounds, you can carry thirty-five pounds of gear.
PRIMARY USE
It is best to determine the intended use before purchasing a backpack. If you plan to spend most of your time enjoying weekend excursions, you can easily work with a smaller pack. If you want a pack that can occasionally take you on a multi-day backcountry experience, opt for a slightly larger pack. Just because you have the extra space doesn't mean that you have to fill it for a weekend jaunt.
FEATURES EXPLAINED
HIP BELT
These padded arms located at the bottom of the pack are designed to help transfer the weight of the pack to your hips and minimize the downward weight on your shoulders. This is perhaps one of the most important parts of a pack. Hip belt pockets are ideal for storing small items that might be needed quickly while on the trail.
STERNUM STRAP
The sternum strap connects the two shoulder straps and is ideal when it's adjustable to allow the user to find the perfect location on the chest.
COMPRESSION STRAPS
Compression straps strategically placed around the outside of the backpack allow for cinching the pack down for a more streamlined feel when carrying lighter loads. These straps can be released when carrying more gear.
TOP LID (AKA THE BRAIN)
Provided it has one, the top lid of the backpack is often referred to as the 'brain'. This is a great place to store items that you might need quick access to such as a headlamp, extra snacks, and other essentials.
RAIN COVER
A rain cover can protect your pack and its contents from precipitation. Some packs come complete with rain covers and others must be purchased separately.
HYDRATION BLADDER
This water reservoir is advantageous when backpacking as it allows the user the option to sip water perpetually while in motion. Most backpacks come with an integrated sleeve in which to contain the bladder and have a hole in which the reservoir's tube can be threaded. This bladder option is typically sold separately.
INTEGRATED DAYPACK
Some packs have the option to remove the lid (or brain) of the pack and this can be converted into a daypack for hikes away from basecamp.
READ MORE
For more of our top hiking & backpacking gear recommendations, check out these popular articles: