Updated on July 7, 2022
Whether you're new to hiking or have been backpacking for years, if you're looking for one of the best hiking backpacks, you're in the right place. We've surveyed the market and hand-selected a range of packs then shared some of our top picks for specific categories like lightweight, budget-friendly, and best for hauling heavy loads. Aside from the top picks, we've included some runner-ups you might want to consider.
Each backpack we've selected has its pros and cons, and there's not a single pack that will be perfect for every hiker, so we did our best to give you an honest opinion to help you decide if it's the right choice for you and your style of hiking.
QUICK RECOMMENDATIONS
Best Backpack Overall >> Osprey Atmos AG 65
Best Ultralight Backpack >> Hyperlite Mountain Gear Southwest 3400
Most Comfortable Backpack >> Osprey Exos 58
Best Backpack For Extended Trips >> Gregory Baltoro 75
Best Backpack To Carry Heavy Loads >> Deuter AirContact Lite 65+10
Most Affordable and Good Quality Backpack >> REI Co-op Trailbreak 60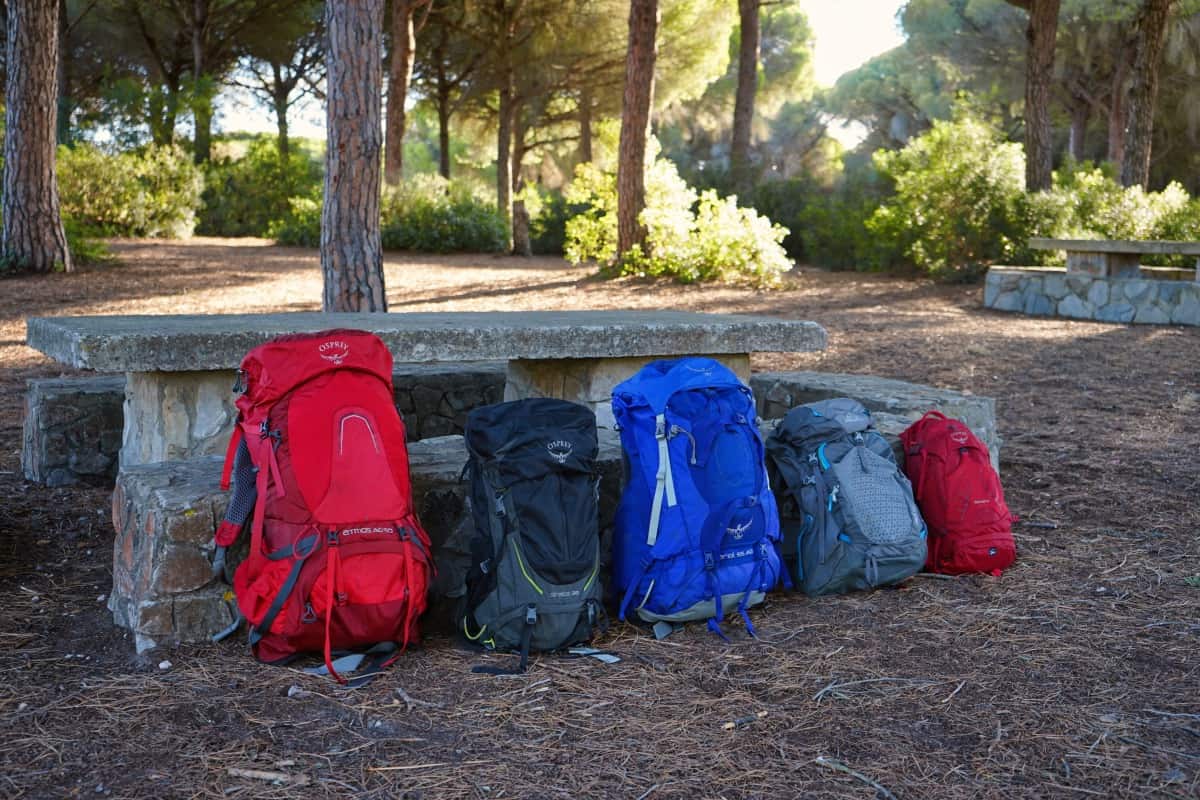 * Weight and price shown for the M size and models closer to 60L.
For more specific hiking backpacks recommendations, check out the following buyer's guides:
Reviews

-

Best Hiking Backpacks
THINGS TO CONSIDER BEFORE BUYING THE BEST HIKING BACKPACK
GEAR CAPACITY
Choosing the proper size multi-day pack is the biggest decision you'll make, as the size of your pack will affect how many days you're able to stay on the trail. Consider when you'll most likely be hiking, as winter backpacking will require much more room than summer camping.
30 – 50 liters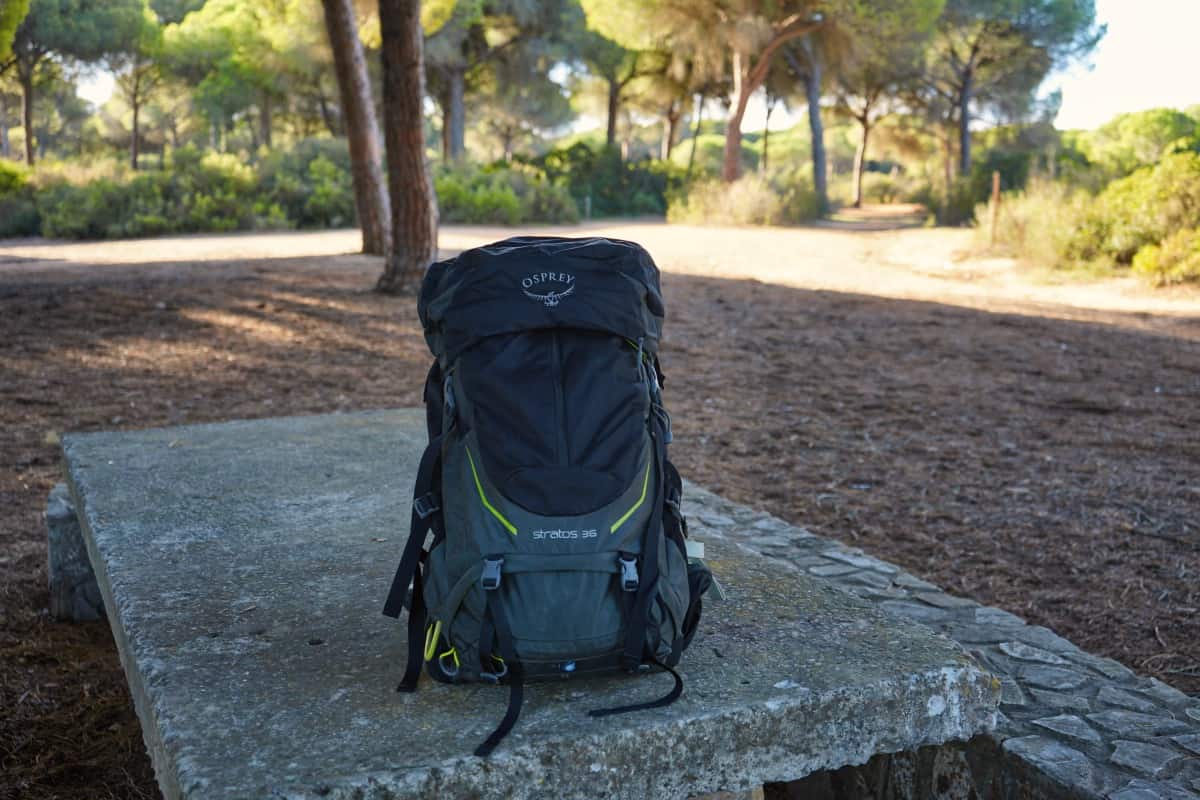 Best suited for weekend trips, a multi-day pack in this range will comfortably pack enough gear for 1 – 3 days in late spring, summer, and early fall.
Depending on the type of gear you bring and how light you can pack, you may be able to extend this by an extra day or two. For example, summers have better conditions for sleeping in a hammock. Carrying a hammock instead of a tent would significantly reduce your overall pack weight. It would also leave room in the pack for other essentials like more food and water, allowing you to stay out longer.
50 – 70 liters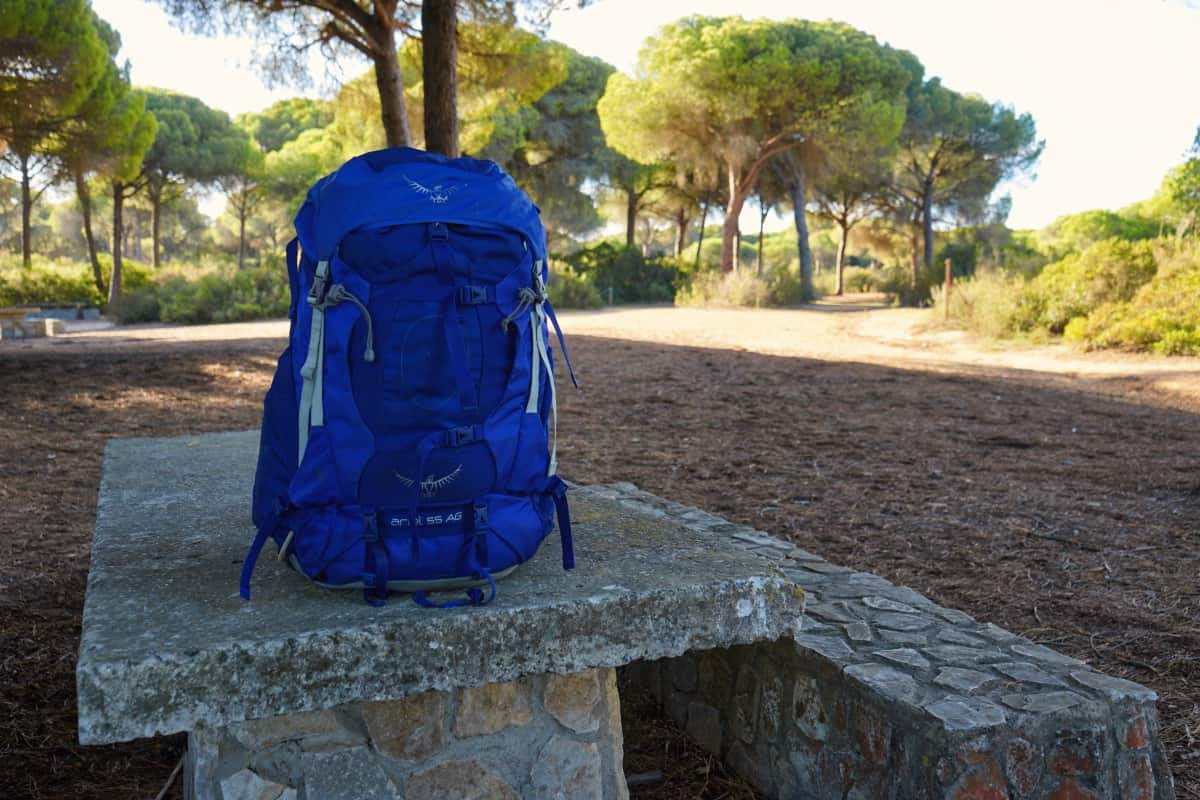 Considered the most widely used type of backpack, these multi-day packs will comfortably extend your trip to the 3 – 5 day range. For winter backpackers, packs of this size will accommodate overnight and even 2-night trips.
The best thing about packs in this range is that they can be "sized down" to also be useful for weekend summer trips. Keep in mind that using a pack of this size for a shorter weekend trip in warm weather requires great discipline when packing, as it's easy to fill the extra space with unnecessary items. You don't want to carry a pack that's uncomfortably heavy just because you couldn't decide what to leave at home!
70+ liters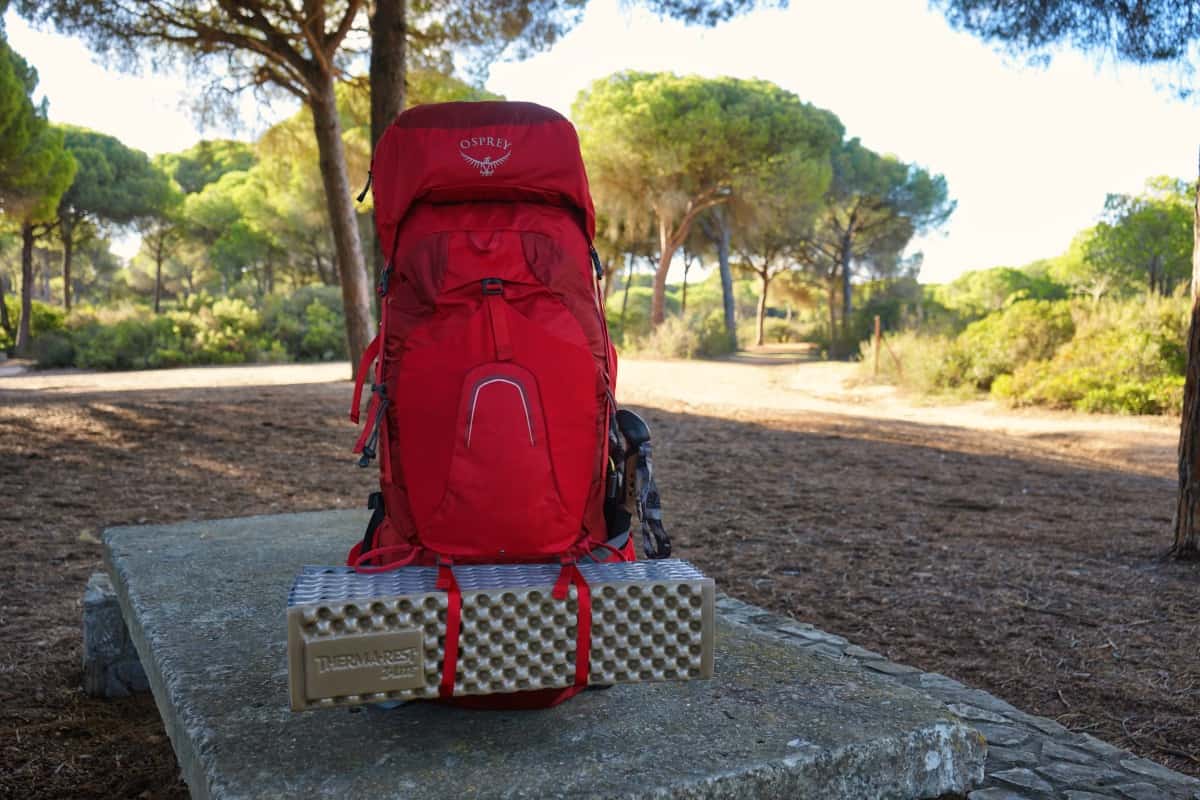 Multi-day packs that exceed 70 liters are best for extended trips that last a minimum of 5 nights. The sheer size of these packs will ensure that you're able to bring enough supplies for the long haul.
Packs in this range are great for families with young children. With a 70+ Liter pack, you'll be able to carry your children's supplies as well as your own.
70+ Liter packs are also in high demand for winter treks lasting more than 2 nights. You'll be able to haul thicker clothing, more layers, and larger, winter sleeping bags without worrying about running out of space.
SIZE
Torso length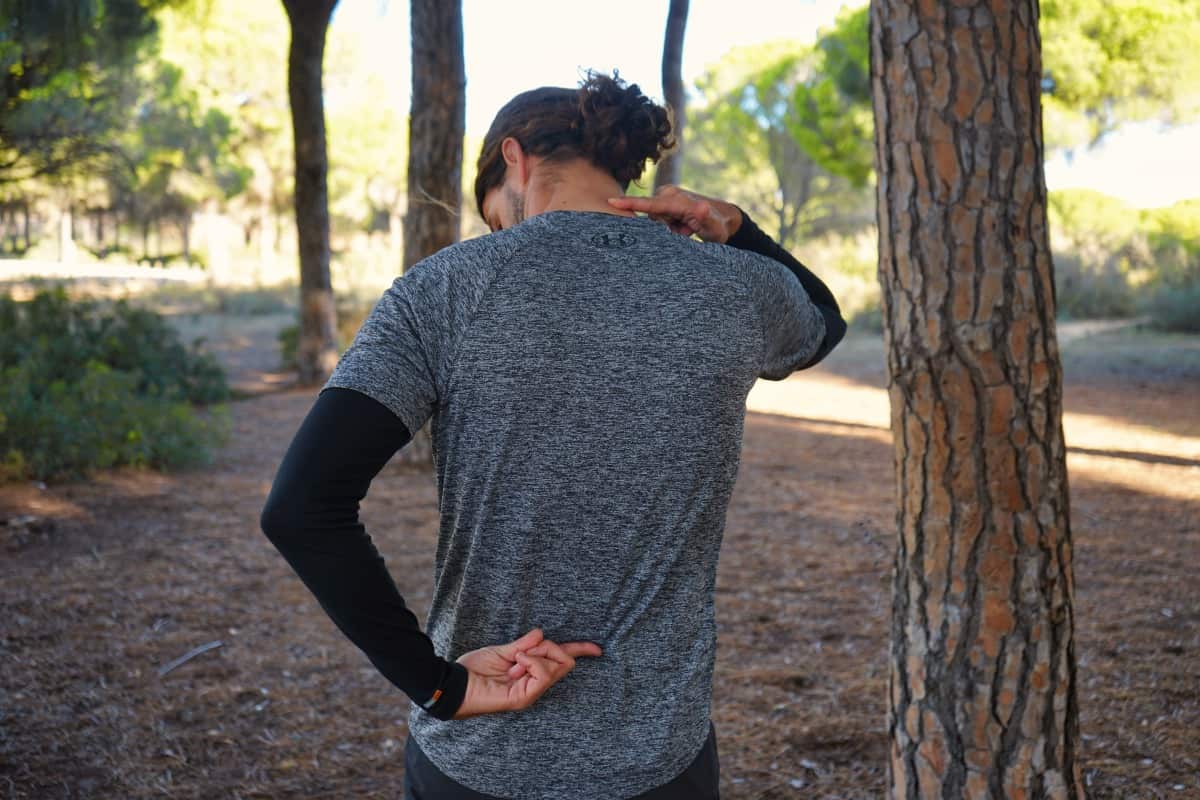 The most important measurement for choosing the correct size multi-day pack is measuring the length of your torso. To do this, you will need a flexible measuring tape and a helping hand from a friend or relative.
Your torso length can be determined by measuring the distance between your C7 vertebra at the base of your neck and your iliac crest at the top of your hip bones. Start by tilting your head forward. You want to feel for a bony bump on the back of your neck (the place where your neck and shoulders meet, AKA the C7 vertebra). This is your starting point.
Next, put your hands on your hips (at your waistline) and slide them down to the tops of your hip bones with thumbs pointing towards your back. Now draw an imaginary line between your thumbs. This is your stopping point.
Last, using a measuring tape, have your partner measure the distance from the starting point down to the imaginary line on your hips. This is the length of your torso. Use the chart below to determine what size multi-day pack you will need based upon your measurement.
| | |
| --- | --- |
| PACK SIZE | TORSO LENGTH |
| EXTRA SMALL | UP TO 15″ |
| SMALL | 16″ – 17″ |
| MEDIUM / REGULAR | 18″ – 19″ |
| LARGE / TALL | 20″ + |
It's also important to note that most multi-day packs come with an adjustable suspension for torso length. This is designed for users to dial in the perfect length. Each brand has its own system – check the instructions on the pack for sizing adjustments.
Waist size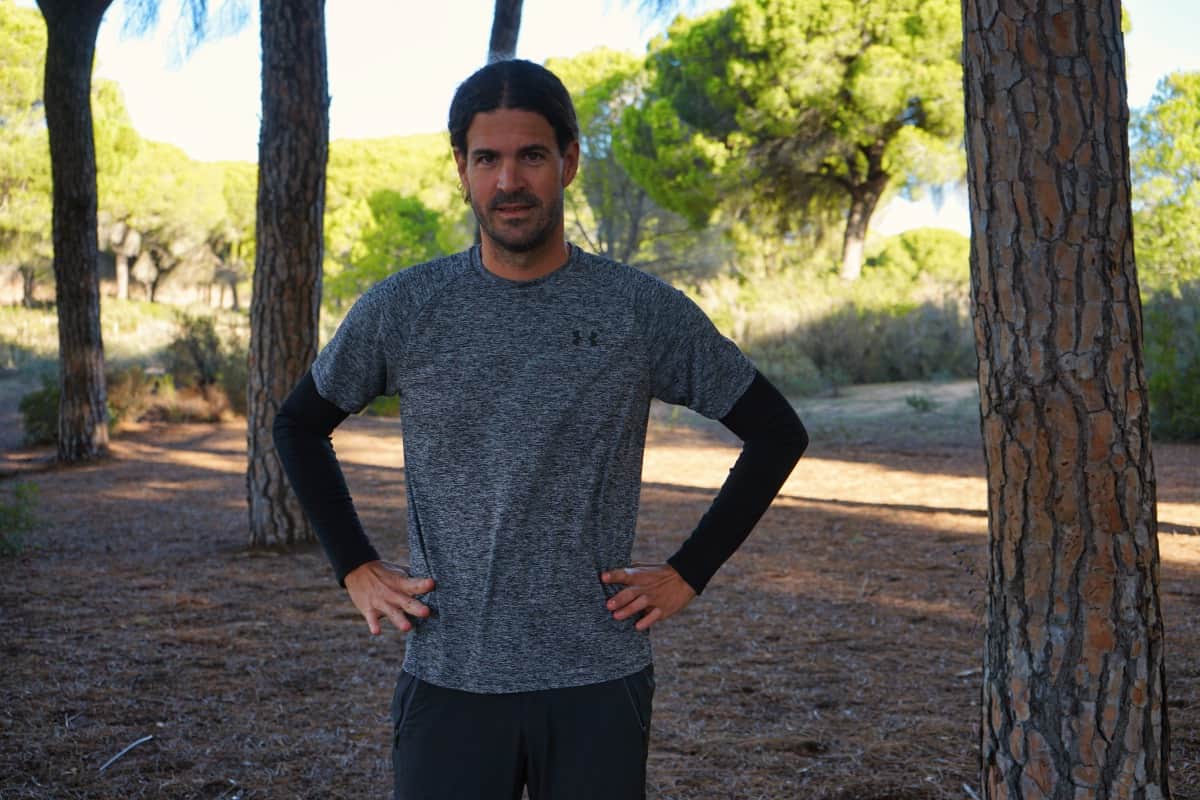 Although the proper size of a multi-day pack can usually be found with just the torso length, make sure to measure your waist size as well. Compare your waist measurement to the hip belt size on your chosen pack to make sure they match. If they don't, double check to see if you can swap out the hip belt for a smaller or larger one. Most brands are willing to do this at no extra cost.
Waist measurement is also a good tiebreaker for those who may fall in-between sizes. For example, if your torso measurement is somewhere between 19" – 20", it can be difficult to decide whether to size up or down. In this case, check your waist size. If you have average sized or narrower hips, size down to the Medium/Regular pack size. If you have wider than average hips, size up to ensure the hip belt will properly fit. In either case, the torso length can be adjusted up or down to ensure a snug fit.
ADJUSTMENT FEATURES
Hip belt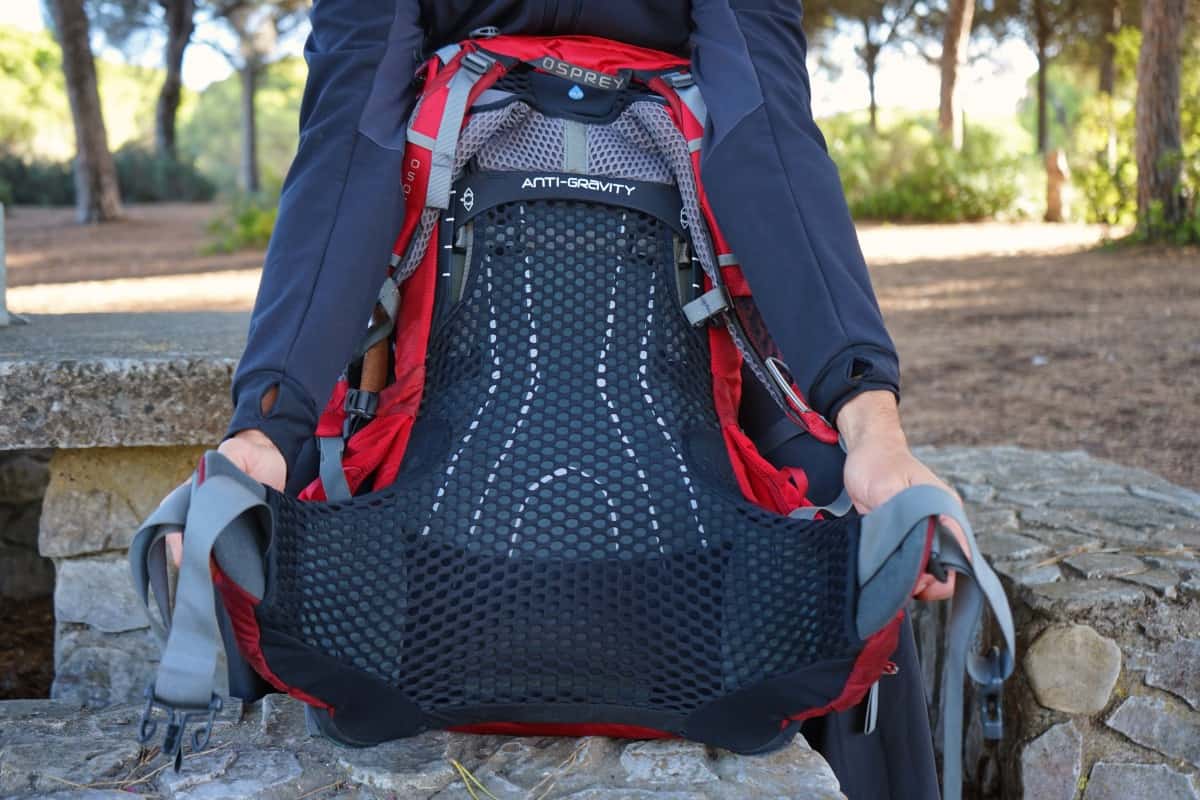 The first point of adjustment after donning your pack is the hip belt. Multi-day packs are designed to reduce stress and pressure from your shoulders by redirecting the weight to your hips. This creates ergonomic comfort on long hikes.
To properly adjust the hip belt, put on the backpack while fully loaded with gear and clip the hip belt buckle. Ensure the padded portions of the hip belt fit snugly on your hip bones. To adjust the fit, tighten the straps on either side until snug.
When fully tightened, the straps should have at least 1" of clearance between the buckle and the plastic adjustment pulley. If there is less than 1", contact the manufacturer to see if a smaller belt is available.
Shoulder straps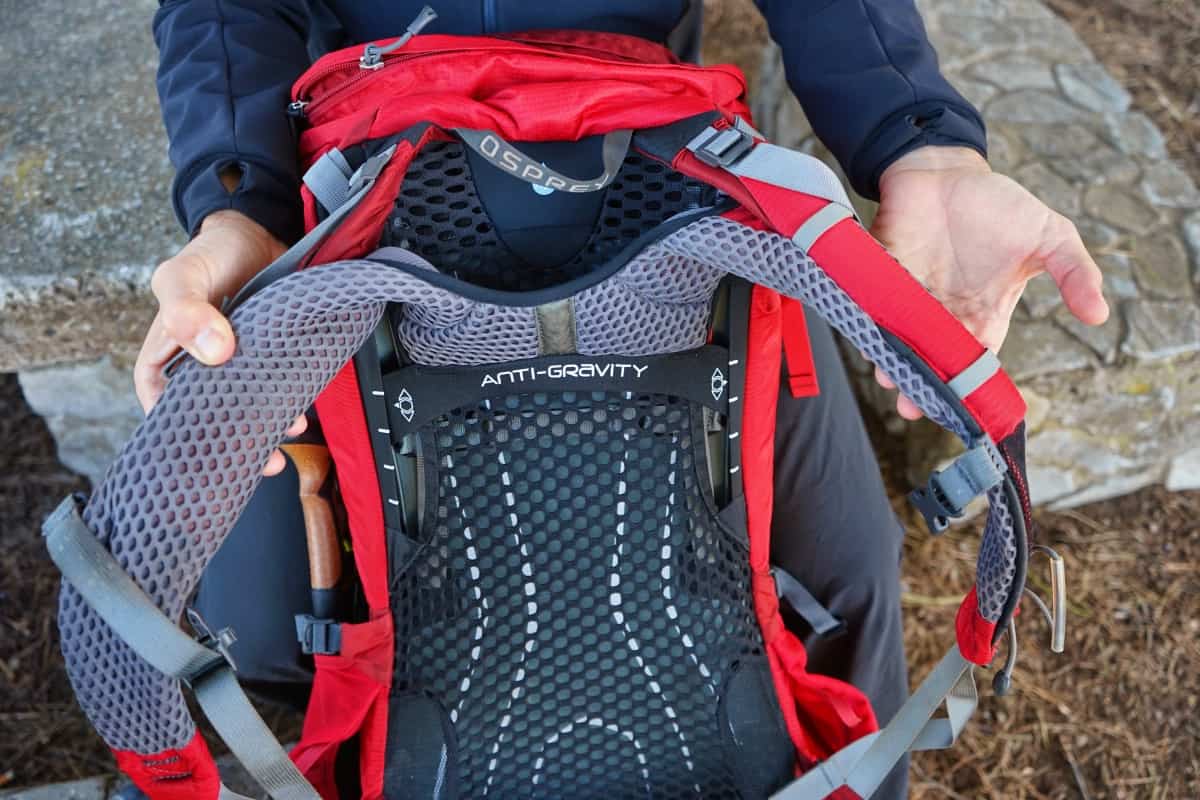 The next thing you want to adjust when you first put your pack on is the shoulder straps. To tighten them, pull down and back on the strap. Be careful not to over-tighten these straps, as you don't want them to cause discomfort by digging into your shoulders. The anchor points (the place on the pack where the shoulder straps come out from) should rest 1 – 2 inches below the tops of your shoulders, just about at the top of your shoulder blades.
Additionally, the shoulder straps should fit snugly without adding any weight or pressure to your shoulders. If this isn't the case, double check your hip belt to ensure the load is being supported there. Finally, if the hip belt is loaded and tightened correctly, double check the torso length, as the suspension may need to be re-adjusted.
Load lifter straps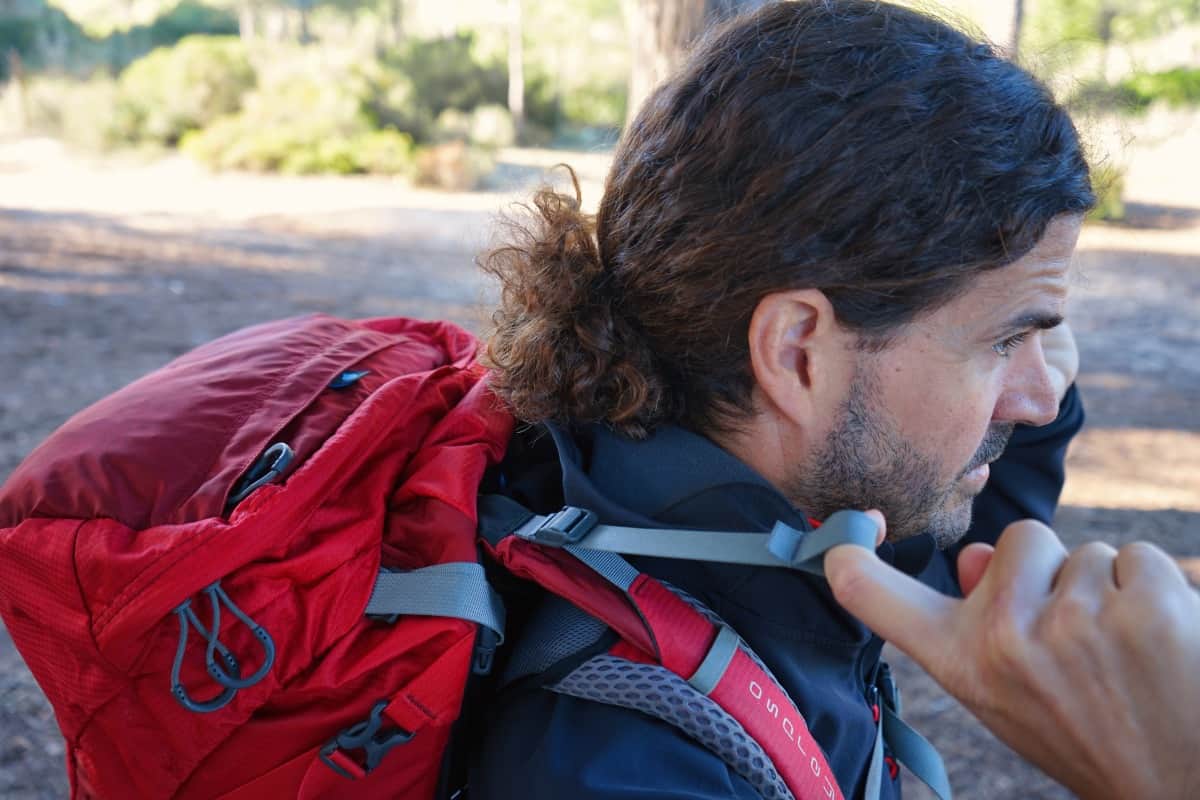 Load lifter straps are a secondary point of adjustment after the hip belt and shoulder straps. Located near the top of the pack, they help add ergonomic comfort by assisting the shoulder straps. In order to achieve the best fit, adjust the load lifter anchor points at a 45° degree angle to the pack.
The shoulder straps should still be snug with your body after you tighten down the load lifter straps. If you find that there is a gap or separation between the shoulder straps and your body, loosen the load lifters. Over-tightened load lifter straps can pinch your shoulders over time, even if they felt good after the initial tightening. Don't be afraid to play around with the adjustment of these straps the first few times you wear your pack, until you find a comfortable and reliable snugness.
Sternum strap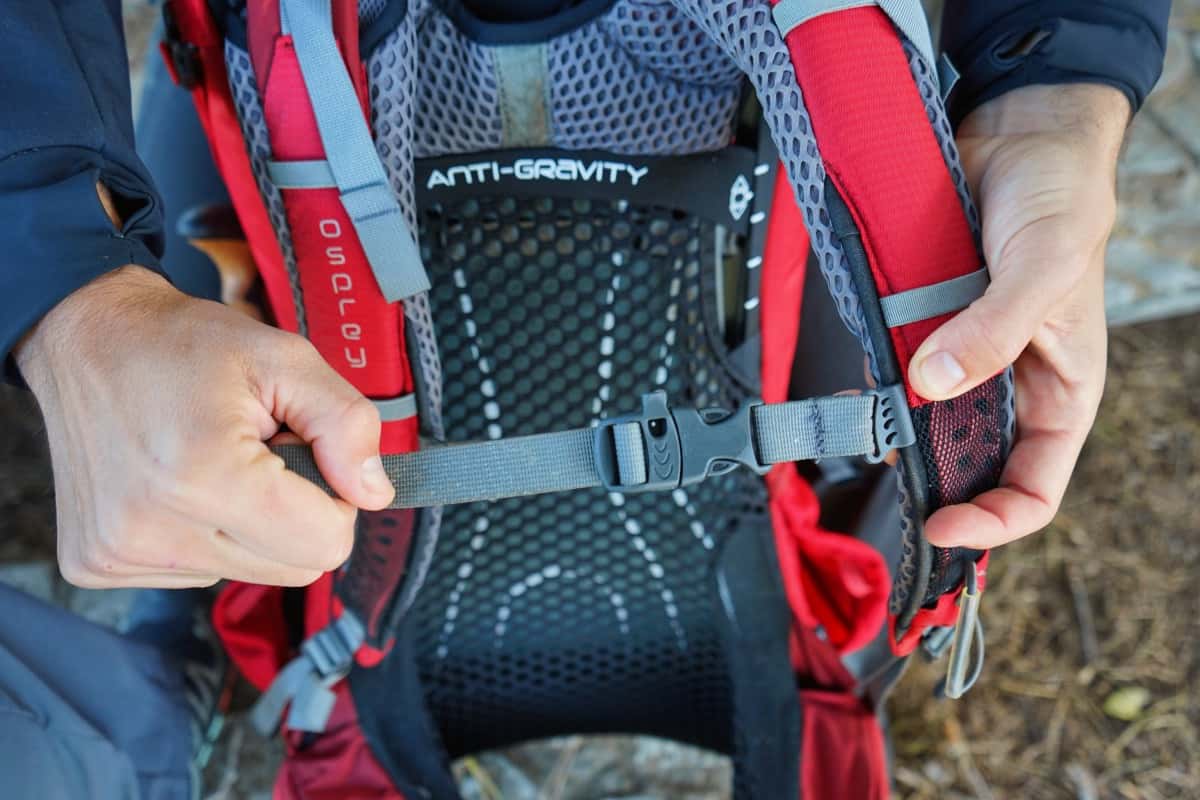 The sternum strap is a small strap near the top of your pack that comes across your chest. An optional adjustment, buckling the sternum strap can help create additional support. To dial in the right fit, slide the sternum strap up until it is about an inch below your collar bones. Buckle and tighten the strap to a snug fit without over-tightening. Some prefer to hike without this strap buckled. Experiment to see what you like best.
ADDITIONAL FEATURES
Removable top lid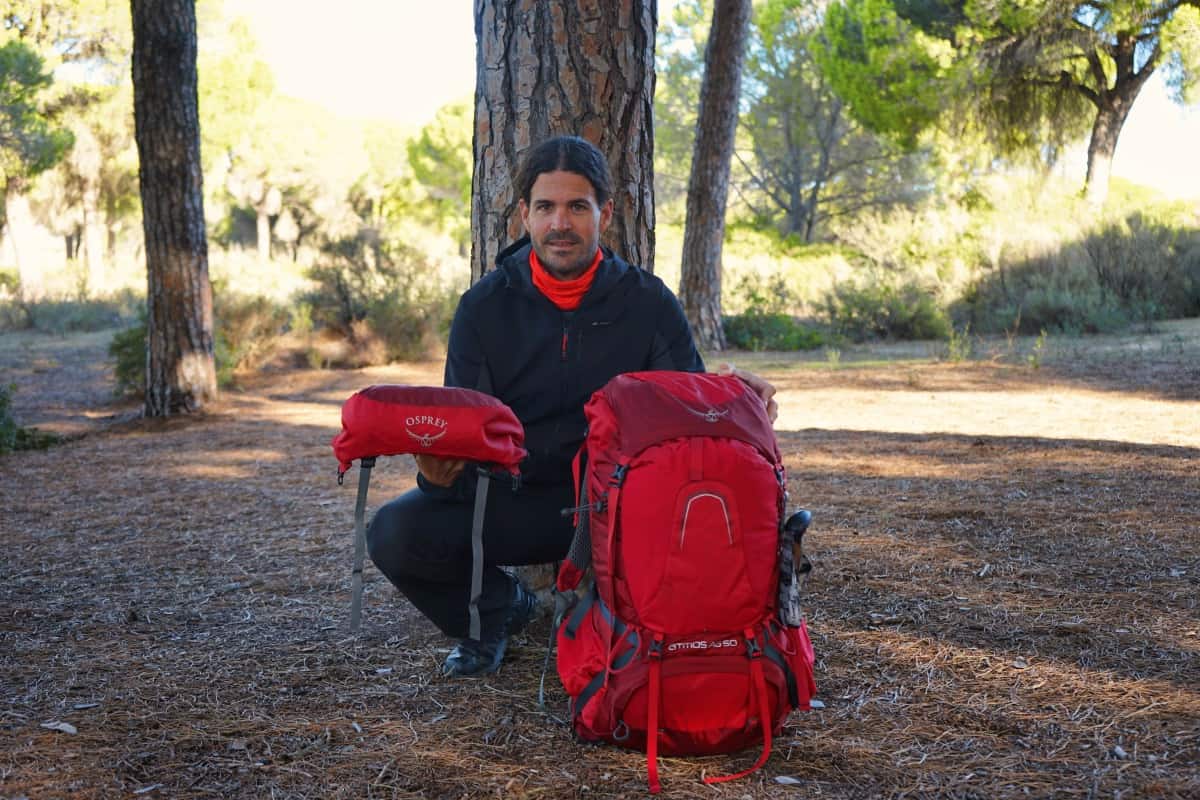 Multi-day packs in the 50+ Liter size range will sometimes come with a removable top lid that can double as a day pack or hip belt pack. These can be extremely useful for those who plan to set up a base camp for multiple days. Having a removable top lid will free you from carrying your big pack on small day trips within your backpacking/camping trip.
If you've opted for a 50+ Liter pack but find yourself on a shorter trip of 1 – 3 days, a removable top lid can also be left at home to trim down on pack size/weight.
Sleeping bag compartment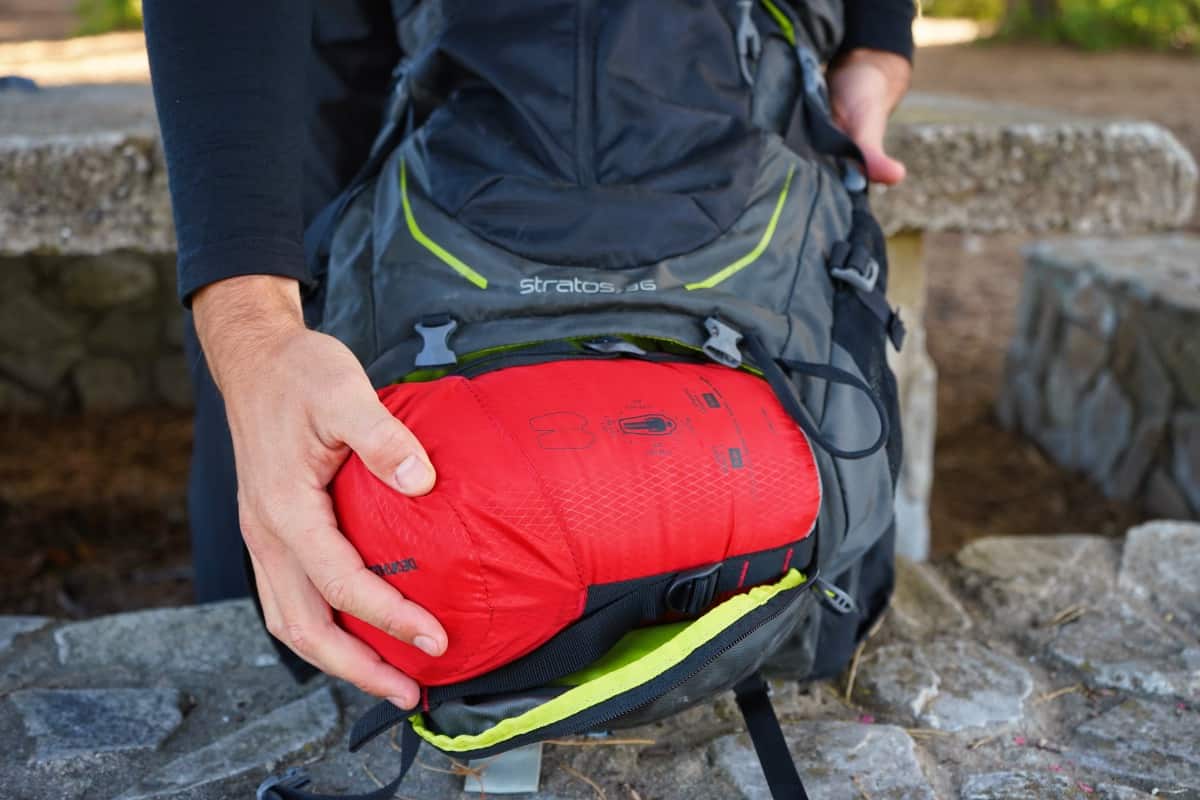 Some multi-day packs offer additional access to the main compartment via a zipper at the bottom. For instance, this bottom compartment allows you to easily reach your sleeping bag without completely unloading everything else in your pack. So keep an eye on this feature as it helps you stay organized.
Hydration reservoir pouch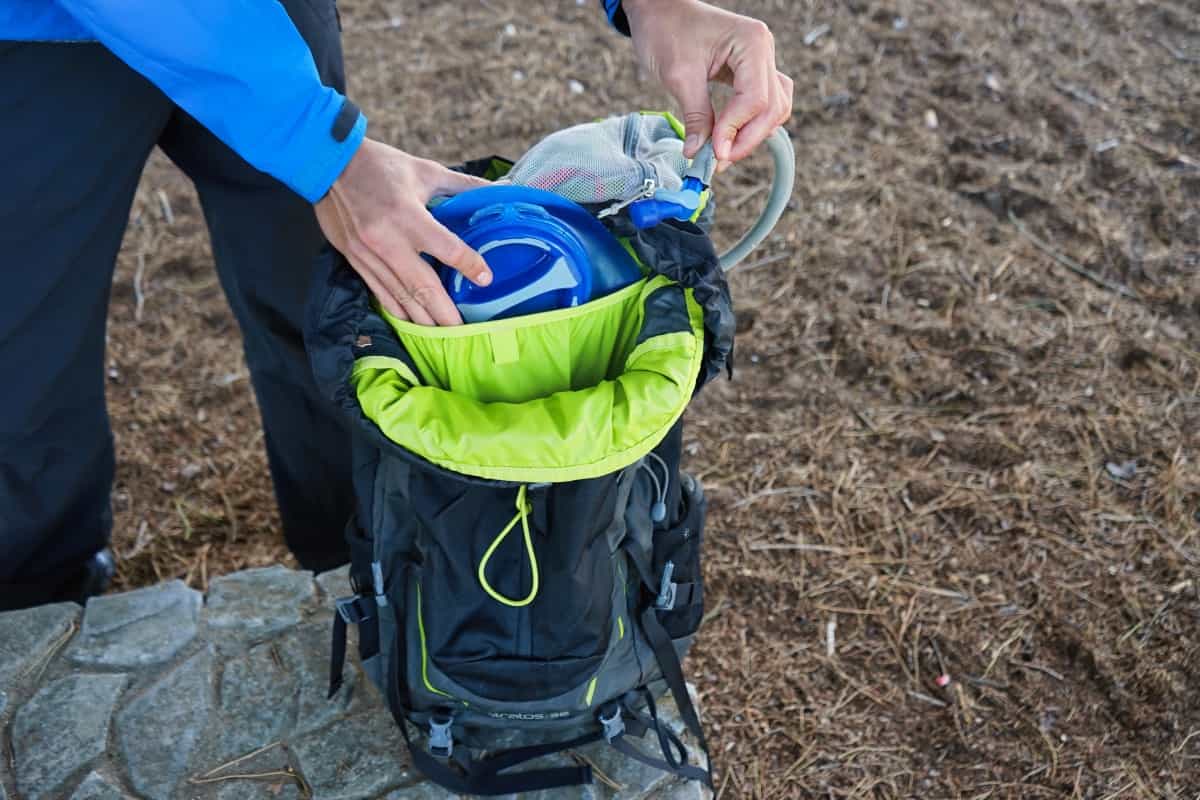 The best hiking backpacks now include a slim pouch in the back of the pack that can hold a hydration reservoir. Typically sold separately, some brands (such as Osprey and REI) will include a 1.5 or 2 Liter hydration reservoir at no extra cost. Therefore, these hydration reservoirs (often called "bladders" or referred to by the trademarked name "CamelBak") are a fantastic alternative to bulky and heavy water bottles.
Hydration reservoirs deliver water via a tube that attaches to the shoulder straps, allowing you to drink water on the go without having to stop and unhook your water bottle.
Raincover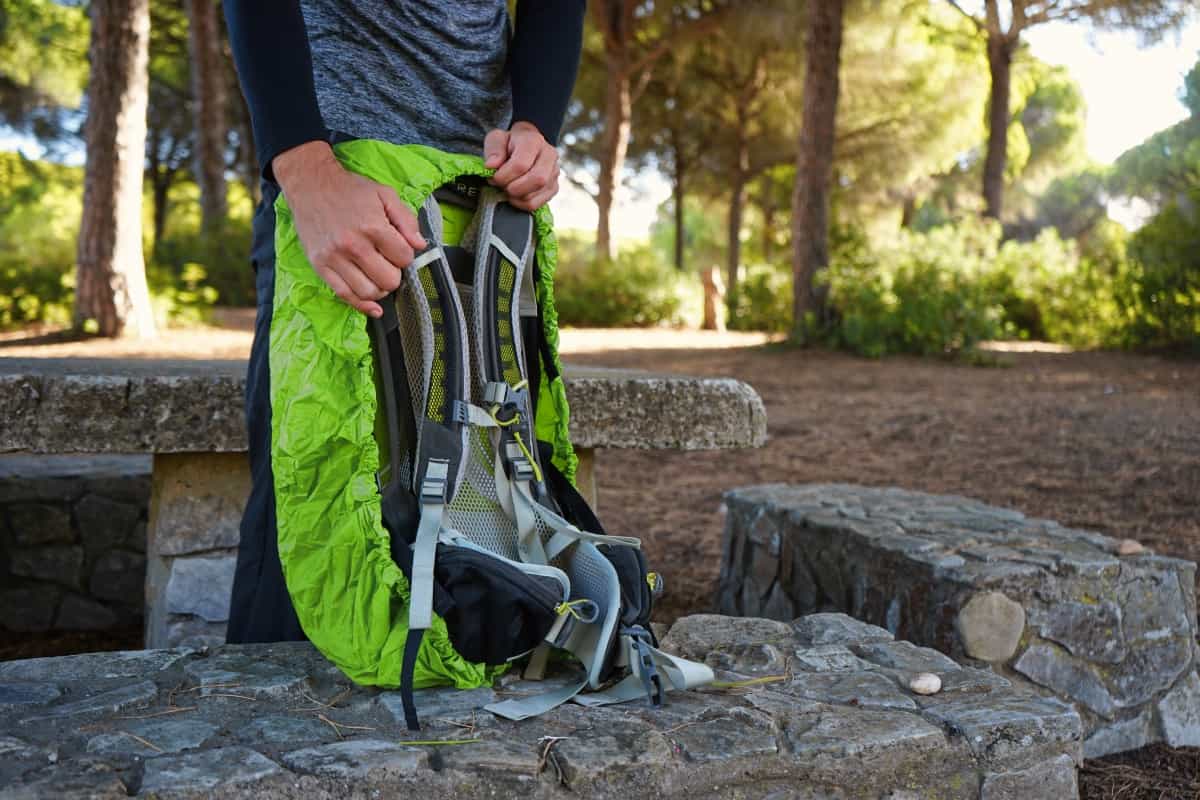 Having a raincover for your pack can save your gear from getting totally soaked in a sudden downpour. No one likes a wet sleeping bag!
Some multi-day packs come with their own raincover, such as those made by Osprey and REI, and have a dedicated storage pouch. These integrated raincovers are easy to deploy in case of a sudden rainstorm and can also be packed away quickly and efficiently. If your chosen multi-day pack doesn't include a raincover, we suggest picking one up for a small cost.
FEATURES EXPLAINED ABOUT THE BEST HIKING BACKPACKS
Hip pocket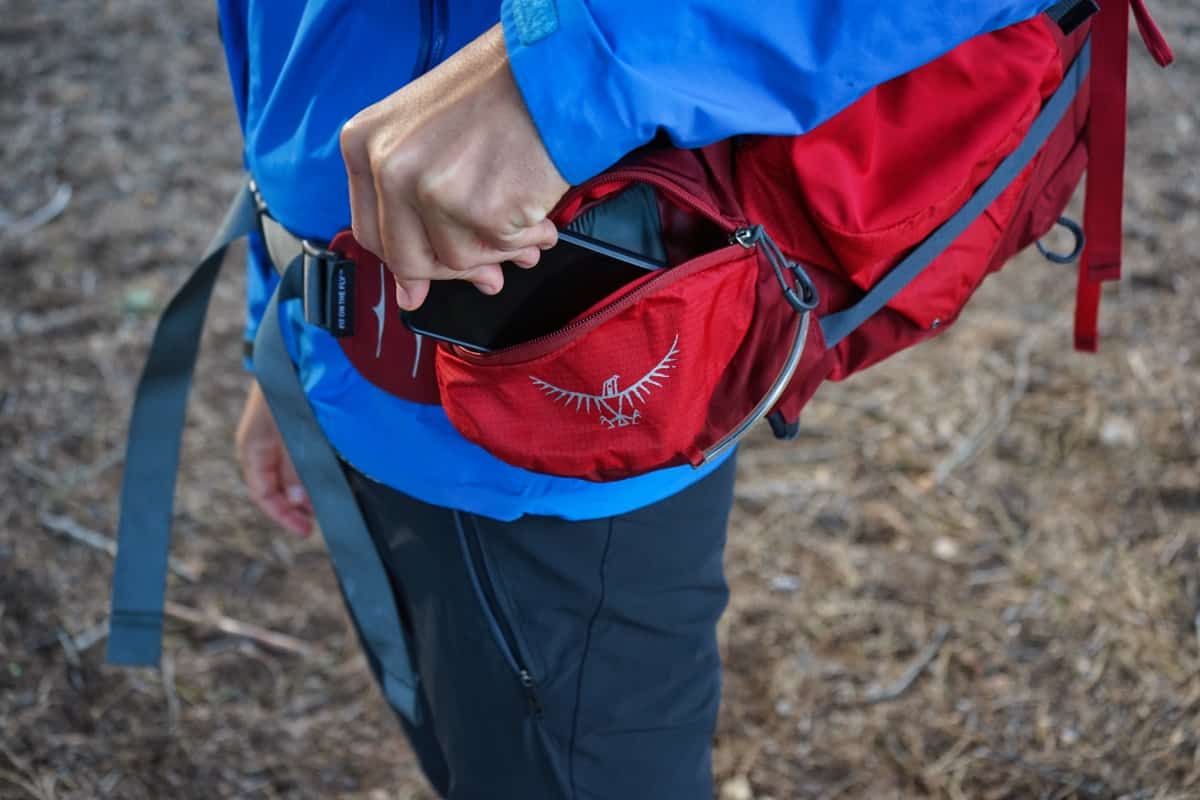 These padded arms located at the bottom of the pack are designed to help transfer the weight of the pack to your hips and minimize the downward weight on your shoulders. This is perhaps one of the most important parts of a pack. Hip belt pockets are ideal for storing small items that might be needed quickly while on the trail.
Hydration bladder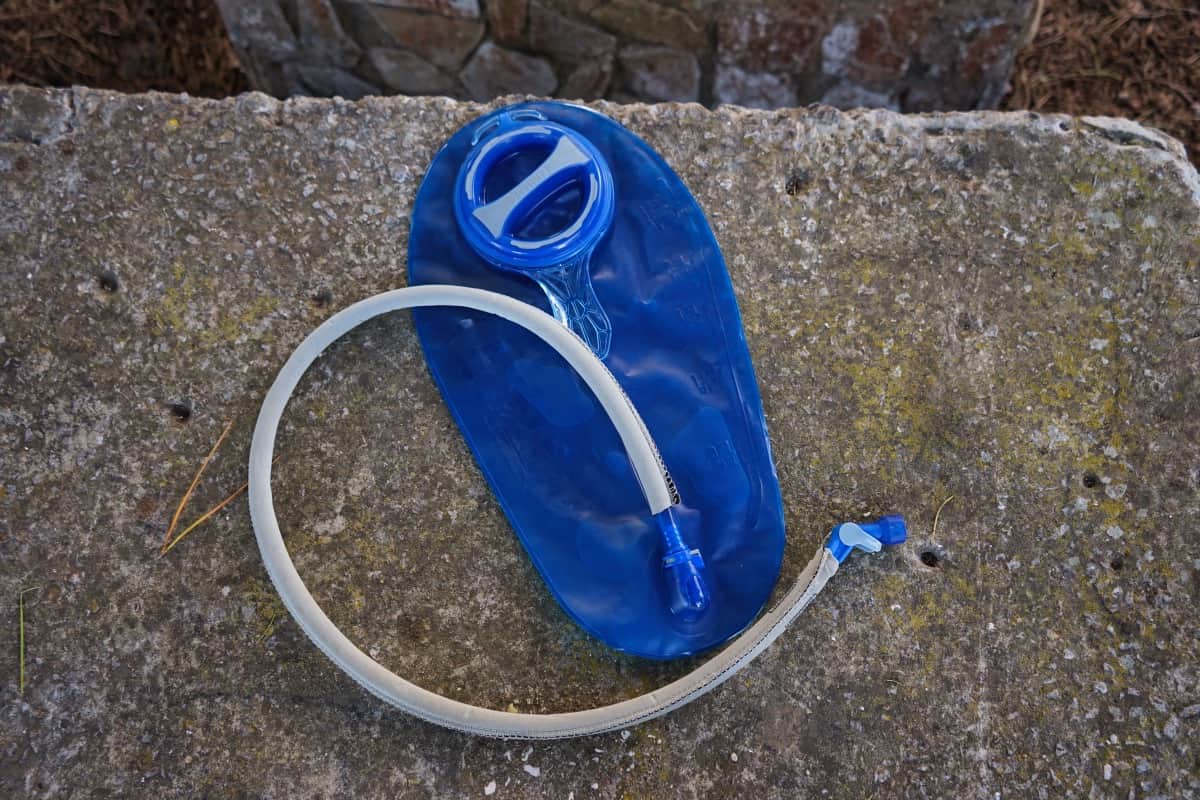 This water reservoir is advantageous when backpacking as it allows the user the option to sip water perpetually while in motion. The best backpacking packs come with an integrated sleeve in which to contain the bladder and have a hole in which the reservoir's tube can be threaded. However, this bladder option is typically sold separately.
Stash pocket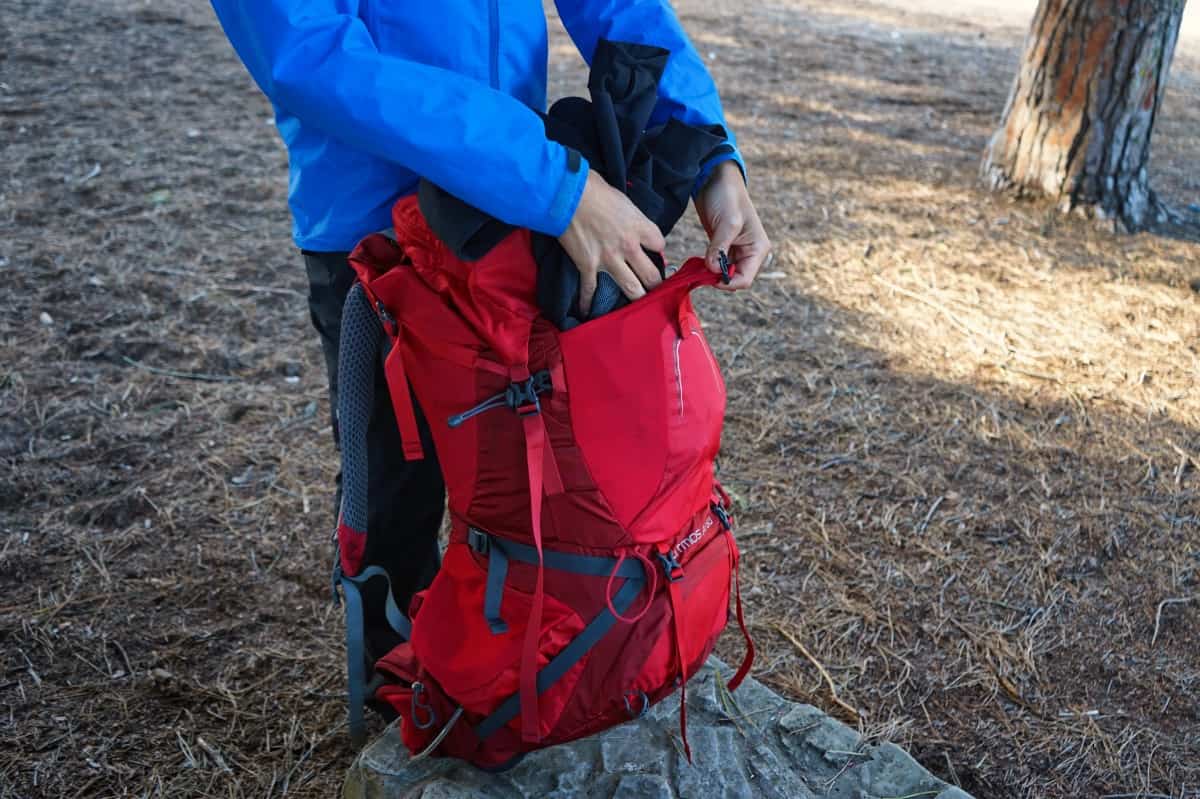 A zippered pocket that can accommodate a couple of small items, such as a protein bar or a headlamp. Most hip belts have one on each side and some multi-day packs offer a few stash pockets in the top lid (AKA 'brain') for easy access.
Side pocket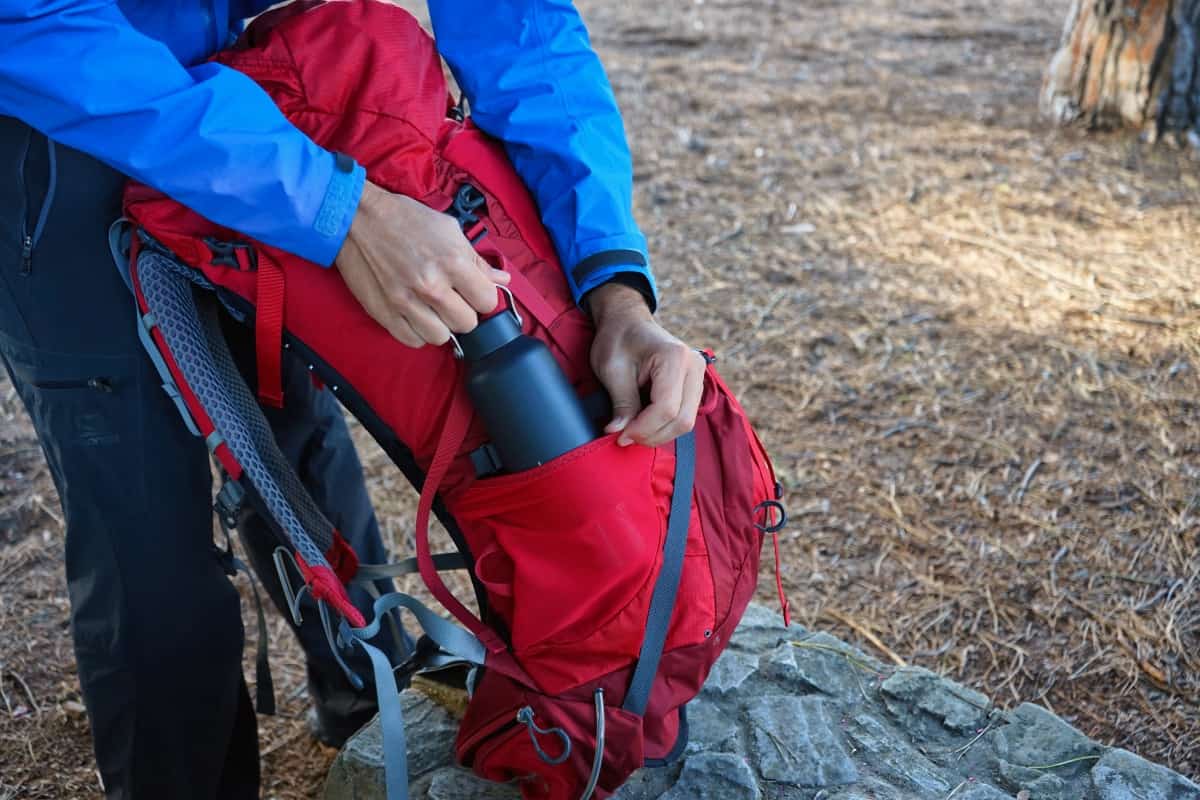 Flanking either side of the backpack, side pockets are always open and can store tent poles, trekking poles, or even a large water bottle.
Side compression straps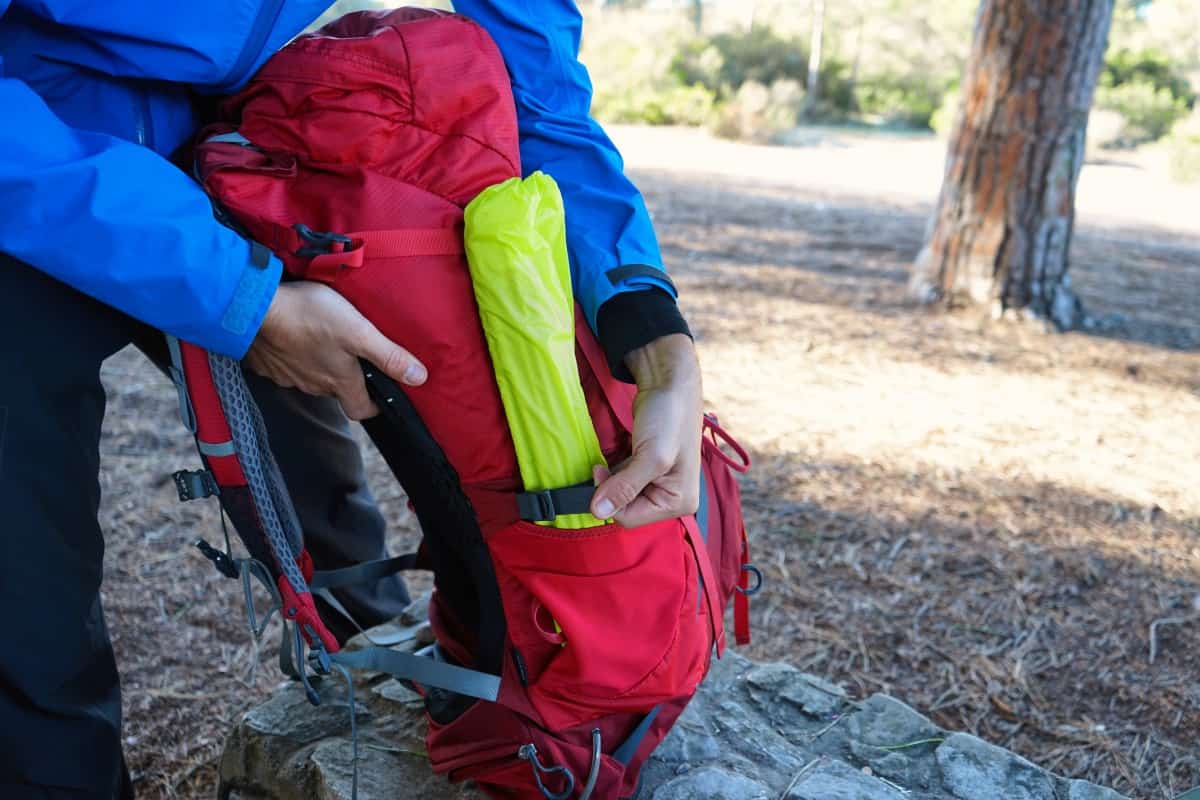 Usually found near the side pockets, these handy straps can be tightened to pull a backpack's load closer to the frame. Doing so creates a better center of gravity for the hiker. You can also use them in conjunction with the side pockets to help hold onto longer items such as tent poles.
Sternum strap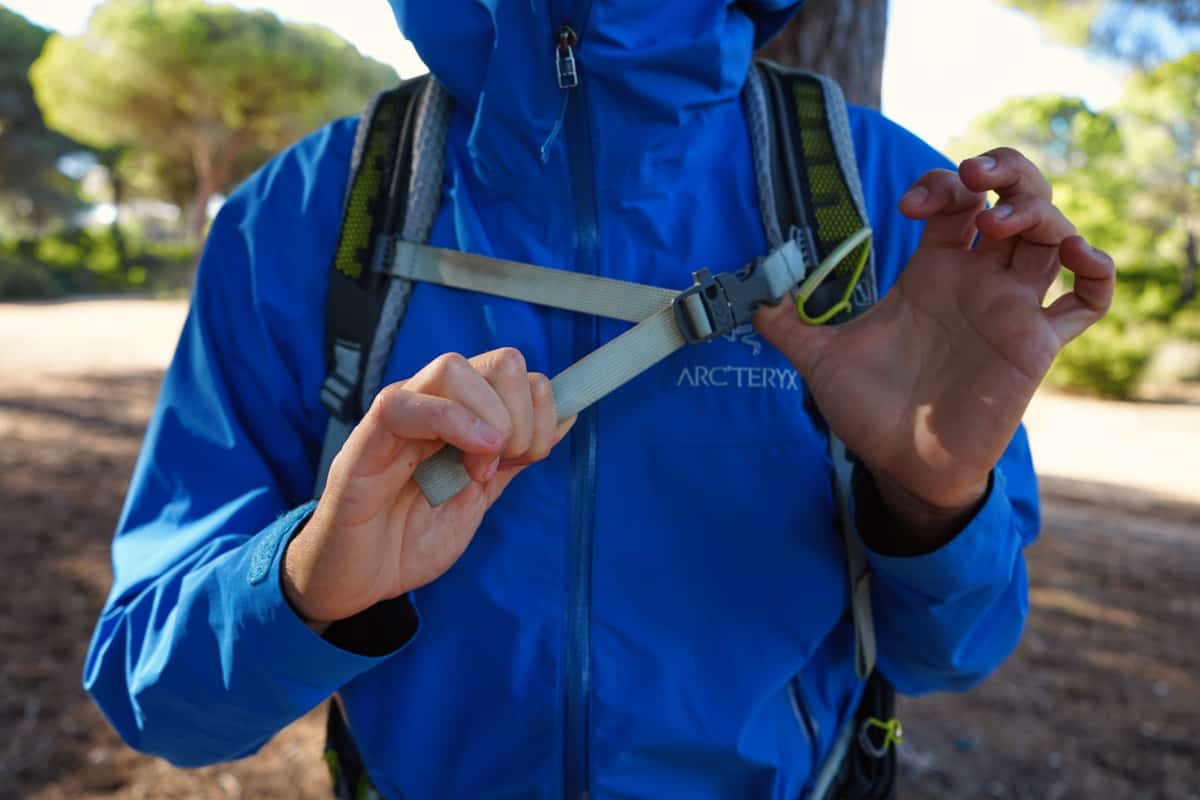 The sternum strap connects the two shoulder straps and is ideal when it's adjustable to allow the user to find the perfect location on the chest.
Tool loop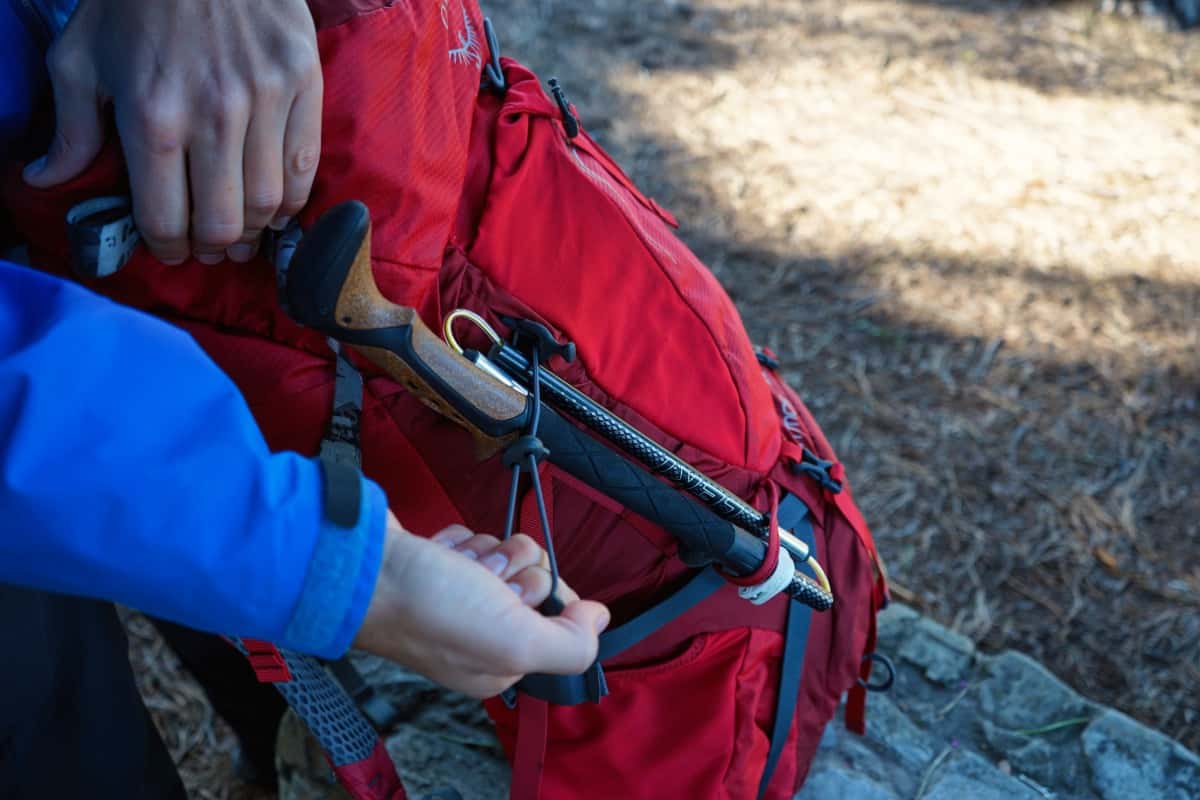 A loop found on the bottom of a multi-day pack that can accommodate extra gear, external to the main compartment. These are usually used to strap on a ground pad or tarp.
Top lid (aka the brain)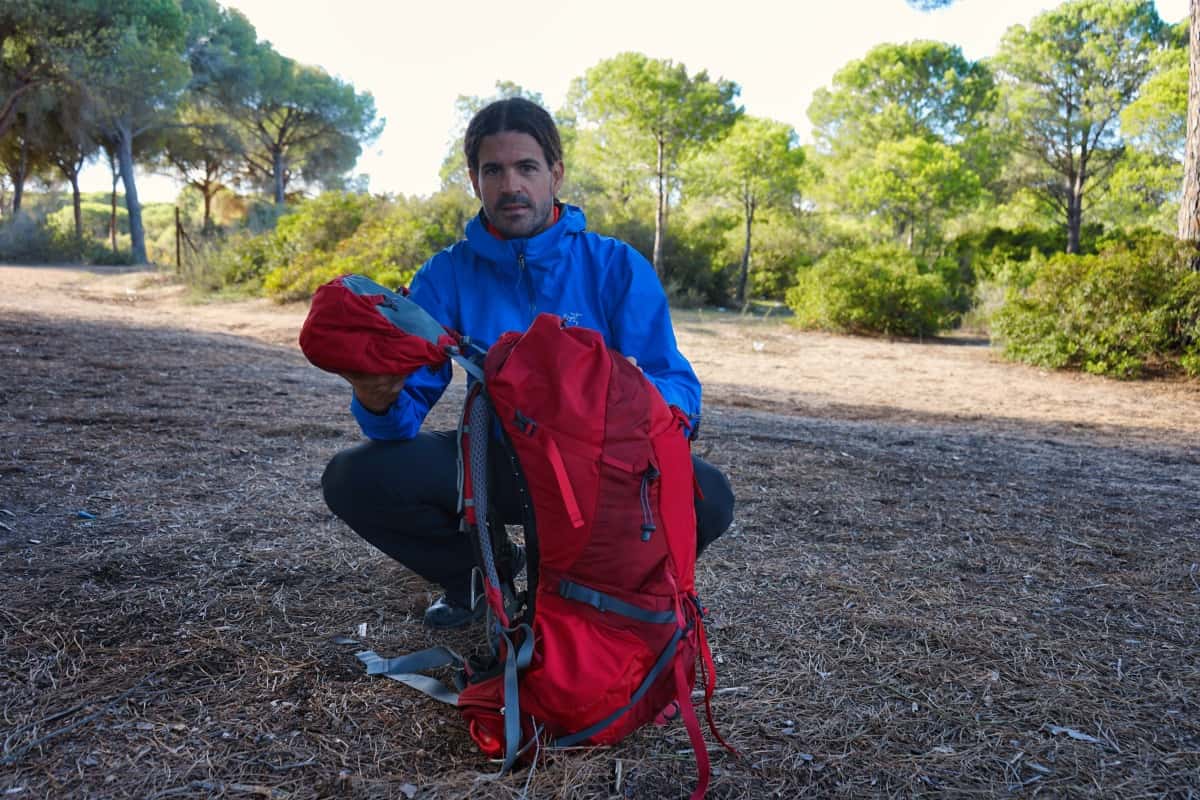 Provided it has one, the top lid of the backpack is often referred to as the 'brain'. This is a great place to store items that you might need quick access to such as a headlamp, extra snacks, and other essentials.
Ventilated back panel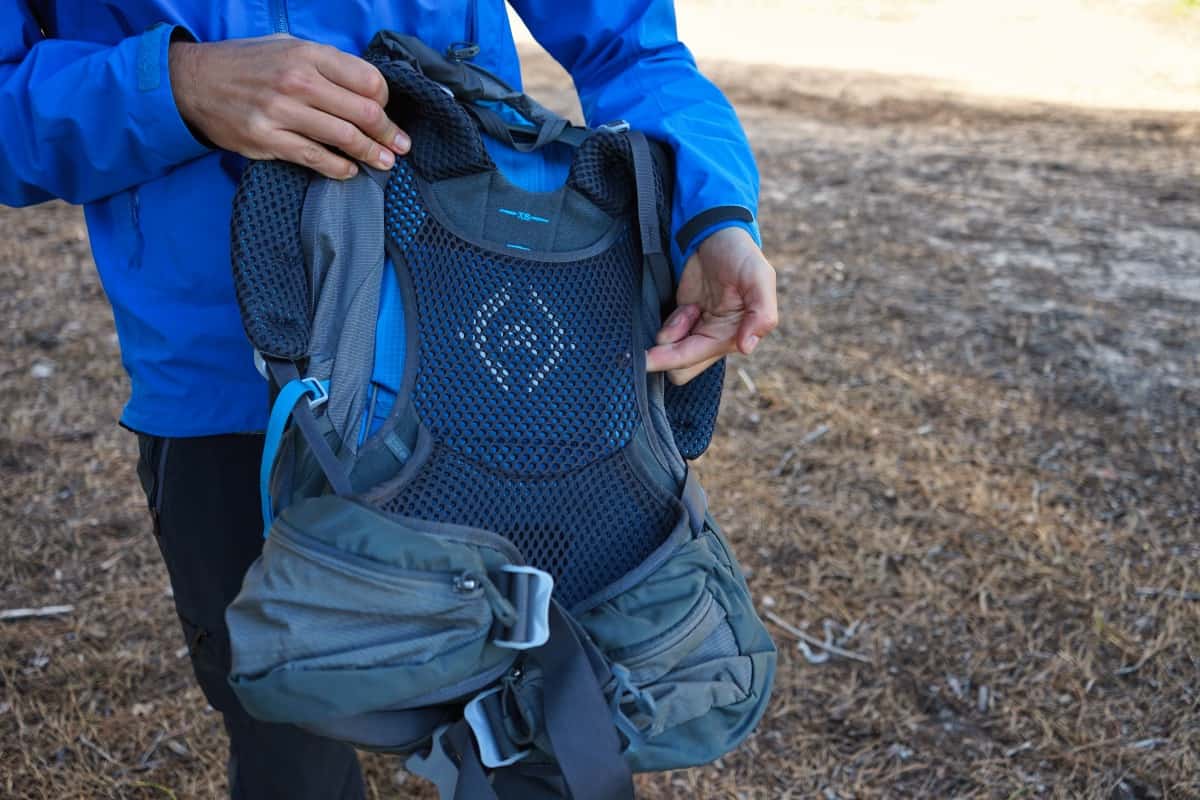 The best hiking backpacks offer some type of ventilated back panel that helps increase the air flow between the load and your back. This feature helps keep you cool and prevents your sweat from drenching your gear.
F.A.Q. ABOUT THE BEST BACKPACKS FOR HIKING