Updated on April 8, 2021
When you're on a hike, a compass, map and navigational skills are some of the most important tools you can have at your disposal. A compass can tell you where you are and the best way to get to where you want to go. If you get lost on a trail, and you don't have cell service or your GPS device dies, a compass and a map might be the things that ensures you make it home safe. But how do you know what's the best hiking compass for you?
One of our big goals here at The Adventure Junkies is to make your life easier when it comes to ticking of your hiking gear check list. In this guide, we'll walk you through how to choose a hiking compass and show you our selection of the best models of the year.
For more of our top hiking accessory recommendations, check out the Best Hiking Poles.
Quick Answer

-

The Best Hiking Compasses
TurnOn Sport Orienteering Compass

Coghlan's Function Whistle

Celestron 48003 TrekGuide
Comparison Table

-

Best Hiking Compass

For the best experience turn your device horizontally
Reviews

-

The Best Compass for Hiking
Suunto M-3 D Leader
Specs
Analog/Digital

:

Analog

Declination Adjustment

:

Yes

Sighting Mirror

:

No
Features
Baseplate with magnifying lens
Metric and Imperial scales
Balanced for northern hemisphere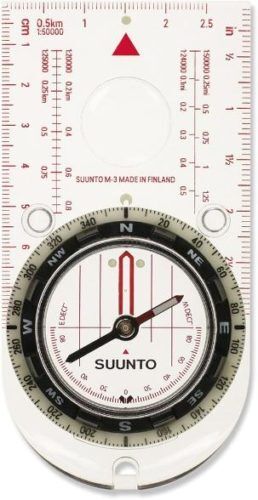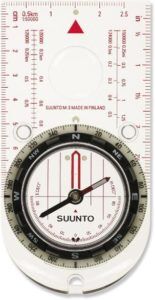 BEST OVERALL HIKING COMPASS
PROS: Detachable locking lanyard, liquid-filled capsule for stable operation
CONS: degree markings on the baseplate are relatively small, making it hard to navigate in low light conditions.
TurnOn Sport Orienteering Compass
Specs
Analog/Digital

:

Analog

Declination Adjustment

:

No

Sighting Mirror

:

No
Features
Magnifying Glass
Compass Ruler and 1:24000 compass Scale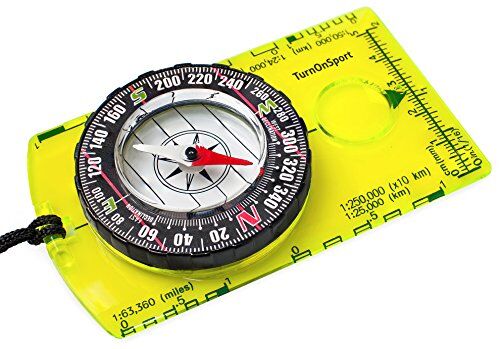 BEST FOR: HIKING ON A BUDGET
PROS: Affordable price, waterproof bearings allow for use in inclement weather, very lightweight, weighing in at 1.6 ounces.
CONS: No declination feature or direction box included
Suunto A10 Field
Specs
Analog/Digital

:

Analog

Declination Adjustment

:

No

Sighting Mirror

:

No
Features
Ergonomic design
Includes lanyard
Scratch-resistant
High-grade steel needle with jewel bearing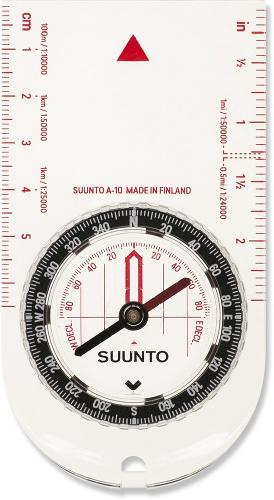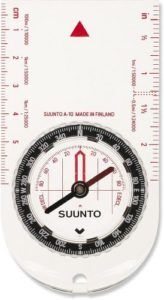 BEST FOR: BASIC NAVIGATING AND ORIENTING
PROS: Base plate with straight edge for map reading, waterproof
CONS: Doesn't have global needle, fixed declination scale, non-luminous, bubbles may develop in liquid
Specs
Analog/Digital

:

Analog

Declination Adjustment

:

Yes

Sighting Mirror

:

Yes
Features
Compact
Global needle
Easy-grip bezel
Base plate with magnifying lense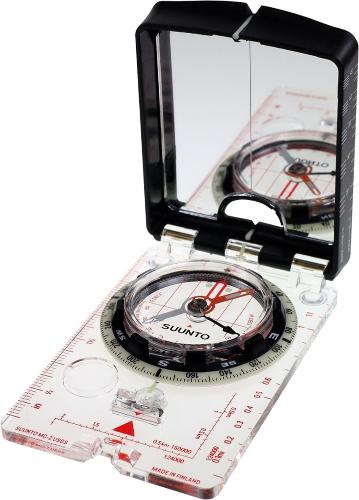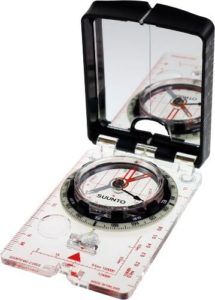 BEST FOR: ADVANCED NAVIGATION AND ORIENTING
PROS: Base plate with magnifying lens, straight edge, and inch markings for map reading, global needle, adjustment key included on lanyard, bezel reads in two degree increments, luminous outer ring
CONS: Numbers rub off of the bezel after regular use, cover isn't durable enough for heavy use, luminous outer ring doesn't stay illuminated for very long, tool needed for declination adjustment
Coghlan's Function Whistle
Specs
Analog/Digital

:

Analog

Declination Adjustment

:

No

Sighting Mirror

:

No
Features
Loud, pealess whistle
Fahrenheit/Celsius thermometer
Magnifying lens
Glow-in-the-dark dial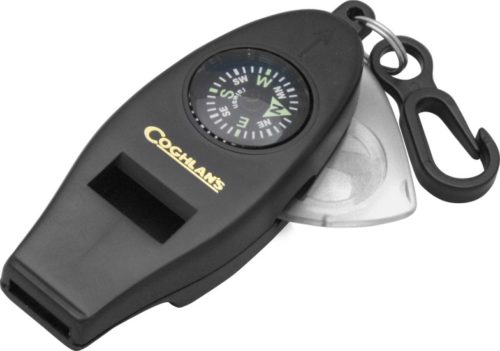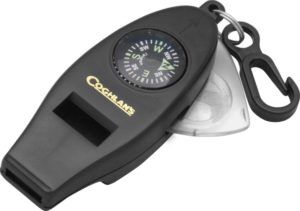 BEST FOR: KIDS
PROS: Three important tools all-in-one
CONS: Other than finding magnetic north, the product doesn't feature any additional navigational features.
Suunto M9 Wrist
Specs
Analog/Digital

:

Analog

Declination Adjustment

:

No

Sighting Mirror

:

No
Features
Reliable northern hemisphere readings
Serrated bezel ring
Black hook-and-loop wrist strap
Ratcheting mechanism for direction setting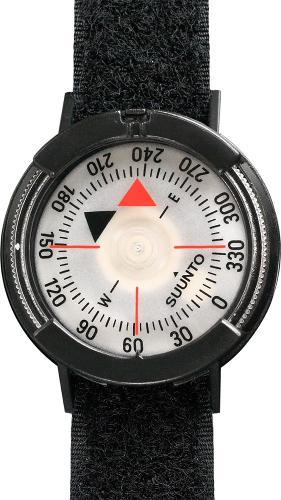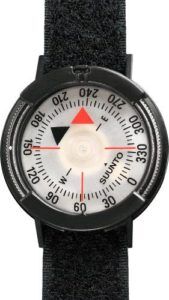 BEST FOR: BASIC TO INTERMEDIATE NAVIGATION
PROS: Can be read from the top or the side, sighting notch and reading window, wrist strap fits wide range of sizes, can be removed from supplied band and placed on another wristband, housing can turn for direction setting, water resistant, luminous face
CONS: Must be kept very level to get accurate reading, doesn't have a global needle, can be slow to orient, wristband might be too large for small wrists
Brunton TruArc 3
Specs
Analog/Digital

:

Analog

Declination Adjustment

:

Yes

Sighting Mirror

:

No
Features
Tool-free declination
Global needle system
2 degree resolution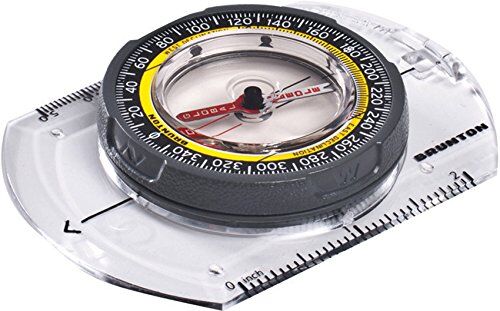 BEST FOR: INTERMEDIATE TO ADVANCED NAVIGATION
PROS: Tool free declination adjustment, metric and standard scales, responsive needle, easy to hold, inexpensive, global needle, rotary bezel, baseplate with straight edge and inch markings for map reading
CONS: Non-luminous, declination marks are difficult to see
Celestron 48003 TrekGuide
Specs
Analog/Digital

:

Digital

Declination Adjustment

:

Yes

Sighting Mirror

:

No
Features
Compass Range of 0 To 359
1-16 graphical pointers
Adjustable magnetic declination angle
Weather forecast icons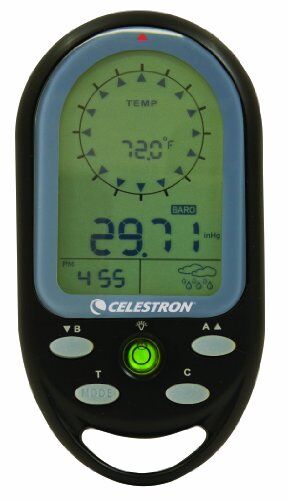 BEST FOR: GENERAL NAVIGATION AND ORIENTING
PROS: Delivers information on temperature, altitude, barometric pressure, clock, calendar, and alarm functionality, backlit display, water-resistant, bubble level, lithium battery
CONS: Difficult to set some functions, battery operated, no on/off button to save battery life
HOW TO CHOOSE THE BEST HIKING COMPASSES
ANALOG VS. DIGITAL
Digital compasses come with lots of extra bells and whistles and are a common feature on hiking watches. But are they the right device for you?
Digital compasses are battery powered. You'll need to be prepared to either change or charge the batteries. If you forget to bring your batteries or portable charger with you, then your device could fail. This could leave you without a navigation tool right when you need it most.
Analog devices have no external power source. You can store an analog compass for months (or even years!), and it will still work. With an analog compass, you have the benefit of not worrying that it will run out of power when you're in a jam. These are things to consider when choosing the right compass for you.
DECLINATION ADJUSTMENT
When navigating, you must be aware of "true north" and "magnetic north." True north is the direction to the geographic North Pole. Magnetic north is the direction to the magnetic North Pole.
Declination is an angle that measures the difference in degrees between these two points. Declination is not a fixed number. This angle changes based on your location and can vary from year to year.
What does this mean? Even if you're facing true north, your compass needle may point several degrees east or west towards magnetic north. For short treks, this may not make a difference in your navigation. However, for long journeys, ignoring declination could send you many miles off route.
Compasses equipped with a declination adjustment function can easily account for these changes. How? By adding or subtracting declination from the compass bearing. Once you make the adjustment, you can safely navigate without continuously calculating the declination. Here are some additional tips on how to use a compass.
GLOBAL NEEDLE
Not every analog compass can work anywhere in the world. Many compasses are calibrated for the magnetic variance in a particular hemisphere. Take a U.S. calibrated compass to Australia, and you'll see that its needle drags and sticks.
If you plan to use your compass while traveling around the world, then look for one with a global needle.
Global needles are designed to account for the changes in magnetic variances. These compasses perform successfully no matter where in the world you end up on a trail.
SIGHTING MIRROR
A sighting mirror lets you view your compass and your surroundings simultaneously. This feature makes compass readings more accurate and is ideal for advanced navigation. As a bonus, the mirror can be used as a signal in an emergency situation.
LUMINOSITY AND BACKLIGHTING
Will you be navigating at night? If the answer is yes, you'll need to be able to see your compass in the dark. Look for models that are backlit or have luminous features on the face of the compass. These functions will allow you to see your compass without constantly using a flashlight.
DURABILITY
Your compass is an essential line of defense against getting lost on a hike. If it breaks right when you need it, you could find yourself trapped in an unsafe situation.
Whether you're hiking in high altitudes or inclement weather, you need a compass that lasts. Be sure to select a model that's durable enough to withstand whatever comes your way.
Looking for more ways to find your route while hiking? Make sure to check out the The Best Hiking GPS for information on how to find the best GPS unit for your hike.