Updated on April 27, 2022
Without the best kiteboarding harness, you'll have no way to connect yourself to your kite. Having the right harness is essential if you want to perform well and be comfortable out on the water. This list features the best waist harnesses, which most kiteboarders prefer because of the ability to find the "balance zone". It's here that you have more freedom and mobility, making the most out of your kiteboarding gear. Check out the harnesses listed below and find the right harness for you. Summer is approaching quickly, and nothing is worse than watching your friends hop waves without you!
Disclaimer: Kiteboarding harnesses are very technical pieces of equipment. If you want to learn about their different components before purchasing, go ahead and read the "Things to Consider" section below.
For more of our top kiteboarding gear recommendations, check out the Best Kiteboarding Kites.
Quick Answer

-

The Best Kiteboarding Harnesses
Ocean Rodeo Session Harness
Comparison Table

-

Best Kiteboarding Harnesses

For the best experience turn your device horizontally
Reviews

-

Best Harnesses for Kiteboarding
Ride Engine Elite
Specs
Closure

:

Dual Strap with Speed Lock

Padding

:

Fusion Foam Under Neoprene

Back Support

:

Stiff

Leash Attachments

:

Rear Handle and Front Point

Hook Type

:

Single Hook

Spreader Bar Included

:

No
Features
"Lumbar Lock System" Prevents Harness From Sliding Around
Compatible With Three Different Types Of Spreader Bars
Soft Foam Material Makes Harness Comfortable During Long Sessions
Updated Closure System Is Easier To Secure And Lighter Weight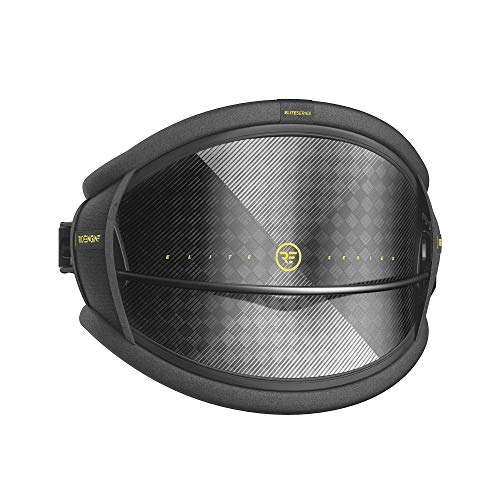 BEST FOR COMFORT
Chances are you've listened to a kiteboarder rave about how much they love their Ride Engine harness. The harness is stiff and lightweight, which allows kiteboarders to stay in control without sacrificing comfort. The harness features lumbar lock technology, which keeps the harness glued to your lower back. With this harness, you won't have to worry about it slipping, sliding, or riding up over the course of a session. The harness stays glued to where you most need it. To top things off, the harness is water-resistant and UV resistant. This harness is an all-around beast.
Dakine Pyro Harness
Specs
Closure

:

Dual Straps With Quick Clips

Padding

:

Memory Foam Under Neoprene

Back Support

:

Medium

Leash Attachments

:

Two Front Points And Rear Slide Bar

Hook Type

:

Single Hook

Spreader Bar Included

:

Yes
Features
Back Plate Of Harness Is Large And Great For Tall Kiteboarders
Ultra Compatible With Any Type Of Spreader Bar
Memory Foam Padding Is Extremely Comfortable And Allows For Long Riding Sessions
Two Side Pockets For Keys Or Hook Knives
BEST FOR HYBRID RIDERS
Dakine is one of the most trusted brands among kiteboarders, especially because it was one of the original producers of kiteboarding harnesses. This harness is one of the items that the reputation was built upon. The Pyro offers ultimate responsiveness combined with a comfortable fit. While some harnesses wear over time, the Pyro's memory foam core becomes more comfortable. The harness is a bit larger than others, which tall kiteboarders will prefer. It comes with a push-button hammerhead spreader bar, which can easily be replaced with the type of spreader bar you prefer. Simply put, the Pyro rocks.
Ion Apex 10
Specs
Closure

:

Dual Straps With Buckle

Padding

:

Hyper Foam Wrapped In Neoprene

Back Support

:

Medium

Leash Attachments

:

Side Rings And Rear Bar

Hook Type

:

Exchangeable Hook

Spreader Bar Included

:

Yes
Features
High Back Harness Is Great For Beginners
Built-In Safety Knife To Cut Lines In Event Of An Emergency
Tightness Of Harness Can Be Adjusted Without Removing Harness Completely
Unique Hyper Foam Makes The Harness Very Comfortable
BEST FOR SAFETY
The ION Apex 10 allows for the weight load to be evenly distributed throughout the entire harness. Its stiff, preshaped center allows for the harness to sit comfortably without losing responsiveness. Even though the center is stiff, the sides of the harness are flexible. The harness adjusts well to powerful kiteboarders, especially those who generate their power from their core. One thing that makes this harness shine though is a built-in safety knife. In the event of an emergency, you'll be able to detach yourself very quickly. Kiteboarders rave about this harness.
Mystic Majestic X Carbon
Specs
Closure

:

Battle Belt Waist Closure

Padding

:

Intelligent Viscoelastic Foam

Back Support

:

Stiff

Leash Attachments

:

Front With Quick Release

Hook Type

:

N/A

Spreader Bar Included

:

No
Features
Stiffer Support At The Lower Back Allows For Safer Mobility
Intelligent Foam Molds To Your Body Over Time, Keeping The Harness Locked In Place
Comes In Four Different Colors
Made With Lightweight Material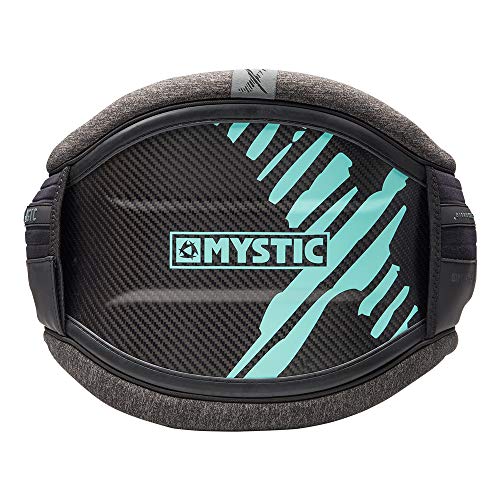 BEST FOR ADVANCED RIDERS
The Bionic Core Frame is the technology that sets Mystic Majestic harnesses apart from the rest. The materials that the frame is made from are the lightest, yet most durable found on the market. The harness maintains its shape horizontally but flexes vertically. This results in comfortable, responsive riding. Another thing that makes this harness comfortable is the foam that lines the inside of the harness. It's considered "intelligent" because of the way the harness molds to the shape of your body. This doesn't just make the harness comfortable, it keeps it locked in place.
Ocean Rodeo Session Harness
Specs
Closure

:

Snag-Free Buckles

Padding

:

Dual-Density Comfort Foam

Back Support

:

Medium

Leash Attachments

:

Front And Rear Attachments

Hook Type

:

Double Hook

Spreader Bar Included

:

Yes
Features
Designed To Form Fit The Rider's Body
Harness Floats For Added Security In The Water
Can Be Worn As Either A Seat Or Waist Harness
Removable Leg Straps Provide Optional Fitting
Comes With Double Bladed Hook Knife For Emergency Situations
BEST FOR BEGINNERS
This harness is the most versatile on the list. It can be worn either as a waist harness or a seat harness, which beginner riders will enjoy. The harness will progress with your abilities. It's also a very comfortable harness that can be adjusted to best fit the rider. It won't wiggle around on your waist, especially when using the leg straps. Finally, the harness comes with a quick entry/ exit spreader bar buckle. If you're purchasing your first harness, this one will give you a smooth introduction to the sport.
THINGS TO CONSIDER WHEN BUYING A KITEBOARD HARNESS
BACK SUPPORT
The amount of back support on a harness is important. A stiff harness will be much more responsive to short, quick turns. However, your body will take more impact if you make a mistake. Harnesses with medium back support are much more comfortable but require more energy to initiate turns. All of the harnesses on this list are technically rigid harnesses, which mean that they maintain their shape over time. Nowadays, almost every serious kiteboarder prefers rigid harnesses over seat harnesses.
CLOSURE
Even though the harnesses on this list are rigid, they are more flexible on the sides and in the front. It's important to purchase the right size of harness so that it remains in place throughout a long kiteboarding session. Each company has its own unique way to keep the harness snug. If you've had issues with your harness in the past, it's recommended to get a harness with dual closure.
HOOK TYPE
There are two ways that you can attach your harness to your kite – either with a spreader bar or with a hook. The advantage of a spreader bar is that it transfers the force of the kite throughout the harness instead of just one point. There are multiple different types of spreader bars that work for different styles of riding. You don't have to worry about your harness and spreader bar being compatible with one another. Nowadays, the two different pieces of equipment pair together without much trouble.
LEASH ATTACHMENTS
These are small rings that are located either on the front, side, or back of your harness. You'll attach your safety leash and safety line to these different points. Most harnesses come with a front and back leash attachment.
SPECS AND FEATURES EXPLAINED
COMES WITH A DOUBLE BLADED HOOK KNIFE
If you lose control of your kite, the last thing you want is to get launched into the air. A hook knife will allow you to cut your line and return to safety with minimal damage.
HIGH BACK HARNESS IS GREAT FOR BEGINNERS
Having a harness with an extended back will give you much more support on the water. This will also allow you to conserve more energy because you won't need to use your core as much in order to maintain control.
INTELLIGENT FOAM MOLDS TO YOUR BODY OVERTIME
The foam on the inside of harnesses is what keeps them comfortable during long riding sessions. A harness will be stiff initially and then break in overtime. A harness with intelligent foam will mold to your body much quicker than others.
LUMBAR LOCK SYSTEM
Ride Engine boasts this technology, which minimizes the harness moving around during riding.
ULTRA COMPATIBLE WITH ANY TYPE OF SPREADER BAR
Dakine makes very high-quality products, which is why their harnesses pair well with equipment from other brands.
READ MORE
For more of our top surfing gear recommendations, check out these popular buyer's guides: