Updated on June 28, 2021
It is estimated that the Appalachian Trail receives approximately two to three million hikers a year who complete at least a portion of the trail. And the Pacific Crest Trail attracts hundreds of thousands of hikers each year as well. That can only mean one thing: that long-distance hiking truly is alive and well. And if you are one of the many thrill-seekers hoping to set out on the trail for days or maybe even weeks at a time, one of the most crucial things to consider is how to protect those beautiful legs of yours. After all, you're going to be using them all day while you're on the trail, so why not look for the best hiking pants to suit your needs?
Part of the thrill of hiking comes from the aspect of the unknown. Is there going to be a bear up ahead? How much longer till the summit? Is it going to be cold tonight? And if you want to be prepared and well-suited, you're going to need something that offers you versatility and ease. You need the right pockets, zippers, fittings, and maybe even the ability to turn your pants into shorts in the blink of an eye. Who'd have ever thought that shopping for pants could be so complicated? Well, don't fret because The Adventure Junkies are well-suited to help you find the best options for exactly what you need.
For more of our top hiking apparel recommendations, check out the Best Hiking Pants for Women. 
Quick Answer

-

The Best Pants for Hiking
Mammut Alpine Lightweight

ExOfficio BugsAway Sandfly
Comparison Table

-

The Best Hiking Pants

For the best experience turn your device horizontally
Reviews

-

Best Pants for Hiking
Prana Stretch Zion
Specs
Material

:

97% Nylon / 3% Spandex

Convertible

:

Yes

Weight

:

Around 13 oz.

Pockets

:

5

UPF

:

None

Ventilation

:

Gusset Vent Ports

Moisture Wicking

:

Yes
Features
Roll Up Snaps Help Secure Rolled Cuffs
Ventilation Ports In The Gusset For Breathability In The Crotch
Durable Water Repellent (DWR) Blocks Out Rain From The Inside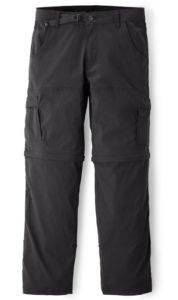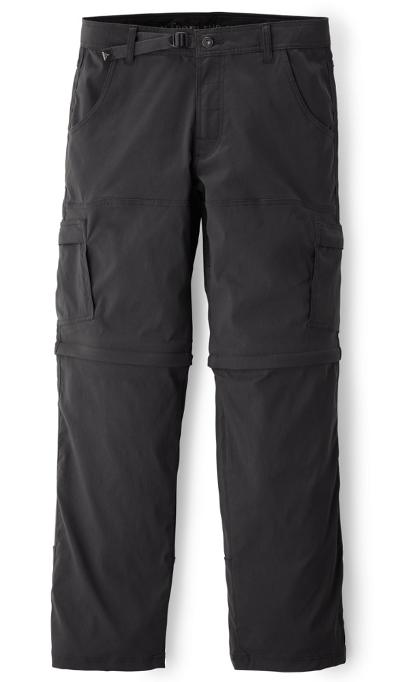 BEST OF: BOTH WORLDS FOR HIKING PANTS AND CARGO SHORTS
It should come as no surprise that flexibility and durability often work inversely with one another.  Fortunately, prAna's Stretch Zion Convertible work as a great option for a durable set of cargo pants with adequate flexibility.  Unlike many other hiking pants, the Stretch Zions seem to reflect many aesthetic and material similarities with standard cargo shorts.  However, their nylon/spandex construction offers superior flexibility and waterproofing than your typical pair of cargo shorts. Best of all, these pants can be converted into actual cargo shorts thanks to their convertible leg zippers.
The leg cuffs of these pants can be easily and comfortably rolled up and secured with the convenient set of snaps.  Fortunately, these pants offer ventilation ports around the gusset (crotch) to offer better breathability than most cargo-like hiking pants.  And to wrap it all up in a tight bow, two side zipper cargo pockets will protect your essentials, just like real cargo shorts. It's plain to see that the prAna Stretch Zion Convertibles are a must have for anybody seeking quality hiking pants with the best cargo-short capabilities.
Columbia Silver Ridge
Specs
Material

:

100% Ripstop Nylon

Convertible

:

Yes

Weight

:

10.8 oz.

Pockets

:

6

UPF

:

50

Ventilation

:

Mesh Pockets

Moisture Wicking

:

Yes
Features
Partial-Elastic Waistband Makes Fitting Easier
These Pants Are Lightweight And Compressible, Making Them Easy To Pack
Zippable Cargo Pockets For Better Protection Of Belongings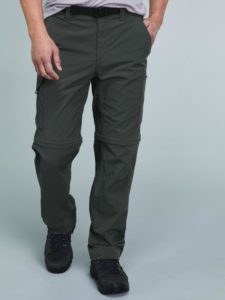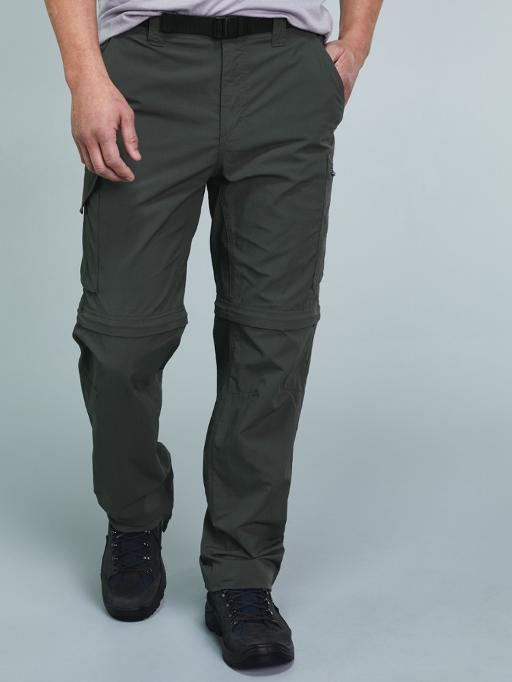 BEST FOR: STORING NECESSITIES FOR EXTENDED OVERNIGHT HIKES
Nobody ever said hiking is easy, but nobody said it had to be hard, either.  If you are searching for a reliable pair of hiking pants, you're probably looking for something with good versatility, protection, and comfort.  Columbia's Silver Ridge Convertible pants boasts all of the basic necessities all hiking pants should have while also being well constructed and competitively priced.  This makes them a great option for anyone seeking a pair of pants that will last you a while and provide ample storage, comfort, and protection from the rugged activity of hiking.
The lightweight construction of the Silver Ridge Convertible is perfect for overnight hiking that may last days at a time.  The zippable legs allow you to effortlessly switch these pants into cargo shorts for unexpected temperature or weather changes.  A mesh interior provides great ventilation through the many pockets on these pants. And best of all, these pants are available in a wide variety of colors so you can venture through the woods in style.  Considering the price tag attached to such a versatile pair of pants, the Silver Ridge Convertible from Columbia are perfectly oriented to the value-seeking hiker with a hunger for different scenarios.
Mammut Alpine Lightweight
Specs
Material

:

94% Polyamide, 6% Spandex

Convertible

:

No

Weight

:

8.5 oz.

Pockets

:

3

UPF

:

30+

Ventilation

:

Breathable Material

Moisture Wicking

:

No
Features
Zipper closure
1 seat & 2 side pockets with zippers
Quick-drying
Pre-shaped knee section
Water-repellent DWR treatment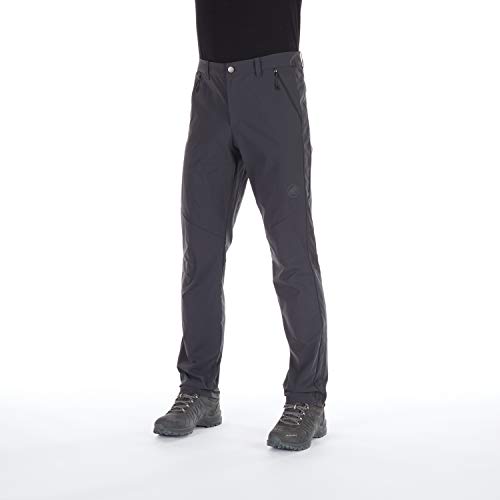 BEST FOR: ULTRALIGHT HIKERS
When you live by the mantra 'light is right' the 7.5-ounce Mammut Hikers are sure to meet your every need.
Mammut designed these lightweight hiking pants to taper through the legs, cutting down on the amount of material used in construction. DWR treatment provides for a degree of weather resistance, making them suitable for hiking in most conditions.
What I like most about these pants is that they're extremely breathable and include zippered mesh pockets with their own venting capacity.
Arc'teryx Gamma LT
Specs
Material

:

88% nylon/12% elastane

Convertible

:

No

Weight

:

12.9 oz.

Pockets

:

3

UPF

:

N/A

Ventilation

:

N/A

Moisture Wicking

:

N/A
Features
Brushed polyester waistband
Zippered fly closure with adjustable webbing belt with metal buckle
Gusseted crotch and articulated patterning provide full range of motion
Zippered hand pockets; 1 zippered thigh pocket
Laminated hem with static cord adjusters and eyelets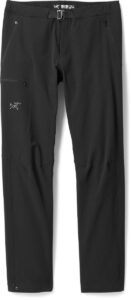 BEST FOR: INCLEMENT WEATHER
When you need best in class weather resistance, you won't find a higher quality pair of hiking pants.
Arc'teryx designed the Gamma LTs to be comfortable, lightweight, and versatile. They're incredibly stretchy and durable, making them suitable for alpine conditions. 
What I like most about the Arc'teryx Gamma LT pants is how well they withstand wind gusts, making them the best choice for wearing on wet, cool hikes.
KUHL Silencr
Specs
Convertible

:

No

Weight

:

14.4 oz.

Pockets

:

7

UPF

:

50

Ventilation

:

Breathable Material

Moisture Wicking

:

Yes
Features
Durable water repellent (DWR) finish to fend off light rain
4-way mechanical stretch, articulated design and gusseted crotch allow freedom of movement
Waistband is lined with soft microchamois for next-to-skin comfort
7 total pockets: 2 front hand, 1 coin, 2 back and 2 welt drop-in cell phone pockets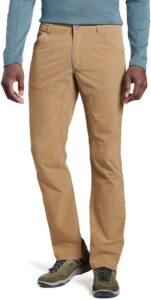 BEST FOR: TOWN TO TRAILHEAD
Kuhl aimed for the sweet spot between casual and performance wear and the Silencrs hit the mark.
These polyester soft-shell pants are as equally suitable for day hikes as they are for general daily wear. The fabric is tough, comfy against the skin, and effectively resists the elements thanks to a DWR finish. The storage features on these abound, including two large, drop in side pockets and four additional standard pockets.
What I like most about the Kuhl Silencrs is the streamlined, clean design that makes for a pair of pants you wouldn't guess were intended for hiking.
Outdoor Research Ferrosi
View Women's Version
Specs
Material

:

86% Ripstop Nylon / 14% Spandex

Convertible

:

Yes

Weight

:

11.3 oz.

Pockets

:

6

UPF

:

50

Ventilation

:

Breathable Material

Moisture Wicking

:

No
Features
Partial-Spandex Construction Gives You Superior Mobility
Ultralight Design Makes Your Travels Less Cumbersome
Material Dries Fast Making Wet Scenarios A Non-Issue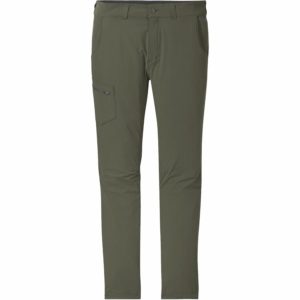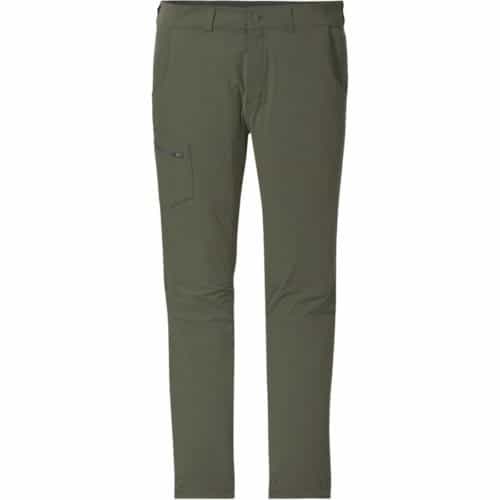 BEST FOR: HIKING OVER RUGGED TERRAIN
Not all trails are made equal.  Some may be very straightforward and simple (think flat and straight) while others are chock-full of rock scrambles and mud patches that require some flexibility to overcome.  When aggressive terrain is in the mix, you want a pair of pants that will hold up in strange positions. This is something the Ferrosi Convertibles from Outdoor Research achieves wholly, thanks no doubt to the partial-spandex construction.  In addition to added flexibility, these pants are also fairly durable thanks to the ripstop nylon used in its construction, which also helps these pants remain incredibly lightweight.
The convertible design also grants the Ferrosi's users with the option of easily turning them into cargo shorts at the flick of a wrist.  All in all, these pants are ideal for anyone searching for a pair that will be reliable and comfortable in awkward positions. Because of their wondrous breathability and fast-drying capabilities, these pants sure do fit the bill for comfort.  Give the Outdoor Research Ferrosi Convertibles a chance if you are in the market for a comfy pair of trail pants that will remain rip-free no matter how wide your step.
REI Co-op Sahara
Specs
Material

:

94% Nylon/6% Spandex

Convertible

:

Yes

Weight

:

11.4 oz.

Pockets

:

6

UPF

:

50

Ventilation

:

Breathable Material

Moisture Wicking

:

Yes
Features
Durable Water Repellent (DWR) Provides Ample Waterproofing
Flattened Seams Help To Prevent Chafing
Zippable Leg Cuffs Make Fitting Over Boots Easy As Pie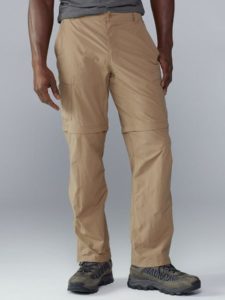 BEST FOR: COMFORT IN ADVERSE SITUATIONS AND TERRAIN
If you boil things down to the simplest of needs, comfort reigns supreme over all others when it comes to pants.  REI Co-Op's Sahara Convertible sets out to achieve supreme comfort and so much more. The best feature about these pants is the DWR waterproofing technology in their construction coupled alongside a fast-drying design.  These two things alone make the Sahara Convertibles a prime choice for the shopper that is seeking extreme comfort at a fair price.  
There are many other things these pants feature that improve their effectiveness and comfort at the same time.  One of the most thoughtful of these is the flattened seams all throughout the pants, which work great at preventing chafing of the skin.  Moreover, zippable ankle cuffs allow you to effortlessly fit these over a pair of boots, both for hiking and rock climbing. One of the more interesting features about these pants are the color-coded pocket zippers meant to make it a breeze to put these pants on quickly.  Overall, REI Co-Op's Sahara Convertible is a great option for the deal-seeking adventurer who has comfort at the top of their list of needs.
KUHL Renegade Rock
Specs
Material

:

95% Nylon / 5% Spandex

Convertible

:

No

Weight

:

Around 17 oz.

Pockets

:

8

UPF

:

50

Ventilation

:

Patented Breathable Duralux Fabric

Moisture Wicking

:

Yes
Features
Articulated Knees Grant Additional Mobility
Cinching Mechanism In Leg Cuffs Allow For A Secure Fit
Microsuede-Lined Waistband Offers Superior Comfort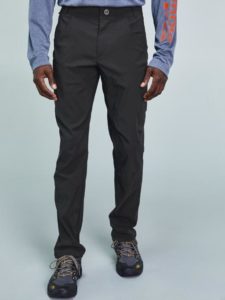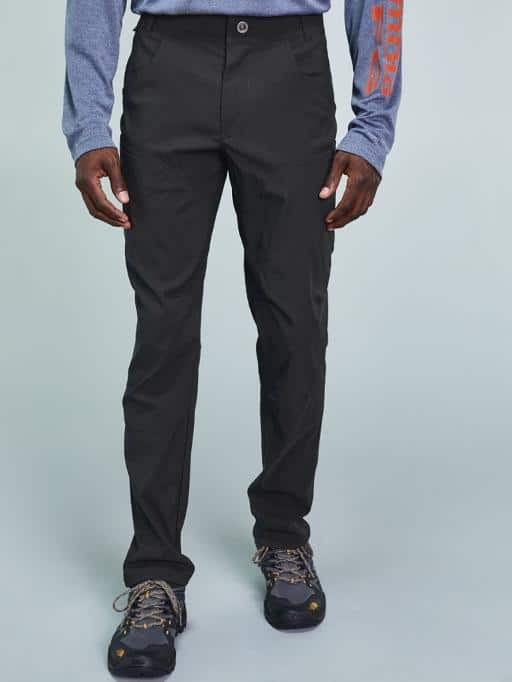 BEST FOR: GETTING UP STEEP INCLINES
Not all hiking pants are made to achieve the same exact goal.  The Kuhl Renegade Rock pants are a perfect example of this. They may not be as versatile due to their lack of convertibility, but their design, adjustability, and added comfort make them a great option.  These pants will not only hold together when intensely stretched, but remain comfortable and efficient as well. The overall attraction of these pants are their high durability and breathability, thanks in part to the Duralux fabric and durable water repellent (DWR) construction.
Thanks to the articulated design of the legs on these pants, no longer will you have to worry about restricted knees when getting over steep rock scrambles.  And a waistband that flashes a microsuede lining will help prevent painful chafing and general uncomfort. The Renegade Rock pants from Kuhl also have a whopping total of eight pockets, giving you plenty of reliable storage.  Overall, these are a set of pants that will resist the elements, keep you comfy, mobile, and offer immense storage all in one neat package.
ExOfficio BugsAway Sandfly
Specs
Material

:

100% Nylon

Convertible

:

No

Weight

:

7.1 oz.

Pockets

:

5

UPF

:

30

Ventilation

:

Mesh Gusset

Moisture Wicking

:

No
Features
Odorless Permethrin Insect Shield Helps Repel Parasitic Bugs
Machine Washable To Prevent Early Defective Bug Shield
Ultralightweight


BEST FOR: PROTECTION FROM DISEASE-CARRYING INSECTS
Hiking is a great way to relax, but that can be made difficult when you're spending most of your trail time swatting at botflies and mosquitos.  Insects are an inevitability for a vast majority of hiking regions around the world, but that doesn't mean you have to bite the bullet and learn to ignore them.  ExOfficio's BugsAway Sandfly hiking pants offer a great tool for protecting your legs from pesky bugs. This is accomplished by their patented Insect Shield technology, which uses an odorless permethrin repellent that seems to add almost no extra weight.
The best part of these pants is that they can be machine-washed without drastically reducing the effectiveness of their insect repelling.  But moreover, they are extremely lightweight and packable, making them perfect for long-distance hiking. A secondary zipper pocket is located within the front left pocket, offering two barriers of protection for your essentials.  And finally, the mesh gusset will allow your lower regions to remain cool and well-ventilated. While they might not achieve all the ideal goals of most hiking pants, the BugsAway Sandfly reigns supreme for protection against those nasty creepy crawlies that can ruin your hiking experience.
REI Co-op XeroDry GTX
Specs
Material

:

100% Polyester

Convertible

:

No

Weight

:

Around 10 oz.

Pockets

:

2

UPF

:

N/A

Ventilation

:

Gore-Tex Laminate

Moisture Wicking

:

Yes (Waterproof)
Features
Boot Hooks For Securing Legs In Areas With High Vegetation
Articulated Knees Provide Ample Comfort And Range Of Motion
Gore-Tex And Durable Water Repellent (DWR) Make These Impenetrable To Rain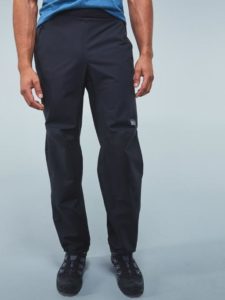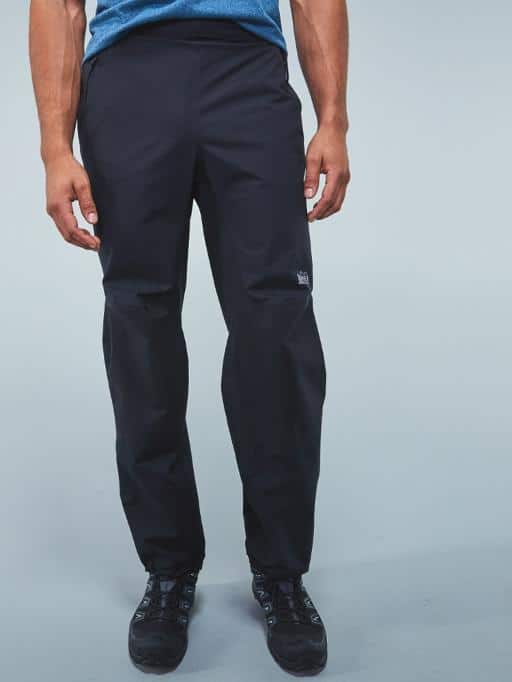 BEST FOR: PROTECTION FROM HEAVY RAIN
Let's not beat around the bush here…weather forecasts never seem to get it entirely right.  This can very well lead to drastically dangerous scenarios when out on the trail. When you get caught in an unexpected rain storm, it is optimal to be wearing the best possible waterproof clothing. The XeroDry GTX from REI Co-Op is an excellent choice of hiking pants for those unexpected rainy day scenarios.  Thanks to their Gore-Tex laminate and durable waterproof repellent (DWR), these pants will keep your legs dry and cool in even the heaviest of downpours.  
The 100% polyester construction gives these pants unmatched protection against the elements, such as heavy rain, humidity, and even high wind speeds.  With the articulated knees and boot hooks, these pants will hug your body and bend effortlessly to its every movement. Zippers located at the leg cuffs also allow for increased ventilation and easy fitting over boots.  Lastly, these pants can be packed down to a fraction of their size into the front left pocket, which greatly makes up for their lack of convertibility. All in all, the XeroDry GTX are a fantastic set of hiking pants for anybody seeking durability and versatility in a wet environment.
THINGS TO CONSIDER WHEN BUYING HIKING PANTS
CONVERTIBILITY
If you are looking to be out on the trail for multiple days at a time, convertible pants are a must have. The reason for this is simple: you want to pack as light as possible while still being prepared. Fitting both a pair of pants and a pair of shorts into your backpack is frankly redundant when many hiking pants these days can be easily turned into shorts. Always consider investing in a pair of convertible pants that allow you to effortlessly increase your storage space. It's a simple but monumental convenience, and who could argue against that?
STORAGE
Backpacks for hiking are great, but sometimes it's better to have your belongings right at the tips of your fingers. You don't want to have to stop and rummage through your pack every time you want to check the trail map, so you keep it in your pocket. But what about your trusty pocket knife? You need room for that in your pants pockets too, but that pesky map is taking up all your space!
Instead of dropping a bunch of cash on a bigger backpack, just look for a pair of pants with more pockets. Also, remain on the lookout for sealable pockets, as they can greatly — if not entirely — reduce the risk of losing your most precious belongings in the middle of nowhere.
BREATHABILITY
Let's face it, pants will just never offer the same cooling effects as a pair of shorts. You can always get a pair of convertible pants, but what about when you're hiking in the colder months of autumn and winter? Your body always exudes heat, and even on the coldest of December days, overheating can become an overwhelming problem.
Recent developments in ventilation technology have helped make this issue much easier to overcome with things like breathable Gore-Tex material or mesh pockets that help keep your lower half cool. Be sure to look into the varying methods of breathability that are often used in hiking pants to make sure you choose the most effective and reliable option before spending your hard earned cash.
FITTING/ADJUSTABILITY
Since your legs are arguably the most vital necessity for a successful hike, you'll want to be able to protect them to the best of your abilities. To fully achieve this, you'll want to pick up a pair of pants that can be adjusted and fit to your leg shape with extreme accuracy. Trying on pants in a store is one of the easiest ways to get around this, but what about those of us who hate going out into the germ-infested world of retail?
You have to be careful when buying clothes online. There is simply no way to know how well they will fit your body and the rest of your outfit until they arrive on your doorstep. Today's hiking pants often feature some sort of mechanism for adjusting the fit of your new pants. This could include elastic waistbands, zippers, straps, and of course belt loops. Always be sure to consider what each pair of pants you look at is specifically tailored towards. You might not need ankle cuff zippers for level terrains just like you wouldn't want pants without them if you are going mountain climbing.
PRICE
As with all things in life, you want to make sure that the product you are getting matches the amount you put in to get it. This isn't some esoteric concept; prices matter to almost everybody and you want to make sure you don't overspend on a cheaply made pair of pants.
Always be sure to shop around, and never limit yourself to a single company or storefront. Customer reviews exist for this exact reason, so always be sure to refer to the points made by your fellow adventurers. When reading reviews, it's always a smart idea to collect opinions from a wide array of websites and experts to get the most diverse list of pros and cons. This bit of research will help you avoid dropping your precious dollars and cents on features you won't need or poor quality items and may even help with finding pants that fit you the best.
FEATURES EXPLAINED
SPANDEX/ELASTANE
A synthetic, fibrous material made of processed polyurethane. Known for its exceptional stretchability.
GUSSET
A piece of fabric sewn into a seam to add strength to tight-fitted areas. Almost all pants have a gusset in the crotch region.
UPF RATING
Similar to SPF. A fabric's effectiveness at blocking out ultraviolet sun rays. Learn more about the UPF Rating System here!
RIPSTOP NYLON
A thicker threading of nylon that offers superior breathability, durability, and waterproofing than standard nylon. Commonly used in countless camping accessories.
GORE-TEX
A frequently-used mesh material sewn within boots that offers waterproofing without reducing breathability; often identified in item names with "GTX". Learn more about Gore-tex here!