Updated on November 16, 2021
If you want to capture animals in their natural environment, a very specific type of camera is necessary. A telephoto lens might help you freeze small or distant creatures without disturbing them, however without a powerful camera body it will be difficult to achieve great results. The best cameras for wildlife photography come in all shapes and sizes, from compact mirrorless models that are lightweight to carry, to large DSLRs designed to work in any situation.
The main features you should look for when buying a camera for wildlife photography are resolution, shooting speed, and low light performance. Whether you are planning to photograph small insects moving through leaves or big animals migrating in herds, choosing your camera carefully will help you achieve the results you dream of. In this article, we have collected the best cameras for wildlife photography with models built for both beginners and pro-shooters.
For more of our top wildlife camera recommendations, check out these popular articles:
Point and Shoot Cameras for Wildlife Photography
Quick Answer

-

The Best Cameras for Wildlife Photography
Comparison Table

-

Best Camera for Wildlife Photography

For the best experience turn your device horizontally
Reviews

-

The Best Wildlife Photography Cameras
Nikon D5300
Specs
Type

:

DSLR

Dimensions

:

4.92 x 3.86 x 2.99 in

Weight

:

16.9 oz

Resolution

:

24.2 MP

Weather Resistance

:

No

Frames Per Second

:

5
Features
Captures Incredibly Sharp Images
Affordable And Ideal For Beginners
Great Low Light Performance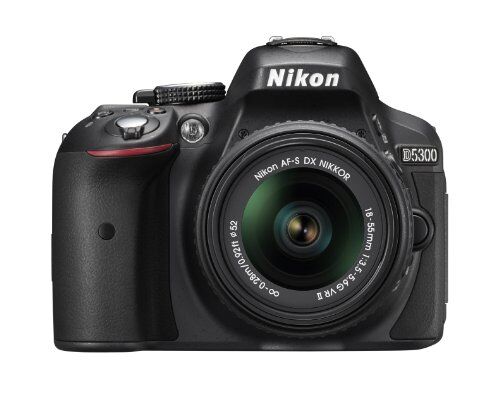 BEST FOR: ON-THE-GO PARK SHOOTING
Starting off this list is a fairly affordable camera. The Nikon D5300 is a great beginner-friendly option for wildlife shooting. Equipped with a 24.2-megapixel sensor, it is able to capture detail and provide good results even in low-light conditions. Its 39 autofocus points, as well as a tracking feature, follow your subject with accuracy and speed. However, there is a drawback – the camera can only shoot at a rate of 5 frames per second, which means that shots of fast wildlife may turn out blurry.
Despite this, the D5300 has unique connectivity features to make up for that. The SnapBridge technology keeps a constant and automatic Bluetooth connection between your camera and another device, such as your phone. Thus, you can easily transfer photos. This does drain the battery, but not enough to disrupt the 600-shot battery life. Another plus is the camera's light weight of about 1 pound. These two specifications make it easy to carry around, letting you enjoy the photoshoot to the fullest.
Canon EOS Rebel T7
Specs
Type

:

DSLR

Dimensions

:

5.2 x 3.9 x 3.1 in

Weight

:

20.46 oz

Resolution

:

24.1 MP

Weather Resistance

:

No

Frames Per Second

:

5
Features
Powerful Automatic Mode That Recognizes The Type Of Scene You Are Shooting
High-Definition Video Function
Easy-to-use Controls With Integrated Beginners' Guide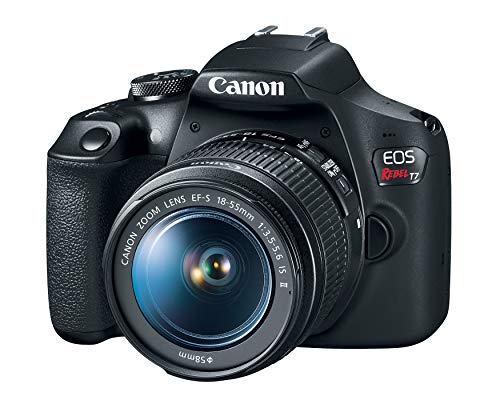 BEST FOR: THE INTRIGUED BEGINNER
Another beginner-friendly alternative is the Canon EOS Rebel T5i. Built to include a hybrid autofocus system and an 24-megapixel sensor, it provides a great starting point for wildlife photography. Of course, it is not the best with these specifications, but great-quality shots are still very much possible. Besides the sensor, wildlife professionals often examine the shooting rate. The Rebel T5i offers a shooting rate of 5 frames per second, which is not ideal for advanced photographers, but it is a good place to start for novices.
Another noteworthy feature is the camera's focal length factor of 1.6X. This means that if you want to upgrade to a 300mm lens, your results will be those of 480mm lenses. This gives you a lot of room to grow as a wildlife photographer. Not only can you explore telephoto possibilities, but low-light settings as well. T5i starts to develop noise after ISO 3200, which is more than most other cameras can do.
Pentax K-70
Specs
Type

:

DSLR

Dimensions

:

4.94 x 3.66 x 2.91 in

Weight

:

24.27 oz

Resolution

:

24.2 Megapixels

Weather Resistance

:

Yes

Frames Per Second

:

6
Features
Dustproof And Weather Resistant
Tilting LCD Screen For Shooting From Unusual Angles
Vibration-Reduction Feature To Avoid Blur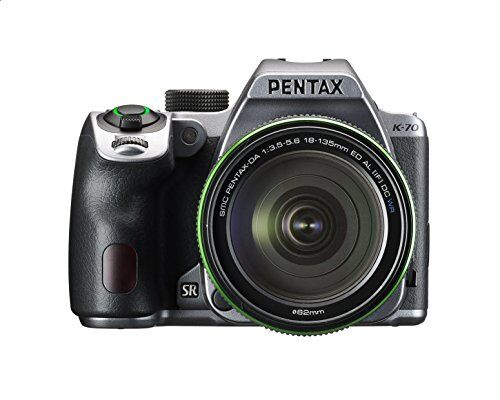 BEST FOR: NOT THE FAINT OF HEART
If you are an advanced photographer ready to tackle any shooting condition, then the Pentax K-70 is worthy to be on your wishlist. It is equipped with 19 multi-use controls and has an ergonomic grip that is comfortable in small and large hands. Plus, the camera body is also weather-proof, letting you photograph wildlife in rainy and snowy weather without the fear of ruining your camera. To facilitate low-angle shots, the LCD is vari-angle.
The advantages don't end there – the K-70 uses a shake-reduction feature, as well as anti-aliasing simulation. The simulation is better than a conventional filter because you can turn this setting off to get sharper images, but you cannot disable a physical filter. While a shooting rate of 6 frames per second is not enough to get crisp photos of fast wildlife, the K-70 produces rich photos. Finally, using an O-GPS, you can photograph stars and their movement.
Fujifilm X-H1
Specs
Type

:

Mirrorless

Dimensions

:

7.9 x 6.1 x 6.9 in

Weight

:

2.2 lbs

Resolution

:

24.3MP

Weather Resistance

:

Yes

Frames Per Second

:

14
Features
Fast Shooting Speed For Capturing Moving Subjects
Produces Sharp And Detailed Images Thanks To The Large Sensor
Accurate Autofocus With Tracking Technology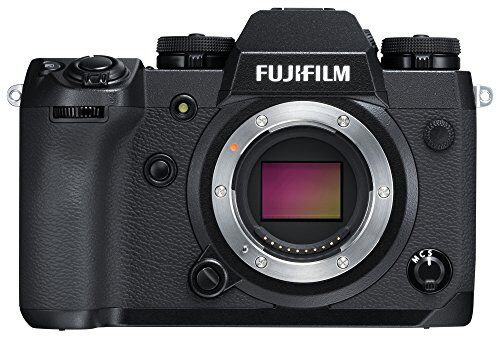 BEST FOR: THE ACTION-DRIVEN
Positioning itself as a capable video camera, the Fujifilm X-H1 offers advanced action photography features as well, so you can use its potential for wildlife shots. Equipped with a 24.3-megapixel sensor, the camera produces intricate results, thanks to the randomized pixel array that captures the organic nature of any scene, especially wildlife. Furthermore, X-H1 harbours intelligent hybrid 325-point autofocus system, easily tracking fast subjects.
The body of the camera has something to offer as well. Firstly, it has internal 5-axis image stabilization, fixing blur and shake from any angle. You will get the effects of shooting with up to 5.5 ISO stops more than you actually had, even in low-light. What this means is that your images will be sharper and noise-free. Plus, the body of X-H1 is weather-sealed and has a dual SD slot, so you can go out and about for as long as the battery permits. As a bonus, you can operate the camera at temperatures as low as 14°F.
Sony a99II
Specs
Type

:

DSLR

Dimensions

:

5.6 x 4.1 x 3 inches

Weight

:

1.7 lbs

Resolution

:

42.4MP

Weather Resistance

:

Yes

Frames Per Second

:

12
Features
Large Full-Frame Sensor For Exceptional Image Quality
Image Stabilization System To Reduce The Risk Of Blur
Tilting LCD Touch Screen For Creative Shooting From Different Perspectives
BEST FOR: THE PRO
If you are on a hunt for premium image quality and resolution, then Sony A99 II is bound to catch your attention. It has a 42-megapixel sensor, as well as Live View feature, which is a substitute for an optical viewfinder, that will greatly help your compose photos. In comparison to its predecessors, the A99 II has better light sensitivity, meaning that you can shoot in shaded places or at twilight. Another improvement is its shooting rate, which is 12 frames per second – just right for fast wildlife and even birds.
Another advantage for wildlife shooting is the camera's 5-axis stabilization system and an omitted low-pass filter, so you don't get blur, but you do get rich colors. Plus, the body is weather-sealed. The A99 II has a fully-articulating, non-touchscreen LCD, facilitating photography at unusual angles. And if you need some extra space for images, the camera has 2 storage slots.
Fujifilm X-T3
Specs
Type

:

Mirrorless

Dimensions

:

8 x 5.6 x 6.4 inches

Weight

:

30.7 oz

Resolution

:

26.1 Megapixels

Weather Resistance

:

Yes

Frames Per Second

:

8
Features
Precise Autofocus With Subject Tracking System
High-Definition 4K Video Feature
16 Film Simulation Modes For Creating Unique Compositions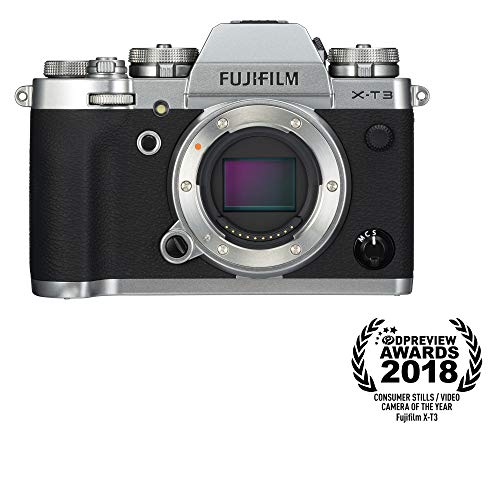 BEST FOR: NUANCES OF NATURE
Combining a sleek design with powerful image processing, the Fujifilm X-T3 is the ultimate multi-purpose camera. It has a 26.1-megapixel sensor with a randomized pixel array that captures the fluid tones of nature and the vivacity of wildlife. All 425 autofocus points work together to track fast and unpredictable subjects, such as animals, making this camera a great fit for wildlife photography.
To complement such autofocus, the X-T30 is capable of shooting 8 frames per second with its mechanical shutter. And if you use the electronic shutter, this rate flies up to 30 frames per second, which is the speed of video, so you won't miss any detail or movement. Additionally, the camera has a built-in electronic viewfinder, which is a must-have for landscape and wildlife photographers, as it helps you see exactly what the lens is registering, eliminating any distortion an LCD may give.
Nikon Z6 FX-Format
Specs
Type

:

Mirrorless

Dimensions

:

5.3 x 2.7 x 4 inches

Weight

:

23.81 oz

Resolution

:

24.5 Megapixels

Weather Resistance

:

Yes

Frames Per Second

:

12
Features
Compact Design That Fits In Your Pocket
Focus Stacking Mode To Correct Your Focus After The Picture Is Taken
Great 4K Video Feature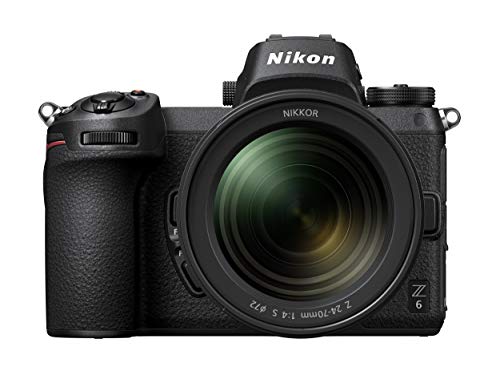 BEST FOR: SHOOTING FAST MOVING WILDLIFE
Nikon Z6 probably has one of the fastest autofocus on this list. With its 273 autofocus points, as well as a shooting rate of 12 frames per second – mind you, in RAW – this camera is well-suited for wildlife photography. To make your experience better and worry-free, Z6 is ergonomic, weather-sealed, and offers a silent shutter mode, so you can take photos of animals without disturbing them. However, the battery life is not much, enough for only 310 shots, so if you are planning a trip to a park, we recommend bringing a back-up battery.
This camera has a tilting LCD, and if you prefer a conventional viewfinder, there is an electronic one that works just as well. Focus stacking allows you to experiment with depth of field, so you can take photos of the moment and compose them later. Finally, Z6 has a 5-axis stabilization system to reduce camera shake for crisp images.
Sony a7R III
Specs
Type

:

Mirrorless

Dimensions

:

5 x 3.9 x 3 inches

Weight

:

23.2 oz

Resolution

:

42.4

Weather Resistance

:

Yes

Frames Per Second

:

10
Features
Large Sensor For Exceptionally Detailed Images
Fast Shooting Speed
Silent Shooting Mode For Shooting Without Disturbing The Animals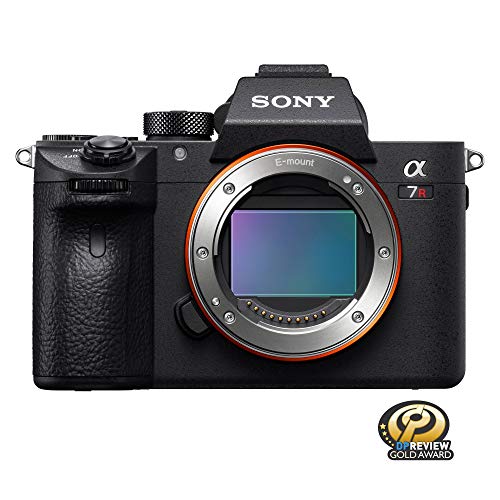 BEST FOR: THE SUBJECT AND THE LANDSCAPE
The Sony A7R III is a great camera ready for any project. It has a 42-megapixel sensor and hybrid autofocus with 425 active points. Together they are able to produce rich and sharp photos of moving wildlife. Its 5-axis in-body stabilization system will get rid of any annoying blur, leaving a clean image behind. And a shooting rate of 10 frames per second surely put a checkmark beside all wildlife photography essentials.
What's more is that A7R III has a wide dynamic range, producing accurate colors and contrasts. For better depth of field, this camera offers a Pixel Shift feature that takes 4 photos one pixel apart. After combining it, you get exceptionally sharp and vivid landscapes that complement your wildlife subject. However, the A7R III is very expensive and packed with features, so it may not be beginner-friendly.
Nikon D850 FX-Format
Specs
Type

:

DSLR

Dimensions

:

5.8 x 3.1 x 4.9

Weight

:

32.3 oz

Resolution

:

45.7

Weather Resistance

:

Yes

Frames Per Second

:

7
Features
Long Battery Life
Massive Resolution And Precise Autofocus
Tilting LCD Touchscreen For Getting Creative With Different Shooting Angles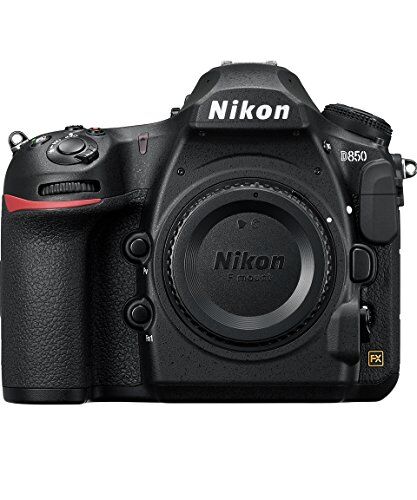 BEST FOR: LONG TRIPS
If all those 42-megapixel sensors are not enough, then get ready to meet the Nikon D850. it has an insane 45.7 megapixels in its sensor, resulting in photos full of acuity and detail. Plus, there are 153 autofocus points – great for moving subjects. Moreover, this camera has advanced light sensitivity and wide dynamic range, giving you lots of control over your images.
The D8500 has more up its metaphorical sleeve, including focus stacking and focus peaking feature. Focus stacking is used for intensifying depth of field, so the viewer sees details farther away. Focus peaking lets you customize the depth of field by outlining areas of contrast in red. All you have to do is click on the areas you want in focus. The body of the D850 is weather-sealed, so you can shoot during a rainstorm, and in a blizzard. You can stay out for a very long time thanks to an 1840-shot battery.
Nikon D7200 DX-Format
Specs
Type

:

DSLR

Dimensions

:

5.35 x 4.21 x 2.99 in

Weight

:

1.49 lb

Resolution

:

24.3 Megapixels

Weather Resistance

:

Yes

Frames Per Second

:

6
Features
Impressive Low Light Performance
Sturdy, Weather-Sealed Body
Dual SD Card Slot For Extending Storage Or Backing Up Pictures
BEST FOR: THE WEATHER-PROOF EXPLORER
Another Nikon entry, the D7200 DX-format DSLR is a much more advanced version of the D5300. The D7200 has a stunning 51-point autofocus system that is complemented with a maximum shooting rate of 7 frames per second. This lets you photograph moving animals and even birds. The autofocus also has a subject tracking technology, resulting in accurate tracking of moving animals. Plus, there is an impressive low-light performance, as well as a wider dynamic range, that gives you crisp and true-to-color shots.
The camera's body uses magnesium alloy, which makes it weather-sealed. Thus, you can take photos in dusty places, during a rainstorm or a snowfall. D7200 has a battery capacity equal to 1110 shots, which is much more than other cameras on this list. Speaking of capacity, the D7200 has a dual SD card slot, doubling the memory storage you have at your disposal.
THINGS TO CONSIDER WHEN BUYING A CAMERA FOR WILDLIFE PHOTOGRAPHY
RESOLUTION
It may sound obvious, but the more resolution you have, the better the quality of your image. Resolution refers to the size of the photograph, measured in megapixels. A high-resolution is especially useful in wildlife photography, as it lets you crop out details without losing quality. Even when the subject is far away or looks small in the frame, by cropping out unwanted elements you will be able to enhance your compositions. Another bonus of shooting with a high-resolution camera is that you'll be able to print your images in large format, which is great if you plan to hang your best shots once you get back home.
LOW LIGHT PERFORMANCE
While the low light performance of your camera depends in good part on the lens you attach to it, some models provide better results than others in poorly lit conditions. Generally speaking DSLR cameras tend to have a better low light performance than mirrorless cameras, and the same goes for full frame versus crop sensor cameras.
The ISO measures the sensitivity to light of the camera sensor. Camera capable of shooting at higher ISO levels will be able to capture darker scenes, however photographing with a high ISO usually equals capturing grainy images.
LENS AVAILABILITY
Although there are some exceptions, most wildlife photographers work with long lenses known as telephoto. Lenses of this kind allow you to shoot distant or small subjects without having to move closer and disturb the animal.
When buying a camera for wildlife photography, make sure enough lenses are available for what you want to do. All big brands offer a varied selection of lenses for different types of photography, and there are third-party lens manufacturers that cater for Nikon, Sony, and Canon cameras as well.
SHOOTING SPEED
The acronym FPS means "frames per second" and identifies the shooting speed of the camera. The number of FPS refers to the highest amount of pictures a camera can capture continuously within a second, when the shutter button is held down.
While a fast camera is not essential for many types of photography, it is crucial for wildlife photography. A high FPS rate will allow you to freeze fast-moving animals and will reduce the risk of blur appearing in your pictures.
WEATHER SEALING
Since you'll be spending much time in the outdoors – whether it is in a forest, a national park, or on a mountaintop – it may be a good idea to look for a weather-sealed camera. Weather sealed cameras are designed to resist against light rainfall, splashing water, and dust, offering a more rugged build than normal cameras. With weather in the backcountry being often unpredictable, buying a camera that will not be damaged by wet conditions is well-worth considering.
FEATURES EXPLAINED
MIRRORLESS
A lightweight and compact camera, that differs from traditional cameras as it does not contain a mirror directing the light to the sensor.
DSLR
Digital Single Lens Reflex camera. To capture a photo this type of camera directs the light that comes in through the lens toward the sensor thanks to a shifting mirror.
ISO
The sensitivity to light of the sensor. A higher ISO can make the scene you are capturing visible even in low light conditions, however it is likely to produce grainy images.
FPS (FRAMES PER SECOND)
The number of pictures a camera can capture in one second when shooting continuously.