Updated on March 29, 2021
Are you ready to elevate your outdoor experience? We thought so. Leave the tents to the ground dwellers and take things up a notch with one of the best camping hammocks around.
The concept of hammock camping can be intimidating at first. But with some helpful advice and the right camping hammock, you'll soon discover this is the ultimate way to hang around camp. We'll walk you through everything you need to know and offer our top recommendations so you can get the hang of it in no time.
For more of our top hiking gear recommendations, check out the Best Backpacking Tents. 
Quick Answer

-

The Best Camping Hammocks
Hennessy Hammock Expedition Asym

Hennessy Hammock Ultralite Asym
Comparison Table

-

Best Camping Hammock

For the best experience turn your device horizontally
Reviews

-

The Best Hammock for Camping
ENO OneLink
Specs
Capacity

:

1-Person

Weight

:

4 lbs. 7 oz.

Packaged Size

:

6" D x 22" L

Weight Capacity

:

400 lbs.
Features
3-Season
Compact
Full Weather And Bug Protection Setup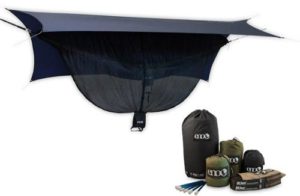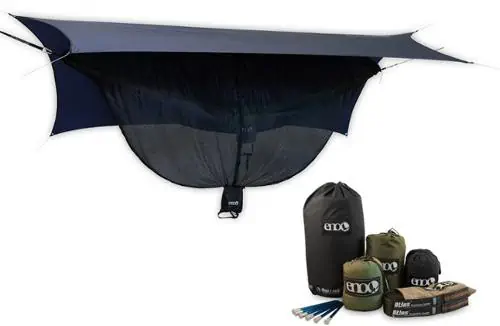 BEST FOR: BEGINNER BACKPACKERS
The Eno OneLink Shelter System is a terrific choice for the hammock enthusiast looking to elevate their backpacking adventures. Try it out on your next trip and you'll find this camping hammock system is complete with all the basics you need in a backcountry shelter.
When looming storm clouds roll in, the seam-sealed and waterproof rainfly will keep you dry. As the mosquito witching hour nears, climb on in and let the bug net provide you with full 360-degree protection. Whether you're surrounded by prime spots in the alpine wilderness or finding two solid structures for setup requires a bit of a stretch, the 15 adjustment points on each strap will give you the ideal hang.
Kammok Roo Single
Specs
Capacity

:

1-Person

Weight

:

10 oz.

Packaged Size

:

3.5" D x 5" L

Weight Capacity

:

400 lbs.
Features
Super Lightweight
Breathable
Water Repellent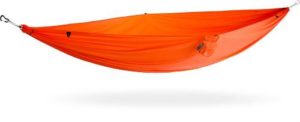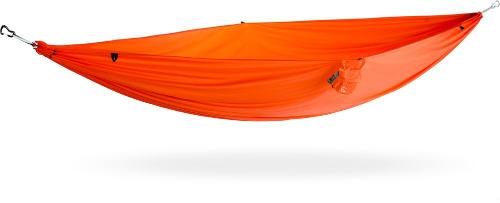 BEST FOR: BUDGET
Camping on a budget? The Kammok Roo Single is a viable option that doesn't skimp on features. Weighing a mere 10-ounces, you can lighten your load and not your wallet with the Kammok Roo Single.
As full body support is the main concern with hammock camping, the suspension system and tough fabric of the Roo Single doesn't stray. A combination of strong carabiners and slings let you sleep confidently while the silky fabric cradles you like a baby in your mother's arms. The fabric is also moisture resistant and breathable, which is great in battling morning condensation.
Hennessy Hammock Expedition Asym
Specs
Capacity

:

1-Person

Weight

:

2 lbs. 13 oz.

Packaged Size

:

5" D x 8" L

Weight Capacity

:

250 lbs.
Features
Comfortable Design
Easily Adjusted
Small Integrated Pocket
Well-ventilated Bug Protection Layer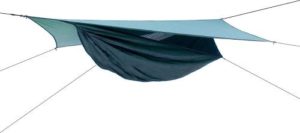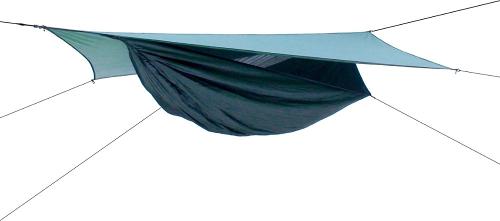 BEST FOR: EXPERIENCED HAMMOCK CAMPERS
If you like the sound of the first hammock on our list (the Hennessy Ultralite Backpacker) but aren't so fond of the hefty price, take a look at the Hennessy Hammock Expedition Asym Zip. This camping hammock sports the same comfortable asymmetric design, weather protecting rainfly, and mesh bug net that we like about the Ultralite Backpacker, with some modifications of course.
To start, the Expedition can support an extra 50-pounds of weight. That extra 50-pounds means you can stash heavier items in the gear pocket and incorporate more bedding to keep you comfy at night. This camping hammock also has a touch more room for your shoulders on one side. If you're broad chested or like having a bit more space, you may find this small adjustment greatly increases your comfort level.
Sea to Summit Pro
Specs
Capacity

:

1-Person

Weight

:

1 lb. 3.9 oz.

Packaged Size

:

8" D x 16" L

Weight Capacity

:

400 lbs.
Features
Breathable
Moisture Wicking
Reflective Straps For Increased Visibility

BEST FOR: SUMMER CAMPING
The Sea to Summit Pro Hammock was made for sleeping under the stars on a warm summer night. Soft yet strong, the material on this hammock is both moisture-wicking and breathable, all of which is essential to keep you feeling cool on a hot night. 
Take advantage of the adjustable 10-foot suspension straps and post up with the support of a wide, solid tree trunk. You'll still have enough lax on the straps to find that sweet spot of the perfect hanging angle. With a max weight capacity of 400 pounds and super strong buckles on the suspension system, you'll have peace-of-mind when you're swaying in the trees high above the ground. Bonus points for the reflective straps that let you find your way back to your hammock at night.
ENO DoubleNest
Specs
Capacity

:

2-Person

Weight

:

1 lb. 3 oz.

Packaged Size

:

4" D x 6.5 L

Weight Capacity

:

400 lbs.
Features
Spacious
Packable
Easy Setup
Built-in Stuff Sack For Easy Storage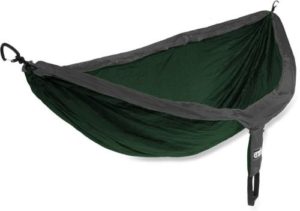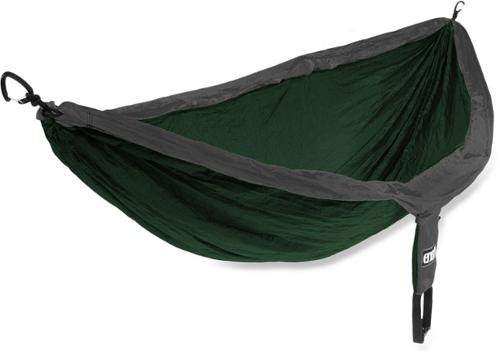 BEST FOR: CAR CAMPING
The Eno DoubleNest is often a popular choice among the hammock community. Packing down to the size of a 1-pound grapefruit, it's an excellent option for anyone looking to chill out around camp.
The DoubleNest is designed for effortless setup. Find a couple sturdy trees and lock it in place with the quick attaching carabiner and strap suspension system (straps not included). The breathable material keeps your body at a pleasant temperature while also being durable enough to handle an outdoor setting. Built for two, you and a partner can spend all afternoon lazily hanging around camp the right way.
Hennessy Hammock Ultralite Asym
Specs
Capacity

:

1-Person

Weight

:

1 lb. 15 oz.

Packaged Size

:

7" D x 9" L

Weight Capacity

:

200 lbs.
Features
Lightweight
Easy Setup
Pockets For Personables
Bug And Weather Protection Cover Included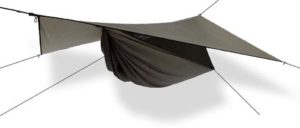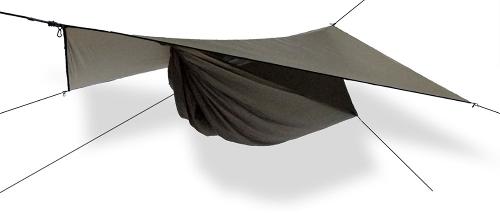 BEST FOR: LONG DISTANCE BACKPACKING 
Gearing up for a long distance backpacking trip? The Hennessy Hammock Ultralite Backpacker comes with the whole package at an exceptional weight. This hammock features a removable rainfly to keep you dry, a breathable mesh bug net to block out all those nasty mosquitoes, and integrated support ropes for tree attachment. 
The mouthwatering features don't stop there. This camping hammock is designed to hold its shape so you can sleep comfortably with a flat back. Or, you can convert it into a lounger when you're chilling around camp. Equipped with double sliding zippers, you'll find adjusting this hammock is a breeze. All that, and this camping hammock still weighs in at just under 2 pounds. Durable and solid, this camping hammock is ready to handle just about anything mother nature throws your way deep in the backcountry.
Kammok Roo Double
Specs
Capacity

:

2-Person

Weight

:

1 lb. 2 oz.

Packaged Size

:

4" D x 5" L

Weight Capacity

:

500 lbs.
Features
Strong Material
Lightweight
Quick Setup
Soft For Increased Comfort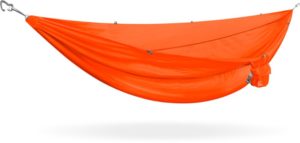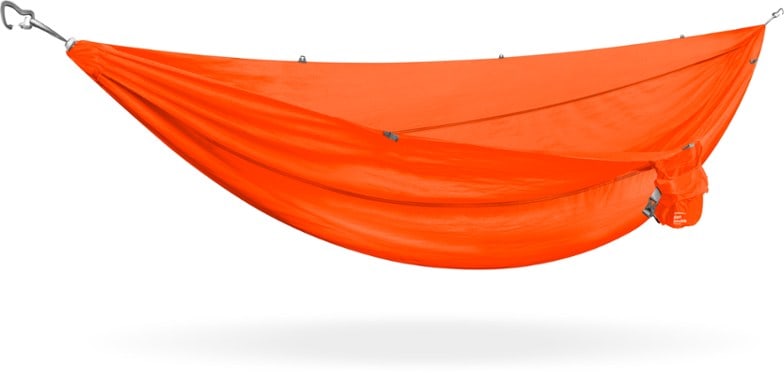 BEST FOR: SLEEPING TWO
The weight to strength ratio of the Kammok Roo Double is impressive. At almost a single pound, this camping hammock can hold up to 500-pounds, making it ideal for the hammock camping couple.
When you're snuggling up with your partner, you'll both enjoy the silky smooth feeling of the durable fabric and soft seams. Climb on in and snooze away because the reliable suspension system on this camping hammock has got both your backs. The heavy-duty carabiners and incredibly tough slings give the suspension system a super strong climbing-strength. Grab a few extra carabiners and attach additional items to any of the eight integrated gear loops so you don't have to worry about hopping out at night.
ENO JungleNest
Specs
Capacity

:

1-Person

Weight

:

1 lb. 11 oz.

Packaged Size

:

5" D x 7.5" L

Weight Capacity

:

400 lbs.
Features
Built-in Bug Protection
Organizer Pocket
Easy Access Full-length Side Zipper
Quick Setup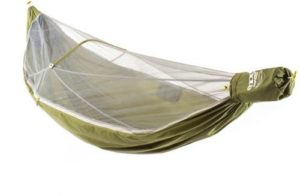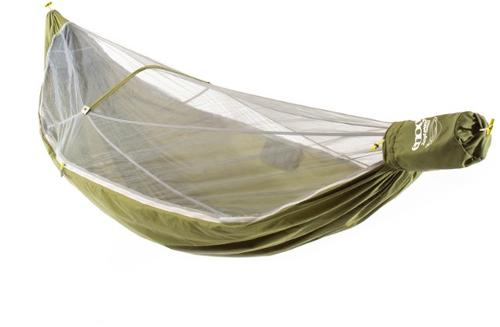 BEST FOR: HAMMOCK CAMPING BEGINNERS
If you're new to hammock camping, get the hang of it with the Eno JungleNest. The Eno JungleNest has excellent beginning features at an affordable price. 
To make your transition from ground to tree sleeping a pleasant one, the JungleNest features a convenient design and quick user-friendly setup. This camping hammock is equipped with an integrated no-see-um mesh for nighttime protection from pesky insects while the full-length zipper makes entering and exiting a smoother process. There's an attached stuff sack for easy storage and an attached carabiner on both ends ready and waiting to be clipped on to your suspension straps (straps sold separately). For anyone looking to get into hammock camping, this is an excellent beginner option.
REI Co-op Flash Air
Specs
Capacity

:

1-Person

Weight

:

2 lbs. 13 oz.

Packaged Size

:

5" D x 6" L

Weight Capacity

:

250 lbs.
Features
Multiple Pockets
Sleeping Pad Straps
Roomy And Sturdy


BEST FOR: FLAT BACK SLEEPING
If you're not a big fan of being wrapped up like a burrito, you'll appreciate the structural support of the REI Co-Op Flash Air. This camping hammock features a rigid spreader pole that creates a wide space and sturdy support which is designed for flat back sleeping.  
Comfortable and durable, setting up this camping hammock is relatively easy once you get the hang of it. There are guylines at each corner to give the Flash Air extra tension for stability and strong anchor lines to support your weight. The large entrance, storable no-see-um mesh lining for insect protection, and sleeping pad straps to prevent slippage are also a nice touch.
THINGS TO CONSIDER WHEN BUYING A HAMMOCK FOR CAMPING
COST
Hammock camping is not for everyone so we recommend starting off with an inexpensive option. Once you've tested the waters, you'll get a better feel for this style of camping. Then you'll be able to better assess if this is your sleeping method of choice or if you're more comfortable in a traditional tent. If there's no turning back, then we recommend investing in a camping hammock with features that best suit your personal needs.
WEATHER AND BUG PROTECTION
Will you be using your camping hammock on warm, dry summer nights? Or is there a chance of rain in the forecast? What about pesky insects? Some camping hammocks come as a complete package with weather and bug protection included. Most, however, require the additional purchase of these accessories so be sure to pack accordingly.
INSULATION
Camping hammocks are generally made from lightweight, breathable nylon material. This is terrific for keeping you cool as a cucumber in warmer weather. However, when the cold front rolls on in you may find yourself to be a very unhappy camper.
To keep you warm and toasty, several outdoor companies make insulated quilts and sleeping pads for hammock camping. Consider the seasons you'll be using your camping hammock and assess whether or not additional purchases are necessary to max out your comfort level.
TERRAIN
When you're camping above the treeline or out in the open desert you may have trouble finding a spot to post up for the night in your hammock. Be conscious about the type of terrain you'll be camping in. If you won't be able to find a spot to hang, it's best to go with a different shelter.
SUSPENSION SYSTEM
Not all hammock suspension systems are made alike, and not all hammocks come with a suspension system. When you're purchasing your camping hammock make sure you know what type of suspension system is required and if you need to buy additional accessories.
FEATURES EXPLAINED
NO-SEE-UM MESH
No-see-um mesh is your front line of defense in the battle between biting insects and your skin. Essentially, it's a lightweight, tightly woven mesh bug net that keeps insects from being able to attack you.
RAINFLY
A rainfly is a waterproof tarp that hovers over your camping hammock in order to keep you dry.
GUYLINES
Guylines are cords that attach to rainflys to provide tension and stability. This helps to keep you dry and to prevent your rainfly from blowing all willy nilly in the wind.