Updated on November 2, 2021
Serious skiing requires some serious gear, and if you've found yourself needing a break from squinting on the slopes then you've come to the right place for a solution! We've curated the best ski goggles that will not only protect your eyes, but also stay unfogged and look sharp to keep your days on the mountain long and enjoyable, no matter the light conditions.
The best ski goggles aren't necessarily packed to the brim with crazy features; rather it's the quality of the few features given that set apart these eye shields from lesser versions. When it comes to spending the extra money for a major upgrade in equipment, ski goggles are the best place to allocate that money dollar for dollar. So read on, Adventure Junkies, and stay 20/20!
For more of our top ski gear recommendations, check out these popular articles:
Best Ski Googles Under $100 | Best Ski Goggles for Women
Quick Answer

-

The Best Ski Goggles
Sweet Protection Interstellar

POC Fovea Mid Clarity Comp
Comparison Table

-

Best Ski Goggles

For the best experience turn your device horizontally
Reviews

-

The Best Goggles for Skiing
Smith I/O MAG ChromaPop
Specs
Lens Shape

:

Spherical

Photochromic

:

No

Additional Lenses Included

:

1

Eyewear Compatible

:

No

Light Transmission

:

9 - 50%
Features
Large Field Of View With Spherical Lenses
Wide Variety Of Lens Colors To Choose From
Easy On/Off Magnetic System Makes Swapping Lenses A Breeze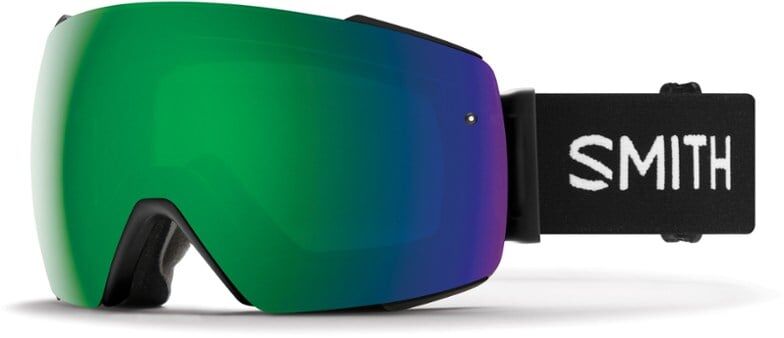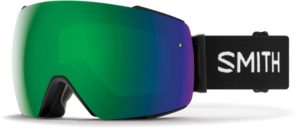 BEST FOR: FOG-FREE VENTILATION
Need an upgrade over your super budget-y and always foggy ski goggles? Then look no further than the I/O MAG ChromaPop ski goggles from industry leading manufacturer Smith. Sporting their specially designed AirEvac technology, they integrate perfectly with Smith head gear, allowing warm air to escape through the vents in your helmet.
Lens changes are also quick and easy with the I/O MAG (cool kid lingo for "on/off magnetic") technology that uses 8 points of contact and 16 super strong magnets to attach the lenses to the frames.
These ski goggles also come in a variety of lens colors that are designed for specific conditions, whether you need low-light lenses for the most extreme conditions or bright light lenses for sunny days.
Smith Range
Specs
Lens Shape

:

Cylindrical

Photochromic

:

No

Additional Lenses Included

:

No

Eyewear Compatible

:

No

Light Transmission

:

12 - 60%
Features
Hydrophilic Fog-X lens treatment
Cylindrical Carbonic-X lens with 6-base curve
Responsive Fit™ frame provides a large fit
2-layer DriWix face foam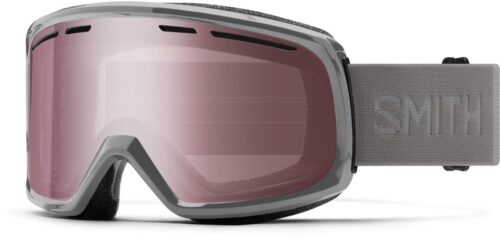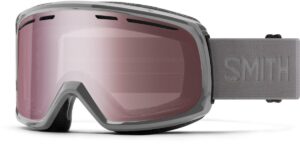 BEST FOR: SKIERS ON A BUDGET
If you're looking for a comfortable performance goggle that won't break the bank, check out the Ranges — they cost under $100.
"Smith designed the Range as the optimum budget goggle that offers a good balance of performance and comfort. The goggle's large frame provides for complete visibility that eliminates the dreaded tunnel vision effect. It cushions the face with a multi-layer foam material and has been treated with an anti-fog coating.
What I like most about the Smith Range goggles is the way they look on your face thanks to the full frame and cylindrical lens.
Smith 4D Mag ChromaPop
Specs
Lens Shape

:

Spherical

Photochromic

:

Yes

Additional Lenses Included

:

1

Eyewear Compatible

:

No

Light Transmission

:

12%
Features
Includes Interchangeable Bright And Low Light Lenses
Double-Layered Lenses & Anti-Fog Coatings Eliminate Fog
AirEvac Technology Pulls Warm Air And Vents Through Compatible Helmets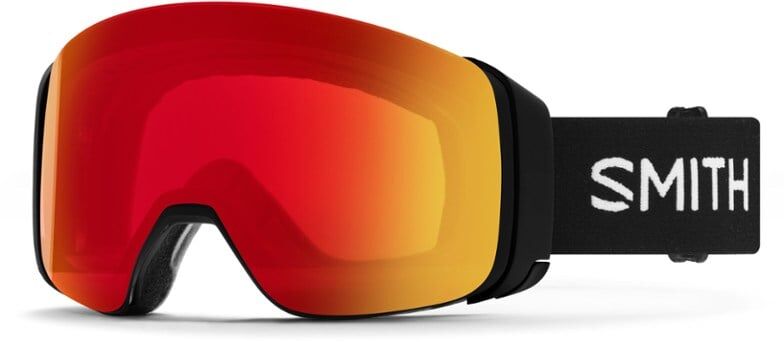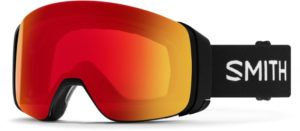 BEST FOR: AUTOMATICALLY ADJUSTING TO CHANGING LIGHT CONDITIONS
Avid skiers that are shredding fresh powder no matter what the weather looks like will absolutely love the Smith 4D MAG ChromaPop Photochromic ski goggles. I know that title is a mouthful, so let's unpack that!
First of all, the 4D refers to BirdsEye Vision tech that offers 25% more peripheral visibility compared to their I/O MAG ski goggles. By reducing the size of the frames near your cheekbones and curving the lenses downward even more, you regain a larger field of view especially when looking down.
ChromaPop is their proprietary color technology that relays true tones of your surroundings, meaning everything will look how its supposed to instead having a yellow (or red, or whatever color) tint to it. The MAG system is Smith's easy on/off magnetic locking system that makes swapping out lenses super quick and super secure.
Lastly, and the best reason for buying these goggles, is the Photochromic technology that darkens the lenses when it becomes brighter and lightens them when it becomes overcast. This means you'll always have the right amount of tint even in ever-changing conditions.
Anon M4 Toric MFI
Specs
Lens Shape

:

Cylindrical

Photochromic

:

No

Additional Lenses Included

:

1

Eyewear Compatible

:

Yes

Light Transmission

:

14 - 59%
Features
Lightweight, dual-molded PC-ABS/TPU construction combines a rigid outer frame and flexible inner frame for a comfortable, streamlined fit on the face
Triple-layer face foam with a moisture-wicking, Outlast® Fog Management face fleece layer improves antifogging while creating a comfortable seal and fit
PERCEIVE lenses offer high-contrast vision and terrain-defining clarity in just about any light condition
BEST FOR: OPTICS
If you're in search of the fastest lens change on the market, your search has come to an end — give these goggles a go.
The Anon M4 Toric MFI goggles are offered in both toric and cylindrical lens shape options. These feature upgraded magnets lens swapping technology from the previous M1, M2, and M3 iterations. The system makes it easy breezing to swap out a lens, even while you're on the go. The M4 includes a magnetic clip-in facemask that serves as protection against the snow but won't fog up your lens.
What I like most about the Toric MFI is how comfortable the triple layer foam makes them to wear as well as the variety of lens options to choose from.
Giro Method
Specs
Lens Shape

:

Cylindrical

Photochromic

:

No

Additional Lenses Included

:

1

Eyewear Compatible

:

Yes

Light Transmission

:

.06 - 35%
Features
Giro antifog coating
Injection-molded cylindrical lens shape helps refine optics and minimize the distortion that can occur in thermoformed lenses
Expansion View Technology (EXV) offers unobstructed, panoramic views and excellent peripheral vision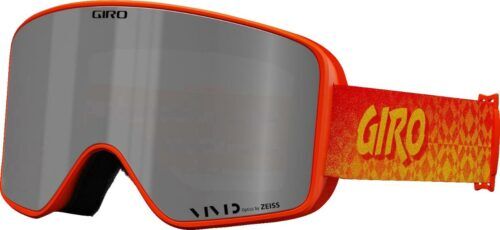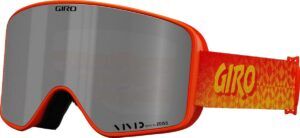 BEST FOR: LARGE FACES
If you have a wider face than most and typically struggle with finding goggles that fit your face comfortably, give these a try.
Although these are top-notch performance goggles, the Giro Methods stand out in the sub-$200 category. The large frame is also low-profile to provide for excellent peripheral vision. The triple layered foam padding does an excellent job of conforming comfortably to your face. Two lenses are included with purchase of the goggles.
What I like most about the Giro Methods is that they're suitable for skiers of all experience levels, whether you're a beginner or you frequent the park.
Sweet Protection Interstellar
Specs
Lens Shape

:

Spherical

Photochromic

:

No

Additional Lenses Included

:

1

Eyewear Compatible

:

No

Light Transmission

:

12%
Features
Fits Seamlessly With Sweet Protection Helmets
Carbon Reinforced Frames Are Extremely Durable
Hydrophobic Coating Sheds Water In Wet Conditions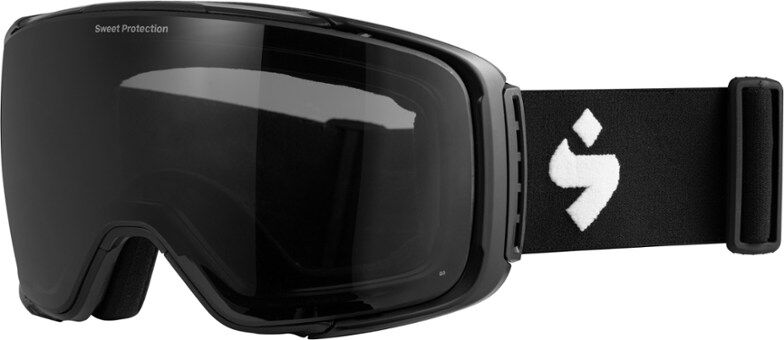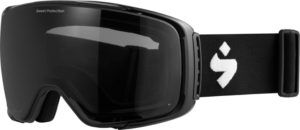 BEST FOR: FINGERPRINT-FREE LENS CHANGES
Possibly one of the most annoying things when skiing is finding that there's a grimy fingerprint smudge smack dab in the middle of your lenses. Fortunately, with the Sweet Protection Interstellar ski goggles, you won't have to worry about such frivolous matters anymore with their smudge-free, fingerprint-free, probably-made-with-alien-technology, interchangeable lenses!
Aside from smudges, these ski goggles are extremely durable and impact resistant. They also feature a technology that improves the contrast of your surroundings when visibility is low and light is scarce. That means you can keep skiing longer without having to worry about a lens change.
Lastly, the double-layered lenses not only resist fogging but also have pressure equalizing vents that prevent deformation of the inner lens that can occur over time with some pairs of goggles.
POC Fovea Mid Clarity Comp
Specs
Lens Shape

:

Spherical

Photochromic

:

No

Additional Lenses Included

:

1

Eyewear Compatible

:

Yes

Light Transmission

:

22%
Features
Includes Soft Pouch For Storage
Spare Lens Can Be Swapped Out For Low Light Skiing
Toric Lenses Decrease Distortion By Mimicking Your Eyes' Curvature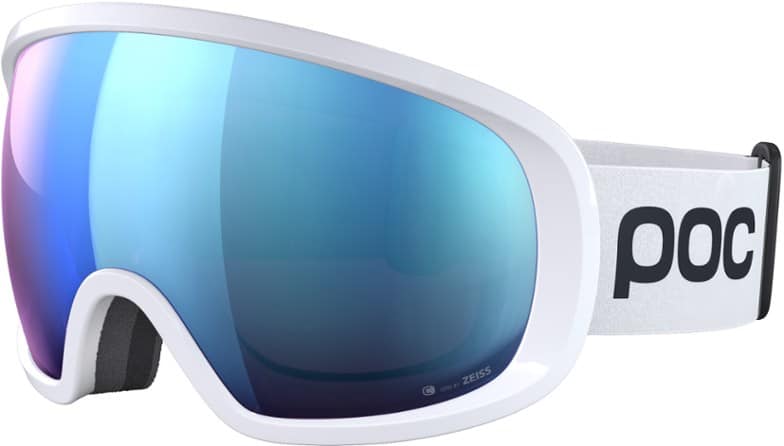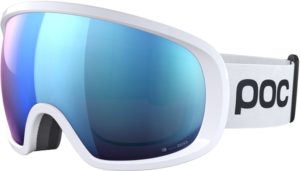 BEST FOR: COMPETITION SKIING
Competition skiers looking for the most performance driven goggles will be delightfully surprised by the POC Fovea Mid Clarity Comp ski goggles. With enhanced contrast for distinguishing between perfect lines and potential obstacles, these ski goggles are high quality performers for elite competitors and serious recreational skiers.
Starting with spherical lenses that curve across the face (horizontally) as well as top-to-bottom (vertically), these ski goggles deflect intense glare that would otherwise blind the competition. Another notable feature with these lenses are their "toric" shape. This means that the curvature is designed to match that of your eyes more closely so as to eliminate any possibility for distortion, giving you a true view of what you're seeing (check out the Features Explained section below for more info).
Oakley Airbrake XL
Specs
Lens Shape

:

Cylindrical

Photochromic

:

No

Additional Lenses Included

:

No

Eyewear Compatible

:

No

Light Transmission

:

18%
Features
Rigid Frames Are Durable And Deliver All Day Comfort
Impact Resistant Lenses Withstand The Test Of Time (And Risk)
Anti-Fog Coating Delivers Clear Vision And Reduces Moisture Build-Up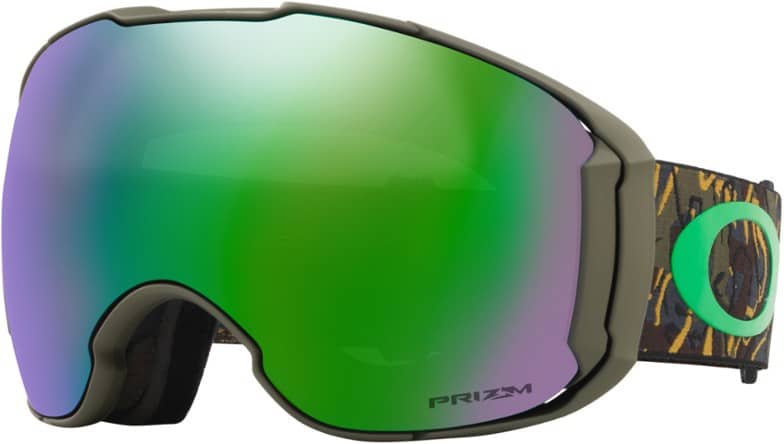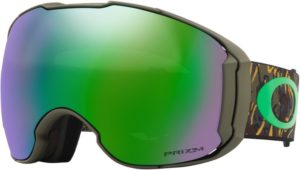 BEST FOR: DISCERNING TERRAIN IN LOW VISIBILITY
Low light skiing increases the challenge by blurring the lines between snow and horizon line. But with the Airbrake XL ski goggles from the legendary lens makers Oakley, you'll have no problem discerning nuances in the terrain.
Featuring their in-house Prizm technology, these Oakley ski goggles are able to enhance the wavelengths of visible light to show distinctions in your surroundings that would be nearly impossible to see unassisted. The lenses are also extremely durable, sporting an impact resistant design crafted from injection-molded polycarbonate.
Lastly, these ski goggles have a proprietary "Switchlock" technology that makes swapping out lenses quick and easy.
Oakley Fall Line XM
Specs
Lens Shape

:

Cylindrical

Photochromic

:

No

Additional Lenses Included

:

No

Eyewear Compatible

:

Yes

Light Transmission

:

6% (bright) or 46% (low light)
Features
Impact Resistant Lenses Are Highly Durable
Includes Interchangeable Bright And Low Light Lenses
Rimless Frames Offer Wider Field Of View & Easy Helmet Integration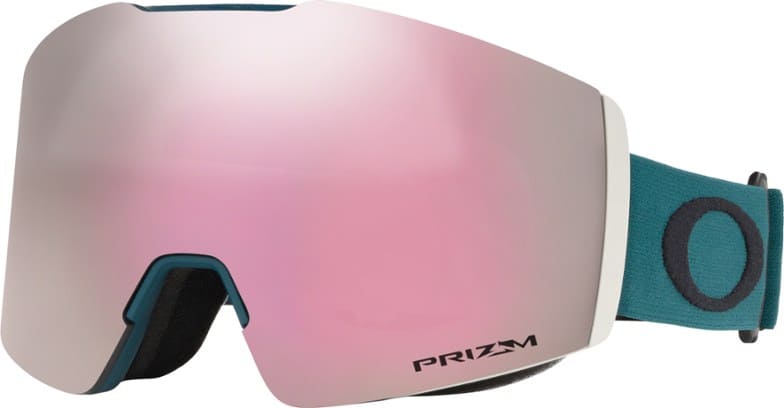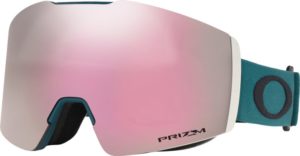 BEST FOR: WIDE FIELD OF VIEW
Sporting a rimless design for the frames, the Oakley Fall Line XM ski goggles offer a wider field of view than most other goggles on the market, giving you better peripheral vision to find the perfect line at high speeds and in transition.
The Fall Line XM's come with 2 sets of interchangeable frames, a Pink Iridium lens that allows 46% visible light transmission (VLT) for overcast days and a Black Iridium lens that has just 6% VLT for bright, sunny days. You can easily swap out the lenses with Oakley's Ridgelock Lens Change system, giving you the freedom to ski in just about any condition imaginable.
Lastly, these goggles include discrete notches that allow skiers to wear these over their prescription glasses making them accessible for all people.
Anon Sync
Specs
Lens Shape

:

Cylindrical

Photochromic

:

No

Additional Lenses Included

:

1

Eyewear Compatible

:

Yes

Light Transmission

:

6 - 57% (depending on lens)
Features
Over The Glass (OTG) Compatibility For Glasses Wearers
Anti-Fog Treatment & Channel Venting Eliminates Fogging
Magnetic Lenses Are Quick & Easy To Swap Out On The Fly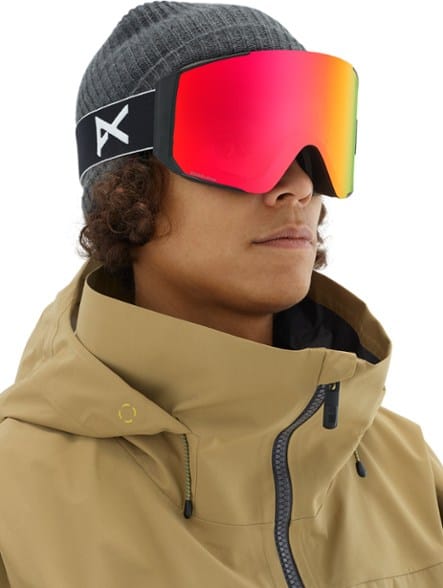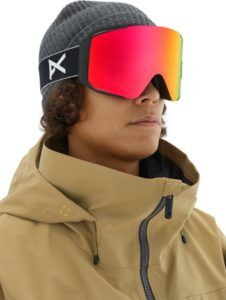 BEST FOR: SKIERS WITH GLASSES
While many goggles on our list feature and over-the-glasses (OTG) design, the Anon Sync ski goggles are perhaps the best for those wearing glasses while skiing due to its full perimeter channel venting system. This ensures that neither your lenses or your glasses will fog up during an intense ski sesh!
These goggles also come with a variety of lenses to choose from but it's worth noting that they don't all have the same visible light transmission (VLT). Starting from lowest to highest VLT: Silver lens (6%), Smoke (7%), Red (14%), Bronze (19%), Blue (46%), and Infrared (57%).
These lens colors are offered in specific combinations. For example, the Bronze and Blue lenses are mutually exclusive so if you wanted the Blue lens, you would either get the Red or Silver lens as the accompanying bright lens with low VLT.
THINGS TO CONSIDER WHEN BUYING SKI GOGGLES
LENS SHAPE
The first thing to keep in mind when deciding which ski goggles to buy is the shape of the lens. There are two common lens shapes to consider: cylindrical and spherical. Each has their own advantages and disadvantages, so make sure you know which one is best suited for your needs before making your purchase.
Cylindrical
These lenses curve across your face horizontally but are flat from top to bottom. They are a less expensive option than spherical lenses but also have a greater chance of catching glare.
Spherical
Providing better peripheral vision, less distortion, and catching less glare, spherical lenses curve both across your face as well as vertically, top to bottom. They are larger and more expensive than cylindrical lenses but provide better vision.
PHOTOCHROMIC
Photochromic lenses are some of the most advanced technology for protecting your eyes by automatically adjusting their tint level depending on how bright the sun is and how intense the UV rays are.
The brighter and more intense the UV rays, the darker the lenses become while staying clearer during overcast and snowy weather.
LIGHT TRANSMISSION
Visible Light Transmission (VLT) is a measure of how much light is allowed to pass through the lenses of your ski goggles and is measured as a percentage. The lower the percentage, the less light is allowed to pass through. However, darker (closer to 0%) isn't always better.
High visibility days with lots of sun and clear conditions will require goggles that have a low VLT (between 5% – 20%) in order to adequately protect your eyes from the sun, glare, and UV rays. They are usually found with lens colors that are often either gray, black, or gold and have a mirror effect.
Low light conditions such as foggy and/or snowy weather require more visibility (that is, more light passing through your lenses). They typically range from 60% – 90% VLT and are usually either blue, yellow, or rose colored.
There are also lenses that fall somewhere in the middle, allowing more versatility for a wider range of conditions, but less effective protection during the extremes. Consider grabbing a second lens that can serve as a backup for changing conditions.
VENTILATION
There are 3 major types of ventilation options available, many googles have more than 1 of these technologies, often having 2 or even all 3.
Double-Layered Lenses: Most, if not all, premium goggles feature double-layered lenses that create a thermal barrier when sealed properly. Similar to storm windows, they are naturally fog resistant.
Anti-Fog Coating: Another feature found on pretty much all premium goggles, anti-fog coatings are another great deterrent that can help you keep high visibility.
Vents: Many goggles feature vents on the top, bottom, and sides to allow warm air to escape and thus prevent your goggles from fogging.
ADDITIONAL FEATURES
Eyewear Compatible
Skiers who wear glasses may want to consider goggles that are able to fit over their existing frames. It's a great convenience for those who may not want to wear contacts.
Additional Lenses
Some goggles come with a second (or third) lens. These can be swapped out depending on conditions, for brighter or foggier days, or can be used as a backup in case the first is scratched or damaged.
FEATURES EXPLAINED
PROPRIETARY TECHNOLOGY
Any type of tech that is created in-house by a specific manufacturer, typically created to remedy a common problem. Some versions of a proprietary technology, such as a waterproof material or locking mechanism, are widespread and change names from maker to maker as each manufacturer has crafted their own version.
TORIC LENSES
Toric lenses are curved similarly to standard spherical lenses in that they both curve across the face (horizontally) and also from top-to-bottom (vertically). What makes toric lenses unique is that they curve tighter horizontally and less so vertically, allowing them to mimic the curvature of your eyes and provide a more realistic and less distorted view of your surroundings.
READ MORE
For more of our top skiing gear recommendations, check out these popular buyer's guides: