Updated on November 21, 2021
I won't sugar coat it…you really messed up this time. You were out on the trail, enjoying the sounds of the babbling brook and the bluebirds in the sky, when suddenly, you felt a cool drop of water crash upon your forehead. But because the forecast said it was only going to be partly cloudy today, you didn't bother to bring a rain jacket, so now you'll have to pay the price. And as you hunker down beneath that dripping Sequoia tree, your mind starts to wander off as you wonder how bringing along the best rain jacket for hiking might've improved your now-soggy trip.
Rain jackets may seem like a really simple item to shop for –if it keeps you dry then that's half the battle. But in reality, there can be a lot of smaller features and concepts surrounding rain jackets that make it a bit harder to determine which one is really "the best". Fortunately, our hiking experts at The Adventure Junkies are here to help with exactly that dilemma and to make sure that you get make the most valued, informed, and enjoyable rain jacket purchase to date.
For more of our top hiking apparel recommendations, check out these popular articles:
Women's Rain Jackets | Kids' Rain Jackets | Women's Lightweight Rain Jackets
[thrive_leads id='68010′]
Quick Answer

-

The Best Rain Jackets for Hiking
Black Diamond StormLine Stretch
Comparison Table

-

Best Rain Jackets for Hiking

For the best experience turn your device horizontally
[thrive_leads id='56126′]
Reviews

-

Best Jackets for Hiking in the Rain
REI Co-op Drypoint GTX
Specs
Weight

:

10.5 oz.

Adjustment Mechanism

:

Hood, Hem & Wrists

Ventilation

:

Core Vent

Shell

:

Ripstop Nylon Softshell
Features
Gore-Tex Waterproofing
Three-Point Adjustable Hood (for more control over fit)
Lightweight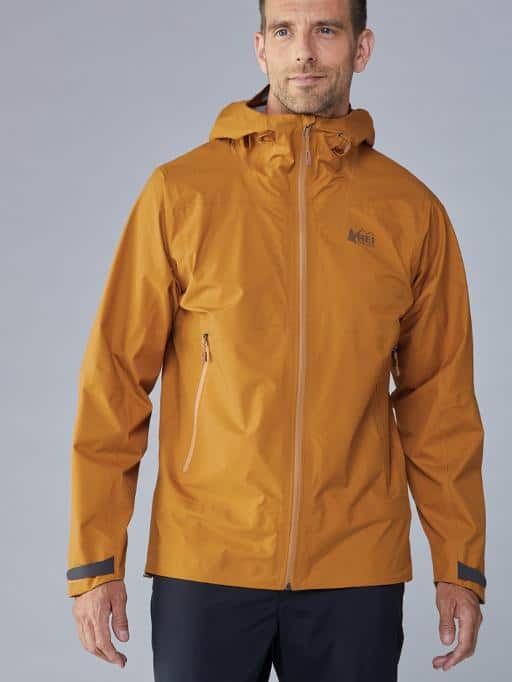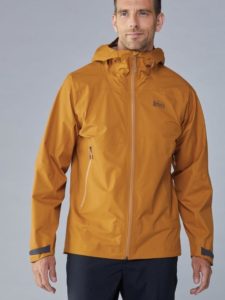 BEST FOR: GORE-TEX PERFORMANCE
REI is a company that is entirely centered around outdoor activity, so it's no surprise to see that their in-house products are well made. The Drypoint is a great example of a rain jacket that fits the bill for superb waterproofing while also achieving excellent breathability. Its performance is no doubt thanks mostly in part to the Gore-Tex, which performs amazingly in this jacket.
The Drypoint GTX remains a lightweight option with plenty of versatility. The hood has a three-point adjustment mechanism as well as a well-supported visor that allows incredible adjustability and protection. Moreover, Velcro cuffs and a pull-cord adjustable hem allow for immense protection and fitting as well as heat trapping for cold scenarios. Overall, it's a jacket that exceeds the expectations of its Gore-Tex layering and offers tremendous adjustability.
REI Co-op Rainier
Specs
Weight

:

13 oz.

Adjustment Mechanism

:

Hem, Wrists & Hood

Ventilation

:

Pit Zippers

Shell

:

Recycled nylon ripstop
Features
Sealed seams ensure full waterproof protection
Pit zips let you dump excess heat
Weatherproof center front zipper
Zippered hand pockets
Packs away in its own left pocket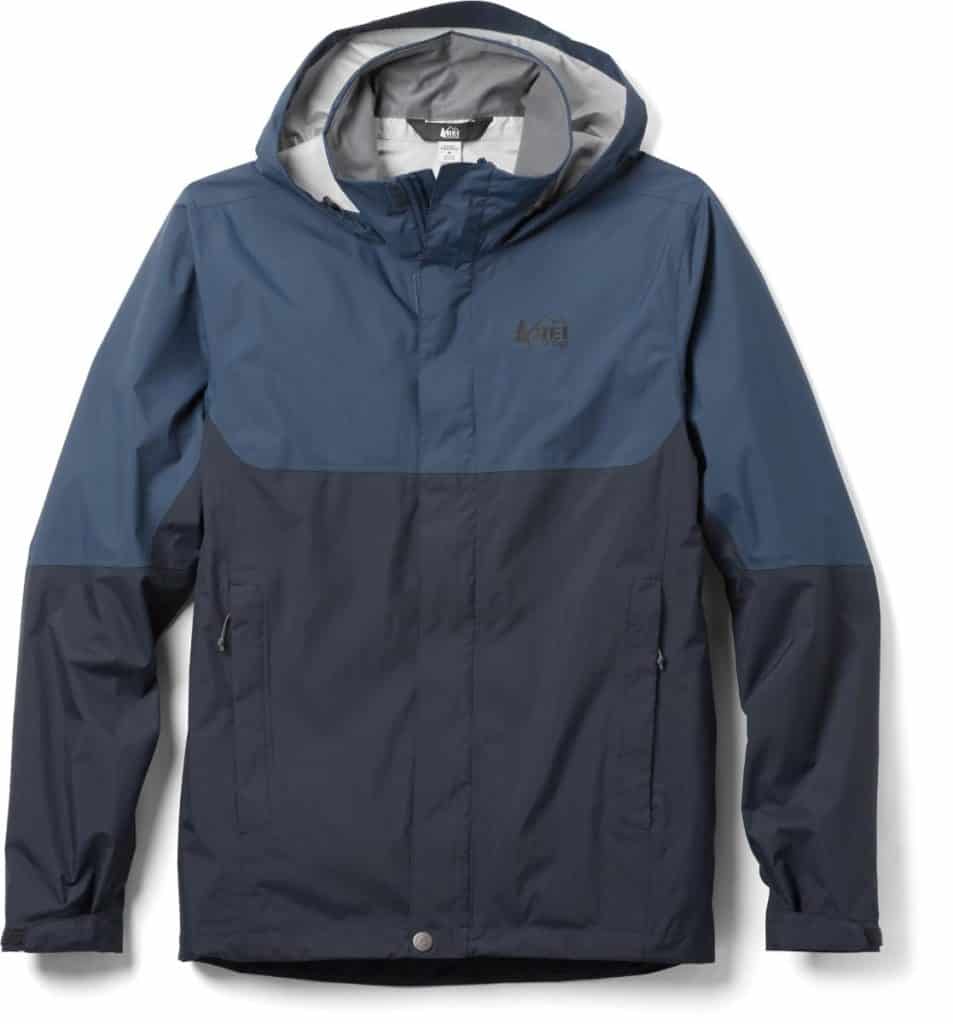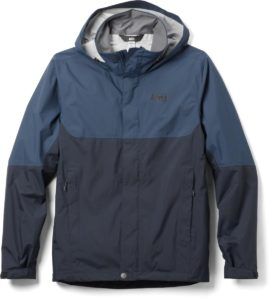 BEST FOR: THOSE ON A BUDGET
For a comfortable and quality piece of apparel that costs under $100, you'd be hard pressed to find a better alternative to the Rainier.
REI's Rainier rain jacket features a 2.5 layer shell that shields you from rain and wind gusts up to 60 miles per hour. It's complimented by a DWR finish and fully sealed seams. The hood can be adjusted many different ways and pit zips allow you to shed excess heat with ease.
What I like most about the Rainier is that it's made from recycled ripstop nylon, making for a more eco-friendly selection than many alternatives.
Rab Phantom Pull-On
Specs
Weight

:

3.1 oz.

Adjustment Mechanism

:

None

Ventilation

:

None

Shell

:

7D Pertex Shield
Features
Reduced-volume hood provides a snug, secure fit with no extra room
Included stuff sack lets you pack it down small in a pack or vest
Deep chest zipper makes it easy to ventilate in warmer conditions
Drop-in pocket in the storm guard keeps keys and cards secure
Micro-elasticated cuffs and hem helps shut out inclimate weather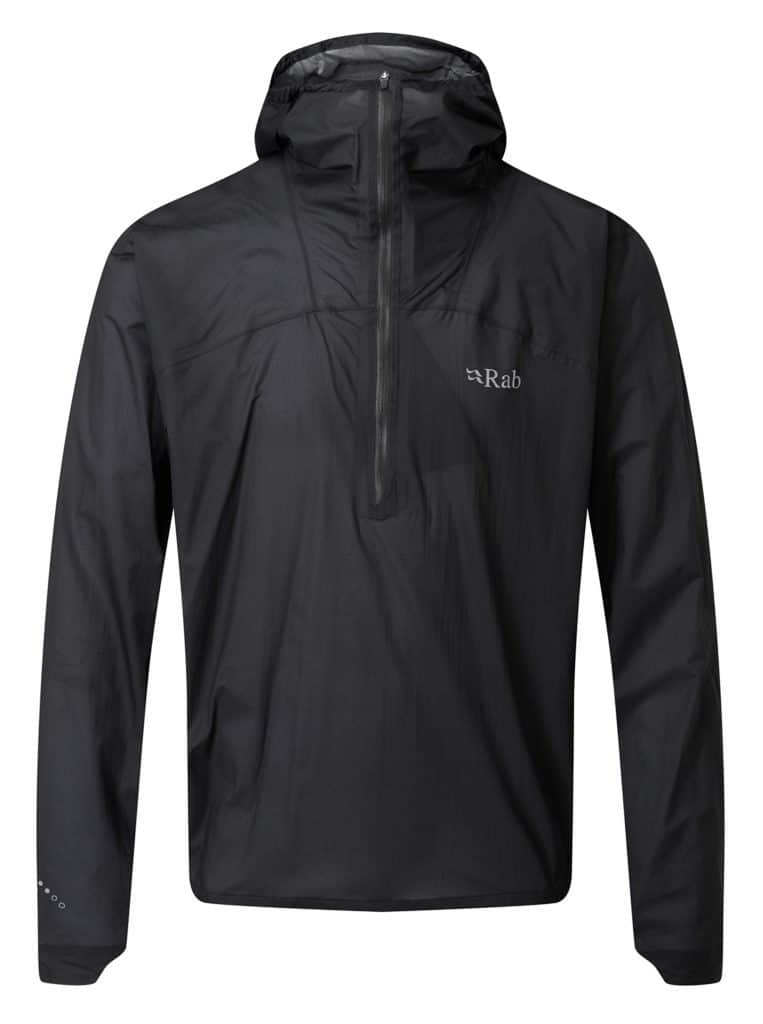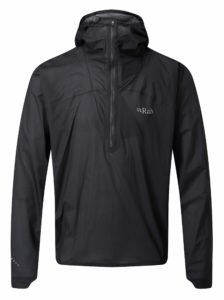 BEST FOR: ULTRALIGHT HIKING
When you're looking for the most packable shell on light and fast pursuits, look no further — you've found it.
The Rap Phantom Pull-On weighs in at just over 3 ounces and features semi-stretchy 2.5 layer Pertex Shield fabric. The reduced volume hood fits snugly and a drop-in pocket in the storm guard allows you to stash and access essentials.
What I like most about the Phantom Pull-On is how packable it is, compressing down to a size of 4.5 by 2 inches.
Marmot Minimalist
Specs
Weight

:

15 oz.

Adjustment Mechanism

:

Hood, Hem & Wrists

Ventilation

:

Gore-Tex & Pit Zips

Shell

:

2.5-Layer Recycled Polyester Hardshell
Features
Immense Breathability
Polyester Hardshell with Gore-Tex (for waterproofing & durability)
High Range of Motion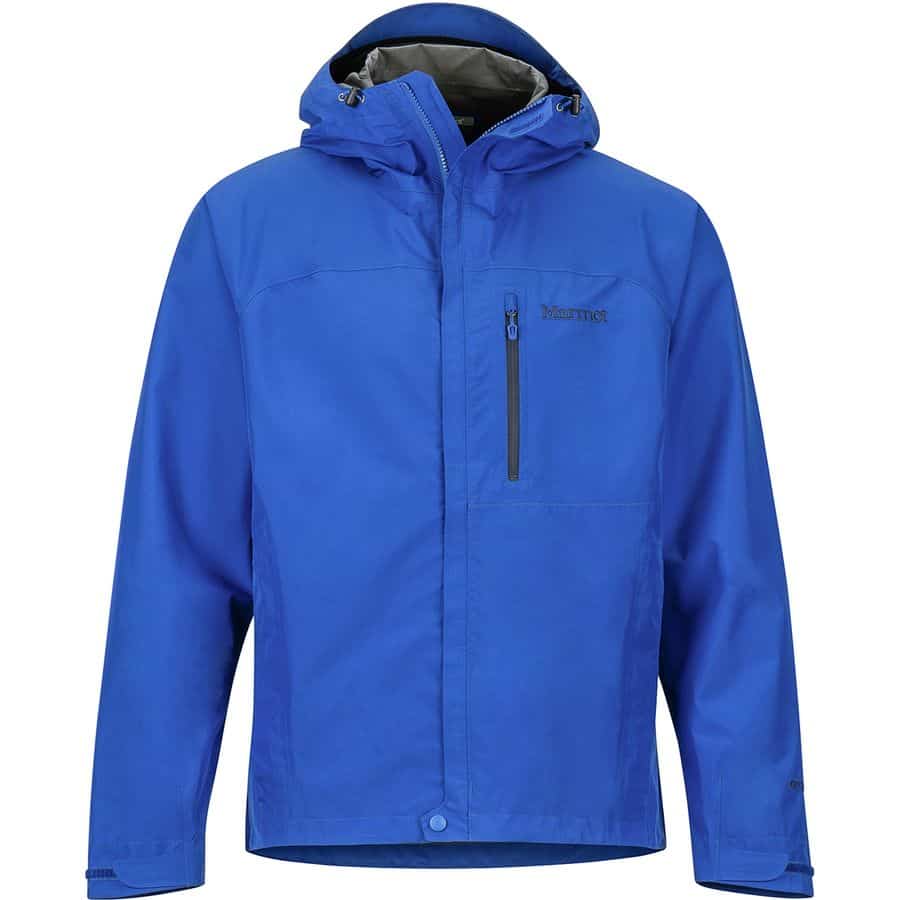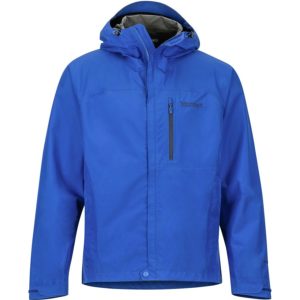 BEST FOR: DURABILITY
There are very few of us who are okay with making a somewhat-expensive purchase that ends up being a waste of money after a short amount of time. Some rain jackets are plagued by this issue, but not the Marmot Minimalist. At 15 ounces, it certainly is not the lightest option on the list, but definitely fits the bill for somebody seeking a tough and long-lasting rain jacket. While the Minimalist does feature less-than average storage compared to other options, its breathability, flexibility, and strength is almost unmatched.
The 100% recycled polyester hardshell construction protects this jacket from sharp objects and heavy rain. Recycled materials often act as a source of worry for many shoppers, as they might not be as protective as a fresh material. However, the Minimalist defies this belief and shows that sometimes it pays to be eco-friendly, because this jacket can breathe, block, and bend with ease.
Arc'teryx Zeta SL
Specs
Weight

:

10.9 oz,

Adjustment Mechanism

:

Hem, Wrists & Hood

Ventilation

:

None

Shell

:

40-denier ripstop GORE-TEX PACLITE Plus
Features
StormHood™ with halo adjuster
WaterTight™ front zipper
2 hand pockets
Adjustable cuffs and drawcord-adjustable hem help seal in warmth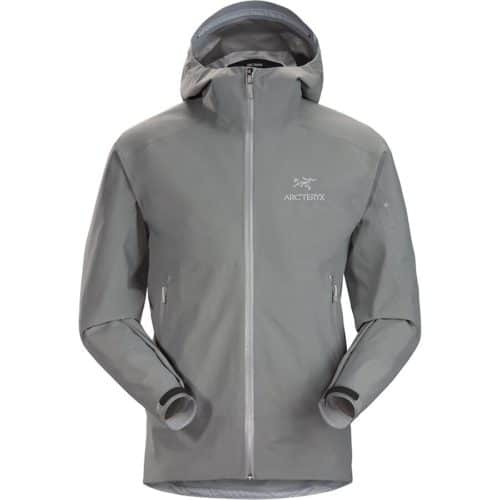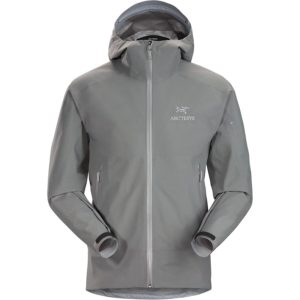 BEST FOR: EXTREMELY ACTIVE ADVENTURES
If you need a jacket to wear in foul weather on super active, high-performance pursuits, look no further — you've found it.
The Zeta SL features GORE-TEX Paclite Plus technology, making this one of the most packable hard shells on the market. It features a trim, articulated fit that provides for complete freedom of movement and an adjustable hood, hem, and cuffs.
What I like most about the Zeta SL is that it looks and feels super high quality and boasts a durable design that could make for the last rain jacket you ever have to buy.
The North Face Venture 2
Specs
Weight

:

10.9 oz.

Adjustment Mechanism

:

Hem, Wrists & Hood

Ventilation

:

Pit Zippers

Shell

:

2.5 Layer Nylon Hybrid
Features
Velcro Wrist Cuffs (for fitting/better waterproofing abilities)
Large Pit Zippers (for better ventilation)
Lightweight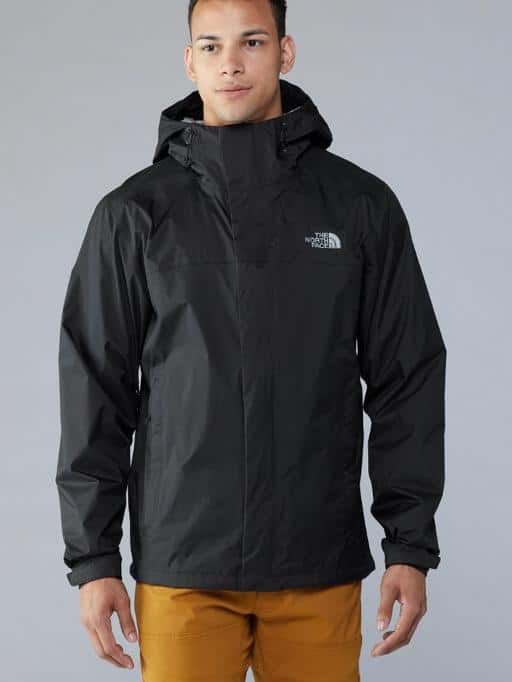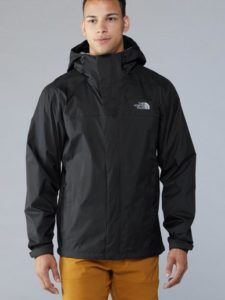 BEST FOR: OVERALL VALUE
For some shoppers, the most important detail when considering your options is the price tag of the product. If budget is chief among the most important factors for you, The North Face's Venture II should be near the top of your list. At only 10.9 ounces, it's a lightweight hybrid-shell jacket with effective waterproofing, maximum ventilation, and ample storage.
With larger-than-average pit zips, you can effortlessly and quickly dump heat from the interior of your jacket to cool off on the trail. The adjustment mechanisms also make this jacket incredibly effective at creating tight, protective seals between the jacket and your body at the waist, wrists, and hood to prevent rogue water droplets from wetting your skin.
Best of all, this jacket bears an incredibly competitive price tag, making it a strong contender for the deal-seeker. While this jacket doesn't have as many cool or modern features as most of the other jackets on this list, the negligible price significantly increases its value for the bargain shopper. It may not be the fanciest jacket on the market, but it will certainly be the best bang for your buck.
REI Co-op XeroDry GTX
Specs
Weight

:

12.5 oz.

Adjustment Mechanism

:

Hood & Wrists

Ventilation

:

Core Vents

Shell

:

2-Layer Polyester Softshell
Features
Competitively Priced Gore-Tex
Mesh Pockets Double as Ventilation Ports
Dual Layer Construction (for greater durability)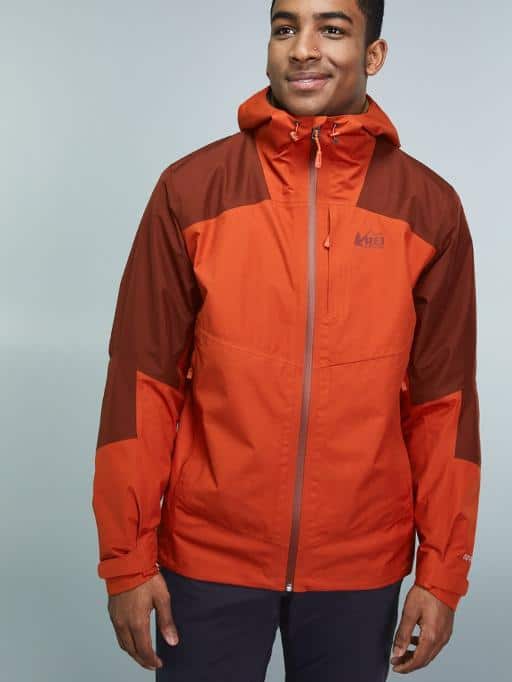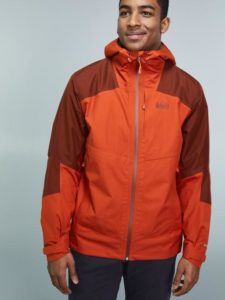 BEST FOR: AFFORDABLE GORE-TEX
Gore-Tex has proven time and again to be one of the best materials available for achieving great waterproofing without sacrificing ventilation. So, as expected, it tends to drive prices upward for merchandise that features it. Fortunately, REI Co-Op now offers a model of rain jacket that breaks this trend; the XeroDry GTX. It's a highly-durable two layer jacket made of 100% polyester with a Gore-Tex laminate sewn within, meaning it's extremely waterproof and rugged enough for your wildest adventures.
The XeroDry GTX is by no means your typical, run of the mill rain jacket. One of the key features that separates it from other jackets is its usage of the mesh pockets as ventilation ports along the wearer's chest and ribs. But what truly makes this jacket stand out is the competitive price for a rain jacket made with Gore-Tex, which usually causes jacket prices to sharply increase. You may be concerned that since it's cheaper that it's less effective, but the XeroDry GTX defies expectations as being an above-average rain jacket for a below-average price.
Black Diamond StormLine Stretch
Specs
Weight

:

11.3 oz.

Adjustment Mechanism

:

Hem, Wrists & Hood

Ventilation

:

Pit Zips

Shell

:

88% Nylon/12% Elastane Hardshell
Features
Patented "BD.dry" Laminate (for durable waterproofing/breathability)
YKK Polyurethane-Coated Front Zipper (for superior quality/durability)
Partial Elastane Construction (for greater range of motion)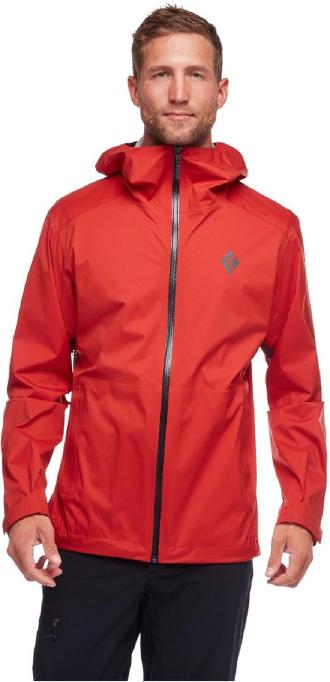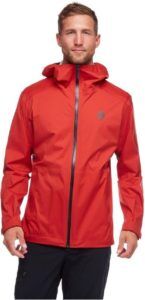 BEST FOR: PROTECTION
When it comes to rain jackets built for hiking, deal-seekers will be sad to find that there are simply very few options on the market for supreme performance with a low price tag. The Black Diamond Stormline Stretch packs a surprising punch for a well-rounded jacket priced at a deal. The patented "BD.dry" laminate in this jacket offers unprecedented protection from rain while remaining breathable and flexible. Added pit zips also give you the ability to dump heat easily while the YKK coated zipper seals you in a tight waterproof seal.
The Stormline Stretch is a hardshell jacket that is durable, breathable, and of course, waterproof. But unlike most other hardshells, it is incredibly malleable thanks to the elastane in the build. This makes the Black Diamond Stormline Stretch a worthy choice for anyone seeking exceptional comfort and high-quality at a reasonable price.
Marmot PreCip
Specs
Weight

:

11 oz.

Adjustment Mechanism

:

Hood, Hem & Wrists

Ventilation

:

Pit Zips

Shell

:

Ripstop Nylon Softshell
Features
NanoPro Fabric (for waterproofing)
Rollable Hood (for comfort when not using hood)
Fully-Taped Seams (for waterproofing)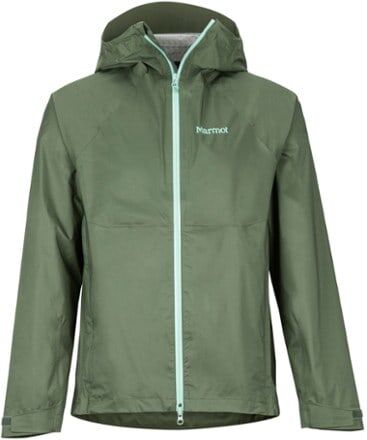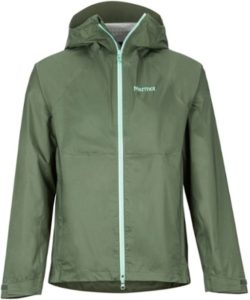 BEST FOR: LIGHTWEIGHT VALUE
The Marmot Precip is a popular choice among deal-seekers for its overall performance and design when compared against its average price tag. The construction of this jacket, while not necessarily unique, works to provide ample waterproofing thanks to the patented NanoPro laminate. The Precip also features a fully-taped seam design that prevents moisture from seeping through to the interior.
Overall, Marmot's Precip hits all the marks for what you will always need from a rain jacket. It can breathe well with the pit zips and works hard at blocking out the rain. The Precip also offers you competitive versatility and adjustability. Adjustment mechanisms in the hood, hem and wrists give you the ability to fit the jacket to your exact desires.
In addition to that, the hood on the Precip can also be effortlessly rolled up into the collar when not in use for added ventilation. Marmot has truly designed an effective lightweight rain jacket with the Precip, but the best part that rounds it all out is the price tag. All together, the Precip is a worthy contender for almost all predictable usages of a rain jacket and rightfully deserves its reputation.
Patagonia Torrentshell
Specs
Weight

:

12.1 oz.

Adjustment Mechanism

:

Hood, Hem & Wrists

Ventilation

:

Pit Zips

Shell

:

100% Recycled Nylon Softshell
Features
2-Zipper Pockets (for better protection of belongings)
Collapsible into Pockets (for easy stowing)
Microfleece Interior (for comfort)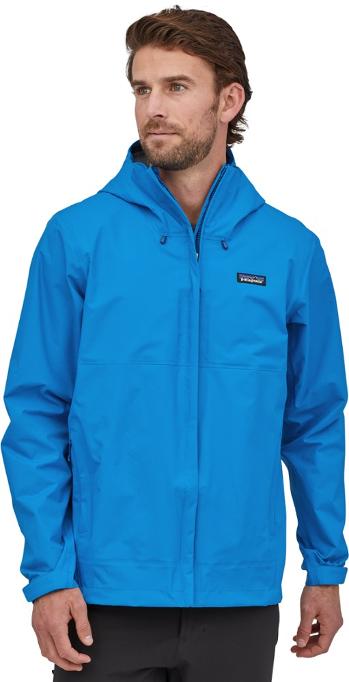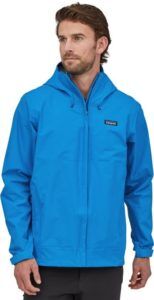 BEST FOR: QUICK USE
I'm sure at least once in your life you've been blindsided by a random rain storm, which seems to be exactly the sentiment that Patagonia caters to with the Torrentshell. Oftentimes, jackets that are highly packable tend to perform less in the waterproofing and comfort departments. But, the Torrentshell breaks this trend by offering up a protective and comfortable rain jacket that can easily be stored away when out on the trail.
A microfleece neck interior helps guard and keep dry one of the most sensitive and important parts of the body. Not only that, adjustment mechanisms on the hood, hem and wrists make the Torrentshell all the more comfortable. But what really makes this softshell shine is the immense ease that comes from packing it away easily by collapsing it all into its pockets.
Usually, protection comes at the cost of some packability, but not with this jacket. Patagonia knows that some of us need an effective rain jacket for long distances that won't add too much weight to your pack. If you are one of those people, consider the Torrentshell for this exact reason.
[thrive_leads id='59716′]
THINGS TO CONSIDER WHEN BUYING RAIN JACKETS FOR HIKING
VENTILATION
Often times rain occurs in warm weather, and when it comes it brings a thick wave of humidity with it. When this occurs, it is crucial that you are wearing a jacket that will keep you both dry and cool at the same time.
Good ventilation and weatherproofing is a tough balance to strike, but in recent years, new technologies have emerged to help with this problem. Many jackets achieve this through different means, whether it be ventilation ports in the armpits, Gore-Tex wrapping, or other forms of semi-permeable membranes.
It becomes more important to consider ventilation as the distance of your hikes increase. If you're relatively new to the hiking world and longer distances are not yet in your repertoire, it might not make sense to drop extra cash on a jacket with high-tech ventilation methods. But if you hike often or for long distances at a time, especially in humid environments, make sure that the jacket you select has ample ventilation so you don't overheat while hiking in the rain.
And if you live in a cooler environment that tends to be wet for much of the year (think Washington state), then you might consider investing in a heavier, warmer rain jacket so you keep your internal body temperature up even when the ambient temperature drops around you.
WEIGHT
This kind of piggybacks off of ventilation, as weight has a heavy influence on both that and just general comfort. Added weight doesn't always affect the ventilation of your jacket, but it can certainly be a factor in determining how breathable your jacket will be.
More often than not, an extra heavy jacket will naturally feel less-breathable and more cumbersome. Heavy jackets are a very niche purchase, as typically they are only necessary in environments that rain a lot and stay relatively cool.
Always be sure to consider the average weight of your pack when you go out for a hike and how much extra weight you can carry when considering which rain jacket to buy. Also keep in mind how far you plan to hike, as extra weight compounded with long distances can make for a miserable hike if you're not careful.
STORAGE
Pockets are universally convenient, who could argue against that? Their handiness becomes even more apparent when you are on a long hike and you have a toolkit of supplies you need to be able to access quickly. Maybe you aren't a cargo shorts kind of guy, even when you're in the middle of nowhere with nobody to impress. In that case, what you wear on top should have plenty of storage space to keep all your essentials handy and dry, even while hiking through a storm.
Rain jackets are an excellent way to have ample storage space right at the tip of your fingers, so you don't have to take off your hiking backpack every time you need your compass or pocket knife. Interior pockets are also a major benefit, especially because of their typically large sizes and ability to better secure and protect your belongings from the elements. Always look into how many pockets a jacket has before buying it, or you might end up spending more on a jacket with less pockets than one that is just as good with more storage space.
ADJUSTABILITY
Many rain jackets today will feature some sort of strap or cord mechanism that allows you to tighten or loosen the jacket to your liking. Typically, these mechanisms are focused around the hood, wrists, and waist (otherwise known as the "hem") sections of the jacket.
However, some fancier and more expensive jackets will have these adjustment mechanisms located on other parts of the jacket as well, such as the shoulders, back, and torso. These straps are important to consider because they help your jacket both fit and contour to your body better, as well as trap heat and block water. This is extremely useful to avoid leaking within the jacket, as the overlapping of membranes can cause some annoying condensation to occur.
Moreover, these adjustment mechanisms are crucial for high-wind situations when being aerodynamic could very well mean life or death. Most jackets today feature elastic pull-cords with plastic clamping mechanisms, which are lightweight and non-intrusive. It is recommended to always buy a jacket with some form of adjusting mechanisms, but try not to overspend on designs that go above and beyond what you actually need.
PRICE
You don't have to worry too much about the cost of a rain jacket when compared to buying other hiking accessories. Jackets can only be so different from one another, but that's not at all to say certain jackets aren't more effective than others. Brand recognition has a lot to do with the price of jackets, as companies like Patagonia, Columbia, and The North Face are synonymous with outdoor jacket wear.
But, as the old saying goes, you get what you pay for. There's a reason some of these companies are household brands to so many hikers. Try not to veer too far away from staple brands for the sake of saving a few extra bucks, but also don't feel like you have to spend that extra cash if you have available options. Always read verified customer reviews but take every one you read with a grain of salt because everyone is looking for their perfect something.
SHELL TYPE
This is where rain jacket shopping can get a little convoluted, as there are a handful of different shell types and materials. From a top-down look, there are three types of shells you have to remember: hardshell, softshell, and hybrid.
The shell types are pretty straightforward, but once you get into the varying types of each, things tend to get a little complicated. A hard shell has the greatest protection from rain and wind, but features little breathability and is almost always heavier. Their added weight often comes from their construction, which typically is made up of multiple layers.
Soft shells are lightweight and offer ample protection against the elements, but not nearly as much as hard shells. This is due to the fact that they are almost always made from one single layer.
Hybrids are a bit wonky, as the number of layers they have can vary from only one to multiple, but they usually feature a tough exterior layer coupled with a softer interior. Shells can be made up of many different fabrics and materials, such as nylon or polyester, which are usually coupled with some sort of laminate or coating to offer greater waterproofing, wind resistance, and ventilation.
Make sure to do your research before deciding which shell type is right for you, as it will make a big difference on your next rainy hike.
FEATURES EXPLAINED
GORE-TEX
A mesh material sewn within the jacket that offers waterproofing without sacrificing breathability; common technology among many hiking accessories. often identified in item names with "GTX". You can learn more about Gore-tex here!
YKK ZIPPERS
Chinese zipper manufacturer that is the most widely used brand of zippers worldwide. They produce very high-quality zippers for a fair price. These zippers are usually coated with some sort of polyurethane in rain jackets to prevent rusting.
PIT ZIPS
Zippers located underneath the armpits that allow you to dump heat trapped within the jacket.
LAMINATE
A waterproof/breathable membrane hemmed into the jacket that offers superior breathability, waterproofing, and durability. Usually made of polyurethane and adds expense to an otherwise relatively cheap jacket.
COATING
Polyurethane spread into a jacket that typically does not offer the same level of breathability, waterproofing, and durability as laminates. However, it is cheaper and more lightweight.