Updated on September 20, 2021
If you're a woman looking for the perfect pair of climbing shoes, you might have gotten by with a unisex shoe when you were just starting out. But a women's shoe made for you will really help you harness your power properly. Women's climbing shoes are designed to accommodate the anatomical differences in women's feet, making them more comfortable for women to wear on the rock. We here at the Adventure Junkies will help you find the best women's climbing shoes.
For more of our top climbing footwear recommendations, check out the Best Climbing Shoes.
Quick Answer

-

The Best Women's Climbing Shoes
La Sportiva Solution Comp
Comparison Table

-

Best Women's Climbing Shoe

For the best experience turn your device horizontally
Reviews

-

The Best Climbing Shoes for Women
La Sportiva Miura VS
Specs
Closure

:

Velcro Straps

Upper

:

Leather

Downturn

:

Aggressive

Experience Level

:

Advanced
Features
Supportive Midsole
Moisture-Wicking Lining
Designed for Edging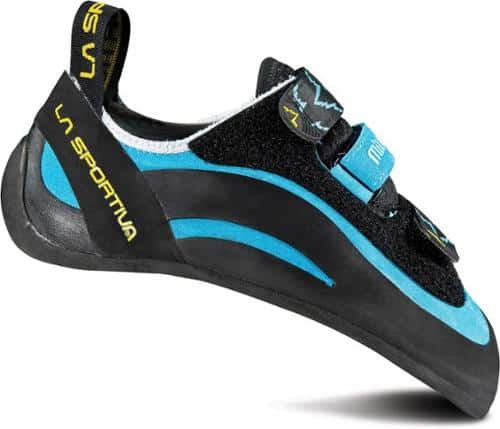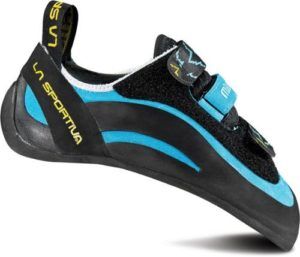 BEST FOR: PRECISION FOOTWORK
The Miuras are the perfect shoe for you if you want your feet to stick to the smallest footholds. The Vibram XS rubber is stiff for edging and when combined with the aggressive shape, the shoe gives you great control on dime-thin edges and tiny pockets. The flexible midsole also allows you to smear when climbing less than vertical terrain with virtually non-existent footholds.
You will sacrifice some comfort in the downturned design of the Miura, but the 3-strap closure system allows you to get an exact fit for your feet. The Miuras are lined to wick away moisture and keep the shoes from stretching too much.
La Sportiva Tarantulace
Specs
Closure

:

Lace-up

Upper

:

Leather / Synthetic leather

Downturn

:

Neutral

Experience Level

:

Intermediate
Features
Unlined leather through the uppers is soft and comfortable; RN 45 shoe shape is great for upper-end performance without hurting your toes
Aggressive rubber heel rand lets you stand on micro edges and the 5mm-thick FriXion® RS rubber is hard wearing yet sticky for a long life
Quick-pull, synthetic-leather lacing harness delivers a snug, precise fit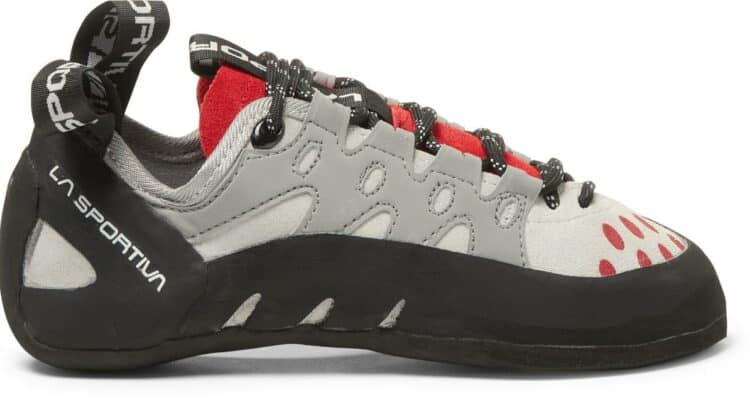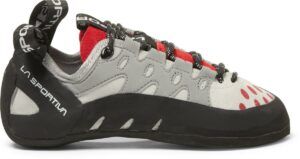 BEST FOR: CLIMBERS ON A BUDGET
If you're shopping on a tight budget, you can still get a quality pair of climbing shoes made by the best climbing shoe manufacturer for under $90 — look to the Tarantulaces.
Similar to the men's model we reviewed in our previous video, the women's version of the Tarantulace climbing shoes features unlined leather through the upper part of the shoe, making for a soft and comfortable fit. The heel rand is designed aggressively for balancing on micro edges and 5mm of rubber — more than most other climbing shoes have — means the Tarantulaces will keep you climbing for quite some time in between resoles.
What I like most about these climbing shoes is how well the synthetic-leather lacing harness blend allows for a super snug, precise fit.
La Sportiva Solution Comp
Specs
Closure

:

Fast Lacing System

Upper

:

Leather / Microfiber

Downturn

:

Aggressive

Experience Level

:

Advanced
Features
Increased rubber over leather upper for better toe-hooking
Vibram XS Grip2 feels stiff at the toe and soft at the heel and arch
P3 Power Platform retains the shoe's aggressive profile for life
Fast Lacing System with a quick-and-easy hook-and-loop adjustment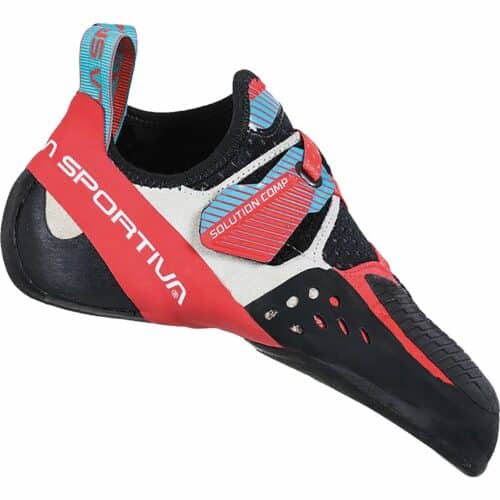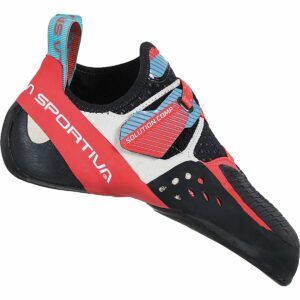 BEST FOR: STEEP SPORT CLIMBING AND OVERHUNG BOULDERING
Made to suit modern competition climbing, the Solution Comps feature the right combination of features for excelling on hard projects.
La Sportiva designed the Solution Comps with the same level of aggressiveness as the original, beloved Solutions and increased leather volume over the leather upper, which enhances toe hooking capabilities. The Comps are manufactured with Vibram XS Grip2 rubber and made stiff at the toe and soft through the arch and heel. The fast lacing system is pretty much the best combination of Velcro and lace closure systems and can be adjusted on a dime.
What I like most about the La Sportiva Solution Comps is how well they grab small pockets.
Scarpa Vapor V
Specs
Closure

:

Velcro Straps

Upper

:

Microsuede

Downturn

:

Moderate

Experience Level

:

Intermediate
Features
Bi-Tension Rand (for power & toe comfort)
Microsuede Toe Box (for comfort)
Mesh Tongues (for breathability)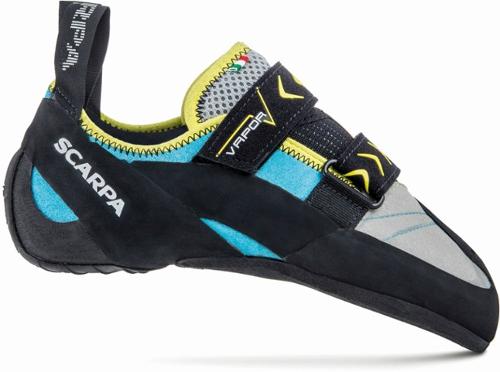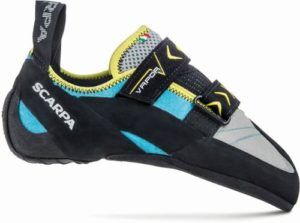 BEST FOR: ALL-DAY COMFORT
The Scarpa Vapors feature a unique rand tension system, which is the opposite of most shoes. Instead of pulling your heel forward into your toes, which can jam them into the front of the shoe, the Bi-Tension system of the Vapor pulls the toes back toward the heel, providing the same power through your feet, but more comfort for your toes.
The Vapors are truly designed to be a shoe you can keep on all day, whether during a long session in the gym or a multi-pitch climb outside. The toe box has a microfiber lining to provide extra comfort, the mesh tongues are super breathable, and the tension puts lower pressure on the Achilles.
Scarpa Helix
Specs
Closure

:

Lace-up

Upper

:

Suede Leather

Downturn

:

Neutral

Experience Level

:

Beginner
Features
Highly Adjustable Laces (for fit)
Cushioned Heel Cup (for comfort)
Durable Rubber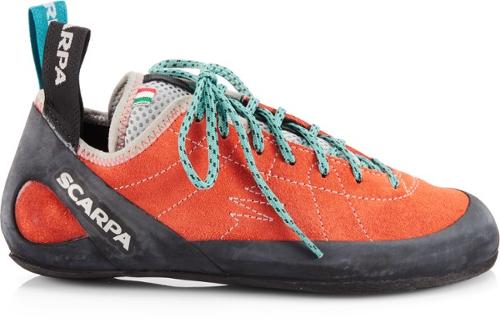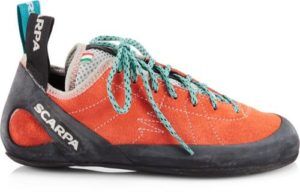 BEST FOR: BEGINNERS
The Scarpa Helix is a classic, comfortable shoe that is not very aggressive. It's ideal if you're just getting into climbing and looking for a great women's climbing shoe. The Vibram XS Edge rubber is both sticky and durable, and the midsoles provide the support you need to practice your footwork.
The suede upper will stretch slightly once you start to wear the Helix, so they should feel tight out of the box. The cushioned heel cup and padded tongue provide extra comfort, while the laces go all the way to the toe so you can dial in your desired fit.
La Sportiva Finale
Specs
Closure

:

Lace-up

Upper

:

Leather/Microfiber

Downturn

:

Neutral

Experience Level

:

Beginner
Features
Medium Stiffness Midsole (for support)
Thick Rubber (for durability)
Tensioned Heel (for performance)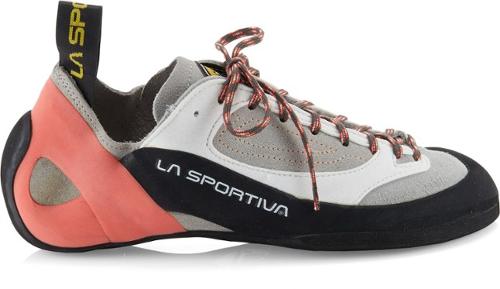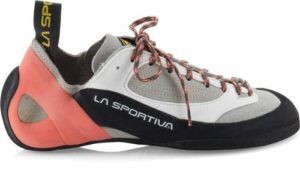 BEST FOR: VALUE
The Finales are La Sportiva's introductory women's climbing shoe, and they offer great value by providing many of La Sportiva's technical features in a shoe that's designed to be comfortable for new wearers of climbing shoes. The proprietary Powerhinge design stretches just the back of the shoe when you weight your foot, keeping your toes stuck to the rock and preventing you from slipping off of footholds as you work on your technique. The Vibram XS Edge rubber is sticky and thick, which is what you want in beginner shoe, and the midsole is supportive without being too stiff.
The unlined uppers will stretch to mold to your feet, so keep in mind when you're choosing a size that you want them to feel tight when you first put them on.
evolv Shakra
Specs
Closure

:

Velcro Straps

Upper

:

Synthetic

Downturn

:

Aggressive

Experience Level

:

Intermediate
Features
Side Pressure-Relief (for comfort)
Soft Midsole (for sensitivity)
Roomy Toe Box (for comfort & power)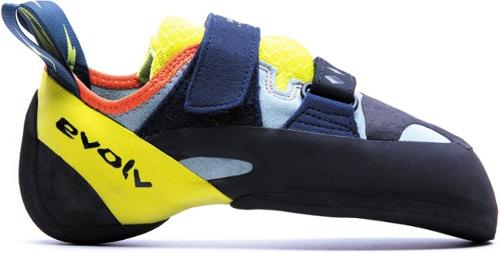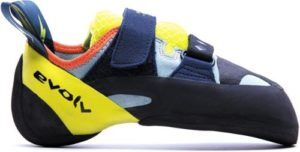 BEST FOR: COMFORT
The Evolv Shakra is designed to be as comfortable as possible without sacrificing performance, and several unique features make this actually happen. The Shakras have a women's specific fit, but they also have a roomy toe box and a special side pressure-relief rand (the rubber layer that extends from the sole around the toe of the shoe), so they stay snug but not constricting.
For performance, the Shakras sport a soft midsole for extra sensitivity on small footholds, as well as a proprietary "Love Bump," or extra rubber in the dead space under the toe which makes for better edging. They also have plenty of rubber on top of the toe for excellent toe hooking capabilities.
La Sportiva Kataki
Specs
Closure

:

Lace-up

Upper

:

Suede Leather/Microfiber

Downturn

:

Aggressive

Experience Level

:

Intermediate
Features
Stiff, Durable Rubber
Snug Heel Cup (for heel hooking power)
Differentiated Front & Rear Lacing (for precise fit)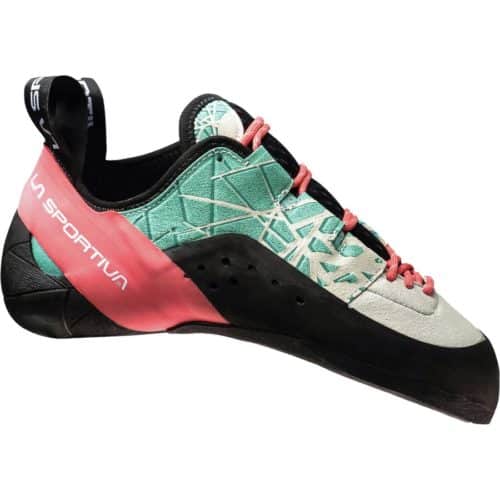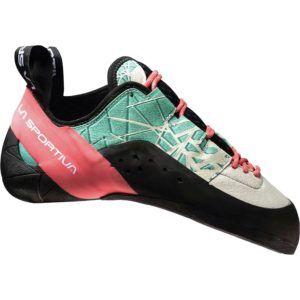 BEST FOR: ALL-AROUND PERFORMANCE
The La Sportiva Katakis are an extremely versatile shoe that performs well on a variety of terrain, from slab to steep and everything in between. They are aggressively downturned which provides power on overhangs, and the stiff rubber and low profile toe box makes them great shoes for edging on small holds and jamming in thin cracks. The proprietary S-Heel construction keeps your heel secure in all situations, and gives you extra heel-hooking power.
The leather upper of the Katakis will stretch over time, so they should fit extra tight out of the box. The lacing system differentiates between the front and rear of the shoe, giving you extra control over the fit.
Five Ten Hiangle
Specs
Closure

:

Elastic & Velcro Strap

Upper

:

Leather

Downturn

:

Aggressive

Experience Level

:

Intermediate
Features
Unlined Upper (for stretch)
Elastic & Velcro Closure (for easy on/off)
Thick Rubber (for stiffness & durability)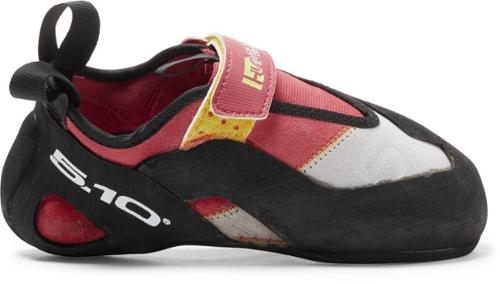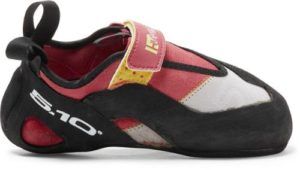 BEST FOR: BOULDERING
The Five Ten Hiangles are downturned aggressively for powerful routes that boulderers tend to prefer. The closure system that combines elastic with a velcro strap make these shoes extremely easy to get on and off between bouldering burns. The stiff midsoles and thick C4 rubber provide support on steep, overhanging climbs, and the rubber is also extra durable, so these shoes are made to last through lots of projecting.
The Hiangles tend to run on the small side, but the leather upper of the shoes is unlined, so they will stretch about a half size when you first break them in.
Scarpa Instinct VS
Specs
Closure

:

Velcro Straps

Upper

:

Synthetic Microsuede

Downturn

:

Aggressive

Experience Level

:

Advanced
Features
Thinner Soles (for flexibility & sensitivity)
Tensioned for Toe Power
Rubber Toe Patch (for toe hooking)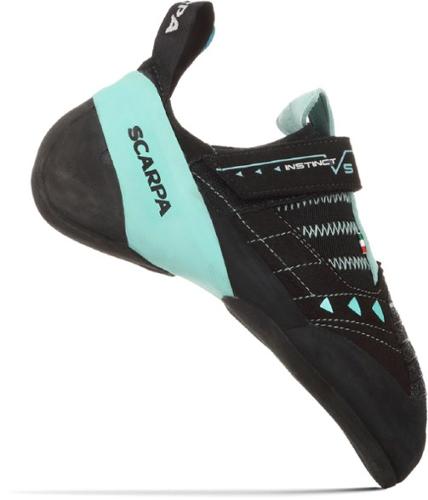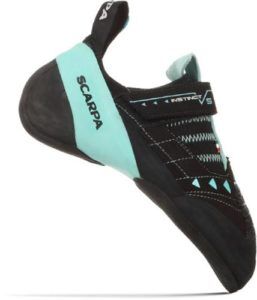 BEST FOR: STEEP CLIMBING
If the cave is your favorite place to be in the gym and you chase the steep stuff outside, the Scarpa Instincts will provide the power you need on those pumpy overhangs. These shoes feature a downturned design with tension from the heel to the toe, giving you great power to push off your feet. The extra patch of rubber that wraps around the toe makes them excel at toe hooking, too.
These are built on a women's specific last (molding) so they fit snugly on lower volume and smaller feet. The microsuede upper doesn't stretch much, so you'll want to make sure these fit close to size straight out of the box.
THINGS TO CONSIDER WHEN BUYING WOMEN'S CLIMBING SHOES
Women's climbing shoes are usually designed to be lower volume to fit women's (generally) smaller feet. However, feet do vary, so it's crucial to find a women's climbing shoe that fits your specific feet. Manufacturers will provide a size chart based on street shoe size so you can buy online, although trying on a few pairs at your gym before ordering is often a good idea.
If you're not sure how a climbing shoe should fit, REI has some great tips for selecting a shoe and learning how they should feel. Once you pick your perfect pair, keep them lasting a long time with these pointers on climbing shoe care.
FIT
The biggest factor in whether you'll like a climbing shoe is fit. Climbing shoes should definitely feel tighter than your street shoes, and will often be pretty uncomfortable when you first put them on. Keep in mind that unlined shoes made of natural leather will stretch quite a bit though, so if they're not super tight straight out of the box, they will eventually feel too big. Shoes made of synthetic or lined uppers should fit closer to size when you first buy them since they won't stretch nearly as much.
COMFORT
Many women's climbing shoes have features designed specifically for comfort, like padded tongues and cushioned heel cups. However, too much padding can cause a lack of sensitivity and lead to decreased performance.
If you tend to sweat a lot, look for moisture wicking linings and breathable mesh tongues, because climbing shoes are known to develop odors over time since you're working out hard in them.
The most important part of comfort is that the shoe fits your foot. Though the uppers of shoes will stretch either a little or a lot over time, the rubber will not, so if those parts of the shoe are digging into your feet too much, it might not be the right shoe for you.
DURABILITY
You want your favorite shoes to last, so durability is a key factor in choosing a climbing shoe. Thicker rubber will generally last longer, but thinner rubber can give you more sensitivity on footholds, so you might have to make a trade off.
If you're choosing a downturned shoe, the aggressive shape should be designed to last for the life of the shoe and not lose its shape and wear out over time.
FEATURES EXPLAINED
CLOSURE
How you take the shoe on/off and tighten it to fit. Options include laces, velcro, and elastic slip-on.
UPPER
The material that the upper portion of the shoe is made of. Most commonly leather or synthetic, which can be unlined, lined, or even padded.
OUTSOLE
The bottom of the climbing shoe, which is always made of rubber. However, each brand uses its own type of rubber with different features.
LAST
The model which the shoe is built on. Softer shoes are slip-lasted, giving greater sensitivity; shoe that are board-lasted are stiffer, but they can be more comfortable.
DOWNTURN
How much the toe of the shoe curves downward. Neutral shoes are usually more comfortable, but more downturned or aggressive shoes offer better performance, especially on steep climbs. Beginners will generally want a neutral to moderate downturn, while intermediate and advanced climbers prefer a more aggressive design.
READ MORE
For more of our top climbing gear recommendations, check out these popular buyer's guides: