Updated on June 28, 2021
While it may not be the first thing you think about, a hat should always be present on the packing list for your hiking trip. Weather in the mountains can be unpredictable and keeping your head and eyes protected from harsh sun rays or unexpected rainfall should always be a priority. The best hiking hats come in all shapes and sizes and they fit comfortably while offering maximum protection from the elements. Depending on where you plan to hike, you may choose a minimalist model similar to a baseball cap or a full coverage hat that offers 360 degrees of protection.
We've selected the best hiking hats for men so you can avoid applying multiple layers of sunscreen before your hike (but always make sure to use at least one layer of sunblock on your face before your hike!). Whether you are looking for a full-on nose to neck cover or something more fashion friendly, there is something here for you.
For more of our top hiking apparel recommendations, check out the Best Hiking Hats for Women.
Quick Answer

-

The Best Hiking Hats
The North Face Horizon Breeze Brimmer

Sunday Afternoons Ultra Adventure

Outdoor Research Sun Bucket

Outdoor Research Swift Cap

Tilley Airflo Medium Brim
Comparison Table

-

Best Hiking Hat

For the best experience turn your device horizontally
Reviews

-

The Best Hats for Hiking
Filson Summer Packer
Specs
Fabric

:

100% Cotton

Style

:

Sun Hat

Quick Drying

:

No
Features
UPF 50+ weather protection
Integrated grommets for added breathability
Lined with a cotton sweatband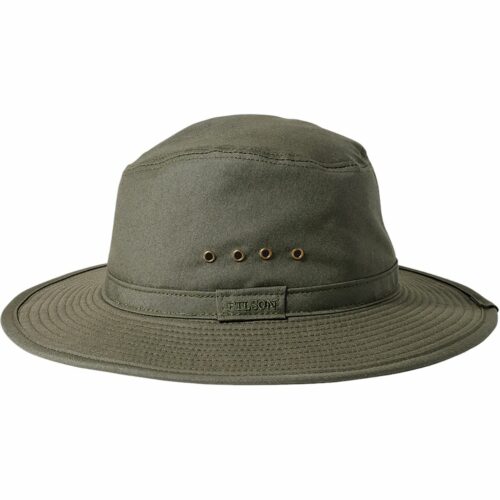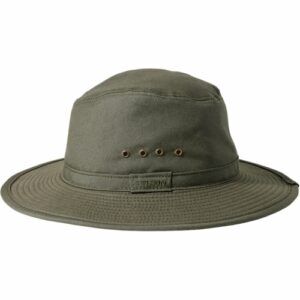 BEST OVERALL HIKING HAT
You'll find the Filson Summer Packer sits right at the junction of style and functionality.
For more than a century, Filson has been making quality outdoor gear meant to last a lifetime and this hat is no exception. Made with a lightweight, yet highly durable cotton material, the Summer Packer is surprisingly breathable, even with only 4 ventilation holes. The classic design is simple: There are no straps or velcro to deal with, making this hat perfect for hiking or casual wear. The brim of this hat is smaller than others on this list, providing for a little less sun coverage but it does not rub or chafe, drastically increasing its comfort.
What I like most about the Summer Packer is how well it regains its shape without creases or lasting damage, even after being shoved in a pack.
The North Face Horizon Breeze Brimmer
Specs
Fabric

:

Ripstop nylon

Style

:

Sun Hat

Quick Drying

:

Yes
Features
Mesh venting with overlay
Adjustable, removable drawcord
Elastic sweatband
UPF 50 sun protection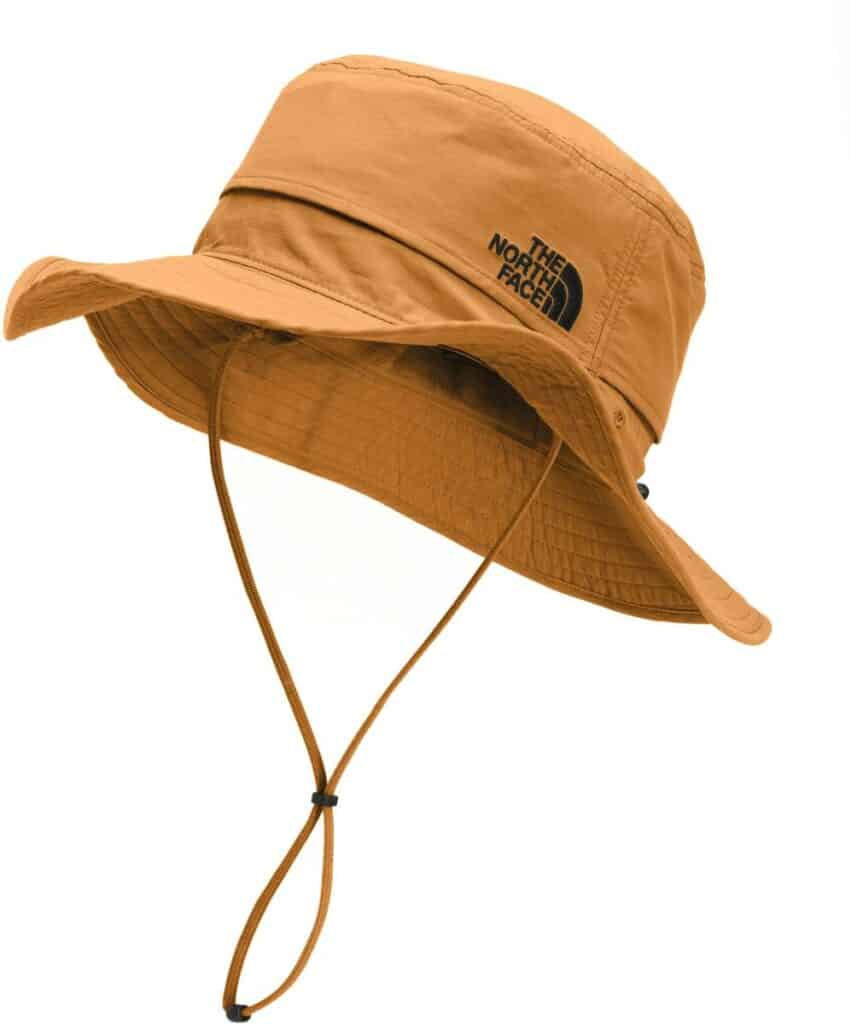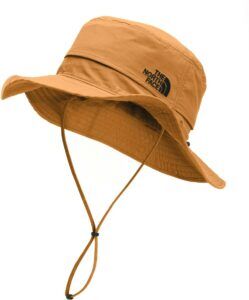 BEST FOR BUDGET
If you need a full featured hat for your next adventure that won't break the bank, give the the Horizon Breeze Brimmer a try.
This hat blew us away in terms of comfort and breathability, keeping us cool on all-day adventures with ease. Constructed from lightweight, ripstop materials, this hat is surprisingly durable for how floppy it looks and regains its normal shape well, even after being packed away for long periods of time. Featuring an elastic sweatband and neck strap, you don't need to worry about losing this hat in windy conditions.
What I like most about this hat is the full mesh panel along the crown of this hat, making it highly breathable.
Sunday Afternoons Ultra Adventure
Specs
Fabric

:

88% nylon/12% polyester

Style

:

Sun Hat

Quick Drying

:

Yes
Features
UPF 50+ sun rating
Crown ventilation
Sunglass lock keeps glasses in place
Adjustable sizing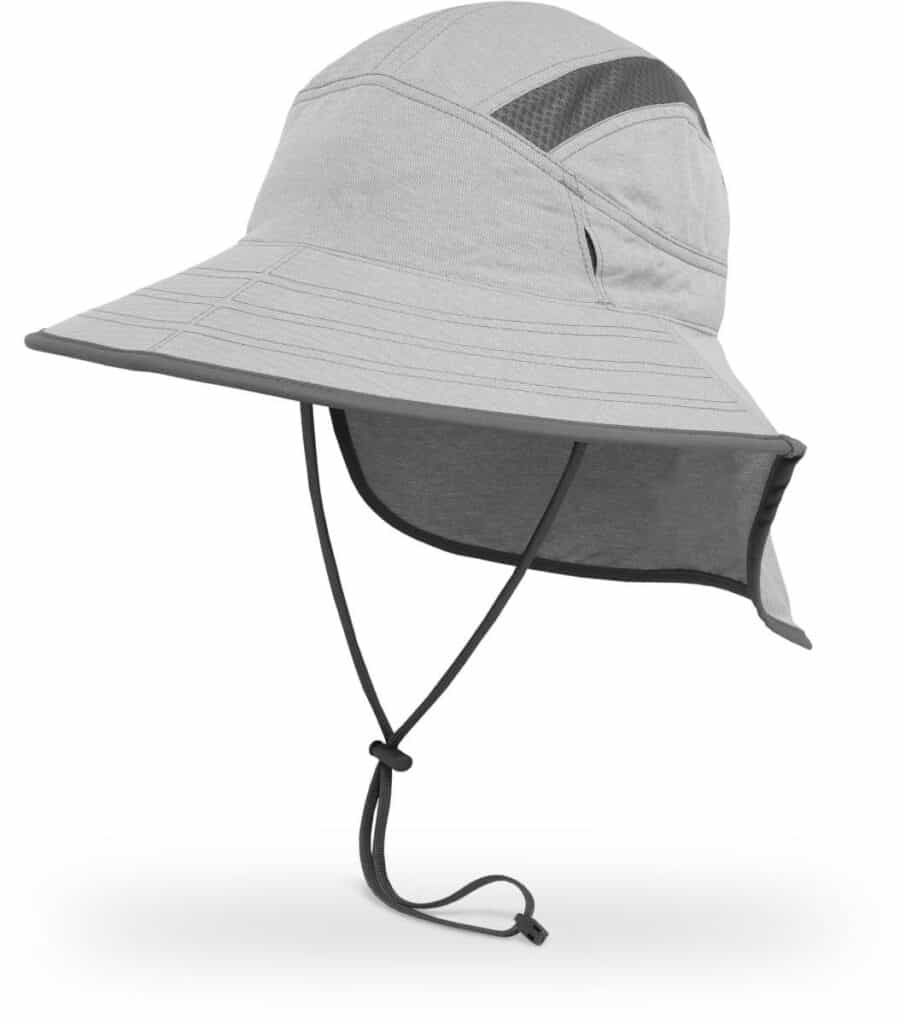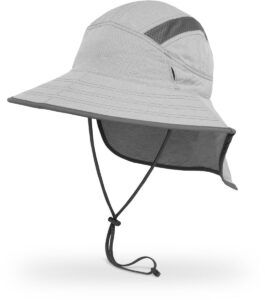 BEST FOR: DAYS OF FULL SUN EXPOSURE
On those hikes when you need full coverage protection, keep the the Ultra Adventure close on hand.
This cape style brim hat offers the ultimate sun protection in a somewhat stylish package. Despite being a hybrid cap, this hat is super comfy to wear. Combined with the lightweight materials and you will forget you are even wearing this hat. Added features include an improved web cinching system, sunglass holders, and wrap around moisture wicking sweat band.
What I like most about this hat is that the brim features a darker color on the bottom, reducing glare when you're traveling across water or snow.
Outdoor Research Sun Bucket
Specs
Fabric

:

86% Nylon, 14% Polyester

Style

:

Sun Hat

Quick Drying

:

Yes
Features
Water-Resistant
UPF 50+
One-Handed Drawcord Adjustment, Removable Chin Cord
BEST FOR: ULTRALIGHT ADVENTURES
If you need to go light but still cover your noggin, reach for OR's Sun Bucket — you 'll be glad you did.
This hat performs above average in most categories but really stands out as one of the lightest brim hats on the market. When reducing weight you do sacrifice a bit of sun protection but this hat still has a decent brim for effectively covering your ears and face. The Sun Bucket is comfortable to wear, making it more likely packing this hat in is not a waste of space or energy. This hat is compact and durable enough for stuffing into a pack or pocket with ease.
What I like most about this hat is the built in UPF 50+ rating.
Patagonia Duckbill Cap
Specs
Fabric

:

Nylon

Style

:

Ball Cap

Quick Drying

:

Yes
Features
Moisture-wicking Band
Foldable And Compact Design
Excellent Heat Reduction Mesh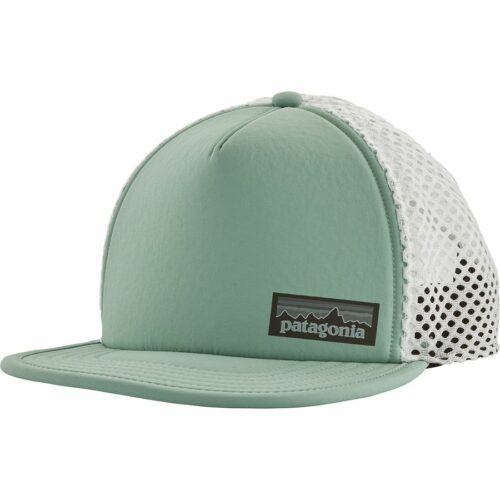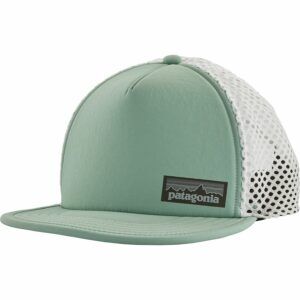 BEST FOR: PACKABILITY
If you are always on the go and like efficient things that don't take up your space, then the Patagonia Duckbill cap might be worth your time. It uses an open tricot mesh that reflects and dissipates heat. Because of this mesh, the cap is easy to fold and pack – even into your pocket. And when you need it, it will bounce back into shape all ready to go.
The cap's bill is short, and while it won't cover your face and ears, it is enough to cover your eyes and not obstruct your view. It is designed to give you full awareness of any overhead branches on your running path. The bill's dark color further reduces glare for maximum comfort for your eyes. As per usual, the cap has a moisture-wicking band and a back buckle to adjust the fit.
Tilley LTM6 Airflo
Specs
Fabric

:

Nylon

Style

:

Sun Hat/Safari Hat

Quick Drying

:

Yes
Features
Great Durability
Easy To Dry And Machine Washable
Broad Rim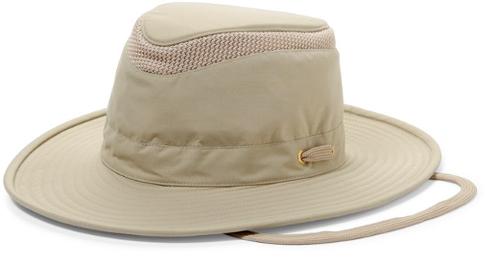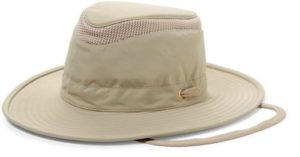 BEST FOR: FACING THE ELEMENTS
The Tilley LTM6 Airflo hat harbors a set of features useful for any outdoor situation you find yourself in. To start off, it offers nice protection against ultraviolet light. This, along with mesh on the crown, allows you to hike in the sun as long as you want without worrying about harmful rays or hot temperature. A soft band will take care of perspiration, and the wide brim of the hat will keep your face and neck in the shade.
If you like boating, the LTM6 has something to offer as well. Its closed-cell foam will make it float on water so you can retrieve it if it happens to fall in. Under-the-chin cords will keep it on your head so the hat doesn't fall off in the first place in case of windy conditions. And if you want sneaky security for your valuables, such as an ID or a few bucks, there's even a hidden pocket in the crown where you can stash your cash!
Outdoor Research Swift Cap
Specs
Fabric

:

Nylon

Style

:

Ball Cap

Quick Drying

:

Yes
Features
Rugged And Stylish
Comfortable And Breathable Mesh
Compact And Easy To Stow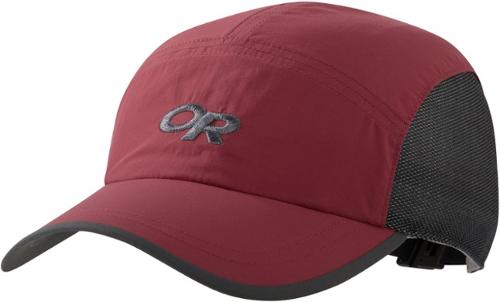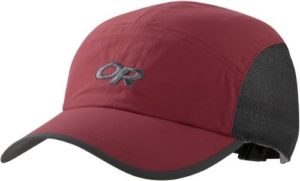 BEST FOR: THE CASUAL RUNNER
The Outdoor Research Swift Cap is a ball cap that is sometimes compared to a tent. Why? For all the good reasons. With a 3-panel mesh, it is breathable and can wick away moisture so you feel fresh and comfortable. The additional three layers above the forehead and scalp area have rainfly properties to repel water and wind. As for sunlight, a 2.75-inch bill prevents it from scorching your skin. Plus, the fabric has useful UV protection of more than UPF 50. So it's basically like a tent for your head!
Some people have small heads, and the Swift Cap accounts for that. An adjustable buckle back closure can be tightened so that everyone can find a fit that works. And if it gets dusty, the cap is easily washable and quick-drying for utmost convenience.
Columbia Mesh
Specs
Fabric

:

98% Polyester, 2% Polyurethane

Style

:

Ball Cap

Quick Drying

:

No
Features
Ventilated Back Panel
Stylish Design
Great Secure Fit With Spandex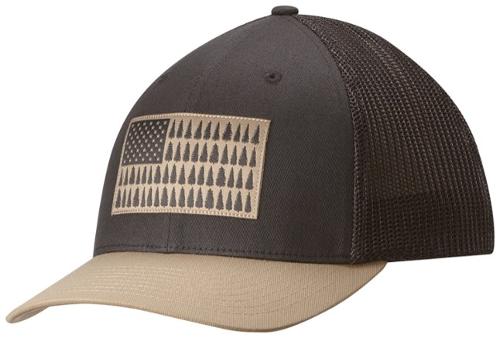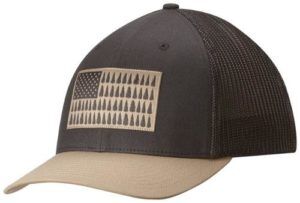 BEST FOR: ALL DAY HIKES
With its stretchy mesh, the Columbia Mesh ball cap is a great choice for long-distance hikes and full days on the dock or in the park. The secret of this performance is the FlexFit design that uses woven spandex for ventilation. Another material it uses is cotton, which is naturally a very breathable fabric. Plus, an ergonomic shape ensures comfort over a long time, as well as a great fit – even for people with big head circumferences.
To top things off, this ball cap is also exceptionally stylish. Another popular feature of this cap is its long and curved bill that effectively shades your face from the sun and keeps the rain out of your eyes. Plus, this ball cap comes with all these fantastic features for an affordable price that can't be beat!
Tilley Airflo Medium Brim
Specs
Fabric

:

Nylon

Style

:

Sun Hat

Quick Drying

:

Yes
Features
Stain Resistant And Water Repellent
Great For All Weather Conditions
Comfortable Fit With Ventilation Panel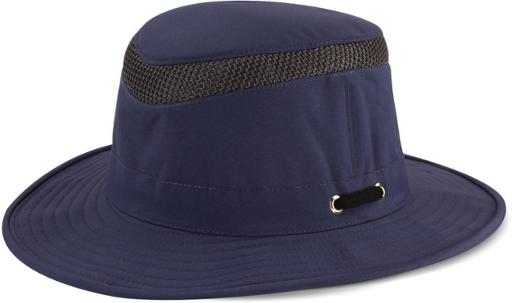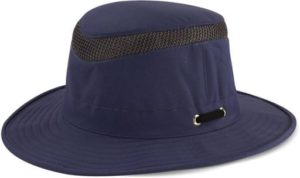 BEST FOR: THE ALL-ROUND TRAVELLER
Although similar to the Tilley LTM6 Airflo, the Tilley Airflo Medium Brim hat is geared more towards warm-weather hiking. It is lightweight and easy to take care of, which is great for the summer. A Hydrofil band is included in the design to wick away sweat, and a mesh insert supplies coolness around the crown. This hat is guaranteed to protect you against sun rays with its UPF 50+ rating. And in case the sun is not there, a water-repellent finish also wards off against showers and stains.
Your valuables will also be safeguarded by a hidden pocket. Another small, but useful feature includes cords that keep the wind from snatching the hat off your head. And even if it does fly off and you're in the middle of fishing, the hat will float on water instead of sinking.
KUHL Renegade Cap
Specs
Fabric

:

95% Nylon, 5% Spandex

Style

:

Ball Cap

Quick Drying

:

Yes
Features
Quick And Easy One Hand Strap System
Great Texture And Feel
Good Anti-abrasion Protection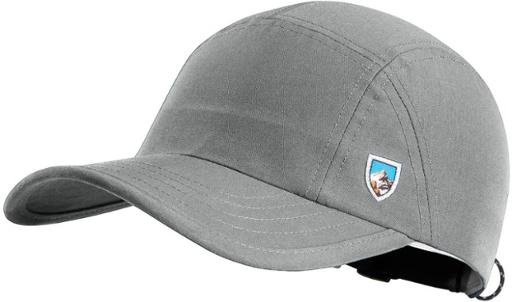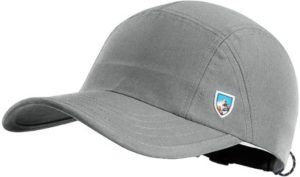 BEST FOR: THE NO-FRILLS MINIMALIST
Despite the simple looks, the KUHL Renegade cap offers the essentials of comfort for a hike. Its panels are made to tailor to your head from all sides, and with the help of a strap you can quickly perfect the fit. This is a cap you can wear both on the trails and in town because of its versatile shape – a flatter than most bill and not much height. It uses a durable water-repellent fabric that shields from rain and wicks away perspiration.
To further the cap's durable properties, it is made with an anti-abrasion fabric. Thus, you don't have to worry about the wear and tear of the Renegade. Finally, it has a UPF 50+ rating – ready and able to protect you from the sun! All in all, the Renegade will not disappoint.
THINGS TO CONSIDER WHEN BUYING A HIKING HAT
MATERIALS
Most hiking hats are built with synthetic materials that are lightweight and quick-drying. Nylon is the most common fabric available on the market, but hats are often made with a mix of more materials than just nylon. Mesh is useful for hiking in warm temperatures, as it allows for the air to pass through. Some hats come with a water repellent coating, helpful when the weather is unpredictable. Some brands state that their fabrics are "blue design approved" which refers to a certified sustainable production process.
SHAPE
Hats come in a variety of shapes. Traditional ball caps or sun hats are ideal when walking in mild temperatures, as only your eyes are protected. For full protection against sun rays, a rain hat is a better option, as it covers your ears and neck as well. Some hats also come with an integrated insect repellent, useful if you are hiking in humid environments where mosquitos are a threat.
UV PROTECTION
Hats with a wide brim will protect you from dangerous ultraviolet rays. UV light contains a level of radiation that can cause harm to the skin with over exposure. Hiking hats save you not only from direct UV rays, but also from the reflection that comes from sand, rocks, or snow.
PORTABILITY
When deciding on what to hear hiking, take portability into consideration. Big hiking hats are not as portable as one may think. With capes that reach the lower part of your neck, they can occupy a lot of precious space when stored. If packing light and small is a priority, opt for a hat that has a foldable design. This way, you can reduce the bulk to a minimum when you are not using the hat.
FEATURES EXPLAINED
BRIM
That frontal visor of a hat that protects forehead and eyes from sun rays.
HYDROFIL
A water repellent substance, used in hats to wick moisture and sweat.
UPF RATING
A rating that measures to what level a fabric protects you from the sun. The UPF rating refers to the quantity of UV radiation that reaches the skin. Hat labels that state "UPF 50+" offer maximum protection.
UV RAYS
Ultraviolet radiation present in sunlight. Overexposure to UV light can be harmful to the skin.