Updated on July 14, 2022
When you combine the serene flow of yoga with the therapeutic benefits of nature, sun and water, you get one of the most powerful mind/body workouts ever invented. The water challenges your stability and puts you in a calm, centered frame of mind. If you're interested in taking up the sport of stand up paddle boarding (SUP) and combining it with your yoga practice, you might be curious how to choose the best paddle board for yoga.
When it comes to yoga boards, you want a platform that provides stability along with a soft, non-slip deck pad. You want to move from cobra to downward dog without slipping or tipping and kneel without wrecking your knees. The paddle boards we recommend below meet the criteria for a pleasant yoga practice on the lake. We've narrowed down the options based on stability, quality, and intended use so you can get the most out of your ride.
For more of our top paddle boarding gear recommendations, check out the Best SUP Boards.
Quick Answer

-

The Best Paddle Boards for Yoga
Advanced Elements Lotus YSUP

Retrospec Weekender Yogi 10'
Comparison Table

-

Best SUPS for Yoga

For the best experience turn your device horizontally
Reviews

-

The Best SUP Boards for Yoga
Advanced Elements Lotus YSUP
Specs
Weight

:

28 lbs

Size

:

10' x 32" x 6"

Weight Limit

:

200 lbs
Features
Includes: Three Tracking Fins, Storage Bag, And Hand Pump
Removable Carry Strap (for one-armed carry)
3 Rear D-rings (for secure storage of belongings)

BEST FOR: YOGA AND POST-WORKOUT MEDITATION
The dimensions of this paddle board minimize shakiness and water displacement to help keep your yoga practice smooth and dry. You can get a good grip as you move from pose to pose with the non-slip traction pad too.
The color pallete and pleasing design appeal to the style-conscious yogi while the double-layered, high-density construction underneath provides unyielding integrity. The pressure gauge on the hand pump helps you find the ideal inflation level for maximum board-like stiffness.
Retrospec Weekender Yogi 10'
Specs
Weight

:

29 lbs

Size

:

10' x 36" x 6" (inflated)

Weight Limit

:

275 lbs
Features
Includes: Storage Bag, Paddle, Repair Kit, And Hand Pump
Three Tracking Fins (to keep the board centered)
Military-Grade Materials
Front and Back D-Rings and Bungee Straps for Storage
Full-length Deck Pad (for better grip)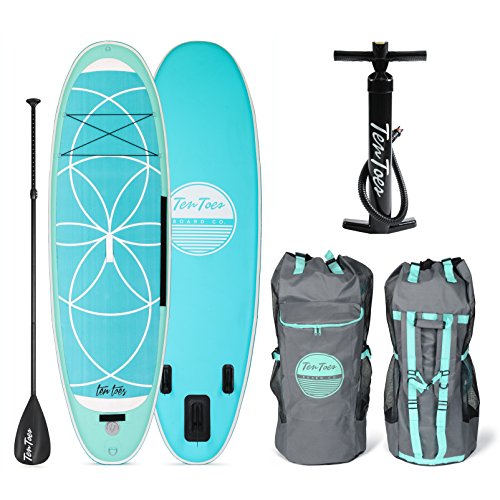 BEST FOR: ELONGATING YOGA POSES
The generous length and width of this floating yoga mat allows you to stretch your poses as far as you want to. The non-slip deck pad provides full-length coverage too, so the board doesn't get slippery when wet.
The beautiful design and practically indestructible construction give you both the grace and resilience you appreciate in a board (and as a yogi). The inflatable board starts in a small, rolled-up package and inflates into a rigid SUP that looks and feels solid. This design makes it easy to store, carry, and maneuver for beginners.
SUP Nixy Inflatable
Specs
Weight

:

20 lbs

Size

:

10'6" x 34" x 6"

Weight Limit

:

400 lbs
Features
Includes Paddle, Wheeled Backpack, Hand Pump, and Leash
Three Removable Fins (to keep you aligned when paddling)
Front Bungee Storage for Your Gear
Dog-Friendly
Kayak Seat Attachment System (seat not included)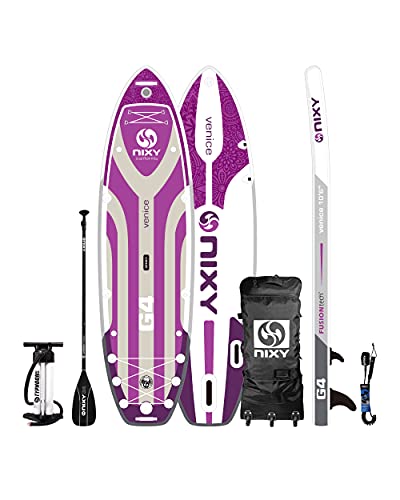 BEST FOR: BUDDY SYSTEM YOGA
This board leaves extra room for a pup or a kid so they can enjoy your workout view too. The puncture-resistant material is claw-friendly, so you don't have to worry about Fido causing you to shipwreck.
When fully inflated, the board is very stable and easy to carry, a winning combination for beginners. The uninterrupted deck gives you adequate space for sun salutations and balancing poses. The deck has a bonus attachment system for a kayak seat too, so you can transform it into a whole new experience.
Redder Zen Inflatable
Specs
Weight

:

23 lbs

Size

:

10'8" x 34" x 6" (inflated)

Weight Limit

:

287 lbs
Features
Included Paddle, Backpack, Hand Pump, Leash, and Repair Kit
Three Tracking Fins (to keep you going in the right direction)
Bungee Storage
High Load Capacity (for stability)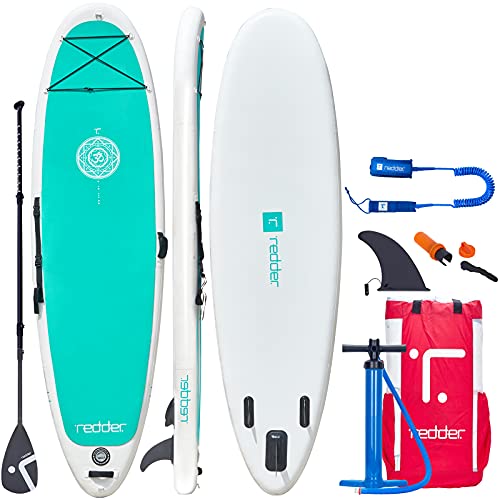 BEST FOR: YOGA SESSIONS WITH SHORT CRUISES IN BETWEEN
Keep the serenity you feel on the water after your workout going. Your zen carries over into a leisurely cruise through the tranquil waters afterward. The generous board offers both stability during yoga flows and maneuverability for paddling.
Just like you'd expect from a yoga mat, the deck pad provides traction during your training. The deck is perfectly flat and minimalistic for your routine. The simple bungee tie-down and paddle holder free your hands for mat work.
Rokia R Inflatable
Specs
Weight

:

35 lbs

Size

:

10'6"' x 32" x 6"

Weight Limit

:

240 lbs
Features
One Tracking Fin (to help you stay aligned when paddling)
Includes Waterproof Bag, Hand Pump, Paddle, and Patch Kit
Military-Grade Construction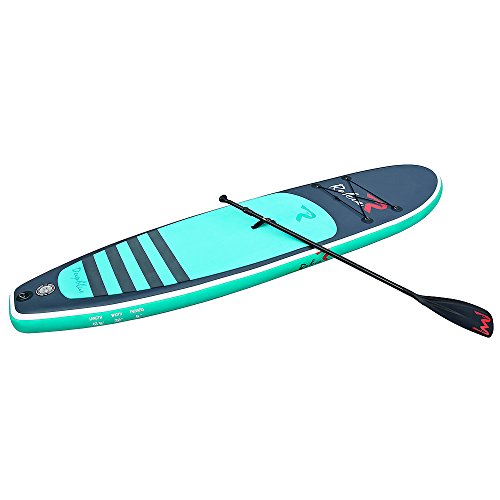 BEST FOR: MULTIFUNCTIONAL USE — FLATWATER FISHING, YOGA, AND FLOATING
Here's your chance to experiment with different water activities! This floating deck features a versatile design that navigates well when cruising and provides stability for fishing or yoga practice. You can stand, kneel, or sit for a full day out on the lake.
If you get lonely out  there, the spacious deck supports another small two- or four-legged companion. The full-length deck pad creates usable space over every inch of the board. You have room to move around, whether you're reeling in a fish or moving through your asanas.
Driftsun 11' Inflatable
Specs
Weight

:

26 lbs

Size

:

11' x 34" x 6"

Weight Limit

:

352 lbs
Features
Includes: Paddle, Leash, Hand Pump and Rolling Backpack
Made from Military-Grade Materials
Removable Fin (to keep you headed in the right direction)
Multiple D-Rings and a Bungee Detail (to strap down your gear)
Comfort Grip Handle (to carry under your arm)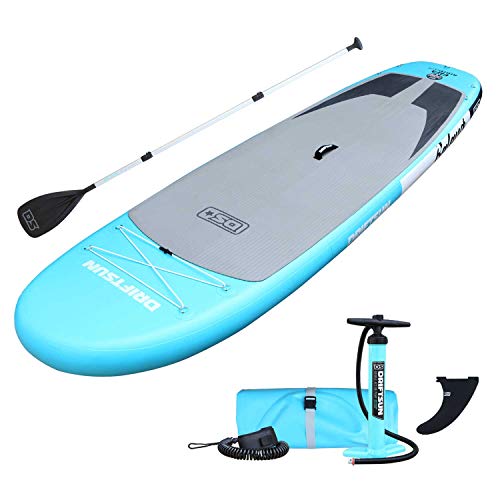 BEST FOR: ADVENTUROUS YOGA
Feel free to get a little wild with your yoga poses. This board gives you superior stability and extra room with its generous width from nose to tail. You can shift your weight around without getting tipsy, improving your flexibility and fitness level along the way.
When fully inflated, the board is lightweight to carry, yet provides the rigidity of a hard board. The comfy foot pad lets you ground into the earth–er, water–without taking a nosedive. Feel free to get a little hardcore too, because the military-grade material doesn't need to be handled with care.
THINGS TO CONSIDER WHEN BUYING A PADDLE BOARD
COST
The cost range for paddle boards differs greatly depending on whether it's a hard or inflatable board and which amenities it comes with. Solid paddle boards usually cost more than inflatable models and accessory packages (with paddles, fins, and pumps) cost more upfront but tend to cost less than if you purchased the items separately.
If you plan on practicing SUP yoga occasionally, you may want to choose a less expensive model. If you plan to use your board regularly, and for more than just yoga, it pays to invest in a little bit more upscale, versatile model.
WEIGHT
It's important to pay attention to the weight of your paddle board because you're going to have to carry it from land into the water and out again. Most models listed here are under 35 lbs, which is the size of a toddler or small dog. If you regularly lift your pups and kids (or press over 35 lbs in the gym), you should be good.
WEIGHT LIMIT
Your board's weight limit indicates the max pressure it can withstand and still glide across the water. More experienced riders can go a little heavier than the listed weights, but beginners should stay under the weight limit. Consider how much you weigh and how much your intended passengers weigh, if you want to bring them, before choosing your board.
STYLE
Ladies are often influenced by the design of their boards before any other feature, so it's important that you like the colors and style. The designs of the boards here tend to lean on the gender-neutral side, so the males in your life won't be too embarrassed to ride them either.
USE
Think about whether you want to use your board only for yoga or for other activities as well. Every board in this article is appropriate for yoga, but some allow you to pursue other interests such as fishing and cruising too. Learn more about how to use your board for yoga.
STABILITY
When you're doing yoga on the water, you want a board that lets you get into position without falling flat on your face. Extended widths, wider noses, and thicker bases tend to provide more stability for exercise. In addition, the amount of traction the deck pad provides determines how well you can hold your positions. For a more in-depth guide on how to choose a paddle board for yoga, click here.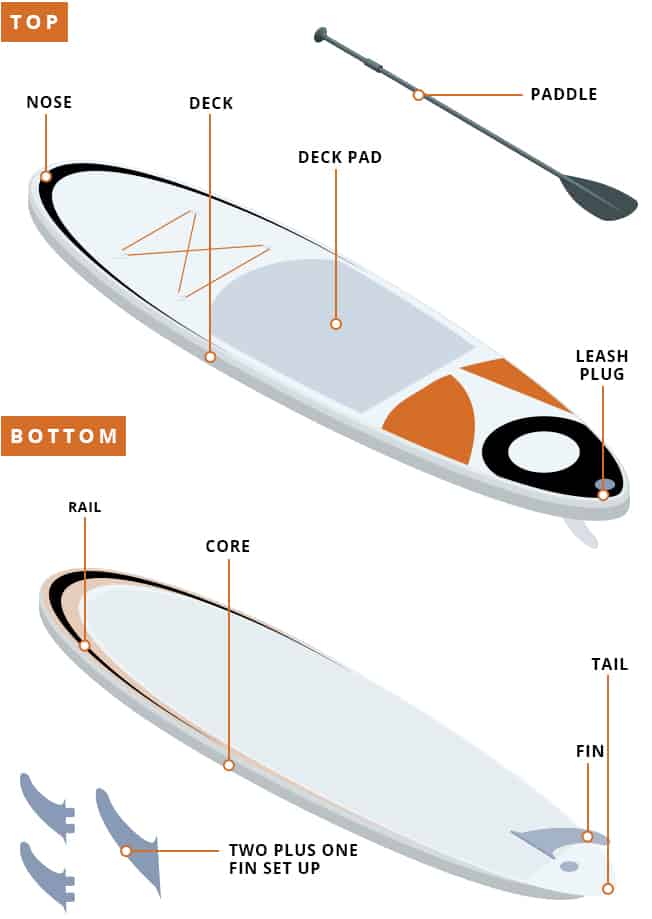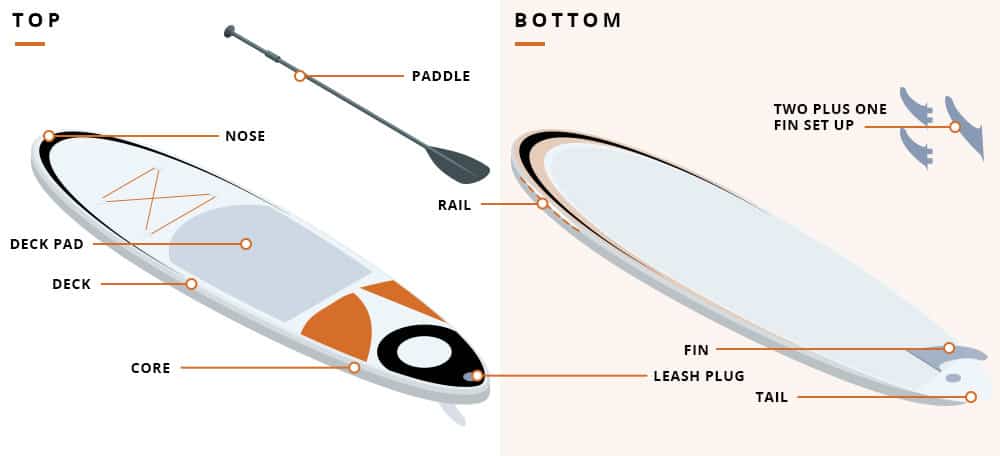 FEATURES EXPLAINED
DECK PAD
The material that lays over the top of the board is called the deck pad. Typically, the deck pad provides non-slip traction, even when wet, and helps prevent tired feet. Look for a little bit of padding and a lot of grip for your yoga practice.
TRACKING FINS
Tracking fins look like shark fins, and they typically slide onto the bottom of the board. Tracking fins help keep you pointed in the direction you want to go. Without fins, inflatable boards tend to get pushed wherever the wind blows them.
LEASH
A leash is a length of cord or strap that you attach to your ankle and the edge of the board. The leash keeps your board within your reach at all times, even if you happen to fall. Several of the boards above include a leash with purchase, but some don't. You can shop for SUP leashes here.
ATTACHMENT POINT
Many paddleboards come with D-rings or attachment points you can clip your gear to. If you want to bring a wet bag, flotation device, tackle box, or cooler with you, you can strap them to your board at any one of these points. Some yogis like to bring a camera for Instagram-worthy moments or an anchor to stay in place, so you need to consider where to put all your cargo.