Updated on February 15, 2022
For photographers and videographers who shoot on the go, stabilizing the camera to get quality photos and videos is essential, both when shooting with longer exposure times, or when the right amount of light is lacking.
The best monopods for wildlife photography allow you to increase steadiness, without adding too much bulk in your backpack. A monopod can be thought of as a one-legged tripod, usually made of aluminum alloy or carbon fiber, with a series of pop-up tubes that extend to support the camera at the desired height.
The advantage of using a monopod over a tripod is that it is much smaller than the travel tripod, requires less set-up time, and takes up less space. Wildlife photographers can take advantage of the ease of use to perfect their shots in unexpected situations. We have listed the best monopods for wildlife photography, ideal for anything ranging from birdwatching to safari shooting.
For more of our top wildlife photography gear recommendations, check out the Best Tripods for Wildlife Photography.
Quick Answer

-

The Best Monopods for Wildlife Photography
Gitzo Series 2 Traveler GM2562T
Comparison Table

-

Best Monopod for Wildlife Photography

For the best experience turn your device horizontally
Reviews

-

The Best Wildlife Photography Monopod
Manfrotto XPRO 5-Section
Specs
Material

:

Aluminum

Weight

:

2.65 lbs

Maximum Height

:

75.59 in

Folded Height

:

26.77 in

Bubble Level

:

No
Features
Improved Fluidity During Set-Up
Super Compact
Newly Designed Rubber Leg Warmer For Fast And Secure Movement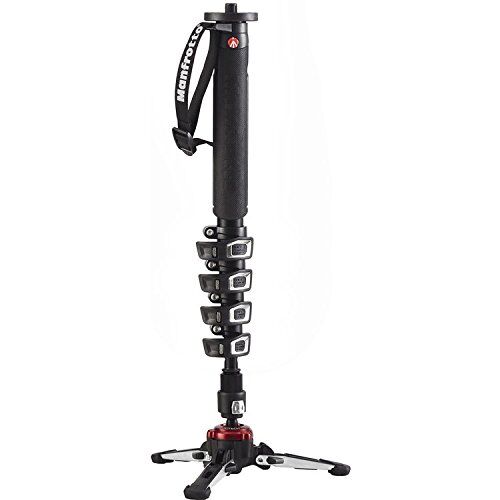 BEST FOR: DURABILITY
If you're looking for a monopod that can withstand a bit of harsh treatment when needed (I mean, we're all guilty of throwing things in our backpack every now and again), there's no need to look any further than the Manfrotto XPRO 5-Section Monopod. Even when packed down, this monopod is still quite tall, however, this does not impact its ability to be travel-worthy, as it is lightweight yet sturdy. The quick power locking system allows for easy and effortless set-up and take-down. Even with its portability, this monopod can easily hold a heavy camera and lens set without buckling or tilting.
Vanguard VEO 2 AM-264TR
Specs
Material

:

Aluminum

Weight

:

1.9 lbs

Maximum Height

:

64.6 in

Folded Height

:

22.5 in

Bubble Level

:

No
Features
Foldable Feet For Extra Stability
Added Carabineer And Wrist Strap For Fast And Effective Movement
3-Leg Locking Base With Pivot System To Follow Action When Filming
BEST FOR: SUPPORT THAT'S TOUGH TO BEAT
It's not every day that a photographer comes across a monopod that provides the rigidity and stability that the Vanguard VEO 2 AM-264TR does. The Vanguard brand is well known for its 3-leg stabilizing structure, which really works to provide unwavering support even when working with a heavy camera and lens setup. And if the feet aren't really your style, they are easily retracted away, replaced by a single rubber nub at the bottom of the monopod.
The twist locks on the body move extremely smoothly, allowing you to quickly set up the monopod whenever an animal shows up in the distance. The rubber grip provides that comfortable hold that you need when using a piece of equipment for long periods of time. This monopod does weigh a little more than some others that are marketed as being a bit more portable, but when you compare all the wonderful features you get with this one, it's hard to complain.
Benro Adventure MAD38C
Specs
Material

:

Carbon Fiber

Weight

:

1.1 lbs

Maximum Height

:

62.4 in

Folded Height

:

20.67 in

Bubble Level

:

No
Features
Quick Flip Leg Locks For Faster Packing
Combines Classic Design With Advanced Materials
Lightweight And Easy To Use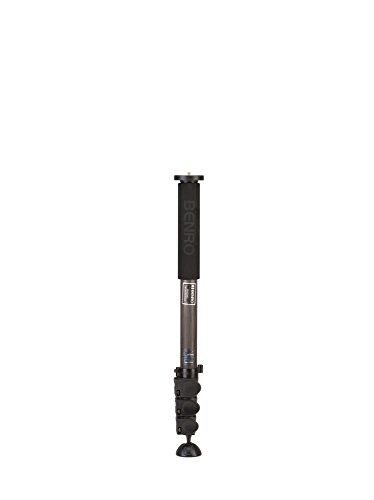 BEST FOR: ADVENTURERS
If the name didn't give it away, the Benro Adventure MAD38C Carbon Fiber monopod is excellent for the budding adventurer in your life. Although a little pricier than some other monopod models, the durable yet lightweight carbon fiber build, among other impressive features, certainly ensure that you're getting the right amount of bang for your buck.
The one rubberized foot allows for the monopod to be rotated in many directions, expanding the photographer's options when it comes to angles, while still maintaining adequate levels of stability. This monopod can hold the most beastly of setups, as its maximum load capacity sits at a hefty 16kg, making it perfect for use with a telephoto lens. This monopod really is quite well rounded, and could be suited to any number of different photographers/videographers, and is a great piece of kit to have in your possession.
3 Legged Thing Alan
Specs
Material

:

Carbon Fiber

Weight

:

1.34 lbs

Maximum Height

:

58.7 in

Folded Height

:

17.7 in

Bubble Level

:

No
Features
Well Constructed And Lightweight
Highly Versatile And Can Also Be Used As A Camera Or Microphone Boom
Supports Almost 100 Times Its Own Weight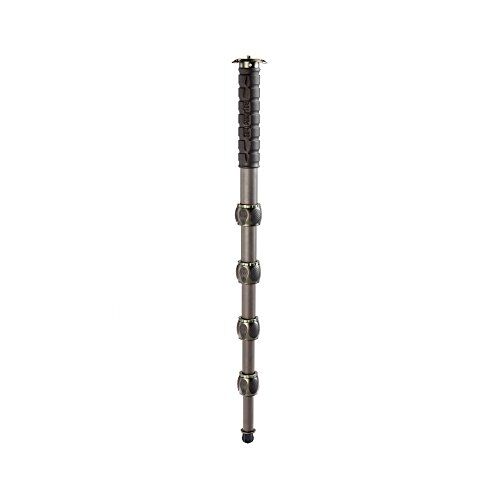 BEST FOR: A BEAST OF A CAMERA KIT
If you're looking for a monopod that can truly measure up to any challenge you throw at it, the 3 Legged Thing Alan is certainly up for the challenge. With a max load capacity of a huge 60kg, there really is no limit to the kind of camera kit you can pack on to this beast of a monopod. Equipped with a retractable foot, the 3 Legged Thing Alan provides all of the control and stability you could ever want in a monopod.
For all of its heft, this monopod is a bit on the shorter side which can be a dealbreaker for taller photographers. However, when you look at all of the other amazing features, it is hard to say no to this bad boy. This monopod is also priced around the $300-$400 mark, making it quite the investment, but one that you definitely won't regret making.
Gitzo Series 2 Traveler GM2562T
Specs
Material

:

Carbon Fiber

Weight

:

0.9 lbs

Maximum Height

:

55.9 in

Folded Height

:

14.2 in

Bubble Level

:

No
Features
Constructed From Carbon Exact Tubing For Added Strength And Sturdiness
Wrist Strap For Easy Carrying
Closes Down To 36cm, Ideal For Traveling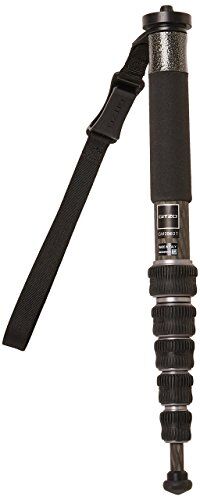 BEST FOR: ON-THE-GO PHOTOGRAPHY
A hearty carbon fiber tube combined with leg locks that provide extra support where it's needed most, the Gitzo Series 2 Traveler GM2562T monopod is everything a wildlife photographer could want. Don't be fooled by the compactness of this monopod and the ease in which it can be transported — the number of features trapped in its tiny body should not be underestimated.
It has enough strength to hold a heavy camera kit without risk of buckling or affecting the camera angles. This monopod even comes with a smart strap that you can wear around your wrist, or if you're feeling extra, you can clip it to your belt or your pocket. If carrying equipment on your person isn't your thing, this monopod is small and lightweight enough to fit comfortably in a backpack or a traditional camera bag — you won't even notice that it's there.
THINGS TO CONSIDER WHEN BUYING A MONOPOD FOR WILDLIFE PHOTOGRAPHY
COST
Monopods are simple, straightforward tools, but come in a variety of price ranges. As for most photography gear, the price is a good indicator of the quality of the product. However, you may find that the best monopod is not necessary for you. Based on the type of gear you'll be using and the light conditions you will be shooting in, you could opt for a basic, lightweight monopod under $100. On the other hand, if sturdiness is a must and your equipment is on the heavy side, it is worth investing in something more advanced.
LOAD CAPACITY
Before buying, think about what gear will be mounted on the monopod both in the present and in the future. Mirrorless cameras are lighter than DSLRs and may not require the same amount of load capacity. The camera, however, is not the only piece of equipment that should be measured. Lenses, especially the long telephoto ones used to capture wildlife, can be heavier than the camera itself. If you own a telephoto lens or plan to buy one in the future, keep this in mind when buying a monopod.
PACKABILITY
If you choose a monopod over a tripod, it's probably because you prefer to travel with a minimal amount of gear on your shoulders. Take into account the space the monopod will occupy in your backpack, as this can vary widely. Compact monopods can be compressed to fit in any of the pockets of your backpack, while others remain quite long even when not in use.
WEIGHT
As for packability, lightness is a big plus for photographers that travel often. Consider the weight of the monopod and how this will impact your shooting experience. Carbon fiber and aluminum are the two most commonly used materials in monopods, exactly because they are both lightweight and durable. Look for these materials if low weight is a priority for you.
FEET
A good compromise between a monopod and a tripod is a tripod with its own foldable feet. Monopods with extendable feet are much more stable than single-foot monopods, allowing you to experiment with long exposure and night photography. However, they are also heavier and require a bit more time to set up.
FEATURES EXPLAINED
BUBBLE LEVEL
A tool often built into monopods used to indicate if a surface is straight.
FOLDED HEIGHT
The height of a monopod when it is packed down.
CARBON FIBER
A composite material consisting made from filaments of carbon, used in monopods because of its low weight and durability.
TELEPHOTO LENS
A long lens used to capture distant subjects, commonly used in wildlife photography.