Updated on April 13, 2021
Whether you are camping in a remote destination or hiking for multiple days in a row, having access to drinkable water is vital for the completion of a successful adventure. The best backpacking water purifiers can prove extremely useful in those situations where carrying all the necessary supplies is just not possible. Backpacking water purifiers are portable and lightweight and should really be in any hikers' safety gear kit, no matter where you are going. They can save you when water runs out or simply reduce the bulk in your backpack on the trail.
Although mountain water coming down from a natural source may appear clean, you can never be sure about whether it has been contaminated or not. Different types of backpacking water purifiers exist on the market, and while most of them are over 99% effective in eliminating unwanted particles, navigating specs and features can be tricky. We have selected the ten best backpacking water purifiers available out there to help you stay safe and hydrated on the hiking trail.
For more of our top backpacking gear recommendations, check out the Best Backpacking Water Filters. 
Quick Answer

-

The Best Backpacking Water Purifiers
Potable Aqua Pure Electrolytic

Aquatabs Water Purification Tablets

Potable Aqua Iodine Tablets

Potable Aqua Iodine & Taste Neutralizer Tablets
Comparison Table

-

Best Backpacking Water Purifier

For the best experience turn your device horizontally
Reviews

-

The Best Water Purifiers for Backpacking
Potable Aqua Pure Electrolytic
Specs
Weight

:

3.8 ounces

Output

:

1-20 liters

Removes/Destroys

:

Protozoa, Bacteria and Viruses

Filter Type

:

Drops

Active Ingredients

:

Chlorine
Features
Portable And Lightweight
Integrated Flashlight
No Need To Prefilter The Water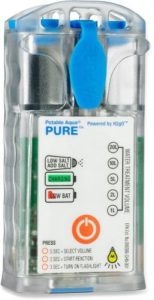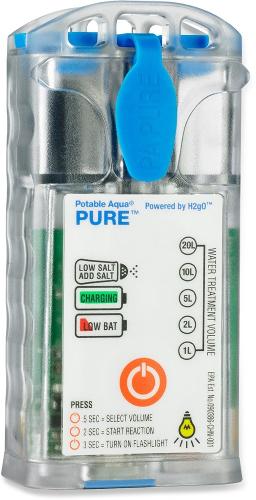 BEST FOR: SUPER COMPACT AND EASY TO CARRY 
The Potable Aqua Pure Electrolytic Water Purifier is one of the smallest, easiest to carry water purifiers you can buy right now, and there is no need to prefilter, stir, or pump your water for it to work. You only need to add a small amount of the brine solution, combined with an electric charge to start the production of the disinfectant that you will then add to your water. 
Need to use the purifier in the dark? There is a flashlight integrated right into the tool, making it super handy to have in your kit. It works in all types of water and kills bacteria, viruses and giardia without you needing to pre filter the water — meaning it can easily be used when you're in a hurry and don't have time for a lot of steps. The device uses plain table salt, and is able to hold a lot of salt at one time, meaning you won't be constantly topping it up like in some other devices.
MSR Guardian Gravity
Specs
Weight

:

1 lb. 2.7 oz.

Output

:

1 liter

Removes/Destroys

:

Protozoa, Bacteria and Viruses

Filter Type

:

Gravity

Active Ingredients

:

Activated carbon
Features
Meets NSF protocol P248 military testing standard
10-liter reservoir
2-stage purifier
Compact system fits easily in carry-on luggage and smaller packs

BEST FOR: GROUP OR BASECAMP USE
This gravity-style water purifier offers a "set it and forget it" mindset to water purification in the backcountry. MSR's Guardian Gravity was originally designed for use in the military and the brand has made the same technology accessible to backcountry users.
The advanced hollow core fiber design is fast and easy to use. The purifier pumps 2.5 liters per minute and meets NSF protocol P248. In addition, it self-cleans on every pump stroke, providing for a consistently fast flow without worrying about backlashing or sediment build-up.
What we like most about the MSR Guardian Gravity is that it's engineered to withstand rugged backcountry conditions, including freezing, laboratory test drops, and heavy use.
Aquatabs Water Purification Tablets
Specs
Weight

:

0.05 ounces

Output

:

60 quarts

Removes/Destroys

:

Protozoa, Bacteria and Viruses

Filter Type

:

Tablet

Active Ingredients

:

Sodium Dichlorisocyanurate
Features
Fast Activation Speed
Easy To transport Anywhere
Tablets Packaged Individually For Longer Shelf Life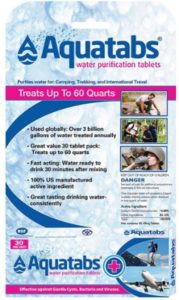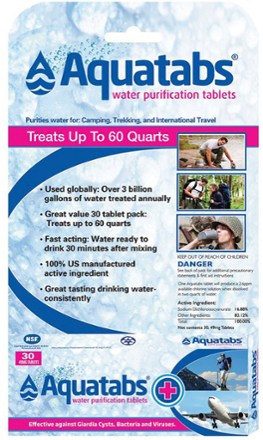 BEST FOR: ANYTIME, ANYWHERE PURIFICATION 
It can be hard to find a purification system, whether that be a pump or tablets, that is both extremely portable and fast acting at the same time. If this is something you're looking for, there is no need to look any further than the Aquatabs Water Purification Tablets. 
These tablets are extremely easy to transport with you, as you can just throw them in your pack and get going, and they work so fast — your water will be drinkable and without viruses, Giardia cysts, and bacteria in just thirty minutes. The tablets being individually packaged also helps increase the shelf life, as you aren't opening a whole packet just to use a few tablets at a time. 
The package contains thirty tablets in total, which allows you to purify up to 60 quarts of water when you're on the go, or you can just use the tablets to backup your filter.
SteriPEN Ultra
Specs
Weight

:

4,94 ounces

Output

:

32 fl. oz. per 90 sec.

Removes/Destroys

:

Protozoa, Bacteria and Viruses

Filter Type

:

Ultraviolet

Active Ingredients

:

Ultraviolet Light
Features
Internal Battery Rechargeable Via USB
Treats Up To 50 Liters Of Water When Fully Charged
Purifies Water In Just 48 Seconds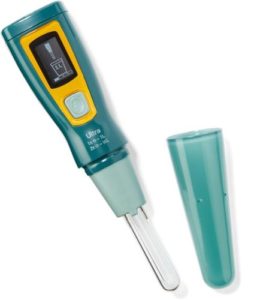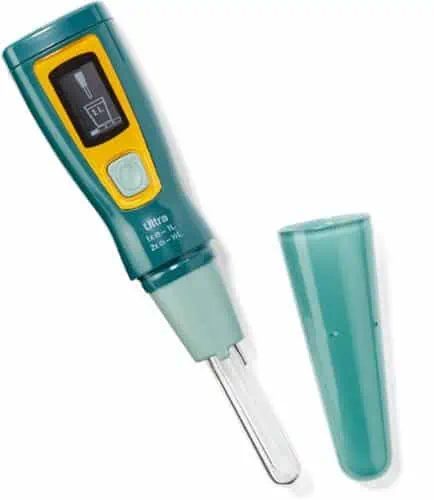 BEST FOR: THE ALL ROUNDER
Sometimes, there are just some things you can't really chance skimping on, and water purifying when you're in the middle of nowhere on a hike is one of those things. The SteriPEN Ultra Water Purifier does not hold back with its abilities and features, being one of the fastest purifiers on the market as it can purify 16 fl oz.  of water in under a minute, or 32 fl oz. in 90 seconds. 
All it takes is the push of a button, and a little bit of agitation by giving the water a quick stir, and you'll be on your way to purified water. This pen is great for on-the-go purifying, as you can quickly fill your bottle up from a stream and purify as you walk to your next destination. Although this pen can only be used on clear water, there are add-on filters you can buy that can clear debris and particles before use.
Potable Aqua Iodine Tablets
Specs
Weight

:

3 ounces

Output

:

25 quarts

Removes/Destroys

:

Protozoa, Bacteria and Viruses

Filter Type

:

Tablet

Active Ingredients

:

Tetraglycine hydroperiodide
Features
Lightweight And Easy To Carry Bottle
Easy To Use - Just Drop A Tablet And Wait 30 Minutes
Tablets Last Up To One Year When Opened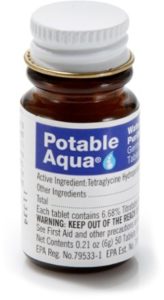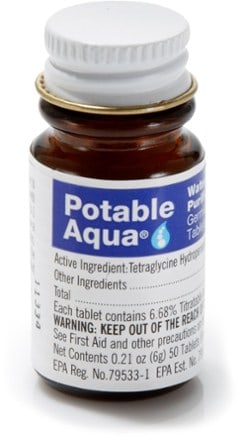 BEST FOR: EASY TO USE
After using a filter or a pump time and time again to get yourself some drinkable water, it can get a bit tiring, and you end up wasting a lot of your time making sure you're doing it right. And what happens if your filter happens to stop putting out water, and you're stuck with no water to sustain yourself on? These Potable Aqua Iodine Tablets may just be your saving grace. 
Although they take 30 minutes to work once placed in the water, you can just let them sit for 30 minutes, no need to watch them, so you're able to spend your time doing something more useful around camp. Even if you just carry these tablets as a backup to another purifying system, the bottle is small and extremely lightweight, so it is easy to put in your pack one day and forget it's even there until you need to use it.
Grayl Ultralight Compact
Specs
Weight

:

10.9 ounces

Output

:

16 fl. oz. per 15 sec.

Removes/Destroys

:

Protozoa, Bacteria and Viruses

Filter Type

:

Press/Bottle

Active Ingredients

:

Carbon
Features
Extremely Straightforward To Use
Replaceable Cartridge Rated For 300 Uses
Fits In Most Bottle Holders
BEST FOR: ALL-IN-ONE
Is a stand-alone purifier just a bit too much for you to carry in your pack? Do you find them to be a bit too much of a hassle, having to put it all together, and having more than one item to clean after you're done? The Grayl Ultralight Compact Purifier Bottle has everything you could want, packed into one bottle! 
You can fill it up at any freshwater source, including streams, lakes, or just a tap in a hotel room that you don't trust, and all you have to do to get it working is press a button and bam! In fifteen seconds, you'll have ready to drink water in that same bottle. The purifier cartridge is replaceable, and it is good for up to 300 uses before you actually have to replace it. The bottle should fit in most cup holders.
Potable Aqua Iodine & Taste Neutralizer Tablets
Specs
Weight

:

6 ounces

Output

:

25 quarts

Removes/Destroys

:

Protozoa, Bacteria and Viruses

Filter Type

:

Tablet

Active Ingredients

:

Tetraglycine hydroperiodide
Features
Neutralizes Taste
Up To Four Years Shelf Life
Fits In Your Pocket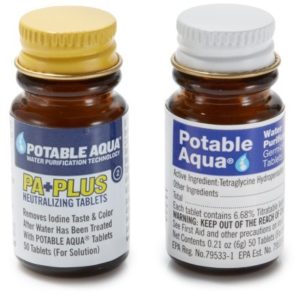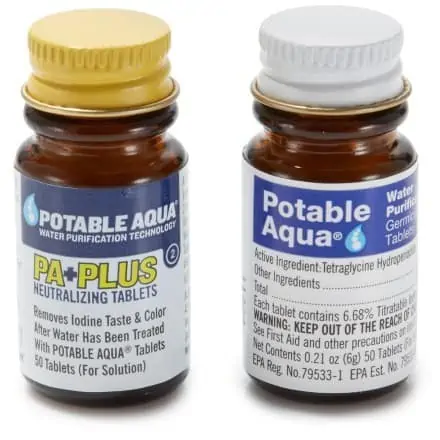 BEST FOR: THE TRIED AND TESTED METHOD
Sometimes it is for the best to ditch the fancy contraptions that have too many instructions which can get confusing the more you read, and to just stick with what you know works. The Potable Aqua Iodine and Taste Neutralizer Tablets do just as the name states — they make the water suitable for drinking, and neutralize the taste, odor and color. 
You'll get a bottle each of the potable aqua iodine and the taste neutralizer tablets, both containing 50 tablets, and it takes 2 Iodine tablets to treat one quart of water. Although easy and quick to use, you do have to wait 30 minutes for the tablets to work their magic before you are able to drink the water. If you're buying the bottles to keep in your pack just in case, unopened tablets should remain safe to use for up to four years.
Katadyn Micropur Tablets
Specs
Weight

:

0.9 ounces

Output

:

30 quarts

Removes/Destroys

:

Protozoa, Bacteria and Viruses

Filter Type

:

Tablet

Active Ingredients

:

Chlorine dioxide
Features
Extremely Compact To Fit Any Pocket
Individually Wrapped For Extra Durability
Uses Same Technology Employed In Municipal Water Supplies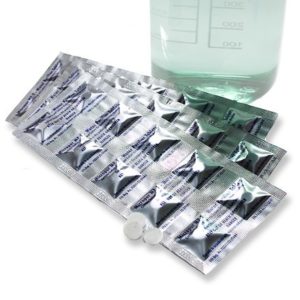 BEST FOR: YOUR EMERGENCY KIT
There are many essentials you should always have with you in your emergency kit, and these Katadyn Micropur Purification Tablets are definitely one of the necessities. Super lightweight and compact, it is easy to slip a couple of these tablets into your pack and not have to think about them until the day that you need them, as the shelf life on each tablet is 4 years. 
Super easy to use, all you need to do to use these tablets is drop one into a quart of water. You do have to wait a full four hours to destroy Cryptosporidium, but within just 15 minutes the tablets have already destroyed viruses and bacteria, and in 30 minutes they have destroyed Giardia as well. Each tablet is individually wrapped and sealed, so you don't have to worry about spoiling the rest if you only need to use one.
Aquamira Water Treatment
Specs
Weight

:

1 ounces

Output

:

30 gallons

Removes/Destroys

:

Protozoa, Bacteria and Viruses

Filter Type

:

Drops

Active Ingredients

:

Chlorine dioxide
Features
Treats Up To 30 Gallons Of Water At The Same Time
Effective In Clear, Muddy, Warm, And Cold Water
Tiny Sized Plastic Bottles For Increased Portability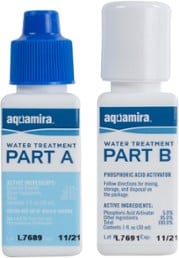 BEST FOR: BEING ABLE TO TREAT A LARGE AMOUNT OF WATER
This two part Aquamira Water Treatment is extremely easy to use, as you just mix together both parts together according to the included instructions, and then you add it to the water you want to purify — the bottles are able to treat up to 30 gallons of water in total. Being able to treat that much water with such small bottles that are easily portable is a huge plus. 
Aquamira can be used on its own, leaving no chemical taste and eliminating 99.9% of bacteria, including Cryptosporidium and Giardia, but you can also use the Aquamira drops in conjunction with another water filtering device. Other water filters may not be completely successful in getting rid of Cryptosporidium or Giardia, so using the drops may save you from these harmful bacterias. The chlorine dioxide does not cause a strange taste or leftover chemical residue like some other drops might.
MSR MiniWorks EX System
Specs
Weight

:

1 pound

Output

:

32 fl. oz. per 90 sec.

Removes/Destroys

:

Protozoa, Bacteria and Viruses

Filter Type

:

Pump/Tablet

Active Ingredients

:

Chlorine dioxide
Features
Fast Filtration Speed
Easy To Maintain Without Tools
Activated Carbon Reduces Unpleasant Taste And Odor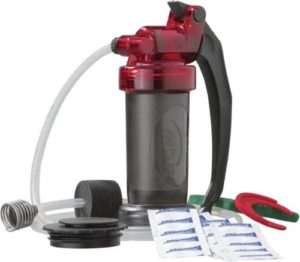 BEST FOR: LONGER TRIPS WHERE PORTABILITY IS NO ISSUE
Although some drops and tablets are able to treat a large amount of water before running out, nothing can really compare to using an MSR MiniWorks EX Purifier System, where you're able to filter through as much water as you need. The long-lasting ceramic filter element is able to remove waterborne bacteria, as well as neutralizing taste and odors, for up to 2,000 liters of water. 
Purifying tablets can be added, and when used in combination with the filtering system, they ensure that you are protected against all types of bacteria and viruses. The filter has an activated charcoal core, which is what removes unpleasant odors and tastes from your water. This filter works extremely fast — with the included air spring, you are able to filter through up to one liter of water per minute.
THINGS TO CONSIDER WHEN BUYING BACKPACKING WATER PURIFIERS
FILTER TYPE
As you've probably gathered by reading through the article, water purifiers vary widely in terms of filter type. All the purifiers mentioned above are effective in making water drinkable, however depending on your needs you may opt for one category or the other. Choosing the right water purifier depends on how often you intend to use it and where you intend to take it.
Tablets and drops are the cheapest and simplest water purifiers to use. All you need to do is add the correct amount of purifier for the water you have collected and wait for the solution to activate. Chlorine-base purifiers may leave a slight chemical taste to water and if left open for long enough they will cease to be effective.
Pumps require no batteries and can filter large amounts of water, however they can be bulky and inconvenient to carry around compared to tablets or UV-pens.
Ultraviolet purifiers are great for most situations, as they fit in a pocket, are simple to use and act super fast. The downside is that they are expensive and do not work in murky or cloudy waters. 
BATTERIES
Purifiers use different technologies for the treatment of water that may be dangerous to drink. While many water purifiers work with chemical solutions that dissolve in the water of activated carbon filters, some need electrical power to function. Ultraviolet purifiers are great in terms of speed, but need to be recharged every time you leave for a multi-day hike. 
WEIGHT
One of the main advantages of carrying a water purifying kit is that you do not need to pack water for the whole trip. This is especially true for thru-hikers who simply cannot walk with all the supplies that would be necessary to complete a multi-day trek.
Tablets weight virtually nothing and fit any pocket. Same goes for drops which come in small plastic bottles. Bottle with filter or pump systems are still usually lightweight, but they do occupy a lot more space. Steripens that work with ultraviolet light are compact and easy to carry, but keep in mind that you will also need to add batteries or a charger.
SPECS AND FEATURES EXPLAINED
PREFILTER
An accessory that removes the larger impurities from the water before it is purified for drinking.
ULTRAVIOLET PURIFIER
A product, often shaped like a pen, that purifies the water through UV light.
ACTIVE INGREDIENT
The substance that removes bacteria or viruses in the water.
TASTE-NEUTRALIZER TABLETS
Tablets that reduce chemical taste from the treated water.