Updated on September 7, 2021
If you plan on using your paddle board to explore over long distances, you'll want one that offers good performance so you don't have to expend extra effort pushing it across the water. The best touring paddle boards tend to have a narrower, longer shape with a pointier end than recreational or all-around boards. This particular design allows you to move faster and stay straighter on long treks.
We sorted through the options and put together a list of the best touring paddle boards for beginners and experienced paddlers alike, based on their performance, stability, features, and uses. If you're in the market for a touring paddle board, these are some of the best choices available.
For more of our top paddle boarding gear recommendations, check out the Best SUP Boards.
Quick Answer

-

The Best Touring Paddle Board
Bote Traveller Aero Inflatable
Comparison Table

-

The Best Touring SUPs

For the best experience turn your device horizontally
Reviews

-

The Best Paddle Boards for Touring
Red Paddle Co Sport
Specs
Type

:

Inflatable

Weight

:

22 lbs

Size

:

11'3" x 32" x 4.7"

Weight Limit

:

260 lbs
Features
Comes With Air Pump, Tracking Fin, Repair Kit, All-Terrain Backpack, and Phone Case
Grippy Foam Pad (to keep you steady on your feet)
Incredible Stiffness and Stability
Bungee Straps (to hold your cooler or dry bag)
Center Handle (for underarm carry)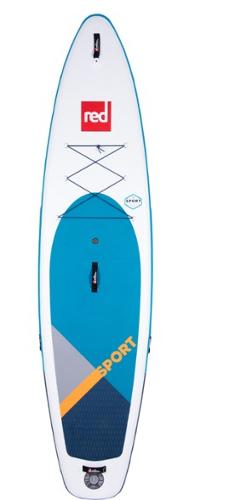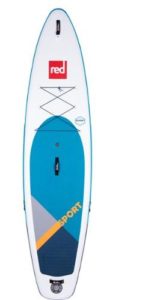 BEST FOR: OVERNIGHT TRIPS IN THE WILDERNESS
This inflatable paddle board folds down and packs up into the included all-terrain backpack so you can carry everything you need for your adventure on your back. When you need to cross a waterway, simply fill the board with the included hand pump to get on the water within minutes. The agile design helps you glide across the water and cover more distance than the Ride version but still maintains beginner-level stability.
Bote Traveller Aero Inflatable
Specs
Type

:

Inflatable

Weight

:

30 lbs

Size

:

12'6" x 30" x 6"

Weight Limit

:

275 lbs
Features
Comes With 3-Piece Paddle, Tracking Fin, Hand Pump, Repair Kit, and Backpack
Cushioned, Non-Slip Deck Pad (to reduce foot fatigue)
Paddle Slot (to free your hands)
Comfort-Grip Handle (for underarm carry)
Adjustable Bungee Tie-downs (to store your equipment)
BEST FOR: THOSE WHO APPRECIATE CREATURE COMFORTS
The Traveller Aero has several features that reduce hand and foot fatigue, if that's a concern of yours. If you're worried about your hands going numb while paddling long distances, the comfort grip handles and paddle slot give your hands a rest. The cushioned, textured deck pad gives your feet the same VIP treatment.
Made with military-grade material, this paddle board won't leave you shipwrecked on the open water. If the unexpected does happen, the backup repair kit helps you make it back to shore unscathed. This board is perfect if you want to tour the outdoors without "roughing it."
Boardworks Raven
Specs
Type

:

Solid

Weight

:

32 lbs

Size

:

12'6" x 29" x 6.7"

Weight Limit

:

275 lbs
Features
Foam Deck Pad (to reduce foot fatigue)
Recessed Center Handle (for underarm carry)
Comes With One Fin (for straighter paddling)
Bungee Tie-Downs (to strap in your gear)
Includes Recessed Finger Wells, Fin Boxes, and Plugs (they're not raised so you won't accidentally step on them and hurt your feet)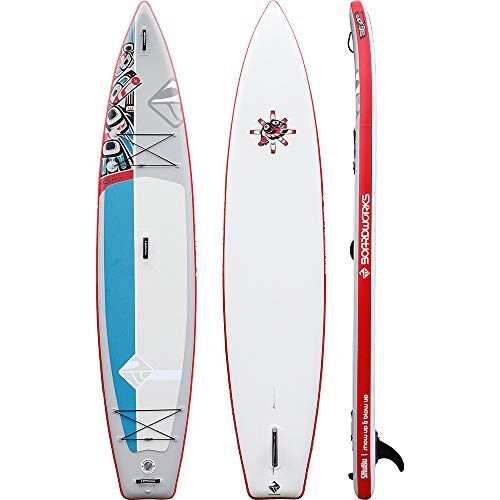 BEST FOR: THOSE WITH A NEED FOR SPEED
Most beginners like to get the hang of paddle boarding before they even consider speed. But if you're one of those people who longs for the fast-paced push, then you need to meet the Raven. The narrow, pointed hull cuts across the open water so you can cover more mileage during your marine expeditions. The superior durability stands up against rough handling while the trendy graphics line up with your aesthetic preferences.
NRS Escape
Specs
Type

:

Inflatable

Weight

:

26 lbs

Size

:

11' 6" x 32" x 6"

Weight Limit

:

250 lbs
Features
Comes With a Leash, Dry Bag, Buckle Straps, Hand Pump, Repair Kit, and Carry Bag
Includes Two Fins (to help you ride straight)
Double Side Walls (to help prevent punctures)
Nose and Tail Bungee Tie-Downs (for equipment storage)
Three Sturdy Handles (to carry and pull from multiple directions)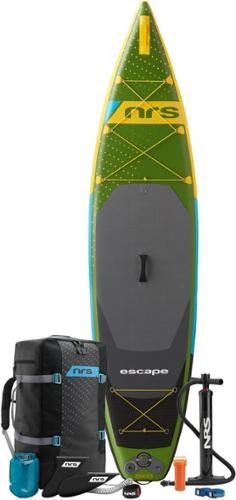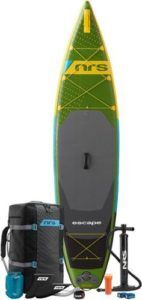 BEST FOR: ALL-INCLUSIVE TRIPS OVER THE WATER
This paddle board package contains everything you need to hit the water right out of the box. Most inflatables come with a hand pump and storage bag, but this package includes a dry bag, leash, and tie-down straps too so you can pack up and go as soon as it hits your doorstep. The shape of this durable board makes it fun to tour fast over longer distances, even with all your gear in tow.
Pau Hana Endurance
Specs
Type

:

Solid

Weight

:

31 lbs

Size

:

12' x 30" x 6.5"

Weight Limit

:

271 lbs
Features
Rugged Design (withstands knocking against rocks and logs)
Thick, Soft Deck Pad (to keep your feet happy)
Nose, Tail, and Center Handles (to pull and carry from multiple angles)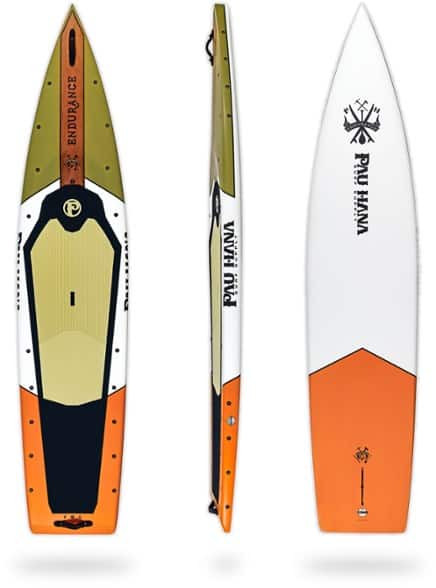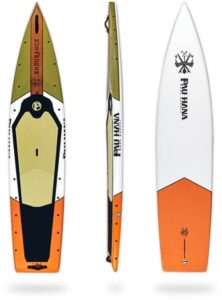 BEST FOR: HARDCORE BEGINNERS WHO WANT TO TEST THEIR LIMITS
As its name suggests, this board is built to endure as much as you want to put it through. The name comes from the ship Ernest Shackleton attempted to cross the Antarctic seas on, a reputation you can take to heart as you traverse your own uncharted territory.
The durable build can handle bumps against rocks and other debris, while the pointed shape cuts across the water like a warm butter knife. Multiple attachment points allow you to prepare for sea voyages with up to 90 lbs of gear. If you want to test your adventuresome endurance, this is the touring paddle board to make it happen.
Pau Hana Malibu
Specs
Type

:

Solid

Weight

:

31 lbs

Size

:

11'6" x 30" x 6"

Weight Limit

:

249 lbs
Features
Comes With an Adjustable Aluminum Paddle
Displacement Hull (for faster-paced paddling)
Grippy Deck Pad (to keep you from slipping)
Recessed Center Handle (for underarm carry)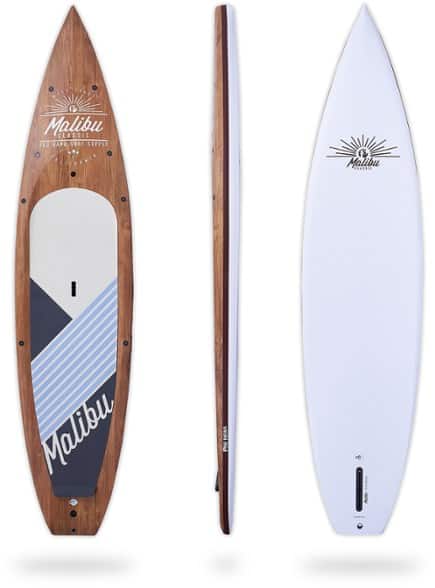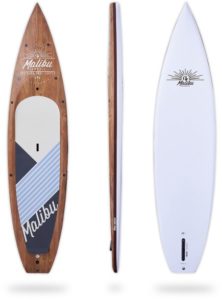 BEST FOR: FLATWATER TOURING
The wooden deck of this paddle board helps you get in touch with both the water and wood earth elements as well as the air you're going to pass through. The pointed nose shape helps you cut through the water so you can explore the perimeter of the lake without letting the drag slow you down. If you want to attach gear or lock up your board, the Malibu has leash and accessory attachment points so you can customize it for your personal use.
Bote HD Gatorshell
Specs
Type

:

Solid

Weight

:

45 lbs

Size

:

12' x 32" x 5"

Weight Limit

:

315 lbs
Features
Comes With a Matching Paddle
Stand-Up Paddle Mount (to free up your hands)
Cushioned, Anti-Slip Deck Pad (for sure footing)
Storage Tie-Downs and Mounts (for your belongings)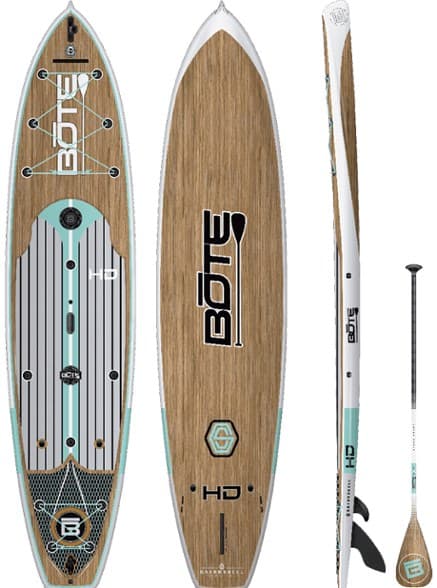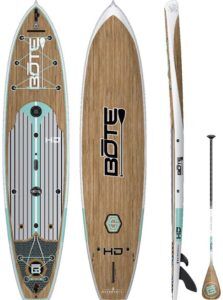 BEST FOR: BEGINNERS WHO WANT EXTRA STABILITY
This ultra-cool paddle board not only looks cool, but it offers user versatility for beginning and intermediate tourers. The extra length and tapered nose give you a little more stability than the standard touring board so you can find your footing first. All the extra features are what really make this premier board extraordinary. It offers a spot to rest your paddle upright, two bungee storage areas, a small watertight storage compartment, and a comfortable grab handle for carrying ease. You'll love going out fishing with the family on this high quality SUP!
THINGS TO CONSIDER WHEN BUYING A TOURING PADDLE BOARD
PRICE
The features your board comes with and what it's made out of factor into the cost of your new toy. Decide which features are most important to you and also consider how much you want to spend to try your new sport. Many beginners prefer to experiment on less expensive models before investing a greater deal of money into more expensive boards.
STABILITY
Touring boards tend to be a little less stable than SUPs for yoga or recreational boards because of their design. However, some touring boards offer more stability than others. If you want to tour hard and fast, less stable models usually travel faster. If you have stability issues, look for wider, more tapered models to help you find your footing.
WEIGHT
Paddle boards have to be carried by hand from the shore to the water, so the weight of the board itself is important to consider. Most of the boards in this list are under 30 lbs, which is pretty manageable for the average adult. But weight is worth considering if you have any carrying weight restrictions or concerns.
WEIGHT LIMIT
Every paddle board also has a suggested weight limit based on buoyancy. You need to make sure your weight plus the weight of your equipment or canine passengers fits within that suggested limit for the best ride.
TYPE
There are many advantages and disadvantages to consider when deciding between solid versus inflatable versions of stand up paddle boards. Inflatable versions are easier to store and transport but require some setup. Solid models won't pop, but the most current inflatables are made of impact-resistant materials that are very difficult to puncture, so popping shouldn't be an issue either way. In the end, whether you choose a solid or inflatable-type paddle board is up to your personal preferences and needs. For help on making your decision, you can learn how to choose the right stand up paddle board for you.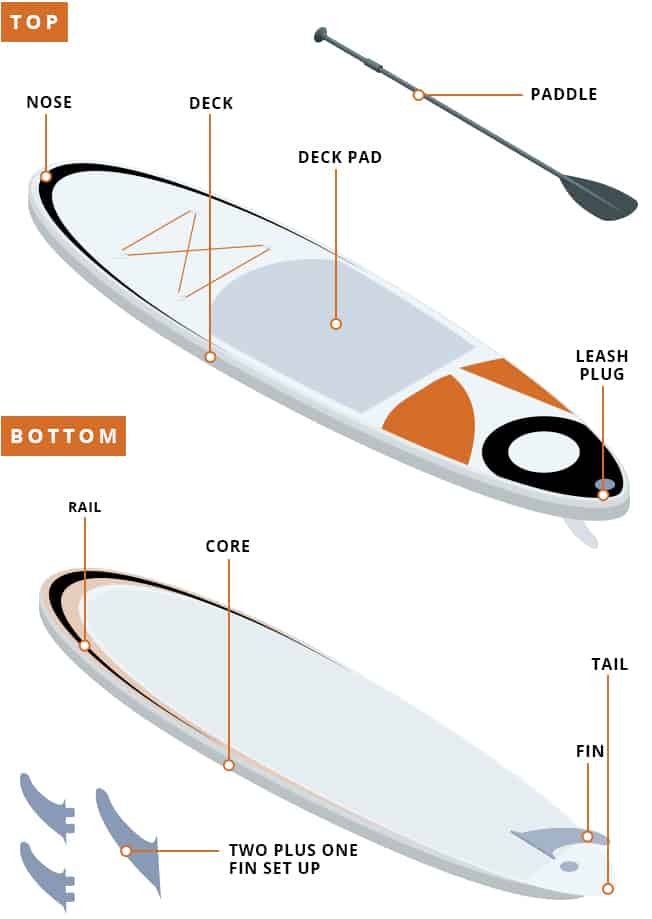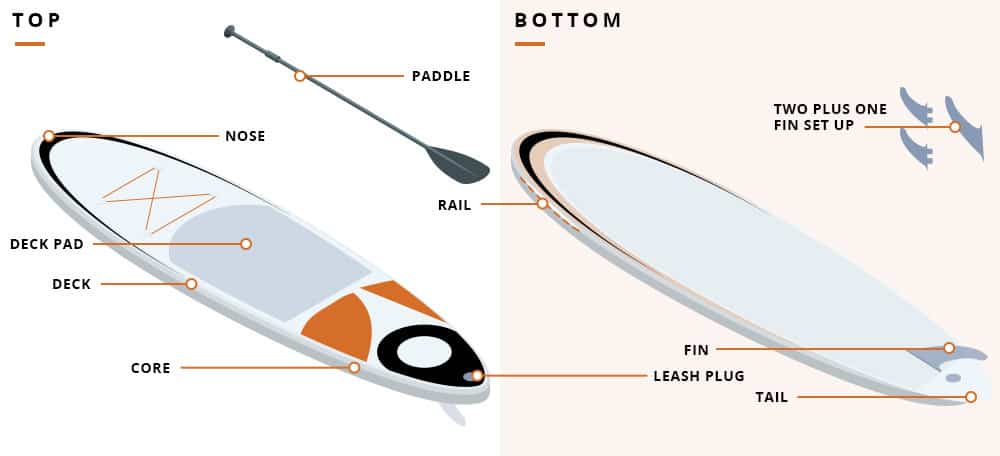 FEATURES EXPLAINED
RAILS
The rails refer to the sides of the board. While low rails are necessary for surfers who need to lean and cut through waves, raised rails make you feel more stable on a paddle board. The rails are also what absorb the most impact when you bump against rocks and logs.
TRACKING FIN
Tracking fins attach to the bottom of the board and help keep your paddle board aligned when you're paddling straight. Fins are especially essential for inflatable boards to keep them from being pushed around in the wind.
DECK PAD
The deck pad is the layer of material on the top of the board, under your feet. Usually, the deck pad is textured and cushioned to help prevent slippery, achy feet. A hard, wet, slippery deck would make paddle boarding a nightmare without the anti-slip support.
DISPLACEMENT HULL
The hull refers to the shape of the bottom of the board. Most touring boats have displacement hulls, which refers to the pointed nose shape. The pointy shape cuts through water and allows for faster-paced paddling, meaning you don't have to exert extra effort to move farther across the water. This is especially important if you plan to tour over a long distance so you don't tire too quickly.
VENT PLUG
A vent plug is an opening on the board that allows air to flow through the layers of the board and balance out the air pressure. Changing altitude, air, and water temperatures impact each layer of the board differently. If pressure isn't equalized, the board can warp, bubble, and buckle.
Read through this comprehensive list to learn more about the parts of the paddle board.