Updated on December 10, 2020
Without mountain bike tires, you're obviously not going anywhere. But without the right tires, your ride isn't going to be as enjoyable. Having the best mountain bike tires for every situation will determine what you can do with your bike.
Your racing tires would do you no good in the winter in the same way your fat bike tires would make you miserable in a race. Whether you ride on rocks, snow, simple trails or trails with every kind of terrain, there's definitely a tire for you.
Tires are some of the most important pieces of a mountain bike, so you'll want to make sure you've got the right ones and that you treat them right.
For more of our top mountain biking gear recommendations, check out the Best Mountain Bike Wheels.
Quick Answer

-

The Best Mountain Bike Tires
Comparison Table

-

Best Mountain Bike Tires

For the best experience turn your device horizontally
Reviews

-

The Best Tires for Mountain Biking
Maxxis Minion FBF
Specs
Tubeless

:

Yes

Wheel Size

:

26 in.
Features
PROS: Specifically designed to handle corners better than other fat bike tires, slip resistant
CONS: Like most fat bike tires, these are fairly expensive
BEST FOR:

WINTER RIDERS WHO HANDLE TRICKIER TRAILS, HIGH-END RIDERS
The legendary Minion is now available in a fat bike format and offers the same ride anyway attitude of its smaller brothers. Push it into snow and mud and it will keep you on course, even when cornering aggressively. It holds up equally well on dry trails and the high TPI help to keep it rolling fast.
The Minion FBF performs best as a rear tire as the length of the center knobs will help keep you rolling in the direction that you want to be going, and not sliding sideways. You can also use it up front but if you spend lots of time on snow you will probably want something with a bigger profile up there.
Continental Trail King
Specs
Tubeless

:

No

Wheel Size

:

29 in.
Features
PROS: Handles well on nearly all terrains
CONS: Not the best for muddy riding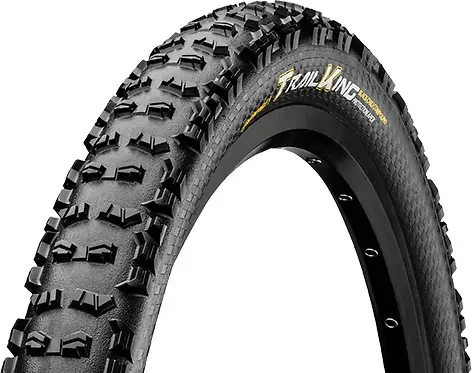 BEST FOR:

RIDERS WHO FIND THEMSELVES ON ROCKY TERRAIN
If you rarely see mud and ride everything else from hardpack to rocks and loam, the Trail King is an aptly named tire to see you through. Continental's BlackChilli compound allows the tire to be soft and conform to the terrain, while being remarkably fast rolling and durable.
The knobs do not look like the biggest but on top of the big volume and wide tire, they give surprising amounts of cornering and braking grip. Try to keep your Trail Kings on dry trails. As soon as mud turns up, you will start sliding around.
Schwalbe Racing Ralph
Specs
Tubeless

:

No

Wheel Size

:

Various
Features
PROS: Great for cornering, slip-resistance
CONS: Not the most durable
BEST FOR:

RACERS LOOKING FOR SPEED OVER DURABILITY
A somewhat legendary fast tire for fast racers. A huge variety of wheel sizes, width, carcasses and compound options are available, so everyone can find the exact tire that they need. There are faster tires available for all out speed on dry trails, but the Racing Ralph offers support through patches of mud and loose corners that faster tires cannot.
The softer compounds give faultless grip on dry trails and rocks but they will wear out reasonably fast. The light carcasses available will help you accelerate like a demon and help you put in great race times.
Maxxis Ardent
Specs
Tubeless

:

No

Wheel Size

:

26 or 29 in.
Features
PROS: Great traction, particularly around corners
CONS: Cheap, so not as durable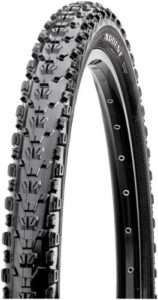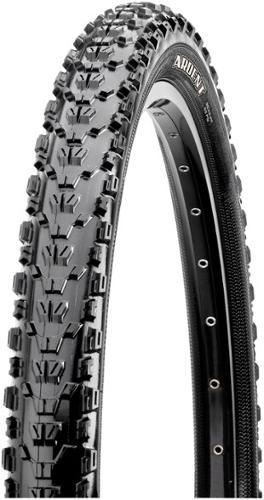 BEST FOR:

CROSS-COUNTRY RIDERS ON A BUDGET OR LESS ADVANCED RACERS
The Ardent strikes a great balance between lightweight XC tires and reinforced enduro beasts. It is intended to be fast rolling but able to cushion bigger impacts and deal with more abuse in rocky terrain than a proper XC racing tire. The broad center knobs and soft shoulder knobs provide great braking and cornering traction but the trade off is that it is slower to accelerate.
Use the Ardent all year on the back and on the front in dry summer conditions with reasonably high air pressure. A great choice for all round riding in mixed conditions.
Schwalbe Hans Dampf
Specs
Tubeless

:

Yes

Wheel Size

:

27.5 in.
Features
PROS: Great grip even on hard terrain, making it high in safety
CONS: Not as durable as other tires, not at all meant for on-road riding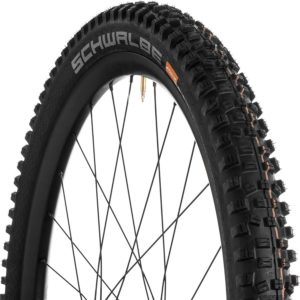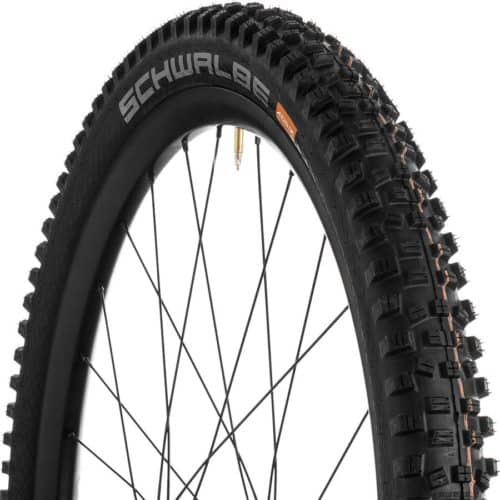 BEST FOR:

THOSE WHO RIDE ON A VARIETY OF TERRAIN
A great all rounder tire for anything from winter mud to dry, loose loam. At lower pressures it grips well on wet roots and conforms to the ground while the big lugs deep deep for heaps of grip. Add more air for use in harder or rocky terrain and you will find that it does not have as much resistance as you would expect from the profile.
The sidewall has protection to prevent tears from sharp rocks and a variety of compounds are on offer. Slow on the road, but that the off road performance is what counts.
Michelin Wild Race'R
Specs
Tubeless

:

No

Wheel Size

:

27.5 in.
Features
PROS: Rear tire traction allows for quick cornering in races, long-lasting
CONS: Fairly expensive as far as racing tires go

BEST FOR:

RACERS WHO RIDE ON ROCKY COURSES
A fast rolling tire to help you race in dry conditions, regardless of if the terrain is hard or loose. The shallow, hard compound center knobs keep the rolling resistance down, allowing you to accelerate fast and hold you speed in a straight line. The softer shoulder knobs are bigger and dig into the corners, giving grip even in loose conditions.
The sidewalls are not reinforced, so you cannot run as low pressures as with other tires. Still great choice for racing or long distance rides. If you are expecting any mud at all, then choose something else.
Schwalbe Rock Razor
Specs
Tubeless

:

No

Wheel Size

:

26, 27.5, 29in.
Features
PROS: Great on rocks
CONS: Slips frequently during breaking quickly
BEST FOR:

SLOWER RIDING ON ROCKY TRAILS
This is the first semi-slick tire designed for downhill and freeride use. Intended to be used only as a back tire, the slick center profile allows you to accelerate fast and hold speed on dry or rocky terrain. When it is time to corner, the bigger shoulder knobs will provide a bit more grip.
Push it hard and it will break free quite easily into a drift. Whether this is a good or a bad thing depends on what you like. One man's pleasure is another man's absolutely terrifying cornering experience! Do not even think about using it in mud or loose soil.
Nevegal Pro
Specs
Tubeless

:

No

Wheel Size

:

27.5 in.
Features
PROS: Consistently rated the best budget tire, great traction
CONS: Cheap, so not as durable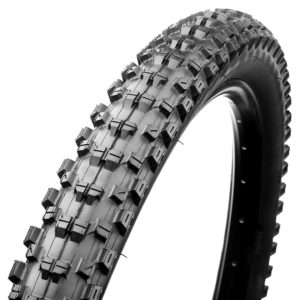 BEST FOR:

ALL-AROUND RIDERS ON A BUDGET
Budget all round tires with an award winning tread pattern. Mountain Bike Action Magazine like the tread so much that they rated it as the best two years in a row. The big knobs are designed to dig deep in loose terrain to find the traction below. Shoulder knobs hang on during cornering and intermediate knobs support you in between.
The strengthened sidewall allows you to run low pressures for more grip without the tire folding or getting squirmy. The Nevegal pro hold up well in damp conditions but once you get beyond the tacky stage and the real wet or mud appears, you will need something bigger.
Maxxis Mammoth
Specs
Tubeless

:

Yes

Wheel Size

:

26 in.
Features
PROS: Can be used during the winter but are light enough to use on hard-pack dirt, great for cornering
CONS: Pricey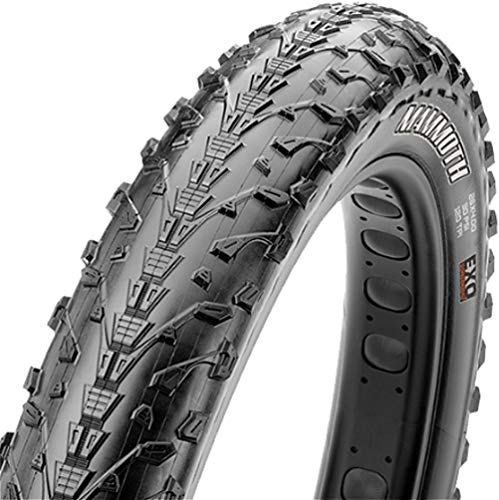 BEST FOR:

WINTER RIDING AND HARD-PACK TRAIL RIDING
A fast (for fat bike standards) rolling tire for mostly dry conditions. The Mammoth is the first tire that Maxxis produced. It offers a dual compound with the smaller profile center tread having a harder compound than the shoulder knobs. This means it is fast rolling in a straight line and you can lean it over on the shoulder knobs for more grip in the corners.
The Mammoth performs best in dry and hardpack conditions. You can take it on sand but you will lose traction and spin out faster than you like. The same happens even faster on snow so look elsewhere if you are a fat biker who enjoys the snow.
HOW TO CHOOSE THE BEST MOUNTAIN BIKE TIRES
CROSS-COUNTRY TRAILS
For cross-country riding or racing, you'll want a tire that's both light and able to endure more advanced terrain than on-road riding.
Cross-country racing involves a variety of disciplines including racing, rocky mountainous terrain and desert terrain. It also frequently involves a lot of mud. You can probably see why you want a tire that offers a good grip but isn't so heavy that it exhausts you halfway through your ride.
WINTER CONDITIONS
Winter mountain biking is an up-and-coming sport that requires a totally different type of tire: fat bike tires. These tires are the only ones out there that can handle the snow and ice. You don't want to take your chance on winter trails without these tires as even the best grips don't stand a chance.
These tires are very thick, heavy and often slightly deflated, which can travel through snowy woods or even in fat bike races. Think of motorcycle tires on a bike and that's what closely resembles fat bike tires.
The major drawback with mountain biking in the winter is that these tires and even the bikes are more expensive than any other mountain bike discipline. This is why winter riding is often reserved for more experienced riders.
RACING
Racing tires can be similar to cross-country tires, but you'll want them to offer more speed. There are a variety of disciplines in racing, but speed is a key factor in nearly all of them.
Race tracks are mostly gravel and hard-packed. This means you need a tire that's more rugged than an on-road bike, but not as heavy as a tire used to ride down the sides of mountains.
Any tire claiming to be narrower than average and has a low rolling resistance is your best bet when racing. These tires have speed and cornering in mind.
DOWNHILL TRAILS
Downhill riding is a branch of racing, but many people also do it on their own. It's an intense form of riding that often feature steep and rocky trails.
You'll want tires that offer slip-resistance and can handle jagged rocks. Wider tubeless tires are your best bet against rocks. They're less likely to get punctured. Wider tires can also offer better traction.
ROLLING RESISTANCE
If you've ever looked up mountain bike tires, you'll likely see that sellers discuss the rolling resistance. The exact definition of rolling resistance is this: "the energy that is lost when the tire is rolling".
What does that mean in layman's terms?
You want the ability to put in as little energy as possible to keep the tires turning and the bike going forward. So, it's a good thing if a tire has a low rolling resistance. It means you lose less energy when the tire is rolling.
Low rolling resistant tires are best for racing or riding on the hard-packed ground because they allow you to go faster without exerting unnecessary energy.
TREAD
Mountain bike tires have specific treads that allow for better connection with the ground, making sure you don't slip.
A tread with closely space knobbies (yes, you can laugh) is best for racing or any type of mountain biking where your main concern is speed. You'll likely find these on narrower tires.
If you do any other kind of mountain biking, wider spaced or thicker knobbies will help protect against slippage on rocky or muddy roads.
TUBES OR TUBELESS
WHY TUBELESS?
Tubeless tires are all the rage these days and for good reason. Tubeless tires tend to get flat less often, offer a smoother ride and best of all, provide more speed.
Mountain bike tires are often tubeless because they offer more speed and smoother rides. Also, they tend to be less apt to get punctures (although it's more of a pain when they do).
Puncture-resistance is especially important for riders who spend their time on rocky mountains. Many riders are opting to pay extra for entirely tubeless tires.
WHY TUBES?
There are plenty of good reasons to stick with traditional tires. First of all, there are more of them on the market. There's also less maintenance involved. Most riders want a tire they can change themselves and tube tires are easier to change than the tubeless one.
WHAT'S TUBELESS-READY?
Typically, if your mountain bike tires are not tubeless, they'll be tubeless-ready. This they can easily be made into tubeless tires if necessary.
READ MORE
For more of our top mountain biking gear recommendations, check out these popular buyer's guides: