Updated on June 10, 2022
If you're looking to get some good turns in this winter, then you're bound to spend a good portion of time on your butt. Whether that's on the chairlift, in the lodge or in the trail, there's nothing worse than a poor pair of pants and a cold butt. Only the best pair of snowboard pants will fix this problem!
Finding the best snowboard pants for you is pivotal to enjoying your ride. Aside from preventing unwanted snow from creeping down your waistline or sneaking into your boots, snow pants also keep you warm and can safely store your phone, wallet, or even ski pass. Snowboard pants vary widely in design and material, so to make your life a little bit easier we've selected a few of the best snow pants out there.
For more of our top snowboarding gear recommendations, check out the Best Snowboard Jackets.
Quick Answer

-

The Best Snowboard Pants
The North Face Freedom Insulated

Quiksilver Dark and Stormy
Comparison Table

-

Best Snowboard Pants

For the best experience turn your device horizontally
Reviews

-

The Best Pants for Snowboarding
VOLCOM L
Specs
Fabric

:

Nylon and Polyester

Style

:

Pants

Powder Cuffs

:

Yes
Features
2-Layer Gore-Tex Waterproofing System
Multiple Pockets
Zip To Jacket Feature For Connecting Pants To Corresponding Volcom Jackets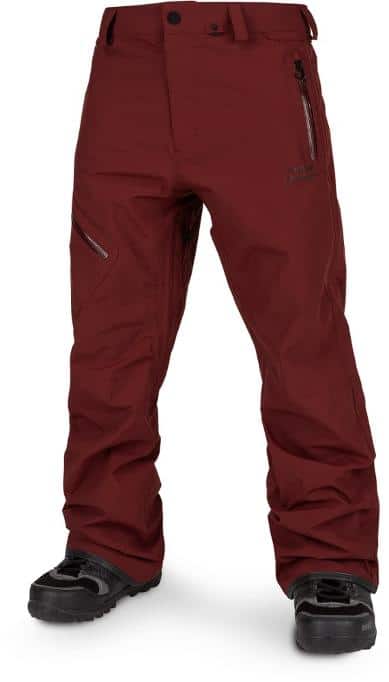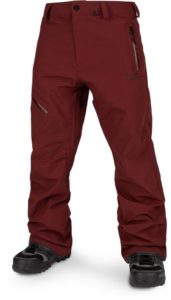 BEST FOR: ALL RIDERS
An all around effective pant, the Volcom L Gore-Tex snow pants have a universal style that all riders will take a liking too. Simple and relaxed, Volcom reduces the feature count to create a simple pant that will keep you warm and dry while riding. The only three features include a dual-layer Gore-tex membrane to keep out moisture, several zippered pockets for storage, and a handy pant-to-jacket attachment to prevent snow from sneaking in past your waistline. Note that you can only attach these pants to corresponding Volcom jackets.
If you're looking for a simple, reliable pair of snow pants, look no further because these will give you everything you need and more.
The North Face Freedom Insulated
Specs
Fabric

:

Nylon

Style

:

Pants

Powder Cuffs

:

Yes
Features
Adjustable Waist
Cargo Pockets For A More Secure Pocket
Boot Gaiters That Keep Snow Out Of Your Boot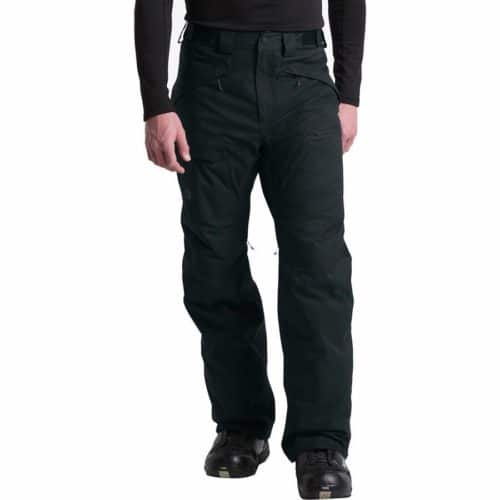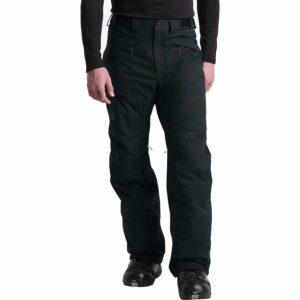 BEST FOR: BEGINNER RIDERS
As all North Face products do, the North Face Freedom Insulated pants will surely keep you warm out on the mountain. The adjustable waist allows you to mold the pants to your body and the venting system works uniquely to circulate air constantly as you ride. Several durable cargo pockets will keep your essentials safe as well, while a durable layer on the bottom of your pants will protect them against any unwanted attacks from sharp ski or board edges.
As these have been renowned as a popular pair of snow pants for years, you can rest assured that the North Face Freedom pants will work to your liking.
Patagonia PowSlayers
Specs
Fabric

:

Recycled ripstop nylon

Style

:

Bibs

Powder Cuffs

:

Yes
Features
3-layer recycled ripstop nylon GORE-TEX® Pro fabric
Shell fabric also has a durable water repellent (DWR) finish
Embedded RECCO® reflector enhances radio signals from search-and-rescue RECCO detectors

BEST BIB-STYLE PANTS
When a pair of pants simply won't cut it for the conditions, the PowSlayer bibs are your ticket to ride.
Patagonia designed the PowSlayers as the ultimate lightweight packable shell. These pants provide for excellent wind protection and are also constructed from 100% recycled nylon, a testament to the brand's dedication to environmental sustainability. There are integrated scuff guards around the inside of the leg and bottom which increase the pants' overall durability.
What I like most about these snowboard pants is the incredible range of motion you have while wearing them.
Flylow Tannen
Specs
Fabric

:

Polyester

Style

:

Bibs

Powder Cuffs

:

Yes
Features
3-layer Stretch Stormshell Intuitive™ fabric
OmniBloq durable water repellent
Adjustable bib straps
500-denier cuff reinforcements improve durability


BEST FOR: THE BACKCOUNTRY
When you need the best in performance for backcountry adventures, reach for the Flylow Tannens.
Flylow designed these to be fully featured yet lightweight. They sport a quick-drying Stormshell Intuitive fabric that is comfortably stretchy and allows for a complete range of motion. Other notable characteristics are the minimalist cuffs, pit zips and a helmet compatible hood. With these on board, you can ride assured you're equipped going into the backcountry.
What I like most about the Tannens is that they're a hybrid bib and snow pant, providing you the best of both worlds.
Arc'teryx Sabre AR
Specs
Fabric

:

Nylon and Flannel

Style

:

Pants

Powder Cuffs

:

Yes
Features
3-layer Gore-tex Waterproof And Breathable Fabric
Unique Slide 'n Loc System To Attach To Jackets
Removable Belt


BEST FOR: EXPERIENCED RIDERS
As the first pair of pants on our list, the Arc'teryx Sabre AR pants are a safe bet for any boarder looking to enjoy a long day on the mountain. With powder cuffs and windproof and waterproof capabilities, these pants can be pushed to the edge. The removable belt and slide n' loc system, which allows you to connect your pants to your jacket, means they'll be comfortable as well.
The unique powder cuffs fit underneath the highback of your snowboard, or the plastic plating that extends up from your heel to your shin. This will save you a lot of socks and a lot of trips to the lodge to dislodge any snow that's built up around your ankles. These pants may be expensive, but they won't let you down.
Burton Cargo
Specs
Fabric

:

Polyester

Style

:

Pants

Powder Cuffs

:

Yes
Features
Audio Port in Pocket for Headphones
Articulated, Moveable Knee Joints
Covered by Burton's Lifetime Warranty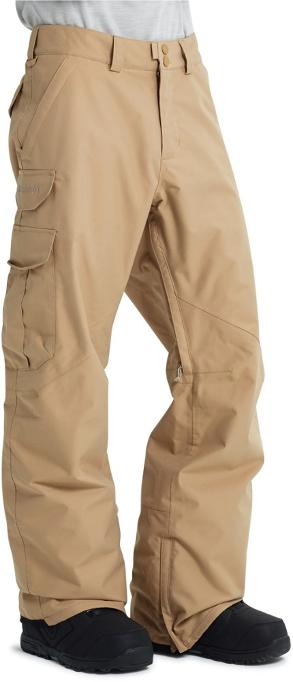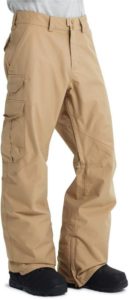 BEST FOR: WET WEATHER SNOWBOARDERS
Burton's Cargo snow pants are a safe, reliable bet for any rider at any level and won't break your bank account on the way to the register. With moveable, articulated knees and unique mesh-lined venting, you're sure to be comfortable and cool during your ride. There's even a glove loop underneath the left pocket to hold your gloves when you have to sift through your backpack on the chairlift.
These snow pants have a very relaxed fit, and may need extra tightening around the waistband so that they don't slide down. But if comfort, style, and function are your main priorities, then these snow pants are a great option.
VOLCOM Rain GTX
Specs
Fabric

:

Nylon and Polyester

Style

:

Bibs

Powder Cuffs

:

Yes
Features
Elastic Suspenders
Stone Butt Patch For Extra Waterproofing While In Chairlift
Stretchy Gaiters To Keep The Snow Out

BEST FOR: AGGRESSIVE RIDERS
VOLCOM comes in back-to-back on this list with our first Bib. With two strong, elastic suspenders, these snow pants, like all bibs, will wrap up around your shoulders to better hold them to your body and keep snow out. The Volcom Rain GTX bib even comes with a stone butt for extra water resistance when seated and stretch boot gaiters to keep snow out of your boot while riding.
With more pockets than most other snow pants and more features than you could ask for, Volcom's GTX bib will keep you dry and comfortable no matter how aggressive you're riding.
Columbia Bugaboo II
Specs
Fabric

:

Nylon

Style

:

Pants

Powder Cuffs

:

Yes
Features
Adjustable Waistband
Articulated Knees
Cargo Pockets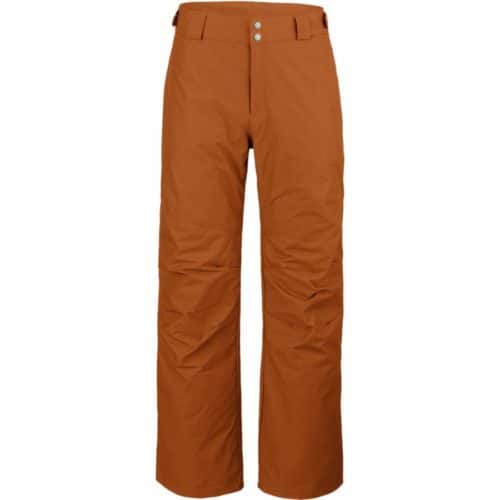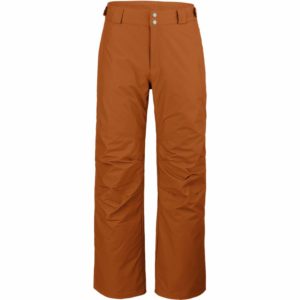 BEST FOR: WINDY ENVIRONMENTS
Columbia's Bugaboo line has been in the game for awhile now and for good reason. These snow pants come equipped with all the normal features of other snow pants including articulated knees, zippered pockets, and an adjustable waistband as well as reinforced cuff guards to prevent any unwanted wear and tear of your pant edges over the years.
Built with a breathable design, beginner riders looking for a strong, affordable entry level snow pant that may last them a few years should consider Columbia's Bugaboo II as their next, or first, pair of snow pants.
Quiksilver Dark and Stormy
Specs
Fabric

:

Nylon

Style

:

Pants

Powder Cuffs

:

Yes
Features
Lift Pass Holder
Jacket to Pant Attachment System
Adjustable Waistband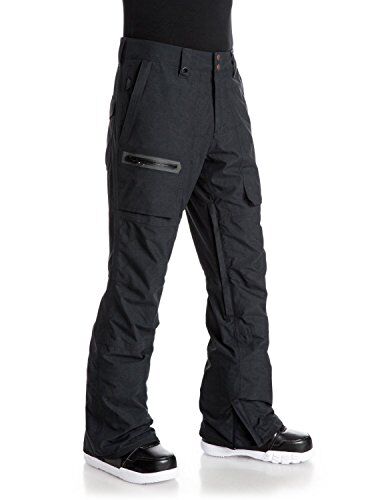 BEST FOR: INTERMEDIATE RIDERS
The Quicksilver Dark and Stormy pants sport a unique design and enough features to satisfy your every need. With zip-up bottom leg gussets to air out your lower body if you're ever overheating and mesh lined vents throughout the pants, you should never feel too hot in these pants. And with the adjustable waistband and an easy attachment system to your jacket, the pants should fit comfortably and tightly around your body.
Characterized by Quiksilver's DryFlight technology, these pants will keep you warm, dry, and stylish. Just make sure you like how they look before you buy them!
THINGS TO CONSIDER WHEN BUYING SNOWBOARD PANTS
On the surface, most snow pants look the same, but if you want the best snowboard pants for you, you're going to want to take some time to research the differences. Factors such as style, use, and comfort will play a huge role in your decision, so read through the keynotes below for some tips on buying your next pair. Or, if you want, find out more about how to buy the best snowboard pants.
STYLE
Do you want a bib or good 'ole fashioned snow pants? If you don't know which, here's the difference: Bib style snow pants wrap up and around your shoulders with suspenders. They'll keep you warmer, dryer, and more secure, but they are a bear to take on and off, so if convenience is your priority, stick to snowpants. Snow pants come up to your waist and won't impair your mobility up top. But if you're tending to extreme powder, a bib is more suited for you.
RIDING STYLE
Are you a beginner rider or more experienced? Do you ride casually or more aggressively? If casual is your answer, a relaxed fit may suit your needs best. But if aggressive riding is in your repertoire, then you might want to consider a tighter style pant or even a bib. They're bound to stay glued to your body despite any rigid movements or inopportune crashes.
COMFORT AND FABRIC
Comfort may be the number one priority for you, in which case, you'll want to make certain that you have the sizing just right when you buy online. That's why we recommend checking out the sizing guides for each pair of pants you're considering before you make your final decision. Snow pants may look the same, but they vary widely on how they feel. Each fabric can elicit a different feeling and level of warmth, so before you buy yours, we recommend trying a few out at your local slope.
COST
Any snow pant that only costs you a double digit number won't be stupendous on the mountain. That's not to say it doesn't have a use, perhaps shoveling snow or playing in the backyard, but a proper snow pant is likely to cost you over a $100 dollars. From there, the pricier you go, the more durable the pant. But unlike with other items, price is not everything. Snow pants can always rip. So work your way up to the more expensive models before you dive in.
FEATURES EXPLAINED
GORE-TEX
An industry standard, synthetic waterproof fabric.
GAITERS
A tight pullover that restricts snow or rain from sneaking inside your boot. Often wraps around your ankle but could extend up as high as your knee.
BIB
A tight pullover that restricts snow or rain from sneaking inside your boot. Often wraps around your ankle but could extend up as high as your knee.
READ MORE
For more of our top snowboarding gear recommendations, check out these popular buyer's guides: