Updated on October 12, 2021
With an image quality superior to any point-and-shoot and a camera body more compact than any DSLR, the best mirrorless cameras for travel offer the ideal compromise between performance and functionality. Favored by professionals and enthusiasts who prioritize light packing but don't want to skimp on features, mirrorless cameras guarantee that every shot is as good as it gets.
Whether you're looking for a weather-sealed camera to take on peaks and deserts or something more powerful than your smartphone to document your journeys across borders, a mirrorless camera is a worthy investment. We've done the work for you and selected the best mirrorless cameras for travel to make sure your memories are always worth framing.
For more of our top travel photography gear recommendations, check out the Best Cameras for Travel.
Quick Answer

-

The Best Mirrorless Cameras for Travel
Olympus OM-D E-M10 MARK III
Comparison Table

-

Best Mirrorless Camera for Travel

For the best experience turn your device horizontally
Reviews

-

The Mirrorless Travel Cameras
Sony A7R III
Specs
Dimensions

:

5 x 3.87 x 3 in

Weight

:

1.45 lbs

Resolution

:

42.4 Megapixels

Shooting Speed

:

10 Frames Per Second
Features
Produces Incredibly Detailed Images
Fast Image Processing
Precise Autofocus That Tracks Your Subjects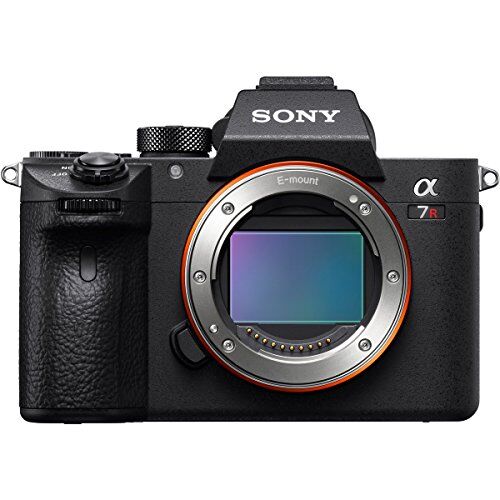 BEST FOR: STEPPING UP YOUR PHOTO GAME
Revered by experts and amateurs alike for its incredible performance, the Sony A7R III is one of the best mirrorless cameras available on the market. With a huge resolution of over 40 megapixels and the ability to shoot up to ten frames per second in optimal light conditions, you really can't go wrong.
It doesn't matter whether your focus is street or nature photography, the Sony A7R III produces top-notch images in any situation. Fast-moving subjects are frozen with a click and the fast processing speed ensures that no event goes undocumented.
Canon EOS M100
Specs
Dimensions

:

4.3 x 2.6 x 1.4 in

Weight

:

10.7 oz

Resolution

:

24.2 Megapixels

Shooting Speed

:

6 Frames Per Second
Features
Affordable
Tilting LCD Touchscreen With Self-Portrait Mode
Built-in WiFi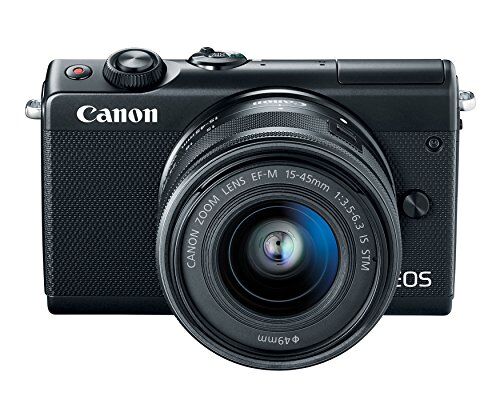 BEST FOR: THE FRUGAL BACKPACKER
The Canon EOS M100 is surprisingly effective considering the price point. Affordable and lightweight, this mirrorless camera comes with a multi-purpose lens great for both landscapes and portraits. The tilting LCD touchscreen allows you to take perfectly framed self-portraits. The Bluetooth and WiFi connectivity lets you transfer your photos to your smartphone immediately. That way, your followers won't have to wait to be influenced by your destination choice.
Canon sells a decent range of lenses for the EOS M100, ranging from ultra-wide to telephoto to suit all your creative needs. If that's not enough, a simple adapter allows you to mount all of Canon DSLR lenses as well, making the possibilities virtually endless.
Fujifilm X-T20
Specs
Dimensions

:

3.26 x 4.66 x 1.63 in

Weight

:

3.5 lbs

Resolution

:

24.3 Megapixels

Shooting Speed

:

8 Frames Per Second
Features
Full High Definition 4K Video
Wide Range Of Compatible Lenses
Advanced Filters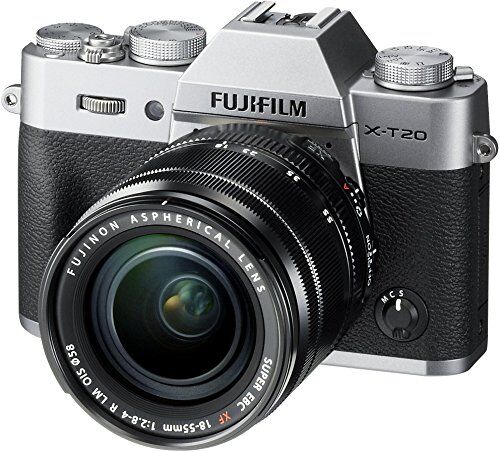 BEST FOR: THE TRENDSETTING EXPLORER
With its signature retro look, the Fujifilm X-T20 promises excellent image and video quality in stylish packaging. The solid camera body has many easy-to-reach dials, which you can use to control all the settings as you shoot. The automatic mode, on the other hand, offers 58 different presets — from "night landscape" to "beach" and "moving subject" — to get the perfect shot without worrying about manual controls.
The autofocus is precise, fast, and versatile, complete with a face and eye detection mode that guarantees people in your photographs are always looking sharp. In addition to producing superb stills, the FujiFilm X-20 also includes a high-resolution 4K video function. With this feature, you can let loose your inner movie director anytime a scene captures your attention.
Panasonic Lumix G7
Specs
Dimensions

:

4.92 x 3.03 x 3.39 in

Weight

:

0.9 lbs

Resolution

:

16 Megapixels

Shooting Speed

:

6 Frames Per Second
Features
Lightweight And Compact
Fast Autofocus Tracking
Great Low Light Performance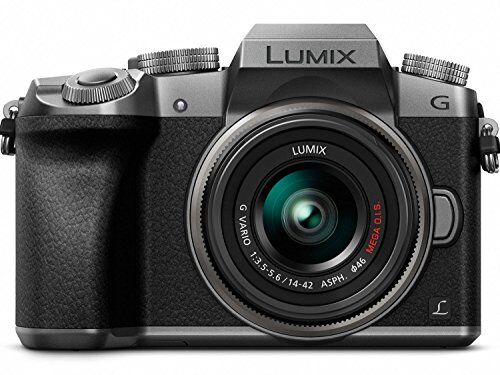 BEST FOR: EASE OF USE
The Panasonic Lumix G7 is a mid-range mirrorless camera with a rugged body that provides a comfortable and secure grip. This camera is super lightweight but competes with most entry-level DSLR cameras in terms of image quality. Thanks to the built-in WiFi, sharing your images instantly is a piece of cake. And the wide aperture settings on the Lumix G7 guarantee great results even in low light conditions.
The video functions of the Panasonic Lumix G7 are easy to use thanks to the tilting screen that allows you to film from even the most uncomfortable angles. Plus, if you notice a scene that you'd rather see framed on a wall than in a movie clip, the camera's 4K Photo function allows you to extract individual high-resolution still images from a 4K high-definition video. With the G7 you can be sure that every instant of your journey is on the record.
Nikon Z6
Specs
Dimensions

:

5.3 x 2.7 x 4 in

Weight

:

1.29 lbs

Resolution

:

24.5 Megapixels

Shooting Speed

:

12 Frames Per Second
Features
Weather Sealed
USB Battery Charging
Extremely Fast Continuous Shooting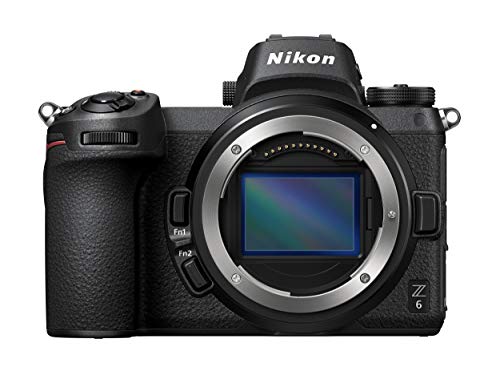 BEST FOR: SERIOUS ENTHUSIASTS
A semi-professional full-frame mirrorless camera, the Nikon Z6 is for those who do not compromise when it comes to their photography equipment. The Z6 performs excellently in low light conditions thanks to the high native ISO and offers extremely fast continuous shooting up to 12 frames per second.
Dust or rain are no longer obstacles: on top of producing superb images, the Nikon Z6 is fully weather-sealed, making this camera ideal for outdoor photography of any kind. Additionally, the battery is long-lasting and rechargeable via USB.
For those making the switch from DSLR to mirrorless, it will be helpful to know that traditional Nikon lenses will fit the Z6. This means you won't have to change all your gear just because you buy a new camera body.
Fujifilm X-A5
Specs
Dimensions

:

8.3 x 5.8 x 7.5 in

Weight

:

2.9 lbs

Resolution

:

24.2 Megapixels

Shooting Speed

:

6 Frames Per Second
Features
Automatic Portrait Enhancement
Eye Detection Autofocus
Macro Mode To Shoot Details And Small Objects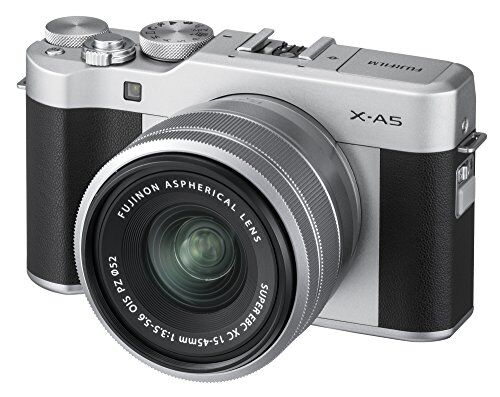 BEST FOR: (SELF) PORTRAIT PHOTOGRAPHERS
At just under $500, the Fujifilm X-A5 comes with a broad selection of features that will make you forget about shooting with a smartphone. Lightweight and compact, the X-A5 captures highly detailed images thanks to the 24.2-megapixel sensor improved from previous models.
This mirrorless camera is packed with special functions that will boost your people photography. It has fast autofocus with an eye detection system to ensure your subjects always look sharp, and a portrait enhancer mode that automatically adjusts skin tones.
The Fujifilm X-A5 is great also for close-ups of small objects and details, thanks to the macro mode that allows you to focus on subjects as close as two inches away.
Olympus OM-D E-M10 MARK III
Specs
Dimensions

:

4.8 x 2.9 x 3.3 inches

Weight

:

1 lb

Resolution

:

16 Megapixels

Shooting Speed

:

8.6 Frames Per Second
Features
Elegant Retro Design
Built-in Flash
4K High-Definition Video
BEST FOR: OLD-SCHOOL LOOK WITH MODERN FEATURES
With old-school metal controls and a compact, stylish design, the Olympus OM-D E-M10 Mark III doesn't just look cool, it's also easy to use. With an internal image stabilization system, even handheld shots in dark environments will look sharp and free of blur.
If you're not interested in learning the technicalities of photography, the automatic mode on this camera detects the type of scene you're shooting. Then, it corrects the settings for you, so you don't have to worry about aperture, white balance, and shutter speed.
The Olympus OM-D E-M10 Mark III also has a tilting touch screen, so you'll be able to capture amazing photographs with the touch of a finger without feeling intrusive.
Sony Alpha a6400
Specs
Dimensions

:

6.1 x 5.6 x 4.5 in

Weight

:

1.47 lbs

Resolution

:

24.2 Megapixels

Shooting Speed

:

11 Frames Per Second
Features
Super Fast Autofocus With Eye Tracker (to keep your subjects looking sharp at all times)
Time-lapse And Slow Motion Video Functions
Wide LCD Touch Screen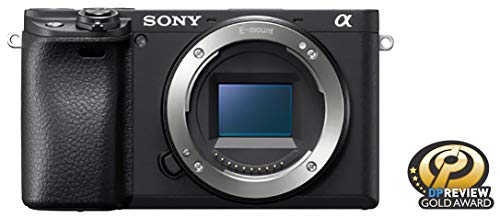 BEST FOR: ADVANCED STREET PHOTOGRAPHERS
A compact powerhouse designed for serious photography enthusiasts, the Sony Alpha A6400 is an impressively fast camera offering incredible image quality. On top of providing you with one of the world's fastest autofocus systems, this camera is also capable of shooting up to 11 frames per second continuously. This means that even the most fleeting moments are captured.
The Sony Alpha A6400 comes with a real-time tracking autofocus system that follows your subjects and an eye detection function that ensures your people shots are always on-point. The tilting LCD touch screen is of great help when filming, and thanks to the many lenses available for this camera, your creativity has no boundaries.
Panasonic Lumix G85
Specs
Dimensions

:

4.8 x 2.78 x 1.73 in

Weight

:

1.09 lbs

Resolution

:

16 Megapixels

Shooting Speed

:

10 Frames Per Second
Features
High-resolution Viewfinder (for shooting in harsh sunlight)
Image Stabilization Technology
Tilt And Touch LCD Screen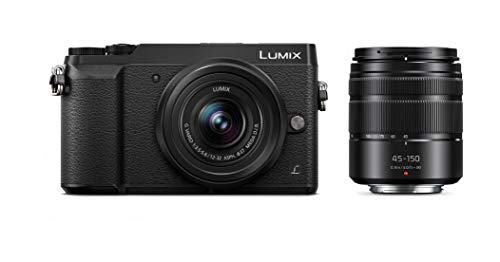 BEST FOR: SUN-CHASING BACKPACKERS
Featuring 4K video capabilities and a dual image stabilization system, the Panasonic Lumix G85 is a safe choice for both outdoor filmmakers and travel photographers. When used in combination with the standard 45 – 150mm telephoto lenses, it allows you to frame and capture distant moving subjects such as wildlife or athletes without blur.
The G85 is surprisingly lightweight and compact (roughly half the size of an entry-level DSLR), and comes with an improved viewfinder made to provide high visibility even in harsh sunlight conditions. Additionally, Panasonic offers a range of 27 lenses compatible with the Lumix G85, so that every kind of photography is covered.
Fujifilm GFX 50S
Specs
Dimensions

:

9.1 x 7.5 x 8.8 in

Weight

:

5 lbs

Resolution

:

51.4 Megapixels

Shooting Speed

:

3 Frames Per Second
Features
Can Save Images In Different Formats
Dust-resistant, Weather-resistant And Freezeproof To -10°C
Huge Sensor For Great Resolution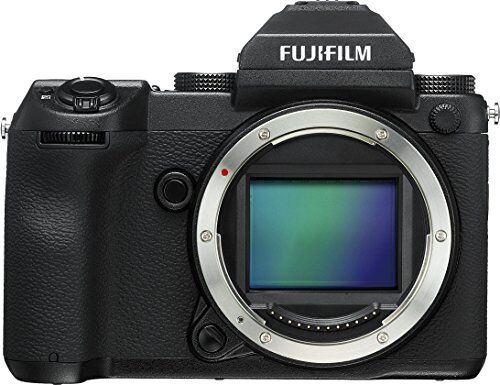 BEST FOR: PHOTOGRAPHERS AT THE TOP OF THEIR GAME
Clearly, the Fujifilm GFX 50S is not a camera for everyone. At a price point of nearly $5,500, this mirrorless camera is engineered for experienced pro-shooters looking for a machine that can make their photographs stand out. With its 51.4 megapixel sensor, the GFX 50S does just that.
On top of producing incredibly detailed images with realistic colors and sharp contrasts, the GFX 50S is also weather-resistant and freezeproof, meaning that no environment is too hostile for this camera.
The large resolution is complemented by the possibility of saving your images in different formats, from a panoramic 16:9 ratio to an Instagram-friendly 1:1 ratio. The camera can also simulate film images by adding grain to the photographs or adjust the colors to make your subjects pop.
THINGS TO CONSIDER WHEN BUYING MIRRORLESS CAMERAS FOR TRAVEL
RESOLUTION
The size of the internal sensor determines the resolution of the images produced by the camera. While all mirrorless cameras produce high-resolution photographs, there is still a big difference between a 16-megapixel sensor and a 50-megapixel sensor.
The higher the amount of megapixel, the larger and more detailed the picture will be. If your goal is to share images digitally or view them through a screen, it's probably not worth investing in top-shelf cameras. In terms of image quality, the result will be great with anything above 10 megapixels. If you're planning to exhibit your photographs in a gallery or if you tend to be heavy handed on the cropping, then you should consider opting for a camera with a bigger sensor.
SHOOTING SPEED
Shooting speeds in mirrorless cameras usually range from 3 to 12 frames per second. The number of frames per second (FPS) a camera can capture determines the speed of shooting and processing continuously (by holding the shutter button down).
A super fast camera is not essential for everyone, but photographers with a focus on wildlife, fast-paced outdoor sporting events, or city celebrations may find the increased speed useful.
LENS AVAILABILITY
One of the major advantages of mirrorless cameras compared to most point-and-shoot cameras is that the lenses are interchangeable. Depending on what brand you choose to invest in the availability of compatible lenses may be larger or smaller, allowing you to shoot in more situations and environments.
Brands that manufacture both mirrorless and DSLR cameras (such as Nikon or Canon), often sell adaptors that allow for traditional DSLR lenses to be mounted on a mirrorless camera. If you are making the switch from DSLR to mirrorless, this is something to keep in mind as quality lenses are usually far from cheap.
WIFI OR BLUETOOTH CONNECTIVITY
Many mirrorless cameras offer WiFi or Bluetooth connectivity. This is particularly useful for travel photographers, as it allows you to transfer images between devices instantly, without cables. If you plan to share your best pictures online shortly after you've taken them, it is worth considering a camera with WiFi or Bluetooth connectivity.
SIZE, WEIGHT, AND ERGONOMICS
While mirrorless cameras are much easier to carry than DSLRs, a steady grip is essential to taking good photographs. When selecting the best mirrorless camera for travel, consider the size and weight, but also the shape of the body. This is particularly important if you have big hands, as you may find it difficult to reach all the controls if the camera is too small.
VIDEO
While most mirrorless cameras offer a video function, there can be a significant difference in what type of recording they can do. Resolution is the first thing to look at: some cameras can film at a resolution of 1080p, while others boast a 4K ultra-high-definition which provides crisper, larger moving images.
Other video features that you may find useful in a mirrorless camera are slow-motion, time-lapse, and the possibility to extract stills from clips.
FEATURES EXPLAINED
MIRRORLESS
As the name suggests, a mirrorless camera differs from a DSLR camera by not having a mirror that reflects the light entering the lens into the sensor. The lack of this component makes mirrorless cameras much lighter and more compact than DSLRs, with an image quality that is equal or even superior.
MICRO FOUR THIRDS CAMERA
A subcategory of mirrorless cameras. The name refers to the size of the sensor inside the camera, which is about half the size of the one found in a 35mm full-frame camera. The main advantage of a micro four thirds sensor is that it allows the camera to be smaller and lighter.
FPS (FRAMES PER SECOND)
The maximum amount of pictures a camera can shoot in one second in optimal light conditions.
WEATHER-SEALED
Sealed camera body, resistant to dust and rain.
TILTING SCREEN
A screen that tilts or flips open to make it easier to shoot from uncomfortable angles or take self portraits.