Updated on April 8, 2022
Catching your very first wave is exhilarating. Once you do so, you'll realize why surfers can't stop dreaming about their next one. Without the best surf wax though, you won't have much luck standing up on your board. Surf wax provides traction between you and your board, allowing your feet to stay locked in place. Surf wax also helps while paddling out to catch a wave. That being said, surf waxes vary, and it's important that you get the right wax for the climate you're surfing in. The list below has a wide selection of different surf waxes and contains all the different types you need to surf with success.
For more of our top surfing gear recommendations, check out the Best Rash Guards.
Quick Answer

-

The Best Surf Wax
Comparison Table

-

Best Surf Wax

For the best experience turn your device horizontally
Reviews

-

The Best Wax for Surfboards
Mrs. Palmers Base
Specs
Size

:

80g

Temperature

:

All

Scent

:

Coconut
Features
Made With All Natural And Biodegradable Materials
Very Soft Consistency Is Ideal For Colder Temperatures
Cool Purple Color Makes It Easy To Identify
Basecoat Wax That Pairs Well With Temperature Specific Waxes
BEST BASECOAT SURF WAX
Before you start thinking about what temperature of wax you'll need, get a solid basecoat. A good basecoat allows the topcoat of wax to stay on your board for a long period of time. Basecoats last much longer than topcoats. This wax, like other basecoats, is a softer wax that is easy to apply. Unlike other waxes on the list, this wax is made in Australia. It's ultra-sticky and trusted by surfers around the globe.
Mr. Zogs Original Sexwax
Specs
Size

:

75g

Temperature

:

58°F - 68°F

Scent

:

Coconut
Features
Iconic American Brand Trusted By Surfers For Many Years
Works Well On Foam Boards
Lasts Long On The Board, Saving You Money And Hassle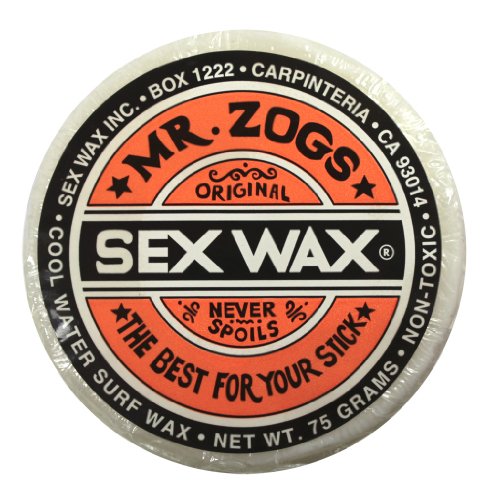 BEST FOR MULTIPLE TYPES OF BOARDS
The name of this wax catches your attention, but don't be fooled. It should only be used on boards. That being said though, it can be used on both traditional surfboards and foam boards. The amount of stickiness is just right for all levels of surfers. What reviewers praise most is the coconut smell of this wax. It smells good, sticks right, and is very versatile. It may be expensive, but this surf wax is one of the best on the list.
Bubble Gum
Specs
Size

:

85g

Temperature

:

60°F and Below

Scent

:

Bubble Gum
Features
Used By Top Surfers All Over The World
Serious Grip That Works In All Sorts Of Conditions
White Color Blends In With Your Surfboard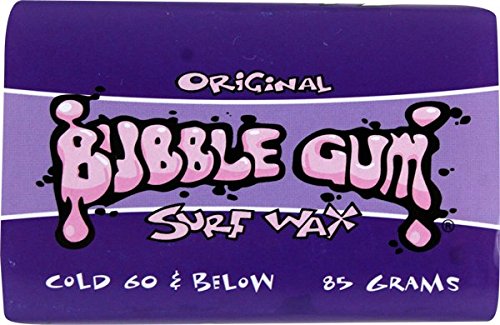 BEST FOR UNIQUE SCENT
Bubble Gum Surf Wax has been around since the '80s, but they still stick to their uniquely scented bubble gum wax. Top surfers around the world claim that this wax performs better than any other. It has serious grip that will last on your board for multiple sessions in the water. This specific wax was made for cold temperatures below 60°F.
Sticky Bumps
Specs
Size

:

85g

Temperature

:

68°F and Below

Scent

:

Blueberry
Features
Non-Toxic And Biodegradable
Putty-Like Feel Underneath The Foot
Can Be Used On A Body Board As Well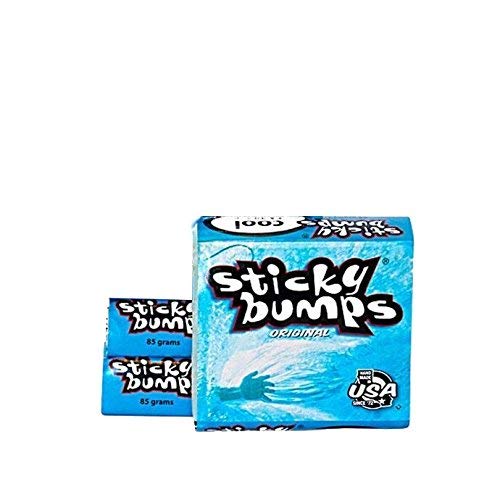 BEST FOR COOL WATER STICKINESS
Water temperatures shift year-round, which is why you may need to think about purchasing multiple types of surf wax. This wax can be used from November to February when temperatures drop on both coasts of the United States. Sticky Bumps wax was the first traction-added wax, designed to build up quickly and have a putty-like feel underneath the feet. You won't need to use much wax to maintain a solid grip on your surfboard.
Mr. Zogs Original Sexwax
Specs
Size

:

75g

Temperature

:

68°F and above

Scent

:

Coconut, Strawberry, Grape, or Pineapple
Features
Can Be Used For A Base Coat Or A Topcoat
Goes On Smooth For Easy Application
Available In Multiple Colors To Match Your Board Or Style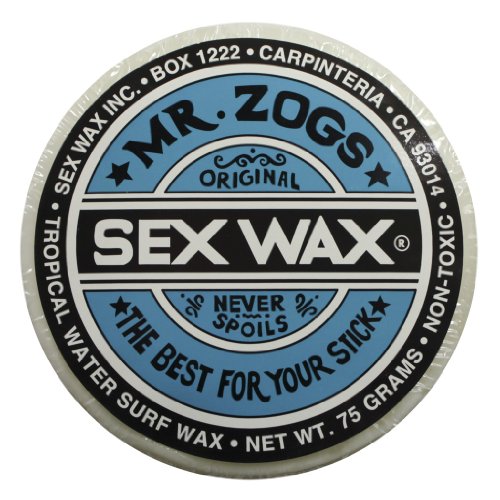 BEST WAX WITH MULTIPLE SCENTS
This wax from Mr. Zog's is best for warm water temperatures. It's a very hard wax that will withstand hours in the water and the hot sun without melting. The wax comes in multiple different colors and scents, so you'll be able to pick a wax that best suits your vibe. It also will help you recognize when more wax is necessary. The wax is easy to apply and can be used as a topcoat or a base coat.
Ransom Cold
Specs
Size

:

80g

Temperature

:

60°F and Below

Scent

:

Coconut
Features
Pairs Well With Ransom Basecoat Wax
Soft Wax Is Easy To Apply On Surfboard
All-Natural Formula Is Safe On Your Board And Your Skin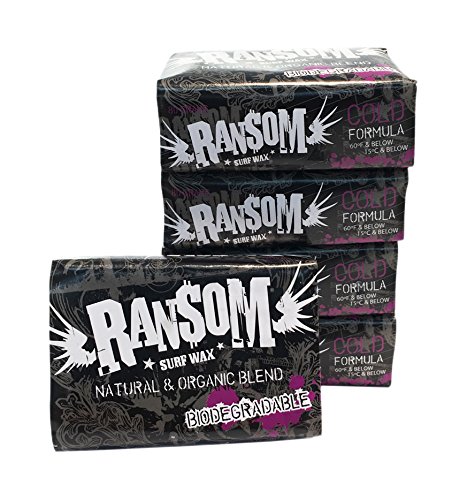 BEST FOR COLD WATER
This surf wax from Ransom pairs well with their own basecoat wax. The two used together will stick to your board without sticking to your body. This specific wax should be used in cold water. It's a softer wax that is easy to apply, smells great, and is safe on the skin. Surfers have trusted Ransom for years now, and it will perform well for you if you need a cold water surf wax.
Matunas Base
Specs
Size

:

90 grams

Temperature

:

All

Scent

:

Jasmine, Raspberry, or Strawberry
Features
Extra Sticky Competition Wax
Solid Basecoat Wax That Lasts A Very Long Time
Comes With A Free Bag To Hold Wax
Sourced From Local Ingredients On The Company's Farm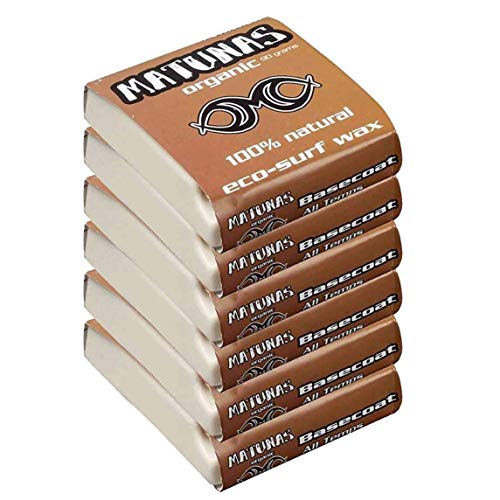 BEST WAX WITH A FREE BAG
Matunas makes a wide variety of surf waxes, but this base layer is the most essential. No matter what temperature of water you're surfing in, a base layer is the first step to successful surfing. The wax is made with local materials on the company's farm in California. What makes this wax unique though is the fact that your purchase comes with a free coin bag. This coin bag is best used for storing your used blocks of wax.
Sticky Bumps Soft Top
Specs
Size

:

85g

Temperature

:

69°F and Above

Scent

:

Coconut
Features
Special Formula Used To Work With Softboards
Non-Toxic And Biodegradable
Easy To Apply On Board And Easy To Store In Storage Box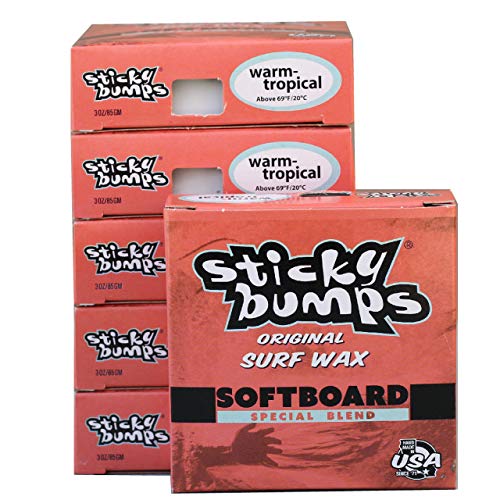 BEST FOR SOFT BOARDS
Sticky Bumps makes a surf wax for everyone. This specific wax is designed for soft boards, which require a unique sort of wax — a soft wax that sticks on your board in moderate and warmer temperatures. It won't get oily as the day goes on, allowing you to stick to your board and catch some big waves.
THINGS TO CONSIDER WHEN BUYING SURF WAX
COAT TYPE
BASECOAT: This is the first layer of wax that you should apply to your surfboard. A basecoat wax is harder and stickier than topcoat wax. This allows you to apply a layer of wax over it that is more suited to the temperature of the water. The basecoat will allow the topcoat to last longer to help you maintain balance as you surf.
TOPCOAT: This is the layer of wax that you put on after applying a basecoat. It will make the bumps of your basecoat more pronounced, but also seal the bumps to make the coat last longer. Topcoats are rated for specific water temperatures. Using the right temperature of wax is important if you want your wax to last for a long time. However, don't apply too much wax! This will actually make it harder to surf.
SCENT
The best thing about surf wax is that it smells good. While coconut is the most common scent, some companies are changing it up by offering bubble gum, berry, and jasmine scents. After waxing your board, leave it in your car so it smells fresh after your surf session.
TEMPERATURE
COLD: 58°F and below. This wax is very soft, so don't let it sit out in the sun too long! If you use it in warm temperatures, it will be oily after catching a few waves.
COOL: 58°F – 68°F. This wax is semi-hard and will hold up in moderate temperatures.
WARM: 68°F – 75°F. This wax will melt off your board if used in tropical temperatures.
TROPICAL: 75°F and above. This wax is harder than others, allowing it to stick on your board for a long time without melting.
FEATURES EXPLAINED
AVAILABLE IN MULTIPLE COLORS
It's actually recommended to purchase a surf wax that's a different color from your basecoat. This will allow you to recognize when the topcoat is wearing off, and it's time to apply more wax.
NON-TOXIC AND BIODEGRADABLE
Surf wax can be harmful to the environment, which is why it's important to buy one that is non-toxic and biodegradable.
PACKAGING CAN BE USED AS STORAGE
If a bar of surf wax comes packaged in a box, you can store partially used bars of wax inside of it. Some bars come wrapped in plastic, which can be frustrating. Some bars, like Matunas Base Coat, come with a free coin bag for storage.
READ MORE
For more of our top surfing gear recommendations, check out these popular buyer's guides: