Updated on February 7, 2020
Photography can be expensive, but it doesn't mean that you have to sell a kidney just to support a hobby that you're passionate about! Lenses are the bread and butter of your photo arsenal and if you're someone who enjoys taking photos of wildlife, you're going to need some pretty specific (and sometimes costly) lenses. Fortunately, we've sorted through the long list of options and found the best budget lenses for wildlife photography.
The lenses we've chosen span both top notch brands like Nikon and Canon, as well as more budget-conscious sister brands Tamron and Sigma. While it's nice to brag about having a name brand of lens, it's better to have the right lens for the job. After all, price shouldn't hold you back from expanding your photography skills. That said, we've focused on recommending lenses that will grow with you as your experience level increases.
For more of our top wildlife photography gear recommendations, check out the Best Lenses for Wildlife Photography. 
Quick Answer

-

The Best Budget Lens for Wildlife Photography
Sigma 60 – 600mm f/4.5 – 6.3

Tamron SP 150 – 600mm f/5 – 6.3

Tamron 100 – 400mm f/4.5 – 6.3
Comparison Table

-

Best Budget Lens for Wildlife Photography

For the best experience turn your device horizontally
Reviews

-

The Best Wildlife Photography Budget Lens
Sigma 60 – 600mm f/4.5 – 6.3
Specs
Type

:

Zoom

Aperture

:

f/4.5 - 6.3

Dimensions

:

4.7 x 12.7 x 10.6 in

Focal Length

:

60 - 600mm

Weight

:

4 lbs.

Compatible Camera Mount

:

Canon EF
Features
Dust And Water Resistant Design
Autofocus Is Both Smooth And Quiet
Wide Focal Range Allows A Wide Variety Of Shots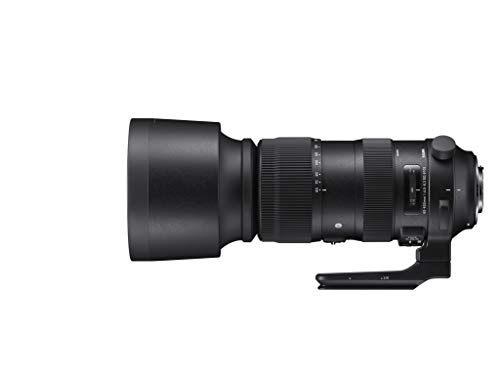 BEST FOR: ZOOM WITH A WIDE RANGE
If you're looking for a single zoom lens that can span a huge range of focal lengths, the Sigma 60 - 600mm is the mac daddy of them all! 
Although it's marketed as a Sports lens, this lens will capture wildlife just the same, especially shots that include animals in motion. The Sigma has an internal operating system that helps reduce camera shake, allowing you to capture crisp photos even when there's some movement on your end. This would be a great lens for those venturing out on a safari or shooting from a vehicle. 
The wide range of zoom also comes in handy when needing to quickly switch back and forth between long shots and up-close photos at a moment's notice. For some wildlife photographers, this is an invaluable benefit considering the ever changing conditions in which you'll be shooting.
Nikon 200 – 500mm f/5.6
Specs
Type

:

Zoom

Aperture

:

f/5.6

Dimensions

:

7.48 x 7.48 x 17.2 in

Focal Length

:

200 - 500mm

Weight

:

5.07 lbs.

Compatible Camera Mount

:

Nikon
Features
Improved Contrast And Color Accuracy
Includes A Lens Hood To Reduce Glare And Lens Flare
Rotating Tripod Collar Accommodates Both Portrait And Landscape Shots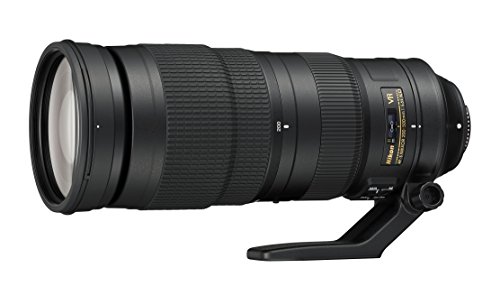 BEST FOR: CONSISTENCY THROUGH ZOOM RANGE
Focusing on a longer range of focal lengths, the Nikon 200 - 500mm is a great telephoto lens for capturing wildlife at a distance while still being able to zoom through a high range. Most notably, this lens sticks with a fixed f/5.6 aperture to deliver consistent performance through that high zoom range. This also lends itself to delivering high quality photos even in low-light situations. 
Also packed into this powerhouse is the "ED" signifier (stands for "extra-low dispersion"), meaning that it reduces image distortions to keep your images sharp and preserve the accuracy of the colors captured. 
If you're a photographer that enjoys the challenge of low light and the rewards of capturing beautiful wildlife shots at dawn (or dusk), then you'll certainly appreciate the "VR" (vibration-reduction) feature on this lens. While it not only helps in low light, it's also forgiving when there's camera shake or a fast moving animal.
Canon 400mm f/5.6
Specs
Type

:

Prime

Aperture

:

f/5.6

Dimensions

:

10.12 x 3.54 x 3.54 in

Focal Length

:

400mm

Weight

:

2.8 lbs.

Compatible Camera Mount

:

Canon EF
Features
Dust And Water Resistant Design
Prime Lens Delivers Super High Quality Photos
Includes A Built-In Lens Hood To Reduce Glare And Lens Flare

BEST FOR: BALLIN' ON A BUDGET 
While it's definitely not the cheapest lens on the list, the Canon 400mm offers the best bang for your buck when it comes to quality. Although it's limited comparably to some other options that are able to zoom, having a prime lens will deliver exceptionally high quality images within that focal length. 
Considered a super telephoto lens, this beast is perfect for wildlife photography. Its super quiet autofocus feature means your camera is less likely to scare off animals and it's Ultrasonic Motor (USM) delivers fast and precise focusing. 
The Canon 400mm is also an L-series lens, a prestigious line of lenses that gives bragging rights to anyone hauling this beauty.
Tamron SP 150 – 600mm f/5 – 6.3
Specs
Type

:

Zoom

Aperture

:

f/5 - 6.3

Dimensions

:

10.2 x 5 x 5 in

Focal Length

:

150 - 600mm

Weight

:

4.4 lbs

Compatible Camera Mount

:

Canon EF
Features
Includes Removable Tripod Mount
Option To Use Manual Or Auto Focus
Vibration Control (VC) Image Stabilization Reduces Camera Shake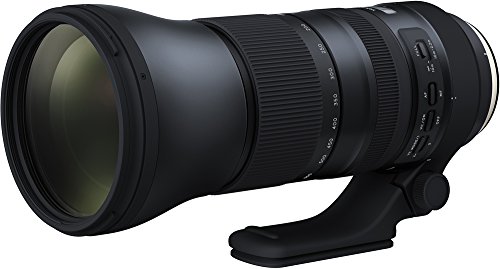 BEST FOR: VERSATILITY 
Need the ability to switch quickly from medium shots to long range? The Tamron 150 - 600mm is a great telephoto-zoom lens that can capture a variety of shots. This is a great lens for those that need enough specificity to capture great wildlife photos but also not so specific that it can't snag other types of photos too. 
The 4x range of this lens is able to capture regular telephoto shots as well as super-telephoto aspects, grabbing high quality details like feathers and scales. Its autofocus feature is not only quiet but versatile in that it is also super effective for shooting video. 
Last but not least, the diaphragm (the individual blades that rotate to increase/decrease aperture) consists of 9 blades to create more circular blurring. Most cameras include only 5 - 7 blades, meaning that Tamron goes above and beyond to deliver exceptional detail when using shallow depth of field techniques. No doubt you'll use this technique at some point to "blur" the background in order to create a better focus on the animal.
Tamron 100 – 400mm f/4.5 – 6.3
Specs
Type

:

Zoom

Aperture

:

f/4.5 - 6.3

Dimensions

:

7.8 x 3.4 x 3.4 in

Focal Length

:

100 - 400mm

Weight

:

2.45 lbs.

Compatible Camera Mount

:

Canon EF
Features
Auto Focus Is Both Smooth And Quiet
Improved Contrast And Color Accuracy
Magnesium Alloy Components Translates To Lightweight Yet Durable Design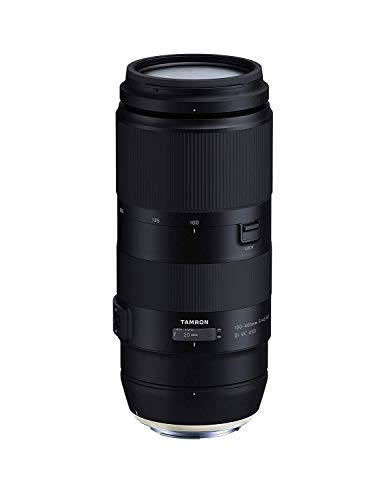 BEST FOR: COMPACT AND LIGHTWEIGHT SHOOTING
Bigger isn't always better, especially when you need to stay light and fast on your feet. When photographing wildlife, this is a desirable aspect, especially when you're hiking to find the right location, the right animals, and the right light. 
As the lightest lens on the list (and lightest in its class), the Tamron 100 - 400mm weighs in at just 2.45 lbs making it ideal for on-the-go hand held shooting. Feel free to ditch the tripod and travel light with this lens. 
The Ultrasonic Silent Drive (USD) motor used in the autofocus allows you to grab incredible shots while quickly focusing where you need. This means less time struggling to focus and more time to capture multiple shots that you can later choose your favorites from. The Tamron 100 - 400 also includes weather-resistant seals making it a take-anywhere lens that can be part of your regular arsenal even when you're not shooting wildlife.
THINGS TO CONSIDER WHEN BUYING LENSES FOR WILDLIFE PHOTOGRAPHY
COST
It's no secret that photography can be an extremely expensive hobby, which is why there are plenty of companies that have come to offer 2nd and 3rd tier lenses at more budget prices. It's important to understand that these budget lenses are still quite expensive and are normally in the ~$1,000 range. However, their 1st tier counterparts can sell for as much as $10,000 – $12,000! As a beginner photographer, you likely won't be able to tell the difference between those professional grade lenses and more budget options.
SIZE AND WEIGHT
When buying lenses for wildlife photography, you're getting into a range of lenses that are not only longer and bigger, but also much heavier. Some lenses can weigh as much as 5 lbs! Consider the weight of your camera body, the other lenses you'll be bringing, and your other gear as it all adds up. You may need a special photo-hiking backpack to effectively carry your gear or you might need to make tough decisions on what gear you do bring in order to lighten your load.
FOCAL LENGTH
When capturing wildlife photography, you typically need a lens with a long focal length (at least 100mm). This is important so that you can shoot your images from a distance without scaring the wildlife away. The higher the focal length, the further away you can capture shots.
TYPE
When it comes to buying a lens, there are two options: Prime and Zoom. While most beginners should probably opt for a Zoom lens, Prime lenses offer unprecedented quality at their designated focal length.
Prime
A Prime lens offers exceptionally high quality photos as it uses a highly crafted, precision piece of glass. However, the downside is that prime lenses have a fixed focal length, meaning that you are limited in the variety of photos you can take.
Zoom
A Zoom lens offers much more versatility than a Prime lens since its focal range is adjustable (i.e. 60 – 600mm). You have the ability to take a telephoto shot from a long distance before quickly zooming out to capture more of the scenery. While your shot selection will be more varied with a Zoom lens, it will never quite match the quality of the same shot taken with a Prime lens.
APERTURE
Aperture is a measure of how big or small (how wide or tight) your lens can adjust. Working in the same manner as the pupil in your eye, aperture functions to either increase or decrease the amount of light coming into the camera. It's measured in "F-stops" on the following scale:
f /1.4, f /2, f /2.8, f /4, f /5.6, f /8, f /11, f /16, f /22
The narrowest aperture is f/22 which lets in the least amount of light while the widest aperture is f/1.4 which lets in the most light.
Aperture also controls the depth of field of the shots you take. Depth of field refers to how close the background appears to the subject. So while adjusting aperture down to allow in more light, you'll also be simultaneously creating a blurrier background (where the background appears further away). When adjusting your aperture up to reduce the amount of allowable light, you'll be creating a photo with a crisper background that appears more "in focus."
When capturing wildlife, telephoto lenses will come in a medium range of aperture between roughly f/4 – f/6, providing a nice blurring effect of your background while also not allowing in too much light.
FEATURES EXPLAINED
AUTOFOCUS
Auto Focus is a nifty feature that allows your lens to take care of focusing on your subject. Most professional photographers use AF mode unless they specifically are trying to achieve a certain effect.
MANUAL FOCUS
Manual Focus allows you to adjust the focus of your lens by hand. As a beginner photographer, you likely won't ever need to use Manual Focus.
CONTRAST
A ratio or difference between black and white in your images. In reference to lenses, contrast is the ability of the lens to pick up variations in shadows and distinguish between different textures.
FOCAL LENGTH
Focal length is a measure of the distance between where the lens sits and where the image is formed on film. Though most cameras are now digital and don't use film, we still measure focal length in millimeters. The higher the focal length, the further away you can effectively take a photo.